A resume summary is a short section at the top of your resume. The purpose of a summary is to highlight something that's relevant to the job you're applying for but isn't included elsewhere in your resume, like transferable skills or a context that makes your accomplishments stand out. Despite the name, it isn't supposed to simply summarize the information already in your resume.
Resume opening statements: A crash course in jargon
If you've been looking for advice on how to write a resume summary, chances are you've run into a lot of unfamiliar phrases. Here's a brief explainer:
A resume profile or resume summary statement are different names for a resume summary and are often used interchangeably.
An executive resume summary or career highlights section are usually targeted toward people with an extensive career history or who are applying for high-level positions. These might include slightly more detail about your work experience, for example, standout accomplishments from early in your career that might otherwise not belong on a resume.
A resume objective or career objective is an alternative to a resume summary. Objectives are generally considered outdated compared to resume summaries but can be useful in very limited circumstances (often for people very early in their careers or without any relevant experience).
Want to know more about different types of resume opening statements? Check out our guide on how to write an opening statement for your resume.
How to write a resume summary
Here's a quick step-by-step guide to get you started:
Lead with the job title. If you're applying for a job as a project manager, that's how you should describe yourself, regardless of your past experience.
Describe the scope of your experience, including how many years' experience you have and the size of businesses you've worked for.
Choose a standout accomplishment that's relevant to the job you're applying for.
Include metrics — this moves the line from 'bragging' to 'demonstrable experience.'
Mention 2-3 key skills that match the job description.
Include any specific highlights from your resume that show why you'd be a great fit for the position.
Run your resume through a free resume checker to see how well your summary scores.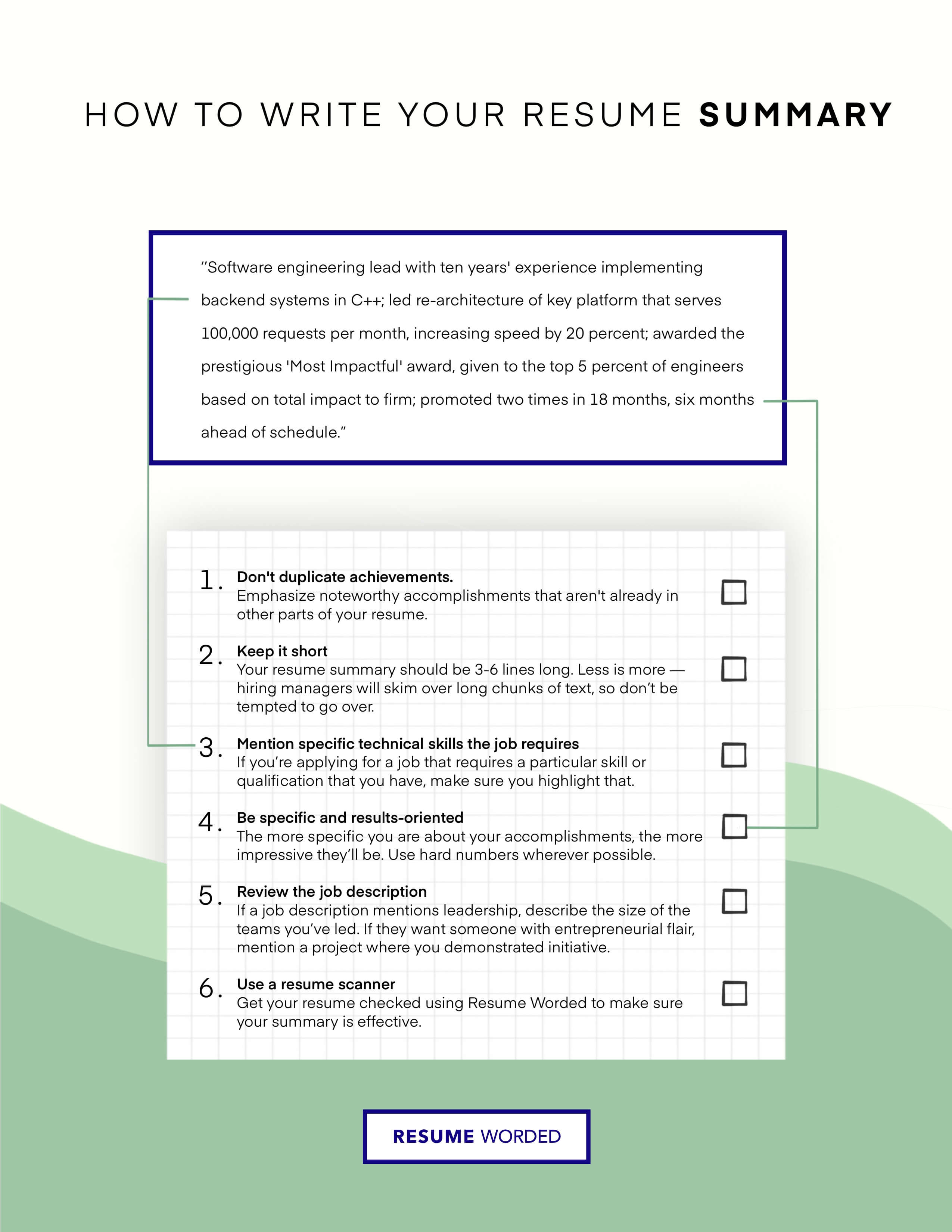 Resume summary templates and examples
Ready to write your own resume summary? To make it easier for you, here are some templates you can follow and examples of what your summary should look like in action.
Template 1: Executive Resume Summary Template
This is a basic but effective resume summary. It's short and easy to read, while briefly explaining your background, experience, and what you can bring to the company. This is a good option if you want to emphasize your relevant skills.
And here it is in text format — if you'd like to copy it into your resume:
[Executive] with experience leading [industry] businesses [describe size of businesses]. [Describe impactful element of role, with specific numbers]. Proven experience [mention 2-3 skills that are relevant to the job]. [Optional: Describe relevant educational certification/accomplishment, or one significant accomplishment in the format of Action Verb + Accomplishment + Metric].
Template 2: Standard Resume Summary Template
This is an alternative way to format your summary. It's less conversational and more results-focused, which works well if you have a few particularly impressive accomplishments you want to highlight. Here it is in text format:
[Job Title] with [X] years' experience [brief description of company; if you worked at big brand names, mention them here] Results include:
• [Describe accomplishment in the format of Action Verb + Accomplishment + Metric]
• [Describe accomplishment in the format of Action Verb + Accomplishment + Metric]
• [Describe accomplishment in the format of Action Verb + Accomplishment + Metric]
Senior-level and executive resume summary examples
We discussed how senior level hires can use an executive resume summary to emphasize their most impressive and relevant accomplishments. Here are a few examples of how to do it in action.
Example 1: For an executive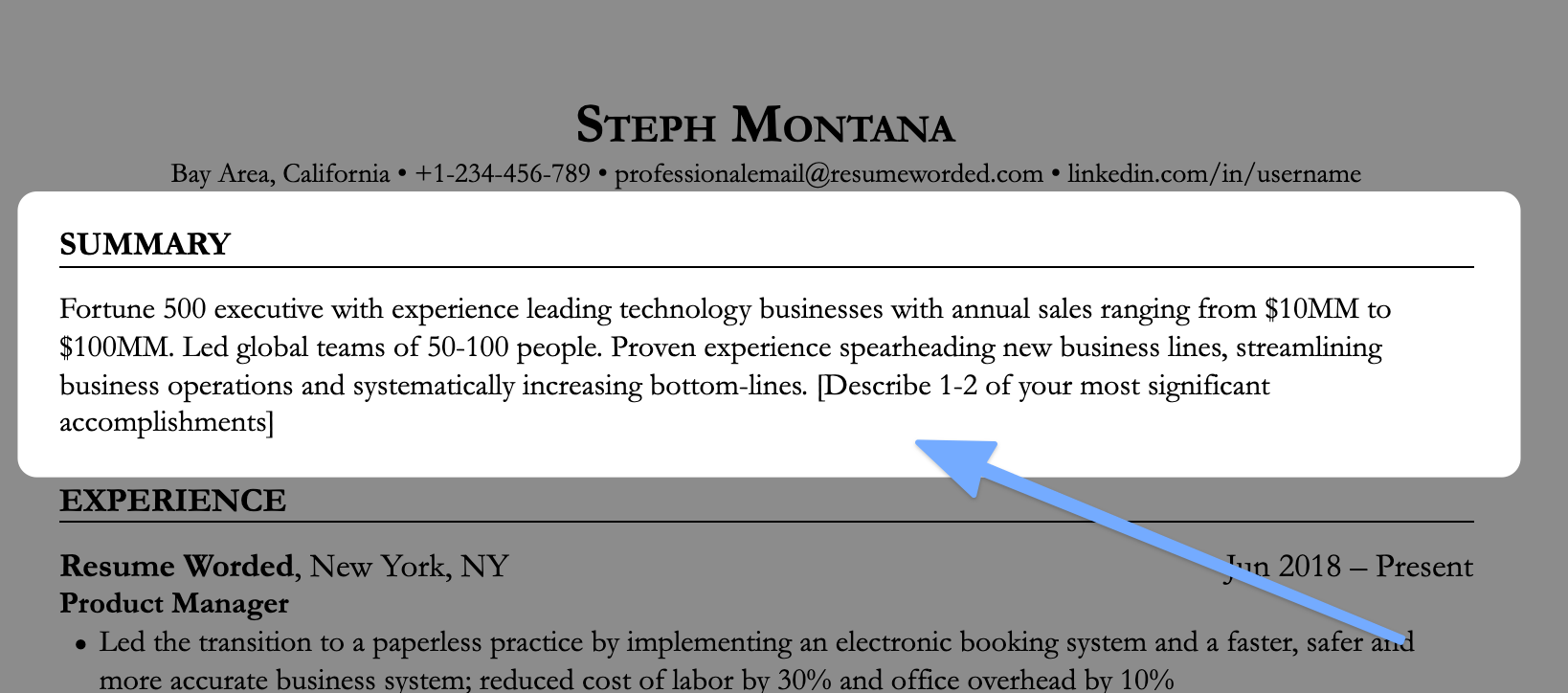 This example serves as a good high-level overview of your experience. There's an opportunity for you to mention one or two of your most impressive accomplishments and it provides a useful context for the body of your resume. Here it is in text format if you'd like to copy this into your own resume to use as a starting point:
Fortune 500 executive with experience leading technology businesses with annual sales ranging from $10MM to $100MM. Led global teams of 50-100 people. Proven experience spearheading new business lines, streamlining business operations and systematically increasing bottom-lines. [Describe 1-2 of your most significant accomplishments.]
Example 2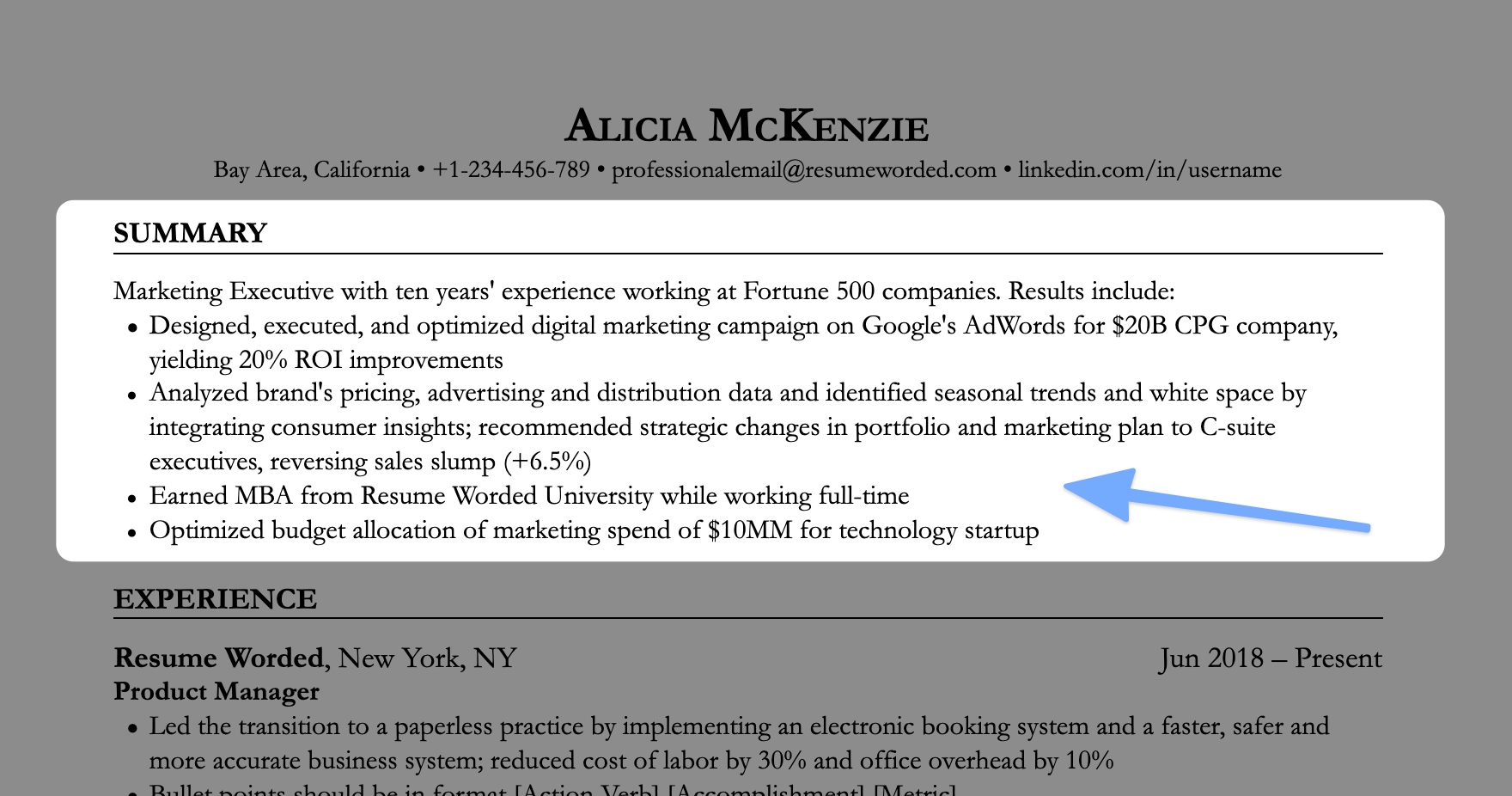 This example is good because it focuses on concrete data and achievements. Remember, the more quantifiable your achievements are, the more likely they are to land with a hiring manager. Here's the example in text format in case you'd like to use it in your own resume:
Marketing Executive with ten years' experience working at Fortune 500 companies. Results include:
• Designed, executed, and optimized digital marketing campaign on Google's AdWords for $20B CPG company, yielding 20% ROI improvements
• Analyzed brand's pricing, advertising and distribution data and identified seasonal trends and white space by integrating consumer insights; recommended strategic changes in portfolio and marketing plan to C-suite executives, reversing sales slump (+6.5%)
• Earned MBA from Resume Worded University while working full-time
• Optimized budget allocation of marketing spend of $10MM for technology startup
Mid-level resume summary examples
If you're a mid level hire, a resume summary can help set you apart from entry level applicants by highlighting a few notable skills or accomplishments and providing important context.
Example 1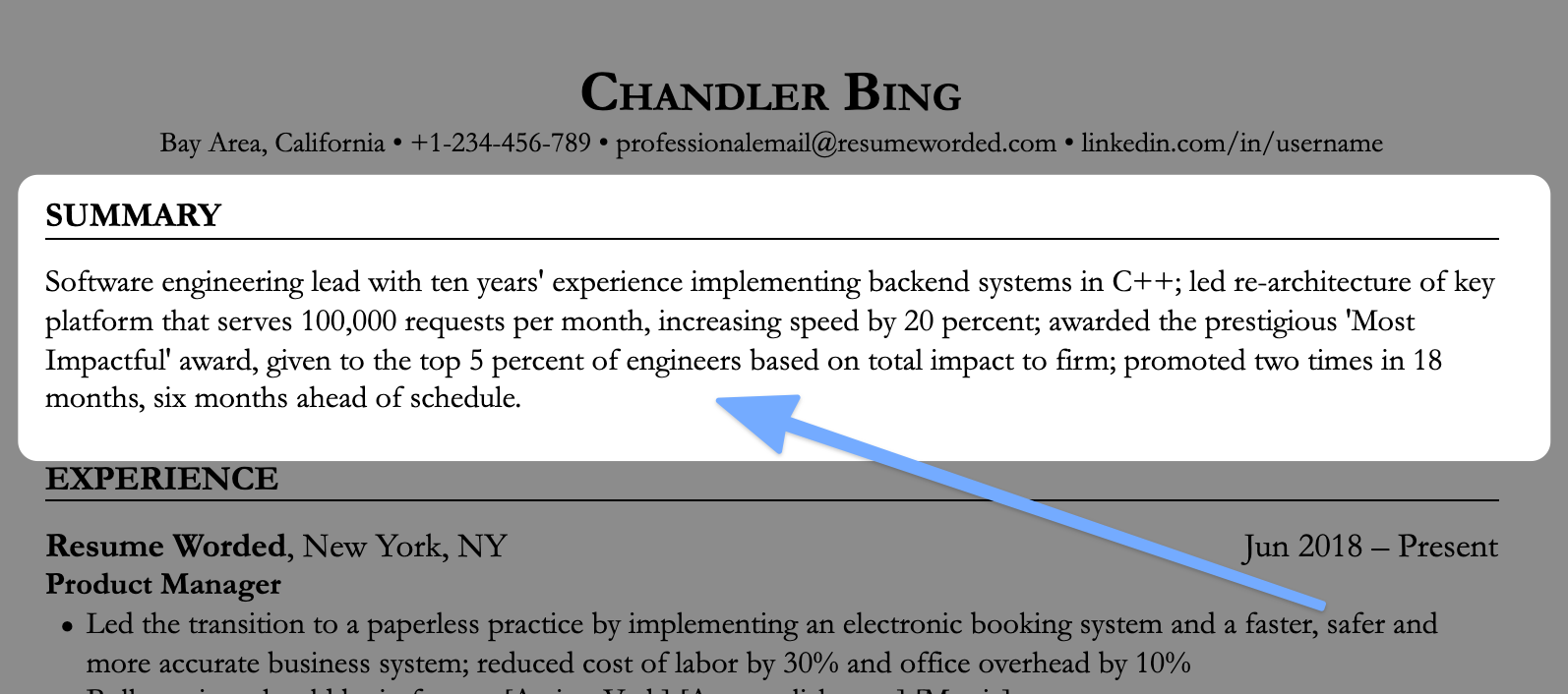 This example makes the extent of your previous experience clear to a hiring manager. It emphasizes a couple of noteworthy accomplishments that may set you apart from other mid level hires and might otherwise have gotten lost in the body of your resume. If you'd like to use this in your own resume summary, here it is in text format that you can easily copy-and-paste:
Software engineering lead with ten years' experience implementing backend systems in C++; led re-architecture of key platform that serves 100,000 requests per month, increasing speed by 20 percent; awarded the prestigious 'Most Impactful' award, given to the top 5 percent of engineers based on total impact to firm; promoted two times in 18 months, six months ahead of schedule.
Example 2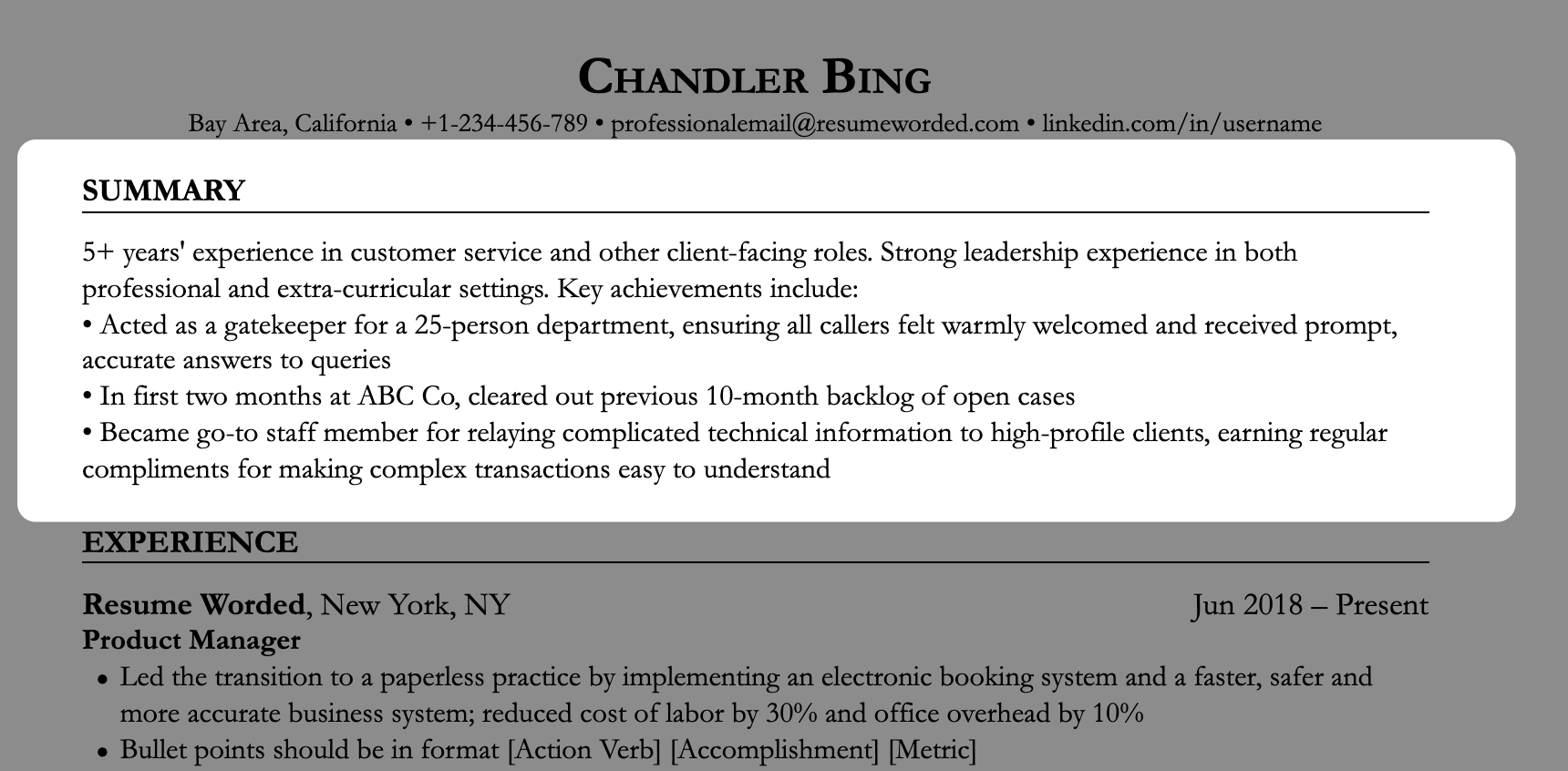 This example briefly provides the context for your resume and hones in on your most impressive achievements. The bullet point format and focus on hard numbers make it easy for a hiring manager to read and quickly digest. Here it is in text format:
5+ years' experience in customer service and other client-facing roles. Strong leadership experience in both professional and extra-curricular settings. Key achievements include:
• Acted as a gatekeeper for a 25-person department, ensuring all callers felt warmly welcomed and received prompt, accurate answers to queries
• In first two months at ABC Co, cleared out previous 10-month backlog of open cases
• Became go-to staff member for relaying complicated technical information to high-profile clients, earning regular compliments for making complex transactions easy to understand
Resume summary examples for career changers
A resume summary is particularly important if you're changing careers. You don't need to go into detail about why you're changing careers, but briefly mentioning any relevant training or certifications is a good idea, alongside the transferrable skills you'll bring to the role. If you're changing careers, make sure to see more summary examples for career changers.
Example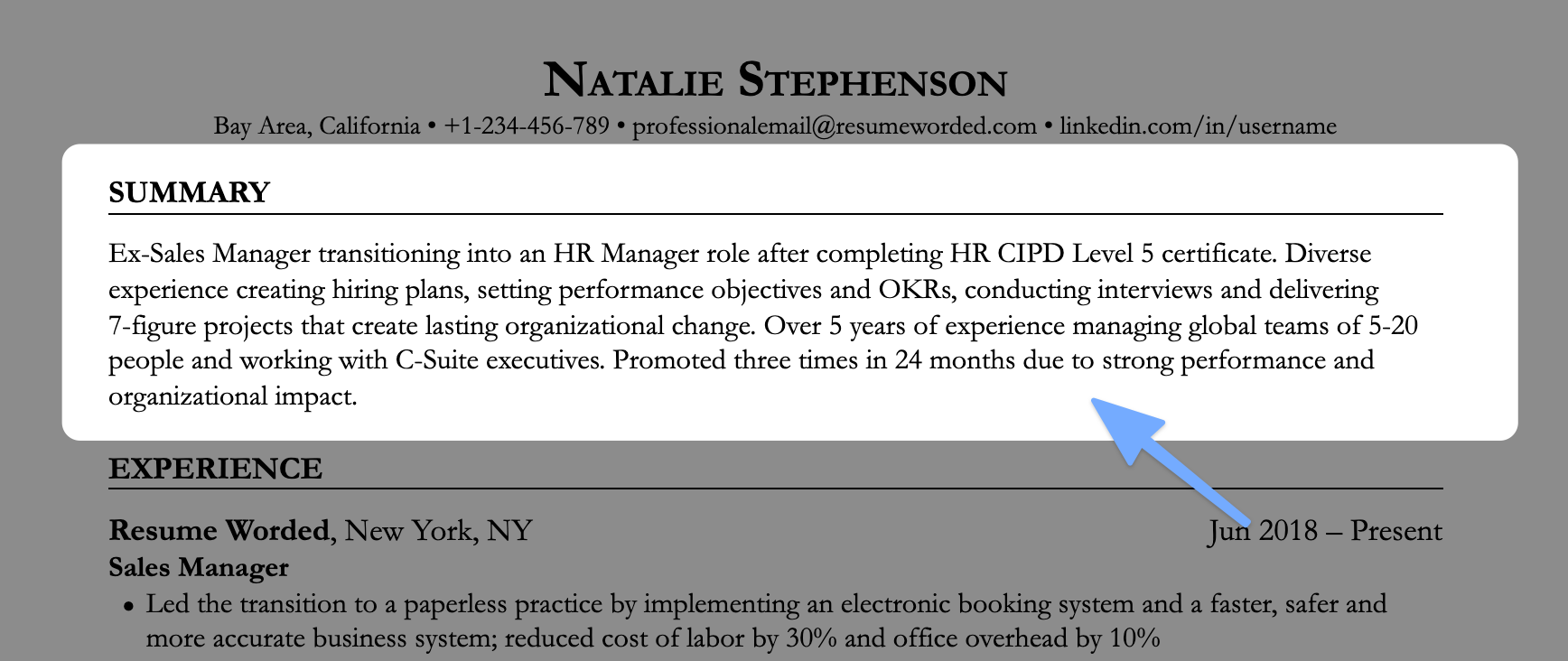 If you're ready to begin, why not use our Resume Summary Generator to help you write the perfect summary?
Resume summary tips
Keep it short
Your resume summary should be 3-6 lines long, or around 100-200 words. Less is more — hiring managers will skim over long chunks of text, so don't be tempted to go over. The quicker and easier your summary is to read, the more chance it'll make an impact. If you feel like you need more space to write about yourself, that's what your cover letter is for.
Tailor your resume summary
Even more so than your resume, you must tailor your summary to each job you apply to. Here are a few ways you can do that:
Mention specific technical skills the job requires. If you're applying for a job that requires a particular skill or qualification that you have, make sure you highlight that. But keep it specific! If you're applying for a data science role that requires Python, explain how you've used Python in the past. Don't include every programming or technical skill you have, or it'll look like you're using a scattershot approach and may overshadow your actual relevant experience. Doing this will also help you get past the applicant tracking systems, or resume screeners, which scan your resume for specific keywords.
Review the job description. Using specific language from a job description in your resume summary can make you look like a good fit, as long as you don't overdo it. If a job description mentions leadership, describe the size of the teams you've led. If they want someone with entrepreneurial flair, mention a project where you demonstrated initiative. This doesn't necessarily have to be work-related — personal projects can fit, too, as long as they highlight that specific skill or quality.
Be specific and results-oriented. The more specific you are about your accomplishments, the more impressive they'll be. Use hard numbers wherever possible. Don't just write "experienced in managing teams" or "increased revenue." Quantifiable achievements like "managed teams of 5-20 people" or "drove $100,000 in incremental revenue" are more meaningful.
Avoid buzzwords
Phrases like "hardworking," "team player," and "attention to detail" have no place on your resume. Anyone can claim to have excellent communication skills — prove it by mentioning that your email campaign resulted in a 30% increase in repeat customers. Remember: Show, don't tell.
Write your summary last
The goal of your summary is to provide a brief introduction and context for the body of your resume. Focus on writing your resume first — once you've nailed it, it'll be much easier to fill in the summary section.
Who needs a resume summary?
A resume summary is completely optional, but it can be beneficial in a number of situations.
People with a lot of experience
It can be a struggle to summarize 15+ years of work experience in a way that's concise enough not to make a recruiter's eyes glaze over without leaving out valuable accomplishments. If you have extensive relevant work experience, use your resume summary to distill the key elements. Think of it as the highlights reel of your resume.
People who are changing careers or job titles
If you're changing careers completely, a resume summary is the best way to briefly contextualize your experience, highlight your transferable skills, and explain why you're a good fit for the position — especially if those things aren't obvious from the body of your resume.
The same thing applies if you're pivoting to a new role within your current industry or career. You don't want a hiring manager assuming your skills aren't relevant or that you're simply applying for every job you can find, so use your summary to demonstrate why that isn't the case.
For a more detailed guide to resume summaries for career changers, check out How to Write a Resume Summary if You're Changing Careers.
If the job is looking for something specific
If the job description asks for anything specific or particularly unusual and you fit the bill, emphasize that in your summary. This could be anything from experience with startups (e.g. small knit, cross-functional teams) to specific qualifications (e.g. CFA Level 3).
People applying for remote jobs
If you're applying for a fully remote position, it can be helpful to note that in your summary. Specifying that you're only applying for remote work can weed out positions that are only partially or temporarily remote. And if you have experience with remote work in that past, mentioning some of your remote achievements can demonstrate that you're just as effective when working from home.
Do you need a resume summary?
Probably not! Most people don't need a resume summary. Remember that your resume should already be a succinct summary of your work history and achievements — if yours is self-explanatory or less than a page long, there's no need to re-summarize it again at the top. Unless you fall into one of the categories discussed above, or your situation is otherwise unique, your resume is probably enough on its own.
If a summary doesn't add anything to your resume, or is just restating information that's already included elsewhere, leave it out.
If you're a student or recent graduate, or otherwise don't have a lot of work experience, you're unlikely to need a resume summary.
The same thing applies if your work history is self-explanatory and doesn't need clarification. A summary doesn't add anything to your resume simply by existing, so only include one if it's actually necessary.