Whether on the front end or the back end, office managers are a critical part of handling the inner workings of businesses on a day-to-day basis. Having an interest in details, a penchant for accuracy, and familiarity with technical tools will all serve you well as an office manager.

Office managers could work in a number of industries, from medical offices to hotel offices to factories. There are skills between office manager positions that are transferable, including attention to detail, teamwork, and leadership, meaning you should be able to comfortably change industries once you've gained experience.

Some hard skills will also transfer, including Quickbooks or Microsoft Access, operating office machinery, and handling incoming customer or client contacts. Other skills or tools relate more directly to specific industries, such as medical coding software, Oracle PeopleSoft, and transcription software, and these won't be as transferable.

The type of office manager position you're applying for is thus the first clue as to the kind of skills you should include. In this guide, we'll review four templates for office managers in different industries to give you a solid starting point, followed by examples of skills and action verbs you should emphasize.
Office Manager Resume Templates
Office Manager Resume Sample
Office managers handle a range of duties depending on their industry. In general, hiring managers will be looking for particular technical skills that align with the duties you'll be performing. You can help your experience stand out by including a skillbank that lists the relevant software you have familiarity with. Additionally, if you have been promoted internally to an office manager position before, you should reference your previous positions to show your aptitude for the work.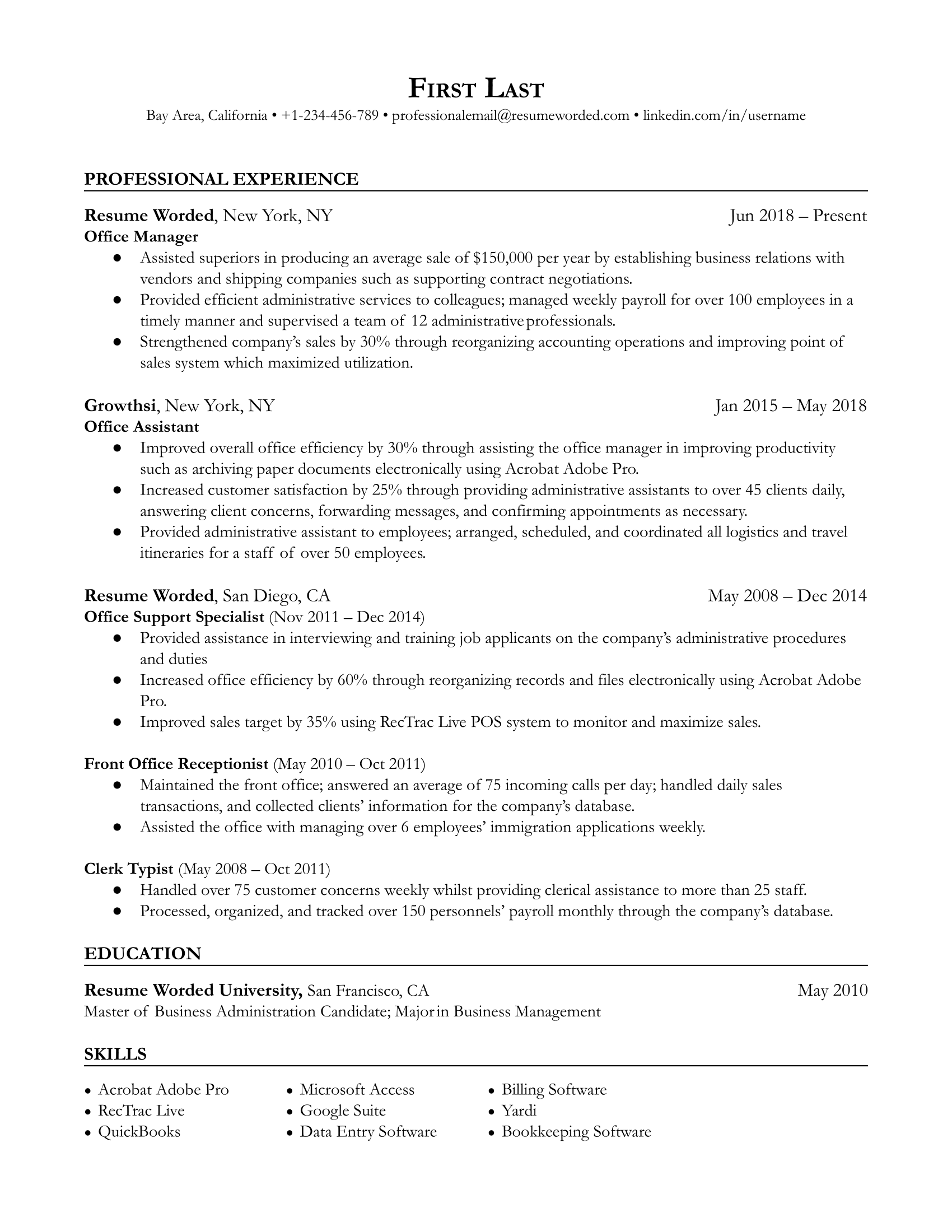 Recruiter Insight: Why this resume works in 2021
Dental Office Manager Resume Sample
As the name indicates, dental office managers are specifically experienced with working in a dental office setting. Like medical office managers, they'll be accustomed to handling patient information and administering paperwork. You should demonstrate your experience with the work by emphasizing appropriate office manager skills and starting each bullet point with a strong action verb.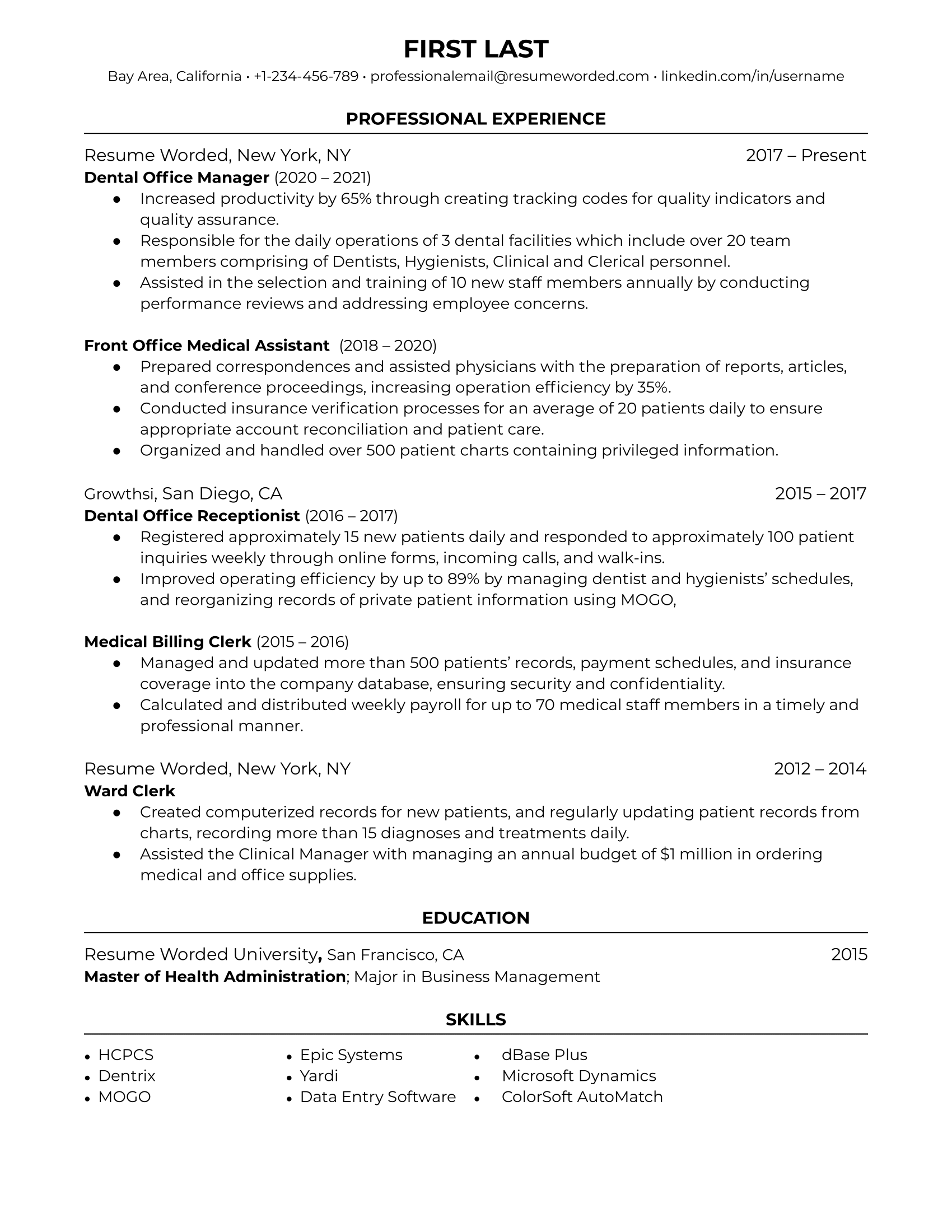 Recruiter Insight: Why this resume works in 2021
Medical Office Manager Resume Sample
Medical office managers will have experience working with patient records, patient scheduling, office finances, and insurance verification, along with a host of other specialized tasks. Accuracy and attention to detail are more important than ever in this role, and so it helps to provide the scope and scale of your background in the medical industry with quantifiable data points and specific skills.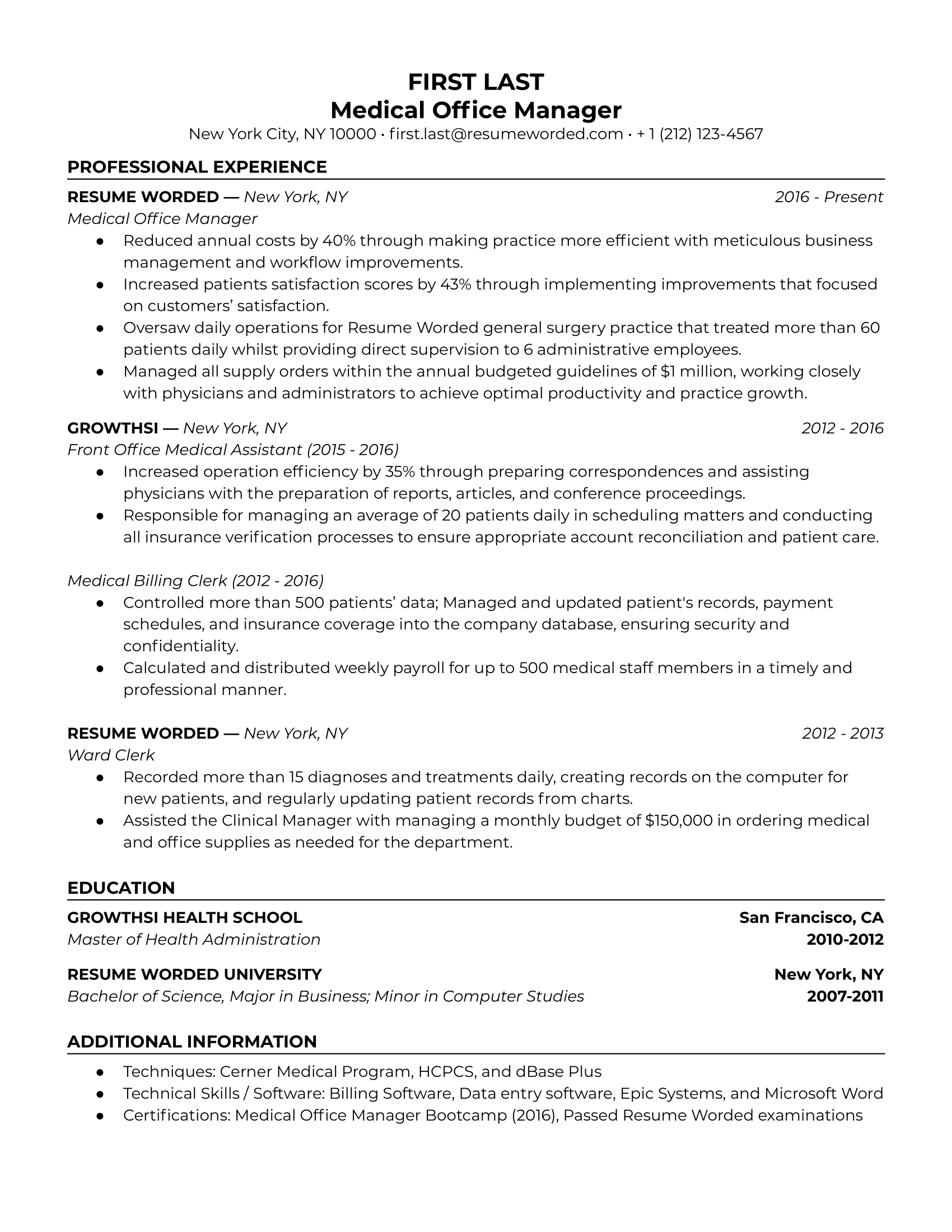 Recruiter Insight: Why this resume works in 2021
Front Office Manager Resume Sample
Front office managers are focused on staff management, typically in hotel settings or similar scenarios where the daily operations of a business will come down to your expertise. You can make a potent impression by starting your resume with a short summary or introduction. Adding in volunteer work or relevant certifications will further lend to your credibility as being involved in the front office management role.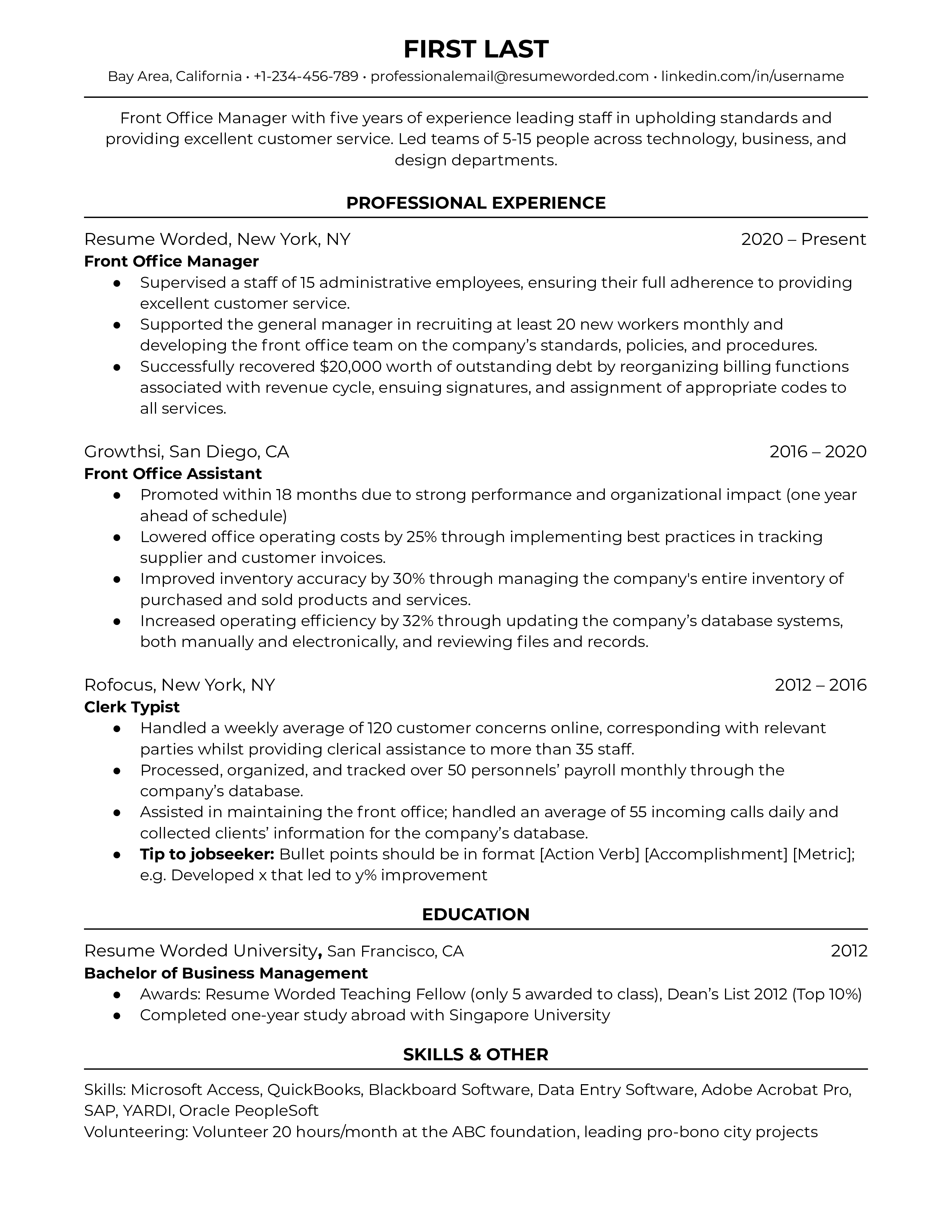 Recruiter Insight: Why this resume works in 2021
Skills For Office Manager Resumes
Office managers wield a combination of personnel management and technical skills to perform their roles, and hiring managers will be looking for specific responsibilities in your resume. On the left, we've compiled the most commonly utilized skills for office managers to give you a pool to draw from as you build your resume.

As office managers often have a significant amount of data to manage, or a roster of staff, you'll want to display your proficiency at these tasks with each accomplishment you list. Integrating the skills on the left with technical tools (such as Adobe Acrobat Pro or Quickbooks) will serve as a double whammy in indicating your experience in the position.

Other than working your skills into the body of your resume, don't forget to include a skill bank at the top or bottom of the page. You may wish to start with a short (1-2 sentence) summary that includes your hardest hitting statistics (such as how long you've been in the field or how many personnel you've managed).
Office Administration
QuickBooks
Accounts Payable
Accounts Receivable (AR)
Payroll
Administrative Assistance
Invoicing
Data Entry
Bookkeeping
Human Resources (HR)
Accounting
Customer Service
Event Planning
Budgeting
Sales
Office Operations
Team Building
Administration
Accounts Payable & Receivable
Time Management
Action Verbs For Office Manager Resumes
Office managers are all about organization, and, fortunately, there's an easy way to organize your accomplishments while working in strong action verbs that relay your capabilities. Each of your 1-2 sentence bullet points should start with an appropriate action verb, and incorporate others where necessary to round out your background. This helps impart to hiring managers that you are able to handle the responsibilities of the position and that you respect time management.

While it's okay to duplicate these action verbs a few times, avoid using the same ones too often as it will blur your experience together.
Administered
Managed
Supervised
Evaluated
Organized
Directed
Compiled
Monitored
Processed
Systematized
Executed
Analyzed
Calculated
Controlled
Trained
Conducted
For a full list of effective resume action verbs, visit Resume Action Verbs.
Resume Bullet Points From Office Manager Resumes
You should use bullet points to describe your achievements in your Office Manager resume. Here are sample bullet points to help you get started:
Executed four branch openings, including location selection, P&L development, and task coordination for 5 functional areas, resulting in $9MM of incremental revenue over 2 years
Redesigned and implemented over 15 business processes for an estimated 50% efficiency gain in operations and potential net savings of $3MM for a pharmaceutical company
Refined outsourcing strategy, resulting in increased offshore headcount from 12 to 95 employees and saved $1.2MM
Conceptualized, redesigned, and presented enhancements to the data warehouse and stored SQL procedures, leading to 100x increased query performance (double digit minutes to milliseconds)
Determined sales effectiveness strategy for a ERP software supplier to increase sales by $10M over three years
For more sample bullet points and details on how to write effective bullet points, see our articles on resume bullet points, how to quantify your resume and resume accomplishments.