Have you ever been told that you have a sixth sense for other people's emotions? Do you have superb communication skills? Do you love solving interesting problems?

If you answered yes to any of these questions, you could have what it takes to work in customer service. In the modern era, the need for strong customer service employees is higher than ever. The internet is helping brands reach global audiences and users, making the 24/7, "always-on" marketplace a reality. In addition, customer's voices are amplified across platforms in the modern era, making the success of a business depend heavily on customer satisfaction.

A strong customer service team is key to building the foundation of a successful company, and recruiters are on the hunt for customer service representatives, managers, and supervisors who are adept at solving customer issues and who can represent and uphold the company's brand. Experts project that the employment of customer service employees will grow a staggering 10% through 2024 -- faster than the average for any other field of expertise.

But as the field grows, so does the amount of competition. If you want to work in customer service, it's important to ensure that your resume will stand out from the crowd.

What should a customer service resume in 2021 look like?

Below, we'll go over 5 successful customer service resume templates that you can download and use. We'll also go over some of the most important skills that hiring managers look out for, and some other useful tips to keep in mind as you write your customer service resume.
Customer Service Resume Templates
Customer Service Representative Resume Sample
When applying for a customer service role, it's important to show the recruiter that you have the required skills and knowledge for the job. You should highlight work experience that is relevant for the role, like in the given resume, which includes three instances of past work experience in a customer service capacity. It's okay if you don't have over 8 years of experience in customer service -- you can also highlight your experience in your skills and in your education section.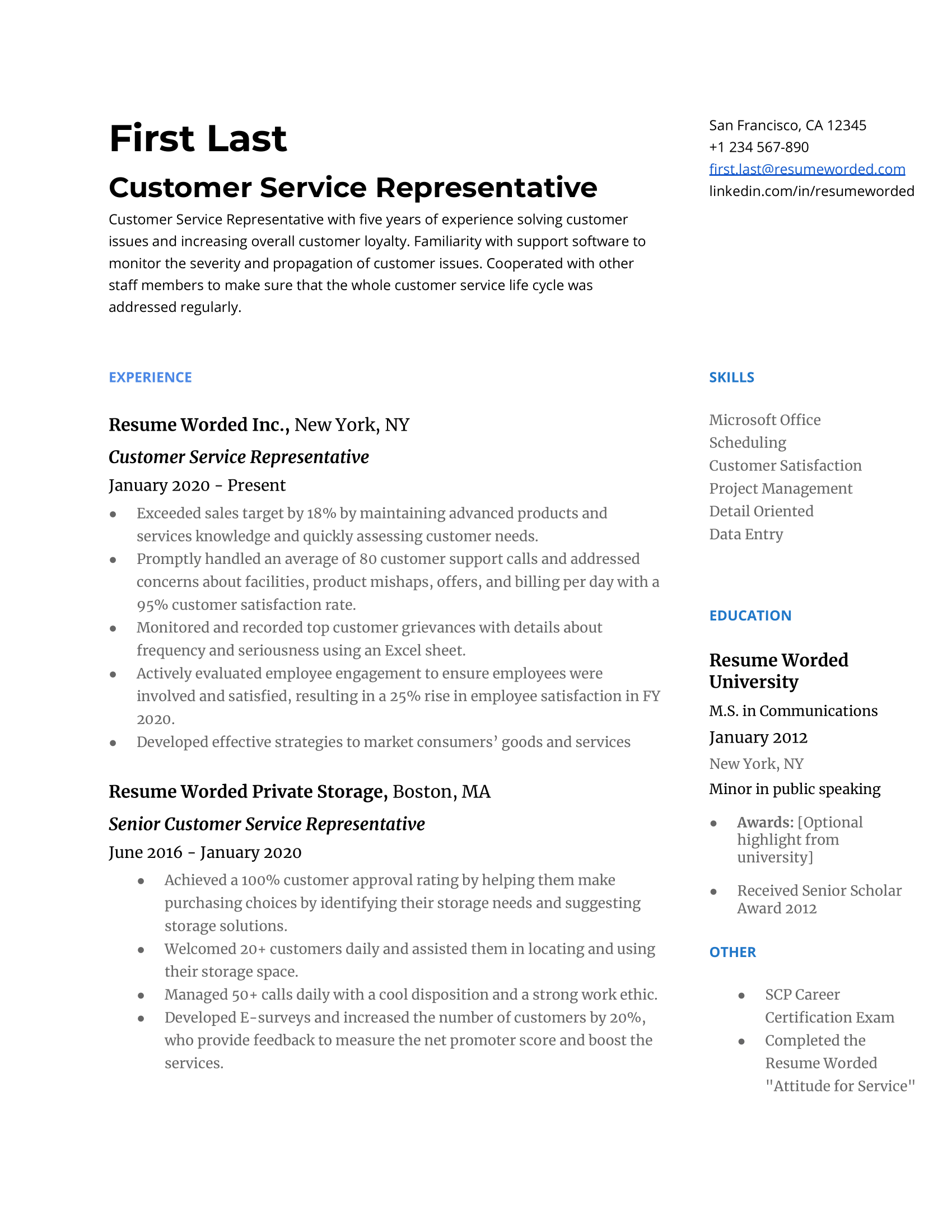 Recruiter Insight: Why this resume works in 2021
Customer Service Manager Resume Sample
When applying for a customer service manager role, keep in mind what differentiates a manager from a representative. A customer service manager must not only be adept at prioritizing customer satisfaction and needs, but also at strategizing and implementing operational improvements to ensure a smooth and painless customer journey. They should be confident in leadership roles and understand how to manage and motivate a team of customer service representatives. This resume highlights the applicant's experience in exactly those areas.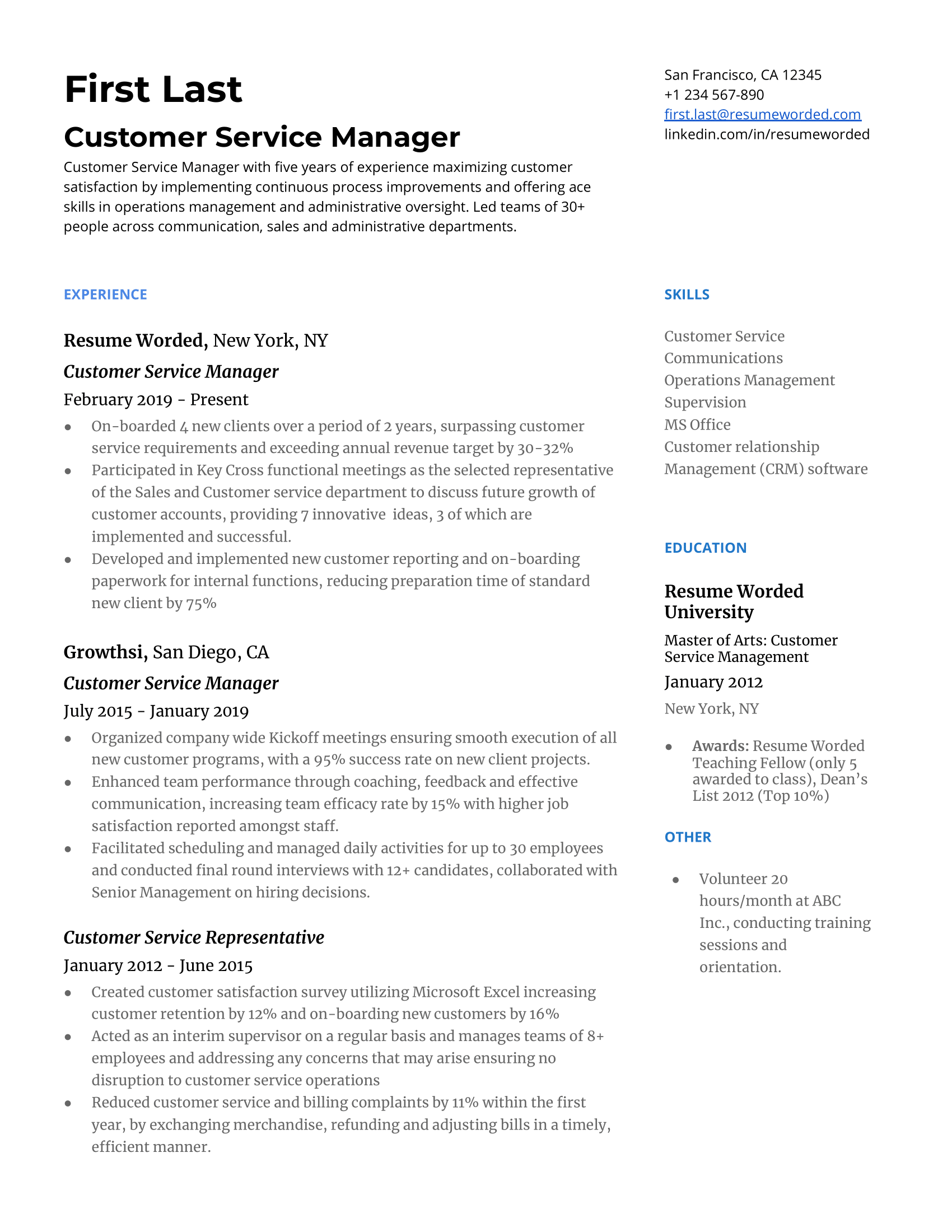 Recruiter Insight: Why this resume works in 2021
Customer Service Supervisor Resume Sample
A customer service supervisor plays a key role in the smooth and successful execution of customer service operations. Typically, a customer service supervisor is one level lower than a customer service manager, and with experience may eventually be promoted to that role. Thus, this job often includes some budding responsibilities that you might expect from a manager, including recruiting, training, and general involvement in the ongoing development of the customer service team.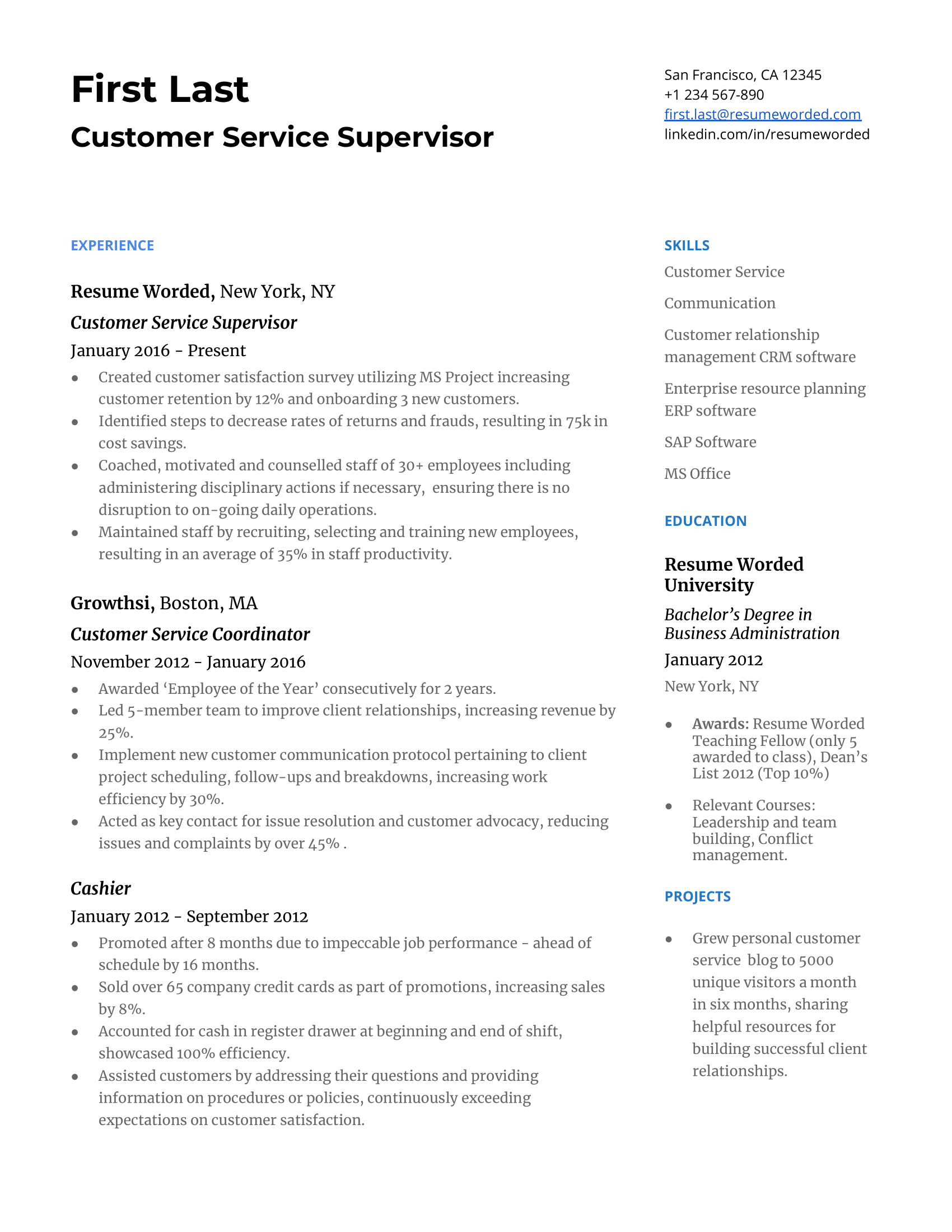 Recruiter Insight: Why this resume works in 2021
Entry Level Customer Service Representative Resume Sample
If you're still taking classes as a student, or even if you just graduated, the recruiting world can be an intimidating place -- especially if you don't have much work experience. Don't worry! You can use this template to show recruiters that you have relevant experience in internships or clubs, and that you're fully capable and skilled for the role.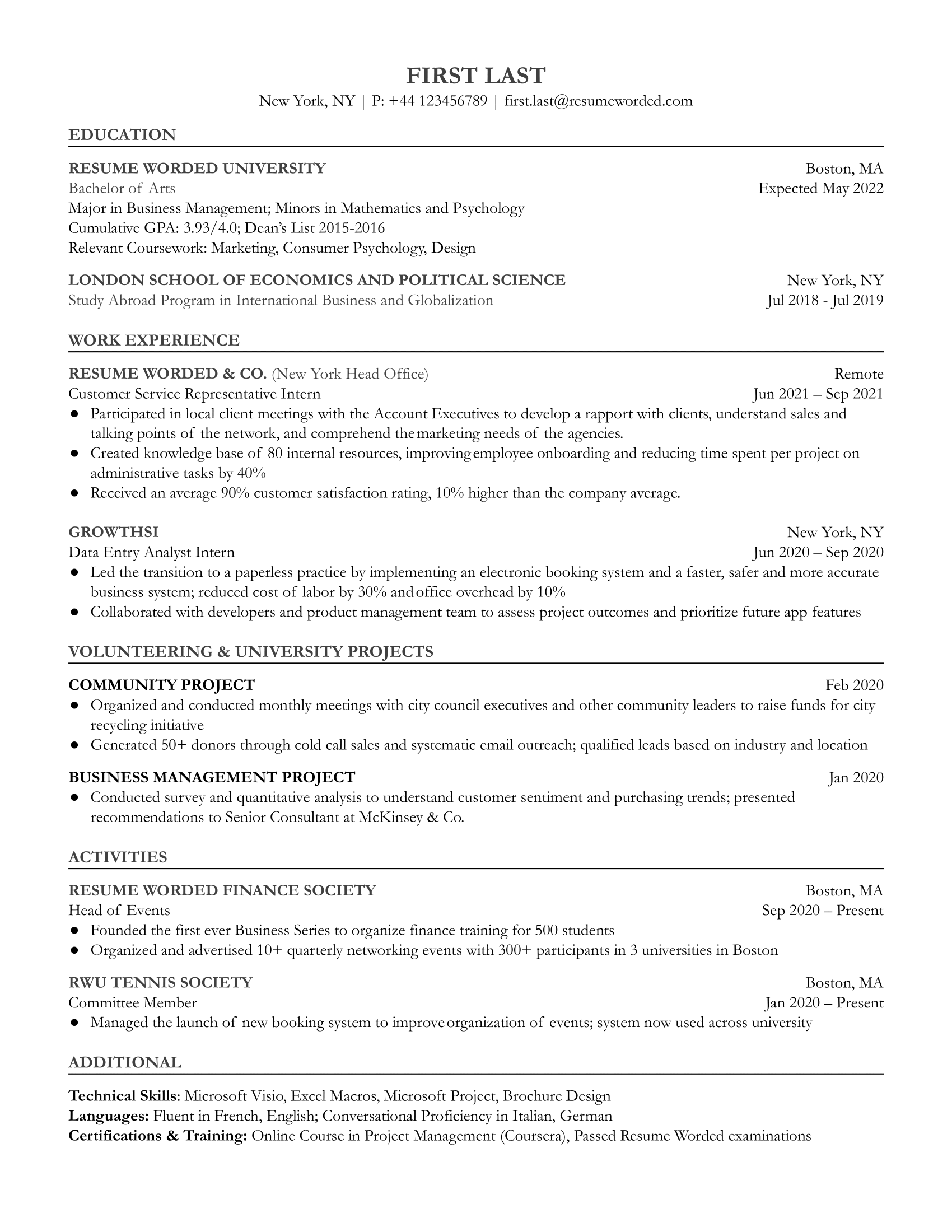 Recruiter Insight: Why this resume works in 2021
Director of Customer Service Resume Sample
The Director of Customer Service is a highly ranked position in the customer service team, and commands a large scope of responsibility for the organization's implementation of customer service initiatives and execution of strategic imperatives. Accordingly, this position requires excellent business judgment, fantastic management skills, and strong decision-making abilities. It is essential to showcase evidence that you have such expertise by including detailed descriptions of your experience in customer service related positions, as well as evidence of your technical skills, specifically those needed to facilitate operational management.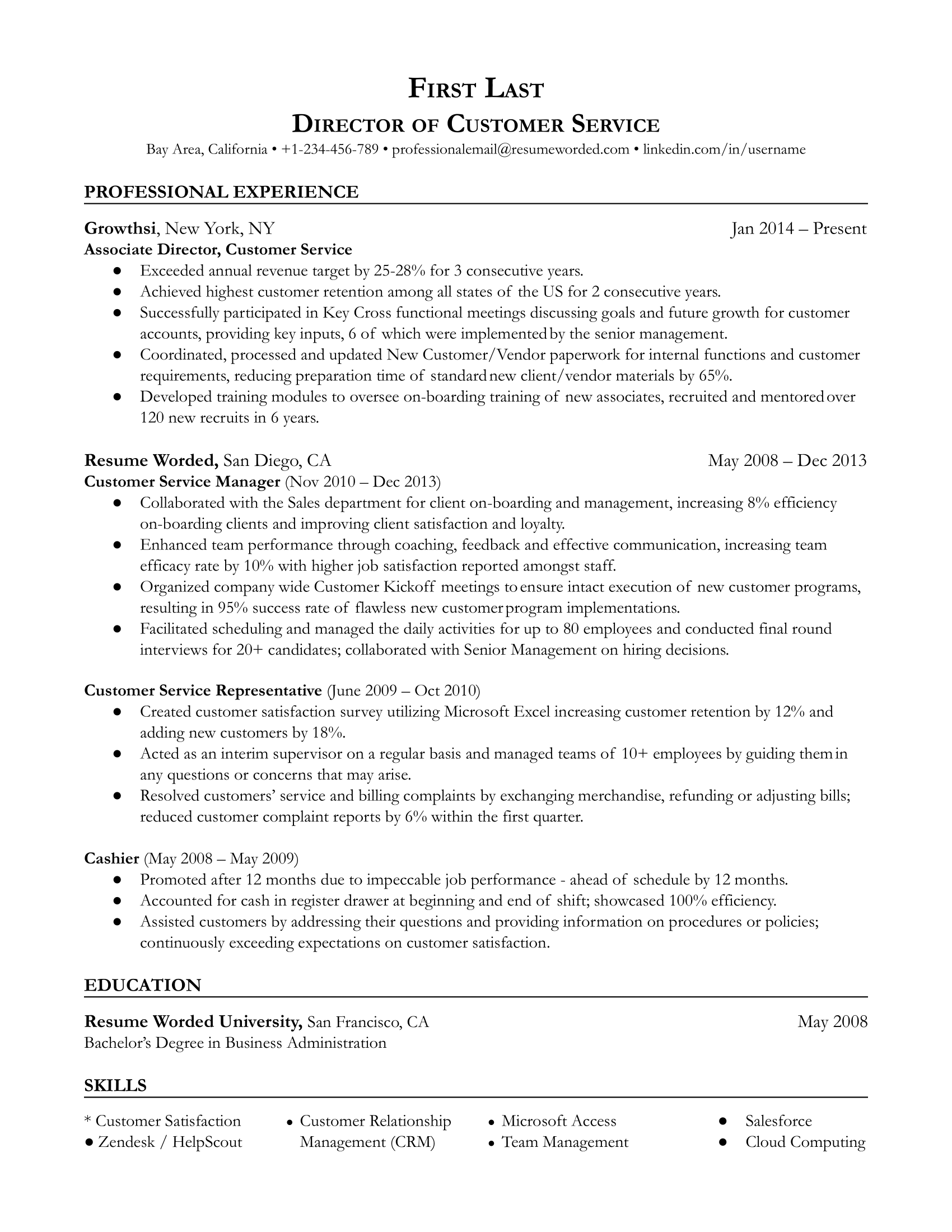 Recruiter Insight: Why this resume works in 2021
Skills For Customer Service Resumes
When you find the Customer Service positions that you want to apply for, always make sure to read the job description carefully from beginning to end. Hiring managers are often overwhelmed with hundreds of applications, and want to ensure that the candidates they select are serious about the position. Instead of simply dropping a generalist resume, make sure to do your due diligence -- and show that you've done it!

How can you show that you're done your homework on the role? Go through the job description -- you can even copy and paste it into another document and highlight the specific skills they mention. Then, make sure to include those in your work experience and note them in your resume's Skills section. You should also try to tailor your bullet points in your Work Experience section to cater to those skill sets where you can (e.g. Enhanced customer satisfaction by 80% using [Skill name])

Generally, hiring managers who are looking to fill customer service roles are on the hunt for candidates who demonstrate excellent communication skills, a demonstrated track record of ensuring customer satisfaction, and -- if you're applying for a role that leads a team -- strong leadership abilities such as strategy development and decision-making.
Customer Support
Zendesk
Technical Support
Customer Satisfaction
Troubleshooting
Salesforce.com
Contact Centers
Customer Experience
Data Entry
Customer Service
Sales
Time Management
Teamwork
Account Management
Customer Relationship Management (CRM)
Social Media
Phone Etiquette
Communication
Jira
Teaching
Customer Service Resume Tips
Many recruiters skim through your resume -- some might spend less than a minute reviewing your application. That's why it's so important to craft a resume that highlights your strengths well, and that helps you stand out as a strong candidate.

How do you craft such a resume? Below, we've gathered the top tips for creating a customer service resume that will help your application shine:
Action Verbs For Customer Service Resumes
Use this list of common customer service action verbs to effectively describe your achievements throughout your work experience.

Your customer service resume should emphasize the impact of your accomplishments and contributions with strong action verbs. Try to be creative and use a new action verb for each bullet point. To pack an even more powerful punch, combine your verb with quantifiable results to show tangible proof of your work.
Communicated
Influenced
Arranged
Mediated
Promoted
Trained
Translated
Proposed
Reconciled
Interviewed
Initiated
Improved
Increased
Eliminated
Transformed
For a full list of effective resume action verbs, visit Resume Action Verbs.
Resume Bullet Points From Customer Service Resumes
You should use bullet points to describe your achievements in your Customer Service resume. Here are sample bullet points to help you get started:
Identified steps to decrease rates of returns and frauds, resulting in $75k in cost savings.
Provided excellent customer service, effectively reducing customer complaints from 65% to 23% within the first 8 months.
Acted as key contact for issue resolution and customer advocacy, reducing issues and complaints by over 45% .
Collaborated with 10 department managers and peers to develop and implement policies and procedures that increased internal efficiency by 20%.
Created customer satisfaction survey utilizing MS Project increasing customer retention by 12% and onboarding 3 new customers.
For more sample bullet points and details on how to write effective bullet points, see our articles on resume bullet points, how to quantify your resume and resume accomplishments.