A 2018 study found that recruiters spend an average of 7.4 seconds skimming through each resume they receive. When you're applying for jobs, you only have that brief window of time to hook a recruiter's attention -- so your resume needs to pack a punch.
How do you create a memorable, impactful resume that will help you get more interviews in 2021? One of the simplest and most effective strategies is to quantify your resume achievements with numbers and data. We'll break down that concept in more detail below.
What does it mean to quantify your resume?
According to the previously-mentioned study, many hiring managers prefer to see resumes with bulleted lists of achievements in the work experience section. These bullet points should be short, bite-sized, and easily scannable for quick reading. The most memorable and effective bullet points feature examples of your past achievements quantified with specific metrics, as in the resume sample below.
Notice how each bullet point references specific numbers (e.g. "reduced development costs by 25 percent") in connection with the candidate's achievements. These points are great examples of quantified achievements. The more quantified achievements you can include in your resume, the more you will stand out in a recruiter's eyes.
Easy ways to quantify your resume
When writing your resume, you should always choose the numbers that are most appropriate and relevant to your industry, whether it's the amount of revenue you generated, the costs you reduced, or the processes you streamlined for greater efficiency. Here are some of the best – and easiest – ways to quantify your resume:
Increased (or reduced) x by y%
Time saving
Project or data size
Quantity of work
Time commitment
Revenue, profit, or sales generated
Ultimately, any recruiter who is considering hiring you wants to know: can you add to their bottom line? Are you going to be a profitable addition to their company? Showing how you've generated revenue, boosted sales, cut costs, or increased profit for past employers can make you a very desirable candidate for a job.
Of course, this metric works best with sales and business positions that directly generate revenue -- not all jobs lend themselves to being quantified in this way. But if you can measure your impact in the number of dollars you've brought in, don't be shy about saying so.
You should aim to quantify most of your bullet points with numbers, metrics and data. I'd recommend trying out the tool below to check if your resume has enough uses of numbers, data and quantifiable accomplishments. It's a good litmus test to figure out if you've checked all the boxes from a hiring manager's perspective.
Example bullet points:
Designed and executed company-wide digital marketing strategy that drove $500,000 in product sales
Organized a series of community fundraising events with 250+ attendees; generated $100,000 in donations
Increased (or reduced) x by y%
You can use this versatile metric for any job where you've made a difference. If you've been in a marketing or similar role, you could discuss how you grew your brand's readership or audience size. Or, in a customer service job, you could talk about how you achieved a reduction in customer complaints or negative online reviews. If you don't know the exact percentage of the change you achieved, it's okay to provide your best estimate.
You can also give examples of where you've improved processes or working conditions. Increasing productivity, employee satisfaction, and other aspects of the workplace can be very impactful for companies, so they're valid metrics to call out in your resume.
Example bullet points:
Led intensive customer service trainings for all sales staff, creating a 65% reduction in customer complaints
Provided individualized coaching and feedback for employees on a quarterly basis, leading to a 25% increase in workplace satisfaction
Time saving
You know the saying – time is money. Saving valuable company time can be as significant to the bottom line as directly saving money, which makes it an excellent thing to quantify on your resume. You can approach on a small scale this by detailing the number of hours you saved by streamlining the efficiency of your own projects, or on a larger scale by estimating the total number of man hours you saved for your company.
Example bullet points:
Led 2 business analysts to automate repetitive process flows using Excel Macros / VBA and reduce analysis time by 10+ hours per week
Built Tableau dashboard to visualize core business K Pls (e.g. Monthly Recurring Revenue), saving 10 hours per week of manual reporting work
Project or data size
Running a two-person team or planning a dinner for 5 people is very different from overseeing a 500-person department or organizing an event for 200 attendees. Make the scale of your accomplishments clear to a hiring manager by including quantifiable metrics like the size of your department, event, budget, or data set.
Example bullet points:
Developed a prototype to identify key influencers on Twitter using clustering techniques over 100,000 data points in Python
Managed a process re-engineering project to improve and consolidate end-to-end service processes; restructured communication flow among 10 departments, and cut down paperwork by 75%
Directed agency fundraising revenue generation, daily program business operations, community outreach membership recruitment, and human resources in 30 suburbs in the city for organizations with assets of $8M
Quantity of work
You can also choose to focus on the quantify of work you completed – for example, the number of projects completed, number of employees onboarded, or number of trainings facilitated. This doesn't need to be an exact figure – giving a range or an approximate figure is fine.
Example bullet points:
Hired, trained, and managed over 355 part-time workers per year
Coordinated mailing over 40,000 invitations, formal letters, and information packets annually
Time commitment
It's one thing to say that you're a committed employee, but quite another to have the numbers to back it up. If you were promoted ahead of schedule, routinely go the extra mile to help out, or have a track record of putting in overtime to make sure important deadlines are met – and you don't mind doing the same at your next job – go ahead and include those accomplishments.
Example bullet points:
Promoted within 12 months due to strong performance and organizational impact (one year ahead of schedule)
Worked 16 days nonstop to ensure all KPIs were met for on-time product launch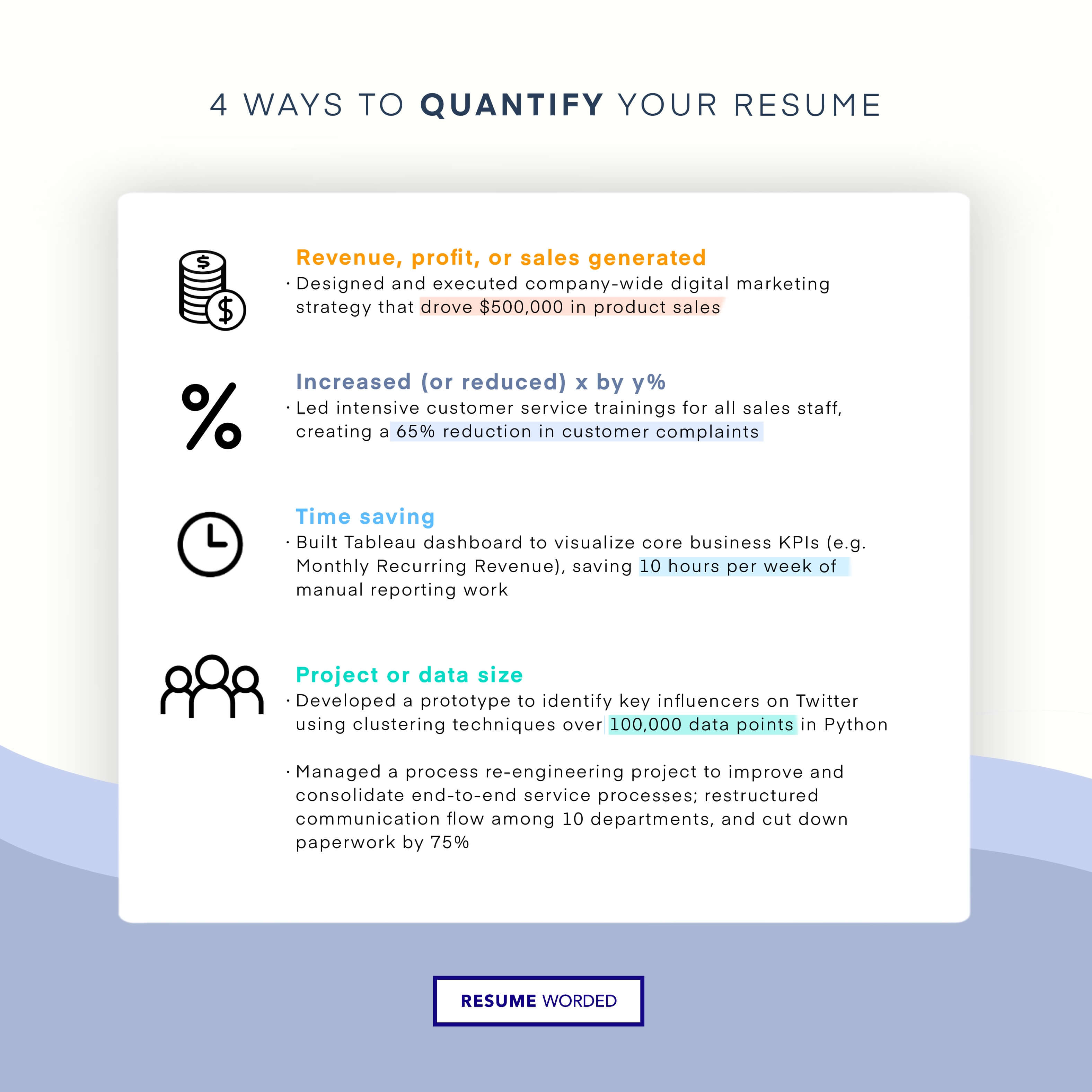 How to strengthen existing resume bullet points with metrics
By now, hopefully you're starting to see what a powerful tool these quantified bullet points can be. They convey confidence and send a strong message to hiring managers about your ability to excel in a job.
But let's say that you already have a resume that's riddled with unquantified bullet points. Not to worry -- you don't have to scrap the whole document and start fresh! Instead, you can rework each point, filling in more detail and adding those specific numbers to illustrate what you achieved.
Let's look at a few "before and after" examples that will show you how to convert weaker, non-quantified bullet points into stronger, quantified ones. The weaker examples are vague and nonspecific, while the stronger ones are much clearer and more detailed.
More examples of quantifying your resume, handpicked by recruiters
Examples are always helpful, so here's a collection of resume bullet points that are correctly quantified and handpicked from successful resumes.
Analyzed data from 25000 monthly active users and used outputs to guide marketing and product strategies; increased average app engagement time by 2x, decrease drop off rate by 30%, and increased shares on social media by 3x over 6 months
Spearheaded retail distribution expansion into 8 new territories and markets in South Brazil; resulted in 85% sales growth and the fastest growing sales location in South America in 2015
Scripted and tested phone sales process; increased customers by 30% in 6 months
Grew revenue from $1MM to $2.5M in one year by expanding channel partnerships; exceeded target by 150%
Analyzed company's 24-month sales results to develop five-year monthly projections by revenue and customer type
Developed and executed customer referral program, leading to 50% increase in referral business and $2MM of incremental revenue
Led evaluation and selection of new CRM system; spearheaded a cross-functional team (Technology, Business Development, Management) to implement the system; successful adoption accelerated revenue growth by 25% in 1 year
Led a 10-week engagement in a four-member team for a solar energy provider; assessed 30+ locations and provided a recommendation for the most suitable location of their new headquarters
Led six-member cross-functional team across four offices to implement a new CRM system; system is used by 300+ employees globally
Pay close attention to the metrics and numbers used to quantify each bullet point. Like we discussed above, effective metrics can be dollar amounts (e.g. revenue, sales), size of teams of users (e.g. employees worked with), or percentages.
For more resume bullet points and templates, visit sample resume bullet points.
FAQs
Why do I need to quantify my resume?
Hiring managers don't just want to hear about your talent and abilities; they want to see proof of what you've actually accomplished in the past. They want to know that you've had a positive impact in your previous jobs and that you're capable of excellent work.
When you quantify your resume accomplishments with specific numbers, you're not just making empty claims about your skills and experience -- you're backing your claims up with evidence. Quantified achievements are far more meaningful and concrete than vague statements about what you were "responsible for" at a previous job, and they can also help differentiate you from your competition.
What should I do if I don't have access to numbers from my previous jobs?
When you're quantifying your achievements, you may not always know the exact number of dollars you brought in or the percentage of growth you created. If that's the case, don't panic -- all you need to do is provide your best guess.
For example, if you upgraded some machinery and made your company's operations more efficient, you could estimate how many hours of labor those new machines saved per week. To take it a step further, you could multiply these weekly labor hours by the average hourly employee pay to give a rough idea of how much money the machines saved.
In certain jobs, such as those where you help coach, mentor, and guide other people, it may be challenging to think of tangible, measurable achievements to list on your resume. In these cases, you could focus on metrics such as the number of clients you've served or new team members you've hired.
What if I'm a student or recent graduate with limited work experience?
If you don't have much work history yet, focus your resume on any relevant experiences you have had -- they could be courses you took in school, internships you've held, or extracurricular projects you've done. Recruiters know that those activities are valuable learning experiences, and they often teach you transferable job skills.
List these experiences on your resume as if they were jobs, and create bullet points for each one as shown in the example below. Call out achievements that can be quantified such as the number of donors you generated, networking events you organized, or students who participated in your trainings.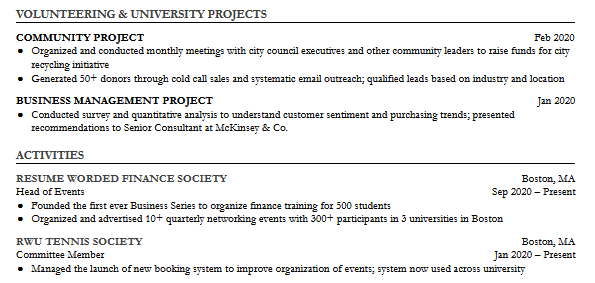 If you're unsure of what skills to add to your resume, use the tool below to search for the role you're applying to. It'll let you know which skills are relevant to the job you're applying to and which to add into your skills sections.
What if I can't think of any ways to quantify my accomplishments?
Some accomplishments are easier to quantify than others. If you worked in sales, finance, or anything else particularly number-driven, finding ways to quantify your accomplishments should be relatively easy. But what about people who work in positions that aren't so easily quantified?
Instead of adding numbers that don't relate to your core achievements just for the sake of data, try these strategies:
Explain the scale of what you did. Did you tutor 12 children in history, or organize an event with 400 attendees?
Mention the frequency of ongoing duties. Did you send out a weekly newsletter, send daily status reports, or reconcile a monthly budget?
Describe your time investment. Did you spend 10 hours per week volunteering at a shelter, or put in 60+ hour weeks in the leadup to a product launch?
Estimate and make use of ranges. Nobody is going to meticulously check whether you saved your company 19% or 22% in overhead — just make sure whatever figure you use is approximately correct.