Mentoring someone at work may not feel like a big deal — after all, you're just answering a few questions, right?
Actually, mentoring team members is a valuable skill set — after all, not everyone who's good at their job is also good at explaining how to do it. Putting mentorship on a resume is a great way to signal that you're willing to take on extra responsibilities and ready for the next step in your career.
If you've ever mentored someone at work — officially or unofficially — here's what you need to include on your resume.
How to include mentoring team members on a resume
Brainstorm any times you've mentored people at work. This could include new employees, team members, external people, etc.
Scan the job description to see how your experience matches up. If necessary, tweak your examples to match the skills and responsibilities listed in the job ad.
Include bullet points related to mentoring in your work experience section.
Focus on your specific contributions by starting each bullet point with a strong action verb.
Include as many details as you can. This might include the number of people you mentored, what areas you mentored them in, or the outcomes of the mentorship program.
Check your resume against the job you're applying for by running it through an ATS resume scanner.
Synonyms for peer mentoring on a resume
When including mentorship on a resume, it's easy to get caught up in other people's achievements. Keep the focus squarely on your own contributions by using action verbs like:
Mentored
Trained
Coached
Led
Guided
Explained
Developed
Evaluated
Reviewed
Assessed
Clarified
Rehabilitated
Counseled
Instructed
These are all about what you did, which is exactly what hiring managers want to see. Here are a few examples in action: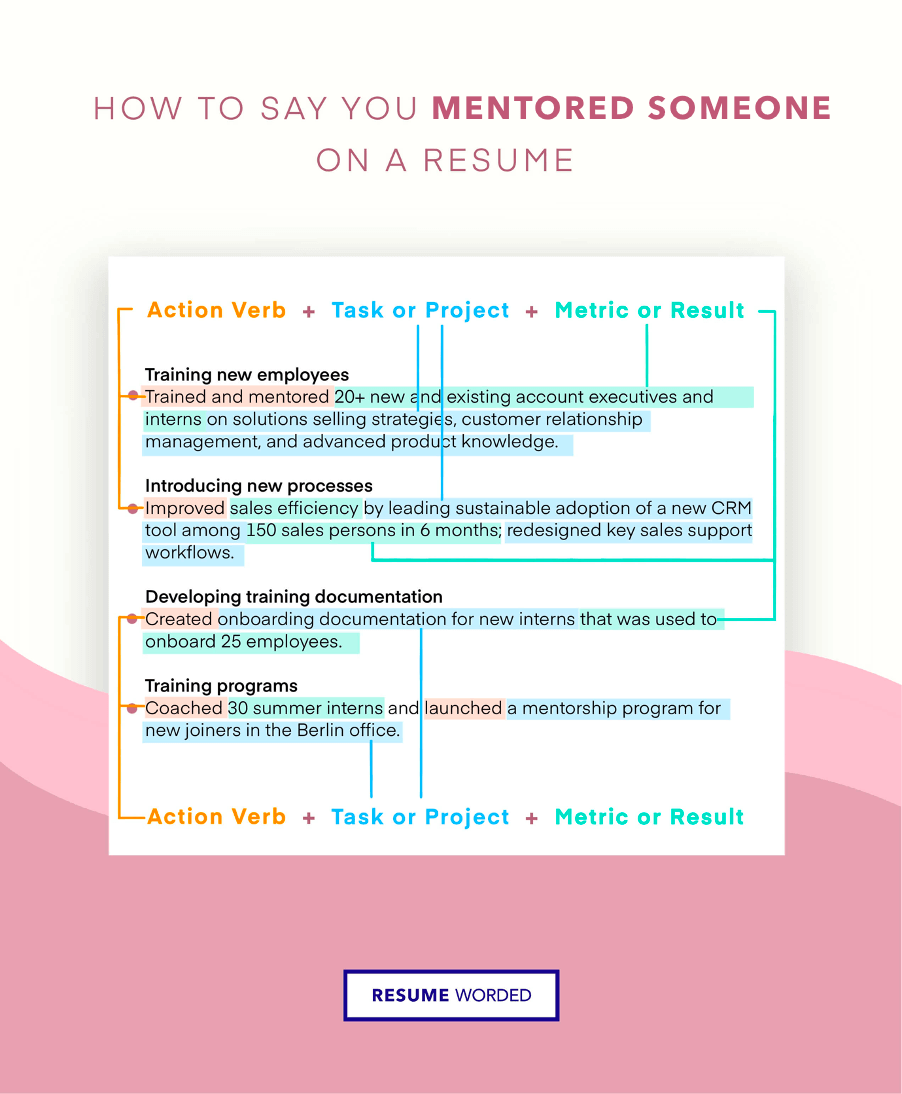 If one of your professional titles was "mentor"
You might be working with a startup accelerator or incubator mentoring business owners, or with a university mentoring students. These are absolutely valid experiences to include in your resume's work experience — here's a quick example of what that might look like:
Find out if your resume highlights mentorship
Mentoring is a good way to showcase your soft skills and position yourself for more leadership and management roles. A good way to check if your resume highlights your mentorship accomplishments and skills is to upload your resume to the tool below — it'll let you know if you have used enough action verbs, metrics and skills that highlight your mentoring accomplishments.
Examples of mentoring on a resume
Ready to dive in? Here are some examples of bullet point accomplishments you can use in your own resume to highlight mentorship:
If you mentored new employees
Mentored 15+ new recruits providing onboarding orientation seminars and conducted group and individual training sessions.
Including the number of employees you mentored is an easy way to include metrics in an accomplishment that otherwise feels hard to quantify.
If you did peer mentoring
Participated in company-wide mentorship program to train junior account executives on solutions selling strategies, customer relationship management, and advanced product knowledge.
You can also mention the scope or context of your mentorship — for example, whether it was a company-wide program, group training or one-on-one mentoring, and what the training included.
If you did performance coaching
Provided coaching and feedback to 15 individuals in a cross-functional, agile project environment.
Mentoring on a resume can also extend to related skills, like coaching, feedback, and performance management.
If you ran a mentorship program
Launched a mentorship program for new employees; coordinated 30+ interns and permanent staff.
If you were responsible for mentoring on a larger scale — for example, if you ran your company's mentorship program — this can be a separate bullet point. Focus less on your personal mentoring role here and more on the size of the program and what you did to run it.
If you held a formal mentorship role
Mentored 50+ women entrepreneurs across a diverse range of sectors, coaching them through how to get their first users, seed fundraising activities and lean startup methodology.
If you held a job that explicitly focused on mentoring others, you may want to dedicate more resume real estate to your mentorship role — especially if the job you're applying for is similar or includes an element of leadership or management. Feel free to include multiple bullet points related to mentoring, as well as a formal job title like "Mentor."
If you created onboarding documentation
Created onboarding documentation for new interns that was used to onboard 25 employees.
You don't need to have individually mentored someone to include it on your resume. If you included training or onboarding documentation that was used to get new employees up to speed, that's an accomplishment that belongs on your resume.
If you mentored someone external
Provided assistance on business development opportunities to over 15 new clients, offering strategic advice on increasing website leads and response rate.
Mentoring isn't just for internal peers. If you ran training or mentoring for external clients or stakeholders, that's an equally valuable skill to include on your resume.
If you were mentored by someone senior
Participated in year-long one-on-one mentorship program with CEO; promoted to Team Lead at the end of the program.
Generally, you'll want to focus on times that you mentored someone else, now when someone mentored you. A possible exception to this is if you were mentored by someone particularly prestigious and want to take the opportunity to name drop — but even then, make sure you can link it to an actual accomplishment of your own.
Mentorship resume tips
Now that we've covered the basics, here are a few extra things to keep in mind when putting mentoring on your resume:
Include mentorship in your work experience
Unless mentorship is explicitly a major focus of the new role (like you're being hired primarily to run a new employee onboarding program), there's no need to mention it in your cover letter or resume summary. Similarly, a lot of the skills associated with mentoring — like training, leadership, and communication — are soft skills, so don't list something like "mentoring" in your skills section.
On the topic of skills, use the skills search tool below to get a list of hard skills and keywords relevant to the job you're applying for.
Focus on what you accomplished
It might feel worth mentioning if four of the last five people you mentored went on to be promoted, but the reality is, recruiters care about what you did, not about what somebody else accomplished. The metrics you include in your bullet points should be related to how many people you mentored, how many new employees you onboarded, or what documentation you created — not on other people's successes.