Here's something you might not know: Your resume doesn't actually need to include everything you've ever done. That fast food job you worked twenty years ago? The nightmare job you ditched after two months? The dozens of really impressive accomplishments at your last job that have absolutely nothing to do with the job you're applying for now? None of these need to stay on your resume.
Instead of a comprehensive rundown of everything you've ever done professionally, your resume only needs to outline the experience, skills, and achievements that recruiters are looking for in this particular job. How do you do that? Through your bullet points, of course! Your work experience accomplishments are the backbone of your resume and the thing that hiring managers care about the most.
How many bullet points per job should you include?
The exact number of bullet points will depend on how recent the position was, how much experience you have overall, and of course how many relevant accomplishments you have.
Here are some general rules to keep in mind:
Aim for 4-6 bullet points per role.
You can get away with listing up to 8 bullet points for your most recent role.
Older positions may only need 1-2 bullet points.
If you held a job more than 10-15 years ago, omit the bullet points or leave it off your resume entirely.
If it means the difference between keeping your resume under a page or going over, opt for fewer bullet points.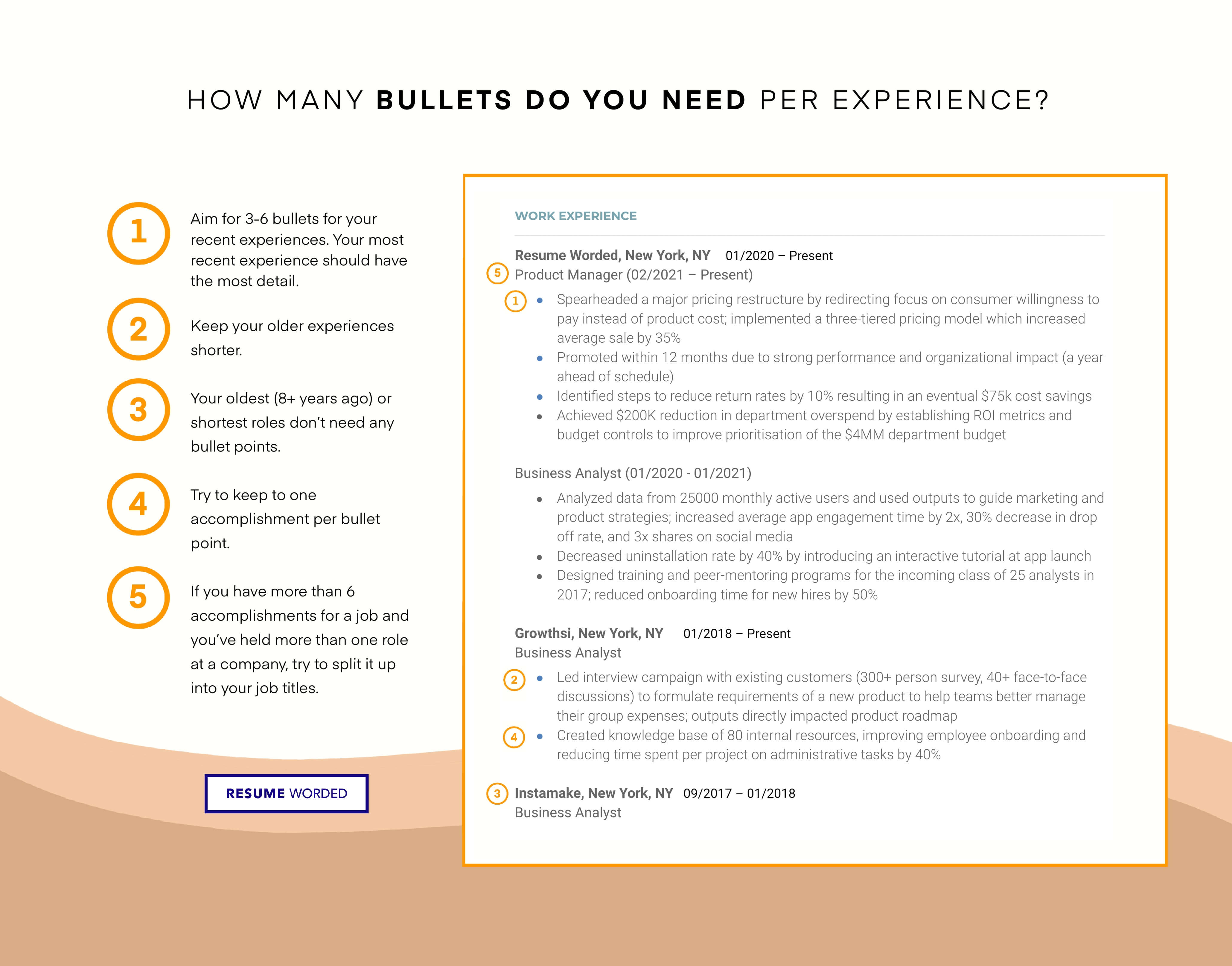 Find out if your resume has the right number of bullet points
An easy way to ensure if you have the right number of resume bullet points — and to check if your resume's bullet points are effective enough — is to upload your resume to Score My Resume for an instant resume review.
You can easily do it below:
The right number of bullet points for different experience levels
Entry level positions
Even if you're applying to an entry level position without much (or any) experience, that doesn't mean you have nothing to include on your resume. Internships, student placements, volunteer work, personal projects, and even coursework and extracurricular activities can all go on your resume in place of paid work experience. Just remember to focus on your accomplishments — no matter how small! Even including 2-3 relevant bullet points can be the key to landing your first position.
Mid-level positions
If you have some experience in similar roles to the one you're applying for, that's perfect! Start by brainstorming what you think are your biggest accomplishments, then compare these to the job description. Pick 4-6 of the top skills or competencies the hiring manager is looking for and write your bullet points in a way that demonstrates those.
Senior or leadership positions
If you're well-established in your career and applying to more senior roles, it can be tempting to want to exceed the 4-6 bullet point rule. While up to 8 bullet points for your most recent job can be fine, anything more than that is going to make a recruiter's eyes glaze over, no matter how impressive your accomplishments are.
Focus on the achievements that speak to your ability to do the job, which means things like managing a team or department, launching or spearheading new initiatives, and making major improvements to the way things are run.
Freelance and consulting
More than any other type of role, self-employment, freelance and consulting positions can benefit from a short blurb at the top describing what exactly the job entailed. Beyond that, consider breaking up your bullet points into specific projects or clients. Even though your job may have looked very different to a traditional in-house role, your bullet points should look the same — focus on your accomplishments, use hard numbers to emphasize the impact of your work, and don't forget to include a conventional company name and job title.
Related: How Many Jobs Should You List on Your Resume?
How to write resume bullet points
Here are the key things to keep in mind about your resume bullet points:
Always use bullet points— not paragraphs.
Focus on accomplishments instead of job duties.
Start your bullet point with a strong action verb.
Quantify accomplishments with metrics.
Prioritize bullet points that are relevant to the job you're applying for.
Use your bullet points to show careeer progression.
Optimize your bullet points with essential keywords.
Here are two examples of resume bullet points that fit the high level requirements for bullet points: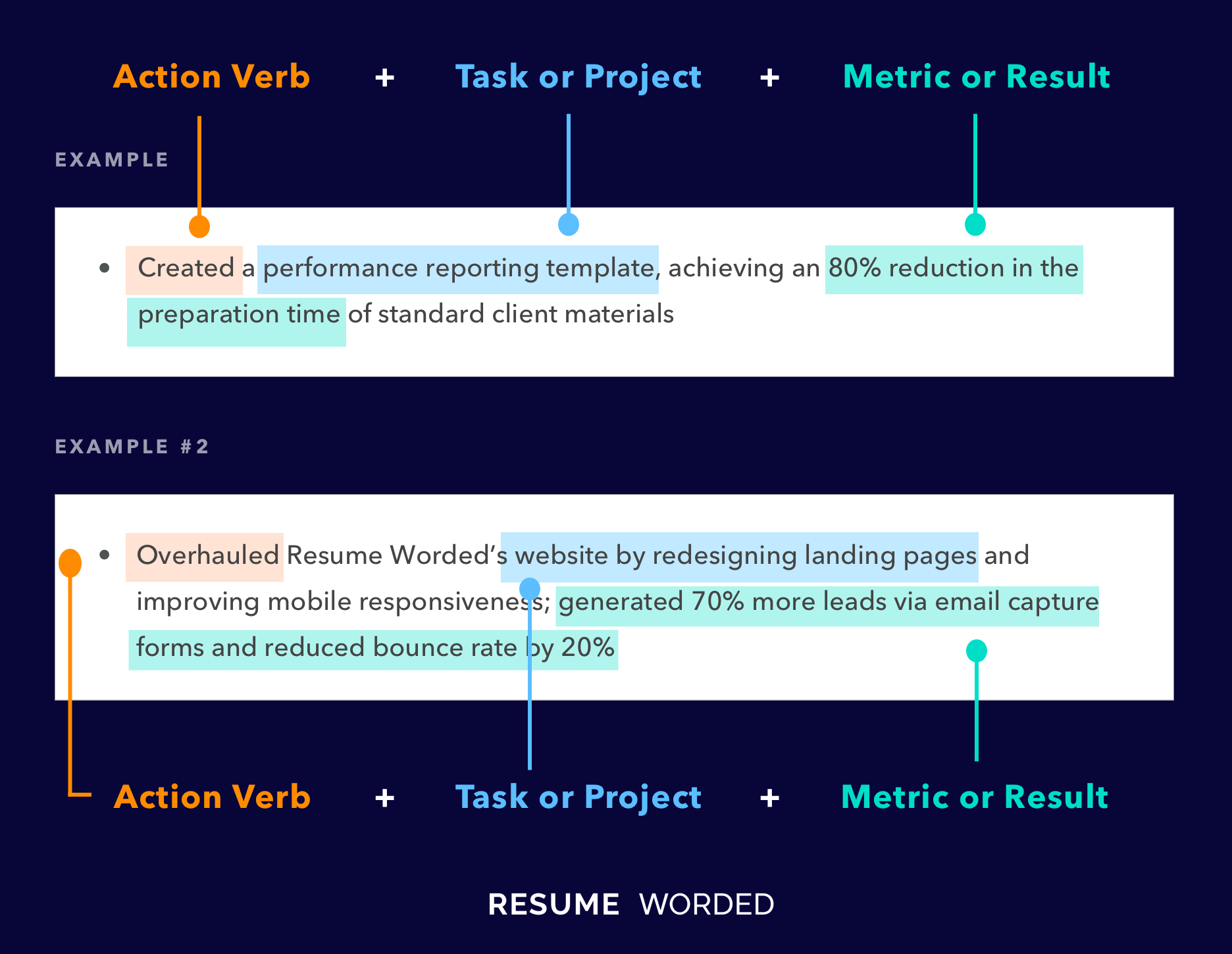 Bullet points vs. paragraphs
Never list your accomplishments in paragraph format — always use bullet points. If you feel like a particular role needs a little more context than bullet points can provide, consider including a short 1-2 sentence blurb underneath the job title. You can use this to describe the job or company in a little more detail or to highlight the top skills and accomplishments you want recruiters to focus on.
Focus on accomplishments
Never list job duties on your resume. Recruiters care about what you achieved, not what your assigned duties were, so make sure your bullet points don't read like a job description. Knowing what you've achieved in the past gives employers the most insight into what you're likely to accomplish in this new role.
Use action verbs
Keep your bullet points accomplishment-focused by starting with a strong action verb — your bullet points should be in the format [action verb] + [what you did] + [result].
Include hard numbers and metrics
You should aim to include some kind of metric in each bullet point. Why? The more concrete and objective the result you can point to, the more convincing your accomplishments become. "Increased sales" is vague and unhelpful. "Increased sales by 300%" is specific, impressive, and easier to verify.
Stick to relevant achievements
Your bullet points should include strongest and most relevant accomplishments — emphasis on relevant. Increasing sales by 400% via cold calling may be impressive, but it won't matter much to a hiring manager if you're applying for a data entry position. To show your ability to do the job you're applying for, check the job description and try to match up each bullet point with a job duty or key skill mentioned in the ad.
Show career progression
Recruiters want to see career progression, so try not to simply list the same types of accomplishments for each job. Even if you've held a series of jobs doing mostly the same thing, keep your more impressive or higher-level achievements for your more recent jobs to give a sense of progression.
Remember, your resume should paint a clear picture of what makes you a strong candidate, so choose what to include — or exclude — based on the story you're trying to tell.
Make sure they're optimized
The first step in most applications is getting past Applicant Tracking Systems (ATS), so make sure your bullet points include relevant skills and keywords for the job you're applying for. Once you're finished, use Score My Resume to check that they're optimized. This free tool scores your resume on key criteria recruiters and hiring managers look for and gives you actionable feedback to revamp your resume and land more interviews. Struggling to get started? This bullet point builder tool can help you format your accomplishments from the ground up.
If you want to find skills and keywords relevant to the job you're applying for, use the skills search tool below to find the right ones.
Where else can you use bullet points?
You can use bullet points in every section of your resume. In addition to your work experience section, you can format nearly every part of your resume using bullet points:
Resume header
Summary
Education
Additional sections
Resume header bullet points
Bullet points are a quick and easy way to keep the information in your resume header neatly separated. This should still fit on one line at the top of your resume.

Resume summary bullet points
Resume summaries are completely optional and should be kept brief — generally no more than 3-5 lines. That said, you can use bullet points to highlight any standout accomplishments or core competencies, particularly if you're an experienced hire applying for senior (think C-level and executive) positions.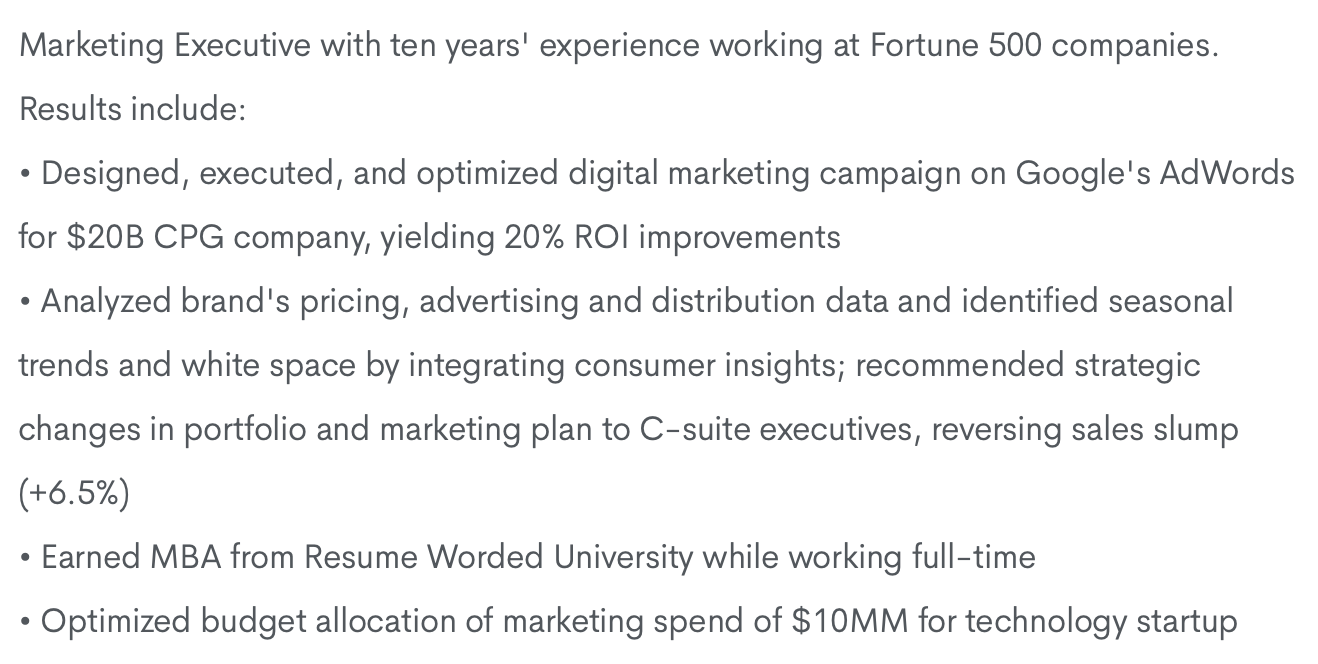 Bullet points for your skills section
If you've opted for a simple skills list at the bottom of your resume, use bullet points to keep this section organized and easily skimmable.
Education bullet points
If you're a current student or recent graduate, you can get away with a longer education section at the top of your resume. List any additional information — including rlevant coursework, awards, activities,  and study abroad — in bullet points underenath the name of your school and degree.
Using bullet points in additional sections
Bullet points are approriate any time you're listing accomplishments on your resume. That includes sections like volunteer work, projects, activities, and additional information.

Other resume formats
You should use bullet points no matter what type of resume you're writing — while standard chronological resumes are the best, bullet points also work for hybrid or functional resumes.
Frequently asked questions
How should you format resume bullet points?
Like any other resume formatting, keep your bullet points simple and easy to read. Stick to standard bullet point symbols — dashes or automatic bullets are fine, but avoid images or fancy symbols.
Bullet points should always start with a capital letter, but using full stops in your bullets is optional. If your bullet points are full sentences — or if a bullet point includes multiple sentences — you should use a full stop at the end. Whichever you choose, make sure you're consistent throughout your resume.
How long should each bullet point be?
Keep each bullet point to 1-2 lines. Your bullet points should be a concise summary of your resume's accomplishments — if you really want to elaborate on them, save it for a resume summary, short blurb, or cover letter. Keeping your bullet points succinct makes the key parts of your accomplishments stand out.
What if you have more than 4-6 bullet points for a job?
In general, focus on the bullet points per role that are most relevant to the job you're applying for.
Sometimes, this may mean you're leaving off some less impressive accomplishments. But by doing this, you're prioritizing the most relevant information and making your resume easily scannable is more likely to get you hired than including as much information as possible.
That said, if you've held multiple roles at the same company — especially if this represents a promotion — you can list each job separately underneath the same company heading. This allows you to list 4-6 bullet points underneath each role, which is a helpful workaround if you've spent a bulk of your career at the same employer.
Do you need bullet points for every position?
In general, every position you list on your resume should have at least 1-2 accomplishments underneath in bullet points. That said, you don't need to list every position you've ever held on your resume.
If the job is older (e.g. 10 years or more) but relevant, you can include just the job/role title on your resume with the date (without any bullet points) — essentially, this will only take up one line on your resume. That said, if it's a recent position (i.e. within the last 10 years), you must include at least 1-2 bullet points! Listing just a job title and a date for a recent position tell hiring managers you did not accomplish anything of significance — a red flag!
When should you leave a role off altogether?
If it's an older position, a job you only held for a short time, or one that's not particularly relevant to the job you're now applying for — in other words, if it's not going to help you get the job, and taking it off wouldn't leave a major gap — feel free to leave it off altogether.