Common job-seeking wisdom holds that volunteering can be a great way to gain experience in your chosen field. And it is — as long as you know how (and when) to show it on your resume.
Everything on your resume should be about showing why you're a good fit for a job. If volunteer work strengthens your candidacy, then by all means, you should include it. If it doesn't, it's okay to leave it off, even if it feels relevant.
Should you include volunteer work on a resume?
The short answer is yes — volunteer work can absolutely belong on your resume. Volunteer experience shows that you have a genuine interest in a particular field or issue. It also shows initiative and the willingness to go above and beyond what's required, which employers love. If the volunteer work is in the same industry as the one you're applying to, even better!
If you're a student, recent graduate, or career changer, you may not have a lot of relevant paid experience. Volunteer work gives you the opportunity to highlight your skills, whether these are common transferrable skills or a specific skill set that your paid experience doesn't show.
Think outside the box when it comes to volunteer work. This could include working with startups and non-profits, or even unpaid internships. If it demonstrates relevant skills or experience, it belongs on your resume.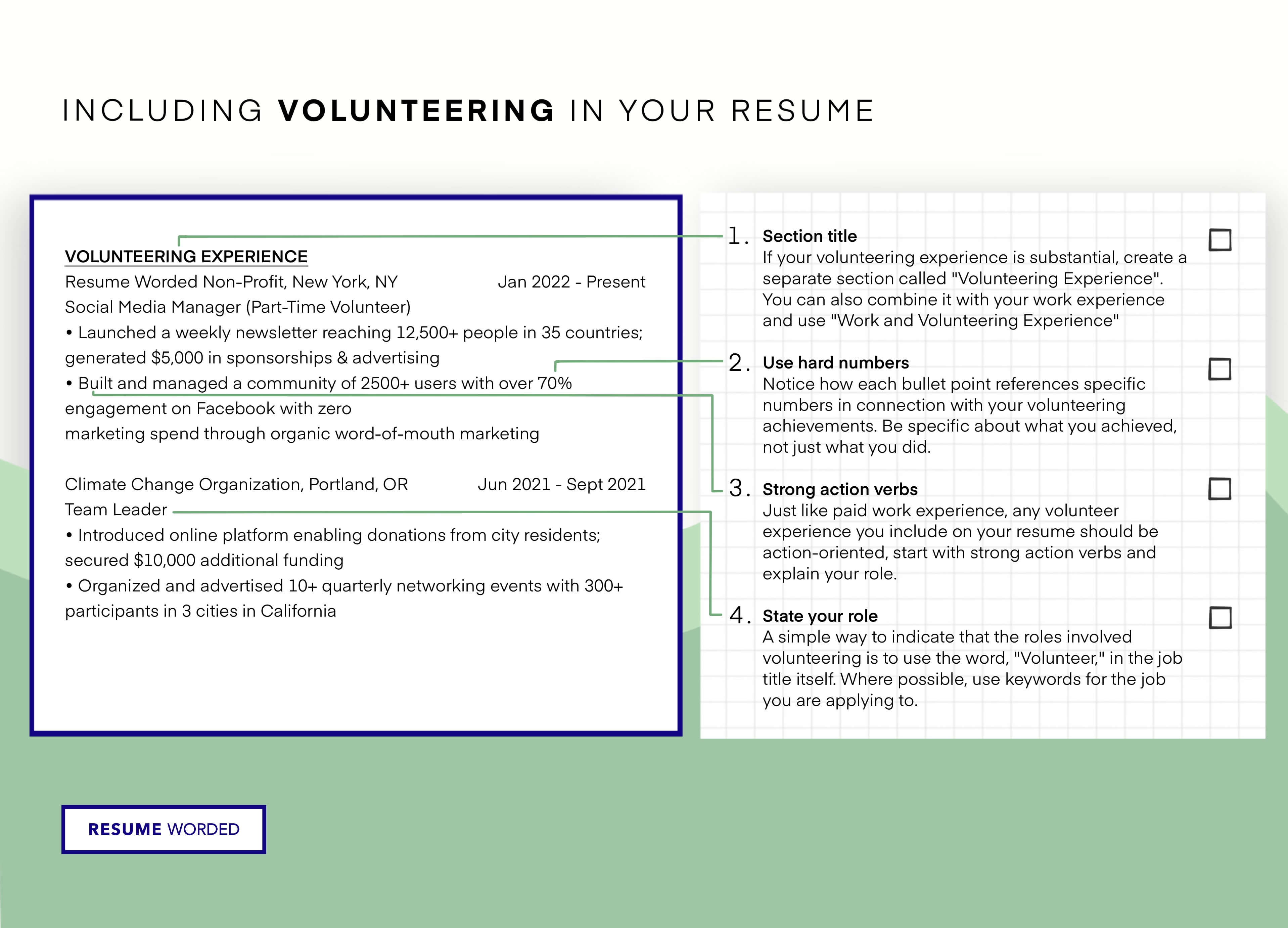 How to include volunteer experience on a resume
Here are three different ways you can include volunteer work on a resume:
In your work experience section
Create a section for work experience at the top of your resume.
Title the section clearly, e.g. 'Work and Volunteering Experience' or 'Professional and Volunteer Experience.'
List all of your experience — both paid and volunteer — in chronological order, with the most recent experience first.
List your job title as 'Volunteer', or by using the standard job title and adding (Volunteer) at the end.
List 3-6 accomplishments in bullet point format.
Don't worry if your volunteer experience and paid experience overlap — if you've labeled your volunteer work, employers will understand that this was something you did part-time while you were also working.
Here's an example of what that might look like when you're done:

In a separate volunteer experience section
Create a section titled 'Volunteering Experience.'
Include this section above your work experience section if your volunteer work is your most recent and relevant experience, or below your work experience section if it's just an additional section you want to highlight.
List the name of the organization you volunteered for as the employer.
List your job title as 'Volunteer [Position Name]' or simply 'Volunteer.'
Include the dates that you volunteered. You can specify if this was part-time, but you don't need to.
List your experience chronologically, with the most recent role at the top.
Include 1-2 bullet accomplishments in bullet point format. If you don't have a lot of paid work experience and volunteer work makes up the bulk of your resume, you can increase that to 3-6 bullet points.
Once you're done with the above steps, here's what the volunteering section could look like on your resume:

In an additional information section
Create a section at the bottom of your resume.
Title the section 'Other' or 'Additional Information.'
Create a 'Volunteering' subheading (optional).
List your volunteer experience briefly on a single line.
An additional information section is short — here's an example of what it could look like if you have followed the above steps:

Want to see what volunteer work on your resume should look like in action? Keep scrolling for a sample resume and text-based examples you can copy and paste.
Examples
Sample volunteer resume
Here's an example of a resume of someone who has predominantly completed volunteering roles during her career.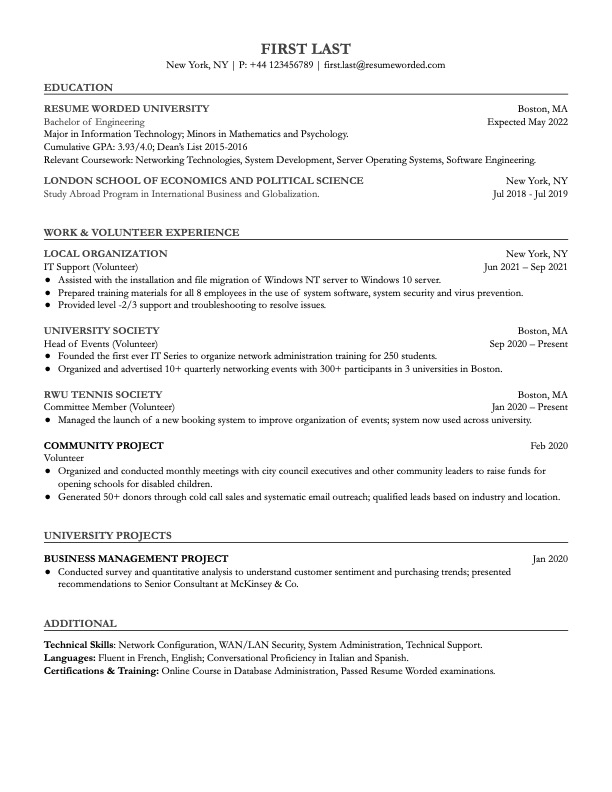 A simple way to indicate that the roles involved volunteering is to use the word, "Volunteer," in the job titles itself.
Volunteer experience examples for your resume
Stuck on what accomplishments to list under your volunteer work? Here are a few examples.
Founded the first ever 'Business Series' to organize finance training for 500 students.
Organized and advertised 10+ quarterly networking events with 300+ participants in 3 cities in California.
Introduced online platform enabling donations from city residents; secured $10,000 additional funding.
Presented pitch to XYZ; awarded Frist Prize out of 50+ teams.
Designed, executed, and optimized digital marketing campaign on Google AdWords; led to 20% increase in ROI.
Created content and copy for social media channels (Twitter, Facebook, and Instagram) and email newsletter; assessed customer response to create targeted messaging and inform future content; social media following grew 125%+ organically.
Generated 12,000 unique users, 30,000 page views, and 2000+ newsletter signups in 3 weeks by successfully leveraging social media advertising (Facebook and Instagram).
Organized and conducted monthly meetings with city council executives and other community leaders to raise funds for opening schools and disabled children.
Generated 50+ donors through cold call sales and systematic email outreach; qualified leads based on industry and location.
Managed the launch of a new booking system to improve organization of events; system now used across university.
Related: How To Add Volunteer Experience to LinkedIn
When to include volunteer work in your resume
If you don't have a lot of work experience
If you're new to the workforce, your resume may still be under one page even with all of your paid work experience and internships. In that case, including volunteer work is a good way of demonstrating your skills and work ethic. In this case, it's best to list your volunteer experience alongside your paid work experience, rather than in a separate section, as it's likely to make up a decent chunk of your work history.
If you don't have enough relevant paid experience
Volunteer work can be a great way to break into a new field, especially as a career changer. It shows that you're serious about making the move and can give you relevant experience to talk about in a cover letter or interview. If your volunteer experience is more relevant to the new industry than your professional experience, you'll want to include it in the main body of your resume, with your most recent experience on top.
If you have gaps in your resume
Rightly or wrongly, a lot of employers see gaps of more than a few months in a resume as a red flag. If you've spent part of this time volunteering, it's a good idea to include that work chronologically on your resume to show how you've been spending your time.
If you want to highlight your volunteer experience
If you have extensive volunteering experience with different organizations and you want to showcase that, you might want to create a separate section on your resume for volunteer work.
If you do this, you should structure your volunteer work in the same way you would any paid experience, with clear bullet points focusing on achievements rather than responsibilities. "Raised $5,000 for wildlife rehabilitation" is specific and measurable; "responsible for fundraising activities" is too vague.
If you want to find out if your volunteer experience is structured the right way on your resume, upload it to the tool below. It'll also let you know if your bullet points are action oriented and show quantifiable achievements.
What if your volunteering experience isn't relevant?
Highlight transferrable skills
There is still an argument for including volunteer experience on your resume if it isn't strictly relevant but still fits one of the above criteria. Volunteer work can be used to demonstrate transferrable skills, so look for ones that are particularly relevant or desirable. For example:
Working at an event might require organizational skills, time management, teamwork, and public speaking.
If you led a team or organized an event, even better. Leadership, project management, and communication skills are always in high demand.
If your work was more backstage, you may have experience in data analysis, budgeting, or even marketing and social media outreach.
If you have experience in data analysis, budgeting or marketing but aren't sure how to highlight these skills or which of these skills to highlight, use the tool below to get a list of skills and keywords relevant to the job you're applying for.
Focus on results
Just like paid work experience, any volunteer experience you include on your resume should be summarized in well-structured bullet points. These bullet points need to be action-oriented, start with strong action verbs, and, if possible, demonstrate concrete results. For example:
Led fundraising event for [XYZ charity] and raised over [$amount] for [benefit]
Created social media strategy for [organization] resulting in [X amount of new followers]
Taught [subject] to [x amount of students] with [% pass rate on final exams]
Organized a public awareness campaign for [issue] resulting in [X amount of people attending event] and coverage in [X and Y media]
For more samples of bullet points, visit Resume Bullet Points.
When you shouldn't include volunteer experience
Just because volunteer work can be a great thing to showcase on a resume, that doesn't mean you always need to include it. Think of your resume like a highlights reel instead of a complete biography — everything on it needs to serve a purpose.
If it isn't doesn't add anything to your resume
Rule number one: Everything on your resume needs to be relevant to the job you're applying for. If your volunteering experience isn't relevant but you really want to include it anyway, put it in a short 'other' section below your work experience.
If you have extensive paid experience
Paid work experience will always have more weight than volunteer work. If you already have plenty of recent work experience that's relevant to the position you're applying for, there's no need to add volunteer experience on top of that. You want the hiring manager to focus on the strongest parts of your resume, which sometimes means leaving off other things that aren't as impressive.
If the experience is controversial
Vounteering for political or religious organizations might not matter to most employers, but to some, it could make a difference. If you're applying for a paid or volunteer position in the same field — for example, to work on a political campaign or at a related nonprofit — relevant volunteer experience can work in your favor, as it shows you have a genuine dedication to the cause. On the other hand, it might not be such a good idea to emphasize your church volunteer work if you're applying to a secular organization, or your animal rights activism if you want to work at a steakhouse. When deciding whether to list volunteer work that involves religion, politics, or protesting (especially if you've ever been arrested as a result), use your best judgment and err on the side of discretion if it doesn't feel particularly relevant.