"Time is money."
When it comes to business, that old saying still rings true. That's why time management is such an important — and marketable — skill to include on your resume.
Of course, that doesn't mean you should come right out and say it. Soft skills won't help you get past Applicant Tracking Systems (ATS) and buzzwords alone are unlikely to impress a hiring manager. Instead, you need to prove it — and this guide will show you how.
How to say you have good time management on a resume
First, here's a quick step by step guide:
Read the job posting to find out what time management skills are essential to the role.
Think about how you've demonstrated time management skills in the past — these are the accomplishments you'll focus on.
Aim to match each bullet point on your resume to a key skill or responsibility listed in the job description.
Start each bullet point with a strong action verb.
Use metrics to quantify your accomplishments  (see below for an example).
Upload your resume and job description to our free Targeted Resume tool to instantly check if your resume contains all the right skills and keywords.
Here's an example of what your bullet points should look like once you're done: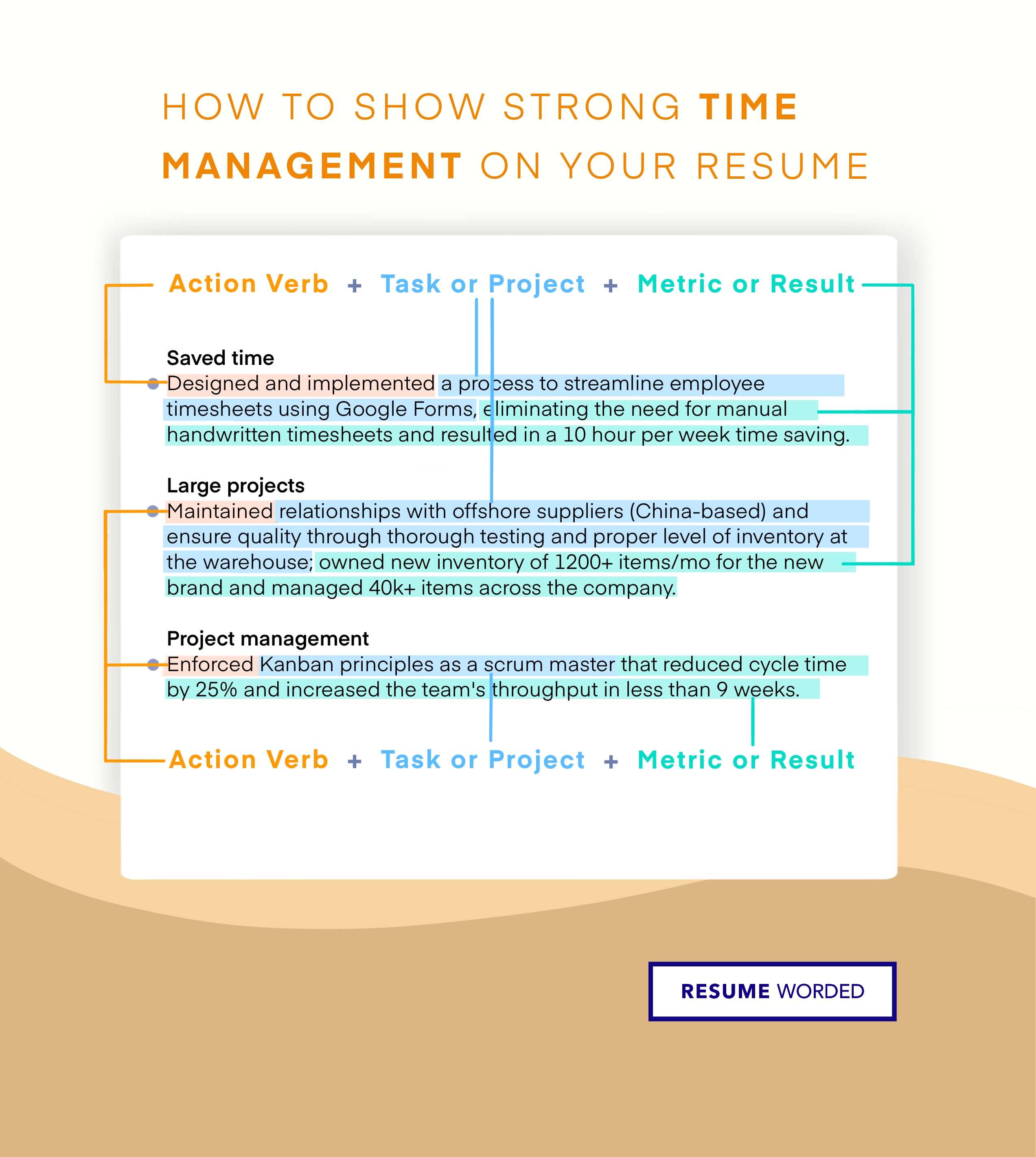 How to highlight time management on your resume
In your work experience
The best place for soft skills on your resume is in your work experience section. Choosing accomplishments that highlight your time management skills is key to showing how you've used those skills in a professional setting and underlining what benefits they could bring to the company.

Find out if your resume shows time management skills
When it comes to listing time management skills in your resume, just like any other soft skill, you can't just say you have excellent time management skills, you need to show how you've used these skills in your previous roles. I'd recommend uploading your resume to the tool below — it'll scan it and tell you if you've chosen the right accomplishments that highlight your excellent time management skills and other soft skills such as communication and problem-solving skills.
In your skills section
While the phrase "time management" doesn't belong on your resume, you can list related hard skills in your skills section. Choose skills like scheduling, project management, and organizational software that relate to time management.
If you're not sure what skills to add to your skills section, use the tool below to search for the job you're applying to and it'll give you a list of skills relevant to the job as well as hard skills relating to time management.
Through your actions
Your resume and cover letter aren't the only things recruiters consider when making hiring decisions. There's no point in claiming to have excellent time management skills on your resume if you don't respond to emails, forget about a scheduled phone screen, or show up late for an interview — so make sure your actions speak louder than words.
Essential time management skills for resumes
The best place to look for key time management skills is in the job description itself, but here's a short list of useful skills to get you started:
Scheduling
Prioritization
Punctuality
Setting goals
Strategic planning
Ability to meet deadlines
Project management
Record keeping
Attention to detail
Maintaining focus
Delegating
Remember that, like "time management," these are all buzzwords that, on their own, don't add much value to a resume. The solution? Use synonyms for these common time management phrases. Let's dive into them.
Time management phrases to use on a resume
Stuck trying to think of the perfect action verb to start your bullet points? Having trouble thinking of other ways to say you're good at time management? Try these more impressive synonyms:
Ahead of schedule
Accelerated
Met all deadlines
Within [x] days or weeks
Increased efficiency
Designed a new system
Scheduled
Arranged
Saved [x] hours of labor
Completed [project] on time and within budget
Streamlined
Expedited
Cut lead times
Optimized
Let's look at how some of these action verbs are used in action!
Examples of time management on a resume
Ready to get started? Here are some examples of resume-ready bullet points that highlight time management skills.
Supported Senior Vice President, managers and supervisors meeting deadlines, managed customer visits, and organized employee recognition events which improved administrative efficiency by 15%.
Designed and implemented a process to streamline employee timesheets using Google Forms, eliminating the need for manual handwritten timesheets and resulted in a 10 hour per week time saving.
Created knowledge base of 80 internal resources, improving employee onboarding and reducing time spent per project on administrative tasks by 40%.
Streamlined assembly line process, leading to a 60% increase in worker efficiency.
Implemented GoToMeeting and DocuSign to be more strategic, saving up to 20 hours of work per month.
Managed 10 Key and Direct Buy Accounts as well as 24 other independent accounts totaling over $7 million in sales yearly.
Processed all accounts payable and receivable invoices and ensured 100% of approved invoices were paid in full and on time while maximizing cash flow.
Directed and coordinated administrative services to include office, clerical, and support services, mail distribution, telecommunications to 100+ employees.
Maintained attendance and scheduled vacation days for 40 salaried employees using Excel.
Streamlined the process of checking calculations and business transactions for accuracy saving 15+ hours per week and reducing error rate by 25%.
Responsible for the coordination of all travel-related issues for a 300+ member crew. Maintained a $1M travel budget.
Created invoices and automated collection reminders for those invoices resulting in a 20% decrease in overdue invoice volume.
Reduced the manual work required for month-end close by 10 hours through process improvement.
Managed and coached SCRUM team using Agile Methodology of 2 weeks spring cycles to deliver software on time and within budget.
Increased productivity by 20% through becoming a subject matter expert of a new automated tracking tool and sharing it with the team.
For more personalized suggestions, why not use our free resume checker? Get an instant score based on key criteria hiring managers are looking for and actionable steps to improve your resume.