It isn't just a trend — Applicant Tracking Systems (ATS) are here to stay. Reports from the past few years suggest that up to 75% of companies use an ATS, including nearly 100% of Fortune 500 companies. Luckily, getting your resume past the ATS bot isn't as hard as you may think. This guide contains everything you need to know about how to beat Applicant Tracking Systems and get your resume into the hands of a hiring manager.
How to beat Applicant Tracking Systems: A checklist
Not sure what ATS are or how to get started? Here's a handy checklist to keep you on track.
What are Applicant Tracking Systems?
Applicant Tracking Systems are automated programs that scan resumes for specific keywords and filter out any that don't meet their criteria. But resume tracking systems aren't perfect — in fact, most hiring managers admit that some qualified candidates are probably being filtered out.
How do Applicant Tracking Systems actually work?
Here's a look at an Applicant Tracking System in action:
A company has an opening for a Software Engineering role that requires experience with Java.
The job opening is posted on popular job search sites like Indeed.
The hiring manager receives 250+ applications from people with backgrounds in sales, marketing, and human resources as well as those with software engineering experience.
The company searches their ATS for the keyword ("Java") in all resumes.
The ATS shows resumes that have the relevant keyword ("Java") and those without.
The hiring manager reads only the resumes that mentioned Java.
The benefits? The hiring manager now only has to read a manageable number of resumes and hasn't wasted their time on a hundred job applicants without the necessary experience. Potential downsides? Some exceptional candidates may be discarded in error because the ATS couldn't find what it was looking for (more on that later).
Despite that risk, more and more companies are making the switch. That's where we come in — our guide aims to minimize the number of job seekers getting unfairly rejected.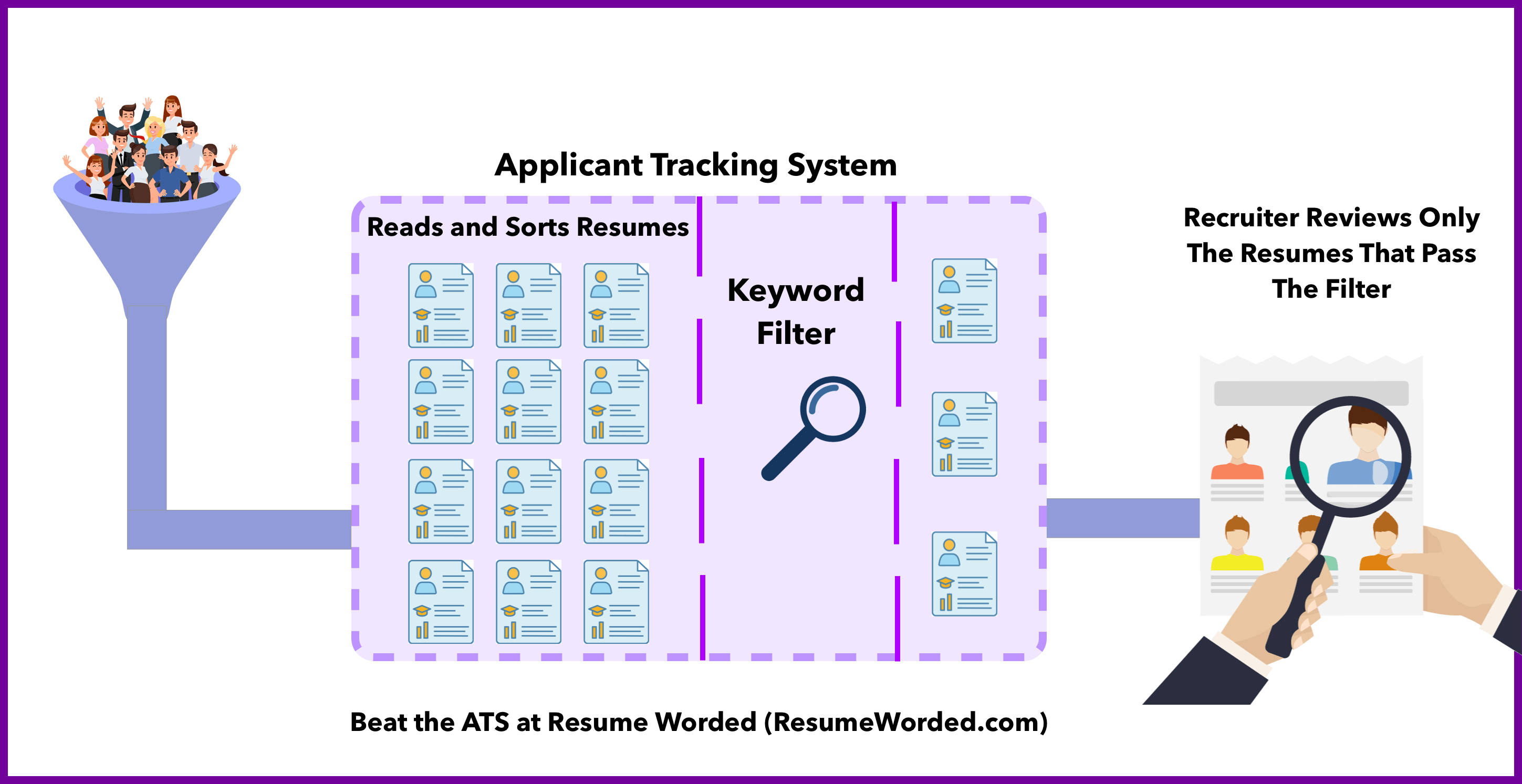 A step-by-step guide to beating Applicant Tracking Systems
It may seem complicated, but beating resume tracking systems isn't actually that hard. Let's break it down, step by step.
Start fresh by creating your resume in Microsoft Word or Google Docs. Other text editors are okay, but steer clear of fancy image-based resume programs.
Use a standard resume layout. If in doubt, use a ready-made ATS resume template.
Tailor your resume to each specific job you apply to by using keywords from the job description.
Carefully check your resume for any errors, including spelling and grammar.
Make sure that ATS programs can read your resume by uploading it to a free ATS resume scanner.
Don't apply for too many roles at the same company — stick to the positions you're most qualified for.
Always follow instructions — even if they contradict best practices.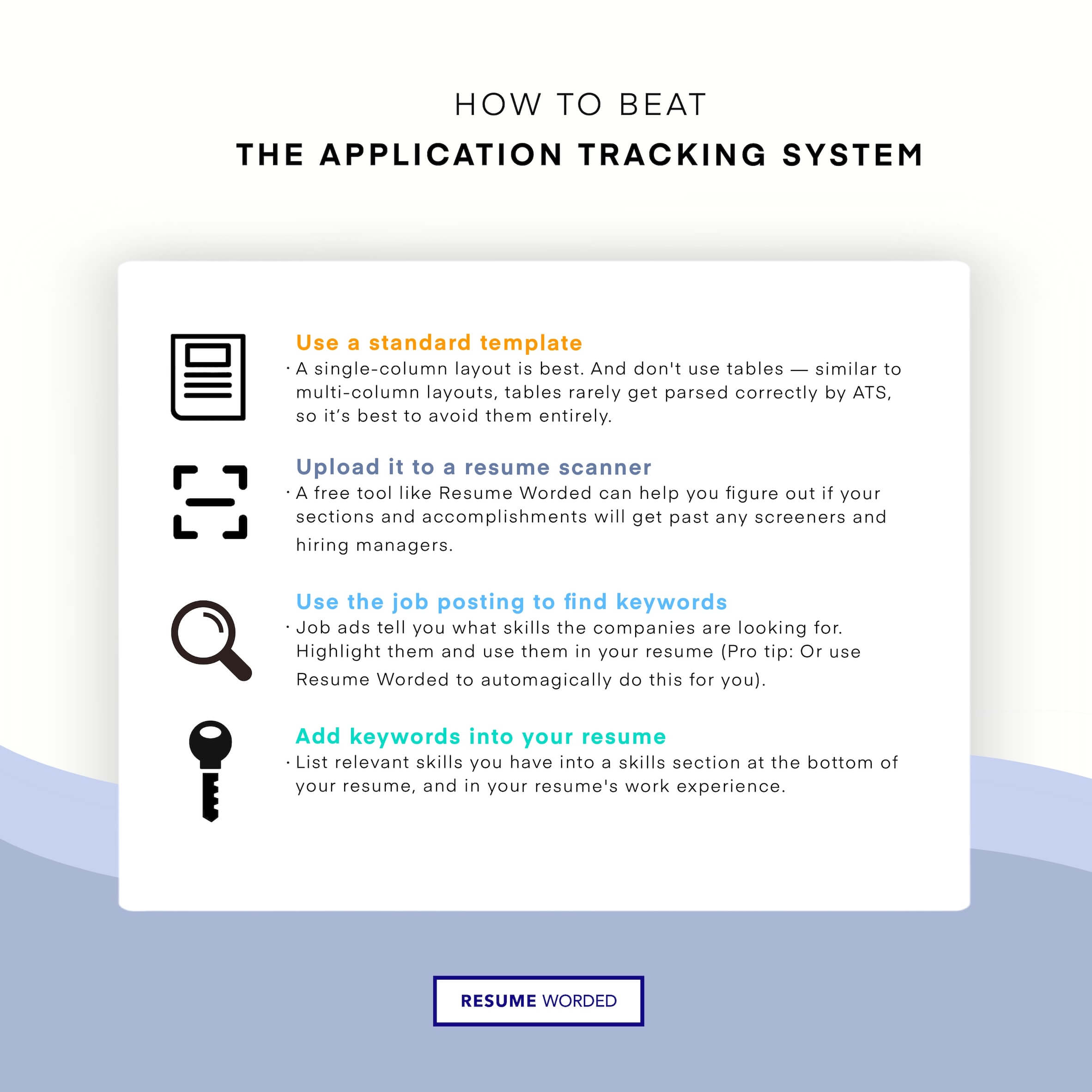 The key to beating ATS
Want it even simpler than that? Here it is!
💡
Beating Applicant Tracking Systems is only about two things: readability and relevancy.
What does that mean in practice?
Using an ATS-friendly resume format so resume tracking systems can understand the information on your resume.
Including relevant information on your resume so the ATS can see that you're a good fit for the job and pass your resume along to the hiring manager.
Let's take a look at those core principles in a little more detail.
Tips for creating a resume that can beat ATS
The best way to make sure Applicant Tracking Systems can read your resume? Keep it simple.
To keep your resume ATS-friendly:
Choose a chronological resume format
Use a basic template
Stick to standard resume fonts
Avoid complicated formatting
Choose a chronological resume format
ATS are programmed to prefer a chronological resume format. List your jobs in order, with your most recent position at the top. Functional resume formats — which don't list dates or sometimes even job titles — risk confusing Applicant Tracking Systems. (And human recruiters hate them, too!)
Use a basic template
Don't fall for the common misconception that you need to use a fancy or creative template in order to stand out — keeping it simple is the best strategy.
A single-column layout is best; while some ATS are getting better at reading multi-column layouts, they can still glitch and parse things incorrectly. For example, if your work history is in one column and your education is in another, an ATS could read them as one single section and fail to properly understand your experience.
And don't use tables — similar to multi-column layouts, tables rarely get parsed correctly by ATS, so it's best to avoid them entirely. Use tabs and right/left aligns to structure your resume instead.
Stick to standard resume fonts
Stick with a screen-friendly sans serif font like Arial, Calibri, or Garamond. Some newer fonts convert letters to special characters which often get scanned incorrectly by ATS. And never use a downloaded font on your resume, especially if you're submitting it as a Word document — chances are, the hiring manager won't have the same font downloaded, which will make your resume look like gibberish to a resume scanner and a human recruiter.
Avoid complicated formatting
Don't get too hung up on trying to make your resume look good. Not only do most recruiters prefer a plain resume, most fancy additions will also confuse Applicant Tracking Systems. In particular, stay away from using:
images
tables
text boxes
graphics
logos
photographs
columns
graphs and charts
headers and footers for important information (most ATS will skip these)
embedded hyperlinks (including links in your resume is okay, but always paste the link in plain text)
How can you make important information on your resume stand out? It's okay to use:
bold
italics
underline
white space
section breaks
bullet points
color (different colors won't display in ATS programs, but they won't cause any issues)
Export your resume in PDF format
It's almost always best to submit your resume as a PDF. Why? Different versions of Word can change your layout, fonts, and formatting — chances are you've worked hard to make sure your resume looks good, and you shouldn't risk messing that up. It's also more easily shareable — with a PDF, recruiters and hiring managers don't need to have Office installed to read your resume.
When shouldn't you save your resume as a PDF? When you've been asked to submit it in Word, Google Docs, or another format. Always prioritize following instructions over anything else!
What to put in your resume to beat Applicant Tracking Systems
Now that you know an ATS can actually read your resume, it's time to make sure it reads the right things! Tailoring your resume to target the skills and experience the employer is looking for will give it a high enough score to get it past the ATS and into the hands of a recruiter.
Here's what you need to do to get your resume past ATS:
Use the right keywords
... without keyword stuffing
Tailor your resume to the job you're applying for
Use standard section titles
Spell out abbreviations and acronyms
Check your spelling and grammar
If you're changing careers, consider adding a resume summary
Use Applicant Tracking System keywords
The best way to beat Applicant Tracking Systems is to use the right keywords. How do you know which keywords are the right ones?
Look at the job ad! Employers will generally include a list of "must haves" — the skills and experience they're specifically looking for. These are the important keywords you'll want to include.
Save the job description when you apply — the employer may take the opening down by the time you get to the interview stage, and you'll want to have it handy as a reference.
Use the tool below to search for the job you're applying for. It'll give you a list of relevant keywords to use in your resume.
Avoid keyword stuffing
Including keywords = good. Keyword stuffing = bad.
So what's the difference? Use keywords in the right context and don't overuse them. It's better to use a handful of keywords naturally throughout your resume than to have a whole section of gibberish. The latter may help you get past an ATS, but it'll get that same resume thrown out as soon as it hits a recruiter's desk. The trick is to identify the most relevant or "high value" keywords and use those sparingly — never compromise the readability of your resume for the sake of including extra information.
Tailor your resume
There are a lot of different ways to tailor your resume, some easier than others:
Use a resume title that matches the title of the job you're applying for.
Clarify your job titles if they're not an exact match. That might mean changing your job title (if it's functionally the same role) or listing a more descriptive job title in parentheses next to your actual position.
Change up your skills section. This can be easily customized for each job you apply for and will only take a couple of minutes.
Customize your work experience section by listing your most relevant jobs and accomplishments. This one takes a little longer, but is worthwhile if you're applying for your dream job.
Upload your resume to our Targeted Resume tool. It will do the job for you by analyzing the job posting and telling you what keywords you're missing.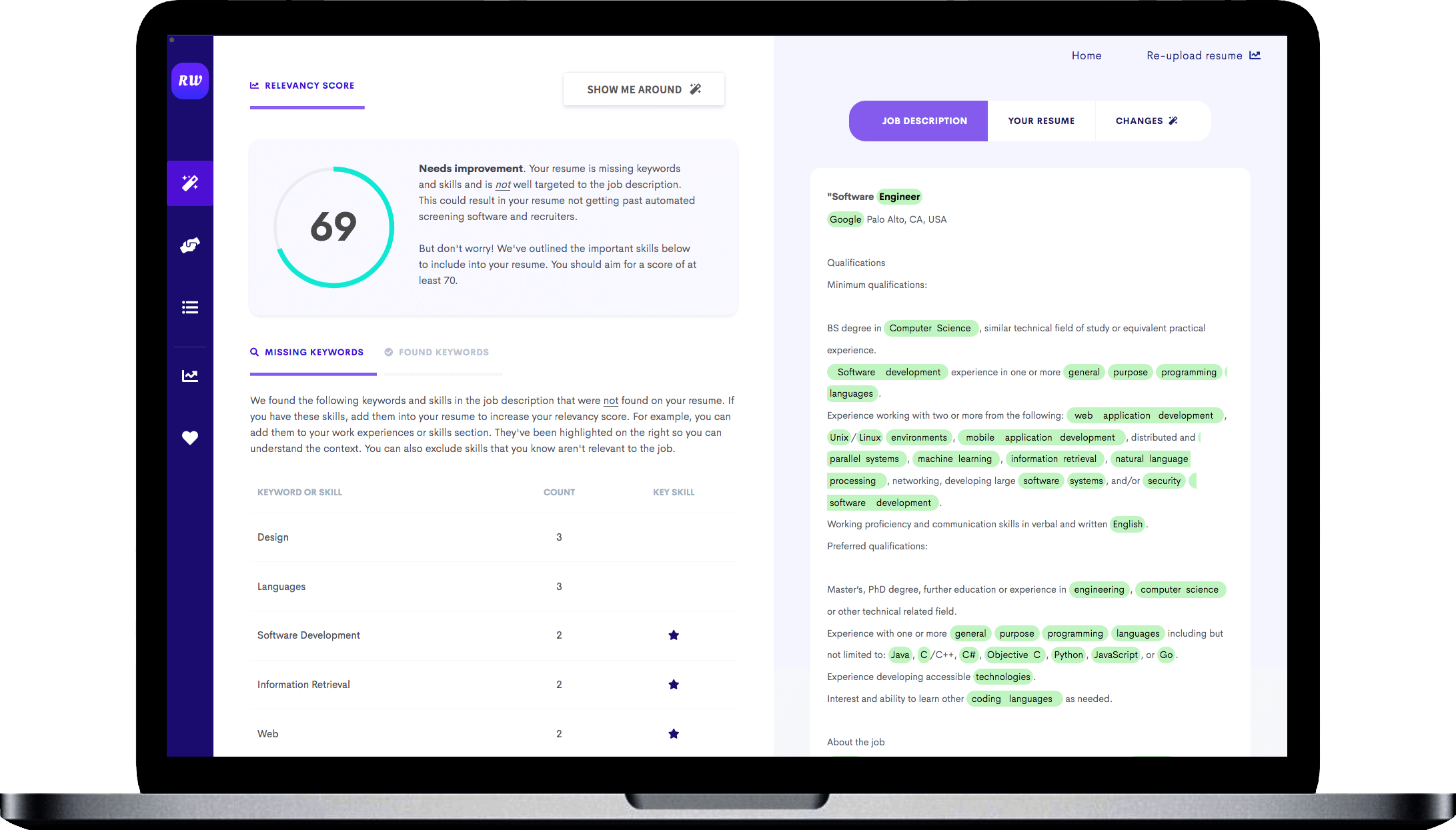 Use standard section titles
Hiring managers don't love non-standard section titles, and it gets even worse when an ATS gets involved. Avoid trying to liven up your resume with headings like, "My career in a nutshell." "Work experience" already says everything it needs to, and it's what the ATS will be scanning for, so don't make it any harder to find than it needs to be.
Make sure the ATS — and the real person who's going to read your resume afterward — understands exactly what you mean (without having to think too hard about it).
Spell out abbreviations and acronyms
One significant downside of ATS is that they can't think for themselves. They're programmed to look for exact keyword matches, which often doesn't include variations.
If you can, try to include each keyword exactly as it appears on the job description. This means using the same spelling and abbreviations (but not including endless variations of the same keyword or twisting your sentences until they're no longer grammatically correct). If the Applicant Tracking System keyword is an acronym, include both the full and abbreviated form.
Don't use buzzwords
Here's a tip: Applicant Tracking Systems will never, ever search resumes for words like "hard-working", "determined," or "go-getter." These are meaningless buzzwords that won't help you get past the ATS — but they will make your resume look worse to a recruiter.
For that matter, resume tracking systems won't look for soft skills, either, which means you can stop agonizing over how to naturally mention the fact that you're a motivated, flexible team player with leadership skills. Even if they're on the job description, keywords like those are ones you can leave off your resume guilt-free.
Check your spelling and grammar
This might sound so obvious that it goes without saying, but trust us — check your spelling and grammar. While a hiring manager reading your resume will probably figure out that "alanyst" actually means "analyst," an ATS won't. The last thing you want is to have your resume rejected over a typo!
Tips for career changers: Use a resume summary
If you're changing careers and have never worked in a similar role to the one you're applying for, consider including a resume summary — a short paragraph briefly outlining your experience and what you're looking for.
A resume summary gives you a chance to include skills and keywords that might not have a place elsewhere in your resume. This doesn't mean you should say you've held a similar role if you haven't — instead, use it to emphasize your transferable skills. If you've upskilled or completed any relevant qualifications, draw attention to them here as well as including them in your education section.
Common ATS errors (and how to avoid them)
There are only two reasons your resume won't make it past ATS:
You don't have the background or experience the hiring manager is looking for
It was a mistake
We can't do much about the first reason, but the second one is an easy fix. Here are some reasons an ATS might incorrectly reject your resume and how you can avoid it happening:
Error:
The ATS can't read your resume.

Fix:
- Check our tips above on how to format your resume.
- Remove any non-standard formatting, downloaded fonts, or images.
- Follow the steps below to check your resume against ATS scanners.
Error:
The ATS didn't find an essential keyword.

Fix:
- Check the job description for must-have skills.
- Use our skills and keywords finder or Targeted Resume tool to suggest keywords.
- Double check that you've spelled everything correctly.
Error:
The ATS doesn't think you have the right experience.

Fix:
- Use the exact job title somewhere on your resume.
- Clarify your previous job title(s) if they don't match the new role.
- Spell our acronyms and use the same wording as in the job description.
Find out if your resume is ATS-proof
First, let's clear something up: There's no guaranteed way of making sure your resume will get through ATS. That's because there are so many factors that go into it, including the huge number of different ATS software and the human element of what they're programmed to look for.
That said, there are a few simple ways to check if your resume can make it past common ATS hurdles. Here's how to test your resume:
Create your resume in Microsoft Word, Google Docs, or any other word processing program.
Don't use Canva or Photoshop. Your resume might look amazing, but most ATS can't read Canva (or other image-based) resumes.
Don't scan and upload your resume — this can make it nearly impossible for the ATS to read.
Open your resume in Chrome, Preview, or Adobe Acrobat Reader and see if you can highlight/select the text. This is very similar to how ATS "read" resumes — if you can't highlight the text, neither can the ATS.
Upload your resume for free to the Score My Resume tool below and ensure your sections and bullet points are correctly identified. You'll also get detailed feedback on how to improve your resume's impact and bullet points. That way, you'll also impress a recruiter after the initial resume screen.
Do's and don'ts of getting your resume past ATS (aka. how to beat the system)
Want a sure-fire way to trick the ATS? Here it is:
You can't.
Don't try to trick the ATS. Contrary to some advice out there, there is no way to "cheat" Applicant Tracking Systems.
DON'T copy and paste the entire job description in small, white text at the bottom of your resume. ATS will strip out the formatting, making it very obvious that you tried to cheat.
DON'T create a "keywords section" or otherwise copy and paste endless variations of the same keyword. You might get past the resume tracking systems, but you'll likely be immediately rejected by the hiring manager.
DO follow the steps above to test whether Applicant Tracking Systems can read your resume.
DO spend time tailoring your resume so it's ready to impress a hiring manager — not just a machine.
Frequently Asked Questions
How many companies use ATS?
Different surveys over the past few years have put the overall number somewhere between 55% to 75%. We do know for sure that a) a majority of companies use ATS, and b) bigger companies are more likely to use them than smaller ones — in fact, a whopping 99% of Fortune 500 companies now use Applicant Tracking Systems.
How many Applicant Tracking Systems are there?
It's hard to pin down an exact number, but current estimates are that there are around 350 different resume tracking systems.
What are the most common Applicant Tracking Systems?
Some of the most common ATS software include Workday, LinkedIn Recruiter, Recruiterbox, Jobvite, iCIMS, Taleo, and LeverTRM.
Are some Applicant Tracking Systems different?
There are different kinds of ATS, but they all do the same thing. You don't need to worry about figuring out which specific ATS you're up against — the steps above will ensure your resume gets read by all ATS, no matter what software they use.
What do ATS look for?
It's important to understand that resume scanners aren't 100% automated — there's always a real person at the other end of the ATS software. The hiring manager decides what non-negotiable skills or experience they're looking for and programs the ATS to scan for those keywords.
ATS will only ever scan for hard skills, so while "PMP" or "InDesign" may be ATS keywords, "time management" won't be.
How do ATS algorithms work?
Again, that depends on how the company has decided to use their ATS. Most ATS are programmed with basic filters — for example, scanning for resumes that use the keyword "sales" or looking for resume gaps by scanning dates of employment. Sometimes, resumes that don't match the ATS algorithm will be automatically discarded. Other times, these keywords will simply be flagged to make your resume easier for hiring managers to skim, or your resume may be given a preliminary score to speed up the recruitment process.
ATS can also be used earlier in the job application process. When submitting an online application, you'll often need to answer questions about things like your background and availability. Some of these are knockout questions — for example, if the application asks whether you possess a certain qualification or are willing to travel, answering "no" to these questions can lead to automatic rejection.
How effective are ATS?
According to a report from Harvard Business School, over 80% of employers agree that qualified candidates are being screened out of the hiring process because their skills and experience don't exactly match the criteria in the applicant tracking software. That's why it's so important to use the right keywords — if in doubt, always check the job ad, as ATS keywords are likely to use the same phrasing.
Why do companies use ATS?
If it's so flawed, why use it? The simple answer is, it saves companies time and money. The average job posting gets over 250 applicants, and a lot of those are the result of job hunters mass applying to every semi-relevant job they can find. Instead of paying an employee to manually read through every application, an ATS can quickly scan resumes and filter out unqualified applicants, narrowing down the pool to a much more reasonable size.
Will a real person read my resume?
Yes! The ATS is just the first step. Once your resume gets past the ATS, it will be manually reviewed by a human recruiter or hiring manager. This means no keyword stuffing or cheap tricks like including a copy of the job description in your resume. The ATS doesn't decide who gets the job — just who gets in the front door.
Do ATS check cover letters?
Not usually, no. Cover letters are a more personal touch and a way for the hiring manager to get to know more about you, so don't worry about optimizing them for ATS.
Can I cheat the system?
Nope, sorry! Beating Applicant Tracking Systems isn't about finding a shortcut — it's about including the right keywords and making sure ATS can easily read your resume.