A skill is a skill, right? Well — sort of.
When it comes to applying for jobs, there are hard skills and soft skills. Hard skills are specific and demonstrable — think foreign language skills, proficiency with a particular software or coding language, or degrees and other qualifications. Soft skills, on the other hand, are a lot harder to prove. So what exactly are they, and how do you include them on your resume?
What are soft skills?
Soft skills are the kinds of skills you can pick up from everyday life. Leadership, communication, interpersonal skills, and time management are all examples of soft skills. Soft skills are hard to evaluate and even harder to prove — unlike most hard skills, there's no piece of paper you can point to saying you're a hard worker. Despite that, most job descriptions will list soft skills in their "must haves," which means they need to be on your resume somewhere.
What not to do
Don't list soft skills directly in your skills section
That might seem counterintuitive — surely listing your skills is the best way for employers to see them? The problem is, people are notoriously bad at evaluating their own soft skills. Nobody looks at a job ad asking for a hard-working, detail-oriented team player and thinks, "no, that's not me." Soft skills are incredibly subjective, which means that hiring managers don't want to see people describing themselves as "visionary leaders," "excellent communicators," or "self-starters."
Buzzwords like these are red flags to most recruiters, since they're often listed by people who don't meet other criteria of the job description. Put plainly, listing soft skills outright is more likely to get your resume thrown out than given a second look.
How to list soft skills
Show, don't tell
The best place to demonstrate your soft skills is in your accomplishments. When writing your work experience bullet points, consider the soft skills you want to emphasize and choose accomplishments that effectively illustrate them. Start with an action verb that highlights the soft skill in question, and use numbers and metrics to substantiate it.  For example:
Instead of saying you're a team player, talk about the size of the teams you've worked with, what your specific role was, and what the team achieved.
Don't just say you have excellent communication skills — instead, mention a conference you've spoken at, an article you've published, or the percentage of new customers you've gained through cold calling.
Want to show initiative? Include a process you streamlined or automated, or a new approach you spearheaded.
In other words, hiring managers don't want to read opinions — they want facts that will allow them to make up their own minds.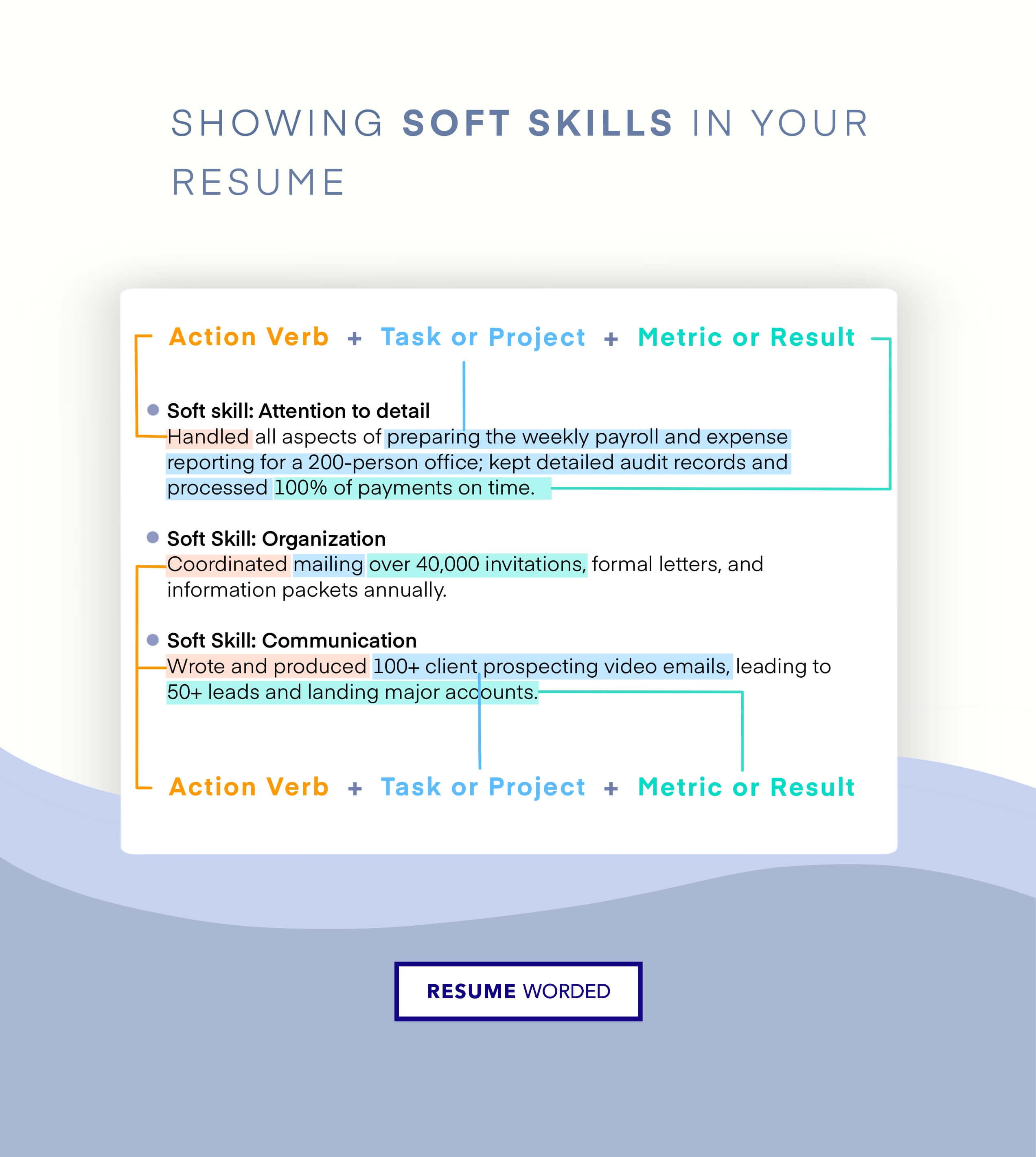 Tailor your resume
Most soft skills are less industry or role-specific than hard skills. Some "core" soft skills you'll need in nearly any position are teamwork, initiative, leadership, analytical, and communication. You should choose accomplishments that highlight these skills in nearly every resume — to see how you score in each of these core competencies, upload your resume to the tool below. It'll scan your resume and let you know if you've shown enough soft skills like communication, leadership, management and initiative.
Some roles may require a stronger focus on particular soft skills. Management or senior-level roles, for example, are likely to require strong leadership and motivation skills, while for client-facing roles you should emphasize your communication and customer service skills.
If you're looking for a practical way to list soft skills on your resume, keep scrolling for examples that cover some of the most best soft skills for resumes.
Related: Write a Targeted Resume: How to Tailor Your Resume to a Job
Examples of showing soft skills on your resume
Teamwork skills
With very few exceptions, most roles require some degree of teamwork. Companies want employees who are reliable, can get along with others, and are pleasant and professional to work with. To show teamwork skills, you should emphasize accomplishments that demonstrate your role in past teams and what you achieved. For example:
Collaborated with marketing and web development teams to deliver all projects on time or ahead of schedule.
Worked in a team of 5 people on a sustainability project that reduced waste by 25% and saved 5% in company overhead.

Related: How To Say You're Friendly on a Resume
Initiative skills
When hiring managers are looking for employees who show initiative, that means they want people who can make decisions, work independently, and be proactive in suggesting solutions. Use action verbs like "Conceived," "Overhauled," and "Pioneered" to show how you've taken initiative in past projects. For example:
Introduced new backend project management system, leading to a 90% reduction in client complaints.
Identified steps to reduce return rates by 10% resulting in an eventual $75k cost savings.

Leadership skills
If you're applying for a senior-level or management position, leadership is likely to be your most-needed soft skill. In your resume, give examples of teams you've led or people you've mentored and what they achieved. For example:
Coached 30 summer interns and launched a mentorship program for new employees.
Taught workshops on team building and cooperation; improved team productivity by 50%.

More examples: How to show leadership skills on your resume
Analytical & Problem Solving skills
Even if the role you're applying for doesn't work with data, basic critical thinking and problem-solving skills are used in just about any profession. Recruiters want to see how you approach unexpected hurdles and solve problems before they become major issues — especially if you're in a public-facing position or one which works closely with clients. For example:
Resolved hundreds of client escalations, leading to a 40% increase in client retention.
Developed an Excel macro and standardized reporting templates, resulting in efficient data collection and a 35% reduction in turnaround time.

Organizational skills
Organization doesn't just include the ability to tidy a desk or properly file a document. Potential employers often look for skills including good time management, multitasking, and the ability to organize projects, people, and events. For example:
Organized new office and designed systems to maximize office function efficiency by 30%.
Coordinated mailing over 40,000 invitations, formal letter, and information packets annually.

Communication skills
Communication is one of the most frequently-listed soft skills in job descriptions. It's also one of the most difficult skills to self-evaluate. Point to examples where you've used those skills in a professional capacity. Organizing an event, speaking at a conference, and spearheading marketing initiatives are all relevant illustrations. For example:
Organized and conducted monthly meetings with city council executives and other community leaders to raise funds for city recycling initiative.
Proposed new marketing initiative, focused on digital campaigns, which generated $500k of additional yearly revenue.

Creative and Design skills
Not all positions require design skills, but if you're in a creative industry or role, it's likely to be at the top of the "must-have" list. Choose examples for your resume that show your ability to conceptualize new ideas and see projects to fruition through the entire design process. For example:
Designed a new user interface for the company app using Sketch and Figma, leading to 50% higher click-through rate.
Redesigned company logo as part of a rebranding initiative that resulted in a 30% increase in brand awareness among the target demographic.

Conflict Resolution skills
Conflict resolution doesn't always have to be high-stakes. Customer retention, resolving disputes, and ensuring memebers of your team are happy and productive all fall into the heading of conflict resolution. For example:
Assisted customers by addressing their questions and providing information on procedures or policies; continuously exceeding expectations on customer satisfaction.
Supported management with handling and resolving human resource issues, decreasing employee complaints by 70%.

Attention to Detail
Attention to detail is particularly necessary for administrative and clerical professionals, as well as anyone who works with data, finance, or sensitive documents. For example:
Handled all aspects of preparing the weekly payroll and expense reporting for a 200-person office; kept detailed audit records and processed 100% of payments on time.
Monitored inventory of needed supplies and reduced supply shortages by 30%.

More examples: The right way to show attention to detail on your resume
Frequently Asked Questions
What's the difference between soft skills and hard skills?
Hard skills are like facts — they're objective. Saying that you have a bachelor's degree or that you know how to code in Python is easy to prove via a piece of paper or link to your portfolio. Soft skills are more like opinions in that they're highly subjective. Simply saying that you're a brilliant leader doesn't convince other people that you are, which is why you need to provide real examples.
If you're not sure which skills you can list on your resume, use the skills search tool below to search for the job you're applying for. It'll give you a list of hard skills relevant to the job.
What soft skills are employers looking for?
There are two reliable ways of finding the right soft skills to list on your resume:
Read the job description. Pay close attention to how the posting describes the ideal applicant and what kind of work you'll be doing. For each skill in the job ad, include at least one bullet point that demonstrates that skill.
Browse your industry or enter the job title in our industry-specific keyword finder for targeted suggestions of skills to include on your resume.
Are soft skills the same thing as personality traits?
Not exactly. Thought there's some overlap, personality traits are things that are inherent and hard to change, while soft skills can be learned. That doesn't mean you should start looking for courses on how to be a team player — instead, think about what soft skills you'd like to develop and actively seek out opportunities that allow you to practice them.
Do Applicant Tracking Systems scan for soft skills?
No. Applicant tracking systems (ATS) will never screen for soft skills. Even if a job description lists "leadership" as a key skill, there's no point in simply listing it in your skills section — it isn't a keyword the ATS is looking for.
What about career changers?
As a career changer, most of your transferable skills are likely to be soft skills. If you're lacking hard skills in the industry you're moving into, make sure you emphasize your soft skills. For example, if you're transitioning from marketing to project management, highlight any accomplishments where you've led teams, managed campaigns, or organized events, since these all demonstrate relevant transferable skills.