Attention to detail is, arguably, one of the most important qualities for performing well in a wide number of positions. Listing "detail-oriented" on your resume, however, is a red flag to employers who have their eye out for subjective soft skills that can call your judgement into question. It also gets missed completely by automated resume screeners as these don't scan for soft skills at all.
The best way to convey your attention to detail is to indicate it through your accomplishments and bullet points. Let's explain how to do that.
How to show attention to detail in your resume's bullet points
First off, your resume's work experience should include your employers in reverse chronological order, with a bullet-pointed list of accomplishments under each employer (for examples of resume templates that successfully got people hired, or to find one you can base your own resume on, see our industry-sortable resume template database).
In general, your bullet points should begin with a strong action verb to grab the hiring manager's attention, leading into the task or project you were working on and what you accomplished while you were doing it.
Use action verbs that highlight attention to detail
To show attention to detail, you'll want to choose action verbs that demonstrate your capacity for being attentive, such as "organized", "optimized", "catalogued", "monitored", or "analyzed".
Use numbers to show your attention to detail
In your bullet points, make sure to include a quantifiable result to stress your detail-oriented skill sets. Let's take an example:
Performed analytical procedures and completed risk assessment procedures such as financial ratio analysis and trend analysis for over 35+ accounts
The 35 accounts is key here — when recruiters and hiring managers see this, it tells them that you had strong attention-to-detail because you were able to manage 35+ accounts.
Use numbers and quantifying your bullet points gives a clear impression of the scope and scale of your accomplishment and demonstrates your experience in applying your skills.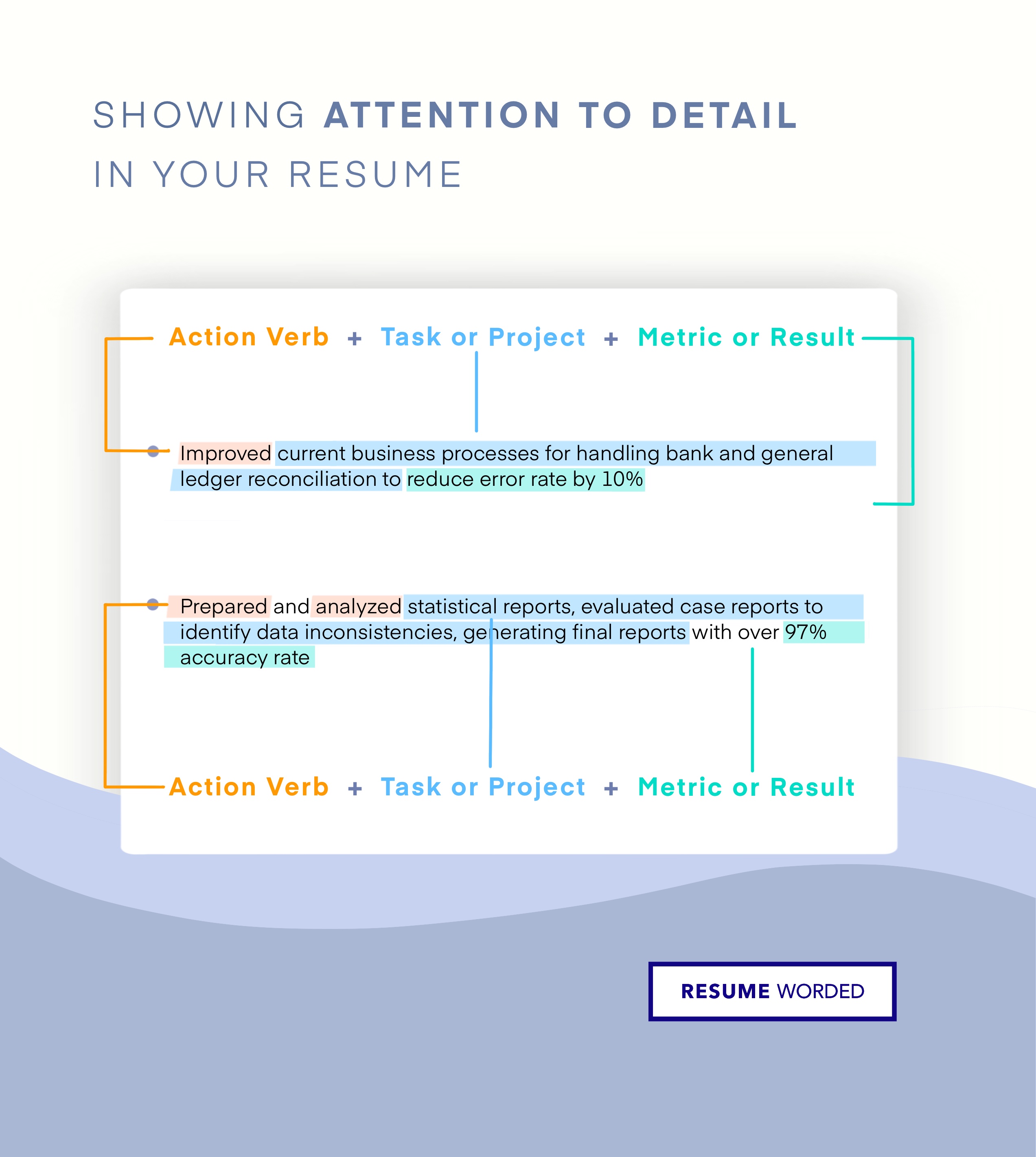 Types of detail-oriented skills
Detail-oriented skills are ones that broadly relate to:
Process management
Data analysis
Fact checking
Editing and proofreading.
Your accomplishments in relation to these skills would be along the lines of spotting and minimizing errors, consistently delivering a working product, and similar feats. The ones you include should be related to the position you're applying for.
Showing detail-oriented skills through data analysis
If you're a data analyst, for example, you might include how you "analyzed data from 25,000 monthly active users and used outputs to guide marketing and product strategies" (see an entry level data analyst template for more).
Or, if you work in finance, you might include relevant examples from your own background along the lines of how you "reduced the error rate by x percent" in your past employer's calculations and business transaction records. Here are two examples of bullet points that show attention to detail:
Improved current business processes for handling bank and general ledger reconciliation to reduce error rate by 10%
Prepared and analyzed statistical reports, evaluated case reports to identify data inconsistencies, generating final reports with over 97% accuracy rate
Improvements in accuracy rate, or reduction of error rates, are excellent ways to provably show your strong detail-oriented skills at your previous work experiences.
Call out specific industry-related skills to get past automated screeners
This method of emphasizing your attention to detail while focusing on job- or industry-related skills will help you get past automated screeners and applicant tracking systems and convey to the hiring manager that you are familiar with the duties the position entails.
To show how effective it is, consider this example again:
Performed analytical procedures and completed risk assessment procedures such as financial ratio analysis and trend analysis for over 35+ accounts
This single bullet point indicates that you have significant experience (35+ accounts) in two detail-oriented skills (performing analytical procedures and completing risk assessments).
The inclusion of keywords like "financial ratio analysis" and "trend analysis" further cements that you know what you're doing - and that you are capable of applying your focus successfully.
If you'd like some ideas on what skills are most appropriate for your industry and what keywords will get your resume noticed, our page on Top Resume Skills is a great place to get started. Pick the industry or position you're interested in, review the recommendations, and determine which ones are related to being able to effectively apply attention.
Showing detail-oriented skills through process management and research skills
Here are three more examples that show attention to detail and demonstrate strong organization skills.
"Created new filing and organizational practices, resulting in $4000 per year in company savings in contracted labor expenses."
"Performed testing for over 50 products every week, including physical, analytical and microbiological testing".
"Increased operating efficiency by 32% through updating the company's database systems, both manually and electronically, and reviewing files and records."
If you've been responsible for testing products, taking records, safety protocol, or anything along those lines, pin it down as an accomplishment with a quantifiable result.
Test your resume for detail-oriented skills
The best way to show recruiters you are detail-oriented is through your bullet points and accomplishments. Once you've got your accomplishments listed, upload your resume to the tool below for a free, AI-powered assessment on the skills you've picked and recommendations on any areas that need improvement.
You will find out if your resume highlights enough detail-oriented and research/analysis skill sets. It'll also help you find errors you might be making on your resume that are causing your resume to get rejected.
Takeaway tips
Show soft skills, like attention to detail, through your bullet points
Just like attention to detail is a red flag to list directly, there are other soft skills you should avoid naming (while still alluding to in your quantifiable accomplishments). This article on including soft skills on your resume can help you work them in effectively.
If you're wondering which skills you should name on your resume, use the tool below to find some industry-related hard skills and keywords.
Proofread your resume
Remember that if your goal is to demonstrate your attention to detail, you should take extra time to proofread your resume and ensure that it is free of grammar and spelling errors. It takes consistency over a duration to prove that you are, in fact, detail-oriented, but a single error on your resume can close the door very quickly. You may consider using free online tools such as Grammarly to ensure you haven't overlooked anything.
Lastly, keep in mind that looking for a new position can be a long process. If it's been a while and your resume doesn't seem to be resonating, revisit it and comb through to see if any parts need to be added to or reworked. If nothing else, this will help you hone your attention to detail as you look for your next job opportunity!