Analyzing situations is a normal part of most jobs — but what do employers really mean when they say they want someone with analytical skills?
Analytical skills refer to your ability to break down complex problems, evaluate them effectively, and come up with appropriate solutions. These skills are useful in any field, but you're particularly likely to need them in roles involving science, data, engineering, or other tech-heavy processes.
Let's start with a quick "how to" before diving into exactly what analytical skills employers are looking for.
A step by step guide to demonstrating analytical skills on a resume
If you're applying for a job that requires strong analytical skills, you should:
Think of a time when you had to analyze something and include examples in your work experience accomplishments. Be as specific as possible and include the results of your actions.
Include a section for projects and other activities where you've used analytical skills.
List any relevant degrees or other qualifications in your education section.
Mention technical skills related to analysis in your skills section.
Highlight analytical skills in your resume summary and cover letter.
Use synonyms to avoid repeating "analyzed," "analysis," and "analytical skills."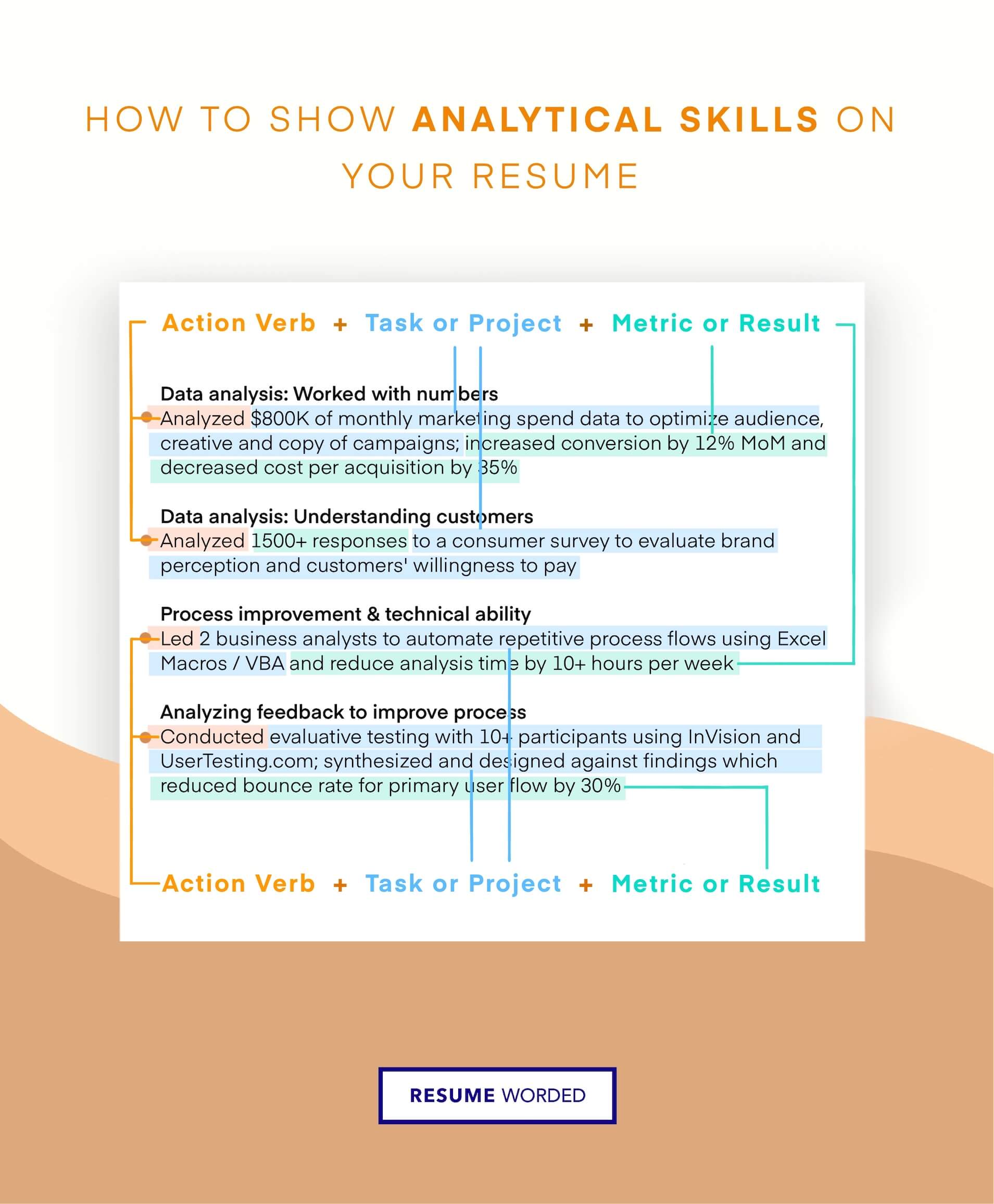 We'll go into each of those in a little more detail below, but first — what are employers actually looking for when they ask for analytical skills?
Analytical skills to list on your resume
If a job posting mentions analytical skills, that means the company is looking for applicants with abilities in:
Problem solving
Research
Observation
Data analysis
Critical thinking
Decision making
Deductive reasoning
Forecasting
Brainstorming
Troubleshooting
Predictive modeling
Qualitative and quantitative analysis
Organization
Communication
Feedback and reporting
Synonyms for analytical skills
Where do you begin when demonstrating analytical skills on a resume? With action verbs. These are the heart and soul of your bullet point accomplishments and the clearest way to tell recruiters what you actually did.
Starting with "analyzed" sounds like a no-brainer, and it should definitely be in there once or twice. More than that, however, is likely to make a hiring manager's eyes start to glaze over. Try shaking it up with synonyms like:
Assessed
Forecasted
Predicted
Tested
Verified
Engineered
Troubleshooted
Interpreted
Modeled
Evaluated
Designed
Investigated
Diagnosed
Extrapolated
How to show analytical skills on a resume
Now that you understand what employers are looking for, how do you prove that you have what it takes?
You can demonstrate analytical skills on your resume by giving examples of where you:
Analyzed data to come up with solutions or improve processes
Worked with numbers (i.e. show your numerical and quantitative abilities)
Managed budgets or involved in organizational planning
Designed processes, background research, etc.
Let's take a closer look at some examples.
Where to put analytical skills on your resume
The best way to demonstrate any kind of soft skill is to scatter it throughout your resume — that way, instead of just saying "I have great analytical skills" and leaving it at that, you're painting a picture of exactly what you bring to the table.
Which means that you should include analytical skills in your:
Work experience bullet points
Projects or additional section
Education section
Skills section
Resume summary
Cover letter
Here are some examples of what that should look like.
In your work experience section
The best place to include analytical skills on your resume is in your work experience section. Why? Because a) it's the part of your resume recruiters pay the most attention to, and b) it shows how you've actually used those skills in a professional setting.
Include bullet point examples of times you've analyzed data, including what impact your accomplishment had on the company's bottom line.
In a projects or additional section
Your resume doesn't have to be limited to paid work experience. If you've completed significant personal or university projects, activities, competitions, or certifications, feel free to list these in a section titled "Projects," "Other," or "Additional Information."
In your education section
If you have a degree, major, or other qualification that could help demonstrate analytical skills, make sure you list it in your education section. This could include majors in computer science, engineering, mathematics, or statistics. If you're a recent graduate, you could also include minors or relevant coursework.
In a skills section
Technical skills like data visualization or engineering software, proficiency with common techniques, programming languages, and other tools and frameworks can all go in the skills section of your resume — if you show recruiters that you have experience with these tools, it'll be clear to them that you're analytical in nature.
If you're not sure of the hard skills and technical skills that highlight your analytical skills, use the tool below to search for the job you're applying to and it'll give you a list of relevant skills. You can also upload your resume to the tool — it'll perform a quick scan and tell you which skills are missing from your resume.
In your resume summary
When applying for roles involving data analysis, put your analytical skills front and center with a resume summary. This should be 3-6 lines including your key skills and experience related to data analysis. For an even better chance of getting past Applicant Tracking Systems (ATS), include a resume title that matches the title of the job you're applying for.
In your cover letter
If you want to talk about your skills in a little more depth, your cover letter is the ideal place. Reinforce that you're a good fit for an analysis-heavy role by expanding on how you've used your analytical skills, including the context, end result, and how you plan to use those skills in the position you're applying for.
Here's an example:
During my internship with Airbus working with fluid mechanic technology I evaluated wind tunnel and flight test data in order to reduce external airframe noise emissions. The analysis that I conducted involved examining data under varying flight conditions and extracting useful information. At the conclusion of my internship, I was able to provide my group with recommendations for improving the model scale testing in the wind tunnel to make better predictions for the flight test outcomes. My work was part of the group's task to provide continual improvements to the company's commercial aircraft. I would be excited to use my analytical skills to improve hardware systems, especially early in their life-cycle at Raytheon, when recommendations can have a high impact and positive result for the end user.
Now let's a look at a sample resume that puts all that together.
Sample resume with analytical skills
Really need to emphasize analytical skills on your resume? Here's an example of what you should be aiming for:
You can download this resume template in Google Docs or as a Microsoft Word document.
Notice that not once does this example use the words "strong analytical skills." Instead, it demonstrates these skills through previous experience, technical skills, appropriate qualifications, and the use of resume power words.
Get a free resume analysis
The best way to figure out if your resume conveys enough analytical skills is to upload it to the tool below — you'll get a confidential resume review, with a detailed analysis of your analytical skills.
Analytical skills bullet point examples
You don't have to start from scratch when coming up with examples of resume accomplishments that demonstrate analytical skills.
Here are some examples to help you get started:
Led the first major effort to A/B test the company's core sales landing page and optimize it for customer acquisition; resulted in a 18% increase in new customers.
Don't just say that you analyzed something — mention exactly what you did and what the results were.
Built Looker dashboard using data from MySQL and MongoDB to visualize core business KPIs (e.g. Monthly Recurring Revenue), saving 18 hours per week of manual reporting work.
You can always list hard skills in your Skills section, but it's even better if you can weave them into your bullet points as well.
Reduced signup drop-offs from 35% to 18% and increased user engagement by 20%, through a combination of hypothesis testing, segmentation analysis and machine learning algorithms.
What employers care about most is the bottom line, so if you made a measurable impact on your company, start with that.
Implemented crash reporter and used findings to fix three biggest causes of crashes; fixes reduced customer support calls by 30%.
Problem solving and critical thinking are essential components of analytical skills. Hiring managers aren't just looking for someone who can solve the problems presented to them — they want people who can seek out answers on their own.
Co-led task force to realize $1.62m annual savings; analyzed large sets of data to improve fixed and variable cost inputs and recommended additional invoice validation measures.
Communication and analysis may seem like very different skills, but they often go hand in hand. The best employees are the ones with a healthy mix of hard and soft skills — things like teamwork, leadership, and communication.