Data analysts are increasingly becoming one of the most sought after technology roles. Companies are storing terabytes and petabytes of data and need to find ways to effectively use this data to drive business decisions. To do this, they not only need to clean, process and analyze their data, but also need to turn that data into meaningful insights.

This is where data analysts come in - i.e. you! In 2021, pretty much every company needs to have a data strategy and, as a result, need to hire data analysts to help with data needs.

The first step to getting a data analyst job is a resume. And writing a data analyst resume can be tough if you haven't done it before.

In this guide, we've compiled six data analyst resume templates that hiring managers and recruiters have said are among the best data analyst resumes they've seen this year. We've chosen examples of resumes from different stages of the data analyst career path, from entry level to senior level data analysts, so there's a relevant example for you. We've also included links to the PDFs and Google Doc formats, along with specific insight from data-focused recruiters that you can use when writing your own data analyst resume.
Data Analyst Resume Templates
Data Analyst Resume Sample
This is an effective template you can use if you are applying for all data analyst roles in 2021, and showcases relevant data analyst skill sets in all parts of the resume, including the work experience, skills and projects sections. Due to the 2-column layout, this resume is not completely ATS-compatible and should be avoided when applying through online portals. Here's a few more reasons why this data analyst resume template works well: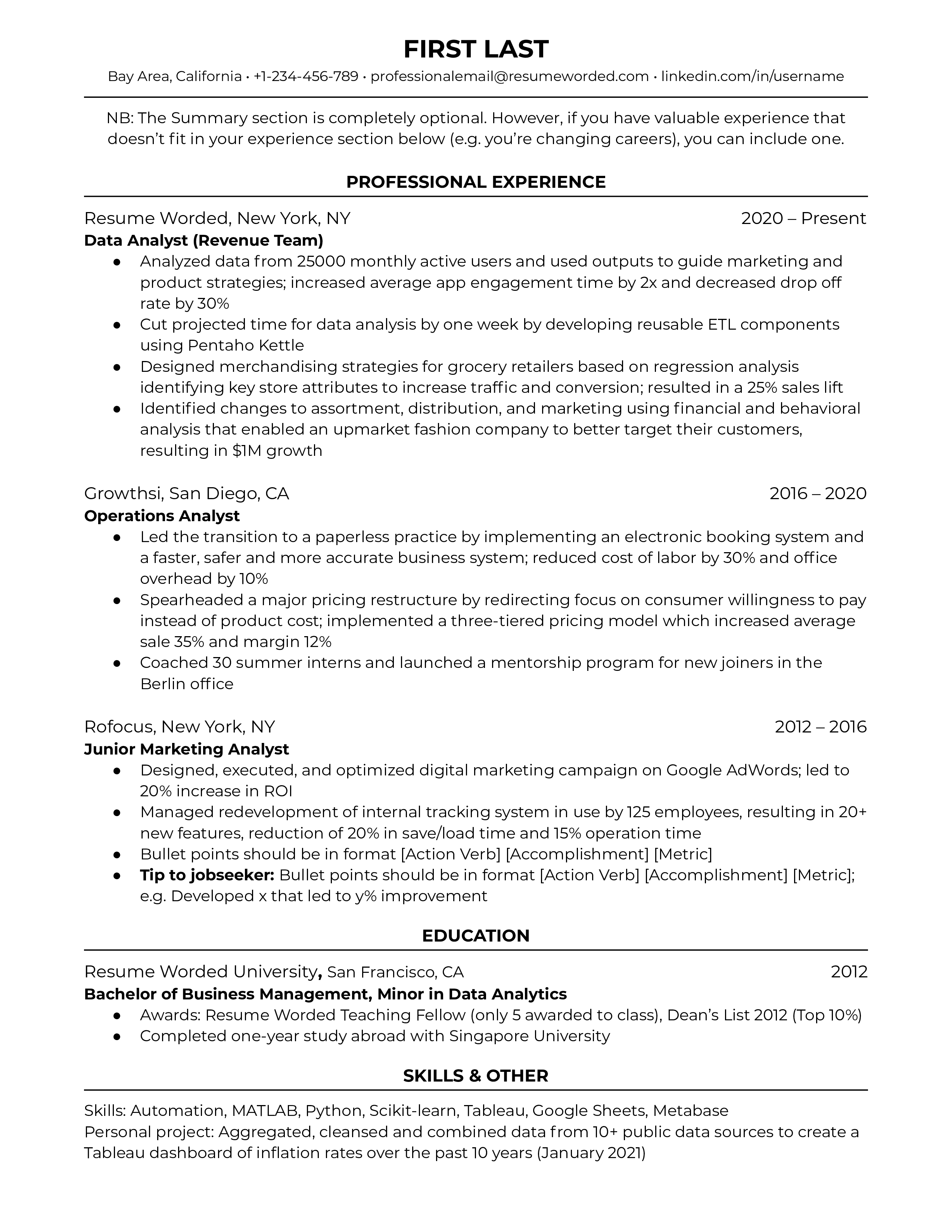 Recruiter Insight: Why this resume works in 2021
Entry Level Data Analyst Resume Sample
If you're a recent graduate or student, use this entry-level data analyst resume template when applying to jobs. It uses extra-curricular and project sections to supplement your work experience.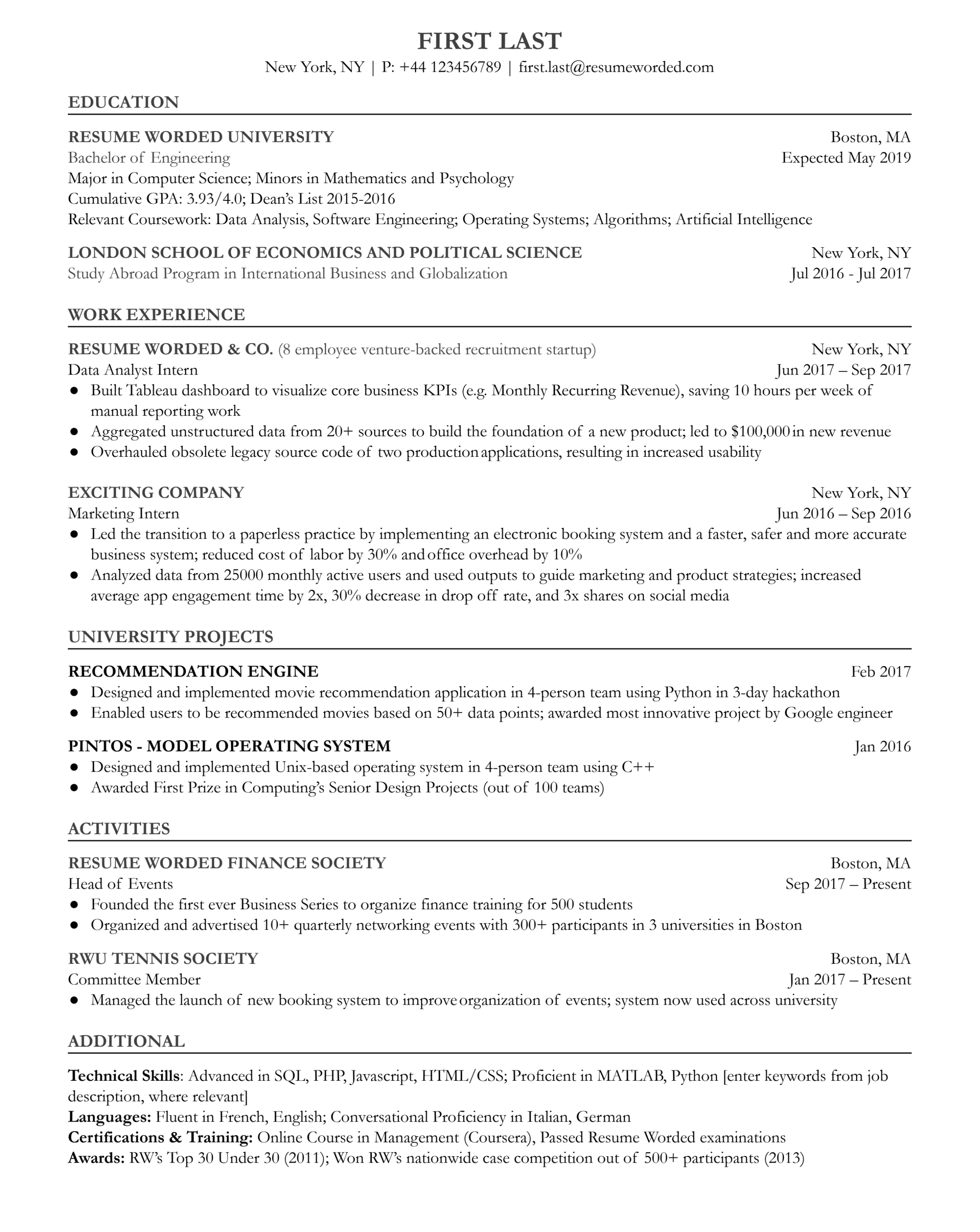 Recruiter Insight: Why this resume works in 2021
Senior Data Analyst Resume Sample
Senior data analyst resumes should have sufficient experience with handling large data sets and experience working cross-functionally. Keep the following in mind too: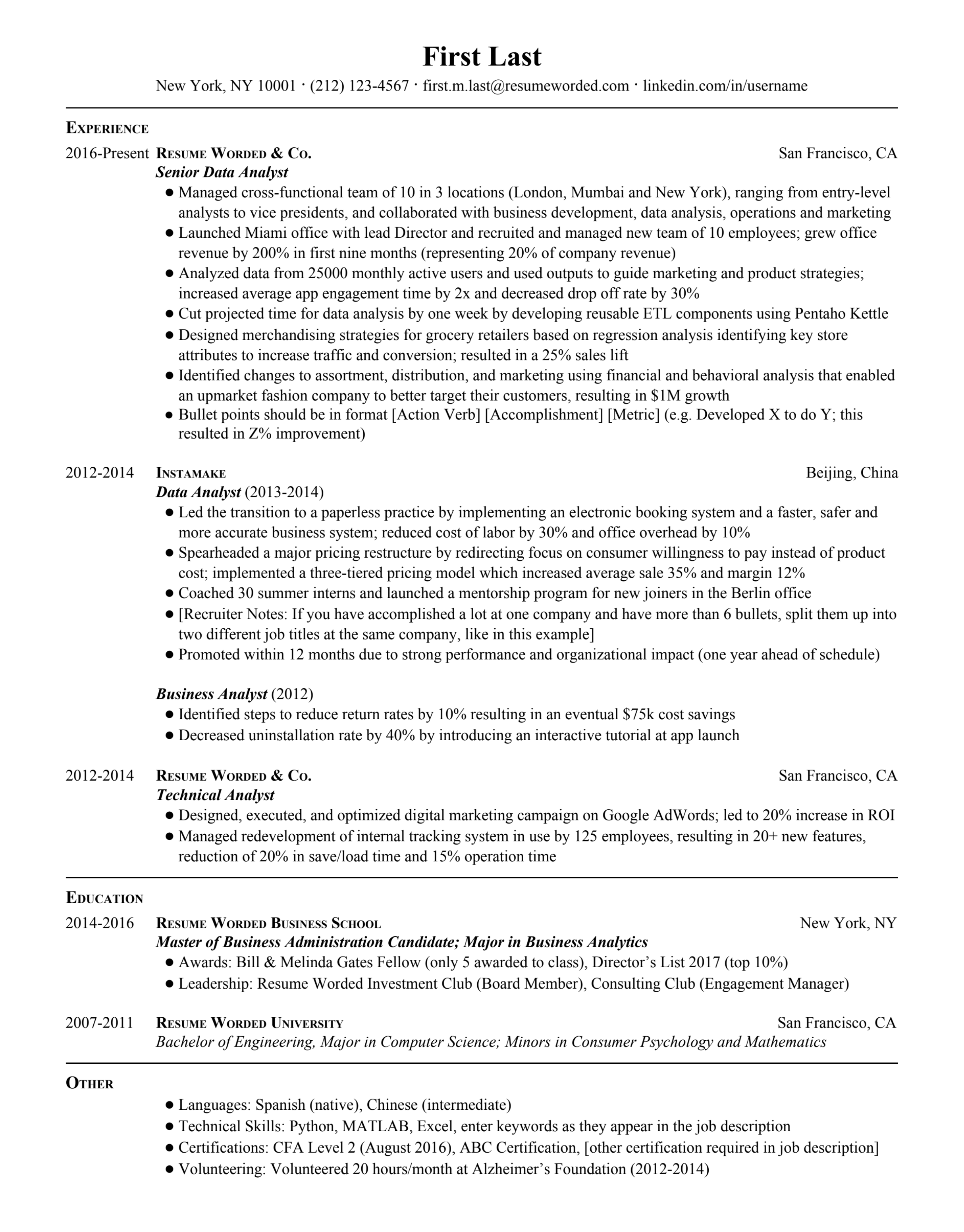 Recruiter Insight: Why this resume works in 2021
Analytics Manager Resume Sample
Analytics managers are senior-level data analysts that are more focused on managerial responsibilities than on data analyst projects. That said, they need to have a strong understanding of data analysis skill sets, so it's important to include relevant skill sets on your resume.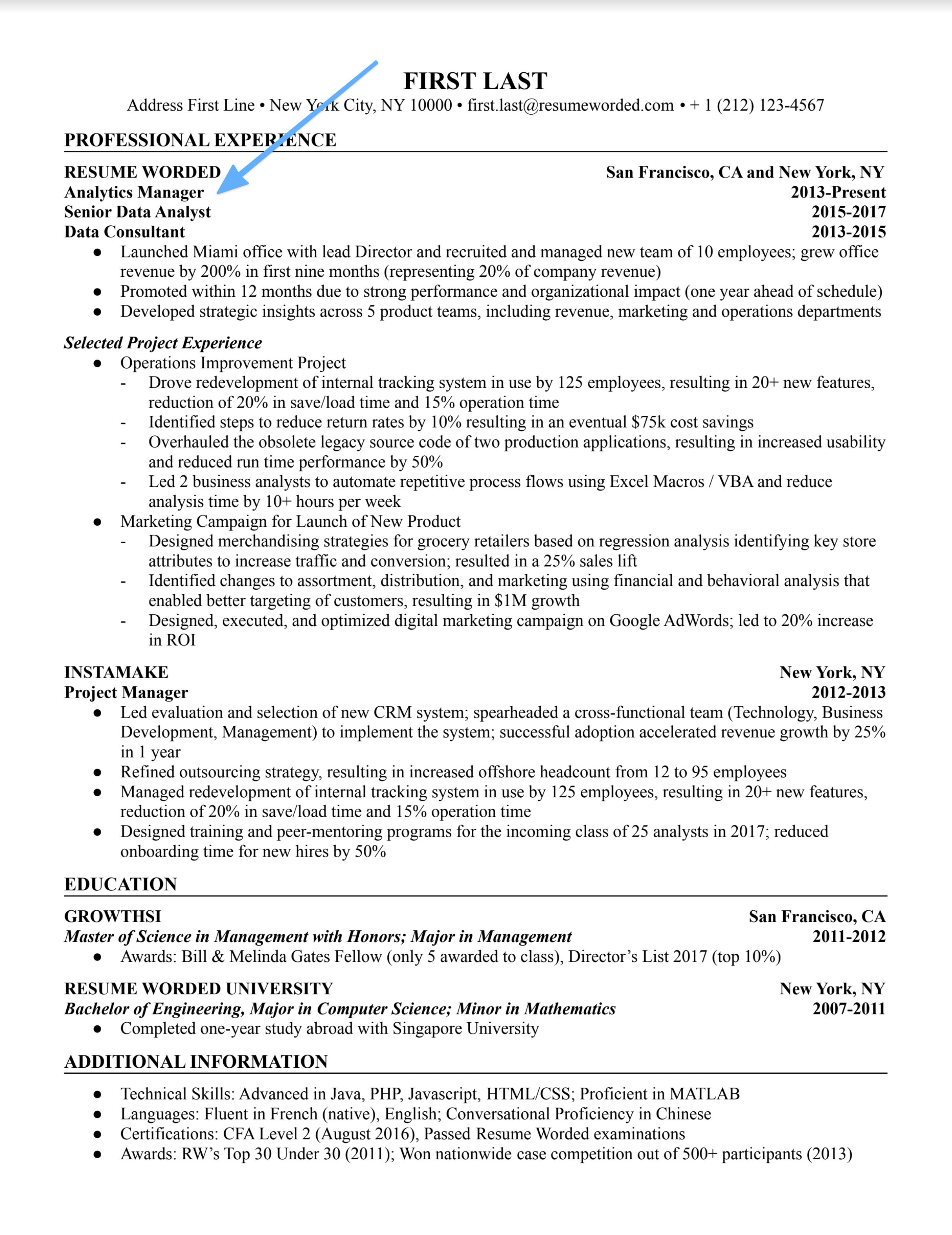 Recruiter Insight: Why this resume works in 2021
Marketing Data Analyst Resume Sample
Marketing data analysts are essentially data analysts that are focused on marketing and growth initiatives. The skill sets to mention on a marketing data analyst resume are generally exactly the same as other data analyst resumes, but you should also include marketing campaigns or tools in a skills section.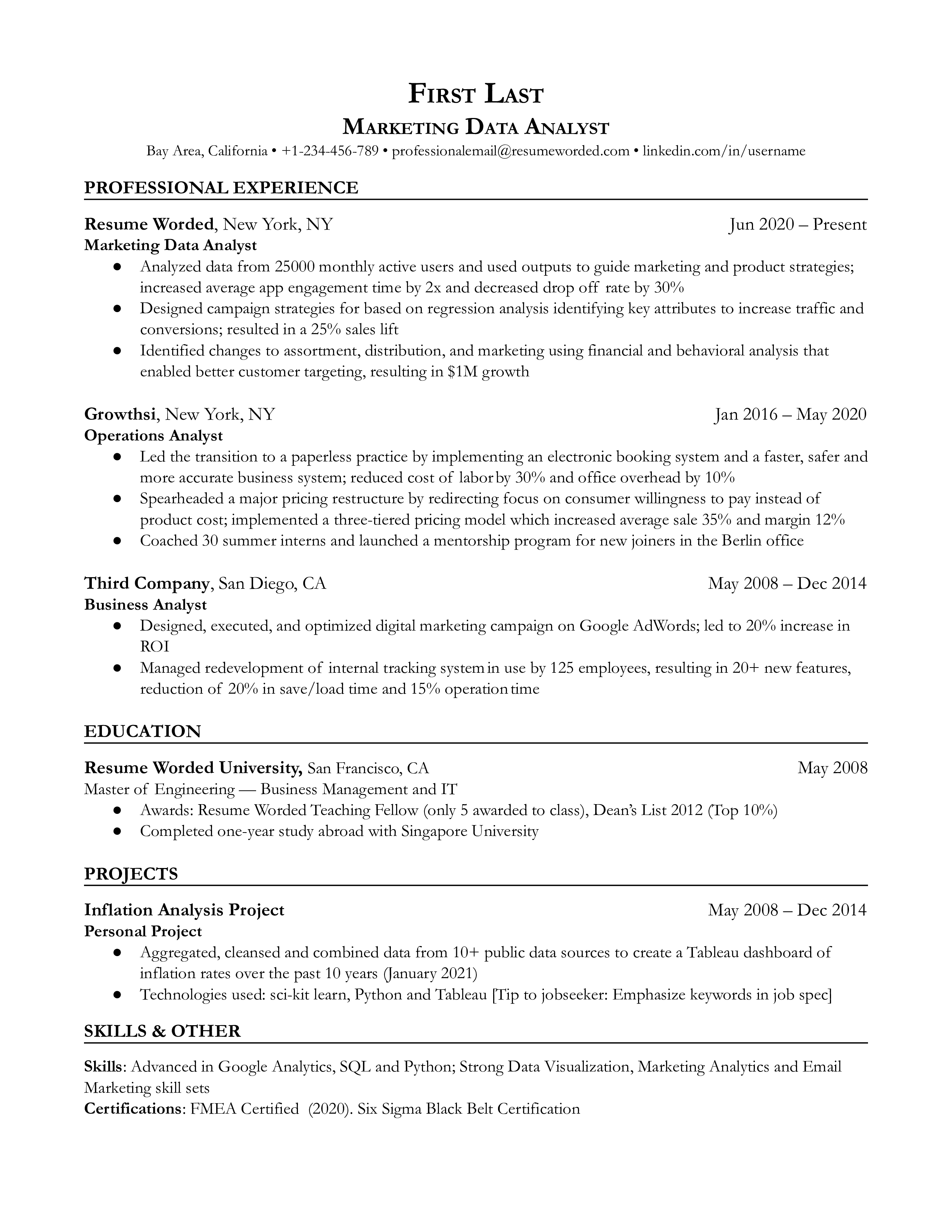 Recruiter Insight: Why this resume works in 2021
Financial Data Analyst Resume Sample
Financial data analysts are just data analysts that are in the financial industry. If you're applying for a data analyst role in 2021, you should include financial data analyst skills like Python and Finance Modeling into your resume.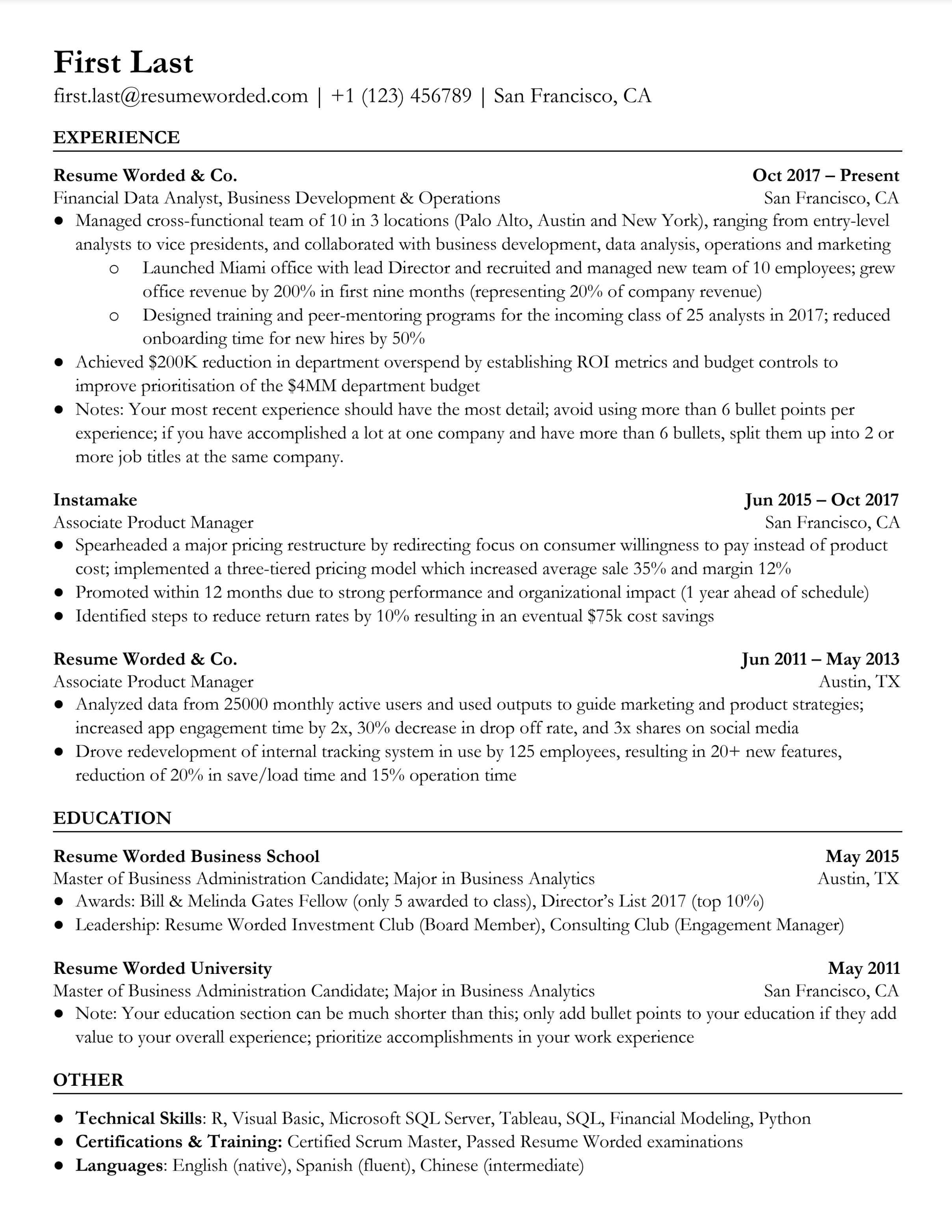 Recruiter Insight: Why this resume works in 2021
Skills For Data Analyst Resumes
When writing your data analyst resume, you need to make sure you include hard skills in your resume that show recruiters you have the right experience. This not only ensures recruiters put your resume in their 'yes' pile, but this is also ensures your resume will make it past the initial resume screening stage (i.e. the applicant tracking system).

To help you get started, here are keywords and hard skills from data analyst jobs we've analyzed. To find keywords relevant to the job you're applying to, use Targeted Resume. You should always ensure you tailor your resume to the data analyst job posting you apply to. This will maximize your chances getting an interview.
Tableau
SQL
Data Visualization
R (Programming Language)
Python (Programming Language)
Data Analysis
Data Analytics
Microsoft Power BI
Microsoft SQL Server
Machine Learning
Data Mining
SAS
Statistics
Databases
Data Science
Extract, Transform, Load (ETL)
Data Modeling
Analytics
Business Analysis
MySQL
Data Analyst Resume Tips
When writing your data analyst resume, keep in mind the following.
Action Verbs For Data Analyst Resumes
Your data analyst resume should contain strong action verbs which effectively describe your accomplishments. Here is a list of action verbs that are popular among strong data analyst resumes.

Try not to repeat the same action verb more than twice on your resume. This ensures your accomplishments are unique and stand out.
Analyzed
Assessed
Systemized
Summarized
Researched
Collected
Derived
Evaluated
Researched
Forecasted
Modelled
Predicted
For a full list of effective resume action verbs, visit Resume Action Verbs.
Resume Bullet Points From Data Analyst Resumes
You should use bullet points to describe your achievements in your Data Analyst resume. Here are sample bullet points to help you get started:
Liaised with marketing to drive email and social media advertising efforts, using predictive modeling and clustering, resulting in a 35% increase in revenue
Built Tableau dashboard to visualize core business KPIs (e.g. Monthly Recurring Revenue), saving 10 hours per week of manual reporting work
Analyzed global opportunities for the company's different membership tiers; designed and introduced a new membership tier which is projected to generate 300k new users in its first year
Created Monte Carlo simulation using Pandas (Python) to generate 30,000 sample portfolios with 8+ constraints
Designed the data pipeline architecture for a new product that quickly scaled from 0 to 100,000 daily active users.
For more sample bullet points and details on how to write effective bullet points, see our articles on resume bullet points, how to quantify your resume and resume accomplishments.