Companies are full of essential data. That data helps with the company's decision-making, product or service building, and many other elements. Data scientists use that data to help Instagram let you share a story, control the software in a car, and much more. But, data is often extremely messy and not in a format that can be analyzed or used easily. That's where a data engineer comes in.

As technology grows, data engineers are highly sought after now more than ever. In fact, interviews for data engineers have increased by 40% last year. Companies are spending more on engineers to maintain a proper data infrastructure.

Data engineers are the key to giving data scientists the info they need to use data. They do this by creating pipelines where the data converts into easy-to-understand information for data scientists to use.

To get your resume noticed, you're going to want it to look neat, organized, and full of relevant experience. You'll also want to showcase some key technical skills like Python, Java and SQL. Today, we'll be showing you a few examples of good resumes that will land you your next data engineer job in 2021. Plus, we'll offer some additional suggestions to make your resume stand out even more.
Data Engineer Resume Templates
Data Engineer Resume Sample
Employers are looking for data engineers with experience managing data and have the stats to support it. Your job history should include the different kinds of programs and data you've worked with. It also should explain the impact that your work has had on the company or its products. If you know the numbers (i.e. percentage of operating costs, results in savings, etc), then list them; show employers that your skills can bring their company value.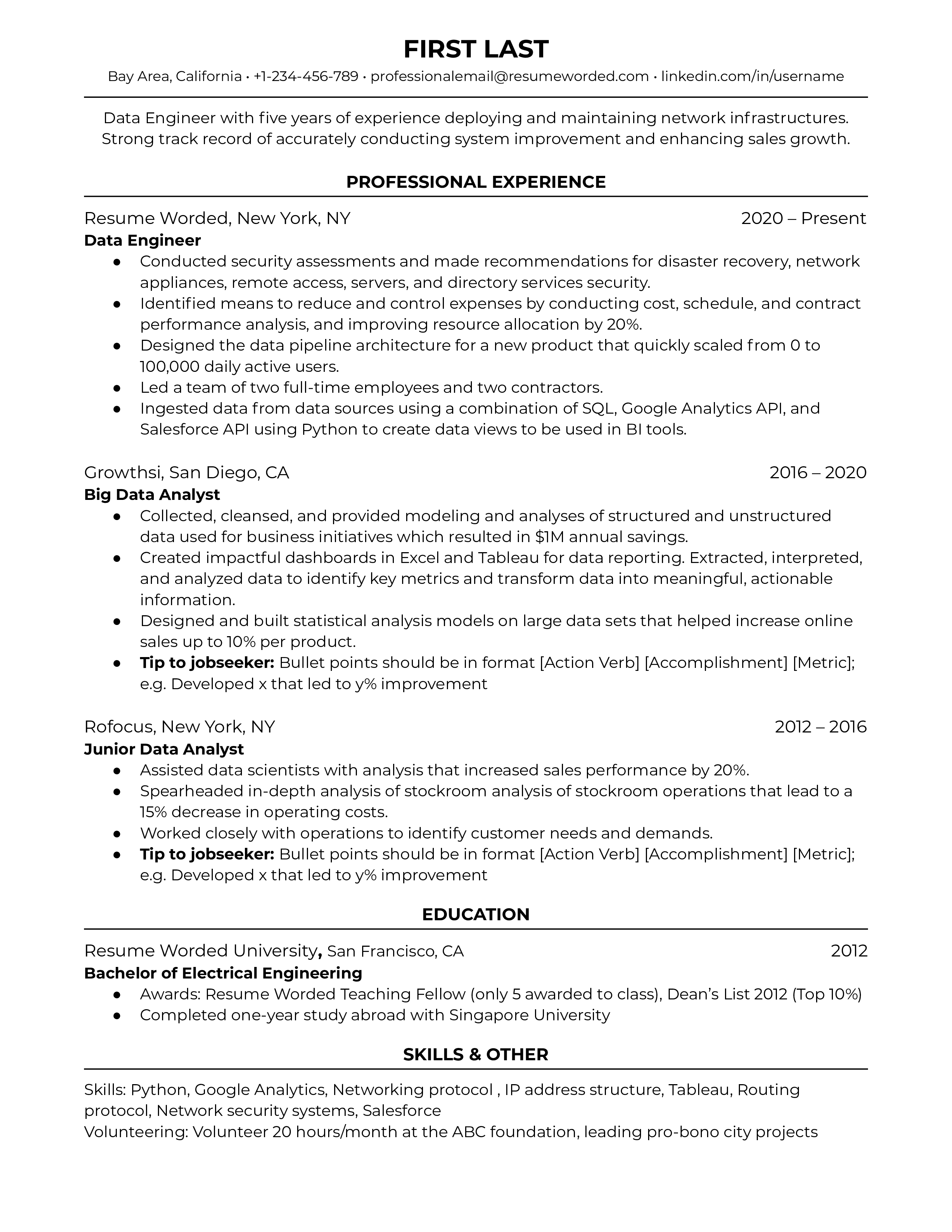 Recruiter Insight: Why this resume works in 2021
Senior Data Engineer Resume Sample
Senior data engineers need to do more than just use software to manage data. They need to be able to lead and guide junior data engineers as well. They need to show positive results in their work and show that they can instruct others how to do so too. For this job, your resume needs to explain what software you used, how it benefited the company, and preferably how many people you've managed or mentored.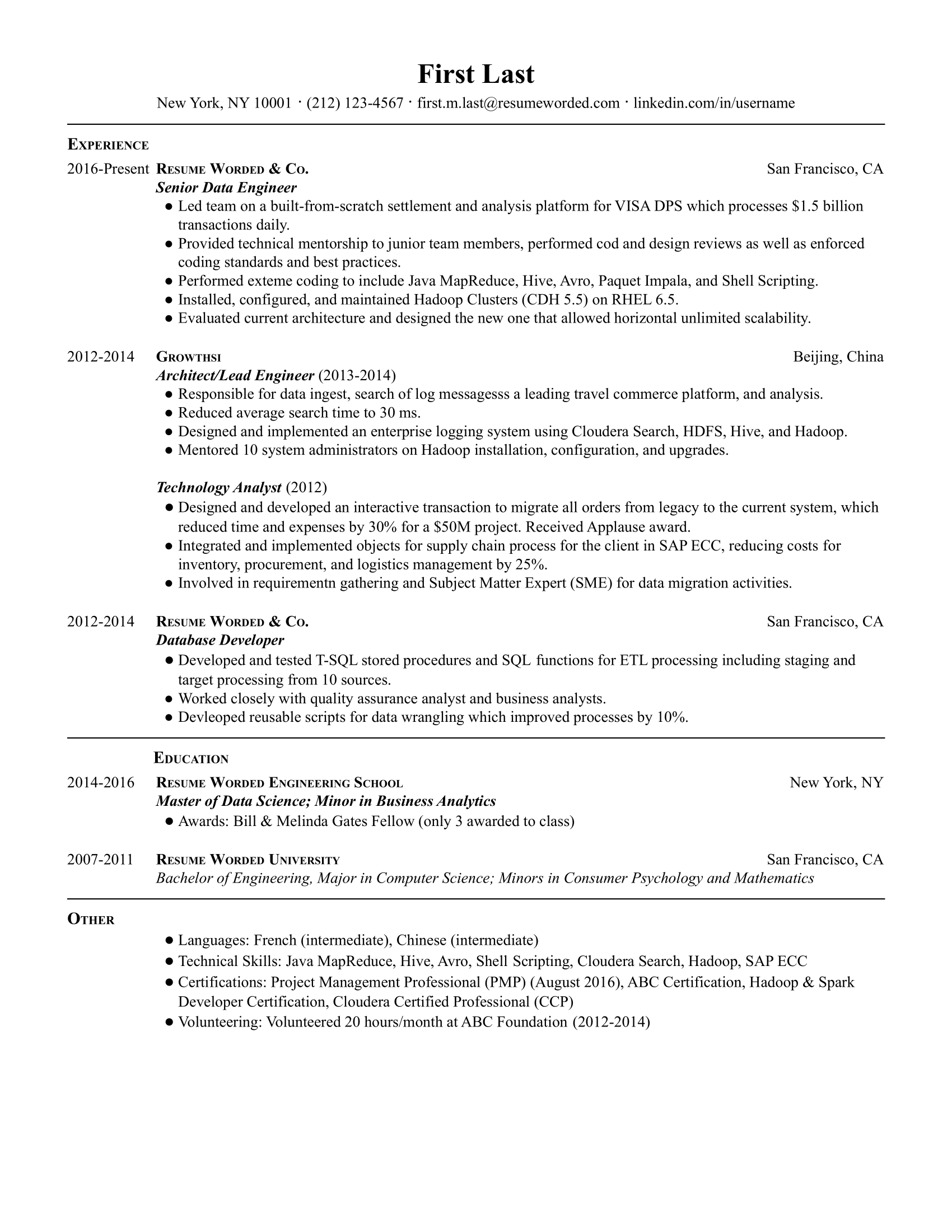 Recruiter Insight: Why this resume works in 2021
Big Data Engineer Resume Sample
Big Data engineers need to have experience with various software engineering and design programs. They also need to work with other departments to effectively process big data. This resume shows experience interacting with other departments of companies to gather their data and achieve goals from it. It also shows how large the data is to emphasize the data this person had to work with.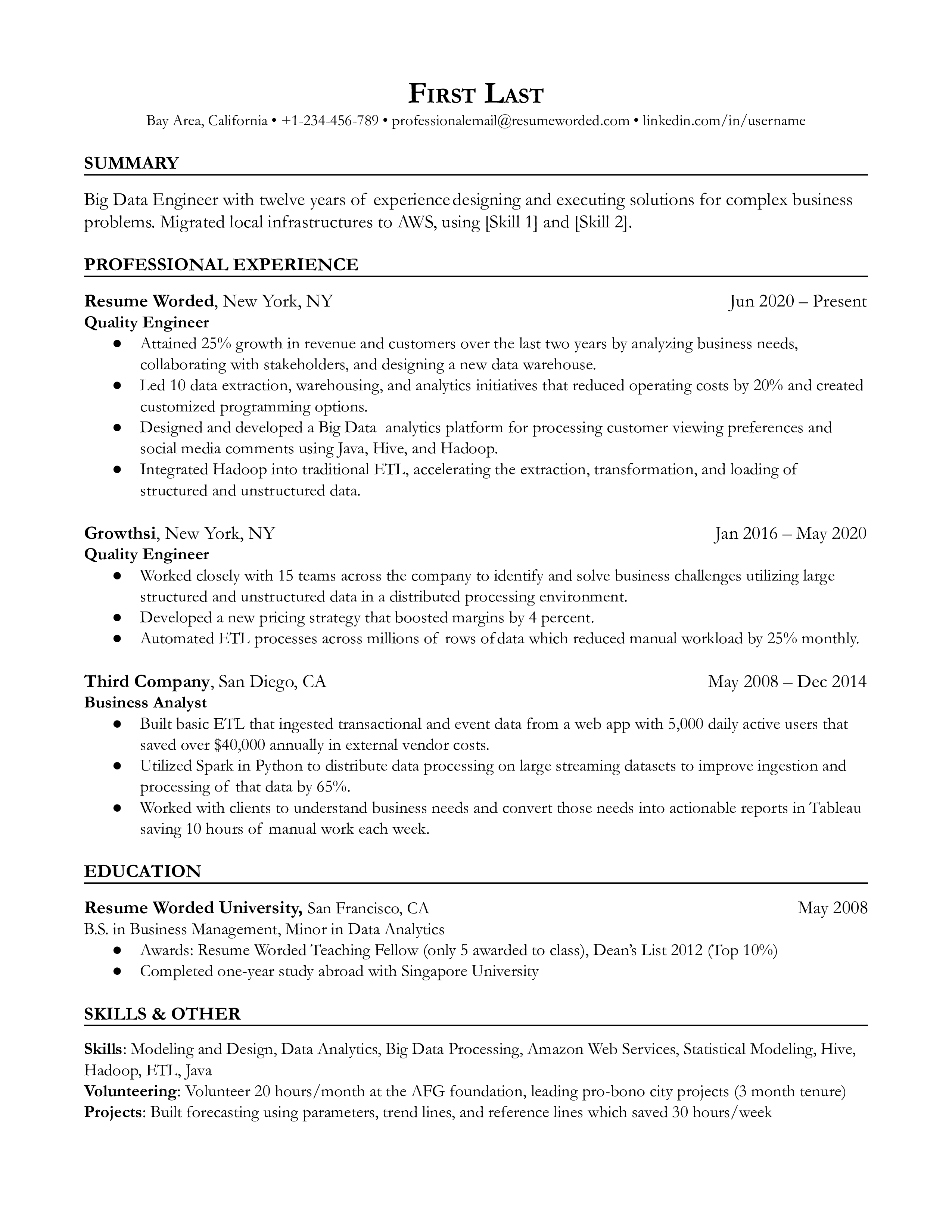 Recruiter Insight: Why this resume works in 2021
Data Warehouse Engineer Resume Sample
Data warehouse engineers are essentially managers providing support to the data warehouse. They troubleshoot current procedures, strive to improve data organization, fix performance issues, translate data analysis into good data design, and collaborate with other data workers. A successful data warehouse engineer resume displays your higher-level skills and your effectiveness on teams.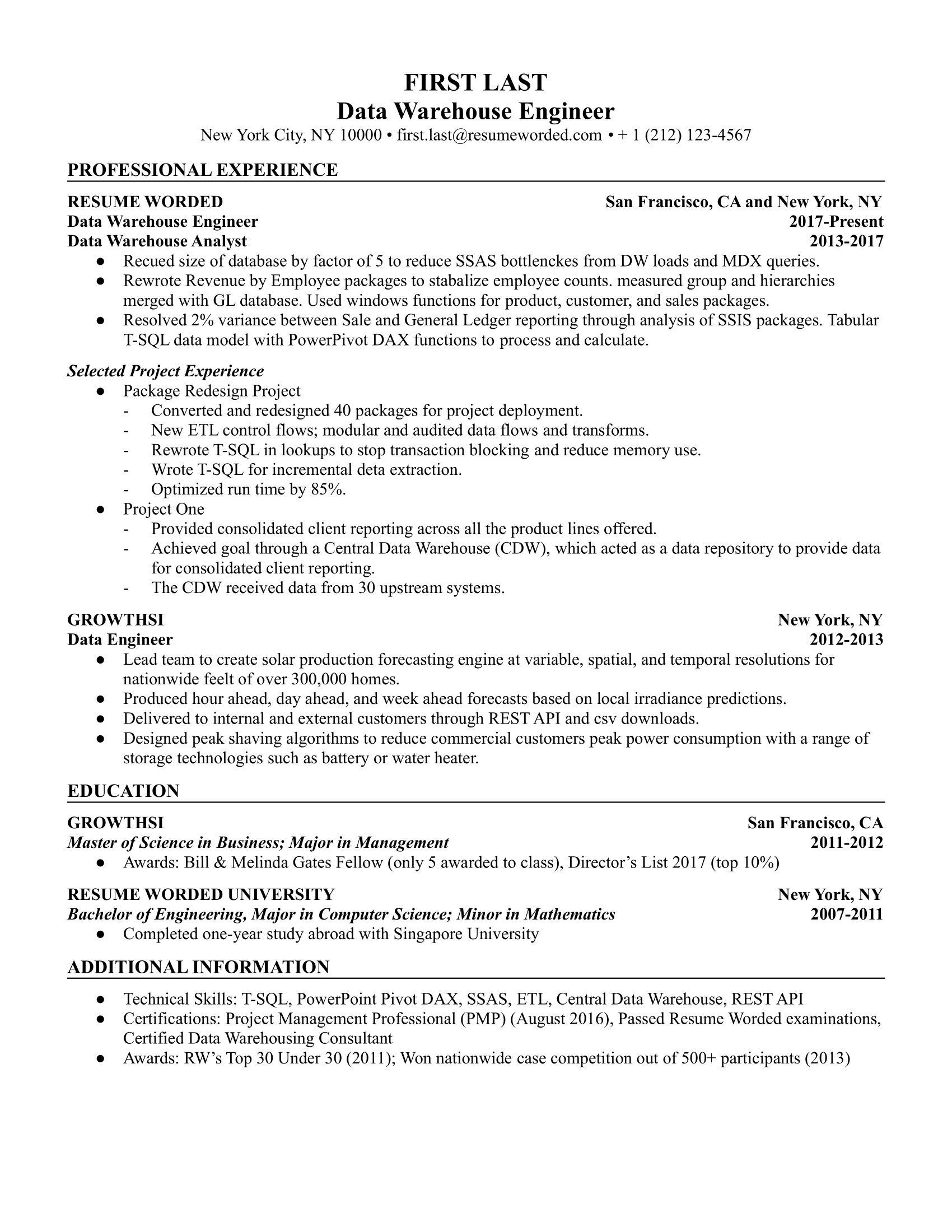 Recruiter Insight: Why this resume works in 2021
Entry Level Data Engineer Resume Sample
If you're just starting in the data field, it's important to list as many relevant skills and experience as possible. Activities that were done while at university are useful to add (plus, use projects if you don't have much formal work experience!). This sample does just that: it lists work experience that uses skills relevant to data engineers. It also details experience taken while being a student through extracurriculars.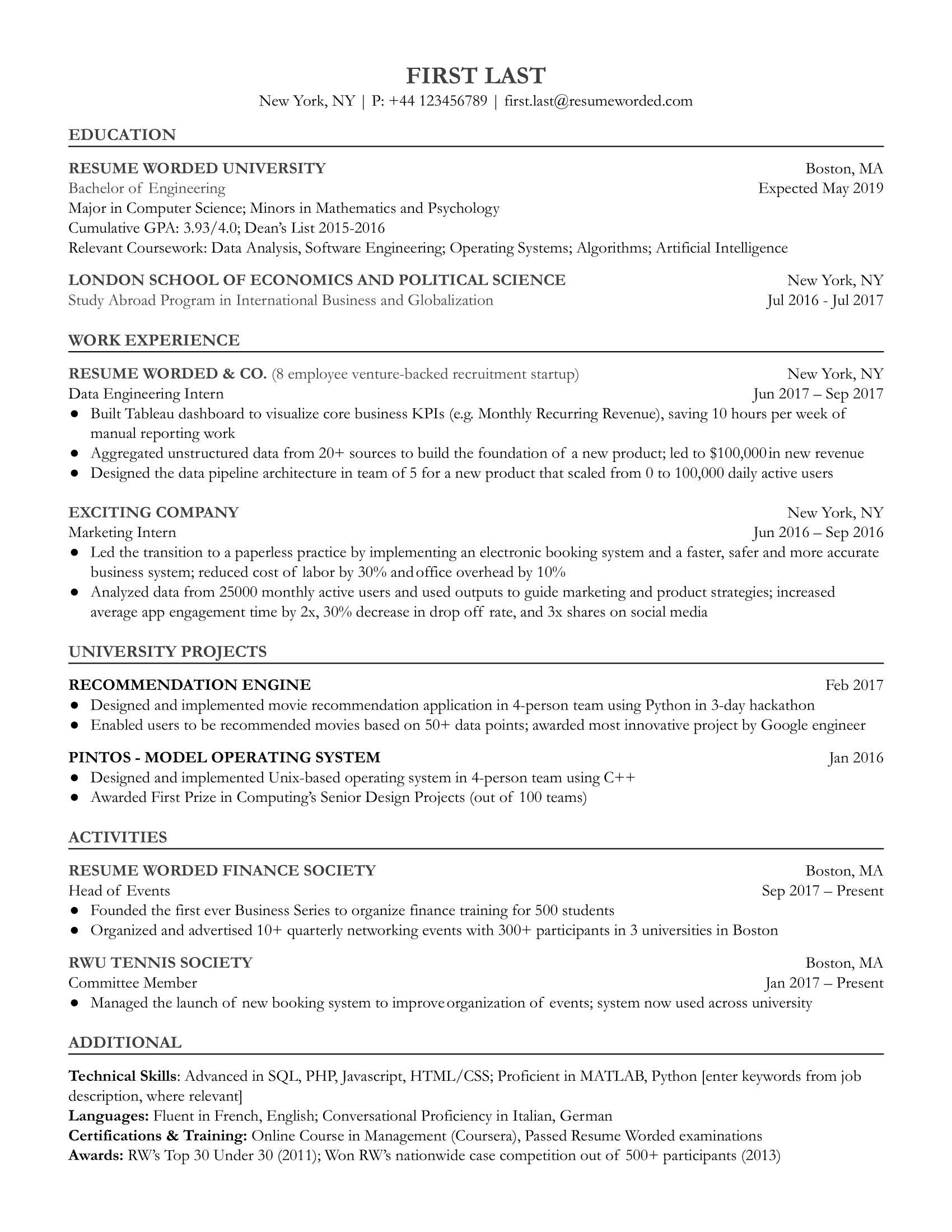 Recruiter Insight: Why this resume works in 2021
Skills For Data Engineer Resumes
Creating a data engineer resume that gets noticed requires the right skills. Hiring managers are looking for you to be able to know and use fundamental data management tools and to learn new tech as necessary.

If you have several skills for this job, analyze the job description. Which skills seem the most necessary to include in your resume? Can you describe how you used the skills they're looking for in your previous work experience? Did you achieve something using some of the software? These are the skills you'll want to focus on using the most.
Data Engineering
Apache Spark
Extract, Transform, Load (ETL)
Hadoop
Amazon Web Services (AWS)
Hive
Python (Programming Language)
Scala
Big Data
Data Warehousing
SQL
Apache Kafka
Amazon Redshift
Data Modeling
Machine Learning
PySpark
Tableau
Apache Airflow
Snowflake
PostgreSQL
Data Engineer Resume Tips
Unless you're just starting your job search, make sure your resume conveys your ability to work with a team. As important as it is to have the right skills, it's equally important to be able to communicate with other teams to get the data you need. The experience you have should explain how you collaborate with others using your knowledge to achieve goals that improve the company somehow.

Employers hire people that can take data, analyze it for others, find problems, and create solutions. Then you'll need to prepare reports with this information. Is your resume prepared to demonstrate this?

If not yet, here's some suggestions to get your resume looking flawless:
Action Verbs For Data Engineer Resumes
Strong verbs help emphasize the accomplishments you've made. When detailing your experience, start with a strong action verb and include metrics to truly show how much of an impact your actions had on your job.

Because you've worked with many software programs, you'll more than likely have several verbs you can use to strengthen your bullet points. Try to include verbs that are team-related, involve problem-solving, or accomplishment-focused.
Visualized
Computed
Engineered
Architected
Restructured
Debugged
Overhauled
Sped up
Deployed
Redesigned
Segmented
Predicted
For a full list of effective resume action verbs, visit Resume Action Verbs.
Resume Bullet Points From Data Engineer Resumes
You should use bullet points to describe your achievements in your Data Engineer resume. Here are sample bullet points to help you get started:
Developed pricing strategy for a digital subscription service by segmenting potential users by behavioral and psychographic attributes from survey data
Analyzed 1500+ responses to a consumer survey to evaluate brand perception and customers' willingness to pay
Generated insights on customer churn and renewal rates from data tables with 100M rows in SQL
Identified $5MM savings opportunity by developing cost reduction model and facilitating 20+ client stakeholder interviews across 5 different locations to define and collect business process key performance metrics
Cut projected time for data analysis by one week by developing reusable ETL components using Pentaho Kettle
For more sample bullet points and details on how to write effective bullet points, see our articles on resume bullet points, how to quantify your resume and resume accomplishments.