Virtually all businesses rely on phone, internet, computers, and other systems in order to conduct their daily operations. Network engineers are the professionals who design, build, and manage integrated networks of these technologies, ensuring that they function as smoothly as possible.

As a network engineer, your job duties could include maintaining computer systems, backing up data, installing equipment (like switches or routers), and updating key software. You might also offer user support for systems, troubleshoot problems, and devise ways to enhance your network's performance.

There are plenty of new and emerging job opportunities to be found within this growing field -- employment for network engineers is projected to grow by 4% between 2019 and 2029, according to the US Bureau of Labor Statistics.

If you're seeking a network engineering position, you need a strong grasp of network integration, infrastructure, and programming. In addition, you need to be a creative problem solver and a strong communicator. How can you showcase skills like these on your resume and make yourself extra competitive for jobs? Let's look at some examples of network engineer resumes that can help you stand out in 2021.
Network Engineer Resume Templates
Network Engineer Resume Sample
Network engineers leverage their technical knowledge to design fast, efficient networks that can keep up with the pace of modern business. When problems arise, these engineers find solutions. When applying for a network engineering position, give examples of where you've successfully resolved network issues or managed systems in the past. Use numbers to quantify what you achieved, and make sure to emphasize your technical skills in your skills section.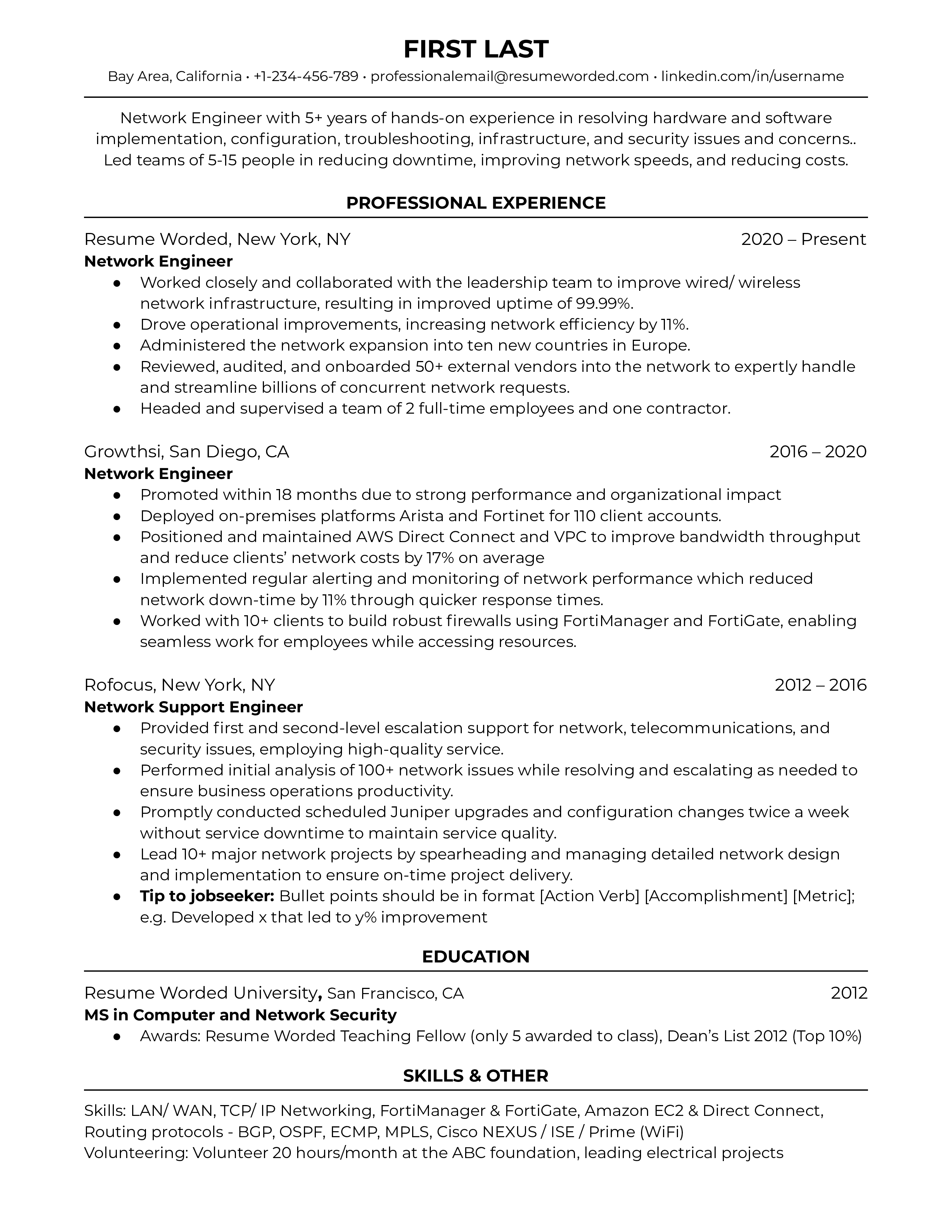 Recruiter Insight: Why this resume works in 2021
Senior Network Engineer Resume Sample
Senior network engineers don't only design and maintain network infrastructure for companies; they may also supervise junior engineers and handle client escalations. For this job, you'll need plenty of experience as an engineer as well as proven leadership and management abilities -- so be sure to highlight your most noteworthy accomplishments at past jobs as well as promotions you've received.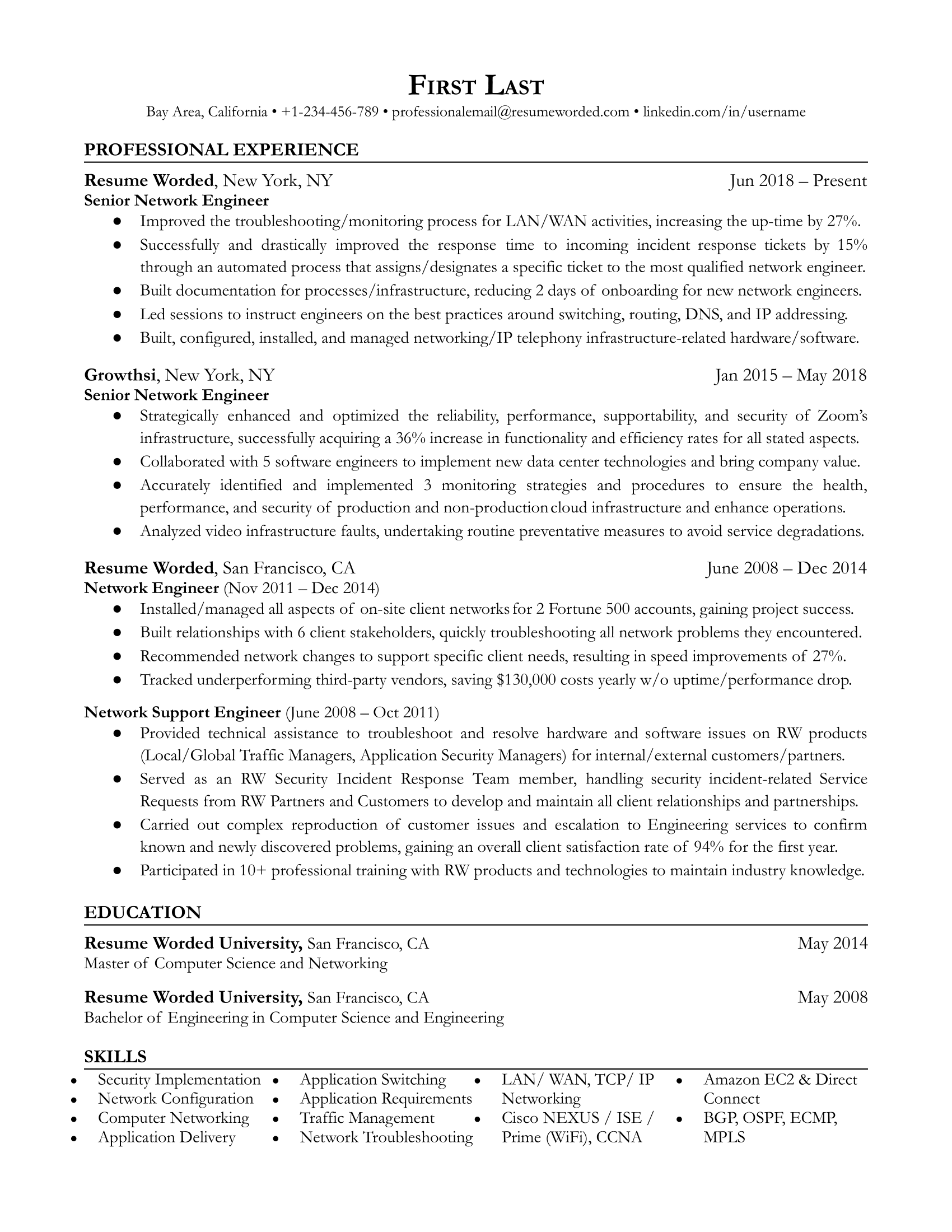 Recruiter Insight: Why this resume works in 2021
Wireless Network Engineer Resume Sample
Wireless network engineers specialize in setting up and managing wireless networks. These engineers need a solid foundation of technical and problem-solving skills, but they must also continually "level up" their skills and stay abreast of new developments in wireless technologies. Your relevant certifications, continuing education, and hard technical skills should feature prominently on your resume, as should any prior experience you have in wireless networking.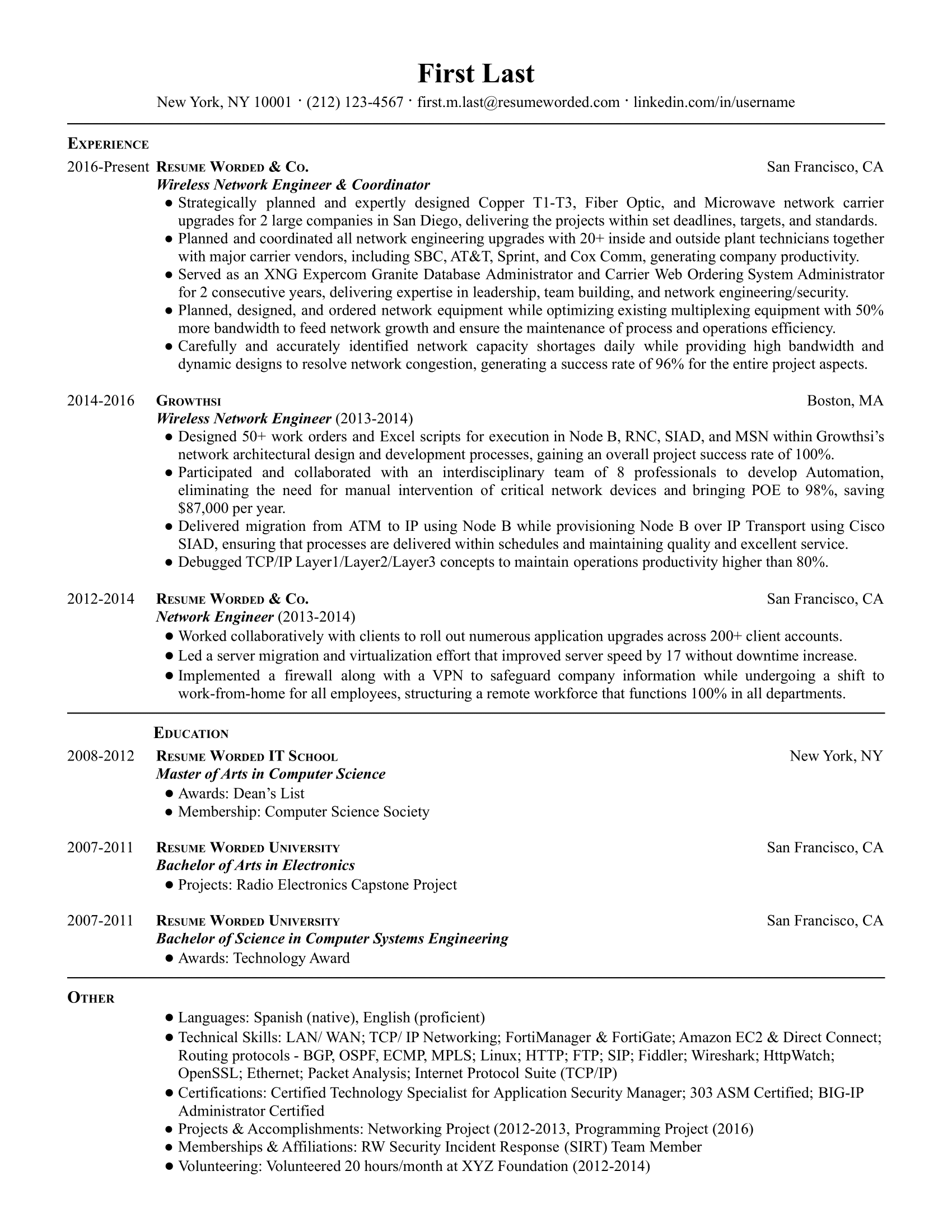 Recruiter Insight: Why this resume works in 2021
Entry Level Network Engineer Resume Sample
An entry-level network engineer can help design and maintain networks for clients. They learn key job skills while receiving mentorship and guidance from senior engineers. Although you can get hired for this job without much work experience, you'll usually need at least a Bachelor's degree in information science or a related field -- and you'll need some technical proficiency, as well. Focus your resume on your relevant educational background, internship history, and skills.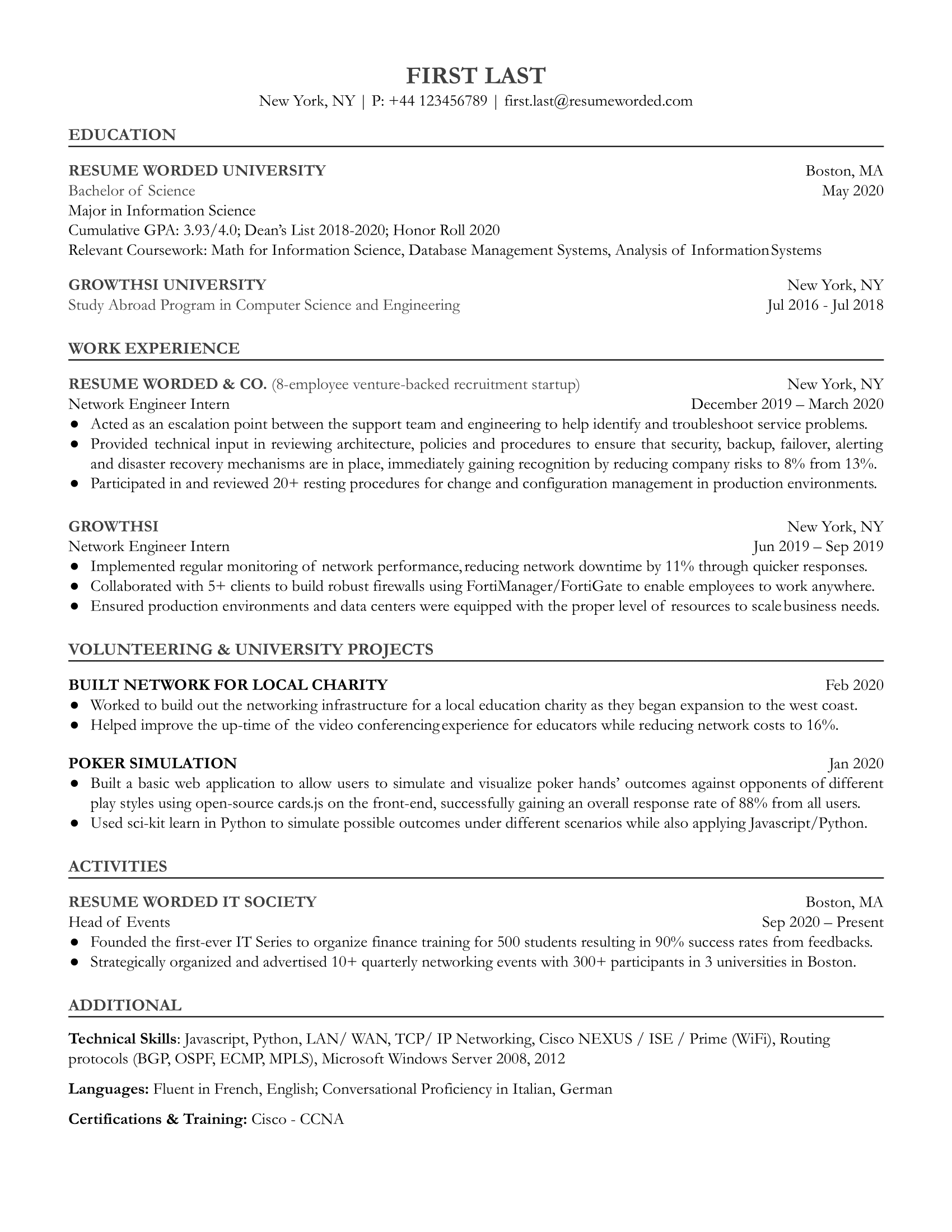 Recruiter Insight: Why this resume works in 2021
IT Network Engineer Resume Sample
IT network engineering roles blend network engineering with systems administration. Systems administrators tend to focus on maintaining existing networks, while network engineers work more on developing and implementing new networks. As an IT network engineer, your job could encompass both creating and managing networks, so make sure your resume reflects a diverse skill set and an ability to balance numerous different responsibilities.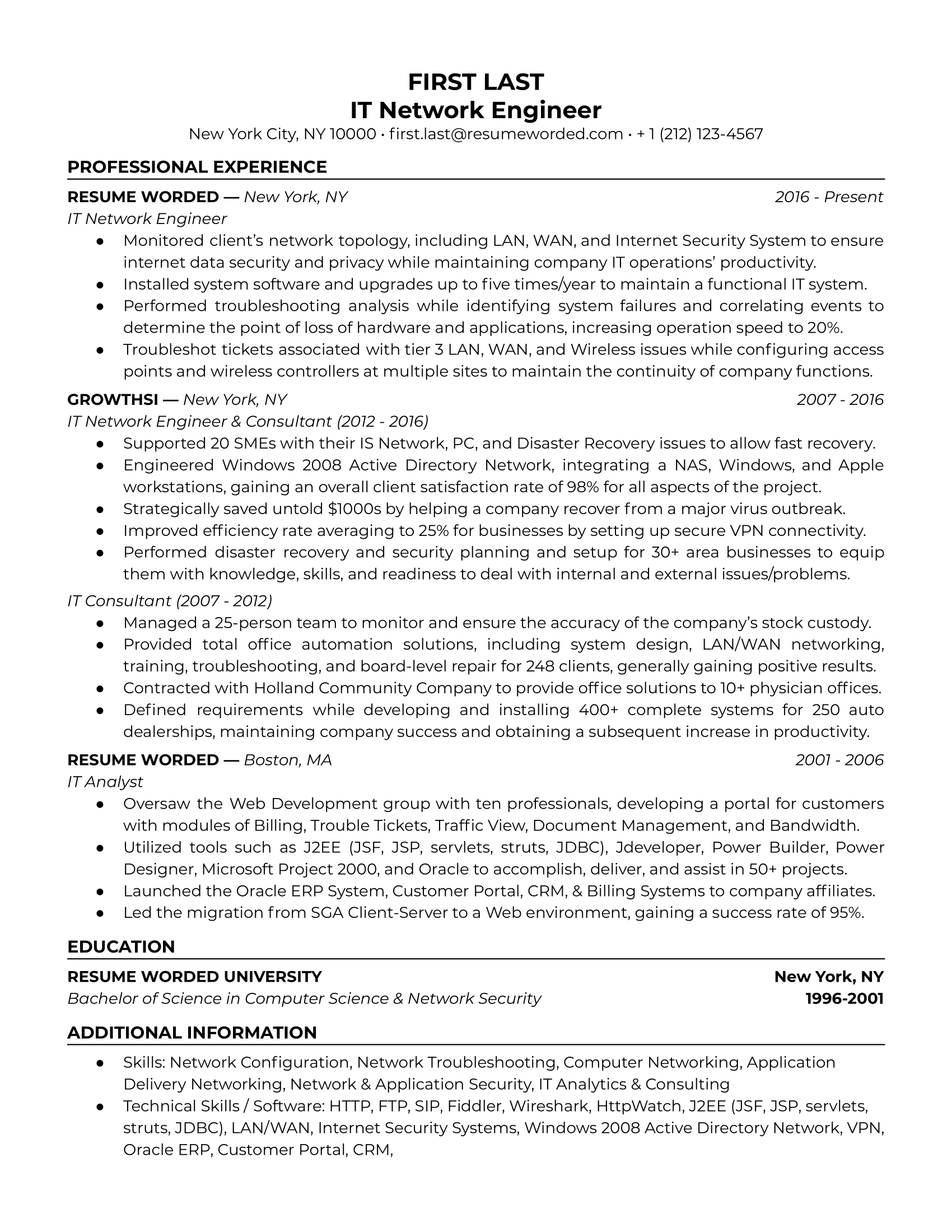 Recruiter Insight: Why this resume works in 2021
Cisco Network Engineer (CCNA) Resume Sample
A Cisco network engineer is specially trained to use Cisco products in planning, implementing, and managing network systems. Cisco networks are used widely, and the demand for Cisco-certified networking professionals is high. If you want to become a Cisco network engineer, your resume should show recruiters that you have excelled as a network engineer and that you've attained the necessary education to work with Cisco products.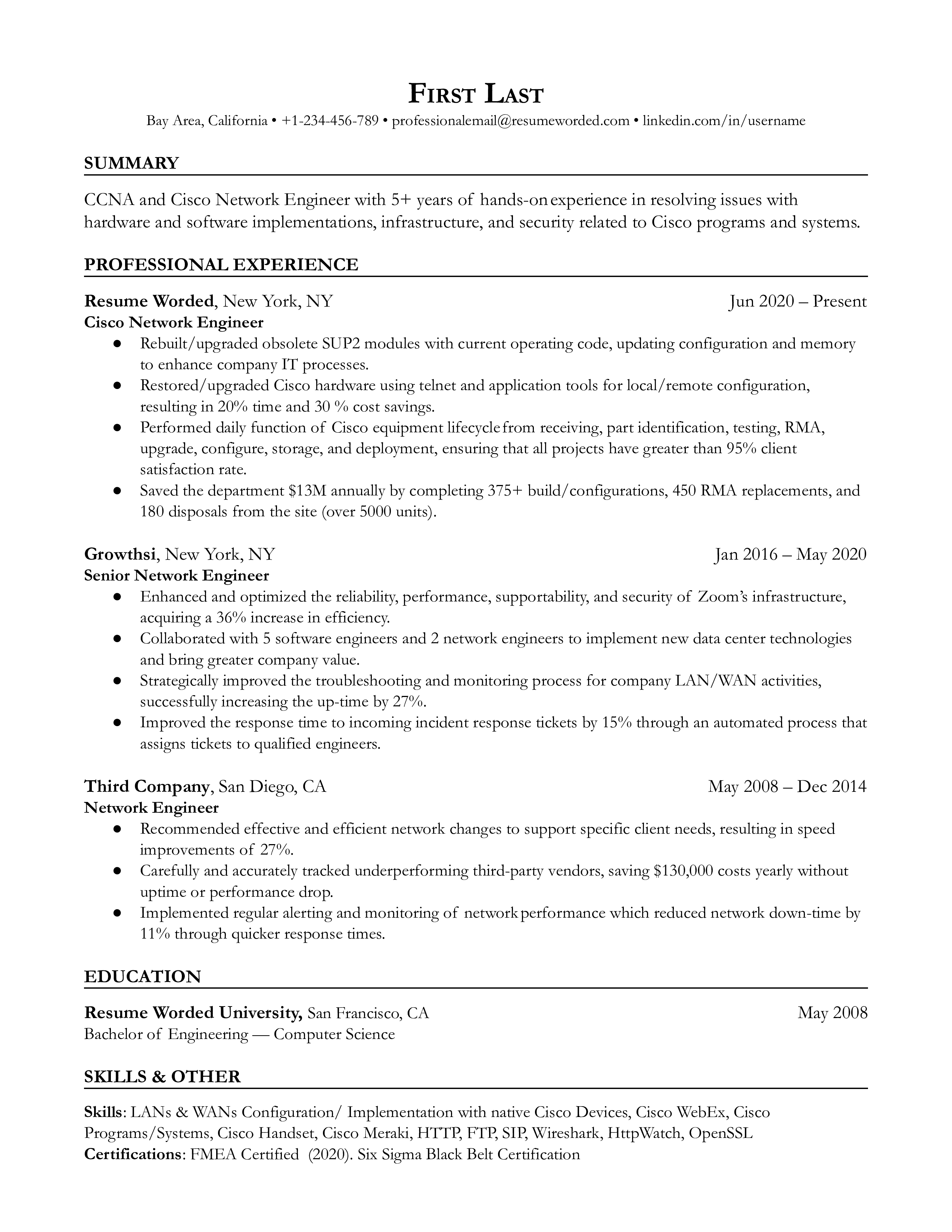 Recruiter Insight: Why this resume works in 2021
Skills For Network Engineer Resumes
What makes a great network engineer? A thorough understanding of networks (and the technology needed to build them) certainly helps. However, engineering isn't only science and tech-based; it's also communicating ideas and collaborating with teams to solve all manner of problems. Network engineers also need to be effective at managing their time and the various projects they work on.

Use examples from your work history to illustrate how you've put all of these skills to good use in past jobs. Also, because network engineering has a strong technical component, you will need a solid foundation of technical abilities and knowledge. You'll want to list all relevant softwares, equipment, programming languages, and other hard skills in your resume skills section along with any certifications you've done (such as CCNA).
Network Engineering
Cisco Systems Products
Switches
Firewalls
Virtual Private Network (VPN)
Networking
Network Administration
Network Security
Border Gateway Protocol (BGP)
Routers
Wide Area Network (WAN)
Open Shortest Path First (OSPF)
Routing
Cisco Routers
Network Design
Internet Protocol Suite (TCP/IP)
Cisco IOS
Data Center
Troubleshooting
Cisco Nexus
Action Verbs For Network Engineer Resumes
When detailing your accomplishments at past jobs, you should always introduce those accomplishments with vivid action verbs. Choose the best, most precise word to describe what you achieved and how you did it -- you'll convey a strong message to hiring managers, and you'll save valuable space on your resume by eliminating fluffy, insubstantial language.

If you're an aspiring network engineer, choose verbs that highlight your communication, problem-solving, and technical skills. Here is a list of verbs that could be helpful as you write your resume.
Collaborated
Conceptualized
Conducted
Debugged
Designed
Developed
Formulated
Identified
Improved
Installed
Recommended
Resolved
Streamlined
Tested
Troubleshooted
For a full list of effective resume action verbs, visit Resume Action Verbs.