Node.js developers handle the server-side programming for web-based apps with dynamic, personalized content, such as Netflix. These programmers write code (primarily in JavaScript) that controls the flow of data between users and servers and enables web apps to function smoothly.

As a Node.js developer, you'll merge user-facing components (designed by front-end developers) with back-end programming logic to create apps that load quickly and perform well on various devices. You might also be responsible for adding security features and integrating data sources into your apps.

Demand for all types of web developers is rapidly growing, and it's only expected to increase in the coming years -- the US Bureau of Labor Statistics projects an 8% increase in web development jobs between 2019 and 2029, about double the average rate of growth for most professions.

Becoming a Node.js developer requires specialized, high-level technical skills as well as the ability to analyze complex problems, design innovative solutions, and collaborate on teams. How can you craft a resume that will highlight your professional abilities and help you get interviews? Let's talk about what recruiters want to see on your Node.js resume in 2021.
Node.js Developer Resume Sample
To land a Node.js developer position, you need to show hiring managers that you have the right blend of technical knowledge (i.e. experience with JavaScript and JavaScript frameworks) and people skills to succeed on the job. Your resume skills section should showcase your proficiency with industry-specific softwares and programming languages. In your work experience section, underscore key accomplishments where you've used soft skills such as communication and teamwork.
Recruiter Insight: Why this resume works in 2021
Node.js Software Developer Resume Sample
If you're pursuing a Node.js developer role, be prepared to give examples of successful apps and programs you've created in the past. Provide data and numbers when possible to show how well your creations have performed and what results you've achieved with them. Your work experience is more important to recruiters than your educational background, but if you have relevant degrees or certifications, it's worth listing those as well.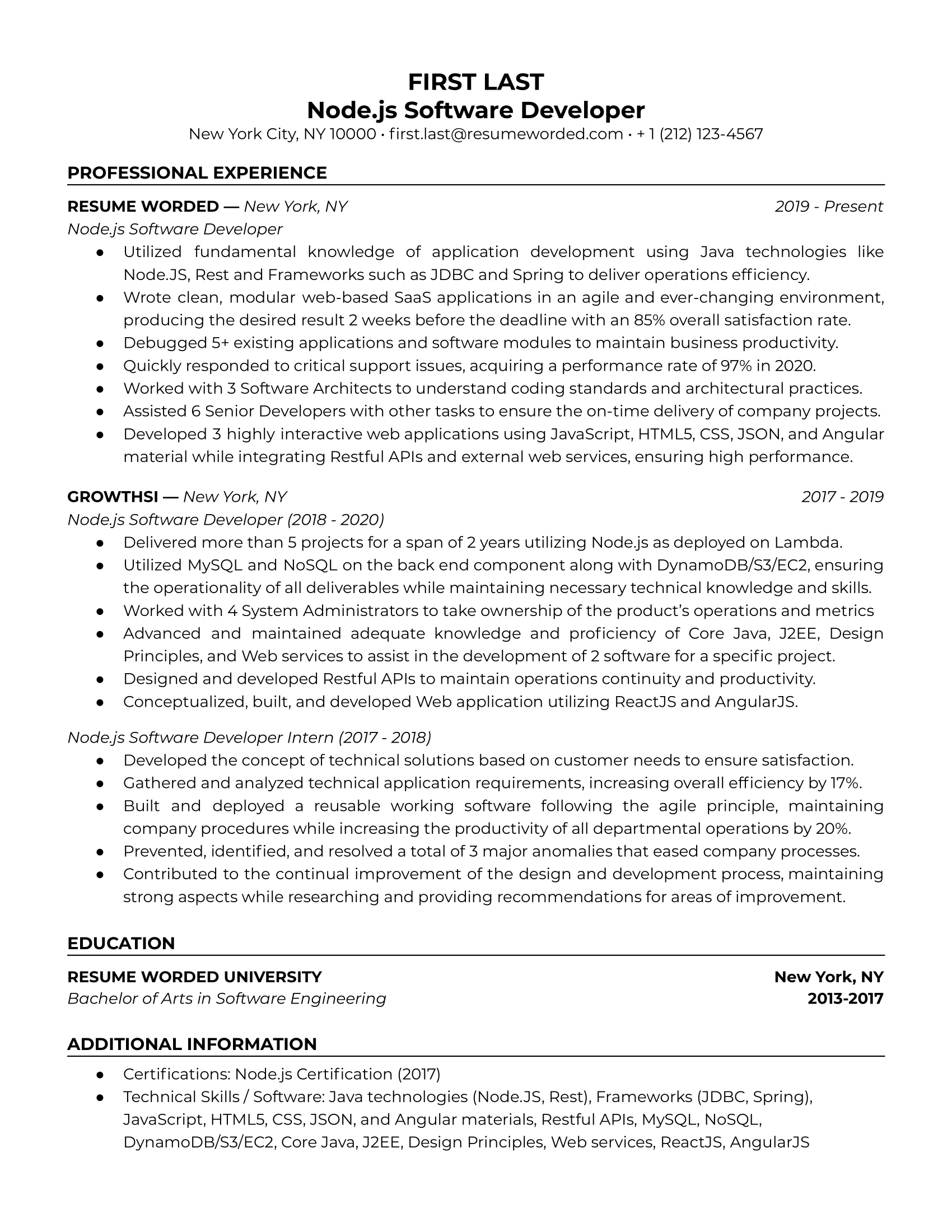 Recruiter Insight: Why this resume works in 2021
Senior Node.js Developer Resume Sample
Climbing to the rank of senior Node.js developer takes a great deal of experience. Senior developers are also expected to lead projects and teams, so they need leadership and management skills. So in addition to highlighting your past successes as a developer, you may want to emphasize collaborative projects you've worked on, teams you've managed, and any promotions you've received.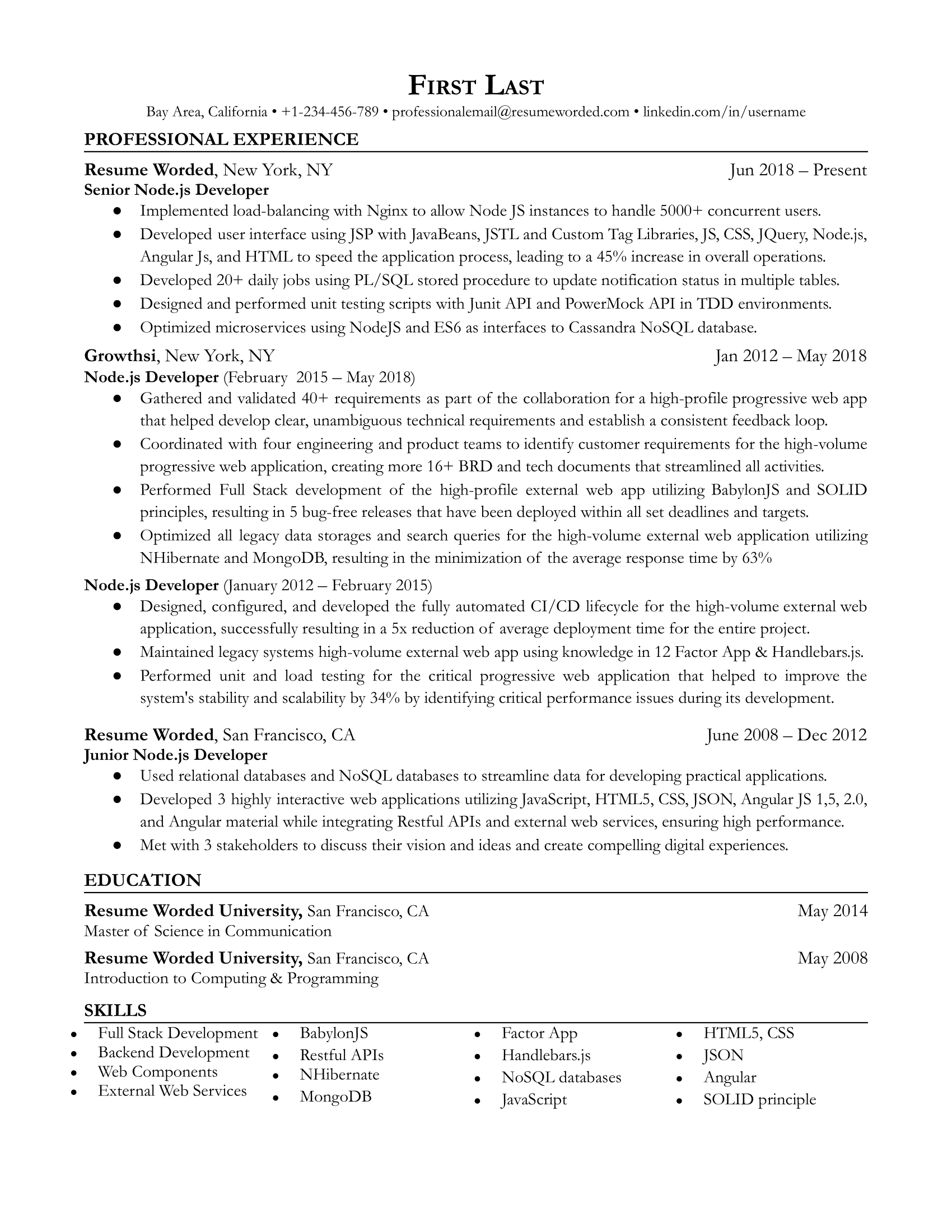 Recruiter Insight: Why this resume works in 2021
Skills For Node.js Resumes
Hoping to get hired as a Node.js software developer? You'll need to be an expert coder who is fluent in multiple programming languages and capable of working within a variety of web environments. In addition, you'll need top-notch analytical, problem solving, and collaboration skills to enable you to work well on project teams.

Since Node.js development is a highly technical field, your resume should heavily emphasize your hard skills -- it's advisable to list these skills in their own section so that they're easy for recruiters to spot. In your work experience section, be sure to add bullet point examples from each past job showing where you used soft skills such as teamwork and communication.
React.js
Node.js
AngularJS
JavaScript
Redux.js
React Native
TypeScript
HTML5
Cascading Style Sheets (CSS)
jQuery
MongoDB
Git
Bootstrap
SASS
Express.js
Front-end Development
HTML
AJAX
JSON
Web Development
Action Verbs For Node.js Resumes
How can you make your achievements from past jobs stand out in recruiters' eyes? A simple but effective strategy is to lead into those achievements with strong, clear verbs. The right verbs should emphasize what you did and how your actions contributed to your company's success.

Action verbs for aspiring Node.js developers should underscore their development, analytical, problem-solving, communication, and technical skills. There are some examples on the left that you can use for inspiration.
Analyzed
Coded
Collaborated
Coordinated
Debugged
Deployed
Designed
Developed
Devised
Identified
Launched
Optimized
Performed
Produced
Tested
For a full list of effective resume action verbs, visit Resume Action Verbs.
Resume Bullet Points From Node.js Resumes
You should use bullet points to describe your achievements in your Node.js resume. Here are sample bullet points to help you get started:
Developed and implemented heavily parallelized algorithms to resize and watermark 5MM+ images of different sizes using Amazon EC2
Designed and implemented 50+ E2E tests using Selenium & Protractor, simulating each user group's actions
Cut projected time for data analysis by one week by developing reusable ETL components using Pentaho Kettle
Designed and implemented an automated system for processing employee timesheets, eliminating the need for manual handwritten timesheets and resulted in a 10/hr per week time saving
Led full redesign of website with findings from customer segmentation and competitive research, increasing website leads by 200%
For more sample bullet points and details on how to write effective bullet points, see our articles on resume bullet points, how to quantify your resume and resume accomplishments.