Quality Assurance professionals design automated code tests, identify software bugs, and help to fix the problems identified (or send them to the department that does). They also collaborate with other designers to create effective tests for new software and web applications. The user data collected in these tests is what allows the organization to make user-friendly, effective applications. As our world becomes ever more connected, even in the most mundane tasks like doing the laundry or turning on a light, the potential to collect this data and utilize it is everywhere.

What this means is that the best QA professionals are both reactive and proactive. Entry-level jobs will likely deal mostly with legacy code, finding and fixing bugs. Growth from that position then has engineers creating automated tools to complete these jobs. However, the intermediate and higher skill-level QA professionals are both reactive and proactive. Knowing what questions to ask to avoid problems -- that is, effectively designing tests -- means working with multiple tech-industry teams, including UX/UI designers, software and web application designers, and, of course, the IT department.

The path to this career involves the combination of critical thinking and good coding skills. Most professionals in this industry have a BA, and often they've completed specialized courses from either a university, a respected industry leader, or their corporations. Keep in mind that new technologies like machine learning will rapidly change this industry in the next few years, so that penchant for life-long learning and problem solving that led you to QA will serve you well in QA career longevity.
Quality Assurance Resume Templates
Quality Assurance Tester Resume Sample
Quality Assurance testers are the individuals and teams that run every test you can think of trying to see if a web application or software program will break. They have strong problem-solving skills, attention to detail, and excellent written communication skills. They're the best at documentation and take the minute information and put it together in a system that the entire QA chain can understand.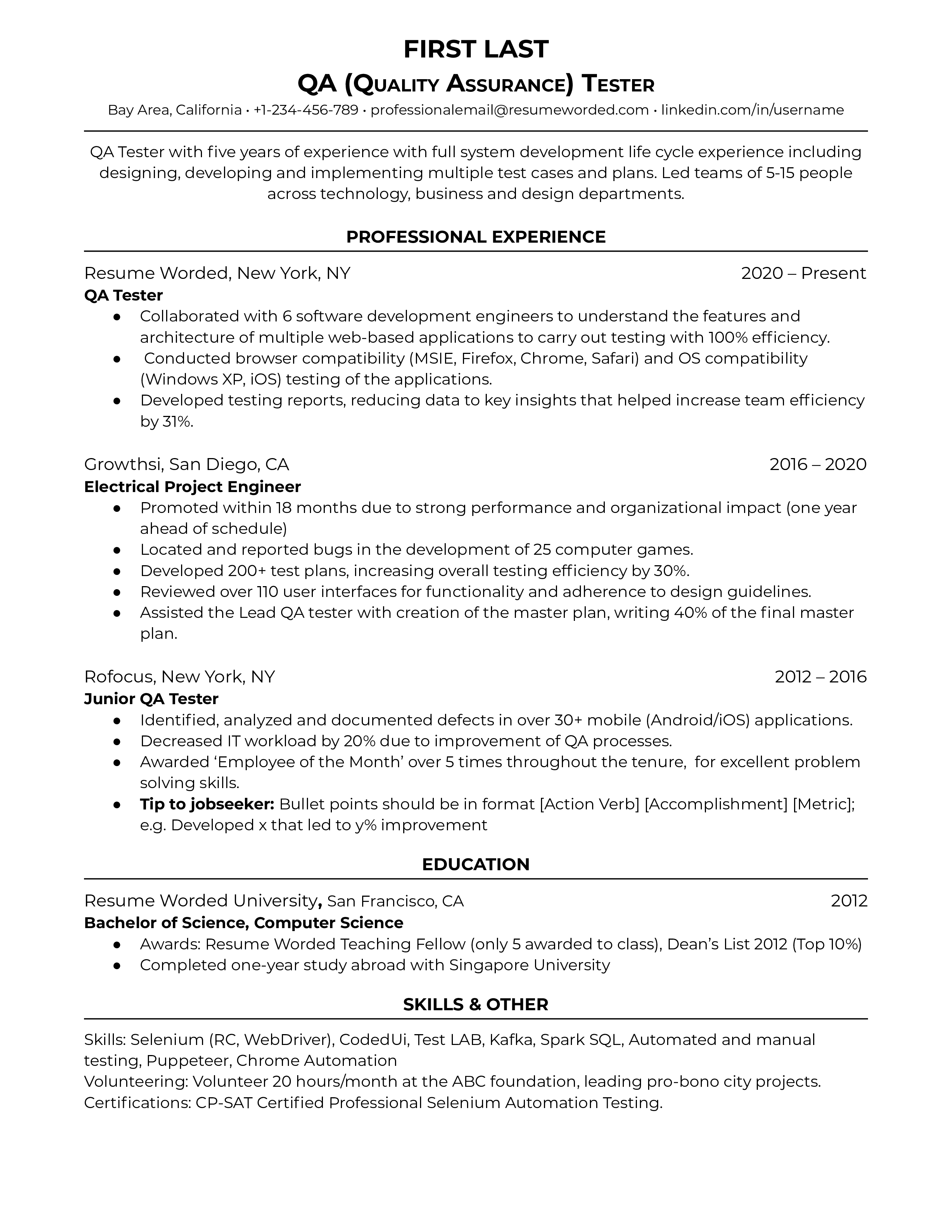 Recruiter Insight: Why this resume works in 2021
QA (Quality Assurance) Automation Engineer Resume Sample
Quality Assurance Automation Engineers are the bigger-picture thinkers of the QA world. They excel at writing tests that can be iterated over large-scale and enterprise technologies, including databases. They know every aspect of the design of the program and how it should function. They often work on mobile and web applications. As with all QA professionals, they work with other engineers and developers, but they are also likely to have a team of QA testers who work with their code to identify particular bugs.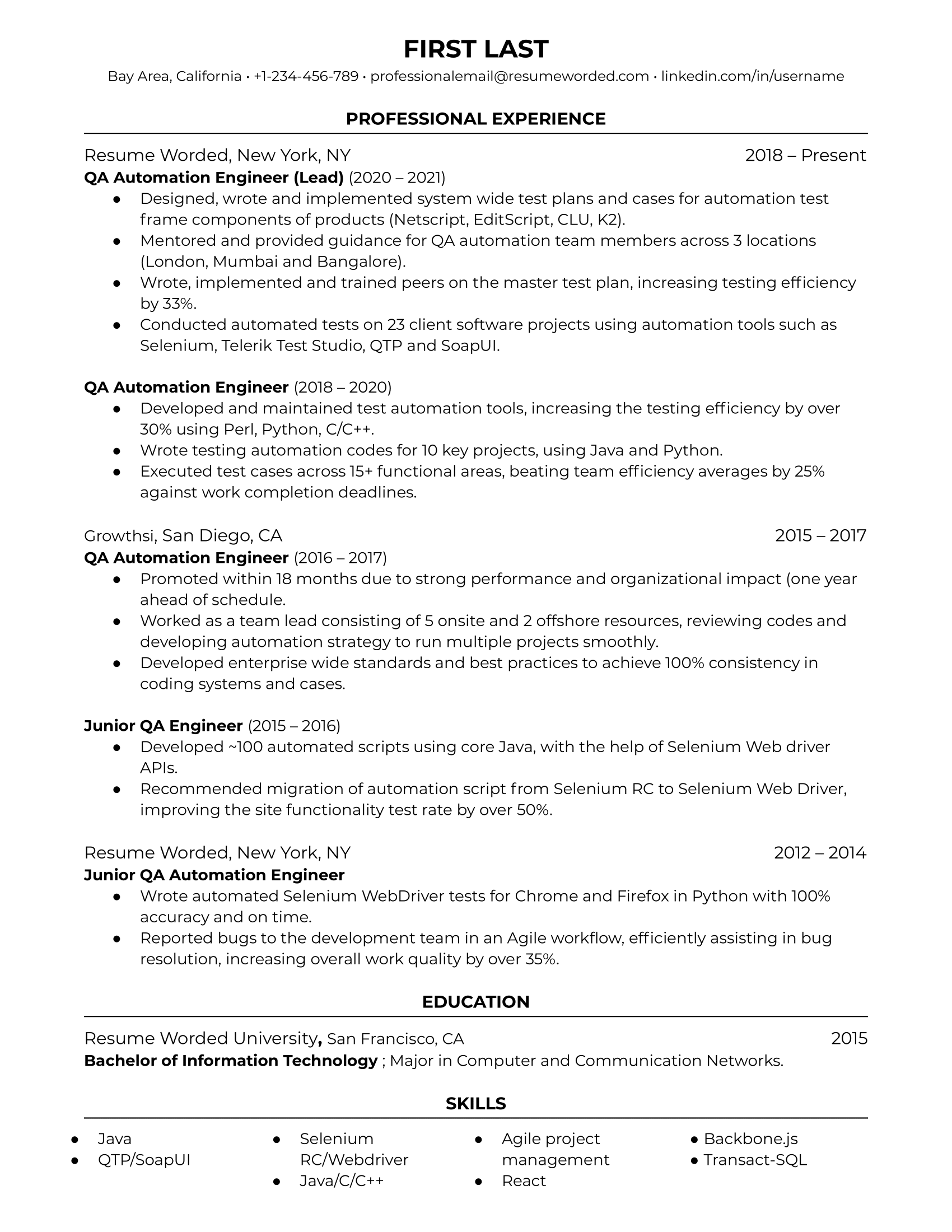 Recruiter Insight: Why this resume works in 2021
QA (Quality Assurance) Engineer Resume Sample
Quality Assurance Engineers are some of the generalists in the QA world. They're often divided into manual and automated career paths, but in such an in-demand industry, the truth is that there's more demand for QA engineers than there is supply. They work with software that already exists in the product market and with new and releasing products. They may also focus on internal processes of the company, not just customer-facing software.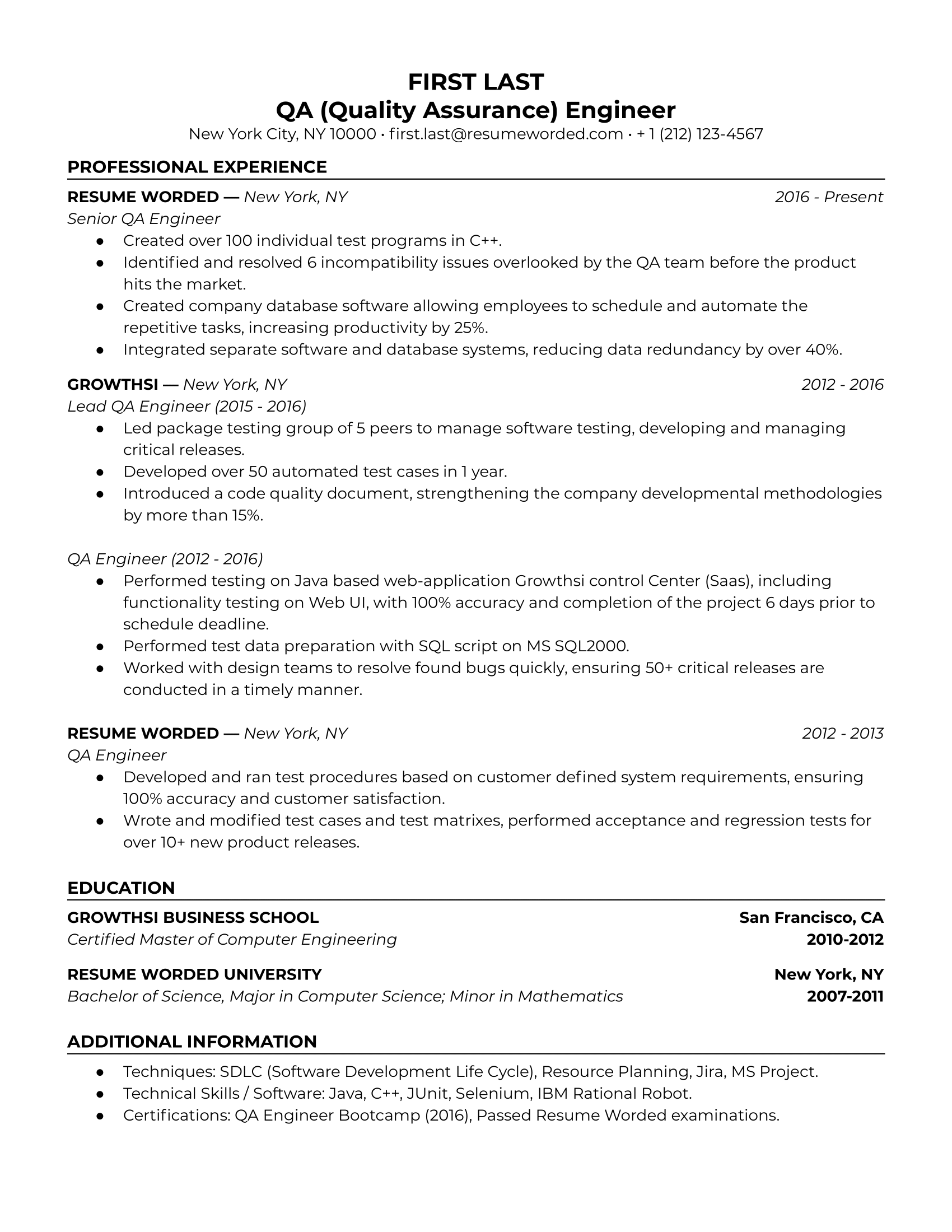 Recruiter Insight: Why this resume works in 2021
QA (Quality Assurance) Manager Resume Sample
A Quality Assurance manager is a high-level employee who has experience as a QA engineer and tester. Their job is to understand how to best employ QA techniques and teams across the entire system. In other words, they create the strategy for effective testing so that no product hits the market without being thoroughly vetted.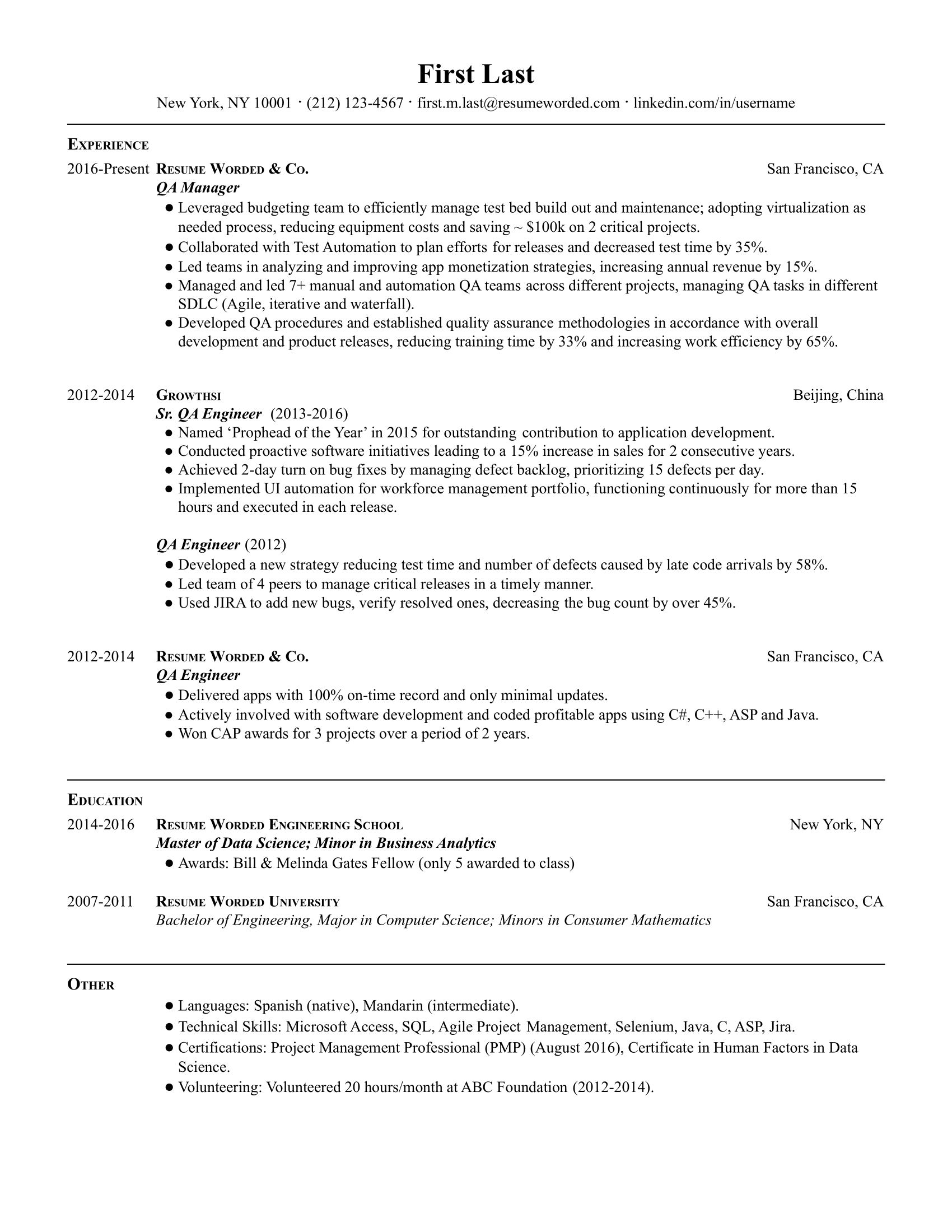 Recruiter Insight: Why this resume works in 2021
QA (Quality Assurance) Software Tester Resume Sample
Traditionally, Quality Assurance Testers come in at the end of the development cycle of a new product. The title QA software tester is often used to emphasize that the QA team is a part of the development of the product from start to finish. This means that the team works in an iterative and integrative way, and that QA software testers will pay attention to all things that will affect the function of the program, from bugs, to slow load times, to poorly written customer copy.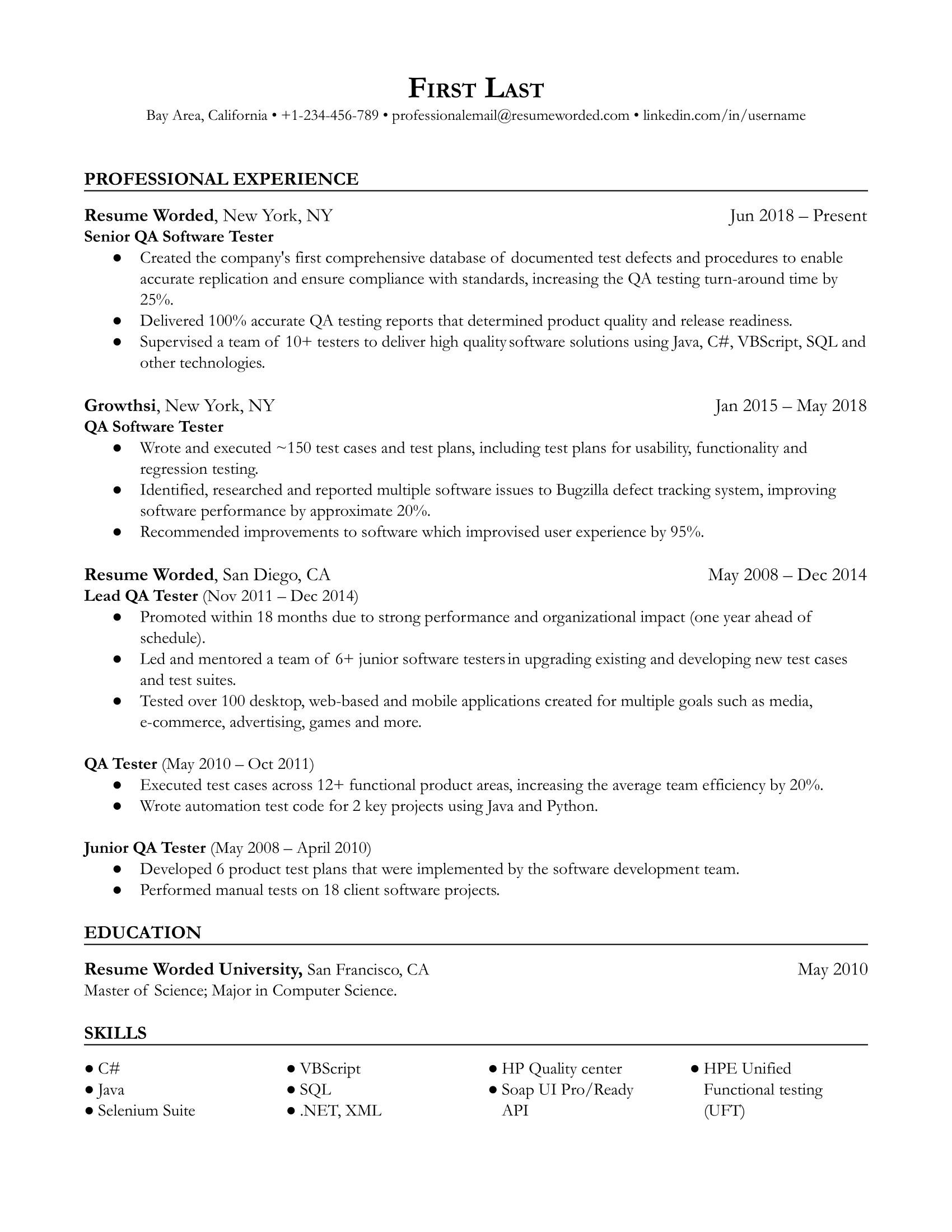 Recruiter Insight: Why this resume works in 2021
Entry Level QA (Quality Assurance) Tester Resume Sample
An entry-level Quality Assurance tester can expect to be doing a lot of work that seems tedious or repetitive to most. They should have an excellent attention to detail and be thorough as they will spend most of their time identifying and documenting bugs. They should also be great at teamwork. The power of QA lies in the orchestration of a team to identify all the bugs in a software or application release, and it certainly is not a job that can be completed alone.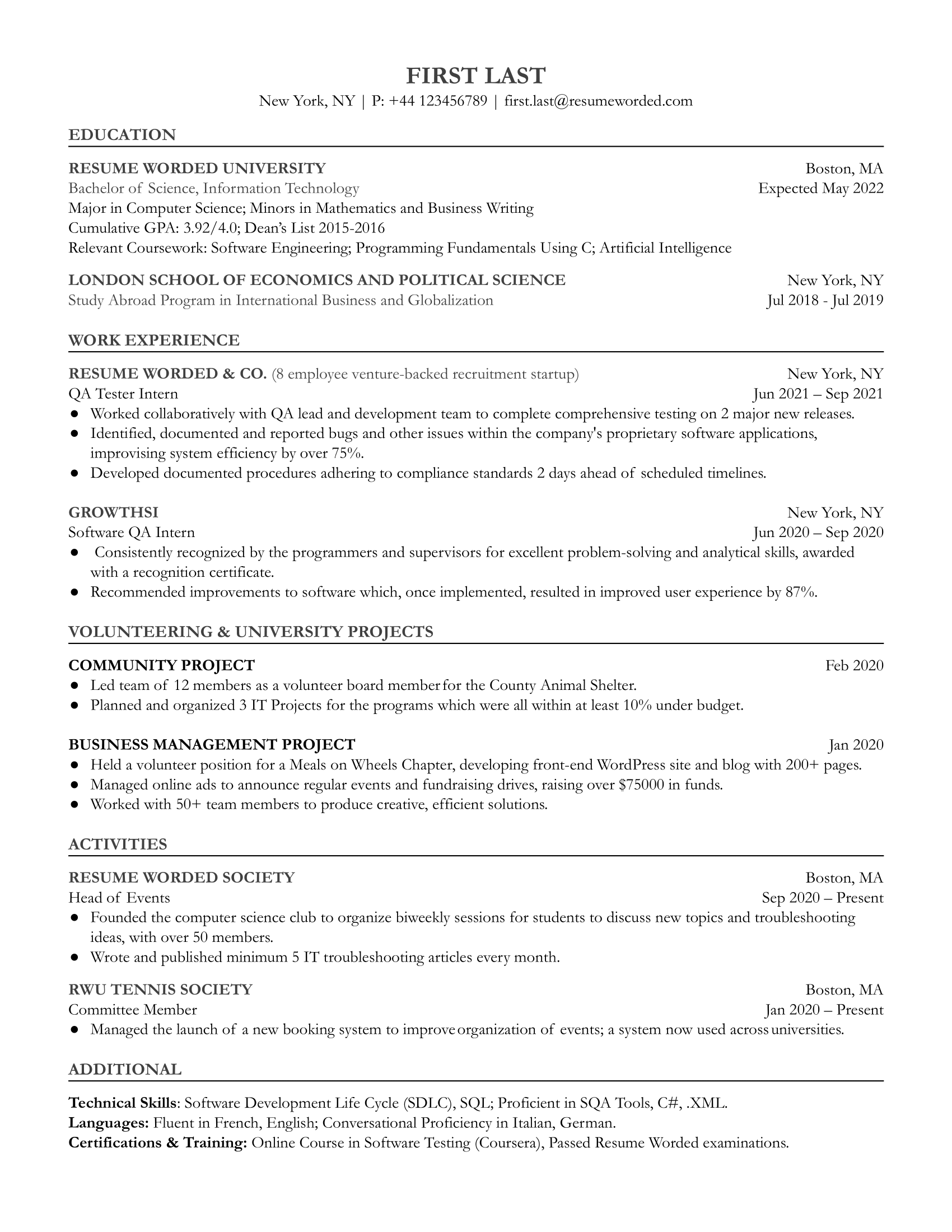 Recruiter Insight: Why this resume works in 2021
QA (Quality Assurance) Analyst/Specialist Resume Sample
The roles of a Quality Assurance Specialist and a Quality Assurance Tester are quite similar. The biggest difference is that a QA Specialist is more likely to choose a more general or managerial path, and so those skill sets should be highlighted on your resume.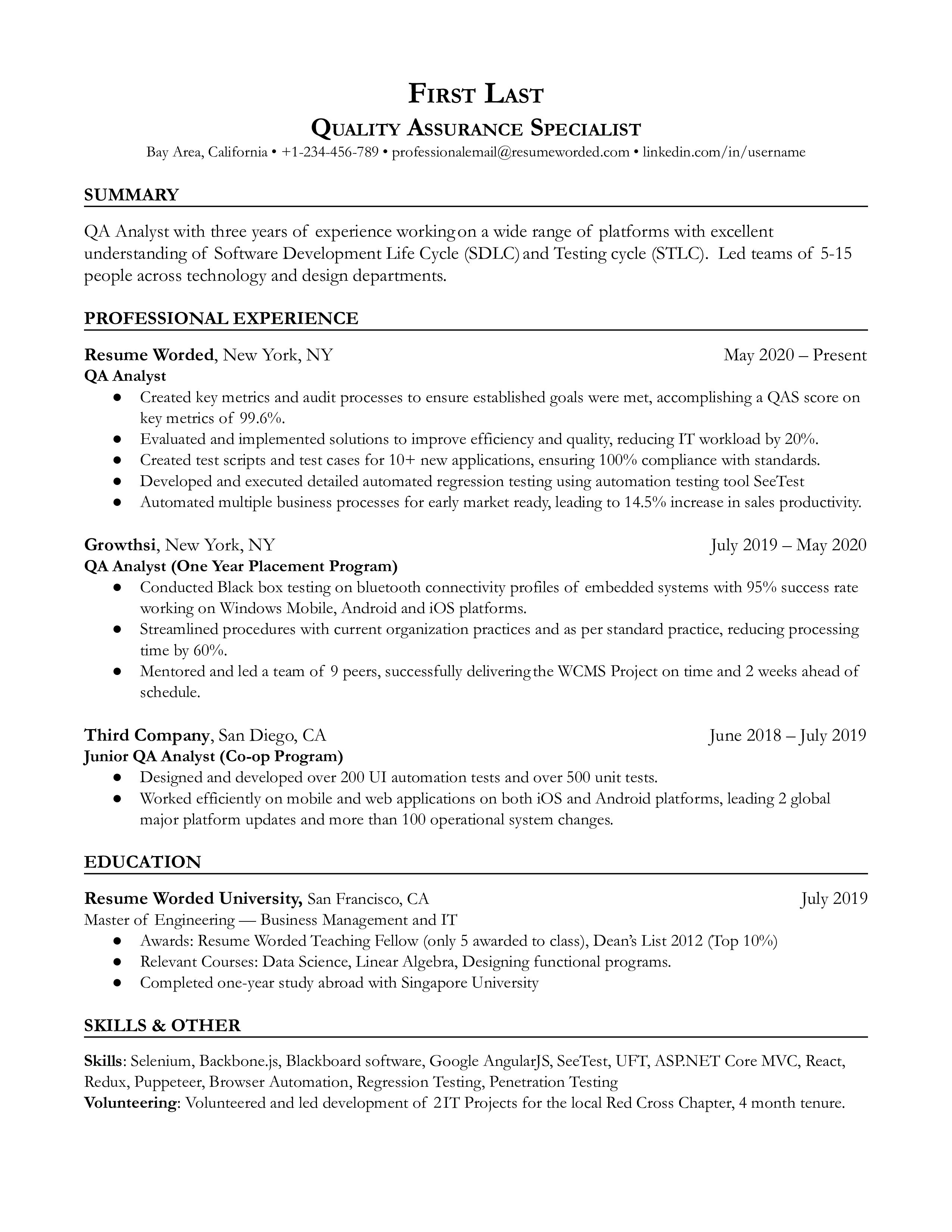 Recruiter Insight: Why this resume works in 2021
Skills For Quality Assurance Resumes
As a Quality Assurance professional in the tech industry, the skill box is your best friend. You can quickly and easily tell employers which skills you can bring to bear and you can even point towards your forward thinking in a growing field (such as including machine learning tools). It's also a simple and easy way to target your resume to the job listing. This puts you in a better position with ATS (applicant tracking system) filters.

Remember that a skill in and of itself doesn't create a robust picture of your abilities. As a Quality Assurance professional, you're going to be expected to use data to make your argument. What better way to show you're expert at this than having data driven bullet points on your resume?
Test Automation
Test Planning
Manual Testing
Selenium
Regression Testing
Quality Assurance
Software Quality Assurance
Test Cases
Jira
Agile Methodologies
Selenium WebDriver
Testing
SQL
Scrum
Software Development Life Cycle (SDLC)
Functional Testing
Java
Jenkins
HP Quality Center
Agile Testing
Action Verbs For Quality Assurance Resumes
A big part of your career as a Quality Assurance professional is going to be in generating reports that identify vulnerabilities in software. Those reports should be data-driven, persuasive, and clear so that the myriad of stakeholders involved in the design of the application or software can act on it. In some ways, it's very similar to how you write a resume. You choose a word that suggests the course of action in a descriptive way, include the supporting data, and don't use seven words when you can use five. Clarity and impact are key!
Analyzed
Assessed
Identified
Diagnosed
Systematized
Traced
Tested
Drafted
Demonstrated
Facilitated
Reconciled
Resolved
Generated
Implemented
Developed
For a full list of effective resume action verbs, visit Resume Action Verbs.