Software engineers play a crucial role in various elements of software development. The programs that you run on your computer? The many apps installed on your phone? Some of the tech inside smartwatches? At some point, a software engineer was needed to finish the product. Even the coding of this website required a software engineer to make.

With technology continuously on the rise, so is the demand for software engineers. The need for them hasn't declined in a long time. Developers have a bright future in the job market; employment in this field is projected to boost 22% over the next decade.

Because technology is ever-changing, recruiters want to see a willingness to learn and adapt. However, they also want to see your experience with various software programs or skills like HTML/CSS, Python, Java, and more. If you're transitioning to or from a role like data analytics, many of the skills you learned or used will be useful in your new job.

Continue reading to view examples of effectively written software engineer resumes that will get you your next job.
Software Engineer Resume Templates
Software Engineer Resume Sample
Software engineers with a few years of experience will want to list a good amount of relevant skills, and explain their application in their experience. This sample provides a list of skills needed for the job. It also talks about how those skills were used to deliver effective results. In your resume, talk about what skills/programs you've used and how you benefited the company from using them.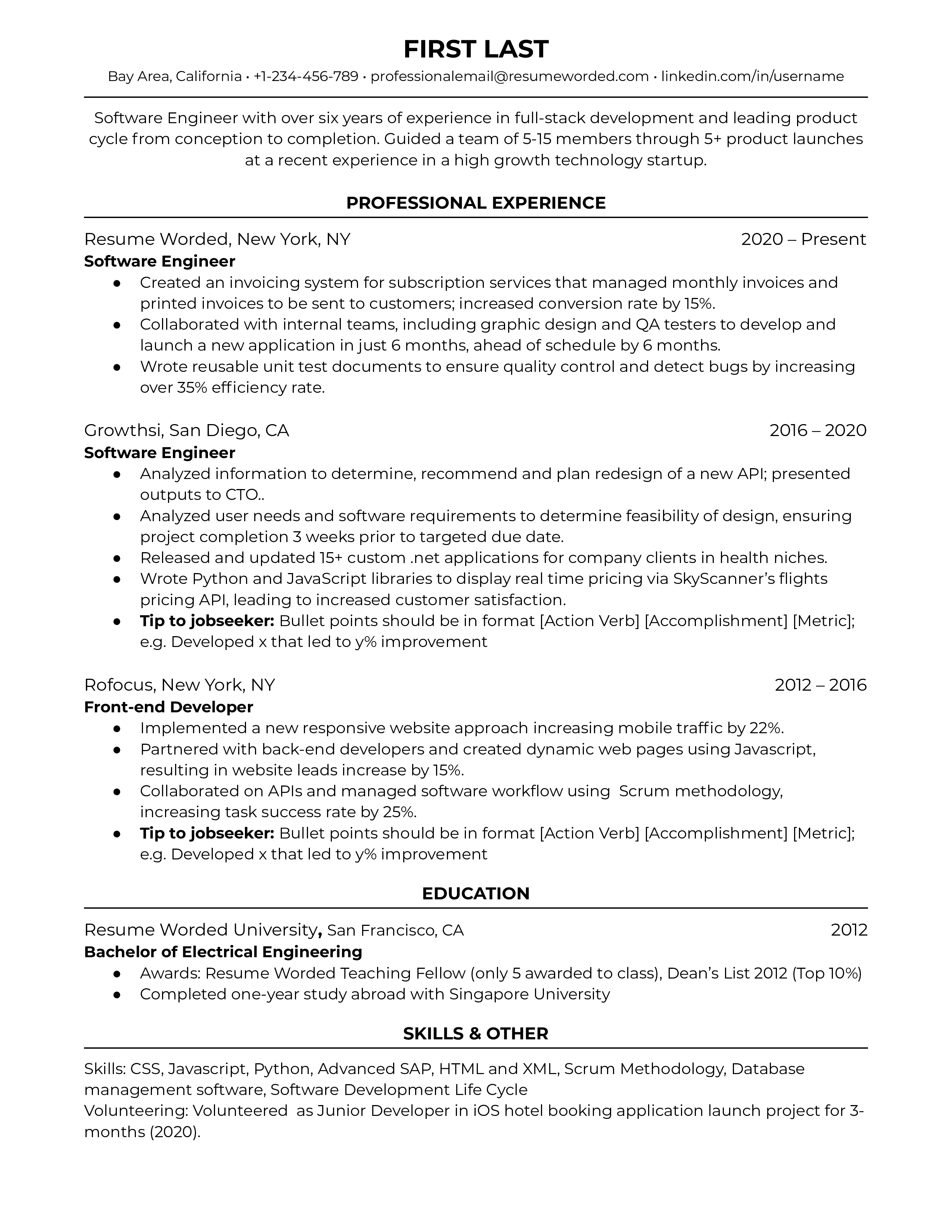 Recruiter Insight: Why this resume works in 2021
Entry Level Software Engineer Resume Sample
If you're a recent college graduate or completed a Bootcamp, this is the resume template for you. The key here is for you to sell yourself with the skills you've learned, projects you've completed, and software tools you've used. Internship experience, if any, will be useful to highlight as well. This sample lists many activities, projects, and classes that are relevant to the position, and communicate effective use of the knowledge they have.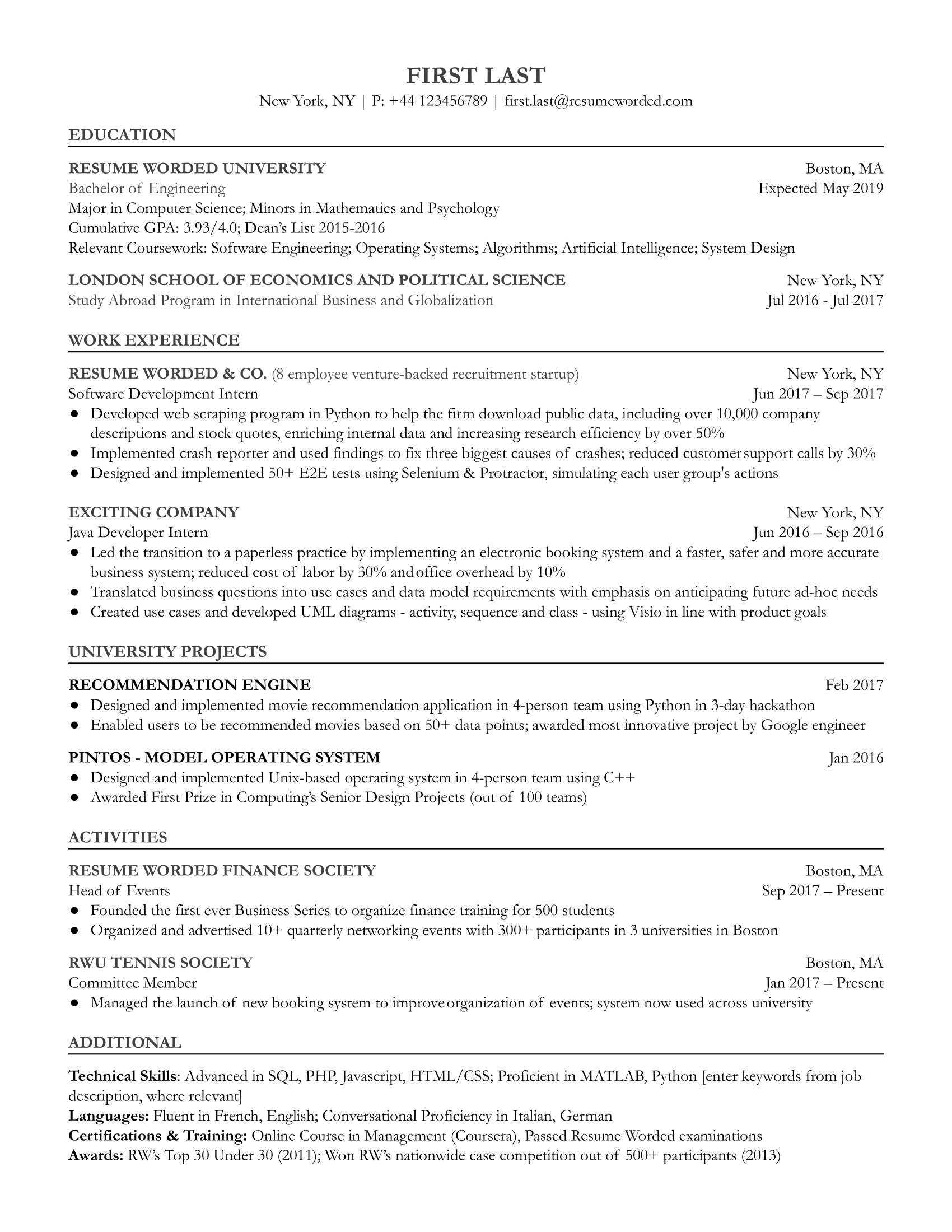 Recruiter Insight: Why this resume works in 2021
Senior Software Engineer Resume Sample
It takes more than being skilled in different software to excel as a senior software engineer. You also need to convey that you can effectively lead a team that delivers positive results. This sample demonstrates the success they've had bringing individual success and managing a team that also succeeds.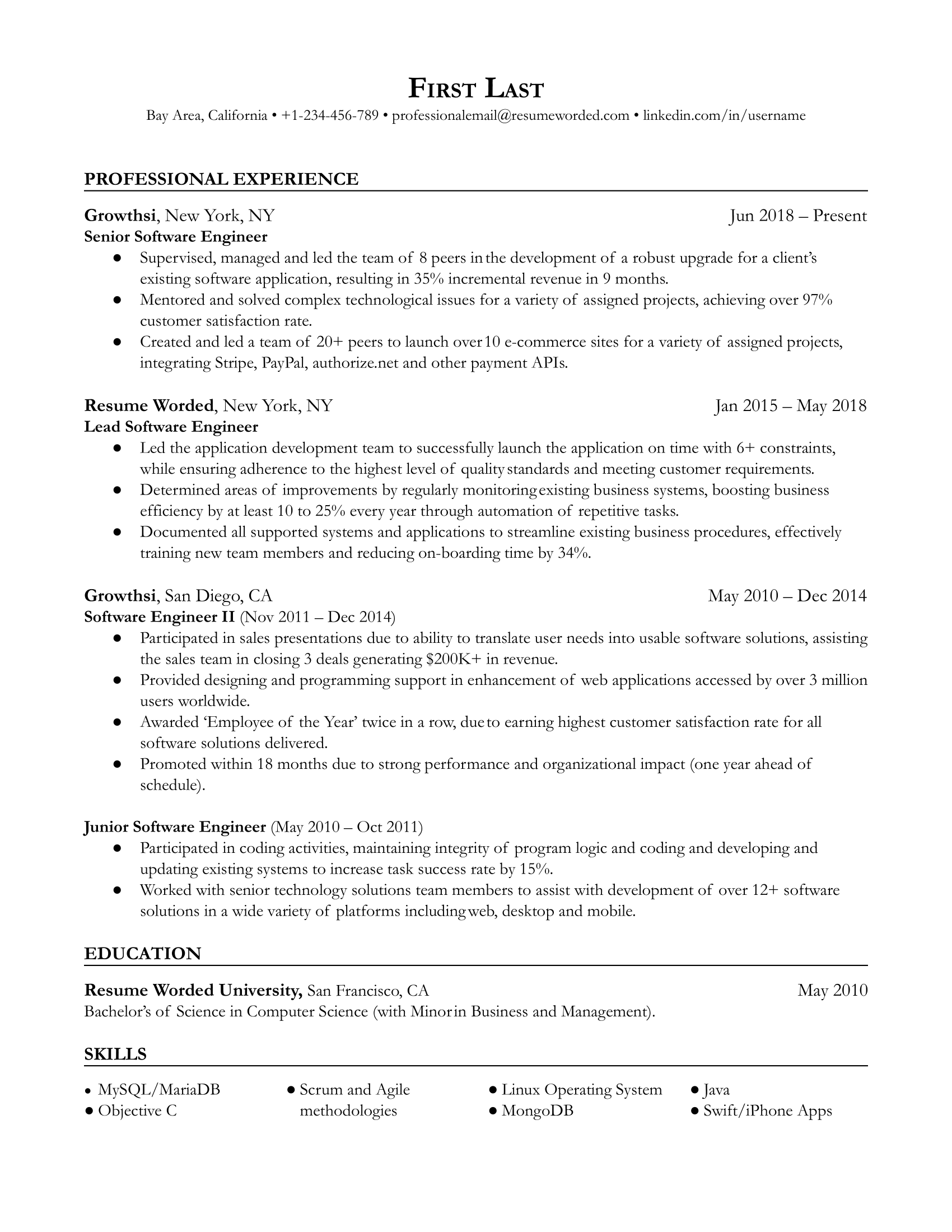 Recruiter Insight: Why this resume works in 2021
Software Test Engineer Resume Sample
Software testing is different from the other similar job titles listed. Instead of building software, you're testing it. This sample explains how they did various quality assurance tasks to find flaws and boost performance. Add your achievements in your experience to show that you know what to specifically look for when testing software.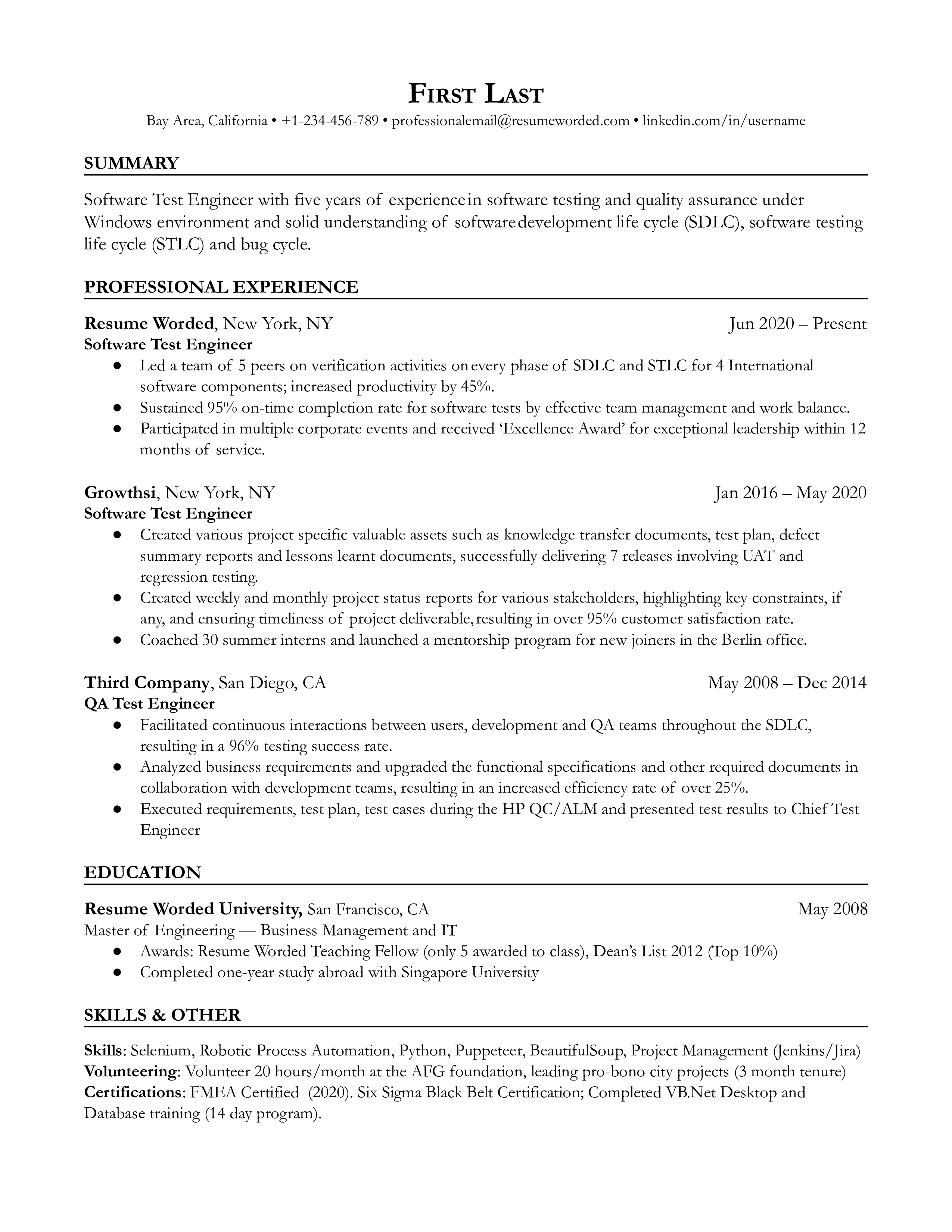 Recruiter Insight: Why this resume works in 2021
Software Developer Resume Sample
Software developers are assigned to do tasks similar to a software engineer. The difference is that a developer will be more focused on a specific project versus the broad work done by an engineer. For this, your resume needs to have achievements and results from a particular project.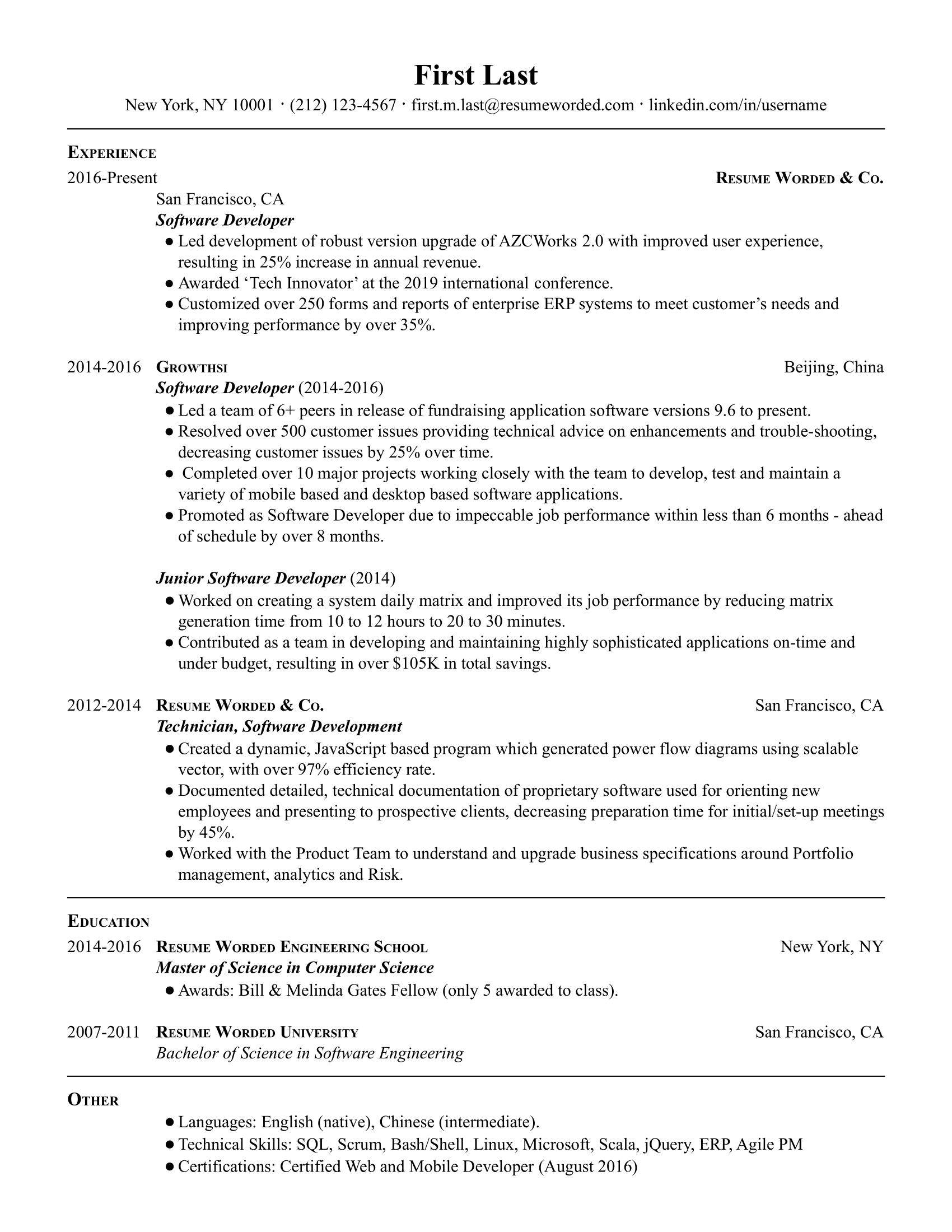 Recruiter Insight: Why this resume works in 2021
Skills For Software Engineer Resumes
To get your resume noticed, it needs to list skills that make you look like you'd be successful in the role. It's equally important to talk about how you used these skills to succeed.

If you want your resume to be seen, thoroughly read through the job description. Find keywords and hard skills in the description that you can use in your resume. Doing so will get your resume past ATS and in the hands of hiring managers. Here is a list of skills and keywords we've analyzed from job descriptions; use these to make your resume powerful.
Software Development
JavaScript
Java
Git
C#
AngularJS
SQL
React.js
Agile Methodologies
Linux
Node.js
C++
Python (Programming Language)
Amazon Web Services (AWS)
C (Programming Language)
XML
Cascading Style Sheets (CSS)
MySQL
HTML
.NET Framework
Software Engineer Resume Tips
Software engineering is an analytics-heavy profession. It's going to involve many percentages, projects, and the use of different software. Hard skills are necessary to excel in this job. But software engineers need to be proficient at teamwork or team management. To succeed in a company project, you'll need to gather all of the info necessary to get the job done.

Recruiters want to see your resume communicate that you can use relevant skills for projects, and for helping others reach a common goal.

To make your resume stand out against the competition, follow our suggestions:
Action Verbs For Software Engineer Resumes
The use of weak action verbs will hurt the overall strength of your resume. You don't want to use generic verbs. You want to use ones that are complementary to the software skills you've used.

Try not to overuse one action verb; variety helps keep your resume unique.

If you're not sure which action verbs to use, here's a list of action verbs that are useful for software engineers.
Conceptualized
Coded
Engineered
Architected
Restructured
Debugged
Overhauled
Sped up
Deployed
Redesigned
Segmented
Predicted
Troubleshooted
Automated
Segmented
Unified
Installed
For a full list of effective resume action verbs, visit Resume Action Verbs.
Resume Bullet Points From Software Engineer Resumes
You should use bullet points to describe your achievements in your Software Engineer resume. Here are sample bullet points to help you get started:
Designed and implemented 50+ E2E tests using Selenium & Protractor, simulating each user group's actions
Analyzed impact and effectiveness of in-app UI changes on customer retention; identified features of customer behavior and recommended additional menu modifications [R, MySQL, Chart JS]
Developed web scraping program in Python to help the firm download public data, including over 10,000 company descriptions and stock quotes, enriching internal data and increasing research efficiency by over 50%
Designed and implemented an automated system for processing employee timesheets, eliminating the need for manual handwritten timesheets and resulted in a 10/hr per week time saving
Led code review sessions with peers to present and analyze system designs; recommendations reduced defect creation rate by 35%
For more sample bullet points and details on how to write effective bullet points, see our articles on resume bullet points, how to quantify your resume and resume accomplishments.