You have a knack for computers. You're proactive, analytical and detail-oriented. You have a rare combination of strong technical skills and great people management abilities.

These are all essential qualities for those looking to build a career as a network administrator.

But as you put together your application, it's important to differentiate this role from a similar one — a systems administrator. While some overlap exists (especially at a smaller organization), these two roles require distinctly different skills and certifications, and thus a different approach as you craft your resume.

So what's the difference?

A systems administrator is responsible for computer systems, such as the hardware and software within a computer that work with each other to make a computer function.

On the other hand, a network administrator focuses on a network of computers. This includes things like the organization's local area network (LAN), wide area network (WAN), and other internet systems.

In the digital age, these computer networks are absolutely essential to ensuring that a company is running smoothly and that employees can communicate effectively. Indeed, network administrators are in high demand.

Want to be a network administrator in 2021? Continue reading below to view examples of effectively written network administrator resume templates to help land your dream role.
Network Administrator Resume Templates
Network Administrator Resume Sample
Download Resume Template (Google Doc)
Download Resume in PDF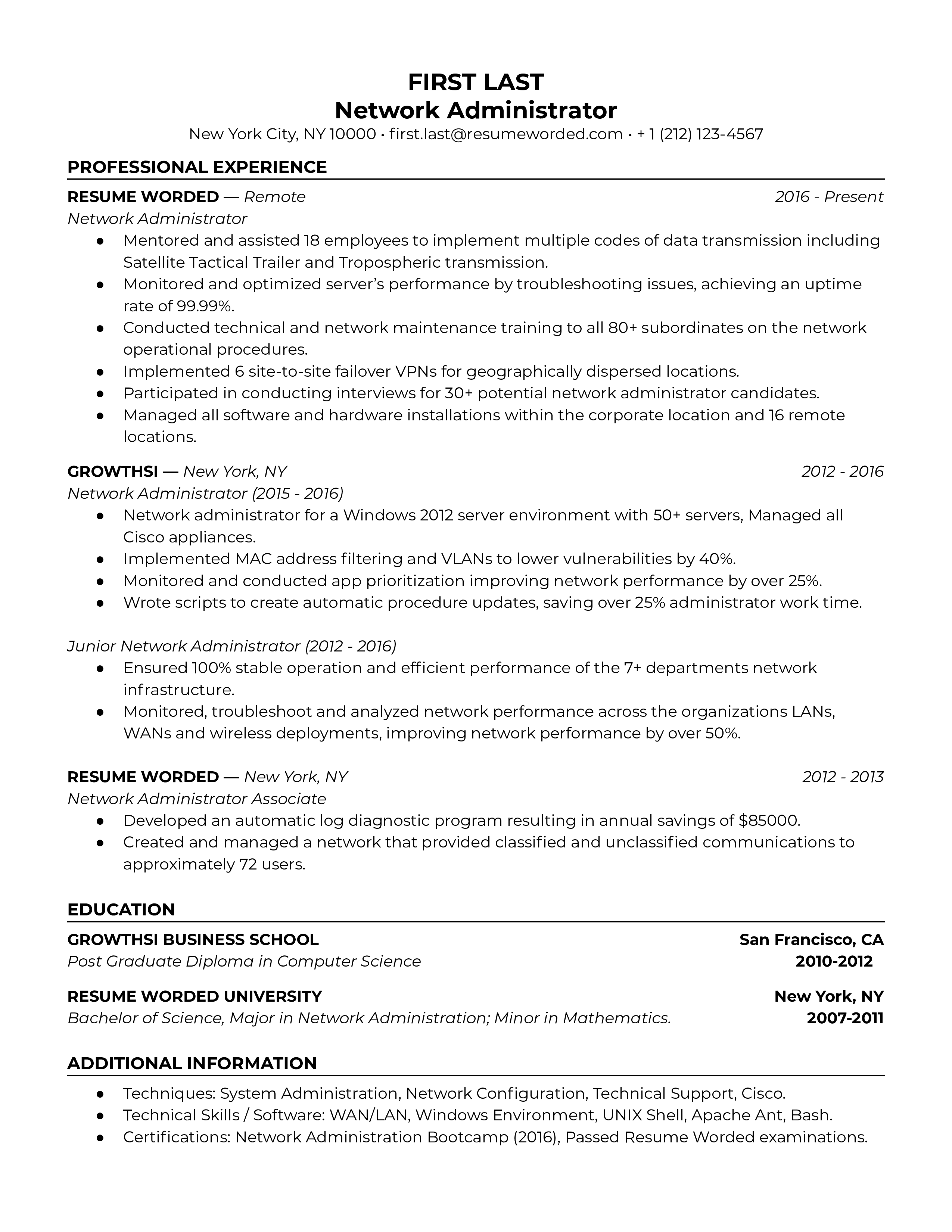 Why this resume works in 2021
If you have several years of network administrator experience under your belt, use this resume as a template to craft your application. Network administrators face an array of unpredictable challenges. They are lifelong learners, evolving with the rapidly changing world of technology. Highlight such relevant skills, like when you learned a new skill and quickly applied it in a project setting.
Improve your Network Administrator resume, instantly.
Use our free resume checker to get expert feedback on your resume. You will:
• Get a resume score compared to other Network Administrator resumes in your industry.
• Fix all your resume's mistakes.
• Find the Network Administrator skills your resume is missing.
It's instant, free and trusted by 1+ million job seekers globally. Get a better resume, guaranteed.
Upload your resume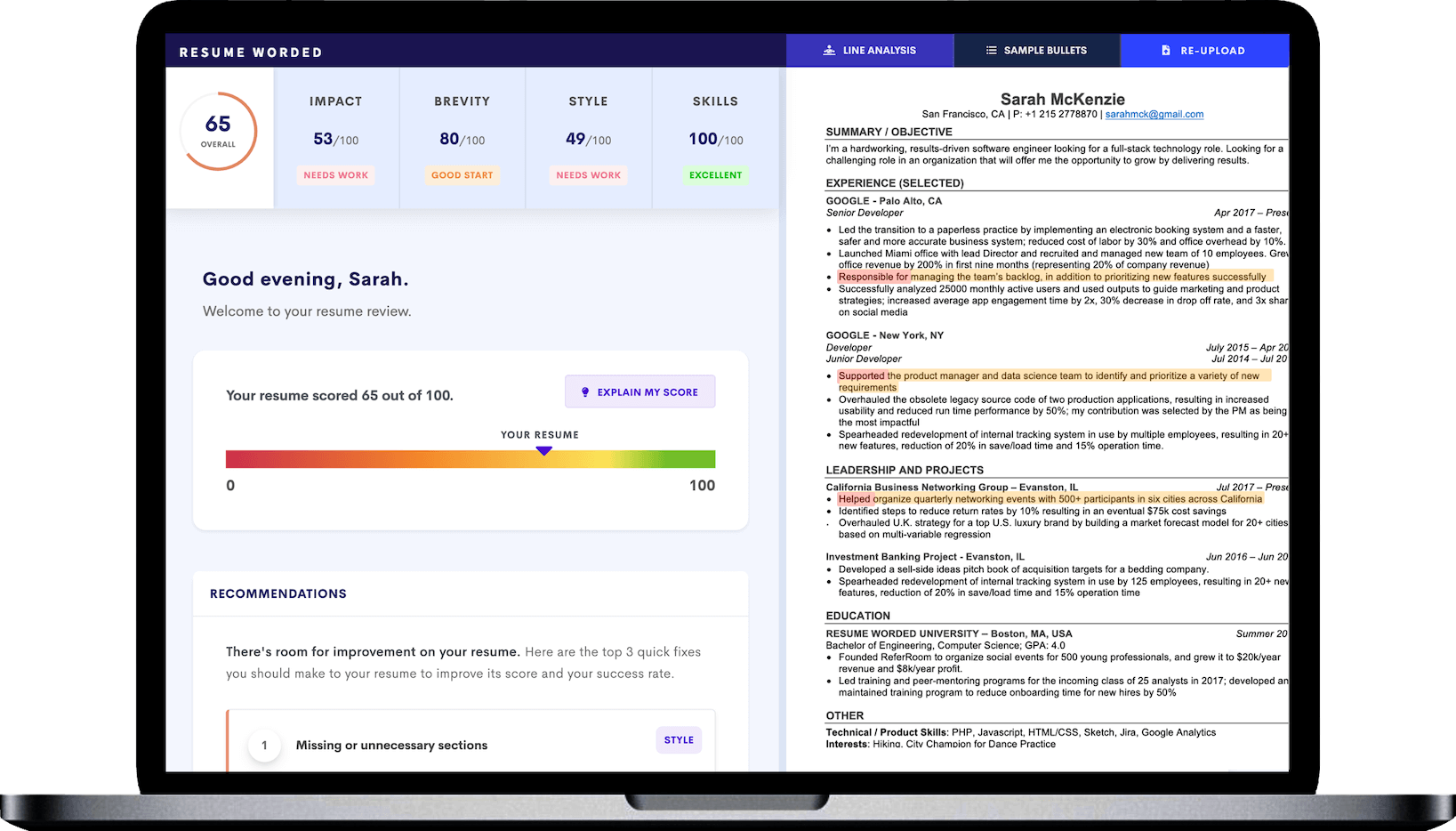 IT Network Administrator Resume Sample
Download Resume Template (Google Doc)
Download Resume in PDF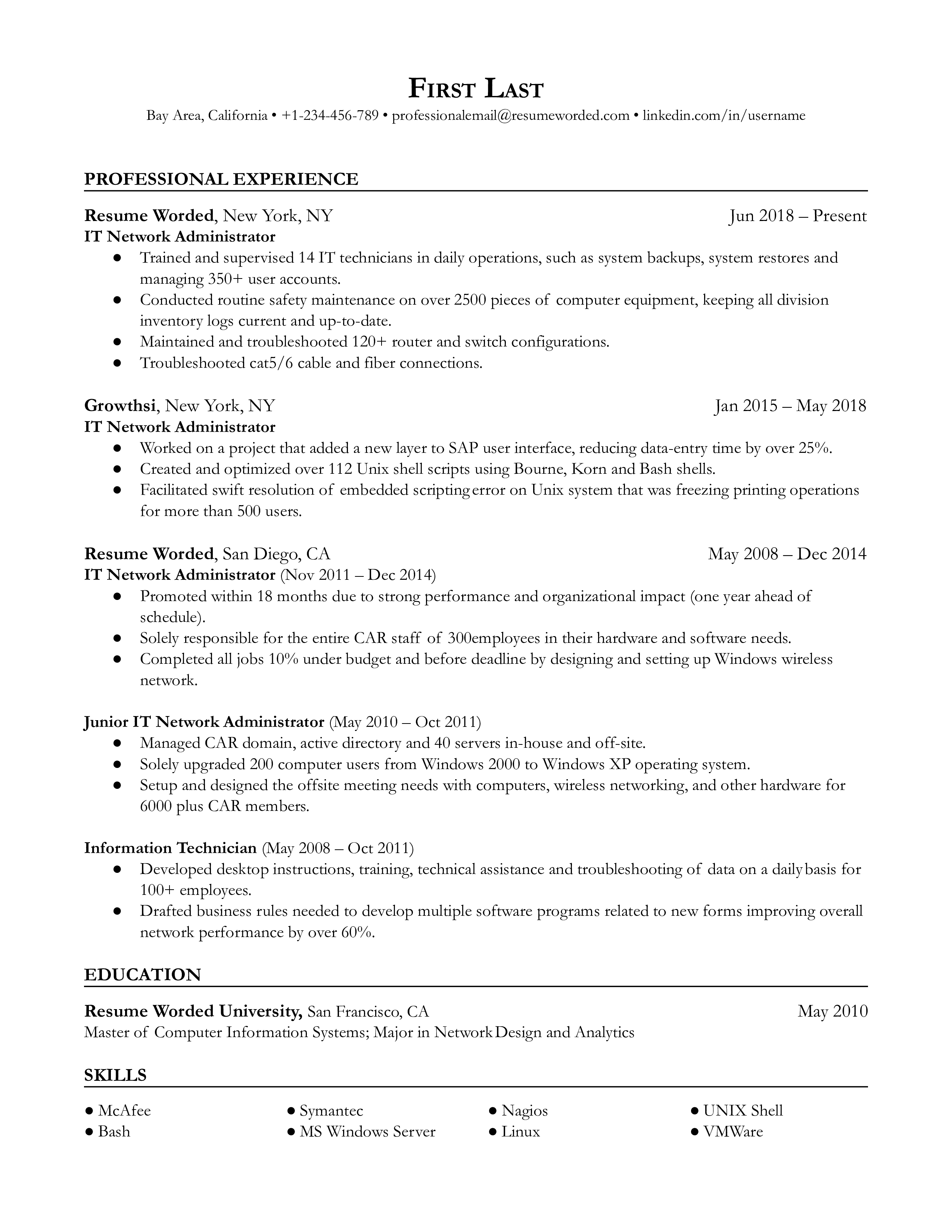 Why this resume works in 2021
An IT network administrator is a network administrator who works specifically with a company's information tech. This includes designing, managing and maintaining the retrieval and storage of data in an organization's computer networks. As you put together your IT network administrator resume, you'll want to emphasize your expertise in IT and relevant technical skills.
Junior Network Administrator Resume Sample
Download Resume Template (Google Doc)
Download Resume in PDF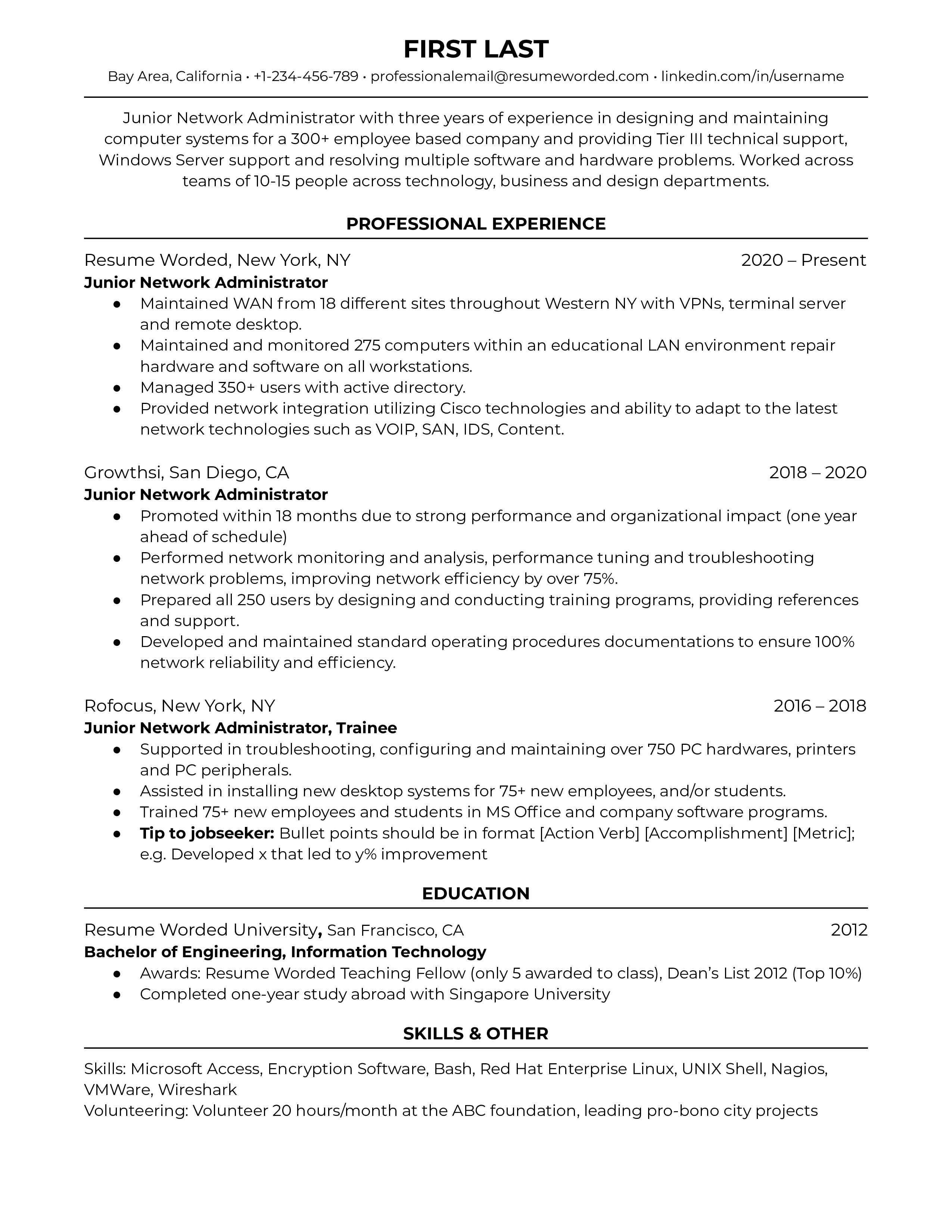 Why this resume works in 2021
If you're applying to be a junior network administrator, use this template to help you start your application. Include past roles you've had in relevant positions, such as in other technical junior roles or as a trainee. Recruiters want to see that you can take on increasing levels of responsibility, so include instances where you have been promoted, or went above and beyond your job scope.
Entry Level Network Administrator Resume Sample
Download Resume Template (Google Doc)
Download Resume in PDF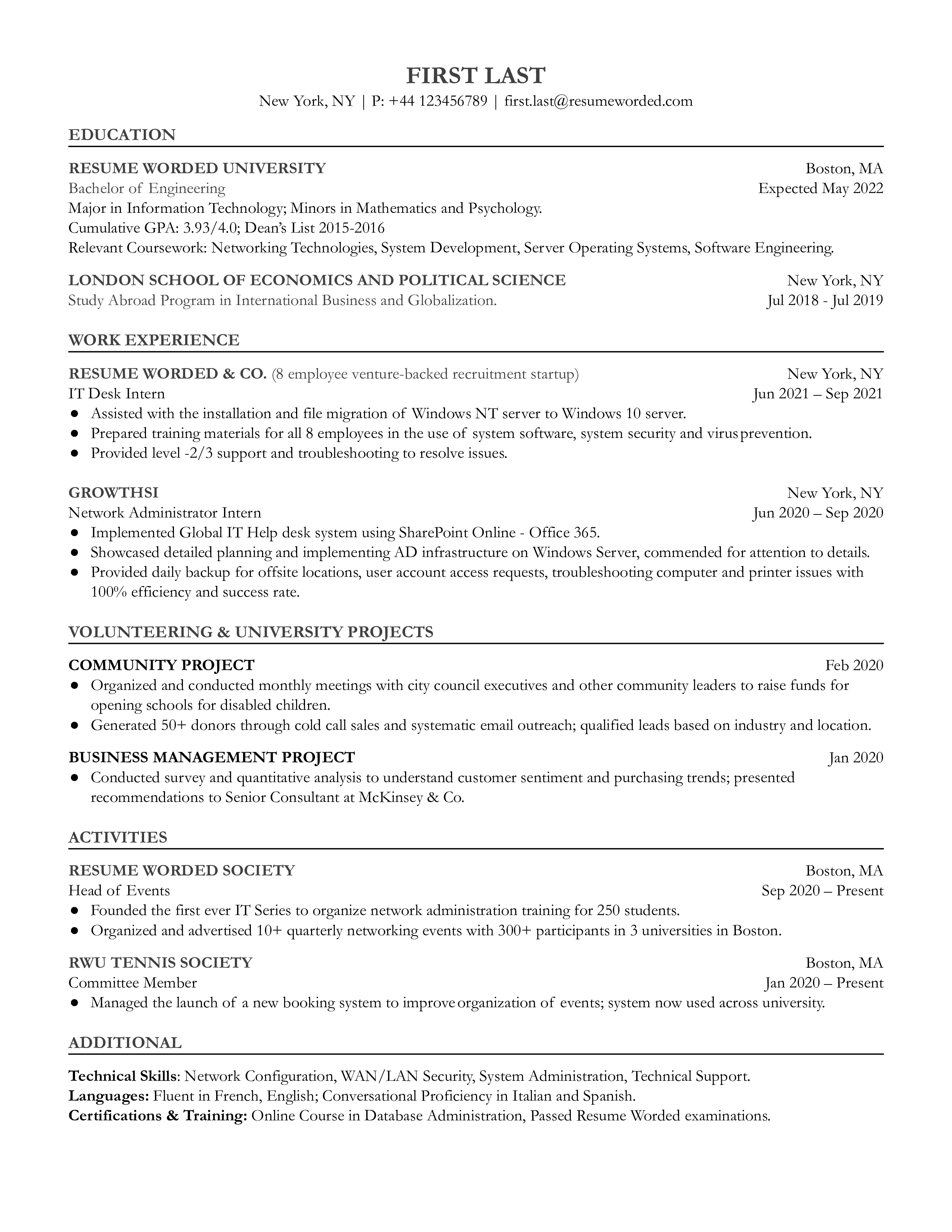 Why this resume works in 2021
If you're a recent college graduate or are looking to switch careers into IT, this is the resume template for you. The key when applying to an entry level position is to sell yourself with the skills and abilities you have developed so far. You can do this by showcasing your talents in university projects or volunteer experiences. Additionally, emphasize relevant skills that are expected from a network administrator, such as technical skills like network configuration, or qualities like collaborative teamwork or proactive problem-solving.
Skills For Network Administrator Resumes
Network Administration
Active Directory
Windows Server
Networking
Network Security
System Administration
Cisco Systems Products
VMware
Servers
Troubleshooting
Microsoft Exchange
Virtual Private Network (VPN)
Firewalls
Technical Support
Domain Name System (DNS)
Switches
Cisco Routers
Windows 7
Dynamic Host Configuration Protocol (DHCP)
Computer Hardware
How to use these skills?
When you find the network administrator positions that you plan to apply for, read the job listing carefully from beginning to end. Network administrator skills often vary based on the company or industry that the role is in, so take time to research the required technology stack. You'll want to have a clear idea of what type of software, techniques, or certifications you should include.

For example, if a job description mentions that they prefer candidates who have familiarity with Unix or Linux shell environments, make sure to list that in your skills section. You can even expand on your experience with these interfaces by including an example of a project where you worked with running commands in those shell environments.
Action Verbs For Network Administrator Resumes
Overhauled
Resolved
Achieved
Coordinated
Implemented
Launched
Devised
Administered
Supervised
Managed
Trained
Established
Inspected
Systemized
Budgeted
Improved
How to use these action verbs?
Network administrators are responsible for a broad range of complex technical duties. They must manage an entire network of computers, preventing and fixing problems while providing strategic direction to subordinates. They often work cross-functionally with different teams, receiving feedback and implementing solutions. It's important to stress these sorts of abilities in the action verbs you choose to use in your resume.

For example, use terms like "devised" or "resolved" to highlight your strength in figuring out solutions to tricky challenges.

Try not to use generic verbs in your resume -- they can do more harm than good. Instead, use powerful words that complement the network administration skills you have.

For a full list of effective resume action verbs, visit Resume Action Verbs.