The work of a Structured Query Language (SQL) developer is highly valuable, given how companies these days push forward with their digital transformation goals and strive to become data-driven organizations. As a SQL developer, your main duties are creating, designing and maintaining systems to organize, store and access data. Moreover, you may be tasked with writing optimized SQL queries for integration with different applications.

Overall, this is a highly technical job that incorporates aspects of software engineering, programming, data architecture and management. So in writing a SQL developer resume, it's crucial that you mention extensive familiarity with data management and access principles. Include specific examples showing how analytical and detail-oriented you are with databases, as well as examples wherein you got to use your problem-solving skills considerably well.

While SQL developers are currently in demand in 2021, moving forward, it is projected that SQL programming will become a highly-paid specialty by the year 2024. This will only encourage younger, less experienced individuals to enter the field, which means that current SQL developers are expected to eventually move on to more managerial roles with higher salaries.
SQL Developer Resume Templates
SQL Developer Resume Sample
It is the main responsibility of an SQL developer to work on SQL databases for a variety of applications and business uses. Therefore, this resume is effective in demonstrating one's solid experience with data architecture and management, as well mentioning one's ability to handle multiple database projects while addressing the needs of their organization/s.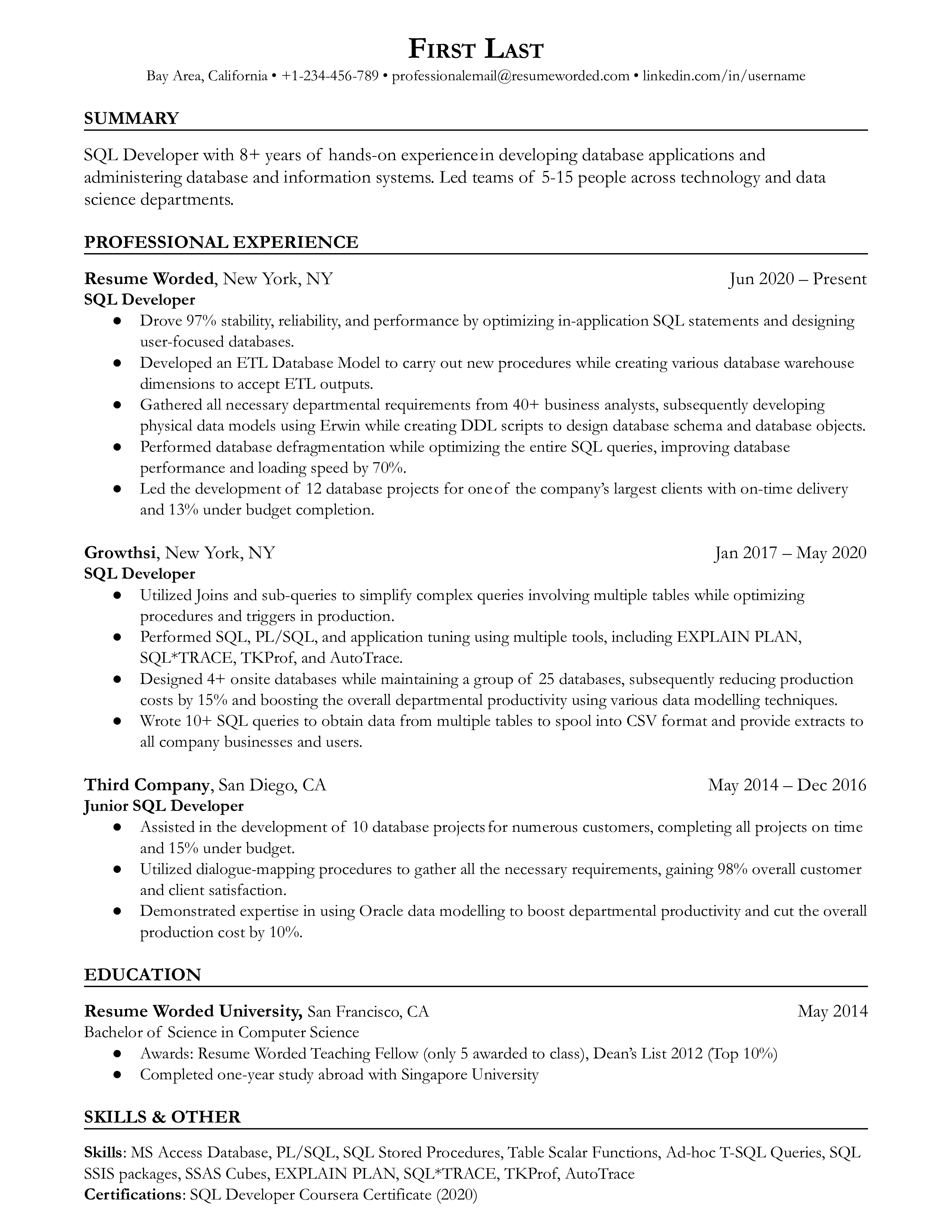 Recruiter Insight: Why this resume works in 2021
Junior SQL Developer Resume Sample
As a junior SQL developer, you must prove to employers that you're someone who has considerably done work on applications and database systems and proactively found solutions to the needs of organizations. You may not be a full-fledged expert yet, but you're at a position to learn new things quickly while working productively with senior developers.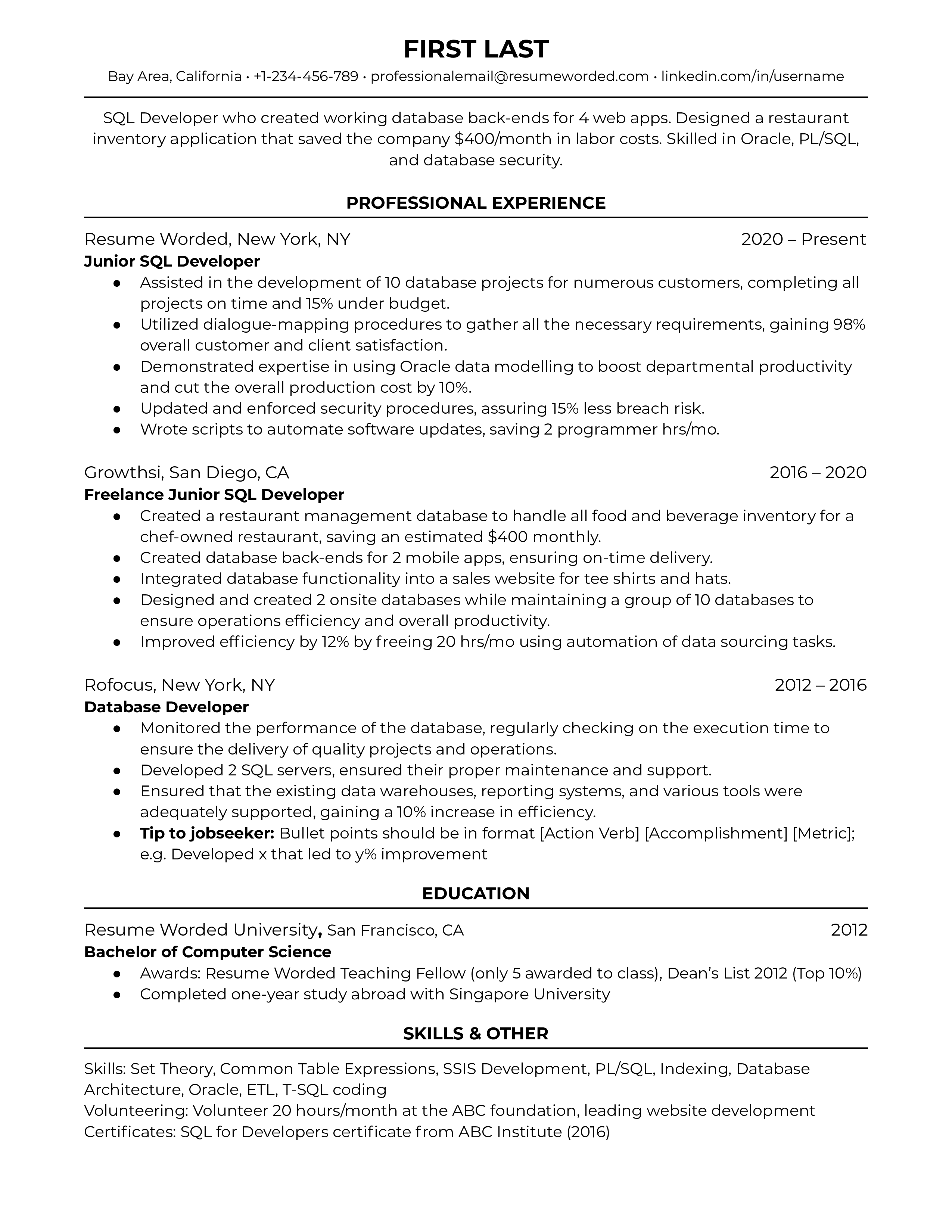 Recruiter Insight: Why this resume works in 2021
PL/SQL Developer Resume Sample
PL/SQL (Procedural Language for SQL) is the procedural extension for SQL that's used in Oracle. The role of a PL/SQL developer involves developing and maintaining PL/SQL scripts. PL/SQL developers are very technical, are strong with SQL and procedural languages. They also need to be able to detect and resolve issues quickly, especially when it comes to transformation and data extraction in and out of company systems.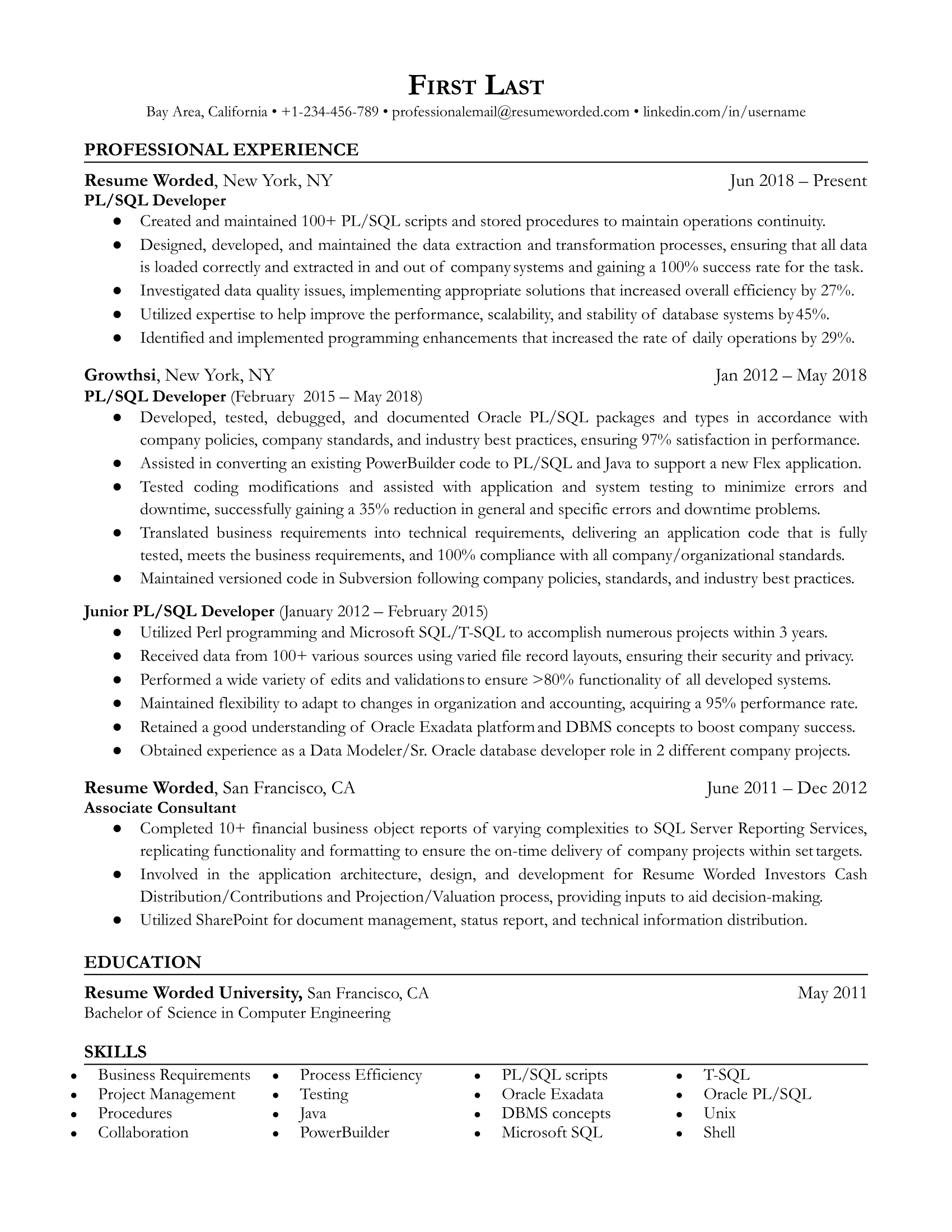 Recruiter Insight: Why this resume works in 2021
SQL Analyst Resume Sample
A SQL analyst uses the SQL language to interpret data related to the day-to-day operations and functions of a business or organization. The importance of this role is providing managers with valuable insights from analytics by describing, predicting and citing ways to improve business performance.

This resume highlights the person's level of proficiency with scripts and code that needs to be constantly reviewed, corrected and modified in order to positively impact the growth of a business or organization. It's all about revealing numbers and values in projects that one has previously worked on, which this resume outlines very well.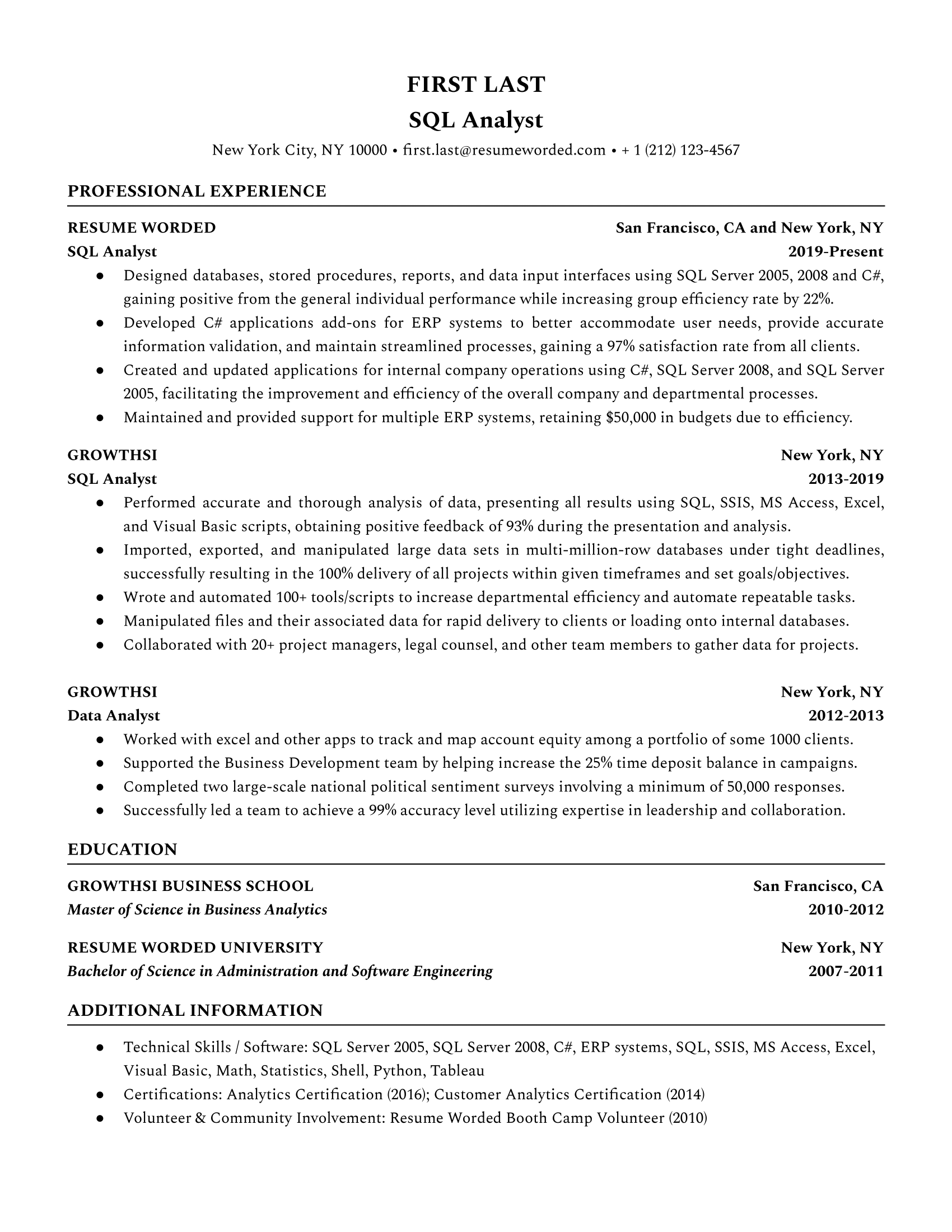 Recruiter Insight: Why this resume works in 2021
SQL Data Analyst Resume Sample
A SQL data analyst ​​is similar to a data analyst, but they specifically use SQL to prepare data and insights. For this kind of role, managers look for someone who is capable of not just analyzing data but also designing scripts for the purposes for data integration and cleaning, as well as for forming databases. Other key areas that a SQL data analyst handles includes query writing and resolving data issues.

Given the things that a SQL data analyst does on a daily basis, it's essential that your resume proves how confident and well-experienced you are with not only sorting through countless data but also writing scripts, and regularly reviewing them to improve the activities of your employer or organization. This resume is able to touch on all those characteristics perfectly.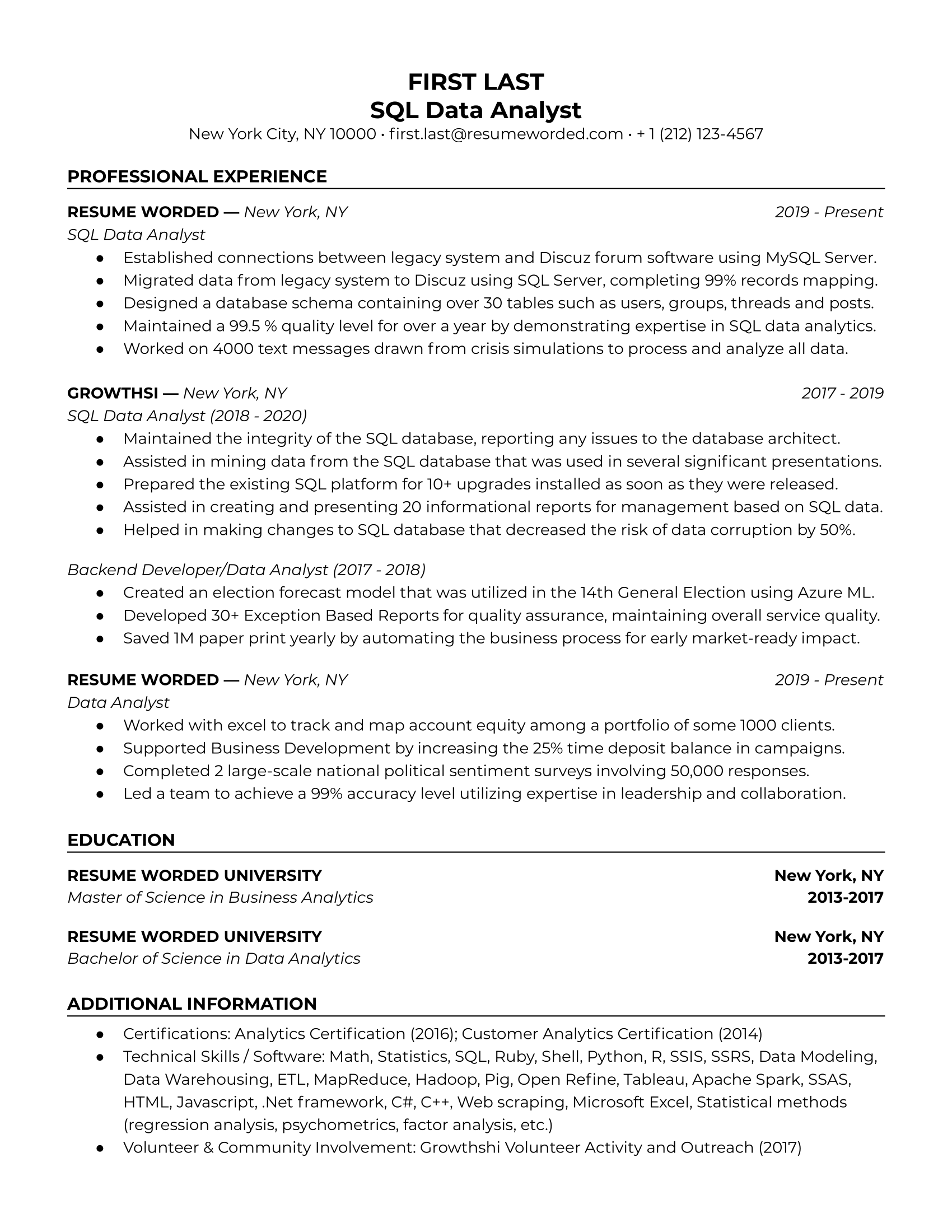 Recruiter Insight: Why this resume works in 2021
SQL Database Administrator Resume Sample
To work as a SQL database administrator (or SQL DBA), there's a lot of emphasis that must be placed on being able to manage SQL servers successfully — this could include general administration of databases, but also .... That means not only proving that you're an analytical person but also someone who's great at multitasking, particularly when it comes to complicated undertakings like server migrations.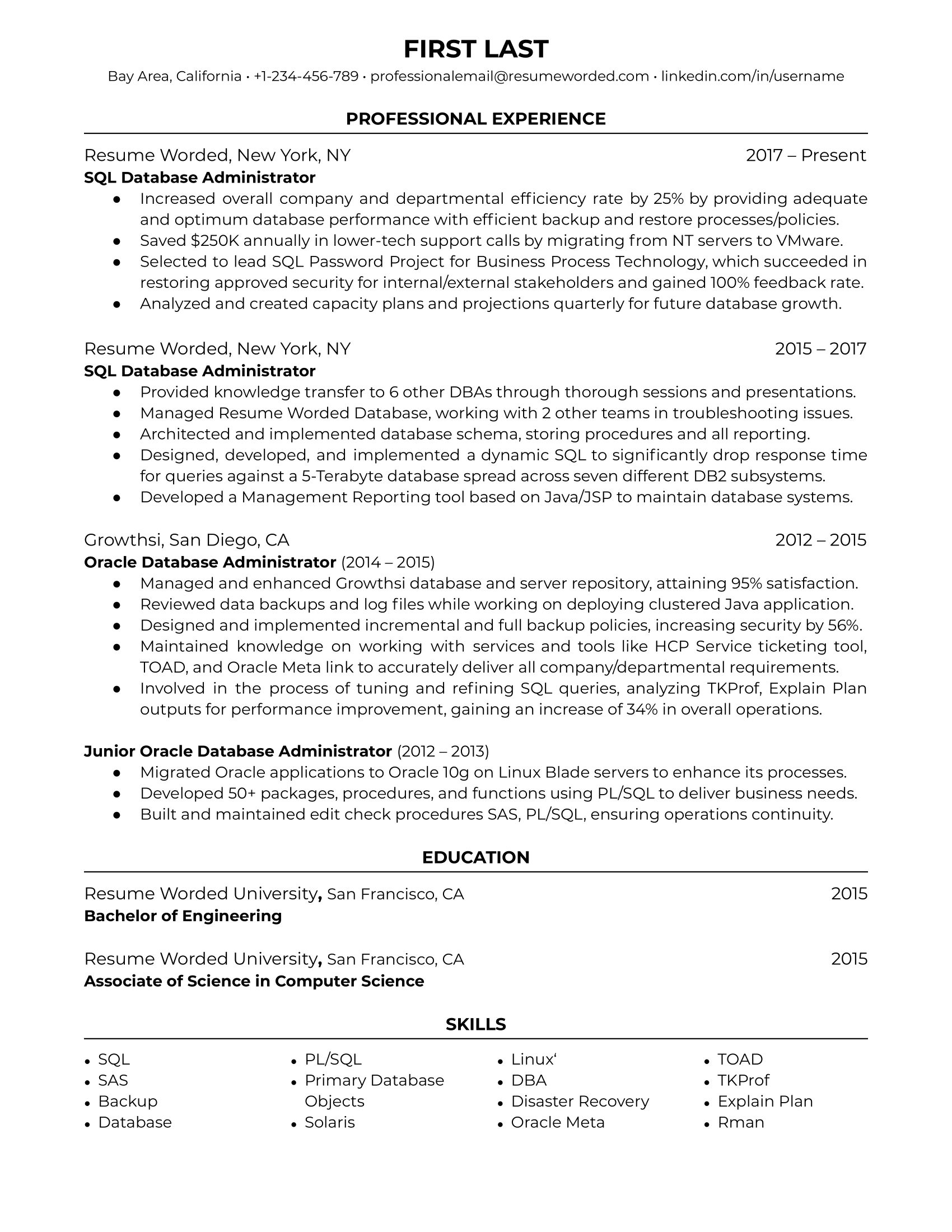 Recruiter Insight: Why this resume works in 2021
Skills For SQL Developer Resumes
As an applicant for a SQL developer role, it's a given that you must indicate a high level of proficiency with SQL Frameworks (e.g. Transact-SQL, SQL 2000) and extensive experience with Database Management Systems (e.g. Oracle, Azure).

What's just as important is reading the job description carefully and picking out specific skills you possess that are clearly relevant to that role. When you have those skills listed down (which could be anything from an above-average typing speed to knowledge of Amazon Web Services), you want to lay out each one as a bullet point in the 'Work Experience' section of your resume, right under each previous job. That way, you have an opportunity to provide specific examples or achievements to elaborate on each skill, for which the person reading your resume may find you even more impressive.
SQL Server Integration Services (SSIS)
SQL Server Reporting Services (SSRS)
Transact-SQL (T-SQL)
Microsoft SQL Server
Extract, Transform, Load (ETL)
SQL
Data Warehousing
Databases
PL/SQL
SQL Server Analysis Services (SSAS)
SQL Server Management Studio
Software Development Life Cycle (SDLC)
Business Intelligence (BI)
Database Design
Stored Procedures
T-SQL Stored Procedures
Oracle Database
C#
Oracle SQL Developer
Data Modeling
Action Verbs For SQL Developer Resumes
Use action verbs for your resume in a way that puts emphasis on how well you know your way around SQL, production databases and systems. Solid experience in creating and developing these must be highlighted, and so must your knowledge of the maintenance side of things. Furthermore, use these action verbs to begin each bullet point that details previous jobs or work experiences ("• Processed X..." or "• Organized Y into Z..."). Go straight to the point about everything you specifically did that made a positive impact on each program or system you worked with. This is not about telling stories––you'll have a chance to do that in the actual job interviews.
Coded
Conceptualized
Created
Installed
Generated
Developed
Processed
Executed
Integrated
Organized
Structured
Restructured
Analyzed
Managed
Increased
Launched
For a full list of effective resume action verbs, visit Resume Action Verbs.
Resume Bullet Points From SQL Developer Resumes
You should use bullet points to describe your achievements in your SQL Developer resume. Here are sample bullet points to help you get started:
Identified changes to assortment, distribution, and marketing using financial and behavioral analysis that enabled an upmarket fashion company to better target their customers, resulting in $400M growth
Designed the data pipeline architecture for a new product that quickly scaled from 0 to 100,000 daily active users.
Optimized $100MM+ retail company's advertising spend by media type through multivariable regression analysis; exceeded target growth by 15%
Optimized budget allocation of the increased marketing spend of $10MM across 5 cities
Analyzed data from 25000 monthly active users and used outputs to guide marketing and product strategies; increased average app engagement time by 2x, decrease drop off rate by 30%, and increased shares on social media by 3x over 6 months
For more sample bullet points and details on how to write effective bullet points, see our articles on resume bullet points, how to quantify your resume and resume accomplishments.