Civil engineers design, build, and maintain major infrastructure projects, from stand-alone buildings to roads and highways, bridges, airports, stadiums, theme parks, and water and sewerage systems. There are two types of civil engineers — consultants and contractors — that determine what your day-to-day might look like. Consultants generally work in a standard office environment, designing projects with the assistance of software like AutoCAD and Rivet. Contractors often work on site, implementing designs in a more hands-on way and supervising the actual construction.

To become a civil engineer, you'll need at least a bachelor's degree. From there, you can choose a specialization, undertake fieldwork, or pursue a master's degree. In some states, you'll need to be professionally licenced, which requires a degree accredited by the Accreditation Board for Engineering and Technology (ABET). According to the Bureau of Labor Statistics, civil engineers can look forward to a median wage of $93,720 and healthy employment prospects.
Civil Engineer Resume Templates
Civil Engineer Resume Sample
Download Resume Template (Google Doc)
Download Resume in PDF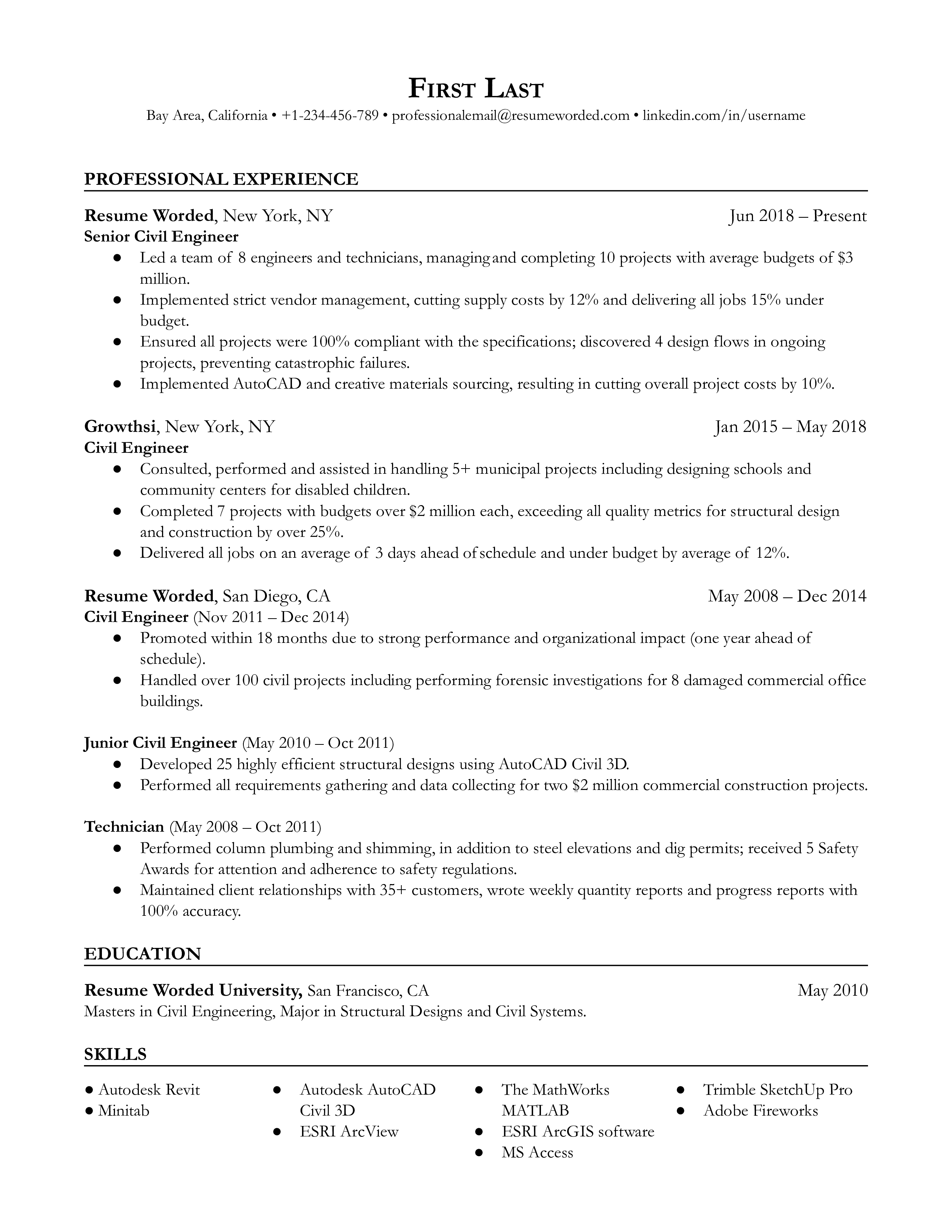 Why this resume works in 2021
As a civil engineer, you'll be responsible for planning and overseeing construction projects. This can include verifying project requirements, evaluating building sites, approving materials, and overseeing construction. This requires a large and diverse skill set, including everything from big-picture creative thinking, to software and mathematical skills, to attention to detail. Make sure you understand what skills are most relevant to the position you're applying for and tailor your resume accordingly.
Improve your Civil Engineer resume, instantly.
Use our free resume checker to get expert feedback on your resume. You will:
• Get a resume score compared to other Civil Engineer resumes in your industry.
• Fix all your resume's mistakes.
• Find the Civil Engineer skills your resume is missing.
It's instant, free and trusted by 1+ million job seekers globally. Get a better resume, guaranteed.
Upload your resume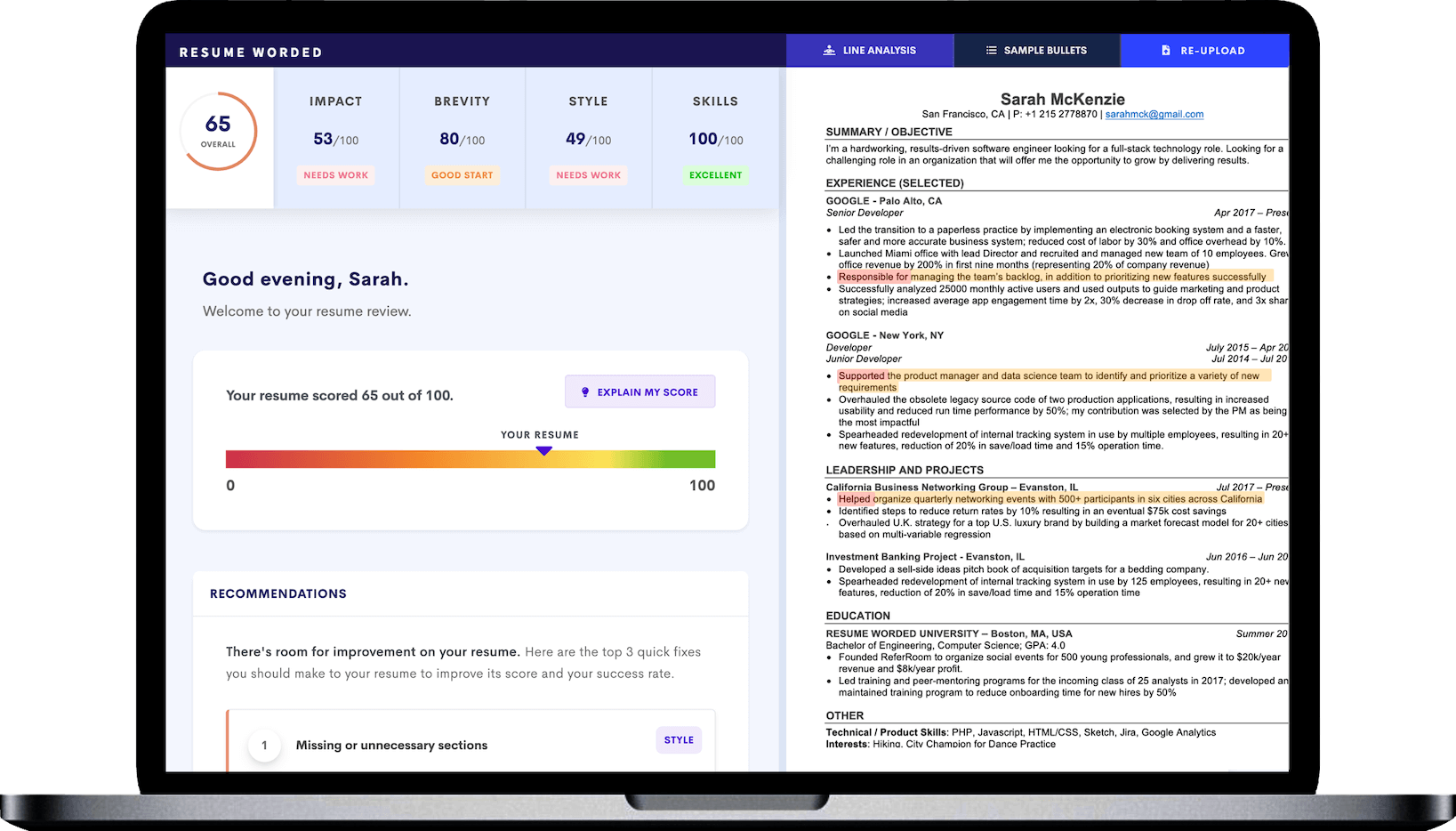 Civil Engineer Resume Sample
Download Resume Template (Google Doc)
Download Resume in PDF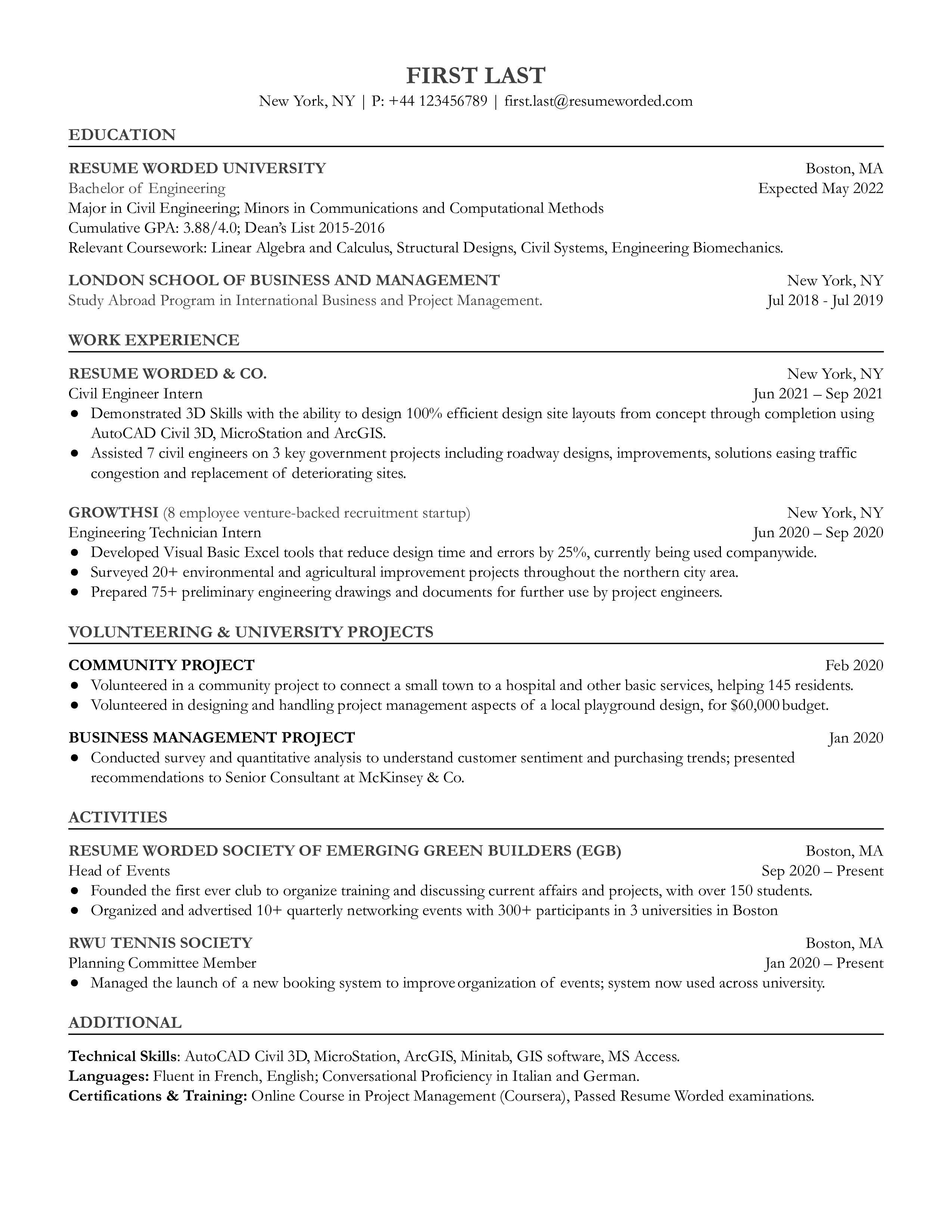 Why this resume works in 2021
If you're applying for entry level civil engineer positions, chances are you're a recent graduate or career changer without a lot of paid experience. But that doesn't mean the experience you have isn't relevant! By emphasizing your experience with educational, volunteer, and personal engineering projects, as well as transferable skills, your resume can explain exactly what makes you a strong candidate for the position.
Structural Engineer Resume Sample
Download Resume Template (Google Doc)
Download Resume in PDF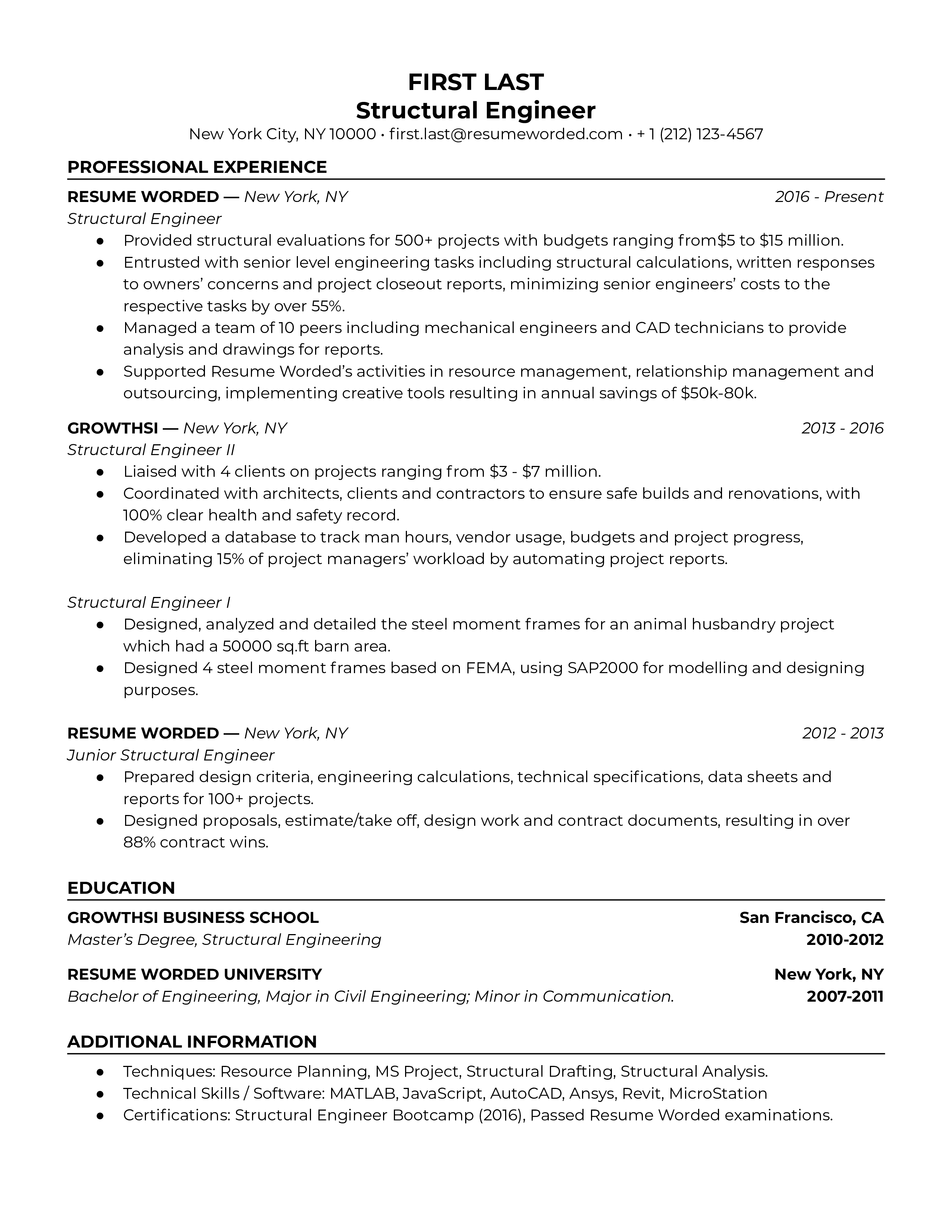 Why this resume works in 2021
As a structural engineer, it's your job to make sure any project is safe and capable of withstanding factors like wear and tear, general use, and external elements. You may also be tasked with improving the structural integrity of existing buildings. This means you'll need an analytical mind and an aptitude for problem solving alongside a solid understanding of relevant legal, environmental, and safety regulations and budgetary requirements.
Design Engineer Resume Sample
Download Resume Template (Google Doc)
Download Resume in PDF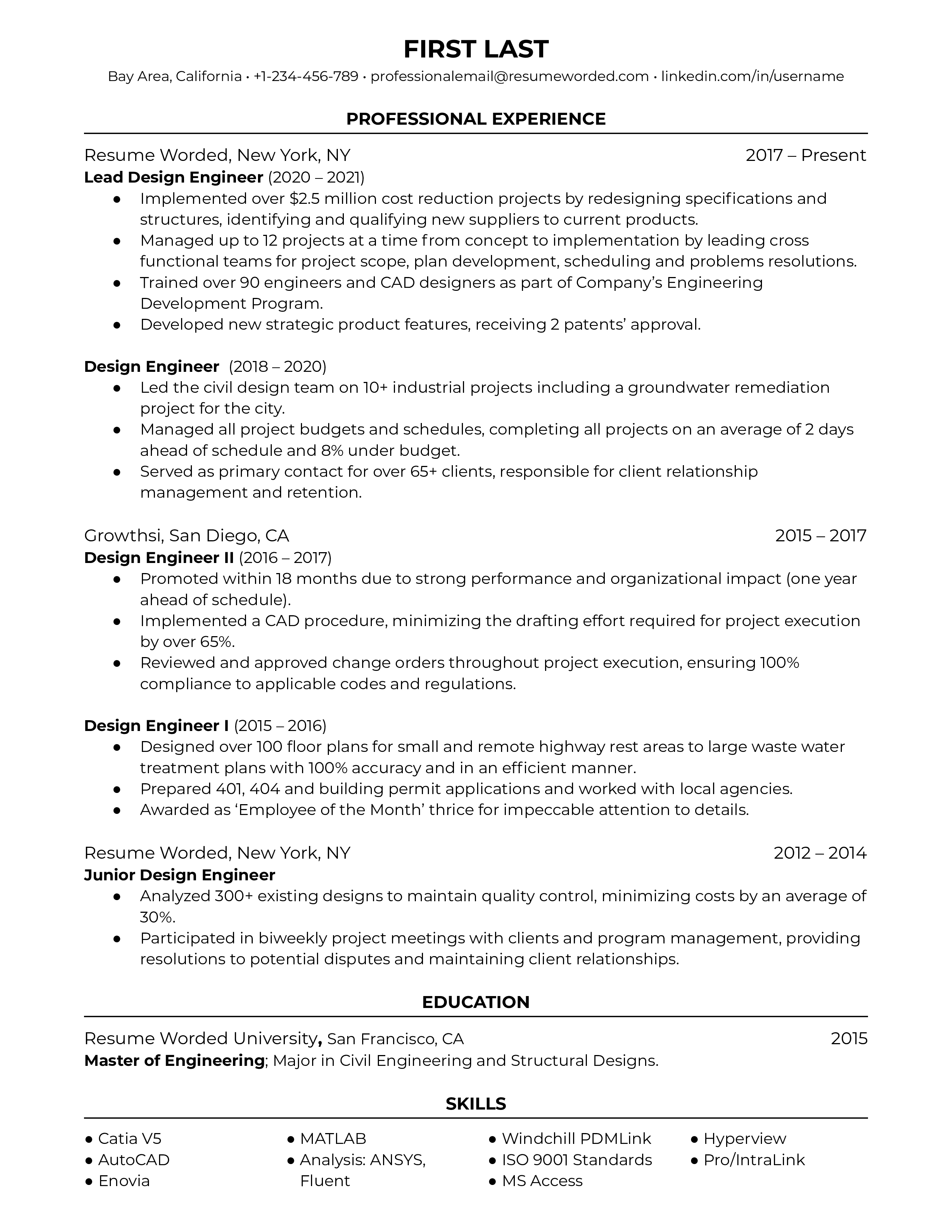 Why this resume works in 2021
Design engineers are tasked with conceptualizing, developing, and managing projects — which doesn't mean their role is a purely creative one. As well as design prowess, you'll need solid technical know-how and market understanding, as the role involves mathematical modelling and designing products that are profitable and meet the needs of your clients. As a design engineer, you'll be working on different types of projects, from electronics to textile manufacturing.
Architect / Architecture Resume Sample
Download Resume Template (Google Doc)
Download Resume in PDF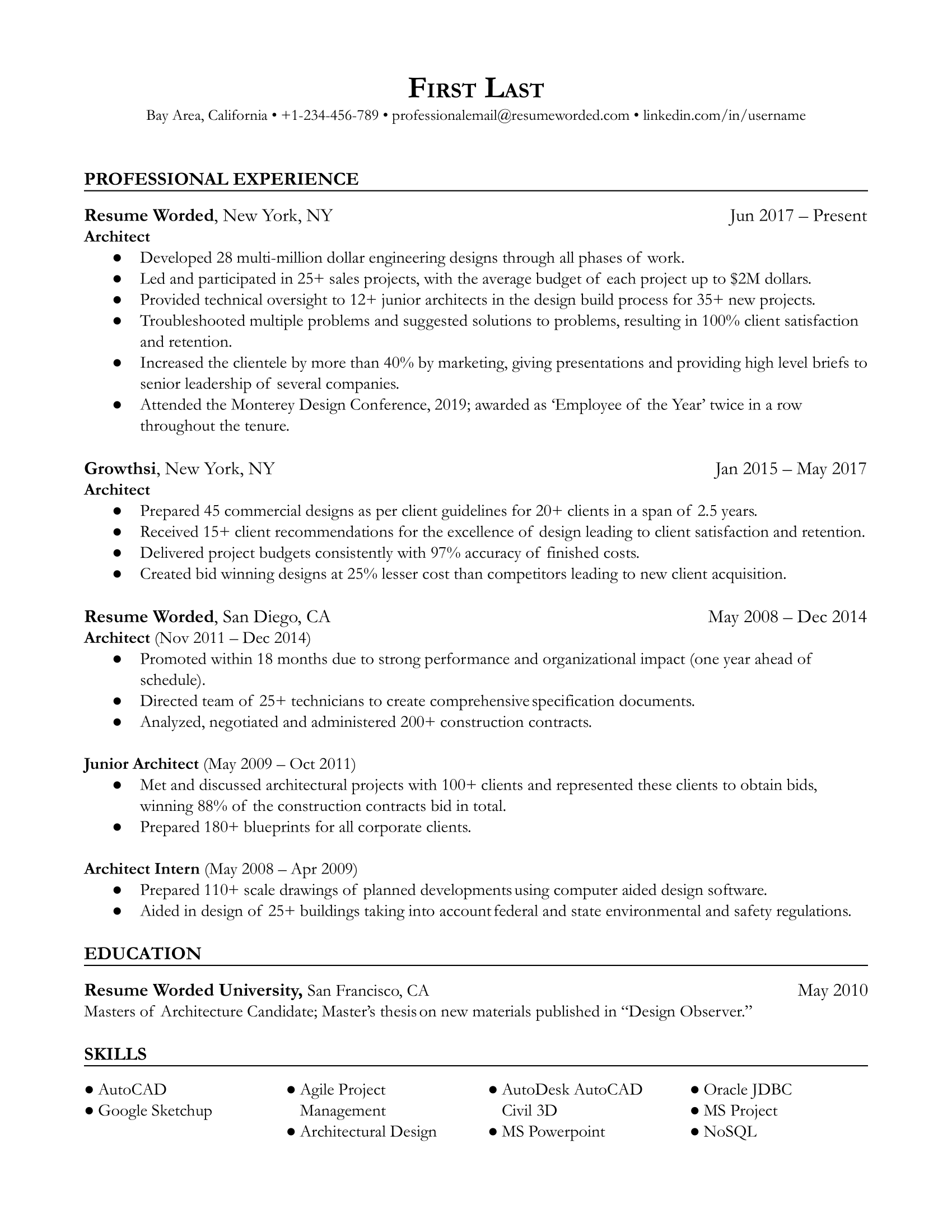 Why this resume works in 2021
As an architect, you'll be working primarily on buildings and related structures. You may be involved in designing a skyscraper from scratch, building a new extension for a house, or restoring an older building for conservation. Whatever the project, you'll need the ability to work closely with clients to build relationships and understand their needs as well as technical design skills and software expertise.
Skills For Civil Engineer Resumes
Civil Engineering
Drainage
AutoCAD
Stormwater Management
Construction Management
Construction
Road
MicroStation
Autodesk Civil 3D
Engineering
Highways
Concrete
Water Resource Management
Hydrology
Land Development
Structural Engineering
Transportation Engineering
Land Surveying
Erosion Control
Roadway Design
How to use these skills?
There are two ways of demonstrating skills on your resume. One is through your bullet points. For example, to emphasize your experience with a specific software, you could say you "developed 25 highly efficient structural designs using AutoCAD Civil 3D." The other is through a simple list in a skills or additional section at the bottom of your resume. What's the difference? Lists are easier for hiring managers to skim and should only be used for hard skills — types of construction and engineering, software, or certifications. Bullet points are great for showing how you've used those skills in action and are the only way to list soft skills like communication and attention to detail.

To find out exactly what skills you should be listing, you can pull skills directly from the job description, jump into our list of top skills and keywords, or use our free Targeted Resume tool.
Action Verbs For Civil Engineer Resumes
Designed
Developed
Conceptualized
Engineered
Installed
Troubleshooted
Created
Delivered
Directed
Analyzed
Implemented
Reviewed
Surveyed
Liaised
Led
Awarded
How to use these action verbs?
Structuring your bullet points doesn't need to be complicated. There's actually a pretty simple formula — start with a strong action verb, mention your accomplishment, then follow it up with any applicable metrics.

Why start with an action verb? Action verbs frame your accomplishments in a positive, proactive light. They also help you focus on what matters, which is what you actually achieved, and not simply what duties you were assigned.

You should choose your action verbs according to the type of skill or accomplishment you're trying to highlight. If a job description mentions creativity a lot, start your bullet points with verbs like Designed and Created. Reviewed and Analyzed show attention to detail, while Implemented and Delivered show you taking a leading role. To highlight civil engineering skill sets, use action verbs like "Conceptualized", "Implemented", "Estimated" or "Designed" which showcase your technical experience.

For a full list of effective resume action verbs, visit Resume Action Verbs.