When applying to a front end developer role, it's important to understand the difference between a front end, back end, and full stack developer.

Front end developers build the parts of websites and apps you interact with everyday. They understand what a user needs and they anticipate how you will try to retrieve that information. They then use this knowledge to program a seamless user experience from start to finish. Meanwhile, back end developers build the server-side infrastructure of a website or app that pulls that data for the user. Full stack developers are jack of all trades. They work on (you guessed it!) the full stack, and can develop for both the front end and the back end.

It might be easier to think of it this way -- imagine you're building a house for a user to live in. Back end developers are the ones responsible for everything happening behind the walls. They install utilities like electrical wires, water pipes, and heating/cooling systems.

Front end developers design a seamless experience for those living in the house to access those utilities. They answer questions such as: Where should we install the outlets or light switches? How do we design intuitive controls? How do we integrate everything functionally and beautifully?

If you enjoy tackling these sorts of questions, you're in the right place. Front end developers are creative and technical artists who get to work with a diversity of teams, including UI/UX design teams and analysts, software engineers, and more. Continue reading below to view examples of effectively written front end developer templates that will help land you your next front end developer role.
Front End Developer Resume Templates
Front End Developer Resume Sample
Front end developers with a few years of experience should craft a resume that highlights skills relevant to the position they are applying to, where you used front end developer skills to effectively deliver on projects. This resume provides a list of the applicant's skills and demonstrates how they used them to make a positive contribution to the company. In your resume, make sure to talk about the different skills, languages, or frameworks you've used.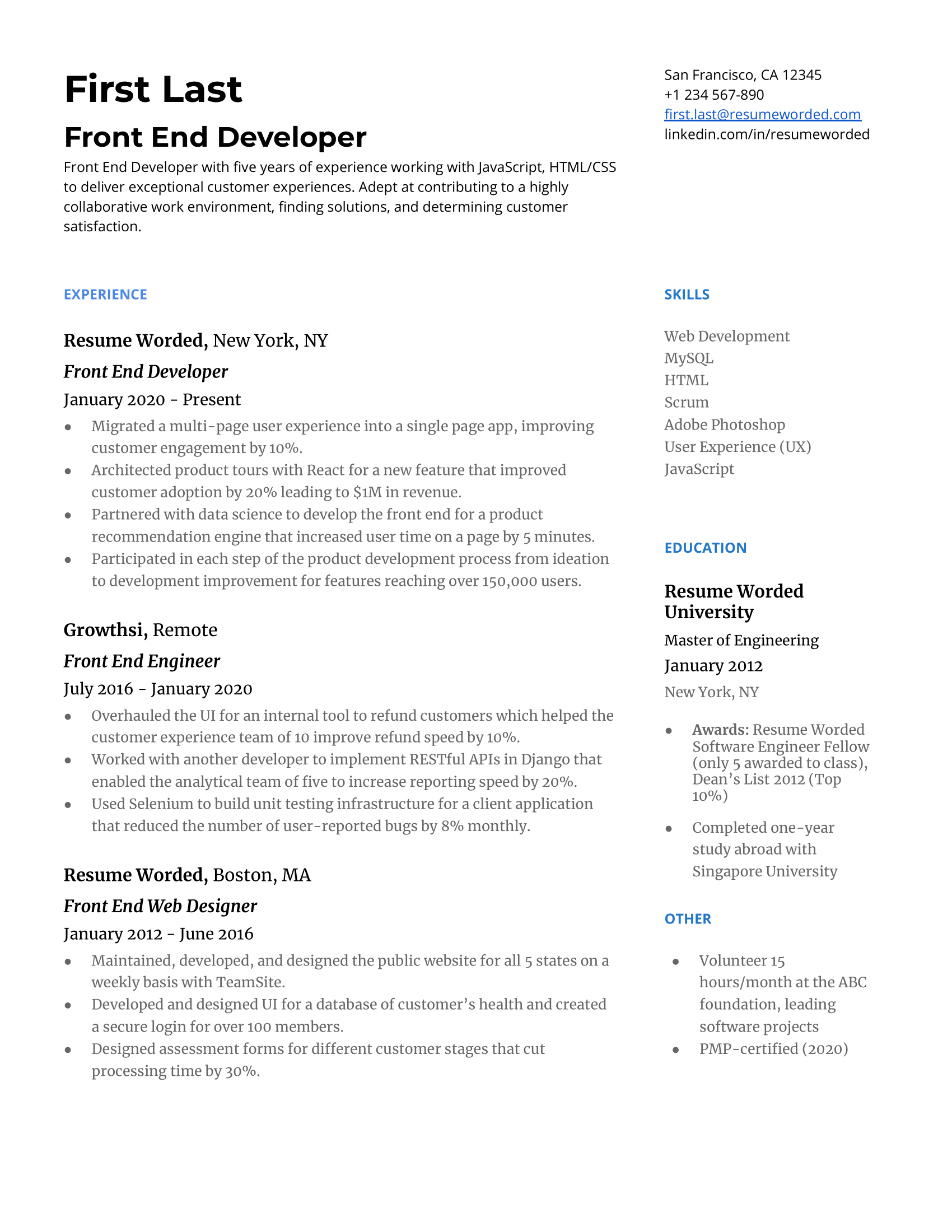 Recruiter Insight: Why this resume works in 2021
iOS Developer Resume Sample
Front end iOS development can be quite different from website development. iOS development often requires different skill sets and experience with different languages, frameworks, libraries, and testing than those associated with website development. When applying for an iOS development role, it is important to keep these differences in mind and emphasize numbers, metrics, and experiences that are relevant to iOS development.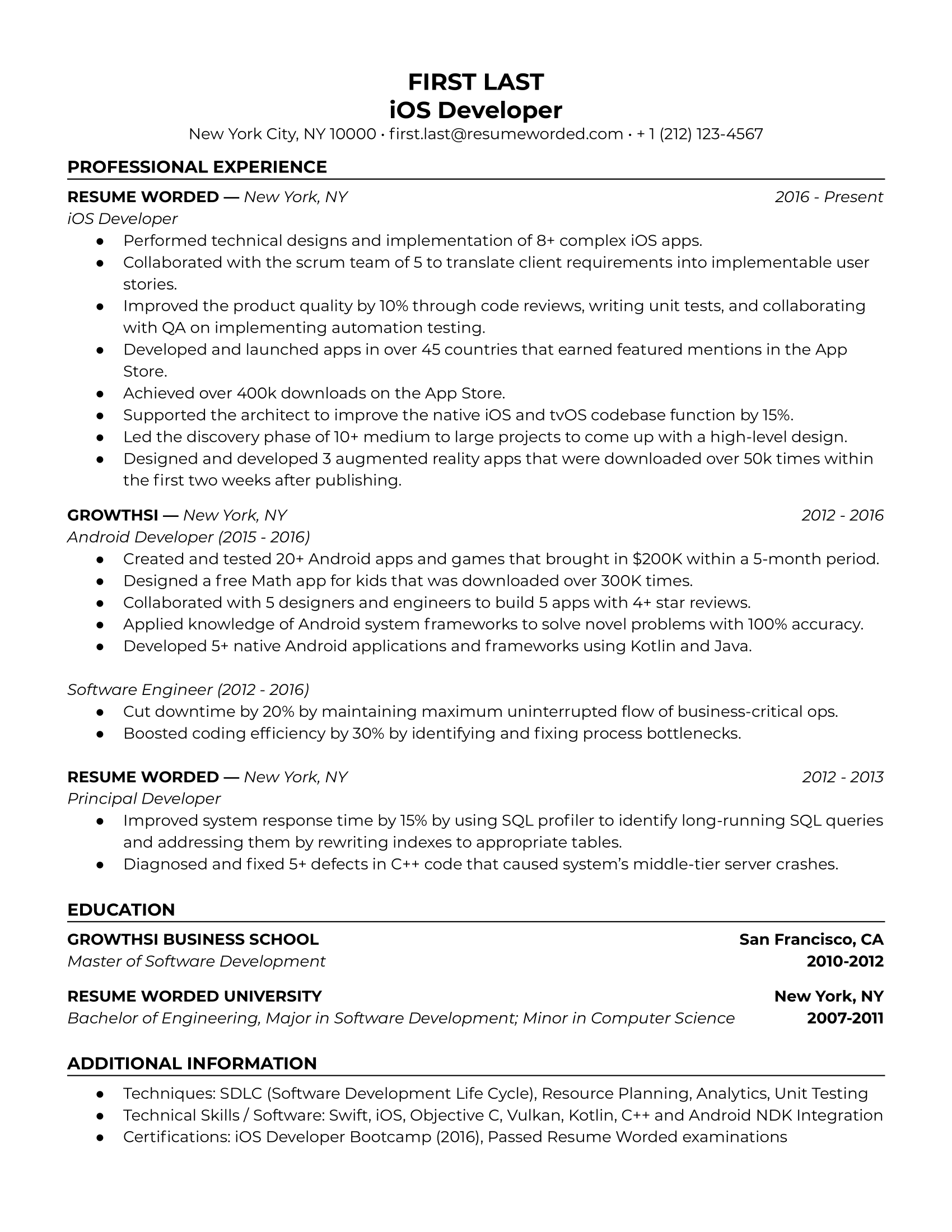 Recruiter Insight: Why this resume works in 2021
Entry Level Front End Developer Resume Sample
If you're a recent college graduate or if you're in the middle of changing careers, this is the resume template for you. The key here is to sell yourself with the skills you have learned, the front end projects you've completed, and the relevant tools you used. Internship experience, if any, will be useful to highlight as well. This sample lists the development internships they've had, along with relevant activities, projects, and technical skills such as HTML/CSS and Javascript that are relevant to the position.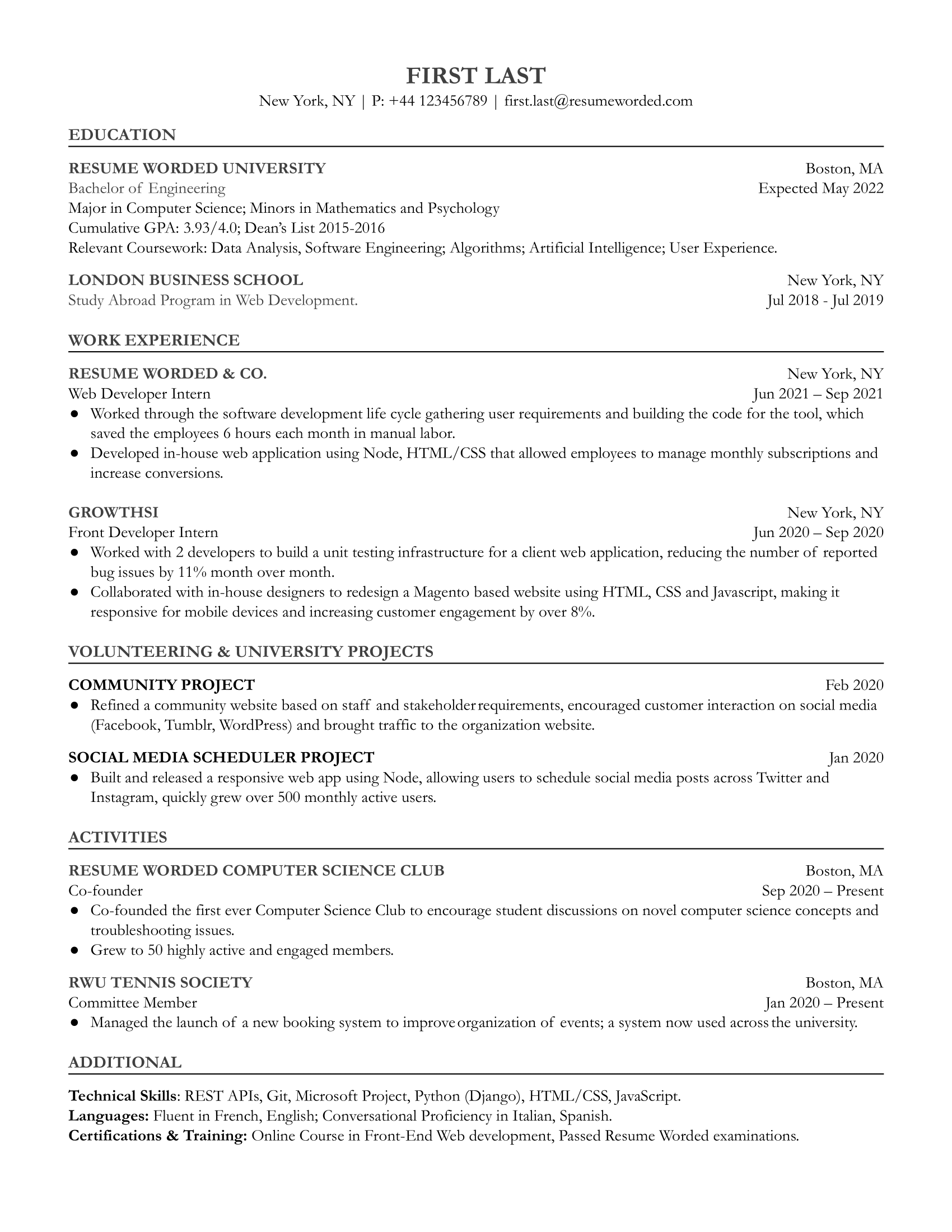 Recruiter Insight: Why this resume works in 2021
JavaScript Developer (Front-End) Resume Sample
JavaScript developers tend to have specific expertise in JavaScript, but should still have a strong grasp of other front end development languages and modern frameworks that are JavaScript-based (i.e. the likes of Node, React, Vue or Next.js). When writing a resume for a JavaScript developer role, remember to keep this in mind -- tailor your resume by focusing on JS work, while including other front end experience as well.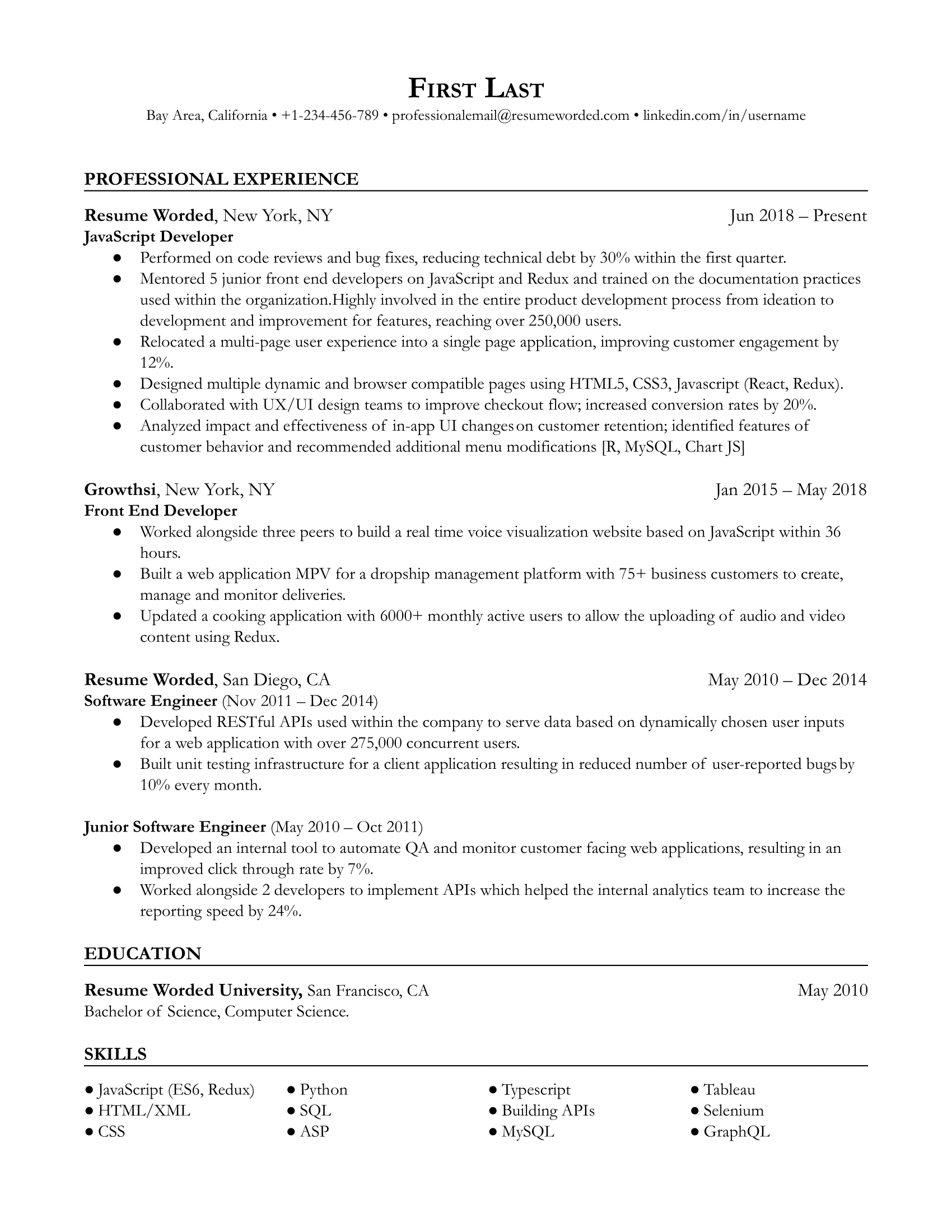 Recruiter Insight: Why this resume works in 2021
React Front End Developer Resume Sample
Sometimes a company may be looking for a front end developer who has specific experience working with React, an open-source Javascript framework/library for building user interfaces. When applying for a React Front End Developer role, make sure to include work experience that is tailored specifically to projects and contributions using React (include personal projects if you don't have professional experience), and to include skills that demonstrate your capacity for building great user interfaces.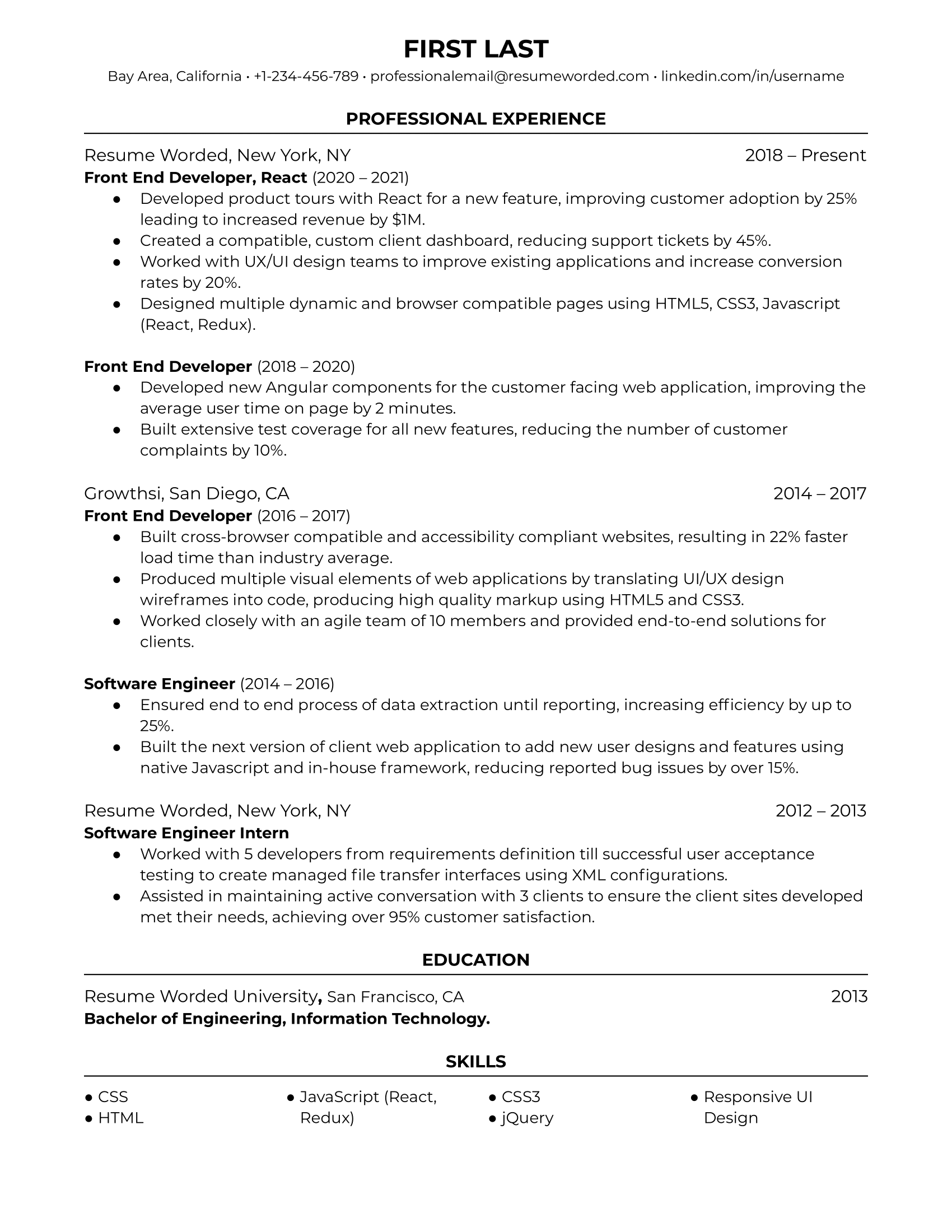 Recruiter Insight: Why this resume works in 2021
Skills For Front End Developer Resumes
When you find the front end developer roles that you want to apply to, read the job description carefully. Front end developer skills often vary widely by the industry/technology/company. Take time to research the technology stack the company is using by reading through the job description to figure out exactly what the company is looking for, so you have a better idea of what skills/frameworks to include.

For example, if a job description mentions you need experience with the React framework, you want to include your experience with React. Or, if the job description asks for fluency in a certain language like Javascript, make sure that you give an extensive background of your experience - or even an example of a project - where you programmed in that language.
AngularJS
React.js
Bootstrap
jQuery
JavaScript
Cascading Style Sheets (CSS)
Node.js
AJAX
HTML5
JSON
SASS
HTML
Git
LESS (Stylesheet Language)
Responsive Web Design
User Interface Design
Gulp.js
TypeScript
RESTful WebServices
Backbone.js
Front End Developer Resume Tips
Front end development combines the art of programming with the art of design. Thus, good front end developers are adept at collaboration and at translating a technical wireframe into a beautiful visual experience.

To craft a stellar front end developer resume, you'll need to showcase your technical prowess while also demonstrating your ability to work with different teams to craft a seamless website or app. Hiring managers want to see that you have demonstrated these abilities in your past work, and that you have the hard skills needed for the role they're hiring for.

Want to make your resume stand out against the crowd? Follow these curated tips for front end developer resumes:
Action Verbs For Front End Developer Resumes
Front end developers excel at the intersection of technical ability and beautiful design, working with a variety of teams to bring a dynamic, seamless website to life. It's important to stress these types of skills through your action verbs -- for example, use words like "collaborated" and "developed" to emphasize your teamwork skills.

Try not to use generic verbs -- they can hurt rather than help your resume. Use strong and powerful verbs that complement the front end developer skills you have.

Don't overuse a single action verb. Be creative and use a new action verb for each bullet point; vary your word choices and choose the best one according to the responsibilities you had in the project.
Conceptualized
Redesigned
Streamlined
Illustrated
Directed
Designed
Researched
Customized
Established
Examined
Overhauled
Validated
Deployed
Troubleshooted
Architected
Tested
Automated
For a full list of effective resume action verbs, visit Resume Action Verbs.
Resume Bullet Points From Front End Developer Resumes
You should use bullet points to describe your achievements in your Front End Developer resume. Here are sample bullet points to help you get started:
Managed 6 QA analysts through software release cycle: including code reviews, defect detection and reporting and deploying product releases into clients' production environments
Developed a prototype to identify key influencers on Twitter using clustering techniques over 100,000 data points in Python
Analyzed global opportunities for the company's different membership tiers; designed and introduced a new membership tier which is projected to generate 300k new users in its first year
Designed and implemented 50+ E2E tests using Selenium & Protractor, simulating each user group's actions
Developed an iPhone app to help medical professionals measure the insulin needs of patients with diabetes
For more sample bullet points and details on how to write effective bullet points, see our articles on resume bullet points, how to quantify your resume and resume accomplishments.