IT Managers are strategic, technologically savvy leaders who can successfully guide their team through the challenging and ever-evolving landscape of information tech.

You are responsible for leading the smooth operation of the computer and information systems for your organization, so you must have tactical business smarts, fantastic people manager qualities, and deep technical expertise. You are, essentially, the organization's subject-matter expert when it comes to all things information tech.

Almost all companies today rely heavily on a well-developed information technology network, and great IT Managers are in high demand in 2021. However, according to hiring studies, the technology job market is getting increasingly competitive as well, and it can be tough to land the job you want.

That's why it's important to use your IT Manager resume to effectively showcase your unique abilities -- but it can be tricky to figure out how to organize all of your technical experiences onto one page.

We've done the research for you to see what works in 2021. Below we've curated three stellar IT manager resume templates that you can use to land your dream role.
IT Manager Resume Templates
IT Manager Resume Sample
Download Resume Template (Google Doc)
Download Resume in PDF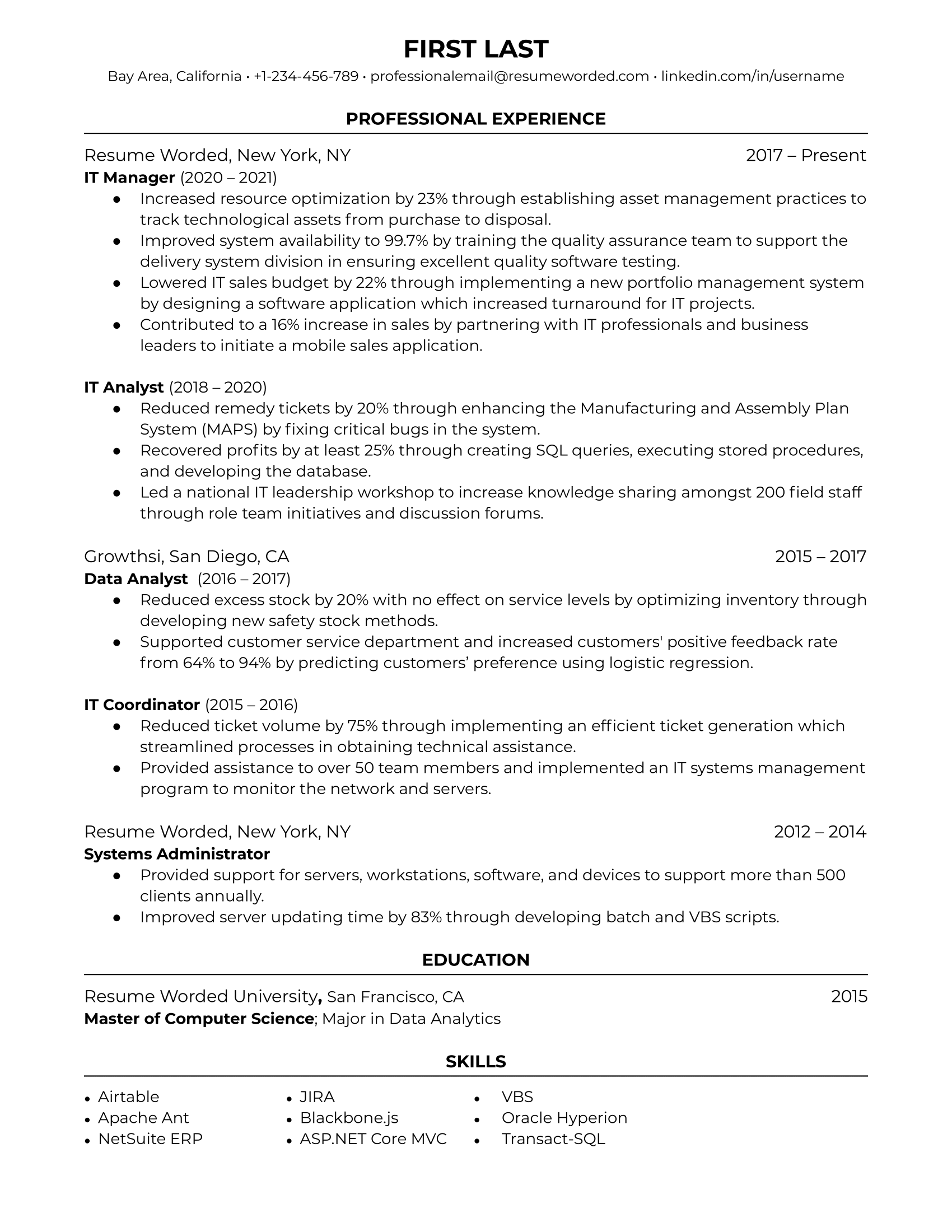 Why this resume works in 2021
IT Managers who have several years of experience in the industry should make sure to emphasize their project accomplishments in previous positions. Aim to detail a few projects that have had a large impact on the organization you were at, as opposed to listing every single project you worked on. Additionally, IT management is a heavily project-driven position, so you'll want to quantify your work with relevant project scope metrics.
Improve your IT Manager resume, instantly.
Use our free resume checker to get expert feedback on your resume. You will:
• Get a resume score compared to other IT Manager resumes in your industry.
• Fix all your resume's mistakes.
• Find the IT Manager skills your resume is missing.
It's instant, free and trusted by 1+ million job seekers globally. Get a better resume, guaranteed.
Upload your resume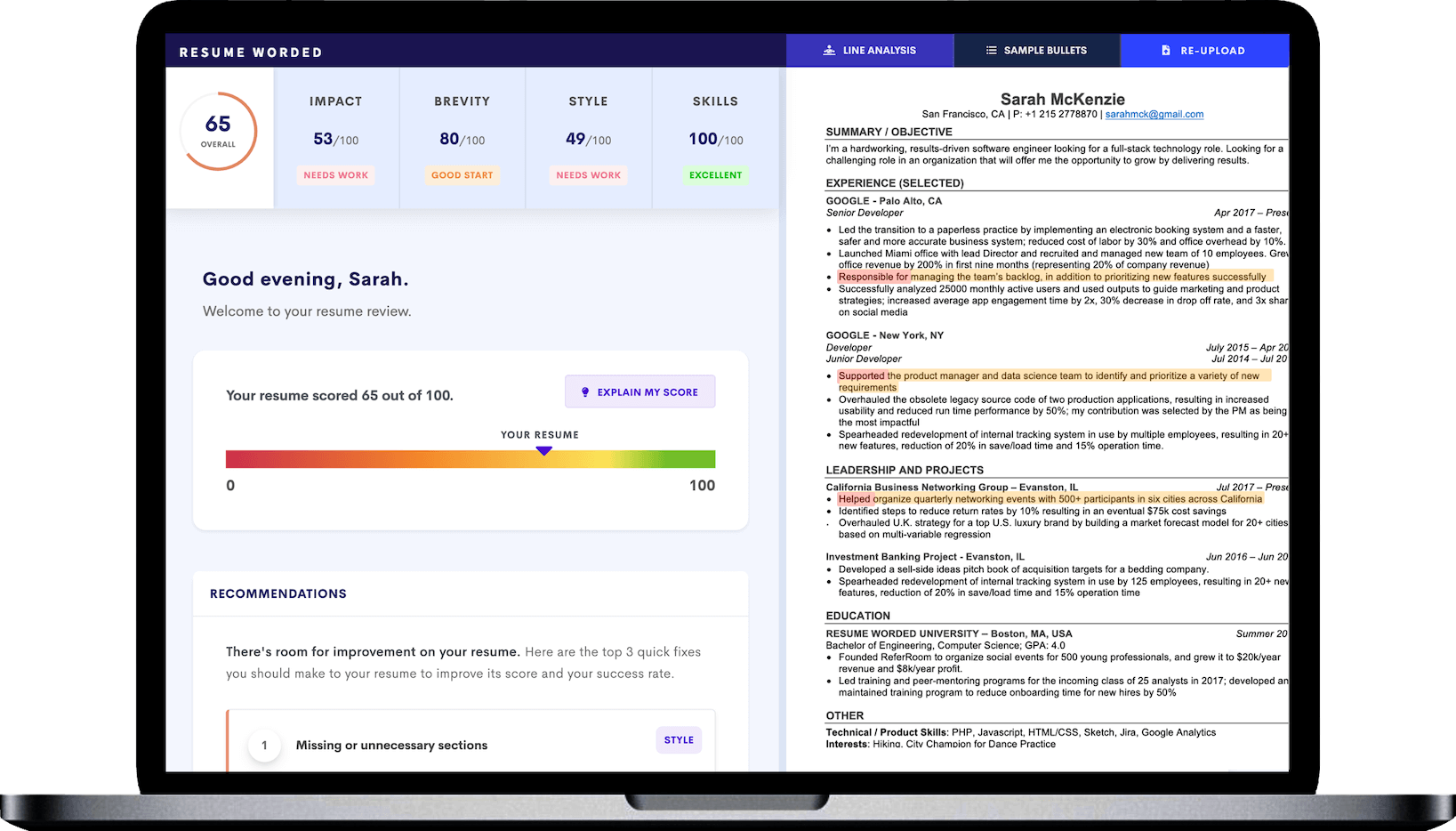 IT Infrastructure Manager Resume Sample
Download Resume Template (Google Doc)
Download Resume in PDF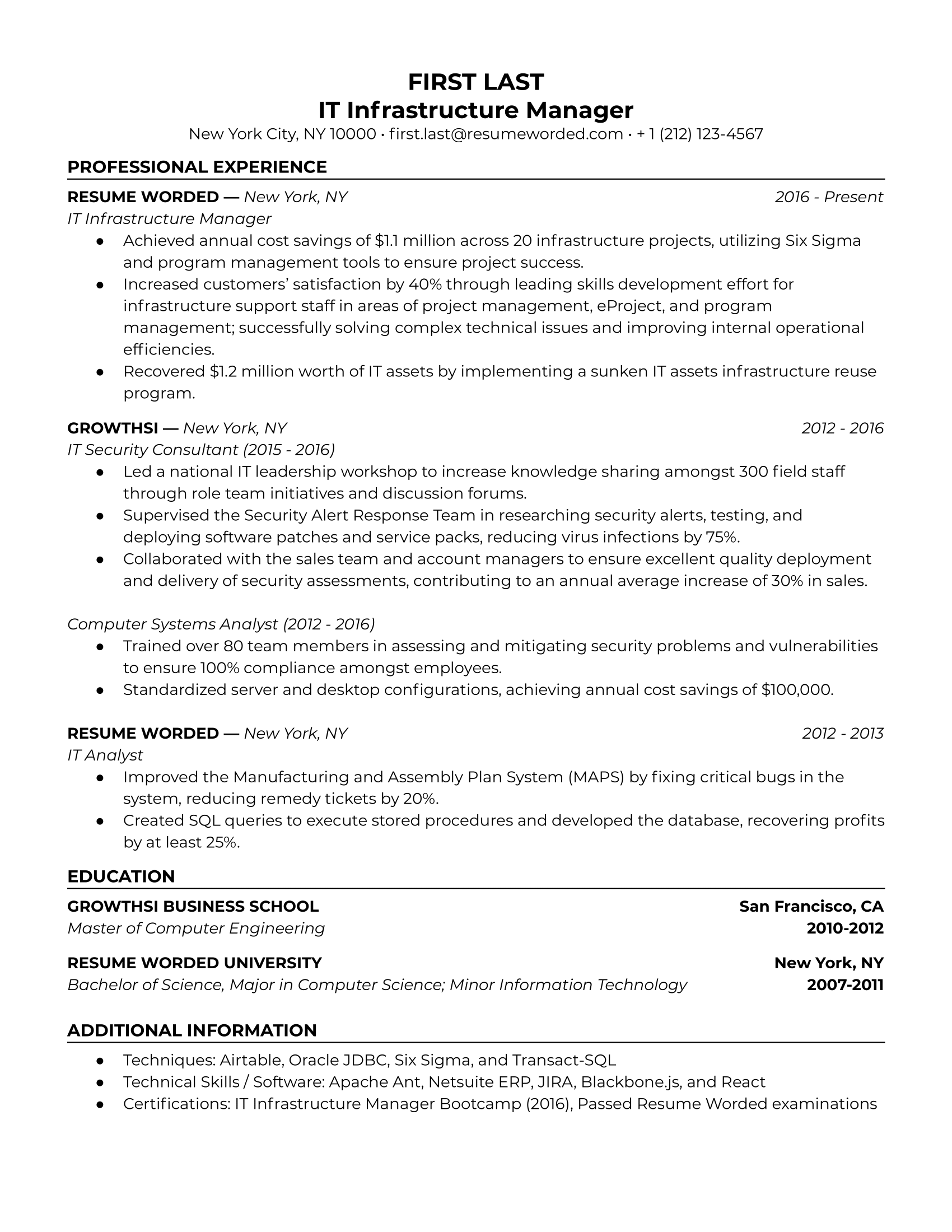 Why this resume works in 2021
If you're applying for a more specific IT manager role, like an Infrastructure Manager, use this template when applying to jobs. An IT Infrastructure Manager specializes, not just in IT, but specifically in the design, maintenance and installation/retirement of the organization's information infrastructure. Like an IT Manager, you will oversee staff in ensuring the smooth operation of the company's hardware and software, so you'll need to tailor your resume to the skills and qualifications needed for such a role.
IT Security Manager Resume Sample
Download Resume Template (Google Doc)
Download Resume in PDF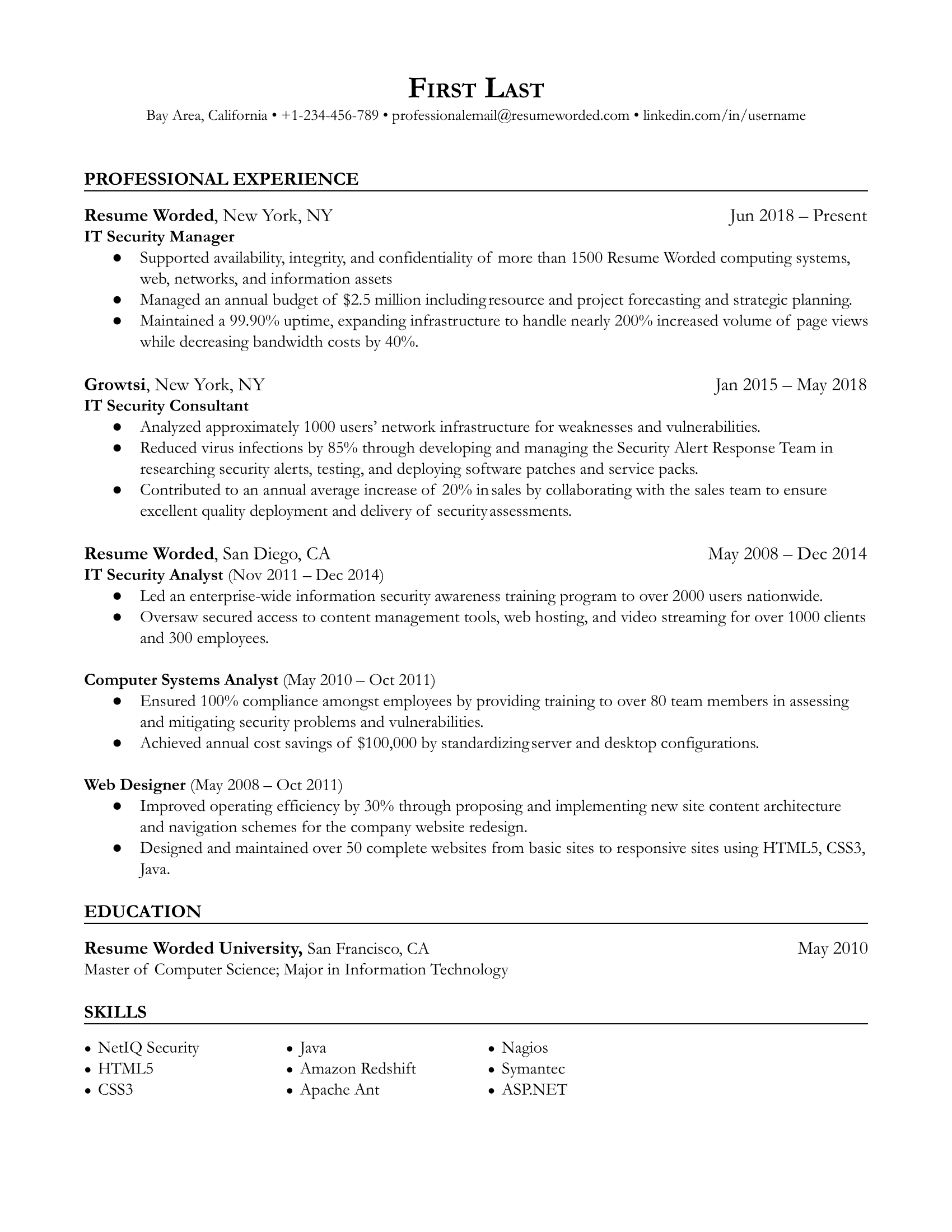 Why this resume works in 2021
An IT Security Manager specializes in all things security for an organization's information technology, including protection, disaster recovery, virus detection, security breach response, and more. Especially for certain industries such as health or finance, it is of the utmost importance for companies to properly protect sensitive customer data. When crafting your IT Security Manager resume, emphasize your expertise in the cybersecurity space and detail your relevant skills and certifications.
Skills For IT Manager Resumes
IT Management
Information Technology
Windows Server
Active Directory
Network Administration
System Administration
Disaster Recovery
IT Strategy
Integration
Networking
IT Service Management
IT Operations
Troubleshooting
Microsoft Exchange
Servers
Vendor Management
Technical Support
VMware
Business Analysis
Network Security
How to use these skills?
When you find the IT Manager roles you want to apply to, make sure to read the posting carefully and to do some research on the company. Required skills in the information technology world often vary widely by industry/technology/company, or even by role. In order to make sure your IT Manager resume stands out, try to figure out what technology stack the company is using and what skills they typically hire for on their technical side, and tailor your resume to fit the bill.

For example, if the posting mentions that they work heavily with libraries like Apache Ant, you'll definitely want to include that in your Skills section, or even talk about in your work experience section, to describe a project where you utilized it.

One thing to note, however, is that you shouldn't include a skill just because the posting lists it. As mentioned above, emphasize projects that you made an impact in so you can speak to your contributions when asked in an interview.
Action Verbs For IT Manager Resumes
Directed
Organized
Administered
Prioritized
Recommended
Analyzed
Contracted
Engineered
Drove
Conceptualized
Restructured
Developed
Expanded
Consolidated
Unified
How to use these action verbs?
IT managers must have deep technical knowledge of a company's electronic needs while also possessing leadership and operational savvy to successfully develop the company's information technology network. It's important to stress these skills through your action verbs -- for example, use words like "led" and "strategized" to emphasize your leadership skills.

As you're choosing action verbs for your IT Manager resume, try not to use generic verbs -- they can hurt rather than help your resume. Use strong and powerful verbs that can create an image in your mind about the great work you did.

Tip: to quickly get a list of more powerful action verbs, read through various relevant job descriptions to see what kind of action verbs companies tend to use when they're looking to hire IT Managers in your industry.

For a full list of effective resume action verbs, visit Resume Action Verbs.