Python is a general-purpose coding language that's usable beyond web development. Because it's so flexible in use, developers with this skill are useful in general web/app development, data science, machine learning, and in industries like finance or healthcare.

With the rise in development jobs, Python developers have been well sought after. Thanks to Python being so versatile of a program, any developer will benefit from learning it. It's learnable by anyone at any stage of studying computer programming, even beginners. Being a Python developer will net you a very nice income from the beginning.

Python developers will be working with programming where Python is the main programming language. But you'll also need to know other languages like Perl or Ruby. Additionally, you'll need to have the skills necessary to test, create APIs, and develop backend components. A job description exemplifies what many other Python developer job descriptions might say. Keep this in mind when making your resume.

Today, we'll be showing you more tips and tricks you need to create a winning Python developer resume.
Python Developer Resume Templates
Python Developer Resume Sample
Python developers with a few years of experience under their belt will have worked with Python tools at a deeper level. You should be able to discuss what you've done or achieved in more detail. Briefly talking about the results of your hard work will impress recruiters; it shows them your hard work will lead to company success.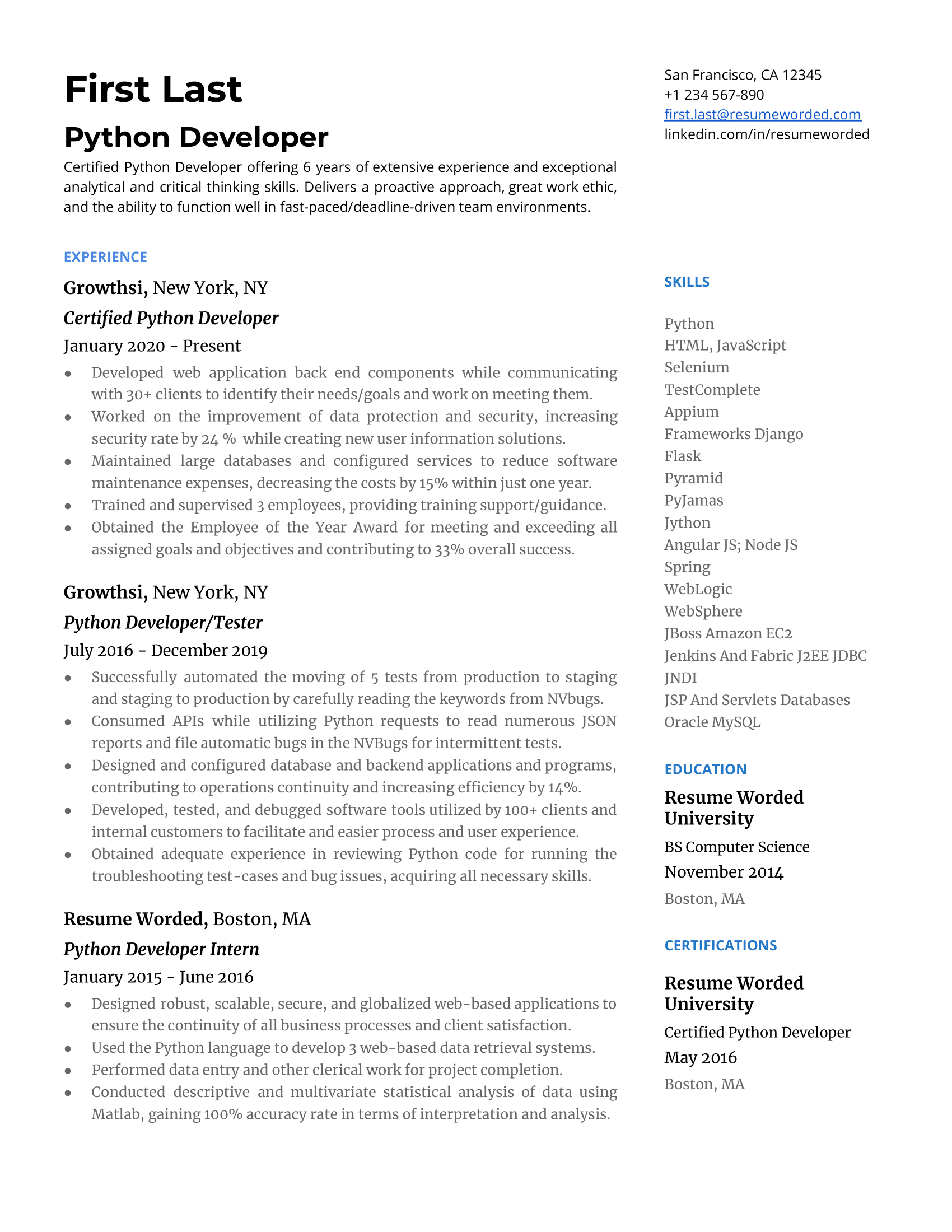 Recruiter Insight: Why this resume works in 2021
Junior Python Developer Resume Sample
A junior Python developer isn't likely to have much experience in the field. That's why you should list any school projects or internship experience. Talk about any project you've worked on while using Python to improve it. Recruiters want to see that you are capable of taking elements of a developer project and automating, scaling, and/or redesigning a program.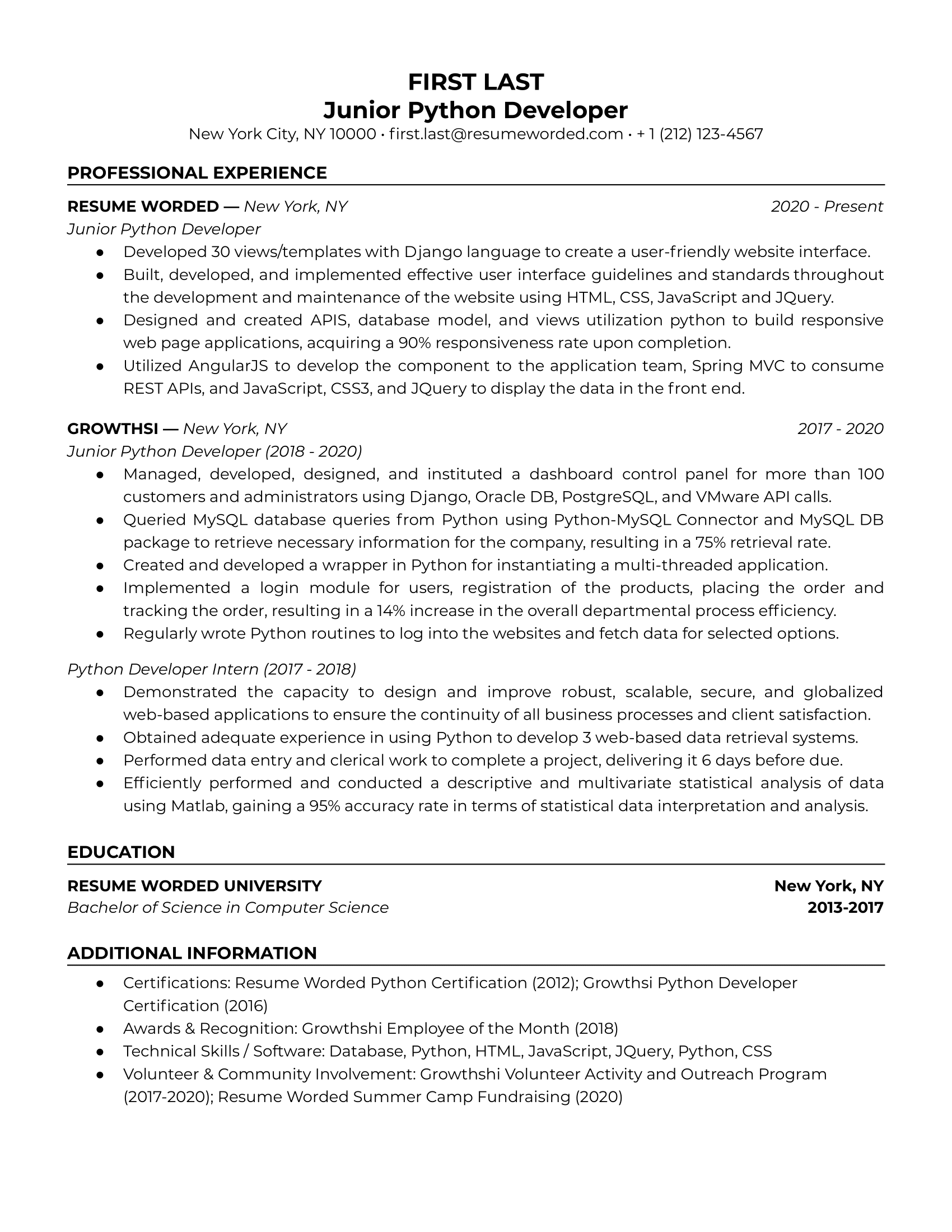 Recruiter Insight: Why this resume works in 2021
Senior Python Developer Resume Sample
For a senior role, you will have had great success since the start of your career. Your resume needs to convey that. Ways to do this include explaining your growth within a company, detailing your achievements in each role, and showing leadership as you grew. Recruiters want to see that your Python development skills are so great that you can train others to be good at it as well.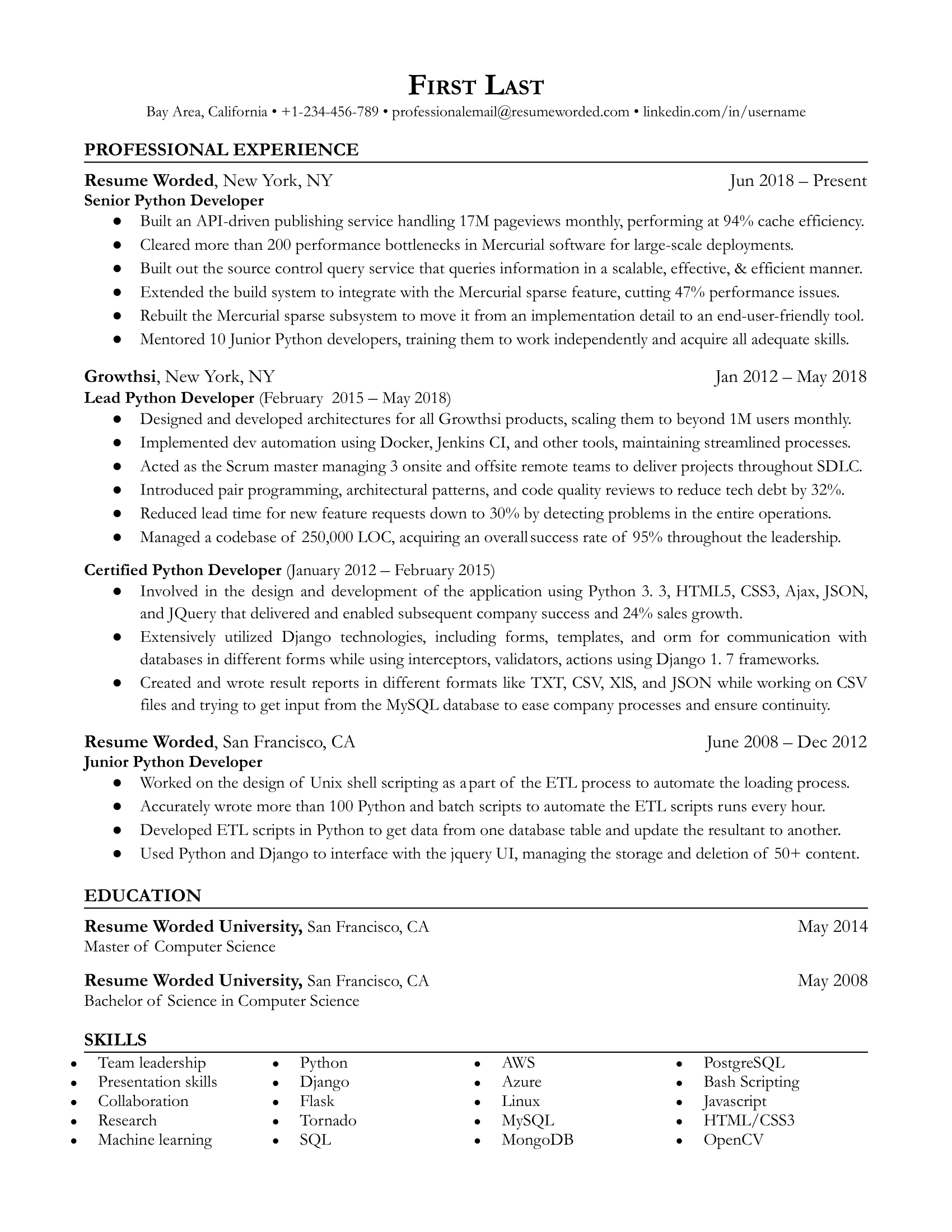 Recruiter Insight: Why this resume works in 2021
Skills For Python Developer Resumes
When creating your Python developer resume, ensure that you include a good amount of relevant hard skills showing that you can be effective in a role. Doing so increases the chances of your resume getting past ATS and tells recruiters that you know the tools necessary to get the job done.

Not sure of what skills to list? A good place to get ideas is the job description. It'll tell you what skills a job is looking for in applicants. List those skills in your resume; ATS and recruiters will like to see that.

Once you have an idea of what skills you want to mention, list them in a skills section. But also talk about it in your experience. Mention details like how you designed and developed applications using Django.
Django
Python (Programming Language)
Flask
Amazon Web Services (AWS)
JavaScript
MySQL
NumPy
MongoDB
Git
PostgreSQL
AngularJS
Docker Products
Cascading Style Sheets (CSS)
SQL
Linux
Pycharm
Pandas (Software)
Jenkins
HTML
jQuery
Action Verbs For Python Developer Resumes
Your resume will get a recruiter's attention when you highlight achievements by starting with strong action verbs that are relevant to Python developers.

Python developers put a lot of work into making programs as effective as they can be. It's necessary to emphasize your skills using action verbs like designed or developed in your experience.

Try not to use an action verb multiple times. It helps your experience and achievements stand out when you use various action verbs to show uniqueness.
Predicted
Engineered
Steered
Implemented
Developed
Created
Architected
Led
Improved
Increased
Decreased
Spearheaded
For a full list of effective resume action verbs, visit Resume Action Verbs.
Resume Bullet Points From Python Developer Resumes
You should use bullet points to describe your achievements in your Python Developer resume. Here are sample bullet points to help you get started:
Overhauled the company's website by increasing graphics usage by 50% and mobile responsiveness by 100%; generated 70% more leads via email capture forms, reduced bounce rate by 20%
Led 2 business analysts to automate repetitive process flows using Excel Macros / VBA and reduce analysis time by 10+ hours per week
Developed web scraping program in Python to help the firm download public data, including over 10,000 company descriptions and stock quotes, enriching internal data and increasing research efficiency by over 50%
Enabled integration with existing systems by creating tool that extracts metadata from images and provides metadata to a system-wide search database.
Created Monte Carlo simulation using Pandas (Python) to generate 30,000 sample portfolios with 8+ constraints
For more sample bullet points and details on how to write effective bullet points, see our articles on resume bullet points, how to quantify your resume and resume accomplishments.