As a scrum master, you are the key to ensuring that product sprints go smoothly. You are vital to helping the product owner of the scrum team to understand and clearly outline the priorities and values in any given project, while overseeing the development team to make sure the project is successfully delivered. You mediate stand-ups and coach the development teams to make sure everyone is on the same page to complete the project.

Scrum masters are within the same realm as project managers, so there will be a similar job outlook for them. The expectation for growth within the field can be up to 100,000 new jobs by 2029, depending on the industry the position is in.

As with all project-related functions in a business, you'll want to make sure your resume is full of qualitative and quantitative examples of past projects. Relevant skills and accomplishments are a perfect pair to get yourself an interview in this competitive field.

Now onto the good stuff: what do successful scrum master resumes look like today in 2021? Let's dive in with five, strong templates that show your experience off. Then, we'll take a look at necessary skills for scrum masters to stand out and check out a list of recommended action verbs to tie a beautiful bow on your resume.
Scrum Master Resume Templates
Scrum Master Resume Sample
Experience is often what makes you stand out from the crowd. This scrum master resume has a strong focus on said experience with an impressive summary and all attention on previous roles. The skills, education, and other sections are an added bonus that complement your experience as a scrum master in your past positions. Let's take a look at what this scrum master does right to stay competitive in 2021!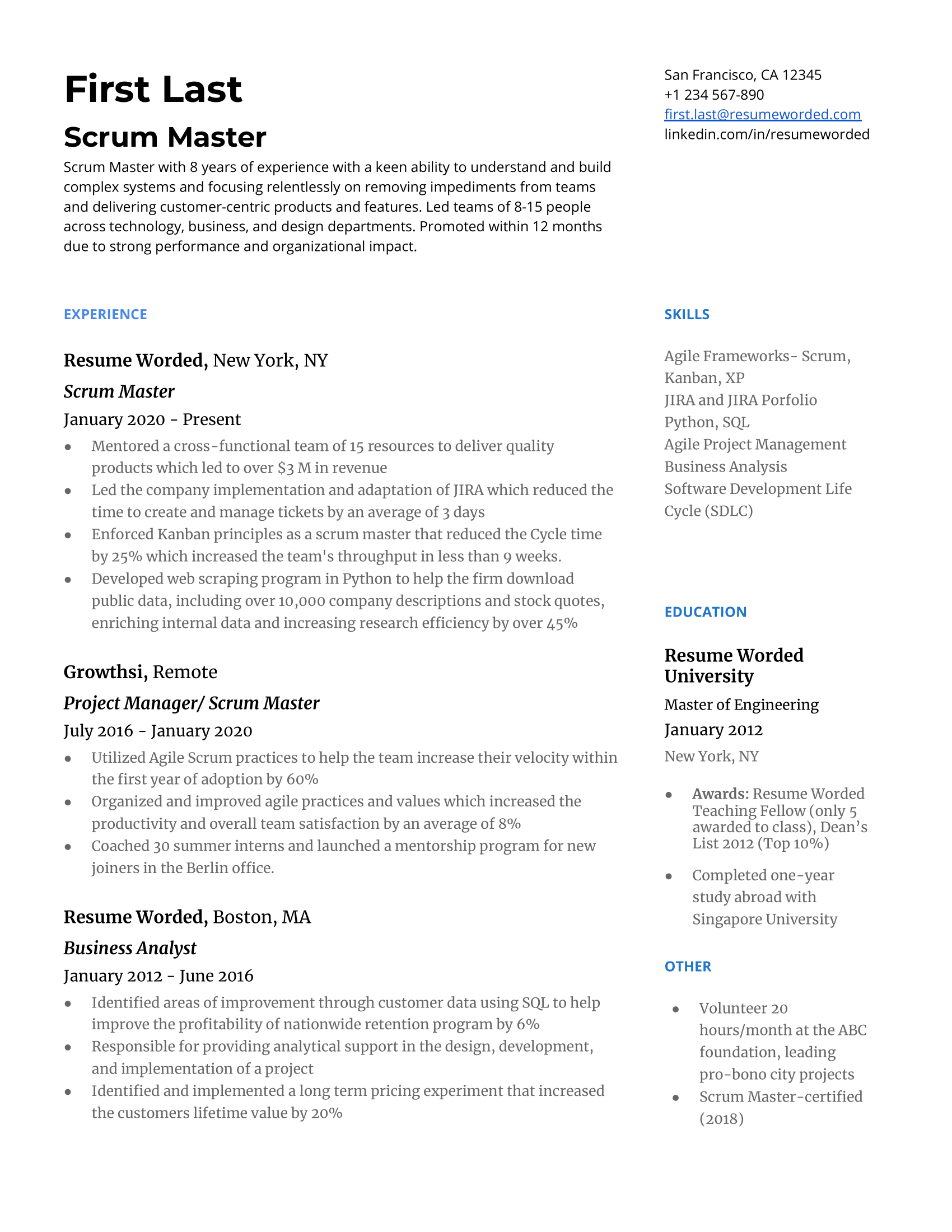 Recruiter Insight: Why this resume works in 2021
Agile Scrum Master Resume Sample
An agile scrum master is a more specialized version of a regular scrum master, and some familiarity and experience helps. This agile scrum master resume shows first-hand experience in the role of an agile scrum master, alongside a history of project management. The cherry on top is the other sections, which demonstrate a relevant education and transferable skills, specifically in relation to working with Agile.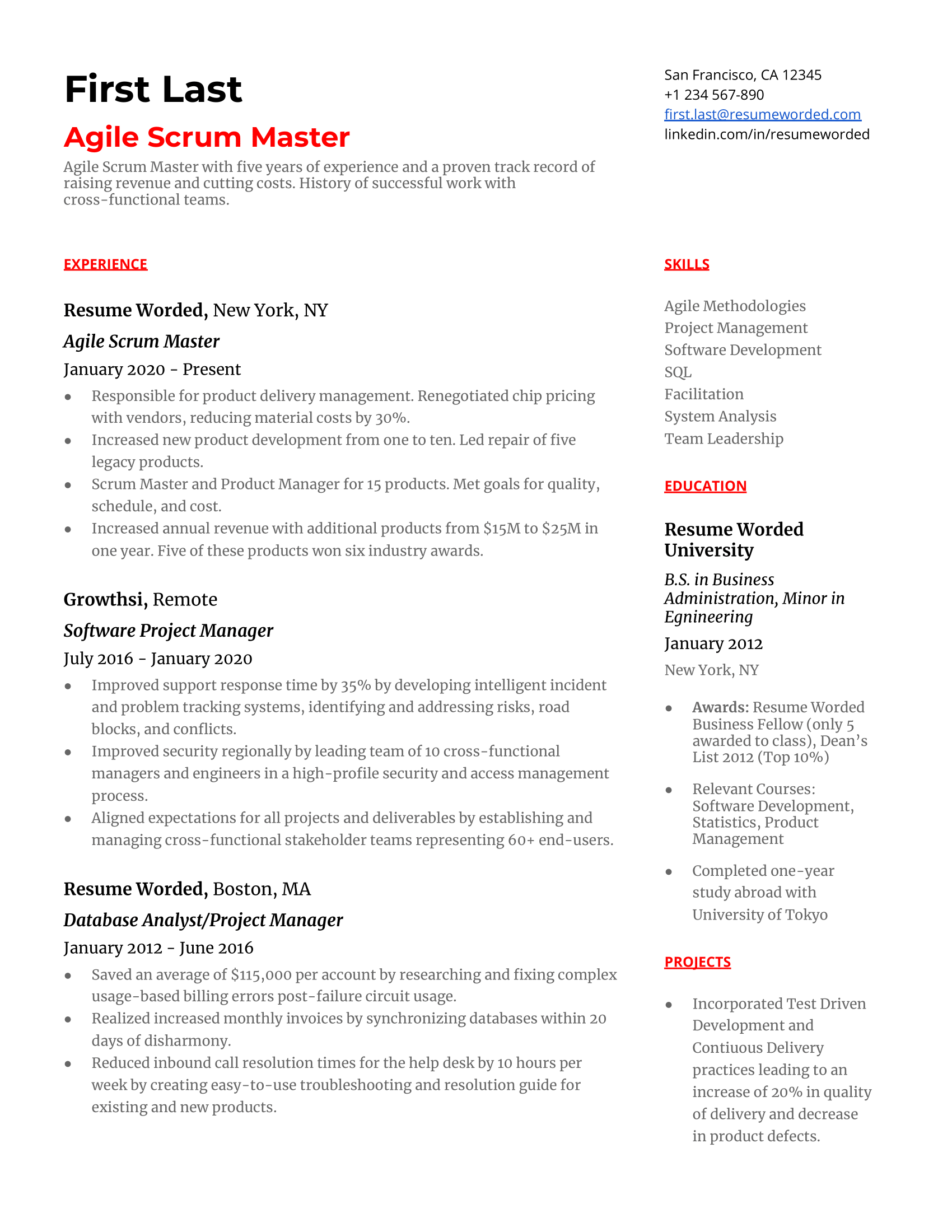 Recruiter Insight: Why this resume works in 2021
Entry Level Scrum Master Resume Sample
Just because you're fresh out of school (congratulations!) or you're looking to change your career, it doesn't mean that you don't have a chance to get into a company as an entry level scrum master in 2021. This resume template does a great job by showcasing your education and spotlighting your relevant internship and project experience in school to stand out from the crowd.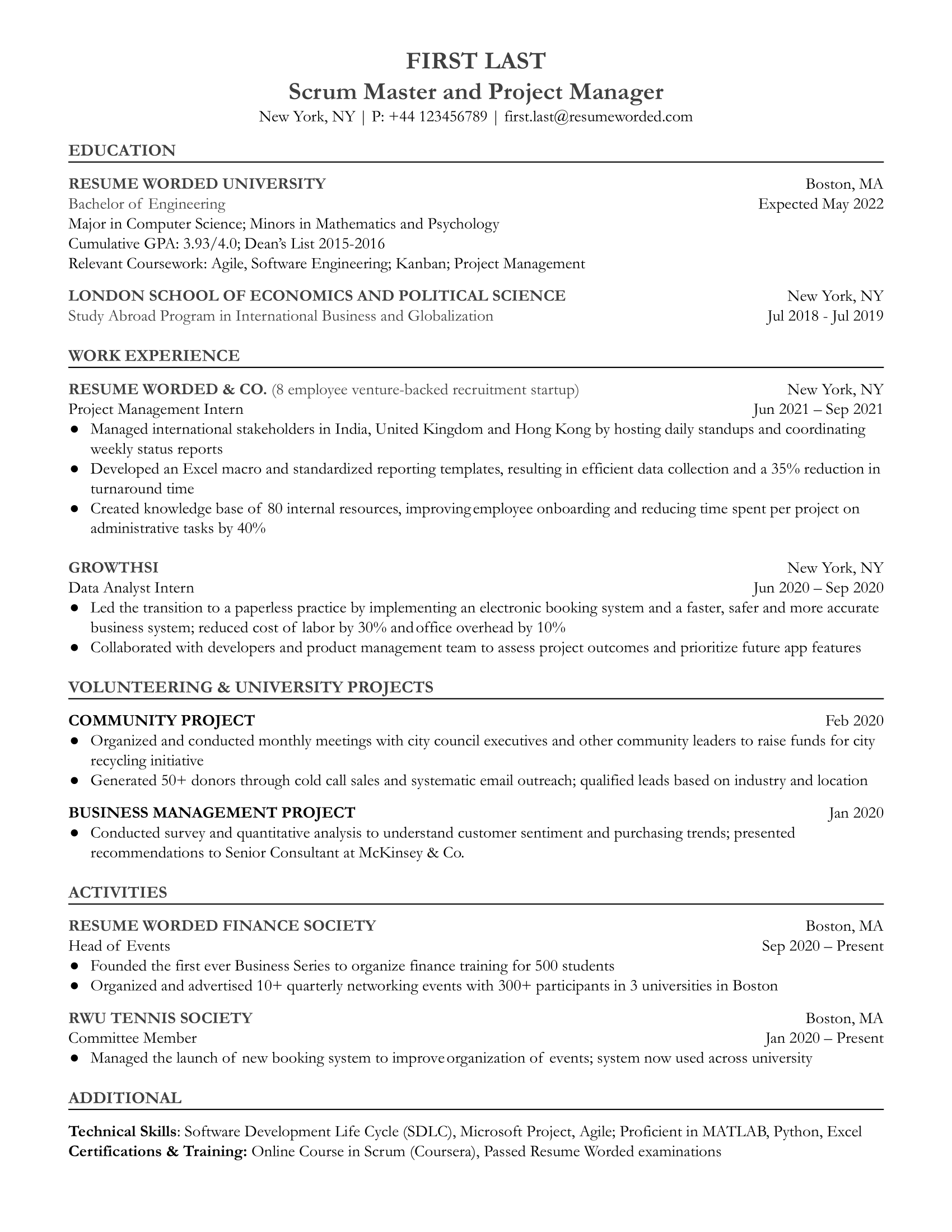 Recruiter Insight: Why this resume works in 2021
Senior Scrum Master Resume Sample
As a senior scrum master, you're, well, a master of your craft. You've been through the scrum process more times than you can count and want to continue to do what you do best. This senior scrum master resume has a compelling emphasis on previous project experience with impressive numbers to back you up.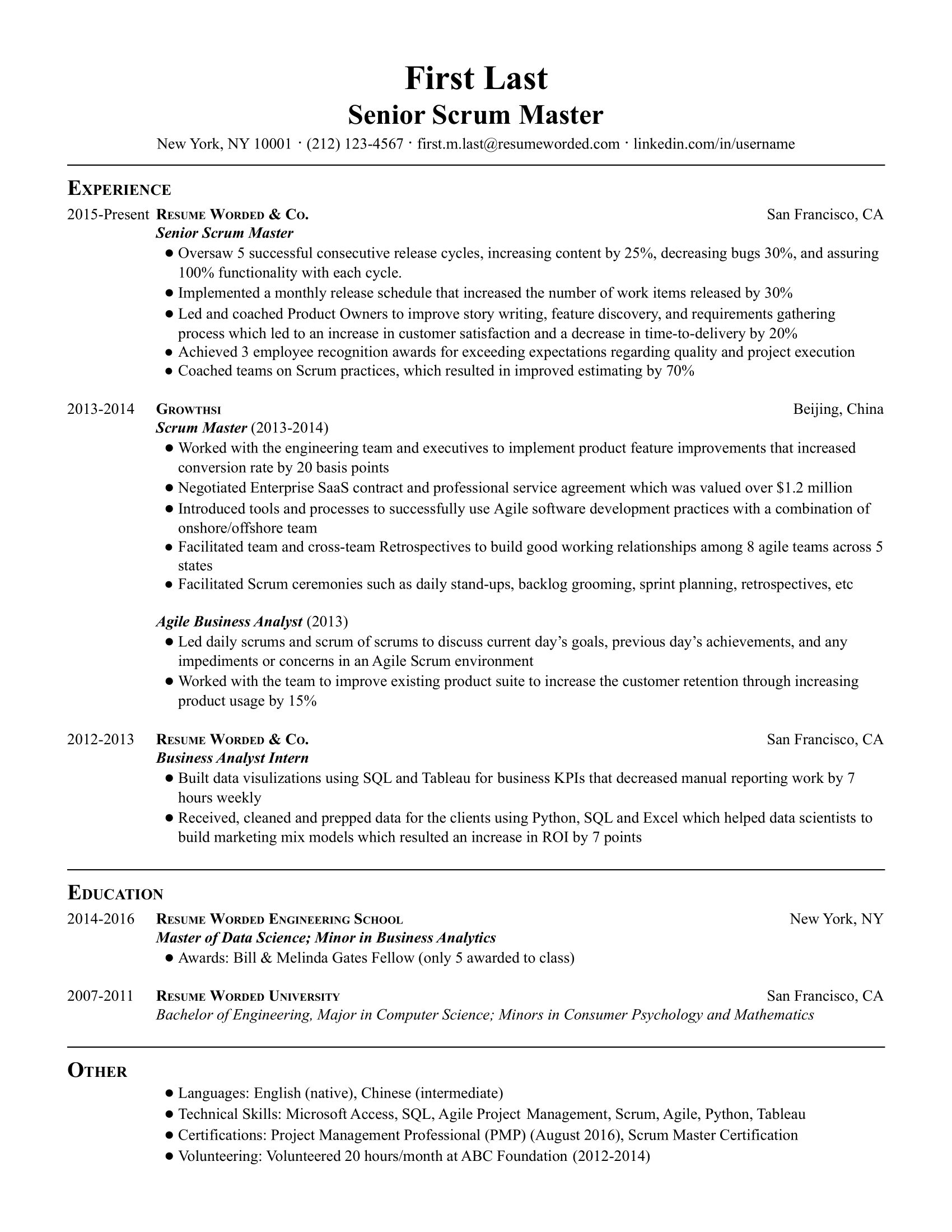 Recruiter Insight: Why this resume works in 2021
Agile Coach Resume Sample
Agile coaches are a vital part of implementing and streamlining Agile processes for a team, company, or both. They'll teach Agile best practices, integrate new teams within existing non-Agile processes, and measure results of the implementation. This agile coach resume highlights your experience with Agile, coaching, and leadership. As a specialist in everything Agile, check out this agile coach resume template on how to catch the recruiter's eye in 2021.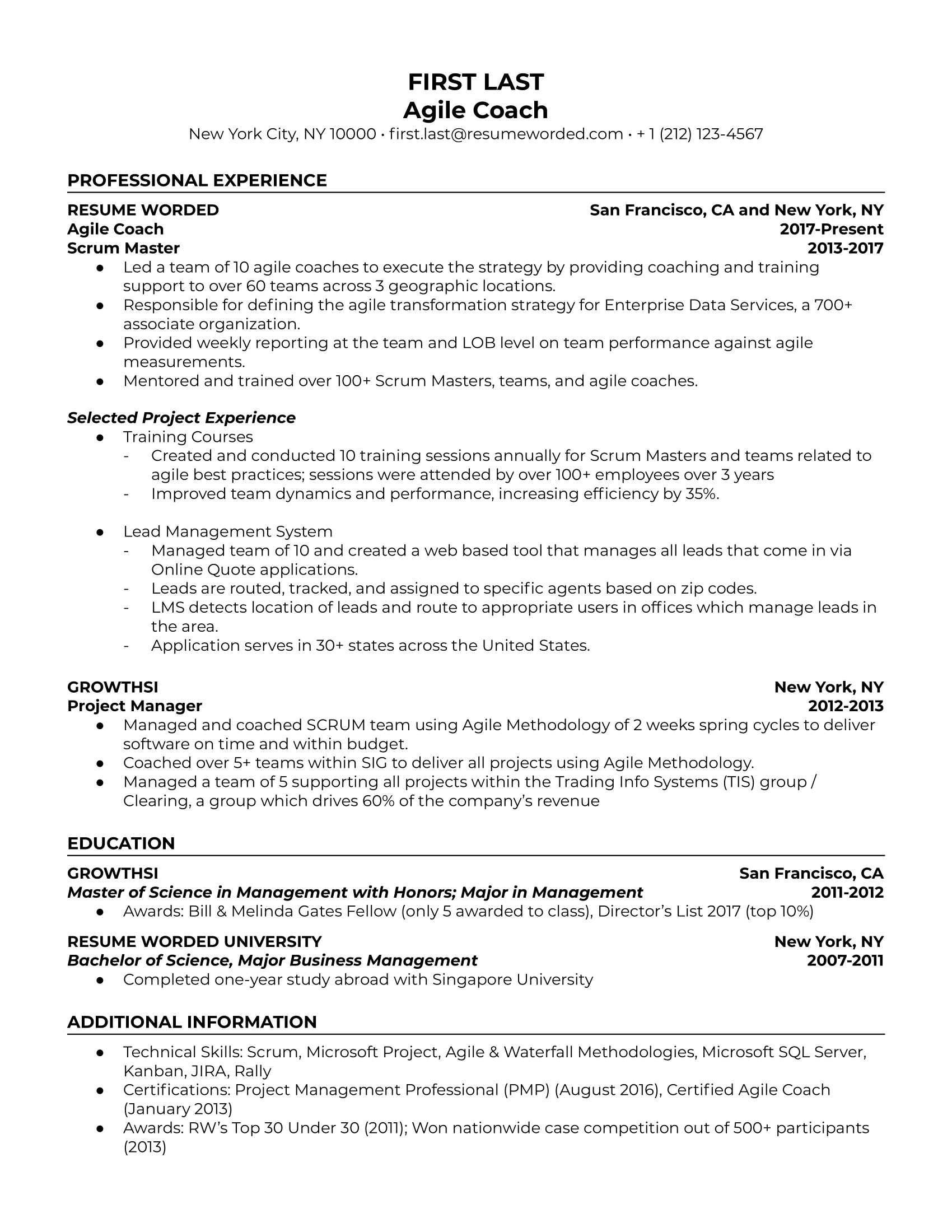 Recruiter Insight: Why this resume works in 2021
Skills For Scrum Master Resumes
Skills are important for any job, but especially for a scrum master. You'll want to make sure to carefully comb through the job description, responsibilities, and required criteria to get past the company's dreaded applicant tracking system (ATS). This software is used by companies in order to filter out resumes that don't fit the guidelines that they're looking for. Make sure to use keywords from the job posting in your resume to beat the system!

To help you get started, here's a list of curated keywords and relevant hard skills for a scrum master. These skills are transferable and it's crucial that you only list skills that you have. The skills that you offer can additionally be supplemented by your work and project experience — if you used Python or Agile for your past projects, don't forget to mention it in your work experience as a specific example.
Scrum
Agile Methodologies
Jira
Agile Project Management
Scaled Agile Framework
Kanban
Software Development Life Cycle (SDLC)
Sprint Planning
Servant Leadership
Agile Leadership
Agile & Waterfall Methodologies
Confluence
User Stories
Requirements Analysis
CSM
Software Project Management
Business Analysis
Rally
Software Development
Requirements Gathering
Scrum Master Resume Tips
Scrum masters are team players and work to keep the team environment clear of obstacles. They coach others about scrum, Agile, and coordinate with project managers and owners to keep the project running as smoothly as possible. Scrum masters are experts at communication and keeping the team on track without any distractions to get the job done as efficiently as possible.

With that out of the way, let's talk about some important tips to get your scrum master resume noticed by a recruiter in 2021:
Action Verbs For Scrum Master Resumes
Action verbs bring your resume to life. Instead of using boring starters like "responsible for" or "worked on," you'll want to begin every bullet point with a bang. Otherwise, you run the risk of sounding like you did the bare minimum for your job and merely followed the basic standards of the role.

Your expert use of action verbs in your vocabulary offers a creative first impression to the reader of your resume. Since scrum masters are responsible for making sure the team is a well-oiled machine and driving productivity to complete projects, you'll want to let the recruiter know what you actually accomplished with powerful verbs like "initiated," "strategized," "pioneered," and more. If you want to spark interest and excitement, make sure to enlist the use of these words.
Motivated
Liased
Reconciled
Instructed
Redesigned
Streamlined
Investigated
Redesigned
Improved
Streamlined
Revamped
Unified
Managed
Systematized
Generated
For a full list of effective resume action verbs, visit Resume Action Verbs.
Resume Bullet Points From Scrum Master Resumes
You should use bullet points to describe your achievements in your Scrum Master resume. Here are sample bullet points to help you get started:
Organized and improved agile practices and values which increased the productivity and overall team satisfaction by an average of 8%
Managed international stakeholders in India, United Kingdom and Hong Kong by hosting daily standups and coordinating weekly status reports
Led multi-disciplinary 7 person team to design, develop, and launch online e-commerce store; prioritized and resolved 45+ new features and bug fixes
Managed a 10-member cross-functional (engineering, product, sales, support) team and coordinated with five business partners towards the successful launch of an e-commerce website
Collaborate with developers and product management team to assess project outcomes and prioritize future app features
For more sample bullet points and details on how to write effective bullet points, see our articles on resume bullet points, how to quantify your resume and resume accomplishments.