Good certifications are worth more than the paper they're written on. Some are actually required before you can even apply for a job, while others are simply concrete proof of your skills. Either way, the right qualification can make or break a resume. We'll take you through exactly how to list certifications on your resume, including industry-specific qualifications to look into and where they belong on your resume.
When to include certifications on your resume (and when not to)
You should list certifications on your resume if:
It's a job requirement
Some jobs will ask for specific licences and certifications — sometimes, these are even legal requirements. If a job posting mentions a certification as a minimum requirement, you're unlikely to even be considered unless you include it on your resume. If it's in the "nice to have" section, it may not be as necessary, but listing it will still give you an advantage.
It gets you past ATS
If a certification is mentioned in the job description, chances are either a recruiter or an applicant tracking system (ATS) will be screening out resumes that don't mention it. Clearly listing certifications on your resume will prevent you from getting rejected automatically.
It establishes credibility
Even in jobs where a certification isn't strictly required, it can be a good way to demonstrate your skills. The more well-known or established the accreditation is, the more true this is. If you're working or moving into a field with an industry standard certification, it might be well worth pursuing.
You're changing careers
If you lack industry-specific experience, completing a short course or certification shows that you're committed to changing directions (not just resume spamming) and shows that you have the technical skills needed for the job.
You should leave certifications off your resume if:
It's not relevant to the job
Like anything on your resume, certifications should only be included if they're actually relevant. You may have studied for ages for that nursing certification, but if you're applying for a job in human resources, leave it off!
It's a very short course
Unless they're essential or deeply relevant, Coursera or similar courses that only take a few hours or days to complete aren't usually significant enough to belong on your resume. The same goes for most short-form professional development courses, unless it's deeply relevant to the job you're applying for.
The certification has expired
In the case of certifications that are only valid for a certain period (for example, CPR or First Aid certificates), don't list these on your resume if they're past the point of expiry — but do renew the certification if it's necessary for the job.
Got a certification that definitely belongs on your resume? Scroll down for a detailed guide to listing certifications on a resume.
How to list certifications
First things first: Here's how to list any certification on your resume.
List the name of the certification or qualification.
Include the name of the certifying agency or where you obtained it.
List the date you achieved the certification.
Include a location (if applicable).
Specify if the certification is still in progress. It's fine to list an in-progress qualification, as long as you add "in progress" or "expected [date]."
If the certification has an expiration date, make sure you include the dates of validity.
Use an ATS resume scanner to suggest industry-specific skills and keywords.
For tips specific to online courses, check out our detailed guide.
Not sure where to include them? Here's a guide to the best options for listing certifications on a resume:
In the education section of your resume
The education section of your resume is probably the most intuitive spot to include certifications, especially if they're particularly significant. List your entries in reverse chronological order, with the most recent qualifications first. If you're changing careers and don't have any other relevant experience, you may even want to include your education section at the top of your resume.
When to list a certifications in your education section: If you completed the certification very recently or it was part of an official degree program.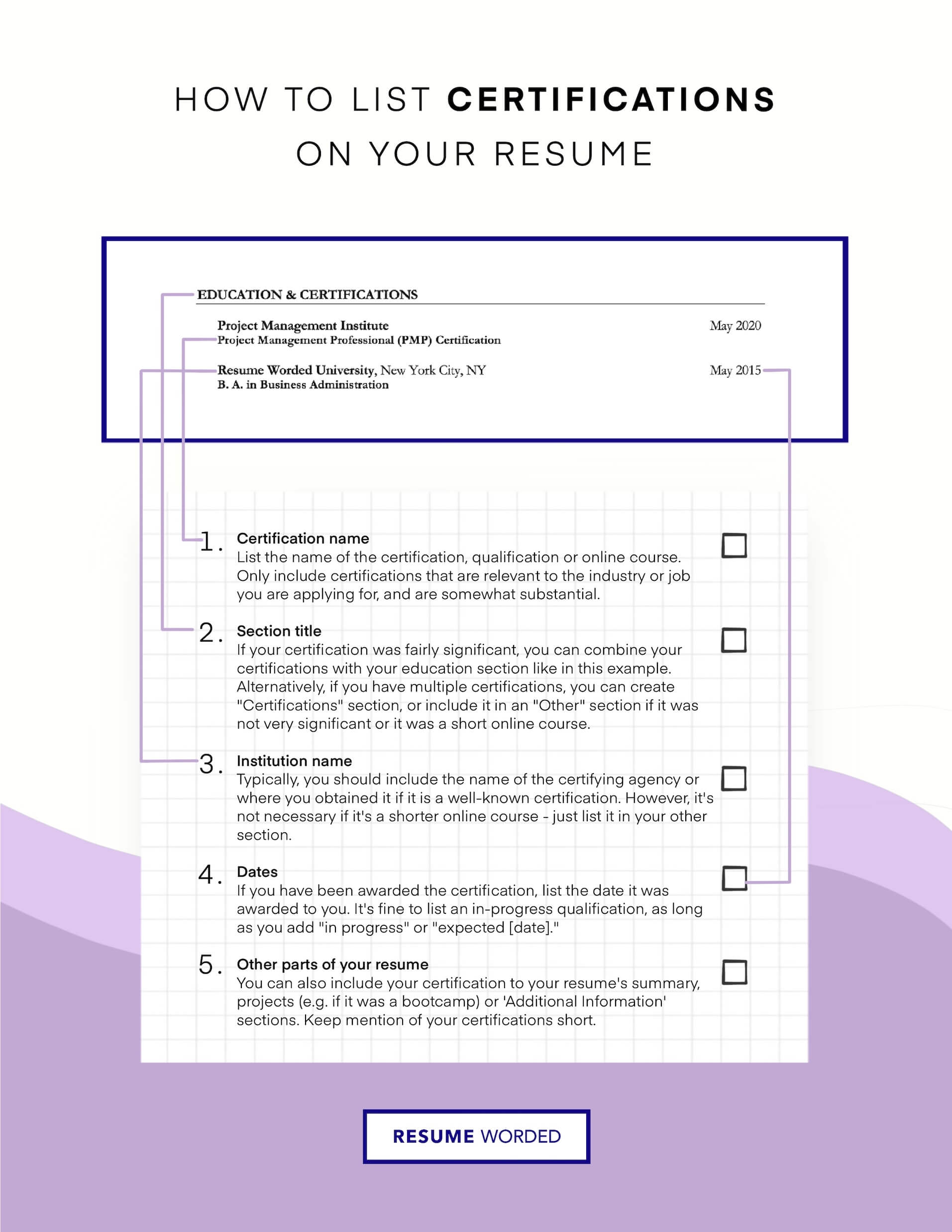 Listing certifications on your resume in the 'other' section
An additional information section is the perfect choice to avoid clutter on your resume. If you choose to include more than one or two certifications, list them on their own line alongside things like technical skills, awards, and language fluency.
Let's run through a few examples.
Here's an example of combining your certifications with other skill sets.
Here's another simple example of listing a certification, which mentioning who awarded it. Use this only if your certification is not widely known and the context of your certification could help.
When to list a certifications in an additional section: If you have more relevant work experience to emphasize first or you're running out of space on your resume.
As a separate resume section
As a rule, you shouldn't dedicate too much space on your resume to listing certifications — one of two lines should generally be enough. If you have several certifications and they're all relevant to the specific job you're applying for, you can create a dedicated certifications section to avoid cluttering up your resume.
When to list a certifications in a dedicated section: If you want to highlight multiple relevant certifications.
In your summary or header
If you want to draw attention to a particularly prestigious qualification or one that's essential to your role, you can mention it in your resume summary. This isn't the case for most certifications, so first make sure that it's actually a crucial job requirement and that it's a well-known and easily recognizable acronym, like PMP or HIPAA.
If your certification is part of the job title you are applying to, you can consider including it directly in your header. Here's an example of a Certified Nursing Assistant's resume.
When to list a certifications in your resume summary: If you want to emphasize an essential and/or particularly well-known qualification (including professional licences).
In a projects section
If your certification included significant project experience, consider listing it in a dedicated projects section. This can be especially helpful if you're moving into a new field and don't have a lot of relevant work experience. Projects can help bridge the gap and include hands-on experience — for example, if you're new to software engineering, listing a project on your resume is a good way to demonstrate how you've used your skills in a professional setting. Remember to list projects the same way you would any other experience, starting with an action verb and using numbers and metrics where possible.
When to list a certifications in a projects section: If you gained the qualification as part of a side project.
If you're not sure if you've listed your certifications the right way, upload your resume to the tool below — it'll scan your resume and give you detailed feedback and suggestions on how to improve your resume sections. It is also a good way to check if your resume is readable by Applicant Tracking Systems (ATS).
How to find relevant certifications
Where to look for certifications to include on your resume
As with most skills on your resume, the best place to start looking is the job description itself. If you have any of the qualifications mentioned, list them clearly and prominently.
Our comprehensive database of skills and keywords allows you to search for a specific job and instantly pull up the skills you should be listing on your resume, including common certifications.
Network! The most reliable source of information is usually other people working in the industry. If you're new to the field or changing careers, this step is extra important — our tips on how to ask for an informational interview will help you get started.
Another way to find skills and keywords for your resume is by using the tool below to search for the job you're applying for. It'll give you a list of relevant skills and keywords.
Recommended certifications by industry
Depending on your industry, there may be a set of common (or sometimes essential) certifications it would be helpful to pursue.
Common Project Manager certifications include Project Management Professional (PMP), Prince2, and Lean Six Sigma.
Human Resources jobs may require Professional in Human Resources (PHR) or Society for Human Resource Management (SHRM) certification.
There's no shortage of in-demand Information Technology and Engineering qualifications. Some of the best are AWS Certified Solutions Architect, Certified Information Systems Security Professional (CISSP), Information Technology Infrastructure Library (ITIL), CompTIA A+, Cisco, Google Cloud, and Microsoft certifications.
Product owners and Developers may want to pursue Agile and Scrum certifications.
If you're an Accountant, you may need a Certified Public Accountant (CPA) or Chartered Financial Analyst (CFA) certification.
Programmers can show off their skills with an Oracle Java, Microsoft Certified Solutions Developer (MCSD), and EC-Council Certified Secure Programmer (ECSP) certifications — but when it comes to most programming languages, a good GitHub profile is far more valuable than specific certifications.
Nurses and other Healthcare professionals may need a Certified Patient Care Technician (CPCT) or Certified Clinical Medical Assistant (CCMA) certification.
Business professionals may want to pursue a Certified Business Analysis Professional (CBAP) or APICS Certified Supply Chain Professional (CSCP) qualification.