Several decades ago, most people spent their entire working lives in one industry. But in recent years, shifting between different jobs and fields has become the norm, with nearly 50% of workers saying they've changed careers at least once in their lives.
If you're looking to make a major career change, you might have all kinds of questions about how to pull it off. What if you're a law enforcement officer looking to pursue an IT career, or a high school teacher with dreams of becoming a pastry chef? How do you find work in a completely new field?
Assuming you have the relevant education for the job you want, your best bet is to craft a resume that tells your story and highlights your most relevant and transferable skills. No matter what your ambitions are, a strong resume is an invaluable tool that can help ease your transition into a new line of work.
A resume example for career changers
Before we dive into exactly what recruiters want to see in your resume, here's a sample career change resume template that you can use as a foundation to get started, with some key tips you should keep in mind: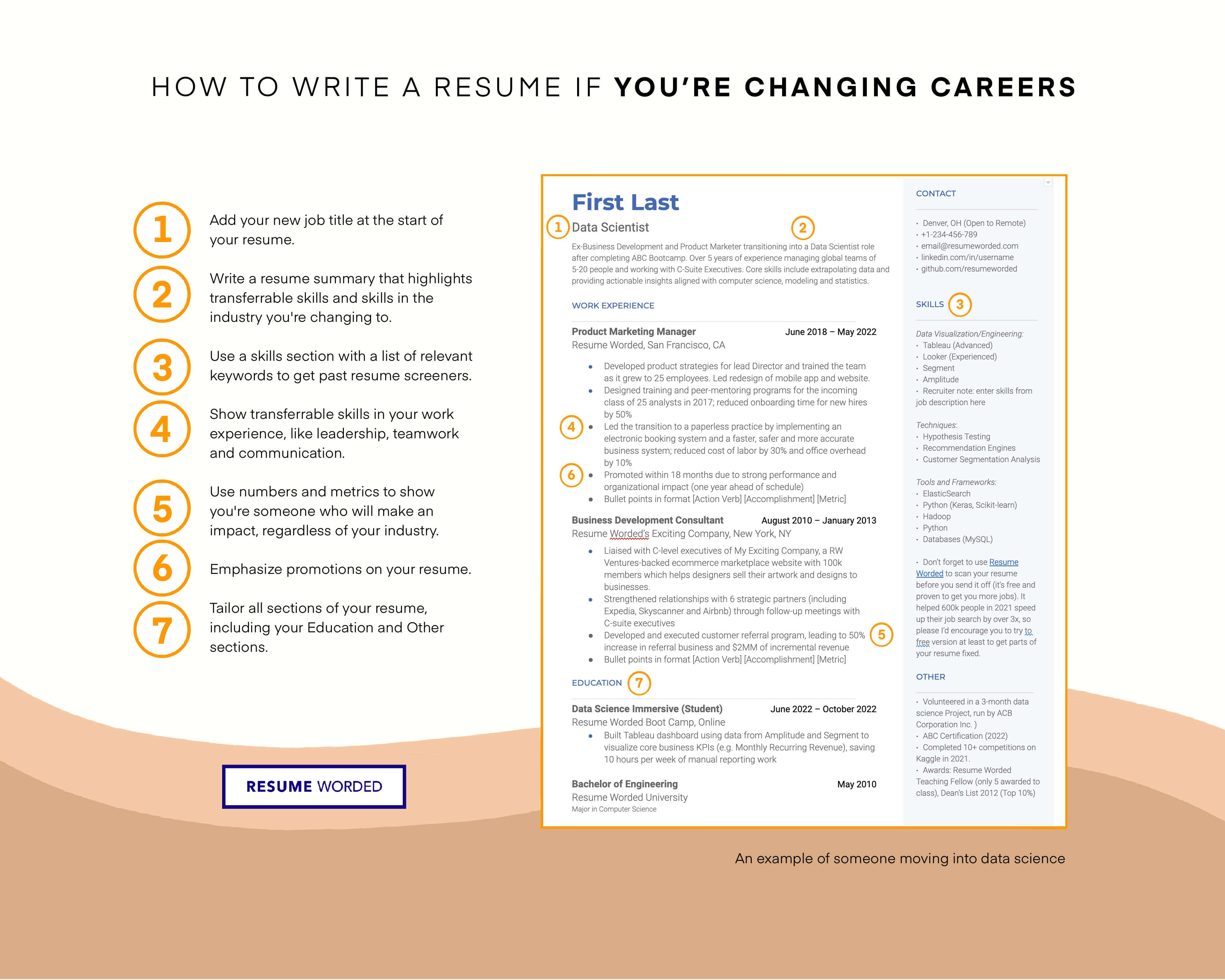 You can download this career change resume template from our Data Scientist Resume Examples page, which has this template.
How to write a career change resume
If you're revamping your resume to prepare for a career change, there are a few steps you'll need to consider:
Decide what resume format to use -- chronological, functional, or hybrid.
Write a career change resume summary.
Optimize your work experience to highlight relevant accomplishments.
Emphasize transferable skills.
List any relevant courses or qualifications.
Include projects and volunteer work to highlight relevant skills.
Address the career change in your cover letter.
The best career change resume format
As a career changer, you can choose between updating your existing resume or starting a new one from scratch. In either case, you'll want to be strategic about how you format your resume. Let's take a look at the most popular resume formats and some of their pros and cons.
Chronological resumes
In this classic resume format, you detail your work history in chronological order, starting with your most recent experience. Chronological resumes are the favorite of hiring managers because they are clear and easy to read. They also do a great job of showing how a candidate's career has progressed over time.
When you're looking to change careers, a chronological resume format can be effective as long as your work history is tailored to your new role. Especially if you're moving into a new industry, you should mention bullet-point examples of achievements that show relevant skills for the job you want.
Functional (skills-based) resumes
Functional resumes draw attention to your skills, education, and achievements outside of the professional sphere. Although you might list your work experience, it would typically fall towards the bottom of the document, and it may or may not include your dates of employment.
This format de-emphasizes your work history, so it's a popular choice for recent graduates and people with employment gaps. However, we recommend you do not use a purely functional resume format. At best, it's vague and gives hiring managers little information; at worst, it looks gimmicky. Needless to say, it's not a great look for a job candidate.
Hybrid or combination resumes
A combination (or hybrid) resume follows a mostly chronological pattern while still emphasizing your summary, skills, education, and achievements. This type of resume is an alternative for career changers -- it tells hiring managers that you have prior work experience (even if it's in a different industry) while also showcasing your transferable skills.
Include a resume summary for career changers
Although we don't always recommend including a summary on your resume, it can be a smart strategy for career changers. A well-written resume summary can help explain your career change by providing more context and background information about you. It may help recruiters connect the dots between your prior work experience and the new type of work you want to do.
What should you say in your summary? Basically, your goal is to give hiring managers an overall picture of your background and experience in two to six lines of text. If possible, you should also mention one or two of your most notable achievements -- especially if they're relevant to the job you're seeking.
If you're new to writing a resume summary, you can model yours after the following general template -- just remember to personalize the blank fields with your information:
Former [Current Job Title] transitioning into a [Desired Job Title] position after [earning relevant degree or certification]. Proven track record of doing [X, Y, and Z transferable skills]. [Summarize a major achievement in the format of Action Verb + Accomplishment + Metric].
So how would this template look in real life? Here's an example:
Former Human Resources Manager transitioning into a Mechanical Engineering position after earning a Master of Engineering degree in 2021. Proven track record of working successfully on teams, developing new organizational processes, and sound decision-making. In most recent role, designed and implemented new training programs and benefits packages that improved employee retention by 35%.
Read More: How to write a resume summary if you're changing careers
Optimize your work experience section
Your work history is one of the most crucial parts of your resume -- and it's one of the first sections recruiters will want to read. Here are a few ways you can maximize your work experience section as a prospective career changer:
Always use bullet points
On any resume, when writing about your previous work experiences, you should always include brief bullet points that illustrate your accomplishments. Provide specific examples of what you achieved in your past roles, and when possible, quantify those examples with specific numbers, as in the examples below:
Implemented new training initiatives for retail associates that increased quarterly sales by 35%
Wrote and published 10 articles on company blog, boosting company website traffic by 50% over 6 months
Bullet points make it easy for recruiters to scan your resume and find the information they're looking for. For maximum impact, they should be rich in details and data to support your claims about your abilities.
Tailor your resume to your new role or industry with keywords
Your resume should be as specific as possible to the job you're after -- don't simply create one resume and send it to every job opening you can find. Make sure you read through the job posting thoroughly, take note of the hard and soft skills they're seeking, and address those specific skills in your resume. Not only will a well-tailored resume impress the hiring manager, it's also more likely to make it past resume-scanning services (such as ATS).
The most accurate way to make sure your resume is well tailored to the position you're applying to is to use Targeted Resume -- this will analyze your resume and the job description you're applying to, and will tell you what your resume is missing.
Emphasize accomplishments that relate to your desired position
This is one mistake career changers make frequently; they highlight achievements or skills that aren't relevant to the industry they're trying to break into.
Always spin your bullet points to highlight skillsets that your new role or industry are looking for, e.g. if you're breaking into marketing from a customer support role, highlight your experience creating marketing materials or communicated with customers to improve sales, instead of communicating with customers to just solve customer support queries (We have an entire article devoted to bullet-point writing because we know it's such an essential skill!).
Read more: How to list your work experience on your resume
Emphasize your transferable skills
When you're changing careers, you might feel like the work you've done in the past isn't relevant to the work you want to do. But actually, if you've been working for any length of time, you probably have all kinds of skills and experience that could be useful in your new line of work.
If you have relevant hard or technical skills, you may want to list those in a separate skills section. Soft skills (such as communication and leadership) are a different story -- simply telling recruiters that you're a great leader isn't terribly meaningful. It's much more effective to illustrate those leadership skills through specific bullet-point examples.
Here are a few more examples of bullet points that demonstrate soft skills:
Teamwork: Collaborated with community outreach team to organize monthly fundraising events; raised over $50,000 in donations within three months.
Initiative: Overhauled service delivery processes, leading to a 70% increase in customer satisfaction.
Read more: How to include soft skills on your resume
List any relevant courses or qualifications
It's also wise for career changers to list relevant education or certifications on their resumes. You may not need to go back to school unless you're trying to enter a specialized field (such as law or medicine), but if you haven't done previous coursework in your new field, you might want to take a quick class or two to give you a jump start in your new career.
Jobs in certain fields -- such as project management, human resources, IT, or finance -- might also require you to have certifications. If you complete those certifications and list them on your resume before applying for jobs, potential employers can see that you're serious about your new choice of career and that you've already taken steps to make it happen.
Read more: How to list certifications on a resume
Include projects and volunteer work to highlight relevant skills
If your work history is more sparse than you'd like, or if your job experiences don't adequately reflect your relevant skills, you can also showcase other projects that you've done. Projects are an excellent way for career changers to show hiring managers that they have practical skills for the new role and give you the opportunity to include keywords for the new job into your resume.
Let's imagine that you are seeking a job as a software developer, and you spent one month last summer developing a phone app for ordering groceries online. Here's how you might showcase this project on your resume:
InstaGrub
Developer | GitHub link: https://resumeworded.com/blog
- Technologies used: Python, Redux, PostgreSQL, Express.js
- Designed architecture and user interface of mobile app for grocery delivery
- Enabled users to purchase food from 15+ grocery store chains
The same can be said for volunteer positions. Volunteering may not always be financially realistic, but if you're able to do it, you can build experience and get your foot in the door in a new area of interest. It also shows recruiters that you are committed to your new chosen field -- that you're applying for jobs with intention and purpose, and not simply firing off your resume to random job postings.
Read more: How to list projects on a resume
Address the career change in your cover letter
You should seriously consider writing a cover letter for every job application you submit -- even those that don't specifically ask for one. A cover letter is a great way to make a strong initial impression on a hiring manager and provide more background on your career transition. It also enables you to create a more tailored application.
Read more: Sample cover letters
Frequently Asked Questions
Do employers care about previous unrelated experience?
Yes and no. If you have some experience (including volunteer work, projects, or education) that relates to your new field, it's okay to leave off older work from your previous career. Remember that your resume doesn't have to provide a complete picture of your work history – instead of trying to cover everything, focus on those experiences that are most relevant to the job at hand.
If you lack any relevant experience or qualifcations, then yes, it's a good idea to leave your previous work history on your resume. You can also keep the focus on the more relevant parts by splitting up your work history, for example into "Relevant Experience" and "Other Experience" sections.
What other information should I include?
We've covered the essential sections that your resume needs to have -- namely, your summary, work experience, relevant education, hard skills, and other projects. Some job seekers like to include other sections such as language proficiency and interests; feel free to include this information as long as it relates to the job and enhances your application. If it's not relevant, it's best to leave it out.
I'm struggling to get started – do you have any other tips for career changers?
In a word: Networking! Take some time to reach out to people you already know in your new field. Find events and ways to meet new people, connect with them on LinkedIn, or set up informational interviews. The more people you know, the easier and faster it will be to launch your new career.