"This role requires excellent written and verbal communication skills."
If this line looks familiar, that's because it's on nearly every job description. It's kind of a no-brainer — nearly every job requires some form of communication, so of course employers want to see evidence of those skills on your resume. The trick is, how do you convince a hiring manager you have what it takes based on your resume alone?
Communication is a soft skill, which means the do's and don'ts of listing it on your resume are simple.
Don't: List it in your skills section or write in your cover letter that you have "excellent communication skills."
Do: Include accomplishments that involve communication skills.
Let's get into the details of how to do this.
How to demonstrate communication skills on your resume
You likely already know that soft skills like communication require a "show, don't tell" approach on your resume. But what does that mean in practice?
Firstly, if you have "communication skills" listed point-blank anywhere on your skills section, resume summary, or cover letter, get rid of it now.
Listing soft skills as objective fact without any evidence is a massive red flag — no recruiter is simply going to take your word for it, and soft skills won't help you get past the all-too-common ATS (Applicant Tracking Systems).
Instead of talking about what your skills are, focus on how you've used them. This could be at past jobs, in volunteer roles, or even in your education or personal projects.
Steps to demonstrating strong communication skills on your resume
Here are the high-level steps of listing communication skills on your resume — we'll get into the details in the rest of the article:
Remove vague words like "communication skills"
Review the job description to identify the kinds of communication skills the job is looking for (e.g. presenting, influencing, managing or written communication)
Use strong action verbs which show strong communication, like "Communicated" or "Influenced"
Use strong bullet points in your professional experience to show you have actually developed your communication skills
Highlight skills which show strong communication, like languages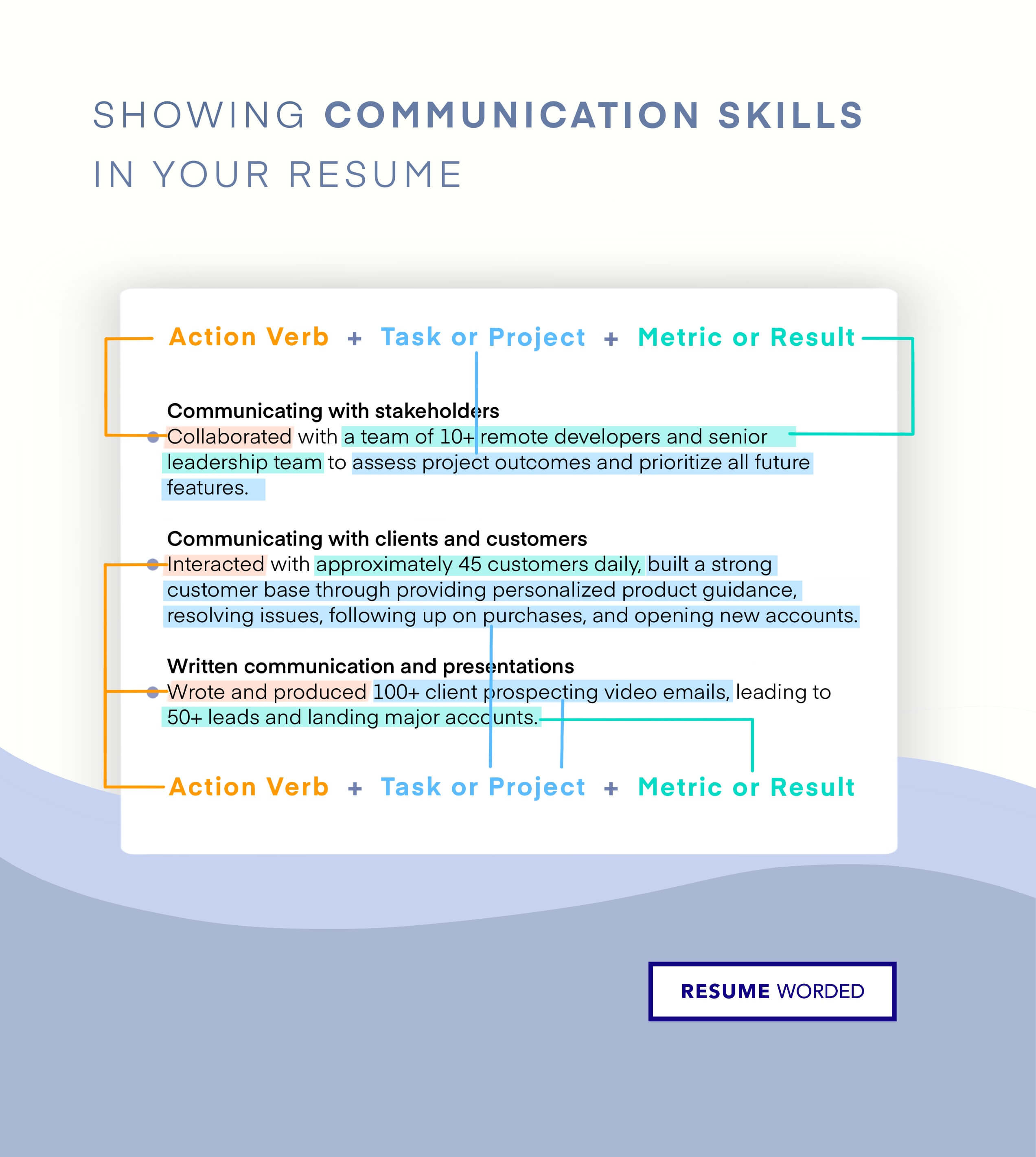 Use strong action verbs
Your resume bullet points should focus on what you did, which means using relevant action verbs to highlight your communication skills in action.
Verbs like Influenced, Directed, Negotiated, and Presented all illustrate a different type of communication skill, so use the ones that are most relevant to the job you're applying for.
Follow it up with a concrete example of when you've used that skill — at work, in a project, or during your education — and use hard numbers and metrics to demonstrate the end result of your actions.
Finally, upload your resume to a free resume checker to find out how you score and get personalized suggestions on how to optimize your resume.
In your professional experience
The work experience section of your resume is the best place to list communication skills. You don't need to have worked in a communication-heavy role to do this — every job uses communication skills. Using the job description as a starting point, identify what kind of communication skills the position requires and address each one with a bullet point accomplishment.
Education, projects, and activities
If you don't have a lot of paid work experience, or you're struggling to pull out examples of communication skills, that's okay. Personal or academic projects and extracurricular activities can be used to show off communication skills, especially if you're a current student or recent graduate.
Use action-focused bullet points for these, too, and include metrics wherever possible.
In your skills section
You shouldn't list communication skills in the skills or additional sections of your resume — with a few exceptions. One of these is language proficiency, which is a hard skill that can be included in a simple skills list.
List hard communication skills like language fluency in the skills or additional section of your resume.
In your cover letter
Showing most soft skills on a resume is difficult because there's no way for hiring managers to evaluate those skills for themselves. Communication is partly an exception to this rule — your resume itself, and in particular your cover letter, is a direct example of your written communication skills. If you're trying to sell yourself as an excellent communicator, make sure your application materials and any other communications are well-written, succinct, and completely error-free.
Examples of communication skills
Now that you understand the basics, here are some examples of accomplishments that demonstrate communication skills and look great on a resume.
Feel free to use these as a template for your own bullet points, or as a concrete example of what works when listing soft skills like communication on a resume.
Communicating with stakeholders
Collaborated with developers and product management team to assess project outcomes and prioritize future all features.
Your job doesn't need to involve writing or public speaking to require good communication skills. If you work closely with other people in any way, you'll need to be able to communicate effectively. If you're applying for a job that involves working within or across teams, include at least one bullet point that highlights something you've accomplished as part of a team.
Leading meetings
Managed international stakeholders in India, United Kingdom and Hong Kong by hosting daily standups and coordinating weekly status reports.
Being on the same page as the people you work with — whether that's your boss, coworkers, clients, or stakeholders — is essential. Show your ability to communicate by including an accomplishment that demonstrates your ability to manage personnel, host meetings, or coordinate reports and other correspondence.
Communicating with clients and customers
Interacted with approximately 45 customers daily, built a strong customer base through providing personalized product guidance, resolving issues, following up on purchases, and opening new accounts.
If the role you're applying for is customer-facing in any way, recruiters will be looking for evidence that you can solve problems and manage a wide range of customer interactions.
Communicating with clients in a sales role
In a sales-based role, your accomplishments should not only show your ability to communicate well, but examples of how this has positively impacted your company, like increasing sales or building a larger customer base.
Maintained and solidified 5+ account relationships with daily communication with buyers.
The key to making any accomplishment more impressive is including clear metrics. Building relationships is a valuable skill in many roles, but don't forget to include what you did to maintain those relationships or mention the size and context of those relationships — for example, how many clients you managed or the size of the team you led.
Running social media campaigns and branding
Directed 10+ social media campaigns for RSP clients in Facebook, Twitter, and Instagram.
Social media is an increasingly in-demand skill, but it requires more than just the ability to create a Facebook account. If you're aiming for a position that involves social media, online marketing, or brand management, include an accomplishment that details how many social media campaigns you've run, what platforms you've used, and any positive results of those campaigns.
Written communication and presentations
Wrote and produced 100+ client prospecting video emails, leading to 50+ leads and landing major accounts.
When hiring managers skim your resume, they aren't just looking for evidence of your skills, but for some indication of what you can bring to the company. Including hard numbers — like the number of marketing emails you wrote, new leads you generated, or major accounts you landed — is the best way to show the outcome of your communications skills, which is far more important than the skills themselves.
Why communication skills are important
Communication is almost like a hidden skill — you use it all the time, but rarely notice it. In some jobs, the need for clear communication is obvious, like if the position involves a lot of writing or public speaking. In others, it's more subtle, but things like taking direction, working with colleagues or clients, and reporting on the results of a project all involve clear communication.
Types of communication skills
Not sure what the recruiter wants to see when they mention communication skills? The best place to start looking for skills is always the job description itself, but here is a list of commonly sought-after communication skills you might want to consider including on your resume:
Speaking and listening
Presenting
Negotiating
Teamwork and relationship building
Sales and pitching
Business writing
Social media
Visual communication
Marketing copy
Giving and accepting feedback
If you're looking to get more specific, check out our list of skills and keywords worth including on your resume, broken down by your industry and job title.