"I excel at negotiation …"
Chances are, if your resume or cover letter includes a line like that, it's already in the 'no' pile. Why? Because negotiation is a soft skill, which means you can't just list it on your resume like it's a fact. Without proof to back it up, 'negotiation' is just an empty buzzword — and recruiters want facts, not biased statements.
So, how do you take negotiation skills on a resume from subjective to objective? Here are a few simple steps to success.
How to put negotiation skills on a resume
Check the job description for examples of the kind of negotiation skills the job requires.
Think about specific times when you've demonstrated negotiation skills in a professional setting.
Write down those accomplishments into bullet point format. Aim to match each bullet point to a key responsibility from the job posting.
Start each bullet point with an action verb that describes your specific role.
Use concrete metrics to quantify the impact of your soft skills.
Upload your resume to an ATS resume scanner to identify any missing skills or keywords.
Here's an example of how to use your resume bullet points to illustrate soft skills like negotiation using the simple formula [action verb] + [task or project] + [result].
Showcasing negotiation skills in your work experience
Negotiation is a soft skill, which means it doesn't belong in your skills section alongside your technical skills. Instead, you should illustrate negotiation skills through your work experience bullet points.
Focus on accomplishments that show your negotiation skills in action — and don't forget to quantify your achievements with hard numbers. Including quantifiable metrics is the most reliable way to elevate your soft skills from meaningless buzzwords to demonstrable assets.
Example #1:
Don't say: Negotiated small claim settlements.
Do say: Negotiated small claim settlements; had a settlement success rate of 95%.
Example #2:
Don't say: Negotiated multiple long-term national contracts with various organizations.
Do say: Negotiated multiple long-term national contracts with organizations such as NestieCo, resulting in annual revenue of $35 million.
Here's how that might look on a resume:
Negotiation skills to highlight on a resume
Wondering what kind of negotiation skills hiring managers are looking for? Aim for examples of times when you:
Saved money
Increased revenue
Resolved complaints
Expedited results
Negotiated contracts
Managed employees
Reached agreements with clients or vendors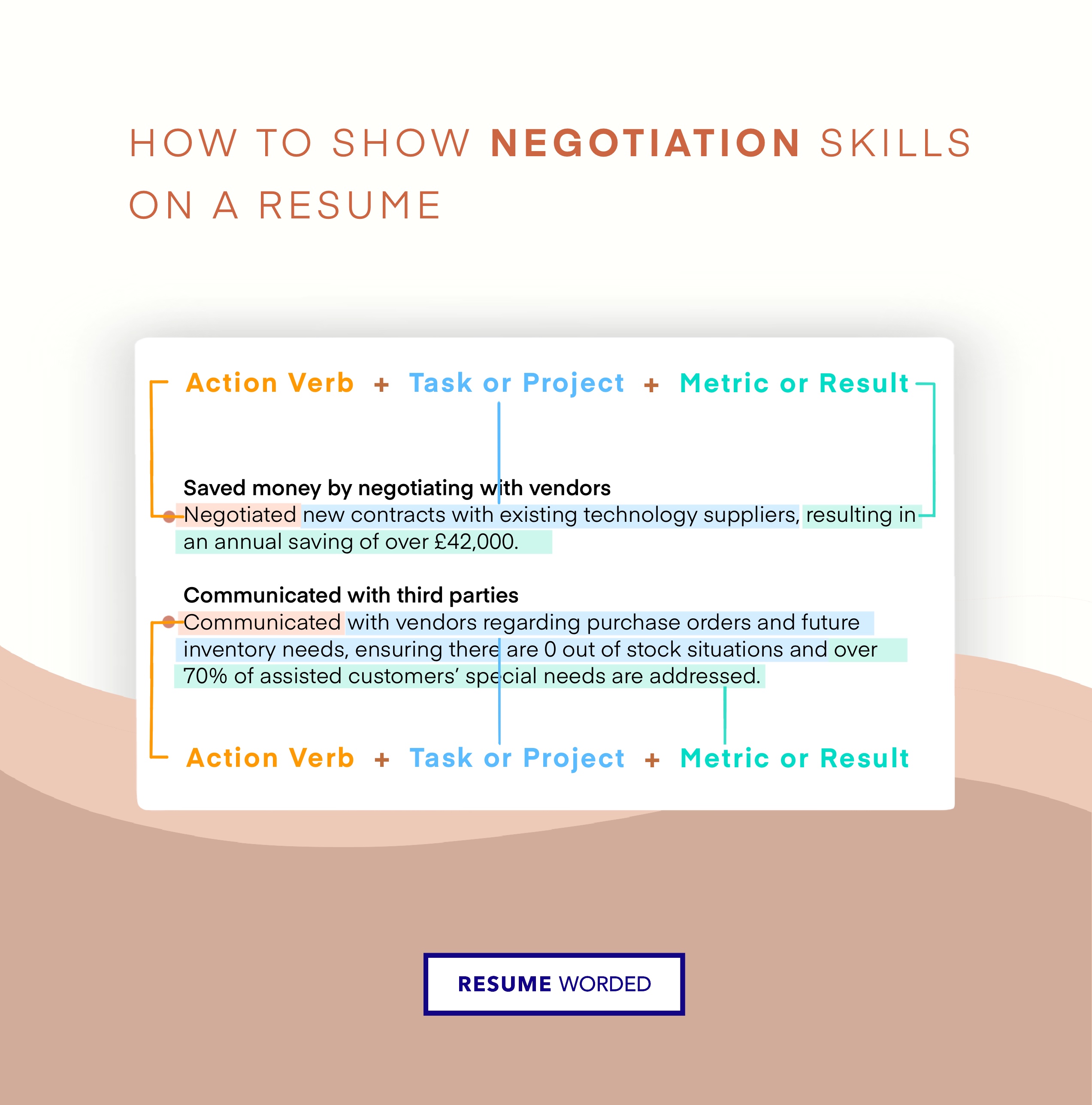 Action verbs that show negotiation skills
Always start each bullet point with a strong action verb that emphasizes your contribution to a task or project. Try action verbs like:
Negotiated
Mediated
Arranged
Resolved
Agreed
Facilitated
Arranged
Counseled
Persuaded
Liaised
Moderated
Reconciled
Jobs for people with good negotiation skills
Do you like to negotiate? If you're looking for your next career change — or just want to check whether negotiation is a big thing in your industry — here are some jobs where you'll want to highlight negotiation skills on your resume.
Customer service
Anyone who's ever dealt with customers knows that negotiation and people skills are an essential part of the job.
What to highlight: Resolving customer complaints, de-escalating situations, high customer satisfaction ratings
Human resources
To excel in human resources, you'll need to be able to balance the needs of the business with the wellbeing of employees.
What to highlight: Negotiating contracts, recruitment, defeating union campaigns, improving employee wellbeing
Sales
Any sales role is all about negotiation — no matter what industry you're in.
What to highlight: Landing clients, expanding to new territories, meeting or exceeding sales targets
Account executive
Account executives need to keep their clients happy — without losing track of the bottom line.
What to highlight: Executing successful sales strategies, retaining clients, increasing revenue
Project management
Project managers need to juggle a lot of moving parts to keep things moving through all stages of a project lifecycle.
What to highlight: Leading a team, motivating staff, assigning tasks, following up with other departments, meeting deadlines
Business development
Business development managers need excellent people skills in addition to strong business acumen and expertise in their field.
What to highlight: Pursuing leads, reaching agreements, expediting results
Event planning
Event planners need strong organization and time management skills as well as a fine attention to detail and the obvious people skills.
What to highlight: Negotiating with vendors, building relationships with suppliers, understanding (and meeting) clients' needs
Law
While most lawyers may not spend their days arguing high-profile cases in court, they'll still need strong communication and negotiation skills.
What to highlight: Finalizing contracts, negotiating settlements, arguing cases, achieving positive outcomes for clients
Real estate
Estate agents need to excel at marketing, sales, and relationship building — usually all at once.
What to highlight: Marketing properties, negotiating with buyers and sellers, reaching sales quotas
Mediation and conflict resolution
Any job with mediation or conflict resolution as its focus is going to be looking for people with exemplary negotiation skills.
What to highlight: Mediating outcomes between two parties, de-escalating situations, reaching peaceful solutions
Find out if your resume highlights negotiation skills
To showcase your negotiation skills, you need to highlight accomplishments that show how you've effectively used your negotiation skills in your previous roles. Upload your resume to the tool below to check if it highlights your negotiation skills as well as other soft skills such as communication and relationship management.
Tailor your resume to emphasize negotiation skills
The number one rule of job hunting is this: Never send the same resume out twice. You can easily tailor your resume in 5-10 minutes by using a free resume scanner that searches for keywords from the job description and suggests quick fixes to nail soft skills like negotiation on a resume.
A quick and easy way to ensure your resume is tailored to the job you want is to include keywords and hard skills relevant to the job. Use the tool below to find the right ones.
Examples of negotiation skills on a resume
Let's take a look at some real examples of resume bullet points that show negotiation skills.
Negotiated new contracts with existing technology suppliers, resulting in an annual saving of over £42,000.
Negotiating contracts, securing new vendors, and retaining existing ones are all crucial skills in positions that involve business operations. Including metrics that point to how much money you've saved for your company makes it easy for recruiters to see what you're likely to achieve in the new role.
Negotiated and configured CRM for 200+ sales force resulting in 10% organic growth.
Communication and relationship management are similarly in-demand soft skills related to negotiation. Choose accomplishments that show your ability to build relationships and how that impacted the company's growth.
Supported 82 clients in identifying and procuring available benefits and social/community services, improving the standard of living by 100%.
If you'll be working closely with external clients, include accomplishments that show your ability to advocate for others and secure measurable results.
Communicated with vendors regarding purchase orders and future inventory needs, ensuring there are 0 out of stock situations and over 70% of assisted customers' special needs are addressed.
Jobs that involve a balancing act between business needs, vendor abilities, and customer desires are perfect for showcasing your negotiation skills. Include numbers to quantify your success rates and customer satisfaction.