In today's global business environment, language skills can be an important asset for virtually any industry. This guide will help you determine when and how to list language skills on your resume, how to determine your language proficiency, and notable do's and don'ts.
How to list language skills on your resume
There are a few primary ways to list your language skills:
In a general skills section
In a dedicated languages section
In an education or certificates section
In a study abroad section
In a resume summary
In your bullet points
Not sure which option you should choose? Let's break down when — and how — to list language proficiency in each of those sections. But first, an example: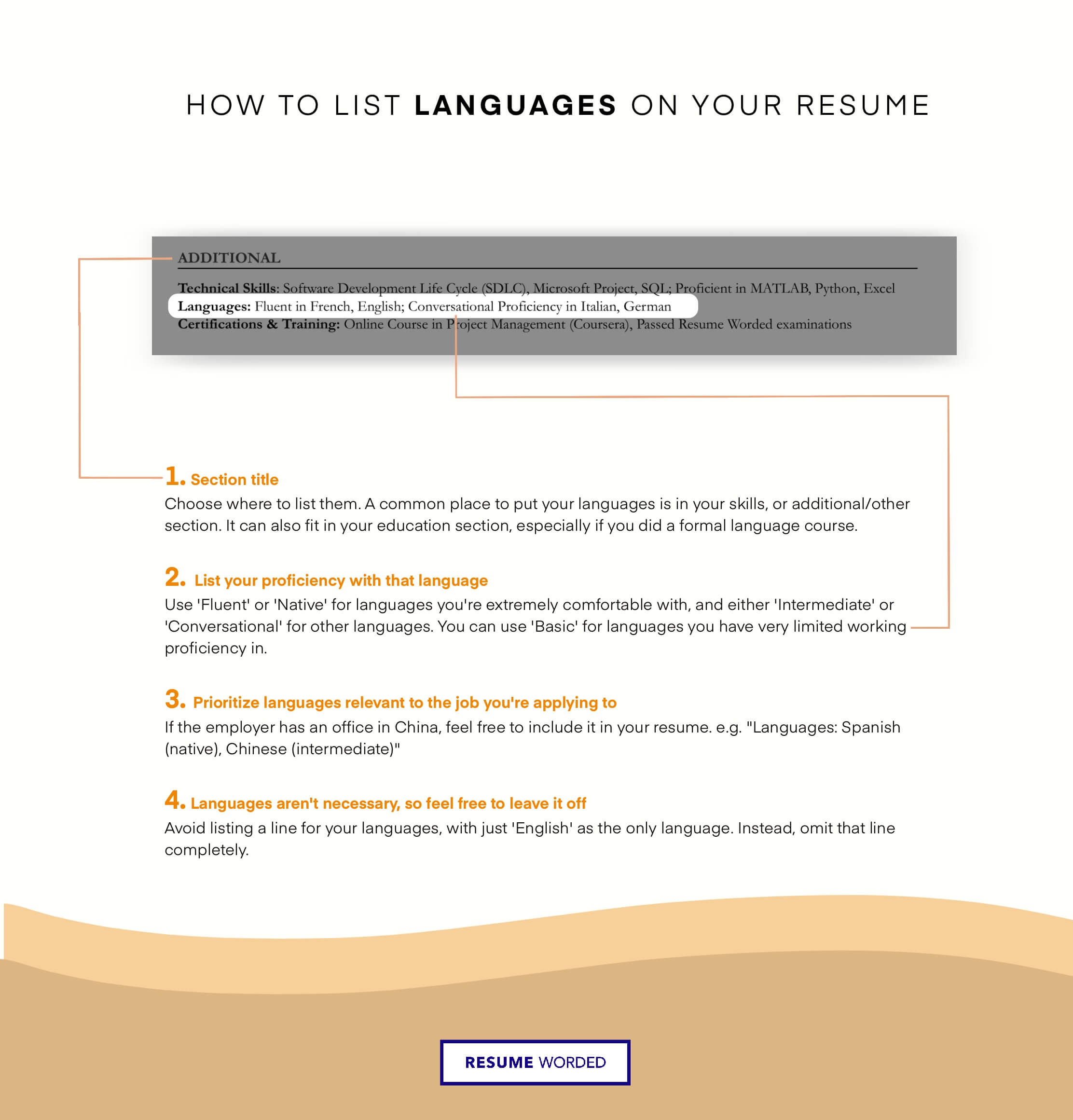 Include languages in a skills section
This is the best all-round option for listing language proficiency on your resume. Simply include the language in a skills bank with your other hard skills, as shown below.
If the job listing includes proficiency in the language as a requirement, then putting the language(s) at the top of your skills bank is a solid way to show your qualification.
Alternatively, if knowing the language isn't required for the job, you can list it in an "Additional" section along with secondary skills.
When: If you want to list language skills without taking up a lot of space on your resume.
How: At the bottom of your resume, create a section titled "Skills," "Additional," or "Other" and list your hard skills — including language proficiency — underneath.
ADDITIONAL INFORMATION
Languages: Fluent in French, English; Conversational Proficiency in Italian, German
More information: How to write a resume skills section
Including languages in a dedicated languages section
For most jobs, including a dedicated languages section is overkill. The exception to this is if specific languages are listed as a job requirement, or if they're obviously essential in other ways (like the job is located overseas or you'll be working with clients who primarily speak that language).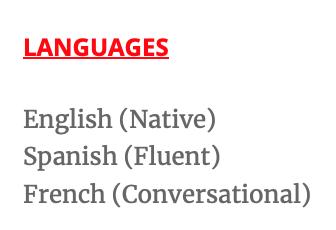 When: If language skills are essential to the role.
How: Near the bottom of your resume, create a section and title it "Languages" or "Language Proficiency." Underneath, list any languages you can speak in a business context and your level of proficiency.
LANGUAGE PROFICIENCY
English (Native)
Spanish (Fluent)
French (Conversational)
Including languages in an education or certifications section
If you've completed formal language qualifications, you can list these in your education section or in a separate certifications section. Here, you can list any diplomas or other qualifications, including foreign language proficiency tests.

If you studied languages at school, you can include any language degrees, majors or minors, or relevant coursework that might demonstrate your language skills.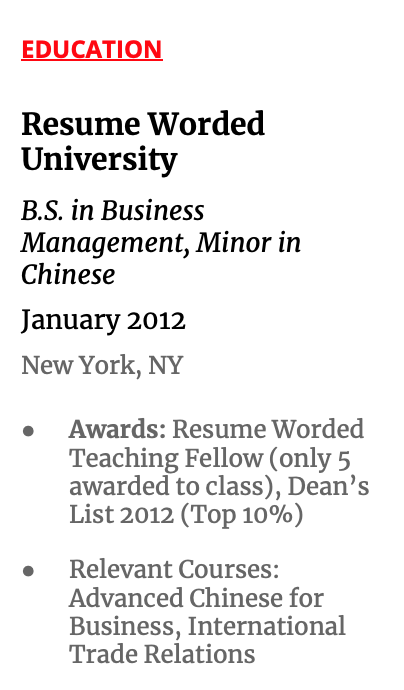 When: If language proficiency is a must-have for the job and you want to highlight formal studies.
How: Create a section underneath your work experience titled "Certifications" or "Qualifications." List any formal language certifications, including the proficiency level you were assessed at.
CERTIFICATIONS
DELE Spanish Diploma Level B2, Instituto Cervantes
Japanese Language Proficiency Test, Level N3
More information: The right way to list certifications on a resume
Include languages under study abroad experience
If you've studied abroad, you can opt to include note this in your education section. This is one of the best way to show how you've used your language skills in a real-world setting and can emphasize genuine proficiency in an additional language.
When: If you studied abroad in a foreign-speaking country.
How: In your education section, list the university where you studied abroad and the length of your time there.
EDUCATION
University Name, Location, Graduation Date
Name of Degree and Major
- Completed one-year study abroad with Singapore University
More information: Turn study abroad into a job with these resume tips
Including languages in a resume summary
If you really want to highlight your language proficiency, you can put it front and center in your resume summary.

When: If you're multilingual or fluent in a language and it's an essential requirement of the job.
How: Underneath your contact details, write a short (3-5 sentence) summary of your key skills and experience, including language fluency.
BUSINESS DEVELOPMENT ASSOCIATE
Business Development Associate with five years of experience creating new networks and growing customer base. Bilingual Spanish speaker adept at implementing new, effective business practices and leading campaigns.
More information: 50+ resume summary examples
Including languages in your work experience
This approach is only recommended if language fluency is likely to be an important part of the job you're applying for. If you're applying for a role that includes interpreting, translating, or otherwise communicating regularly in another language, include accomplishments that show how you've used your language skills in a professional context.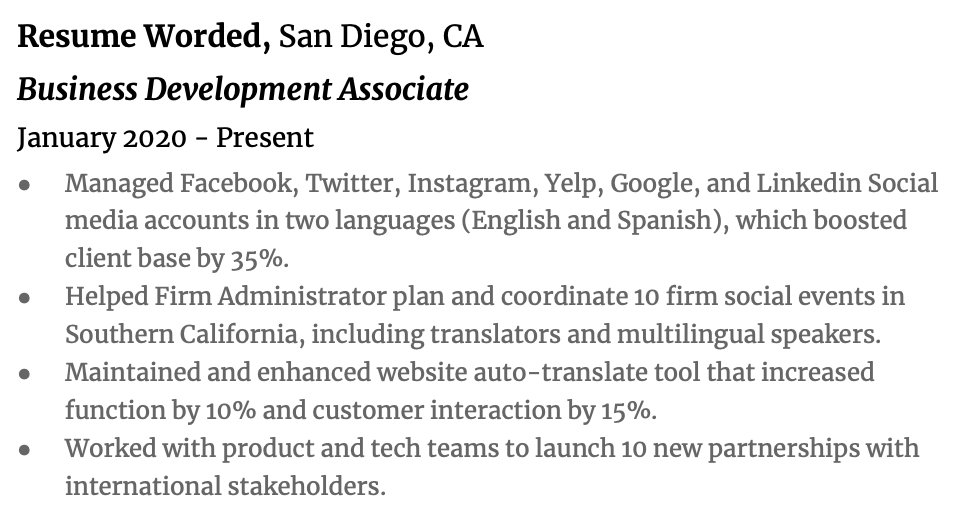 When: If communicating in a foreign language is a regular part of the job.
How: In your work experience section, include bullet points that show how you've used your language proficiency in a business setting.
WORK EXPERIENCE
Resume Worded, San Diego, CA
Business Development Associate, January 2020 - Present

- Managed Facebook, Twitter, Instagram, Yelp, Google, and Linkedin Social media accounts in two languages (English and Spanish), which boosted client base by 35%.
- Helped Firm Administrator plan and coordinate 10 firm social events in Southern California, including translators and multilingual speakers.
- Maintained and enhanced website auto-translate tool that increased function by 10% and customer interaction by 15%.
- Worked with product and tech teams to launch 10 new partnerships with international stakeholders.
More information: How to write resume bullets that get interviews
If you're not sure if you've chosen the best option for including your language proficiency on your resume, upload it to the tool below — it'll let you know if you have shown your language skills and your other skills the right way.
Language proficiency levels
How to list your level of language proficiency
There are a few different ways you can list your level of fluency in a language:
Listing an informal proficiency level (e.g. basic, conversational, fluent).
Including your stage of learning (e.g. beginner, intermediate, advanced).
Using a formal language framework (e.g. the Common European Framework of Reference for Languages, or CEFR, which is commonly used and lists language proficiency on a scale from A1 to C2).
You can choose whichever format you prefer — just make sure you use the same wording consistently throughout your resume.
When to include 'Intermediate' proficiency level
Those who are in the process of learning the language but can also speak it reasonably well (such as by following a slow-moving conversation) are considered "Intermediate." However, if your comfort level with the language does not pertain to a business environment (including sales jargon and techniques, for example), you may wish to leave it off.
When to include 'Conversational' proficiency level
At the "Conversational" level, you should be able to comfortably follow a conversation at a normal speaking pace. You may still need to look up some terms but will have a clear idea of what's being said for the most part. If this describes your skill level, you should include it on your resume if it is relevant to the job.
When to include 'Fluent' proficiency level
Those who are "Fluent" can comfortably speak, read, and write with the language at any level, along with understanding colloquialisms and industry-specific jargon. Fluency means you are capable of translating from one language to the next.
When to include 'Native' proficiency level
The final category of proficiency is "Native," which means you've used the language from birth. In multilingual households, this can include multiple languages.
How to assess language proficiency
You don't need to formally assess your level of language proficiency — but it can help, especially if it's a job requirement. If you have a formal certification, include it; otherwise, you can list a simple self-assessment. You can also access free versions of the CEFR and other language test online if you want to a better idea of your actual proficiency level.
When you should include language skills on your resume
It's not always obvious when you should include your language skills, so let's take a moment to break it down to instances that are definite contenders. Whether or not you should include language skills on your resume is dependent on the specific job you apply to.
If the job requires fluency in a second language
If the job listing itself mentions requiring fluency in another language, then you need to address your language proficiency somewhere on your resume, the same as any other job requirement.
If you're applying to multi-national companies
If the business or corporation that you're applying to is multinational — meaning they have business operations in more than one country — then you may wish to include your language proficiency. This is particularly true if you'll be expected to travel abroad regularly or will be a point of contact for clients or colleagues who primarily speak another language.
If you're located in a multilingual area
If the company you're applying to does significant business in a region with a high concentration of foreign language speakers (such as Quebec, Southern California, or urban melting pots such as New York City), you can include your language proficiency if it's relevant to that area.
As you are working on your resume, you might be wondering what skills you need to include in your skills section. An easy way to figure this out is to use the tool below — just search your job title and you'll get a list of relevant skills.
What to keep in mind when listing language skills
Here are some essential resume do's and don'ts when it comes to including language proficiency.
DO: Address your language proficiency if it's listed as a requirement
If language proficiency is mentioned anywhere on the job description, make sure you list it on your resume. What if you don't speak the language? Address it upfront — list the level of proficiency you do have, or mention in your cover letter that you're currently acquiring it.
DON'T: List English language proficiency
In general, you don't have to list your English proficiency on your resume if you're applying to jobs in the US or English-speaking countries where it's the norm. Being fluent in English is generally implied by your application and including it could be a minor red flag for some recruiters.
DO: Stick to languages you're comfortable using in a business setting
If you don't speak the language comfortably in a business setting, then you should leave it off. As an example, you may speak casual German due to attending Oktoberfest a number of times, but being limited to knowing how to order sausage and beer won't help you when it comes to explaining sales figures to a German client.
DON'T: Include language proficiency on your resume if it doesn't strengthen your candidacy
A general rule to keep in mind is that listing language proficiencies is completely optional. If including your language skills isn't likely to increase the likelihood of being hired, it's best to leave them off.
DO: Include your proficiency level (especially if you aren't fluent)
If you don't specify what your proficiency level is when you list a language, the hiring manager will assume that you are fluent in it. If this is not the case, include your level of proficiency with each language you're listing.  
If your understanding of the language is "Basic" only, you may wish to consider leaving the skill off entirely unless it is a specific requirement for the job, you've attained a rudimentary knowledge of it, and you are actively learning the language.
DON'T: Inflate your proficiency level on your resume
Along the same lines, don't inflate your proficiency level. For one thing, you can easily be caught if the hiring manager is themselves fluent in the language and you are attempting to claim that you are. Additionally, keep in mind that it takes time and considerable effort to learn a language for most people, so you shouldn't expect that you can become fluent rapidly if you are required to.
DO: List languages in a simple text format
No matter what level of proficiency you have, you should list it simply in text format as shown below.
Or in text format, here it is:
Languages: Spanish (native), Chinese (intermediate)
DON'T: Use fancy graphics
Graphics like the one below are unnecessary in that they don't add to the understanding of the recruiter, and they take up valuable resume space. Plus, they aren't readable by an Applicant Tracking System (ATS).

DO: Get a second opinion
In general, don't submit your resume without proofreading it or running it through a spell checker and grammar checker to ensure you haven't made any linguistic errors. If you want to do so while getting some pointers on the overall impact of your resume, you can use our free-to-try AI-powered tool, Score My Resume.