No matter who you are — and whether this is your first, fifth, or fifteenth time in the job market — you know that the first step to securing a position starts with a strong resume. In this article, we'll explain how to best title different sections so that each part of your resume can stand out on its own.
The importance of using the right resume section titles
Hiring managers can find the information they need
All good resumes start with concise and well-written section titles or headings. Because recruiters and hiring managers begin by skimming your resume, correctly-written section titles and headings can make a big difference in helping them quickly identify the information they need. The less time they spend on figuring out where everything is, the more energy they'll have to read the important content within each section.
The right section headings matter for ATS
However, the significance of a well-titled resume doesn't end there, because many recruiters and hiring managers aren't going to be the first people who look at your resume.
In fact, the first pair of eyes that gaze upon your resume won't be from a human at all. Rather, HR departments will use an applicant tracking system (ATS), a set of automated, software-based resume screeners that "look" for relevant experience, education, skills, and keywords to identify how well an applicant fits the job description. If your sections are titled incorrectly, the ATS won't read your resume right and will discard your application — meaning you could be out of the running even before your resume is ever read by a human.
The same advice also applies to positions that undergo manual reviews. Because job postings are competitive, hiring managers often receive tens or hundreds of resumes per position. As a result, they won't have time to read each one in great detail. Instead, they will take a cursory look to see if your background matches the role requirements — essentially doing the same thing an ATS would. If your resume is titled in a non-standard manner and difficult to figure out, it'll get tossed as quickly as it was read.
Essential resume section titles
Each section describes a major component of your professional history — be it education, work experience, skills, or awards. What particular sections you decide to showcase on your resume depends on your industry, level of seniority, and the position that you're applying for — but all resumes should include at least an education and experience section.
Work Experience section headings
There are many different kinds of experience — for example, work experience, internships, or volunteering — and whatever you choose to highlight will depend on what kind of experience you have. If you have any work experience, you should always include a work experience section. If you're a student or don't have any experience, you might want to focus on your internships, extracurriculars, or volunteering experience.
The most common section titles you should use for your work experience are:
Experience
Work Experience
Professional Experience
Employment
These are fully understood by hiring managers and Applicant Tracking Systems. Here's an example of how it might look on an actual resume:
Avoid non-standard section titles
When coming up with section titles, stick to the basics. Do not use in "My work in a nutshell" if a simply-titled "Experience" section does the trick.
For other types of  Experience sections
In general, stick to the section titles we described above. However, you can also label your experience in other ways. Here are some examples:
'Leadership Experience', 'Leadership', or 'Management Experience': Use this if you want to call out leadership, or want to highlight roles where you were in charge.
'International Experience': Use this if you are an expatriate or have worked abroad for a significant part of your professional life, or the job prioritizes international experience.
'Internships': Use this if you're a student, have little full-time work experience, or are just beginning your career.
Here's a resume example where Leadership is used as a section heading:

You can download this ATS resume template too.
When should you have multiple experience sections?
Occasionally, you may have too much experience to fit on a single page or two. Maybe you're late into your career and have held many jobs, or perhaps you've changed careers several times. You might even have a smorgasbord of experiences — as a volunteer, parent, professional, expat, and so on.
In this case, you can have multiple experience sections. For example, you may include a section titled 'Relevant Experience' detailing only experience related to the job you apply to, and an 'Other Experience' section for the variety of other roles you've held in your life.
Let's take an example. The following resume stay at home parent uses two experience sections — one to call out core work experience, and the other to tell recruiters/hiring managers the other experience she got during her career break — this makes it easy for hiring managers to see and understand exactly if the applicant has the right experience.
You can download this resume template.
Education section titles and headings
In this section, you'll list the school(s) you attended and the degree(s) you received. In every case, list your most advanced degree first.
"Education" is the most common section title to use here. Other similar section titles that are understood by hiring managers are:
Professional Training
Education and Training
Educational Qualifications
Relevant Training
Let's take a look at how this section heading might look on a resume:

If you have other educational accomplishments that are relevant to the job you are applying to, you can also call them out in a section. For example:
Certifications (for example, if you have any professional certifications relevant to the job)
Professional Certificates
Here's an example of a resume that shows how you might list your certifications with the right section heading:

Like the advice in the last section, don't title this section "Scholastic Achievements", "Academic Career", or anything too elaborate.
Additionally, don't title this section 'Educational Experience' — or it might be incorrectly interpreted as a work experience.
Other resume section titles you can consider
There are other resume sections you can include depending on the experience you have, and what you want to prioritize.
Resume title
You may elect to include a job title at the top of your resume, right below your name. This job title should exactly match the job title of the role you're submitting your resume for. While this is optional, it's a quick and easy way to tailor your resume to the job you're applying for. And, as an added bonus, it'll ensure the ATS identifies you as a relevant candidate — even in a case where you would have otherwise been sorted out.
The summary section
The summary section appears at the top of your resume, right below your name (the title) and contact information. This section contains one or two-sentences about who you are. In a sense, it's a highlight of the best parts of your resume, which is in turn a highlight of your most relevant experiences and most impressive accomplishments.
You don't need to label this section — since it's at the top of your resume, all recruiters and hiring managers know what that section is. So if you're struggling to cut your resume short, you can remove the title for this section.
If you'd like to include a title, the best ones to use for this section are:
Summary
Professional Summary
Since you should not include an objective section, never title this section 'Objective'. Here's an example of how to use the above section titles correctly: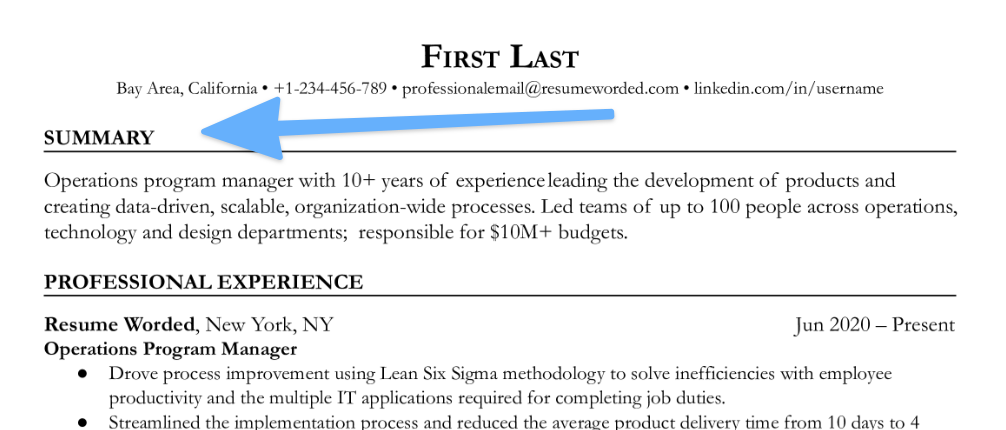 The volunteering section
If you regularly devote time to an organization, have served on its board, or engage in any kind of unpaid labor, you can list those volunteering engagements here, as you would a job. Present this section as "Volunteering", "Volunteering Experience", or "Community Engagement".
If you spend significant time volunteering, you can even consider merging this section with your experience section, and mention both compensated and uncompensated work in a single place. An example:

The skills section
This section lists your relevant skills. Only include hard skills, like a programming language (e.g. Java, C++, Swift, etc.) or software suite (e.g. QuickBooks, Kubernetes, Microsoft Power BI, etc.) that you are familiar with.
Simply title this section "Skills". If you have different kinds of skills, you can include multiple subheadings — such as "Competencies", "Technical Software", "Languages", or "Certifications". Here's an example:

We have another article on how to best approach the skills section of your resume.
The awards section
Detail any medals, prizes, honors, or other types of recognition you have received here. You can title this section as:
"Awards"
"Achievements"
"Industry Recognition"
Extra-curricular or Projects section titles
Depending on your professional background and the job you're interested in, you may consider other sections, like "Publications", "Projects", or "Activities". Use these section titles to prioritize and highlight any unique papers, products, or inventions you may have authored or created. These section titles may also be useful to individuals with particular professional backgrounds, such as students, self-employed individuals, or scholars.
Here's an example of a student's resume where a projects and activities section are separately used to highlight their volunteering and university projects and extracurricular activities, respectively. This allows the student to highlight their unique engagements inside and outside of school — and allows recruiters to get a fuller picture of the student's professional history.
Academics, for example, might have a "Courses" or "Lectures" section, and a high-school student applying to colleges or universities might have an "Extracurriculars" section. These sections can either be stand-alone or folded into an existing section — the choice is up to you.
Combine multiple sections into one
You might even find that you don't need a dedicated section for your skills and volunteering sections, especially if it's not relevant to the role you're applying to.
Here are three examples: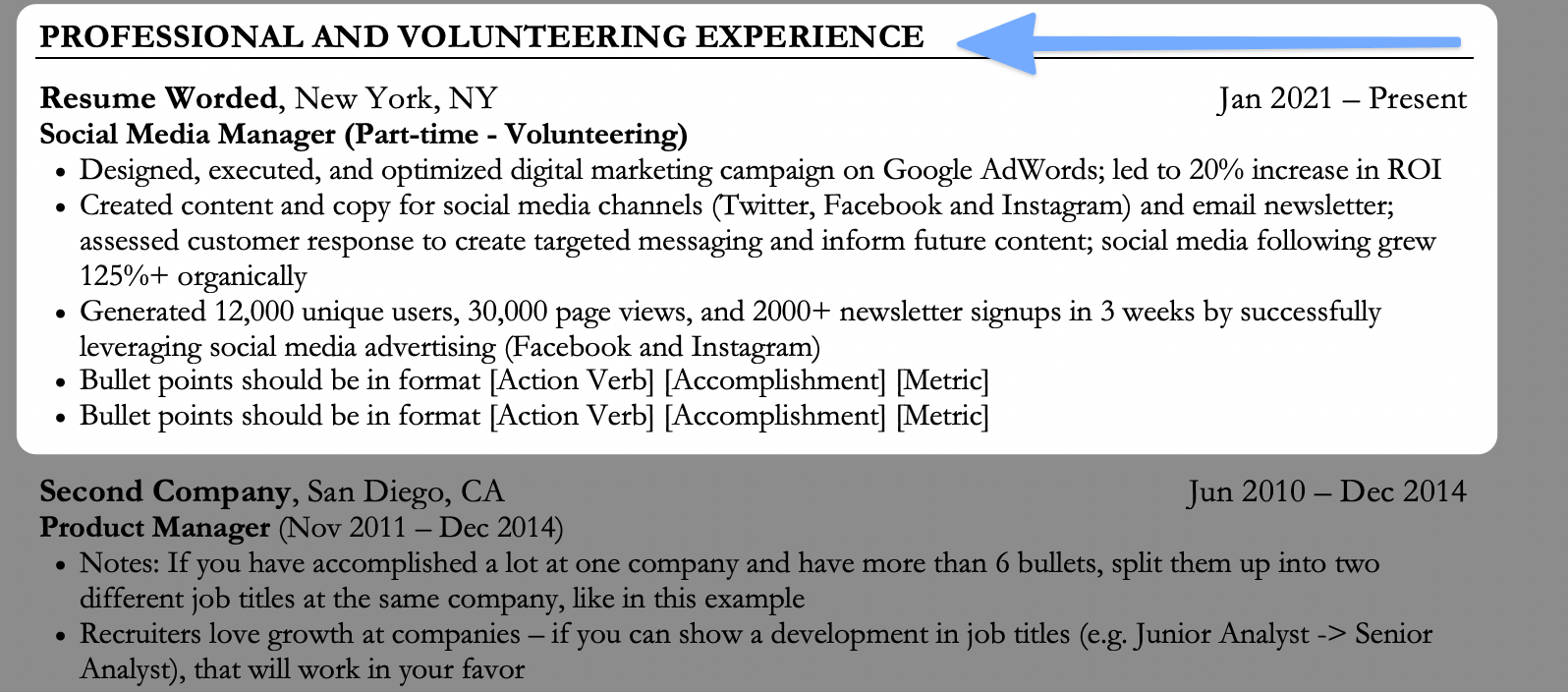 If you're still a bit unsure about these guidelines or want more pointers on what to do, we're here to help!
Get your resume's sections reviewed
We've created Score My Resume, an artificial intelligence (AI) enabled tool that audits your resume line-by-line and gives you detailed information on how to improve — so that you can take your resume-writing abilities to the next level and land more interviews.
Wrapping Things Up
The particular sections that go into your resume and the content they each contain depends on a whole host of idiosyncratic factors. Nonetheless, there are best practices you can adhere to, regardless of your individual situation.
To start, format your resume appropriately. Choose a legible font, avoid graphics, and ensure section titles, sub-headers, and body text are formatted consistently. Next, keep your section titles short and sweet. Stick to standard naming conventions, and keep titles simple and self-explanatory. Lastly, make sure the content in each section is appropriate for its title, and merge sections if possible. Include additional sections if you have a need for them.