Deciding what transferable skills to put on your resume can be a challenge, especially if you're jumping into a new field after graduation or a career change. We can help.
Even if you don't know it, we guarantee you have the transferable skills that employers need. Coursework, student volunteer placements, and major projects brought you transferable skills. Any previous work experience has also given you transferable skills.
Employers aren't just looking to hire candidates who offer the same expertise. Employers are looking for unique skill sets to build diverse and dynamic workplaces.
If you're too busy to read the article, here are some quick tips about putting transferable skills on your resume:
Focus on hard skills that are relevant to the job, using keywords and phrases from the job posting.
List them toward the top of your resume in a section called 'Skills' or 'Core Qualifications', which can be placed after your summary section.
Use quick, punchy bullet points full of action verbs.
Include examples of how you've used your transferable skills in previous work.
If you can stay a while, let's dive in and explore how to highlight transferable skills on your resume, with resume examples and additional resources to help you get started.
What are transferable skills?
For starters, transferable skills refer to the skills that you've gained throughout your career that can be applied to a new field or new job.
When people talk about transferable skills, they're usually talking about soft skills. These are personal qualities and interpersonal skills that can be used in just about any role, from software programming to nursing to waiting tables. This is in contrast to hard skills, which are often job-specific.
We'll get into what that means for your resume further down, but first, let's take a look at the top transferable skills employers are currently looking for.
15 transferable skills companies want to see on your resume
When hiring, most employers are looking for candidates who demonstrate:
Interpersonal skills
Relationship building
Technical skills
How to put transferable skills on a resume
Now, let's take a look at how to find the right transferable skills for the job you want — and how to highlight them on your resume.
Start by analyzing the job posting itself. Look for what it says about the kind of person they're looking for or the "must haves" for the position.
Apply your own knowledge about the role or industry. What will it mainly entail? What qualities will you need to succeed?
Now, think about what makes you a strong match. Are your communication skills top notch? Have you been praised for your attention to detail or ability to keep things organized in the midst of chaos?
Make a list of times when you've used those skills. If you're trying to demonstrate communication skills, for example, you might want to include presenting to clients, speaking in front of an audience, or writing something for publication.
Start with a strong action verb that emphasizes the skill you're trying to show — for example, "Organized," "Led," or "Created."
Include metrics to quantify the impact of your work. "Analyzed data sets" is okay, but "Analyzed 500+ data sets" is even better.
✅
DO: Include bullet point examples in the work experience section of your resume.
❌
DON'T: List soft skills in your resume skills section — save that for hard skills like software programs, languages, and certifications.
Tips for highlighting transferable skills on a resume
Identify transferable skills
Are you looking at Step 1 above and wondering how to decipher a particularly tricky job posting? Some job descriptions are fairly straightforward — "must have strong communication skills" speaks for itself. In other cases, you may have to do some lateral thinking. For example:
If they say: "You'll be wearing many hats."
It means: You'll need  flexibility, adaptability, and the willingness to deal with last-minute changes and disruptions. The ability to work well under pressure is a must in jobs like this.
If they say: "Looking for outside-the-box thinking."
It means: Creativity, critical thinking, and analytical skills all come into play here. Teamwork will help if there are brainstorming sessions involved.
If they say: "The ideal candidate will be a self-starter."
It means: You'll need to be organized and self-motivated. Communication and initiative are important here too, since you may not have a lot of oversight.
Incorporate keywords
Every job posting has certain keywords that explain what the company is looking for. When listing your transferable skills, use the exact words and phrases in the job posting. If you're not sure which keywords you should be highlighting, use the tool below to find the right ones.
Use strong action verbs
Keep sentences short to catch the eyes of employers, and use strong action verbs that demonstrate how your transferable skills apply to real life.
Want some ideas? Check out our post on the Most Effective Action Verbs to use on Your Resume in 2023.
We have a wide variety of examples to help you find the right action verbs for any role you are looking for. Here's an example of a list of strong accomplishment-driven action verbs:
Include specific examples
Reflect on how you gained your transferable skills, and list examples of how you put those skills into action.
Did you resolve a client's complaint with your expert communication skills?
Did you design and implement a successful business plan to help your student union raise $500?
Here are some examples of how to write about how you've used your transferable skills: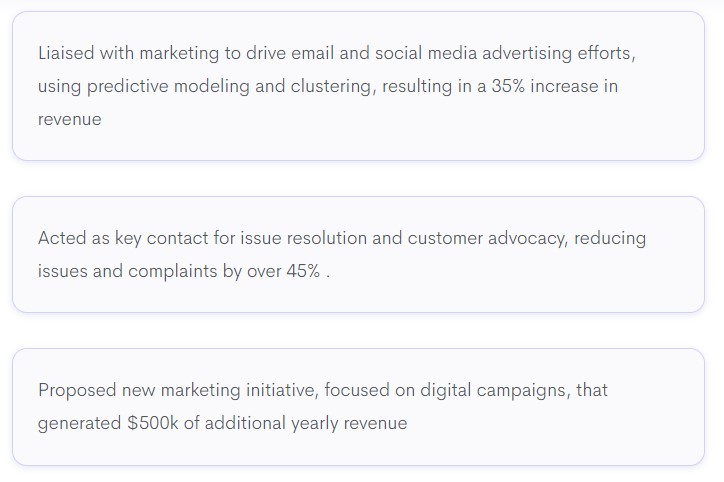 Customize your resume
When writing about your transferable skills, focus on the skill set required for the specific job you are applying for. Use examples that could translate into successful initiatives in a potential new role. If you're looking for extra help, our Targeted Resume tool can identify essential transferable skills from the job posting and suggest examples for your resume.
Where to list transferable skills on your resume (+ examples)
Exactly where to list transferable skills on your resume depends on exactly what skills you're including, but in general:
Soft skills (leadership, communication, teamwork, etc.) belong in your Work Experience section.
Technical skills are more straightforward and can go in your Skills or Additional Information section.
For skills that are absolutely essential to the role, consider listing them upfront in a resume summary or Core Qualifications section.
Illustrating transferable skills through accomplishments
In most cases, you'll want to include examples of your transferable skills, which means including them in your work experience bullet points. The most specific you can be here, the better.
Here's an example of showing transferable skills in your resume bullets:

Listing transferable skills outright
Not all transferable skills are soft skills. If you have transferable technical skills, it's fine to simple list these in your resume skills section.
Here's an example of a Skills section that lists transferable skills:

Emphasizing transferable skills as core qualifications
Want to be 100% sure recruiters can see you're a good match? List your transferable skills toward the top of your resume, underneath the summary section. Present your transferable skills in a bulleted list with the title "Core Qualifications."
Here's an example of a Core Qualifications section on a resume:
Still not sure which approach is the best one for you? Try uploading your resume to the tool below to check if your resume showcases your most relevant transferable skills the right way.
Why you should include transferable skills on a resume
Transferable skills increase your marketability and show that you are flexible and adaptable. With the right format and language, potential employers will see how your transferable skills make you a perfect fit for the job.