Every job requires a specific skill set, and every job seeker has one. But how do you identify your own unique abilities, the skills and qualifications that make you stand out from the crowd, and how do you showcase them effectively on your resume to catch the attention of a recruiter?
In this article, we will help you figure out your own set of resume core competencies, decipher competitive keywords from potential job postings, and optimize your resume so recruiters can instantly see that you're the right candidate for the position.
What are core competencies on a resume?
First thing first, what exactly are core competencies?
Core competencies are the combination of professional and personal skills that make up your unique experience and expertise. In a nutshell, they're the fundamental professional skills you want to showcase to a potential employer.
Core competencies can include hard skills, qualifications, significant accomplishments, and career highlights, as well as personal and interpersonal skills.
Skills vs core competencies
There is some overlap between skills and core competencies, but in general, core competencies cover a broader range of abilities than your skills. Core competencies include your work history, qualifications, certificates, and education, while your skills section focuses on hard skills.
In other words, your hard skills are part of your core competencies, but your core competencies encompass a wider range of abilities than just your skills.
How to identify core competencies for your resume
Not sure what your core competencies are or what hiring managers are looking for? Here's a step-by-step guide on how to identify your core competencies and match them to the job:
Consider the job you are applying for. What will you be doing? What skills, qualifications, or experience would you use in the new position?
Analyze the job posting. How does it describe the role? What must-have qualifications does it list? These are the things you want to showcase on your resume.
Now, make a list of your own skills and abilities. What are you good at? What makes you a good fit for this role in particular? This can include technical skills, personal qualities, qualifications, or previous experience.
Strike off anything that isn't relevant to the job you're applying for, such as outdated experience, irrelevant education, or hard skills and qualifications from an unrelated industry.
You should be left with a short list of core competencies and transferable skills relevant to the job. These are the competencies that you will highlight and expand on in your resume.
For inspiration on what skills to include or to expand on your core competency list, use our skills and keywords finder or scroll down for a list of in-demand core competencies for different roles and industries.
How to tailor your core competencies to each application
To tailor your resume to your current application, scan the job posting or use a keyword finder to identify the required skills for that position. Remember, the key is not to include all your competencies but to focus on those that align with the job requirements.
Once you have a list of relevant competencies, instead of simply listing these skills, provide quantified examples of when you demonstrated these skills in previous roles. Tailor these examples to your proposed industry to show a recruiter the relevance and transferability of the skill. Finally, review your resume using our Targeted Resume Tool to ensure it accurately reflects the required competencies of the job posting.
Here is a detailed diagram of how to deconstruct a job posting to create a list of core competencies you can demonstrate and expand on in your resume.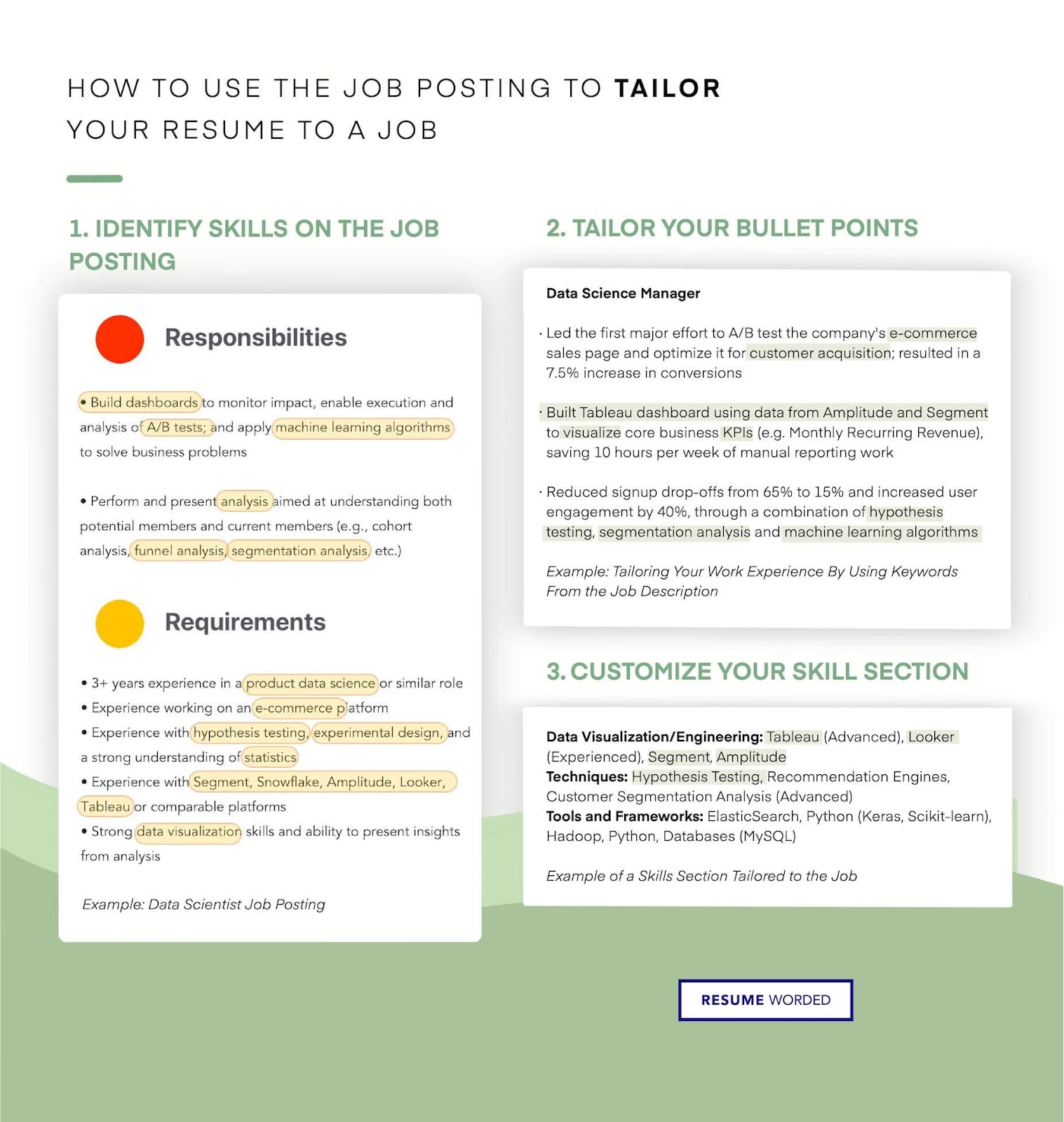 How and where to list core competencies on your resume
Now that you know what core competencies are, where do they belong?
Depending on what core competencies you want to highlight, you can include them in your resume summary, work experience section, skills list, or qualifications.
Let's look at how to include your core competencies in each section and the best way to demonstrate your skills using impactful and memorable statements.
Including core competencies in your work experience section
The most common place to showcase core competencies is in your work experience section.
Create memorable statements by using bullet points to describe your skills and experience. Structure your statements using the standard power phrase format and include powerful action verbs like managed, led, optimized, or developed.
Provide specific examples for each competency and quantify your achievements where possible, using numbers and percentages to give a clear sense of what you accomplished.
For example, to demonstrate marketing and leadership skills, you could write:
Led a team of 10 to develop a new marketing strategy, resulting in a 30% increase in lead generation within 6 months.
To show web design skills and competency with Adobe XD, you could write:
Utilized Adobe XD to analyze user experience data, leading to a redesign that increased website engagement by 20% within a three months.
Here's an example of how to incorporate these bullet points into your work experience section.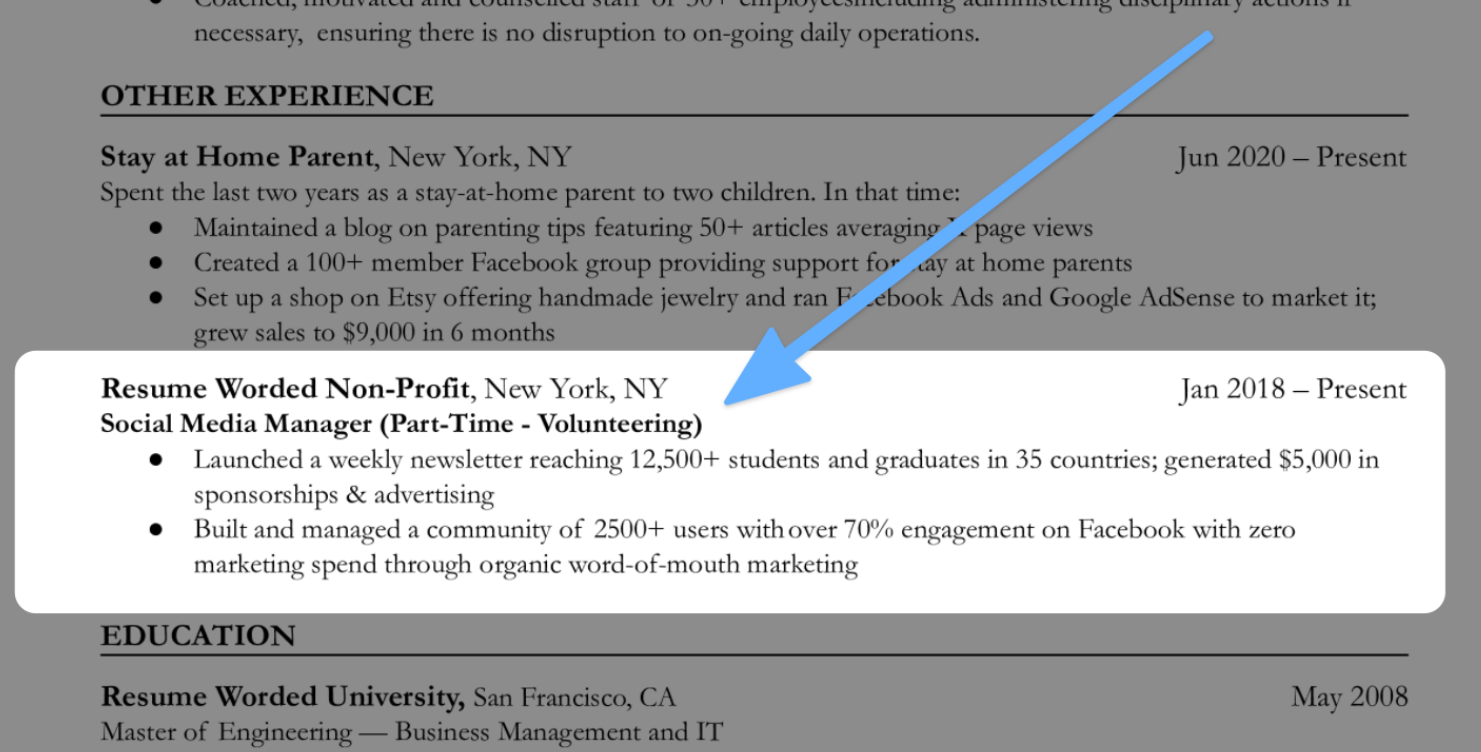 Listing core competencies in your skills section
If your core competencies are mainly hard skills, such as programming, technical skills, or languages, include them in your resume skills section.
Remember to include only hard skills in this section, as your work experience and resume summary will demonstrate your soft skills.
Here's an example of a resume skills section demonstrating relevant core competencies: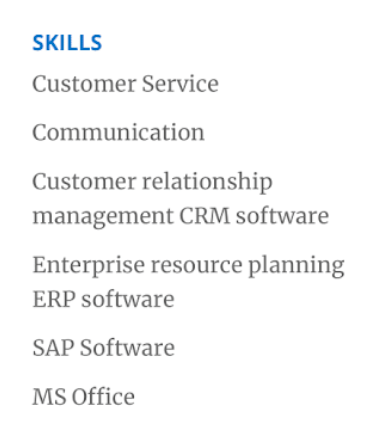 Highlighting core competencies in your resume summary
If a core competency is integral to the role you are applying for, include it in your resume summary. Your resume summary should be no longer than 2-6 lines, so keep your statements concise and focused, demonstrating specific achievements and accomplishments.
Here's an example of how to include role-specific core competencies in a resume summary: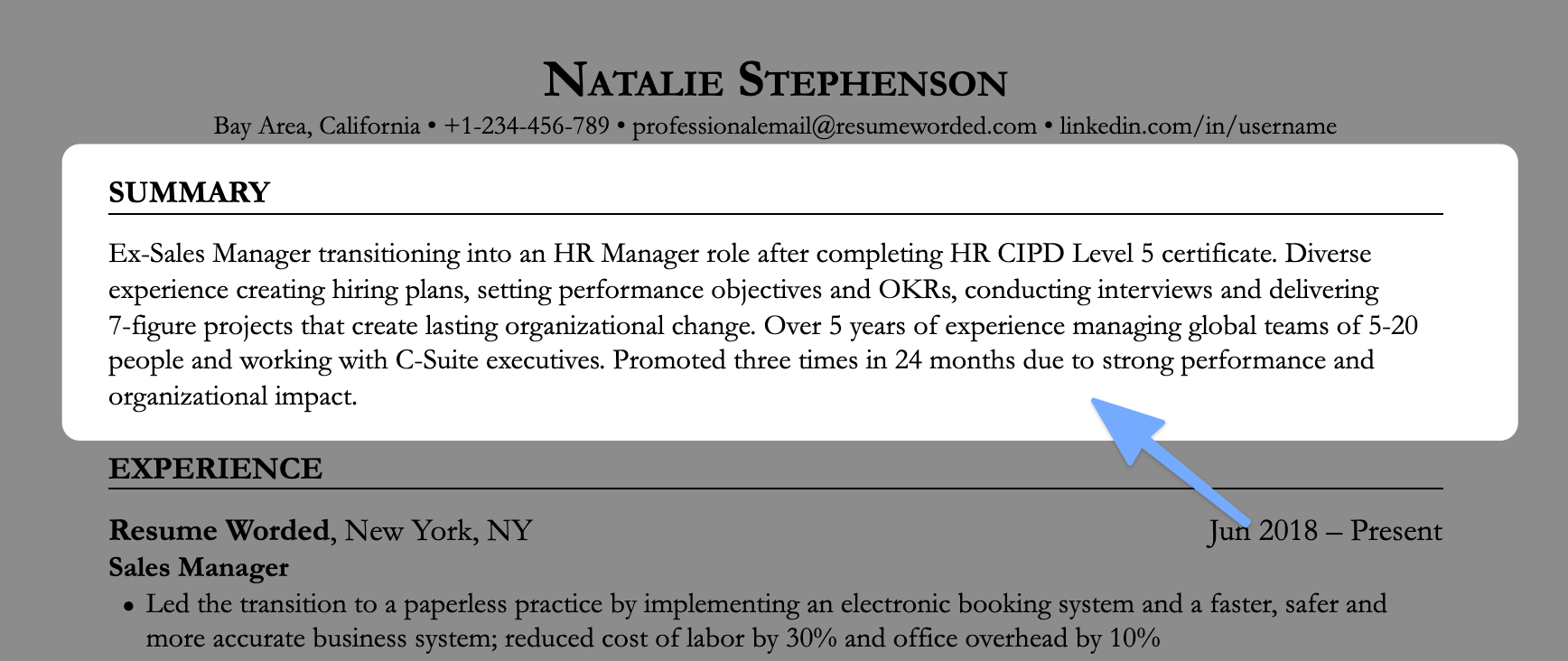 If you're not sure if your resume adequately highlights your core competencies, upload your resume to the tool below. It'll scan your resume and give you detailed feedback and suggestions on how to improve these sections.
The role of core competencies in ATS
An important aspect to consider when choosing core competencies is their role in Applicant Tracking Systems (ATS). Many modern recruiters use ATS programs to streamline hiring by filtering candidates' resumes based on specific keywords, which are often based on the core competencies of the position.
To ensure your resume passes ATS filters, you need to include these keywords. For example, if the job posting lists "project management" as a core competency, the term project manager should appear on your resume. Use an ATS Resume Scanner to verify your resume's ATS compatibility, and ensure you are including all relevant core competencies.
The best core competencies for a resume in 2023
If you're still trying to narrow down a list of core competencies for your resume, here is a list of competitive skills recruiters are looking for in different roles and industries.
Project management
MS Office
Project Management
Sprint Planning
Marketing and content management
WordPress
SEO tools
Photoshop
Social Media Management
Sales
Social Selling
Retail Management
Customer Service
Digital and remote work
Zoom
Microsoft Teams
Slack
Google Workspace
Logistics
LodDAT
Inventory Tracking
Budget Management
Material needs analysis
Education
Language arts
Writing IPEs
Special Education
Customer Service
Customer interaction and engagement
Social networking
Process improvement
Another effective method to ensure that you've accurately identified your core competencies is using the tool below to search for the job you're interested in. This can help you determine if you've chosen the appropriate skills to showcase on your resume. This tool analyzes job descriptions and helps you identify critical skills and keywords that might be missing from your resume.
FAQ
What do I do if I lack a core competency listed in the job description?
If you lack a specific core competency listed in the job description, don't falsely include it on your resume. Instead, focus on the competencies you do possess that are relevant to the role. If you have related skills or experiences, highlight those. Remember, employers are not just looking for a checklist of skills but also your potential to grow and contribute to their organization.
Can I include competencies that I only have a basic understanding of?
Yes, you can include competencies that you have a basic understanding of, but be honest about your level of proficiency. If you are not proficient in a skill, label it as "basic" or "introductory," and try to highlight your most proficient skills first.
Should I update my core competencies as I progress in my career?
Yes. As you gain more experience and skills, it's crucial to regularly update your resume and competencies. Revise your resume every few months, even if you're not actively job hunting, and include new certifications, significant accomplishments, and any new skills you've developed.