If you aren't actively job searching — and sometimes even if you are — you probably haven't updated your resume recently. This might not seem like a big deal, especially if you're happy in your current position, but it's always a good idea to have a current resume available. After all, if the perfect job landed in your lap tomorrow, wouldn't you want to be ready?
When to update your resume
Let's start with the basics: How often should you update your resume? Best practice is to update your resume every 3-6 months, or whenever you:
Move to a new role or company
Gain a promotion
Develop a new professional skill
Acquire a new certification or qualification
Take on new responsibilities
Complete a significant project
Change your personal or contact information
Are applying for jobs but not hearing back from employers
17 things to update on your resume
If you're worried about not having enough time: don't be! Here are 17 tips for updating your resume in 2023 (and beyond) that will make a big impact in a small amount of time.
If you have 5-15 minutes
Short on time? Maximize your impact with these quick resume updates.
Refresh your resume header
Your resume header is the first thing recruiters see, so make sure the information on it is current.
Do include:
Name
Email address
Phone number
Location
Job title
Portfolio
Don't include:
Photo
Social media
Personal information
Multiple contact details
Estimated time: 5 minutes
Related: The Ultimate Do's and Don'ts of Resume Writing in 2023
Add or delete resume sections
In addition to your contact information, your resume needs to have your work experience and a brief education section. Everything else is optional.
Depending on your background and the job you're applying for, you might want to include a skills section, resume summary, certifications, publications, honors, awards, projects, extracurricular activities, or other information — but not all of those. Stick to 1-2 additional resume sections at most and make sure they have plain headings — "Work Experience" and "Education" rather than "What I Learned" and "My Work So Far."
Estimated time: 10 minutes
Use synonyms
Do a quick scan of your bullet points. How many of them start with the same word?
Unless your answer is 'none,' it's time to vary your word choice with some synonyms for common action verbs. Instead of saying 'led' for the third time, try 'managed,' 'spearheaded,' or 'coordinated.' Rather than saying you 'worked with' a team, how about more interesting verbs like 'collaborated,' 'partnered,' or 'advised?'
Looking for more suggestions? Check out our database of resume action verbs.
Estimated time: 15 minutes
Highlight promotions
Hiring managers want to see evidence of career progression on your resume, especially if you're applying for mid-level and up roles. Highlight promotions and other types of career growth by showing progression in your job titles, emphasizing increased responsibilities, and explicitly pointing out promotions — especially if they were fast-tracked or otherwise ahead of schedule.
Here are some bullet points you can use to highlight a promotion:
Promoted within 12 months due to strong performance (6 months ahead of schedule).
Offered an early promotion to Senior Developer after 2 years; the only member of a cohort of 50 to be fast-tracked.
Estimated time: 10 minutes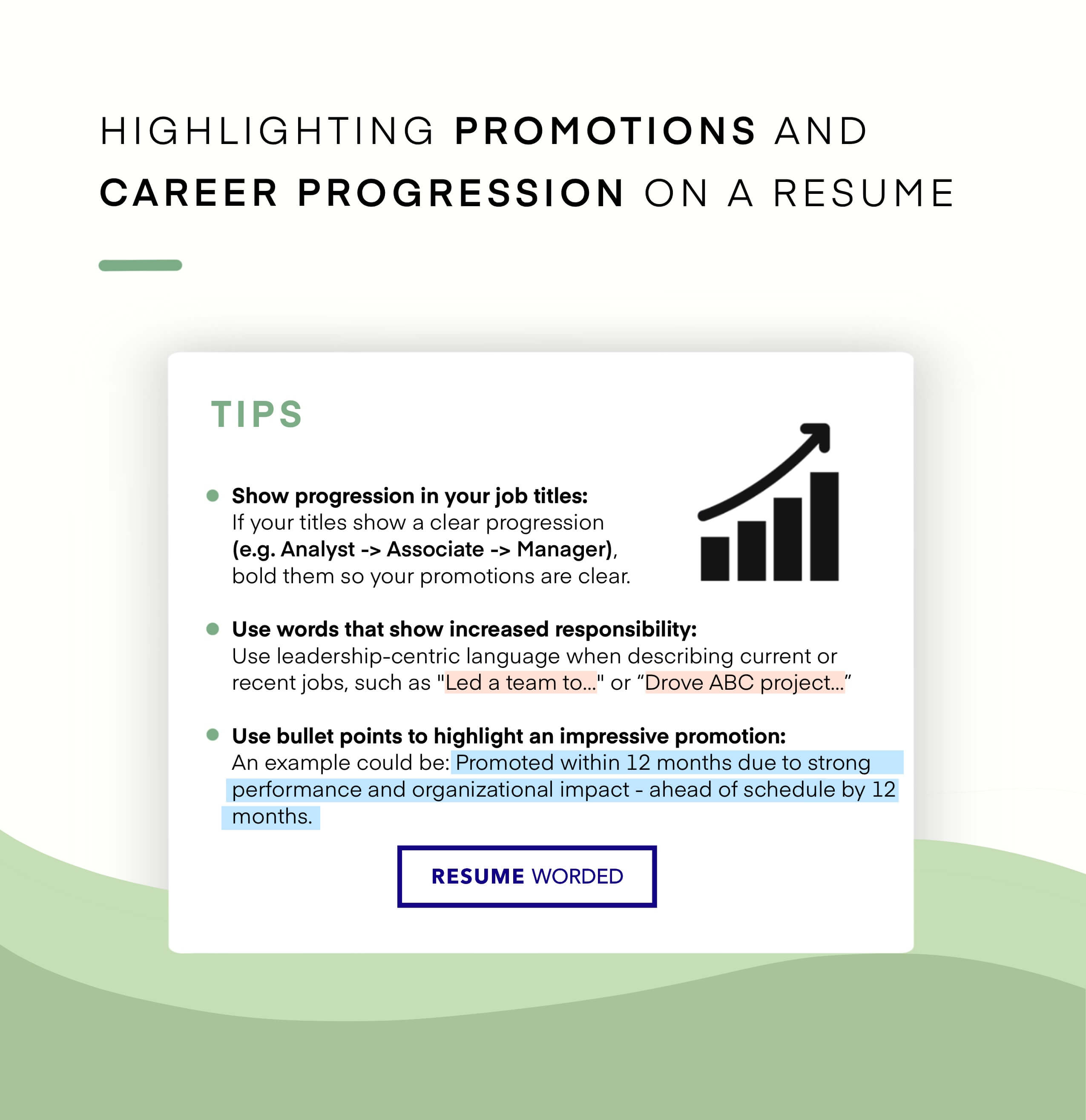 Include remote work accomplishments
If you're applying for a hybrid or remote position, including accomplishments specific to working remotely is a must. Even if the role you're applying for isn't fully remote, it can be beneficial to point out how you've managed remote employees, collaborated with teams remotely, or managed your own workload and productivity as a remote worker.
Here are some sample remote work accomplishments you can use:
Oversaw transition to remote work for team of 12 direct reports, resulting in 20% increase in productivity
Led remote design sessions with client teams on 20+ projects to develop functional and technical requirements
Increased overall departmental sales by 10% in a single year while working remotely
Estimated time: 15 minutes
Optimize your resume for ATS
Up to 75% of companies now use some form of ATS or automated resume screener, and that number is likely to keep growing. Make it past the first hurdle by ensuring a computer can read your resume — that means creating it as a Word or Google Docs file, saving it as a PDF, using a single-column layout, and avoiding Photoshop or online resume building programs, which can result in a non-highlightable image that ATS can't process. One super quick way to check that your resume is ATS-ready is to highlight the text — if you can't, that means it isn't compatible with ATS.
For even more tips, check out our guide to everything you need to know about applicant tracking systems.
Estimated time: 15 minutes
If you have 20-30 minutes
Have a little more time? There resume updates will make a big impact — but still won't take you all day.
Add keywords
Having the most well-written resume in the world won't help you if you can't get past Applicant Tracking Systems (ATS). Increase your chances of making it onto a hiring manager's desk — and onto the 'yes' pile — by including relevant keywords.
How do you know what keywords recruiters are looking for? Check the job description for essential skills and make sure you've included the exact job title somewhere on your resume. You can also use our skills and keywords finder to search for industry-specific keywords you can include.
Estimated time: 30 minutes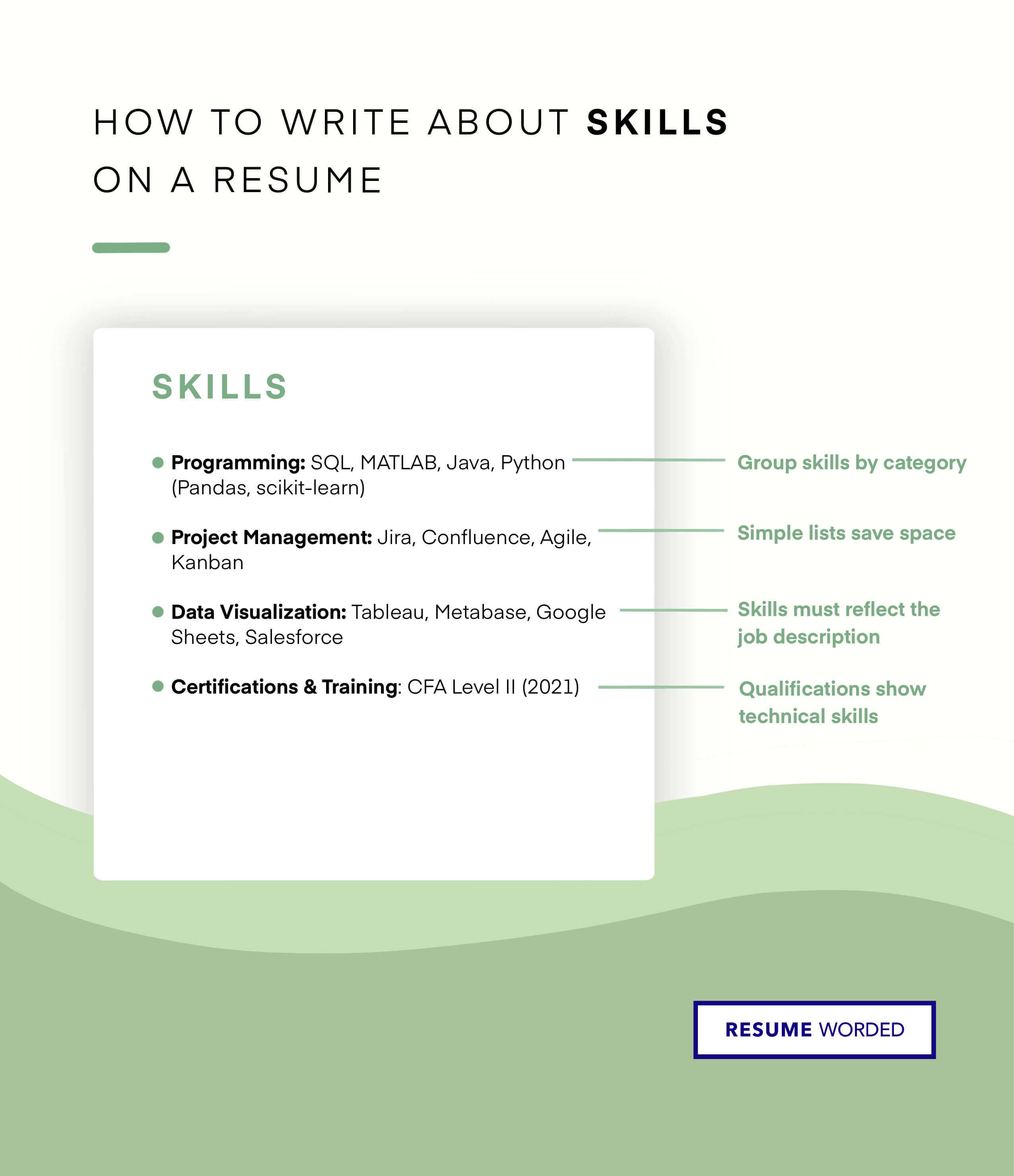 Remove unnecessary information
The problem with your resume may not be that it doesn't have enough information, but that it has too much. Here's how to trim outdated information from your resume:
Get rid of jobs that are older than 10-15 years — in most cases, your resume doesn't need to go back further than that.
Consider removing jobs that you held for less than 3-6 months (e.g. the ones you might have left early), as you're unlikely to be able to point to significant accomplishments.
If you've been out of school for more than 8-10 years, make your education section more concise by removing details like coursework, GPA, and the year you graduated.
Unless you're a current high school student, high school information doesn't belong on your resume at all.
If your resume contains any variation on the phrase "references available upon request," get rid of it immediately!
Estimated time: 20 minutes
Skim your resume
Most hiring managers only spend a few minutes at most looking at each resume. What does that mean for you? If you have a super impressive accomplishment buried at the bottom of your resume or in a dense paragraph, chances are the person reading your resume won't even notice.
Avoid falling into this trap by reading over your resume like a hiring manager would. Quickly scan your resume and see what jumps out at you. Do you notice important skills and keywords? Relevant job titles and accomplishments? Essential qualifications? If there's something you want to highlight that isn't immediately obvious, try these tricks to emphasize it:
List career highlights — including must-have skills or particularly impressive accomplishments — in a resume summary at the top of the page
Put the most important information higher up on your resume
Make your bullet points shorter and more varied to hold a recruiter's attention
Use formatting tricks (bold, italics, font size) to make different sections stand out
Estimated time: 20-30 minutes
Proofread your resume
It sounds obvious, but you'd be surprised to learn how many mistakes slip through onto finished resumes. Some hiring managers may not mind — or even notice — the odd typo, but for others, it could be a dealbreaker. Avoid taking chances by thoroughly proofreading your resume.
Here are some tips ensuring your resume is 100% error-free:
Read it aloud. It's easy for our eyes to skip over small mistakes, but reading out loud forces us to slow down and listen to what's actually on the page.
Use text to speech. Similarly, using the built-in text to speech function in your browser or Microsoft Word can help highlight any errors or awkward sections.
Read it backward. It sounds silly, but it works. Reading each section — or even each word — in reverse order allows you to spot mistakes you might otherwise miss.
Ask someone else. It's much easier to spot mistakes in other people's work than in something you wrote yourself. Ask someone you trust if they have a few minutes to look over your resume for obvious mistakes.
Estimated time: 30 minutes
If you have 45 minutes+
Looking to do a complete resume overhaul? Deep dive into potential resume problem areas with these tips.
Update your work experience bullet points
Now that you've gotten rid of information that doesn't need to be on your resume, you should have more room for the things that matter, like your accomplishments.
Under each job title on your resume, list 3-6 accomplishments in bullet point format using the formula [action verb] + [what you did] + [what the result was]. Use concrete numbers whenever possible — if you're stuck, here are some easy ways to quantify your resume.
Estimated time: 1 hour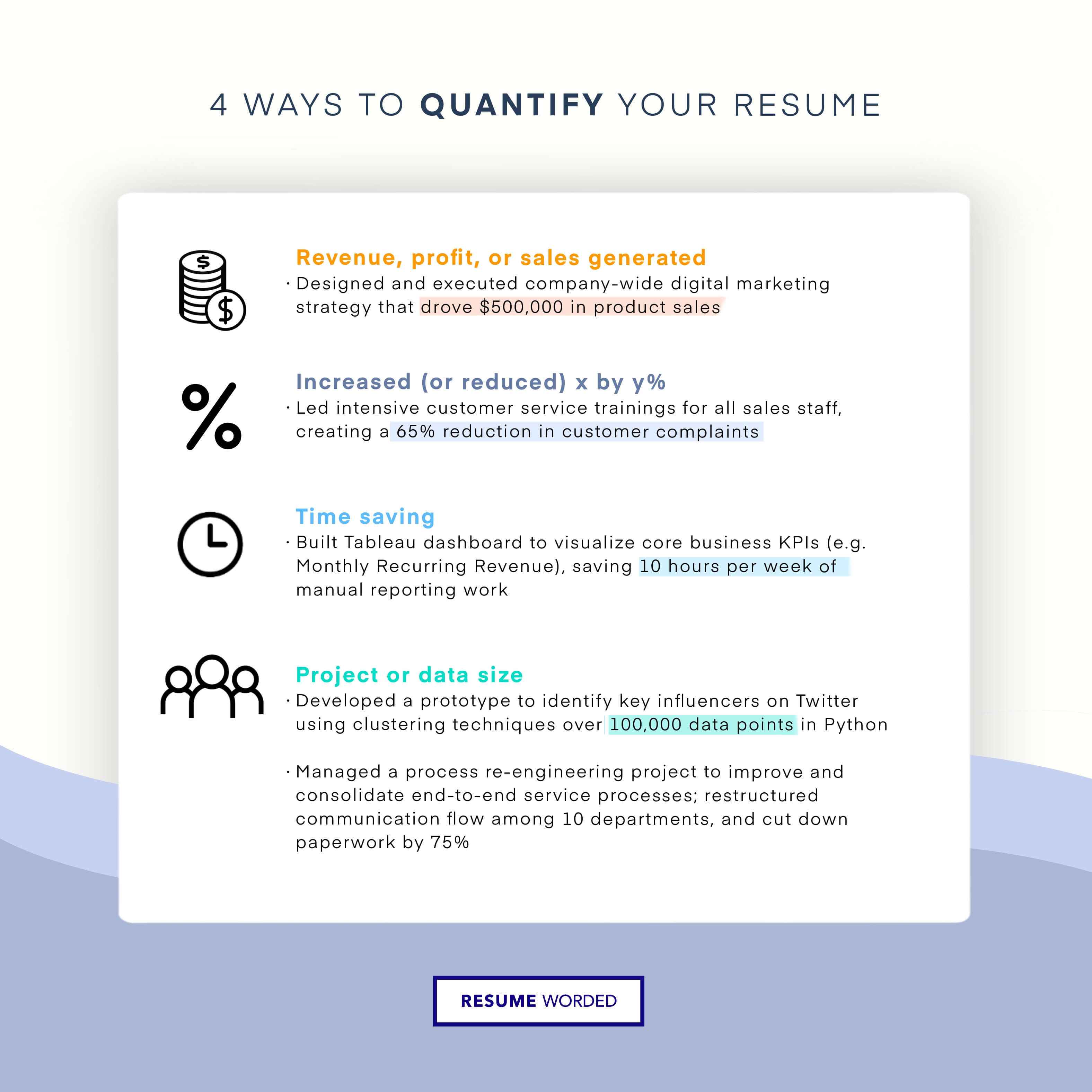 A good way to check if your resume has enough uses of concrete numbers and quantifiable accomplishments is to upload it to the tool below — it'll scan it and let you know if you have shown enough quantifiable accomplishments that hiring managers look for in a resume.
Tailor your resume to the job you want
Keywords aren't the only way to target your resume. You should also:
Include a resume title that matches the job you're applying for
Write a resume summary highlighting key skills and experience
Make sure your job title reflects your actual responsibilities
Prioritize your most relevant accomplishments — reorder your bullet points if necessary
Customize your skills section
Run your resume through our Targeted Resume tool to check your resume against the job description
Estimated time: 45 minutes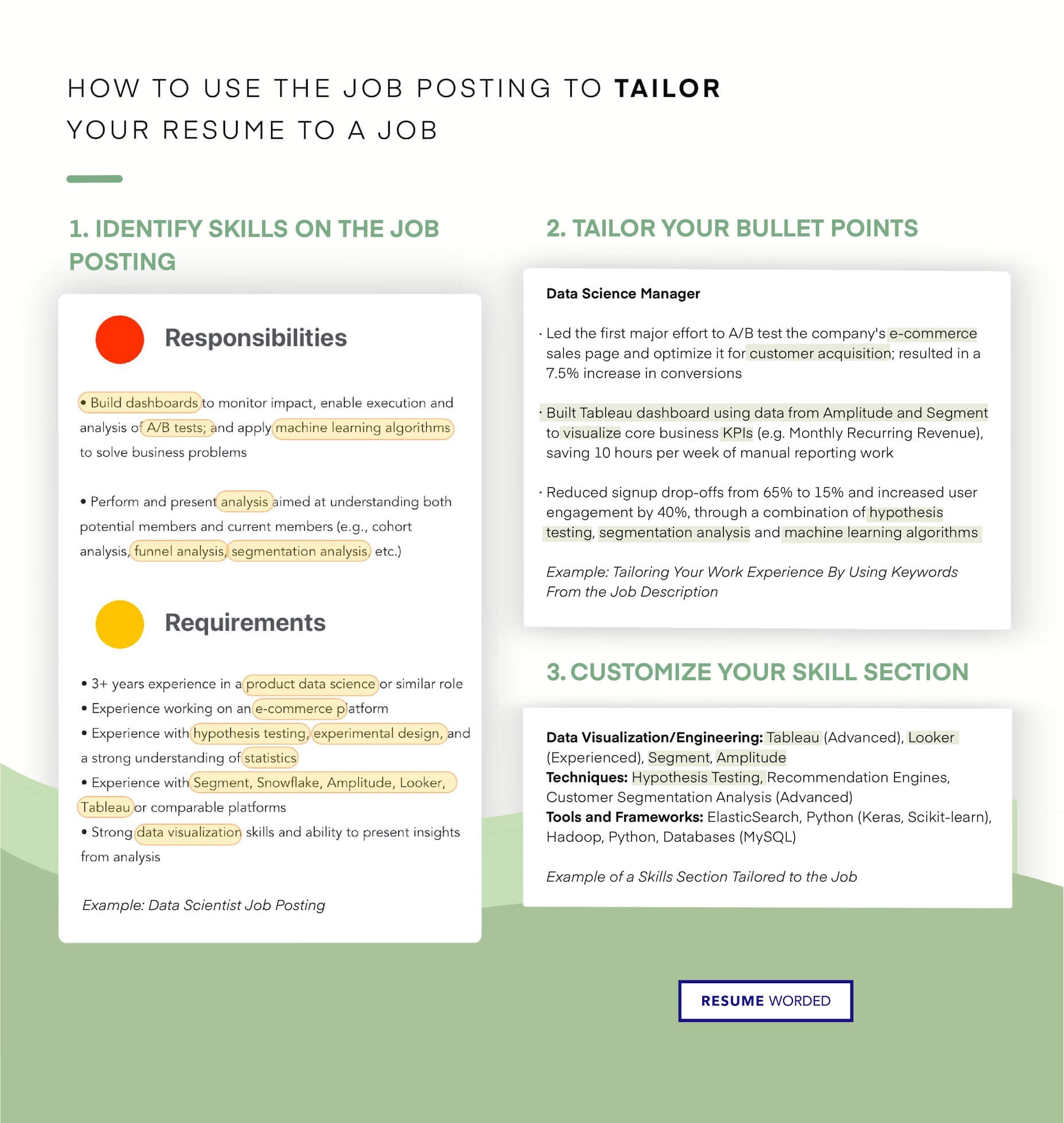 If you're unsure how to tailor your resume to the job you want, use the hard skills and keywords tool below to search for the job and it'll give you a list of skills relevant to the job. For example, search for Graphic Designer and it'll give you a list of skills specific to the graphic design industry.
Update your LinkedIn
Potential employers look at more than just your resume when you're applying for jobs. It's fairly common for hiring managers to get a better feel for applicants by looking at their LinkedIn profiles, so make sure that yours is up to date and consistent with your resume. To improve your LinkedIn profile, optimize it using this tool.
Once it's up to scratch, include a link to your profile in your resume header to make it easier for recruiters to find you if they want to know more.
Estimated time: 45 minutes
Polish your formatting
The content of your resume is what matters most, but that won't count for much if hiring managers can't read it. Your resume should use plain, consistent formatting. Make sure to:
Estimated time: Up to 1 hour
Future proof your resume for 2024
If you find you're having to start from scratch every time you update your resume, here are some things you can start doing now to make sure your resume is always up to date.
Use a modern resume template
Do you spend so much time formatting your resume that you're bored by the time you start adding content? Take a shortcut by downloading a professional, ATS-optimized resume template. Sticking with a modern but simple template is the key to avoiding resume trends (like bright colors or infographics) that will look dated in a few years.
Estimated time: 5 minutes
Have a master resume
While it's important to have more than one resume, depending on how many jobs you're applying for and how different they are, it can also be a pain to keep them all updated. Avoid this by creating a single master resume that contains all of your information. That way, you can keep a single file updated and pull from it to create more targeted resumes as needed.
Estimated time: 20 minutes
Keep a running list of your accomplishments
Have you ever sat down to update your resume and wished you could remember more of your accomplishments? Instead of straining to remember months (or years) worth of accomplishments at once, try keeping a running list of your accomplishments and adding to it every time you achieve something noteworthy. This could be a "brag folder" where you drop projects you're proud of, a word document where you copy glowing performance reviews, or even a handwritten notebook where you jot things down as they happen.
Estimated time: 10 minutes