The summary section of your LinkedIn profile is arguably the most important part of your profile. What is a LinkedIn summary? It is the space at the start of your LinkedIn page, and it is your best chance to reel in potential employers. This space is where you highlight your talents, experience, and what makes you, you. If the job you wanted to get was a role in a movie, then your LinkedIn summary is your highlights reel.
As a potential employee, you need a summary that is engaging and impressive.  Your summary may be the only part of your profile that some employers read, so it is important to make every word count. This guide will explain how to write a great LinkedIn summary and provide a few templates to help you get started.
What makes a LinkedIn summary effective
When it comes to the most important part of your LinkedIn profile, details matter! Here are some helpful tips to keep in mind while crafting your summary:
Include work experience, accomplishments, and awards.
Write in first person, this feels more personal to the reader
The first three lines are the most important, so start off strong
Consider which keywords potential employers may be using to search
Run your summary through a spelling and grammar checker
Length should be between 200 and 300 words
Small paragraphs or bulleted lists are best for easy reading
Use precise information and figures. (Example: At ClothingStoreInc. I exceeded my sales quota by 20% two years consecutively)
Always place a call-to-action near the end, listing your preferred methods of contact
LinkedIn Summary Examples & Templates
Each LinkedIn profile will need to accomplish something different, depending on your goals. For example, your summary may be crafted a bit differently if you are job-seeking rather than simply building a network.
To help you write your summary in no time, here are a few templates showcasing some of the ways you can craft a summary. These are examples; feel free to take them and enter your own information.
Templates for Jobseekers
Example 2: A job seeker's LinkedIn summary
Those seeking jobs should focus on their hard skills and grab potential employers' attention with a bit of personality thrown in. Here's an example:
I always knew that I wanted to write, but I wasn't ever sure how to go about it. I started a small personal travel blog when I was around 15 and when I joined college, I wrote for my school's magazine (The University News). These experiences led to me getting an internship with a magazine in New York City while I was a junior at college.

When I graduated, I joined the Resume Worded Times as an entry-level writer and have been here since! I'm now a Lead Writer on the Editorial Team and over the last three years, I've written over 75+ articles covering a broad range of industries, including education, politics and entertainment. My work has been featured in major publications globally, including Forbes, Resume Worded and Entrepreneur Weekly.

Outside of work, I serve on the executive team at the Young Women in Journalism, an organization committed to improving the networking and success of women in journalism across the USA.

I enjoy traveling, eating my way around the world and sharing experiences on my blog!

If you ever want to bounce ideas off of me, please feel free to visit my blog at resumeworded.com or contact me on Twitter @ResumeWorded!

Skills:
- Content Marketing
- Search Engine Optimization (SEO)
- Blog Posts
- Guest Posts
- Branding
- Journalism
- Politics

Note a few things this template does right. The tone is a great balance between professional and casual, and leaves a great first impression on any visitor.
Finally, a concise skills section with keywords is a useful to help this job seeker show up in search results when a recruiter searches those queries!
Example 2: Another jobseeker's LinkedIn summary
And here's another example.
With over [enter number of years] of experience as a sales manager with [enter company], I know what it's like to go the extra mile and always make my sales quota.

Knowing what the client needs, getting them product, and driving sales are things I am passionate about.

My specialties include Excel, Word, scheduling, filing, account management, sales, customer service, working independently, interpersonal skills, great at managing people.

Although deeply passionate about my area of expertise, I'm also passionate about baking! If you think I may be a good fit for your company, or if you'd like to get together and chat over a slice of homemade chocolate cake, email me at [enter email].
Shorter than the last one but just as effective, this template emphasizes the job seeker's strengths (i.e. the list of specialties is particularly effective at this).
One useful thing to note — both templates don't say things like "I'm unemployed" or "I'm looking for new work". You don't need to be too overt when writing your LinkedIn summary, and words like 'unemployed' are a red flag to potential recruiters! Instead, use a standard 'call-to-action' like "Reach out to me on email!", while including your email.
Related: Make The Most of LinkedIn With These Strategies For Finding Recruiters

How do I write a LinkedIn summary if I have no experience?
For someone that has no work experience at all, you might need to be a little bit creative. List any activities you have done or been involved in that could be relevant to the job you are hoping to get.
For instance, if you are wanting a job in early child development, you could describe how you always loved babysitting all of your neighbor's children while you were a student. If you want to get a job as an activity director, you could mention the time you were in charge of organizing the Spring Formal Dance.

What should I write on my LinkedIn profile if I am unemployed?
If you are unemployed, that's fine! Your LinkedIn summary should anyway be more than just work experience, so take the opportunity to talk about your background and what you're looking for. As we mentioned earlier, avoid using words like "unemployed" in your profile!
You should also mention your hard skills. A bulleted list would be a great, simple way to put these on display. Make sure to emphasize what your value would be to a potential employer. In your call to action, make it clear that you are eager to discuss any employment opportunities and list all the ways you can be contacted.
Your LinkedIn summary should include a list of your relevant hard skills. If you're not sure which of your skills to include, use the tool below to get a list of hard skills and keywords relevant to your job and industry.
Let's put all of this into practice in this example — here's an annotated checklist that you can use.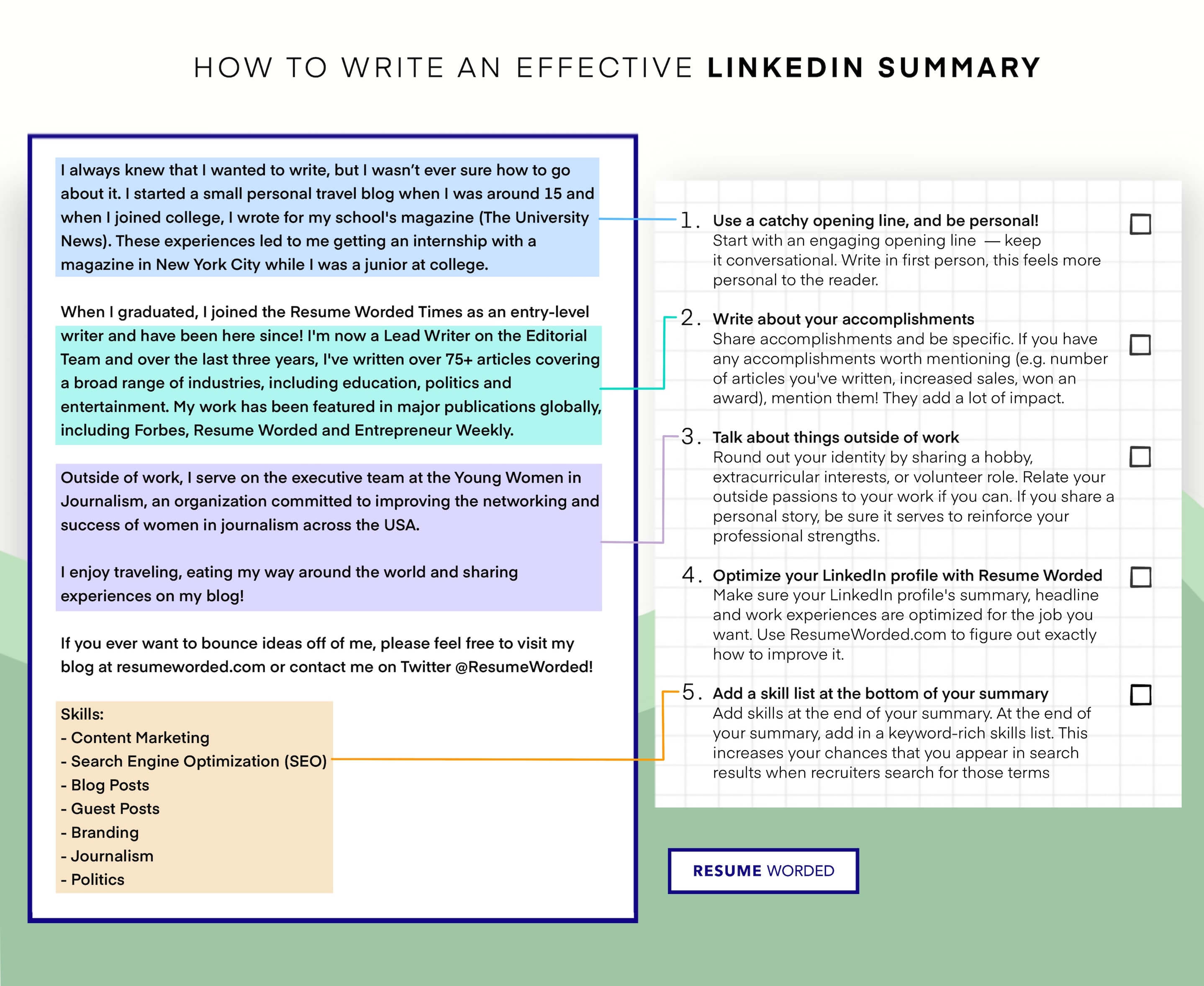 Templates for Experienced Professionals
Ultimately, LinkedIn is a personal branding tool and even if you aren't looking for a job, it's a good idea to craft an engaging summary. Let's go through a couple of great templates you can use when writing your summary as a professional.
Example 1: A LinkedIn summary for all kinds of professionals
In this first template, notice how we emphasize our skill sets and passions.
I have over 15 years of experience working in product management and data science. Currently, I work as the Head of Product Management at Resume Worded, where I lead a cross-functional team of seven, building unique products that are helping people achieve more in their careers! I'm deeply passionate about creating loved and trusted products that help people navigate their careers and achieve their career goals.

Previously, I worked at ABC Startup as a Lead Data Scientist, improving products and services for our customers by using advanced analytics, setting up big-data analytical tools (i.e. Hadoop, BigQuery), creating and maintaining models, and onboarding new data sets.

If you catch me outside of work, I'm an adventurous traveler - 30 countries and counting - and an avid lover of tennis!

I also like meeting new people over a cup of coffee. Feel free to reach out at [email protected] or DM on Twitter @resumeworded.

Competencies: Python, Hadoop, Big Data, Hive, SQL, PySpark, Keras, machine learning, TensorFlow, Business Intelligence, Tableau

P.S. If you're passionate about creating tech-focused products to help people reach their potential, we're hiring! Get in touch with us at resumeworded.com/linkedin-review
Even though this summary is written for a person with a pretty technical background, it does a great job at keeping it personal and engaging.
It also makes an excellent use of using keywords throughout the summary — something we've already mentioned as being really crucial!

Example 2: A simple LinkedIn summary for professionals
This second template is short and sweet. It contains all the critical information—what they do, what they're passionate about and what they do outside work — while also using a clear and succinct call-to-action to maximize connections via LinkedIn.
I am a [enter profession] and I am passionate about [enter trade]. I love collaborating and making connections. I love to discuss [enter subject] on my blog, [enter name of blog].

My specialties include [enter list of skills and/or accomplishments]

I am always open to chatting about [enter subject] and would love for you to connect with me on [enter social media]. Please feel free also to connect with me here on LinkedIn or by email at [enter email].
Templates for Students
First off, it's awesome that you're thinking about things like LinkedIn and your personal brand if you're a student or you're just starting out your career!
Students who are transitioning from school to work face a unique challenge since you likely don't have work experience to mention in your summary! But don't worry — use the summary section to tell people a bit about you, what you're studying and what you're looking for.
Example 1: A LinkedIn summary for entry-level job seekers and students
Always remember the goal of your LinkedIn summary: it's to tell people about you and your skills in an engaging way, while encouraging prospects to connect with you. This is a great template of how to do this, if you're a student:
Hi there! I'm an aspiring data scientist who loves finding patterns and connecting dots: be it ideas from different industries, people from different backgrounds and teams, or applications from different industries. I have strong technical skills, particularly in databases and machine learning, and an academic background in mathematics, engineering and statistics.

I love solving business problems with unique algorithms and communicating complex ideas to business stakeholders.

In my graduate studies, I took on a number of leadership roles, including mentoring two undergraduates, coordinating university research events for 400+ attendees, and leading the Model United Nations committee.

I'm graduating in July 2021 and I'm interested in full-time or contract data science or machine learning roles. Please feel free to get in touch with me via email at [email protected].

Proficient: Tableau, Python (scikit-learn, NumPy, SciPy, pandas), TensorFlow, Excel
Knowledgeable: SQL, R, Spark (Spark SQL Pyspark)
Familiar: NLP (Natural Language Processing), spaCy
Example 2: Another excellent example of a student's LinkedIn summary
Similarly, an inexperienced job-seeker can stand out with a summary like this:
Finding creative solutions to problems is something I have always enjoyed. As a kid I loved tinkering with things that were broken, figuring out how they worked, and fixing them again. When I finished high school, I knew exactly what I wanted my career to be.

I am finishing up my degree at [insert college], where I have learned how to apply critical thinking and problem-solving strategies to today's complex problems.

If you are interested in contacting me in regards to a position with your company, please email me at [enter email], or feel free to connect with me on LinkedIn.
If you are a student, there are a few things you should include in your summary. Your education is a big selling point, so definitely emphasize it. Explain the lessons you learned during your time at school.
Include real-life experiences you've had that are relevant, even if it's working on a school project or being class president. Keywords are also something to consider carefully while crafting your summary; choose these wisely because they can help get your profile noticed!
Finally, let your personality come through a bit. State what kind of person you are, what value as an employee you will bring to a company, and what kind of career you are hoping to have. Also, listing things such as interests, hobbies, and even your pets can help you look like a real person and make a connection.
Templates for Career Changers

The LinkedIn summary section is the perfect opportunity for career changers to showcase their new skills, and explain why they want to move into a new career or industry. To explain a career change, try using an anecdote to illustrate why you decided to make the change. Then focus on the skills you learned.
Example 1: A LinkedIn summary you can use if you're changing careers
One of the core goals of a career changer is to show that their skill sets are transferrable into a new career. This example template does this well:
I have been working in sales for almost five years, and I am now planning a transition into corporate human resources. Although successful in my sales career, I have realized the aspects of my work I find most rewarding are all in HR-related functions:

- Solid foundation in HR affairs: As senior account executive, I have been responsible for a number of HR functions, including recruiting, interviewing, hiring and training new employees. A quick learner of complex concepts and legal issues, I am eager to broaden these competencies.

- Dynamic communication style: I am adept in building relationships, consensus and a shared sense of purpose. I am known for my ability to quickly establish trust with employees, mediate disputes and motivate others into action.

- Experience in corporate training: A constant throughout my sales career has been my passion for the design and delivery of staff development programs. Comfortable and experienced giving both large and small-group presentations, I have conducted hundreds of training seminars for diverse audiences across all organizational levels.

I'm currently seeking [opportunities you're looking for], so if you'd like to work together, feel free to connect via LinkedIn or contact me directly at [email protected]!

Specialties:
- Account Executive
- Building Relationships with Senior Executives
- Seminar Training
- Recruitment
- Leadership Training and Development
- Business Coaching
- Change Management
- Staff Development Programs
- Performance and development
- People Management
- Employee Relations & Welfare
- Human Resources Development
- Talent Development Programmes


Example 1: A LinkedIn summary you can use if you're changing careers
And if you need more inspiration, here's another example!
I spent most of my working career in retail management. It was there that I learned how much I loved helping people find what they wanted and taking care of their needs. Seeing that smile on their face when I found them just what they were looking for made my day.

[Enter number of years] ago, I decided I needed something more, something bigger. So I decided to get my real estate license. I got a position with [enter employer] and have been making dreams come true for families ever since.

If you need assistance finding a home or property in the [insert city area] please call our office at [enter phone number] or email me directly at [enter email].

An optimized LinkedIn summary helps you create a better first impression to potential prospects, and helps you build your network. I hope these examples help you craft a LinkedIn profile that generates you opportunities!
If you want to generate a LinkedIn summary, visit the LinkedIn Summary Generator.