If you're applying for jobs, you need a resume to demonstrate your experience. But what if you don't have any?
Well, first, don't panic. It's totally okay not to have work experience — everybody has to start somewhere, right? The good news is, you don't need traditional work experience in order to build a resume. Student activities, internships, projects, and volunteer work can all be used to build a professional-looking resume that can help you land a job — all without a shred of paid work experience.
Professional resume templates you can use if you don't have work experience
Before we dive into actionable advice on what to include if you don't have enough work experience, I wanted to first share resume templates that you can download and use. They're all in Google Docs and PDF format, so feel free to edit them directly.
For students with little to no work experience
Here's how your resume could look, with a link to the template in Google Docs below. Notice how we reposition our extracurricular, volunteering and personal experiences as 'Leadership and Work Experience'. This is a good approach to take if you're a student who's just getting started in your career.
To download this template, visit this Resume With No Experience on Google Docs.
A second resume template if you don't have much experience
This is a great looking professional resume template that students can use to showcase an internship, student activities/extra-curriculars and any relevant class projects.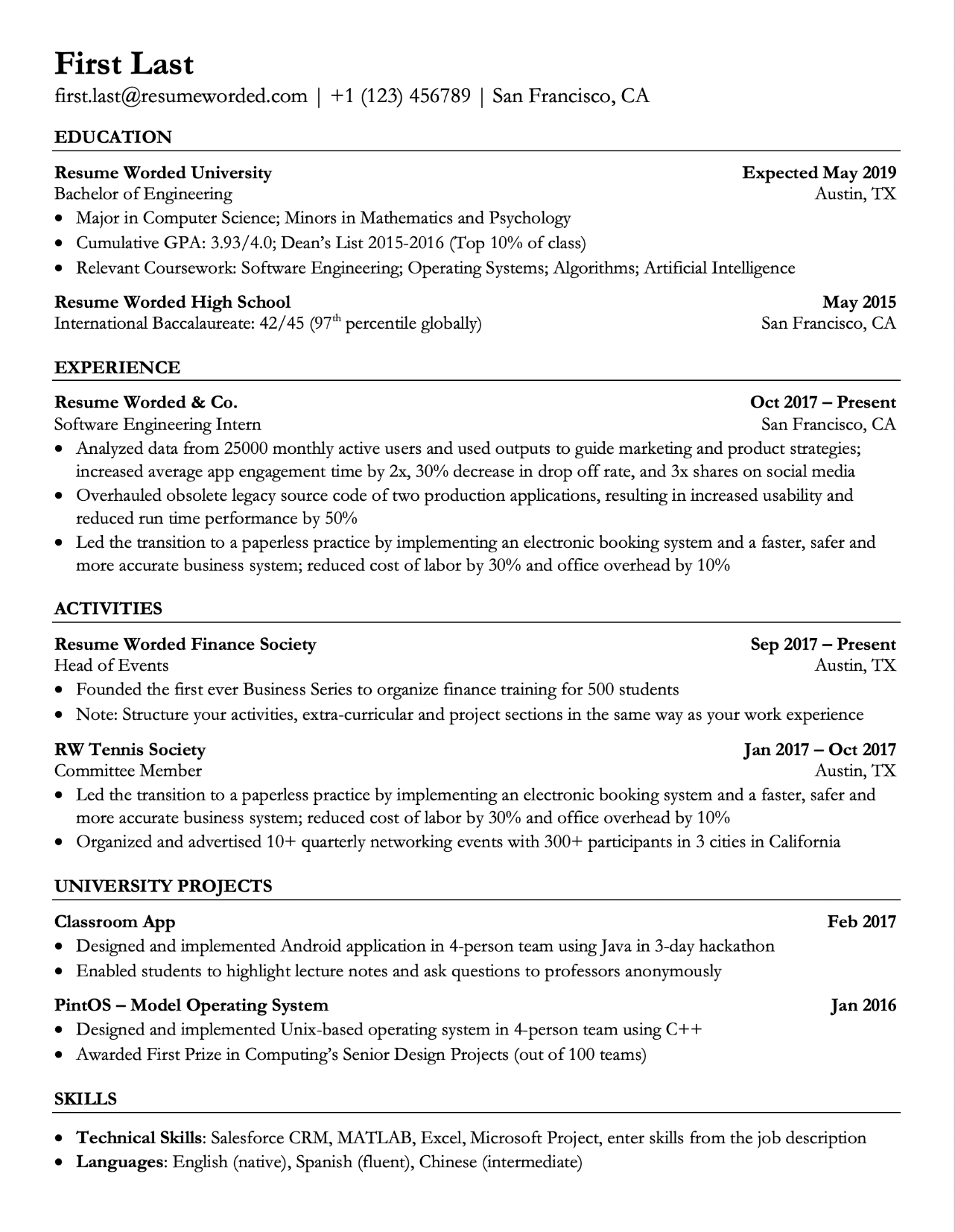 You can download this resume template from our student resume templates page.
What to include on your resume if you don't have experience
Here are the key sections you should include on your resume. If you want to jump straight to the examples, scroll down past this section.
Education
If you're a current student or recent graduate
If you're a current student (high school or college), your education is likely to be the most recent — and most relevant — experience you have. That means you can add your education section to the top of your resume, which takes some of the focus away from limited work experience. Capitalize on this by elaborating on your academic achievements — anything from relevant coursework to study abroad can be listed in your education section.
If you're changing careers
If you're changing careers or just struggling to get started without much experience, you might benefit from continuing education. This doesn't have to mean going back to university — look up free accredited online courses that are relevant to the job or industry you're interested in to serve as a quick gateway.
Examples
The more recently you graduated, the more detailed you can make this section. Include your university or college, location, degree, field of study, and graduation date (or expected date if you're yet to graduate — an approximate date is fine). You can also include your GPA (only if it's particularly impressive — it it's below 3.5, you can leave it off), any honors or awards, and selected coursework if it's particularly relevant to the job.
If you're a high school student, list your school, location, the qualification you obtained, and your graduation date. You can also include any awards, student activities, or noteworthy accolades.
If you didn't complete your degree, that's not a problem. You can still list your degree with the dates you studied, the name of the university, location, degree pursued, and the number of course hours you completed. Here's how it could look:
Boston University (2020-2021)
Boston, MA
Bachelor of Arts in Communication — Completed 20 credit hours
Experience
Experience doesn't need to be formal, or paid, experience
It's an age-old paradox — you need experience to get a job, but you need a job to get experience. Luckily for you, that second part isn't necessarily true. Experience doesn't have to mean paid work experience — it could include volunteer work, internships or student placements, part-time jobs, extracurricular activities, or personal projects. These all demonstrate transferable skills that hiring managers are looking for.
Include relevant experience, and highlight transferrable experience
The experience you include on your resume needs to be relevant, which doesn't mean that you need experience in the same type of job or industry. Relevancy is more about showing that you have the relevant skills to succeed. Look carefully at the job description and think about what you've done that demonstrates those same skills. For example, if a job mentions teamwork, you could link this to a sports team or university organization. Need communication skills? Mention your public speaking experience or a time you up an email newsletter. Recruiters look for transferrable soft skills on your resume, so if you can demonstrate them through your other non-paid experiences, that will help!
Consider freelance work or independent side projects
If you're still struggling to think of things to include on your resume, consider gaining additional experience by starting up a side project, like running a blog or picking up freelance work. Every little bit helps — even things you may not consider to be "real" experience.
Focus on resume accomplishments
Whatever you choose to include, remember to talk about your accomplishments, not your job duties. "Responsible for closing the store every night" is a duty — it tells recruiters what you were asked to do, but not what you actually did or how you're likely to perform in the job you're applying for.
Narrow down the accomplishments that are most relevant to the skills listed in the job description and focus on those — even a job one day a week at a pizza place can demonstrate relevant skills for an office job. Notice how the following example focuses on resume accomplishments, and not responsibilities.
Quantify your resume
Remember that including numbers and metrics can help any experience look more impressive — this is also known as 'quantifying your resume'. If you're having trouble coming up with metrics, here are some questions to consider:
How many people have you worked with for specific projects or extracurricular activities? Instead of just saying that you worked in a team, specify the size of the team.
How many people attended an event you organized? If it was for charity, how much money did you raise?
If you collected, entered, or analyzed data, how big was the data set?
How many customers did you serve on an average day? How many sales did you make?
Internships
Internships and student placements are ideal experience for your resume, since they're still professional settings. You can list internships under your experience section, especially if you don't have other paid experience. Treat these like any other type of work experience by listing the employer, dates, and your accomplishments in 3-6 bullet points.
Volunteer work
Volunteer work is another great substitute for paid experience. Just like internships, these can be listed in your experience section or in a separate volunteer work section or community engagement section.
Extracurricular Activities
Think nobody cares about your student activities after you graduate? Think again! Even extracurricular activities have a place on your resume. These don't need to be relevant to the job you're applying for in the sense of being in the same field or position — instead, think about the skills you demonstrated in your extracurricular activities and how to frame those as accomplishments.
Projects
Personal or community projects are another great way to demonstrate relevant skills without traditional paid experience. These can go under a separate projects section, or in an activities or volunteer experience section. Focus on the skills you demonstrated as part of your projects or hobbies and how they're relevant to the job you're applying for — for example, leading a team or presenting a completed project.
Skills
Work experience or no, you can still include a skills section in your resume. You should focus on hard skills only — think proficiency with a software program or technical process, not soft skills like teamwork and communication. If you're not sure what skills hiring managers are looking for, you can use Targeted Resume and out skills and keyword finder to look for relevant skills to include.
No, this doesn't mean you need to list every skill you possess — just the ones that are most relevant to the job you're applying for. Look for the skills listed in the job description and list those if you have them. Good skills to list could include software programs, programming languages, hardware, foreign languages, certifications, design skills, research, data analysis, and specific types of writing, like proposal writing or SEO.
What shouldn't you include in your skills section? Transferable skills — thinks like communication, leadership, and initiative. These are all great skills to have, but simply listing them isn't going to impress a recruiter. Instead, think about a time you demonstrated that skills and include it in your bullet point accomplishments.
Resume summary
This is an optional section at the top of your resume that can make sense to include if you feel like you're light on relevant experience. A resume summary and a resume objective function in similar ways — a summary outlines your key skills and accomplishment and is ideal for career changers, while an objective is a brief explanation of your professional goals and how these relate to the job you're applying for and is better for job seekers with little to no experience.
Additional sections
As a rule of thumb, you should include anything on your resume that increases your chances of landing the job and omit anything that doesn't. When you're just starting out, anything that gives hiring managers a better sense of who you are and what you're capable of can be worth including.
Relevant certifications and short courses, and foreign languages can all fall into this category. The qualities or skills you're trying to highlight should be relevant to the job, even if the experience itself isn't — for example, foreign language competency can be a bonus for a lot of jobs, especially for multinational companies or customer-facing roles.
Your resume isn't just an overview of your experience — it can include anything that strengthens your candidacy and shows your ability to do the job. Just remember that everything on your resume needs to be there for a reason — if it's not relevant to the specific job you're applying for, leave it off.
Tips for creating a resume, if you don't have enough experience
Writing your first resume? Here's how to get started.
Keep your formatting simple
You don't need a fancy-looking resume to impress. In fact, going overboard with creative elements — like downloaded fonts, lots of colors, images, and multi-column layouts — can do more harm than good. Stick to an easy to read font (default fonts like Arial or Calibri are fine), clear section titles, and standard Word or Google Docs presets. Even better, download a free resume template that does the work for you.
Use the right keywords
Most resumes nowadays go through something called Applicant Tracking Systems (ATS), which are automated programs that scan your resume for certain keywords. To get an idea of the specific skills hiring managers are looking for, search our list of top resume skills and keywords. Being a match for the key skills the job requires is much more important than having the perfect background or experience!
Include a cover letter
You can get ahead of most other applicants simply by writing a cover letter. This is a must if the job posting asks for one (following instructions is always the number one priority!), but it's generally a good idea unless the description specifically asks you not to. Why? A cover letter is a great opportunity to talk about why you're interested in the job and what you would bring to the table — which, when you lack traditional work experience, may not always be obvious from your resume alone.