LinkedIn isn't the number one professional networking site for nothing. With over 700 million users, LinkedIn can help you reach more contacts than any other method — if you know how to use it.
Why use LinkedIn? It's a numbers game, for one. With around 14 million open jobs advertised at any given point and 87% of recruiters active on the site, it's no surprise that 122 million people and counting have found jobs on LinkedIn. And that's not the only reason to use the site — LinkedIn is also one of the best ways to meet people in your industry, reach out for informational interviews, and find an audience for your professional content. To help you do just that, we've put together some of our best tips for using LinkedIn to its full networking potential.
Make sure you have a great LinkedIn profile
The most surefire way to get more views on LinkedIn is by finishing your profile. To get started, you can follow the automatic prompts on LinkedIn to add skills and work experience to your profile. We'll go through some of the key ways you can improve your profile below, but to make things even easier, get personalized feedback on your LinkedIn profile (for free) using the LinkedIn Optimization tool.
Feature an attention-grabbing headline
Your headline isn't the same thing as your job title, and you don't have to limit it to one or two words. It's also the first thing most people will see, so take advantage of that by including a detailed description of your current or desired job title, your top skills, and whether you're currently job searching. Instead of a generic job title like Web Developer or Marketing Manager, use a keyword-rich headline like:
Web Developer at Resume Worded | Front and Back End | HTML5, CSS3, Java, JavaScript, PHP
Digital Marketing Manager | SaaS | SEO | SEM | B2B & B2C Specialist
Project Manager | PMP-certified | Financial Management Specialist | Experienced Seeking Full-Time Opportunity
By giving more information about what it is you actually do, what you bring to the table, and what you're looking for, it's much easier for recruiters and other potential contacts to assess at a glance whether you're a good fit for any opportunities and why they should connect with you.
If you need help finding keywords to include in your LinkedIn headline, use the tool below to get a list of keywords relevant to your industry or job.
Write an effective LinkedIn summary
Below your headline is an 'About' section where you can write your own summary. Think of this as something similar to, but not exactly like, a resume summary or cover letter — it can be less formal than something you'd send directly to an employer, but should still capture the highlights of your professional interests, experience, and current goals. Think of something like this as a basic template:

I am a [enter profession] and I am passionate about [enter trade]. I love collaborating and making connections. I love to discuss [enter subject] on my blog, [enter name of blog].

My specialties include [enter list of skills and/or accomplishments]

I am always open to chatting about [enter subject] and would love for you to connect with me on [enter social media]. Please feel free also to connect with me here on LinkedIn or by email at [enter email].
Your summary can be personalized as much as you like — the more specific it is to you and written in your own voice, the more useful it'll be to people seeking to connect with you. Here are some other great examples of LinkedIn summaries, including templates for job seekers, students, and career changers.
Use featured sections
LinkedIn isn't just for listing your work history. You can customize which sections you add to your profile, including links to posts, articles, and other media, licences and certifications, and significant accomplishments like publications, projects, and awards. While all of this would be too much to add to your resume, LinkedIn is the perfect place for it — it means that anyone looking at your profile can get a comprehensive view of who you are and what you've accomplished professionally, in as much or as little detail as they'd like.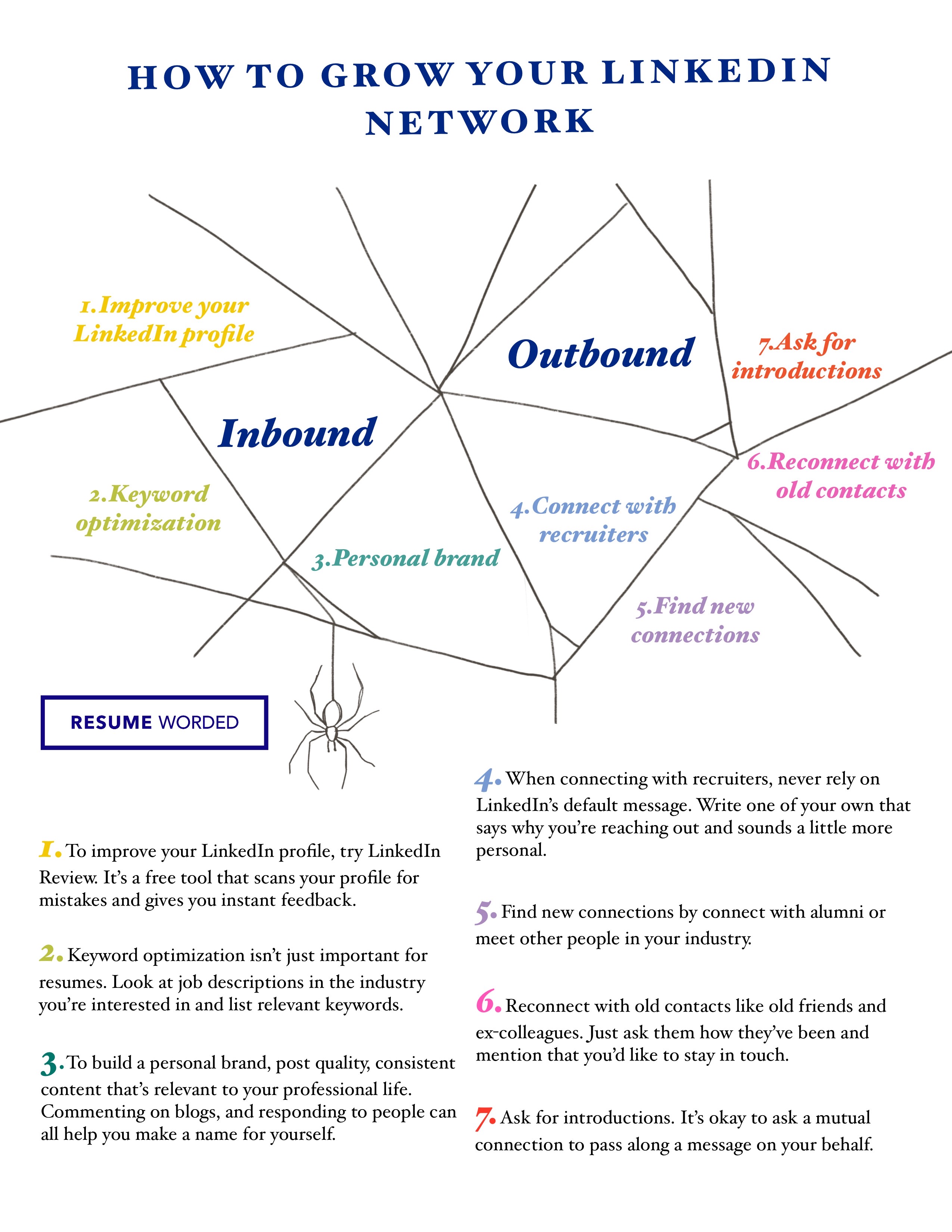 Optimize your profile and get feedback
If you've done all the above and are still looking for ways to improve — or just want to skip straight to a shortcut — LinkedIn Review can give you personalized, actionable feedback on how to optimize your LinkedIn profile, including headline examples and ways to improve your profile score for greater visibility.
How to make connections on LinkedIn — step-by-step
Once you've perfected your profile, it's time to use LinkedIn for what it was designed to do — networking!
Connect with people you already know
When building your LinkedIn network, the best place to start is with people you already know. That doesn't have to mean manually searching for every friend, family member, and colleague you can think of — to speed up the process, let LinkedIn automate the process by going to My Network > People You May Know, or upload your online address book by selecting 'Add Personal Contacts' and linking an email address.

Reconnect with old contacts
Want to add people on LinkedIn, but you've fallen out of touch? It's a lot easier to reach out to old contacts than you may think. Try sending a friendly message to get the ball rolling. Keep things short and sweet, and let them know why you're reaching out — whether it's just to say hello or you'd like a quick chat, an introduction to someone at their company, or insight into a particular area or industry they're familiar with.

Hey [Name],

It's been a while and I just wanted to say a quick hello. I hope you're doing well  — congratulations on [new job, life event, etc.]!!How has that been going?

I'm sure you're probably busy, but is there a day soon when you might be free to catch up over lunch or coffee? It'd be great to reconnect!

Take care,
[Your Name]
Here are some more templates for reaching out to old contacts that might help take the pressure off. And if it still feels like too much to message someone out of the blue, try warming up first by engaging with their content on LinkedIn. Maybe like, share, or comment on a couple of their recent LinkedIn posts — you may even find that they notice and reach out to you instead.
Find new contacts to expand your network
After you've found people you already know, expand your network by looking for second degree connections and searching for people in your industry. The best way to add new people is by sending a customized request — instead of relying on the generic default message, take the time to personalize it a little by letting people know how you found them and why you want to connect.
Hi [Name],

I read from your profile that you recruit for [state the type of role you're looking for, eg. project managers] in [your geographical area, eg. Austin]. I'm currently a [position] at [Company] and wanted to connect with you in case you think my profile might be a good fit for current or future roles you seek to fill.

Thanks!
[Your Name]
If you find it easier to reach out to people once you have something more concrete in common, why not ask a mutual contact for an introduction?
Hey [Name],

I hope you're well!

I saw you're connected to [Contact's Name] on LinkedIn. He's working at [Company] and I'm considering applying for a position as a [the role you're interested, eg. software engineer] there.

I'd love to chat to her to get some insight into the company and what the role is like. If you know her well enough and you feel comfortable, would you mind connecting me? I can send you a pre-formatted introductory email to make things easy for you.

Thanks!
Rachel

Here are some more templates to help you write the perfect LinkedIn connection request and specific tips for reaching out to recruiters.
Related: Networking for Introverts: 10 Actionable Tips to Grow Your Network
Maintain relationships with your network
You've built a solid LinkedIn network. That's great — but it doesn't end there. Avoid letting your relationships go stale by setting aside time to touch base with people, the same as you would in real life. If it helps, try scheduling time on your calendar every couple of months to check in with your contacts. You can also make a point of engaging with content that's relevant or interesting and commenting on major milestones or achievements. Even something as simple as sending a birthday message or congratulating an old coworker on a new job or promotion can go a long way!
Engage with the community
Successfully networking on LinkedIn is a lot easier if you're genuinely active on the site. Interacting with people doesn't have to be time or effort-intensive — here are some of the easiest ways to get involved.
Interact with other people's content
Nobody wants to feel like they're talking into a vacuum. Make people feel heard by liking and commenting on their posts and getting involved in discussions. Try to genuinely participate instead of just thinking about how to leverage it to boost your own feed — people can tell the difference. Remember, the goal is to connect with people, not just to sell yourself.
Join LinkedIn groups
Find like-minded people on LinkedIn by joining groups you're interested in. These could include school or alumni groups, professional associations, and volunteer organizations. You can find groups by going to My Network > Groups or by using the 'Groups' Filter in LinkedIn search.

Look for networking events, online or offline
If you're actively using LinkedIn, you're probably already getting events suggested to you. In the 'My Network' tab, check out 'Online events for you' to find suggestions based on your interests, network, and experience. To search for moreevents, type in the keyword(s) you're interested in and select the 'Events' filter in the search drop-down menu.

Pay it forward
It's not all about what your network can do for you — sometimes it pays to help out other people, too. If you know someone who's searching in an industry you're familiar with, try offering to facilitate an introduction or forwarding a job posting you think they'd be interested in. You can also help someone by writing a personalized recommendation, which employers put a lot more stock in than skill endorsements.
Create meaningful content for your network
Like any type of social media or networking site, you'll get more out of it the more you contribute. If you want to stay relevant, that means creating your own content as well as interacting with other people's. You can do this by:
Posting news and updates to your feed. These don't have to be strictly work-related — getting a promotion is obviously worthy of an update, but so is finishing a great book or starting a new passion project. Just remember that LinkedIn is a professional networking site, so try to keep it work-adjacent at a minimum.
Writing blog posts. This can be anything from breaking news to industry insights or in-depth case studies.
Sharing interesting articles you've found on LinkedIn or elsewhere.
Posting interactive content. Try running a poll on how people feel about working from home, or ask your network for advice on generating leads.
Engage with comments. Don't just thank people for reading — try to get a conversation going!
Participate in discussions you see happening in communities or other people's feeds.
For more advice, check out our list of practical networking tips, including actionable suggestions for both inbound and outbound networking.
Have an end goal in mind with networking
A lot of people use LinkedIn as a way of staying in touch with their professional community, which is great. But if you're actively job searching, keep in mind the additional ways you can use LinkedIn to your advantage.
Reach out directly about a job
Don't wait for jobs to come to you. If you see that a company you're interested in is hiring, or you know someone working in an industry you're trying to break into, it's okay to reach out directly. Try a quick message like:

Hi [Name],

I hope this message finds you well! I'm a [position] at [Your Company] and am currently looking for a new opportunity. I've been following [Company Name] for some time and there are a few roles I've come across that seem like a great fit.

I'd love to chat with you to learn more about [Company Name] and the kind of work you're doing at the moment. Are you free this week for a quick phone call? I'm happy to send questions over LinkedIn if that's easier too!

All the best,
[Your Name]

Here are some of our best tips on how to reach out to people about a job, including additional templates you can use.
Ask for informational interviews
If you're new to a particular role or industry, it makes sense to learn more about it before jumping straight in and applying for jobs. The best way to do this is by talking to people who are already in it — in other words, asking for informational interviews. When reaching out to people on LinkedIn, start by emphasizing any shared connections (like a mutual contact or alma mater), be upfront about what you're asking for, and be willing to be flexible and work around their schedule. Try something like this:

Hi [Name],

Greetings from a fellow [University] alum!

I see from LinkedIn that you're currently working as a [position] at [Company]. I'm a recent grad looking for [briefly describe the kind of jobs you're searching for]. I'd love to ask a few questions about your experience at [Company] and your insights about [industry].

Would you be free sometime this week for a quick phone/video call? Alternatively, I could send over a few questions by email.

Thanks,
[Your Name]
Learn more about companies and recruiters
Before an informal meeting, networking event, or job interview, make sure you're fully prepared. Just like recruiters can use LinkedIn to learn more about you, you can use LinkedIn's Advanced Search function and company pages to learn more about peoples' background and interests before you connect with them.