It's 2022, and LinkedIn isn't going anywhere. If anything, the world's largest professional social network is only gaining influence, with over 800 million members and 95 job applications submitted every second.
With so much going on, it's more important than ever to make your LinkedIn profile stand out. But how do you improve your LinkedIn profile when you've already polished it to within an inch of its life? First, understand that looking professional isn't enough. A good LinkedIn profile is one that works for you and gets results — whether that's building a brand, landing new customers, or finding your dream job.
If you've already done everything you can to make your LinkedIn look good but still aren't getting what you need, we have 16 LinkedIn tips — from beginner to advanced — that will walk you through exactly how to optimize your LinkedIn profile and see the results you want.
LinkedIn tips: Basic
Not sure what to tackle first? Start here with these quick and easy tips.
Take a shortcut
Did you know there are AI-powered tools that can help you optimize your LinkedIn profile — for free? If you're short on time, make the most of it and let us do the hard work for you.
Complete your profile
This is the easiest — and most important — thing you can do to improve your LinkedIn. Make sure that at least the most important sections (like your headline, summary, work experience, and education) are all complete so people can actually find you.
Make sure your profile is up to date
A complete profile doesn't mean much if it hasn't been updated in 2 years. In particular, set your location to where you're looking for jobs — if you're moving, use your new location, not your current one.
Get the visual elements in place
We know we said there's more to a good LinkedIn profile than appearances, but appearances still matter. Upload a background and add a professional-looking photo.
LinkedIn tips: Intermediate
Do you have a solid LinkedIn profile that's still in need of some improvement? Try these tips on how to make a good — not just good-looking — LinkedIn profile.
Generate a custom URL
This one's a lot easier than it sounds. Here's how:
Go to your LinkedIn homepage
Click on the "Me" icon
Select "View Profile"
Find "Edit public profile & URL" on the top right hand side of the page
Choose "Edit your custom URL"
Click on the "Edit" icon
Type in your new custom URL
Click "Save"
Write a proper headline
Your headline is not the same as your latest job title. Stop using a generic headline like "Marketer" and instead add some details to help your LinkedIn profile stand out. For example:
Social Media Marketing Manager | Experience Growing Shopify Stores To 1M Visitors
Want to take the easy way out? Our LinkedIn headline generator can do the hard work for you.
Use a current job title
Even if your last job was a while ago, always enter something at the top of your profile. If you're currently job searching:
Do use a job title that indicates that you're open to work and describes what you're looking for.
Don't say "unemployed" anywhere in your LinkedIn profile.
Match your LinkedIn profile to your resume
This is another essential tip if you're using LinkedIn to find a new job. If you're using different versions of your resume to apply to different jobs — which you should be — choose the one that best represents your overall skill set and make sure your LinkedIn profile contains all the same information.
Before sending out your resume, upload it to the tool below to find out if your resume is effective and highlights your most relevant experience, accomplishments and skills.
Refresh your skills
The right skills can make or break a LinkedIn profile. Here's what to do:
Add keywords to your headline, summary, and job titles. These can help recruiters find you more easily.
Include core skills that are most relevant to your industry and position.
Use the LinkedIn skills section to showcase hard skills at a glance.
And here's what not to do:
Avoid listing generic skills that all job seekers are expected to have, like email or Microsoft Word.
Delete skills you're only minorly proficient in or that don't fit your overall profile.
Don't rely entirely on LinkedIn skills assessments — while they can be useful for listing technical skills, you should also link to a GitHub profile or portfolio if you really want to show what you can do.
If you're unsure which keywords to include in your LinkedIn headline, use the tool below to get a list of keywords and skills relevant to your desired job or industry.
Get expert advice
Sometimes, you need to take a step back and get a little perspective. Our LinkedIn Review service can automatically optimize your LinkedIn profile, generating more leads and better job prospects without you needing to lift a finger.
LinkedIn tips: Advanced
If you've already got all of that down, here are our top-level tips for getting your LinkedIn profile to the top of its game.
Add personality to your LinkedIn summary
Don't confuse your LinkedIn summary with a resume summary or cover letter. While you should still keep it professional, there's an opportunity here to get a little creative and really let your personality shine through.
Write in first person — while using "I" statements is frowned upon in a resume, it's perfectly appropriate here.
Tell people what you're looking for. The first step toward getting what you want is asking for it.
Make it personal. Your summary doesn't have to be 100% work-focused — adding a couple of details about your hobbies or interests outside work can make you instantly appear more approachable.
Give people a way to contact you. If you have a personal blog, website, or social media presence, link it at the end.
Here's an example of how to do it right:
Focus on achievements
If you've recently updated your resume, you probably already know how to write accomplishment-based, action-focused bullet points. Your LinkedIn profile is no different — in your work experience section, write your experience in bullet points to showcase your top achievements.
Include testimonials
There's an entire section on LinkedIn where you can feature testimonials from people about your work. Instead of using the older endorsements system (which means very little), ask people you know to write recommendations you can feature on your profile.
This is particularly important for freelancers and people who are self-employed — even one or two well-chosen testimonials can lend credibility to your work. If you're quite comfortable asking people to put in that much work, why not send them a recommendation template to make it even easier?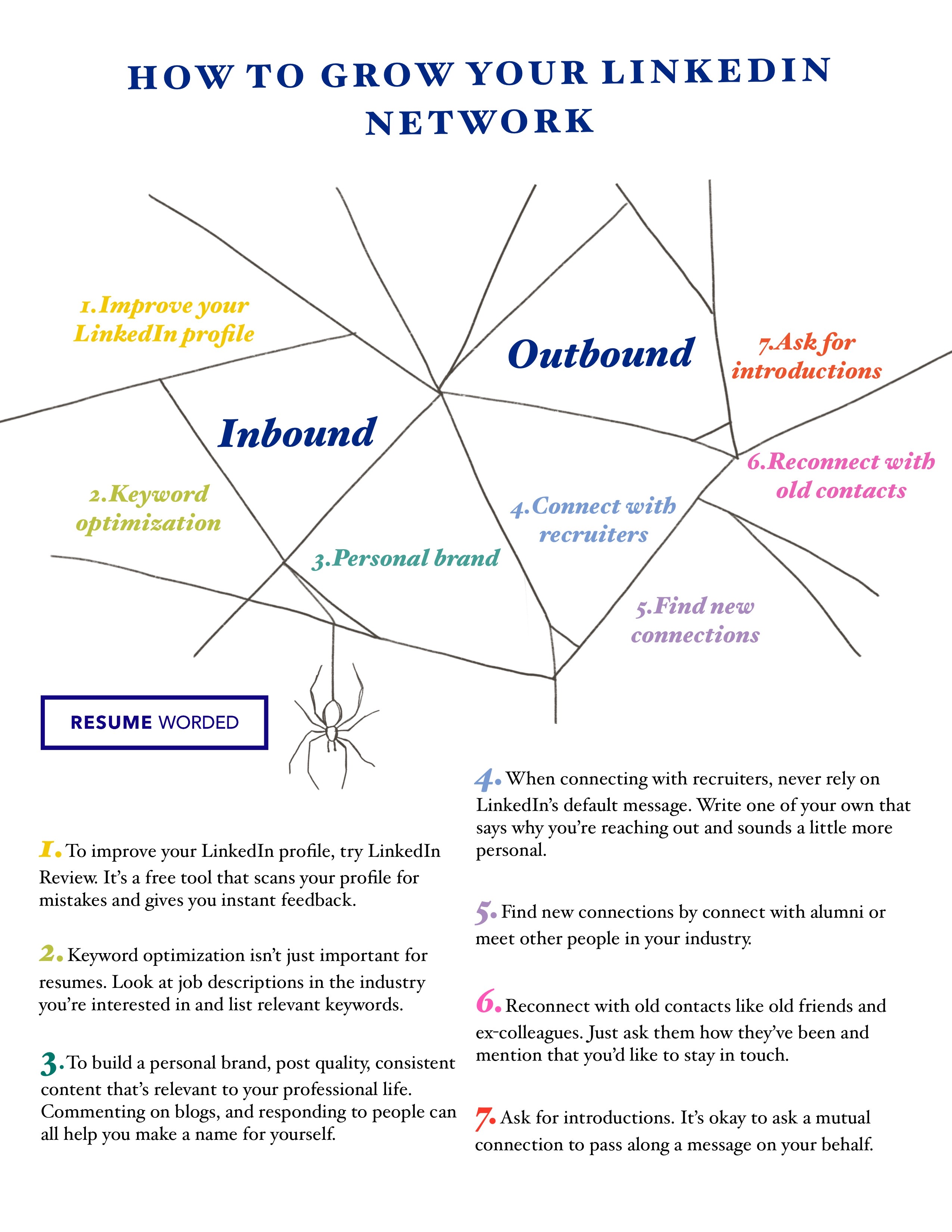 Make smart connections
It's an inescapable truth that the more connections you have on LinkedIn, the more visible your profile is. People with more connections are more likely to appear in search results — and that goes double if you have second or even third-degree connections.
That doesn't mean that you should blindly connect with anyone who happens to cross your path. Connect strategically with people who work in similar roles or who might have connections in your desired company or industry.
Nervous about reaching out blindly? Our LinkedIn networking message templates have sample messages you can copy and paste when making a new connection.
Score above 90 on LinkedIn Review
If you're relying on LinkedIn for your next job, customer, or lead, you should be aiming for a score of 90+ on LinkedIn Review. Not there yet? Simply copy and paste a link for tailored tips on how to optimize your LinkedIn profile, improve your visibility, and generate up to five times as many opportunities.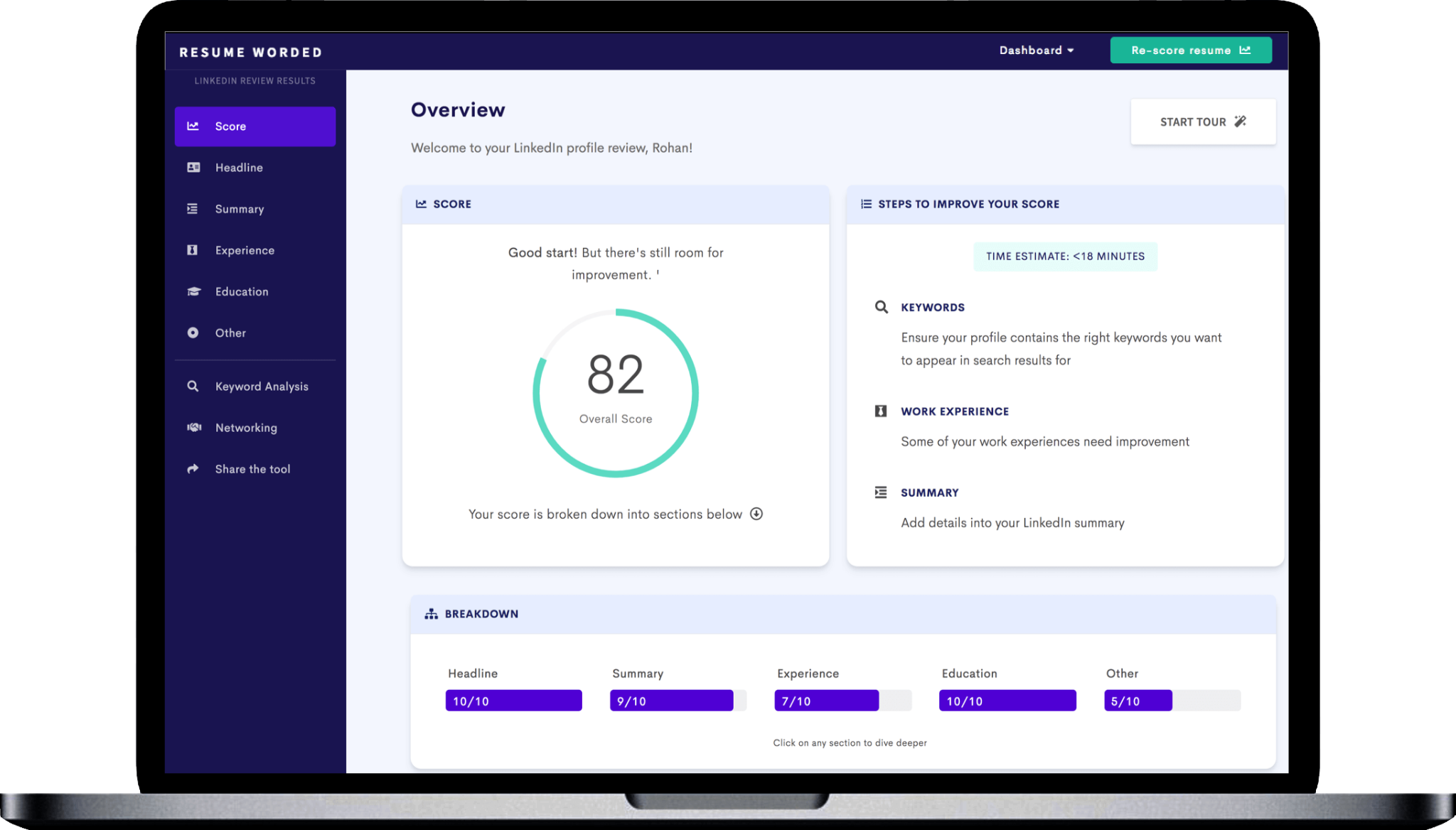 Build a personal brand
Looking for an easier and more efficient way of using LinkedIn? Inbound marketing allows people to come to you with minimum effort on your part, but it requires a little setup to be truly effective.
If you already use LinkedIn regularly, this is the ideal route to take. If you're a little rusty, follow these tips:
Be active. Posting, commenting, sharing articles, sending connection requests, interacting with groups, or even liking a post can all keep you engaged and show that you're an active user, which makes people more likely to want to connect with you.
Maintain relationships. It doesn't take much to keep a connection active. Liking commenting on someone's post, joining a relevant LinkedIn Group, or even sending a quick message that isn't asking for a favor all only take a few seconds and can be invaluable in keeping your relationships alive.
Perform regular maintenance. Taking a couple of minutes every week — or even month — to quickly update your profile with new information, check for errors, or add or remove contacts will all keep your profile relevant and up to date — and will save you a lot more time and effort down the line.