"But self-employment isn't a real job …"
Okay, so times are changing, and nobody really believes this anymore (we hope)! But there are still employers out there who don't fully "get" self-employment. Was it a hidden employment gap? A glorified hobby? How much work did you really do, and for who? The best way to assuage those doubts isn't to give in to them — it's to counter them with a resume that explicitly answers all those questions.
The first rule of self-employment is that it 100% belongs on your resume. The second rule is to treat it like you would any other kind of employment.
Adding Self Employment To Your Work Experience
Let's take a look at an example first
Before we dive in, let's look at an example of what a work experience section might look like for someone who's been self-employed.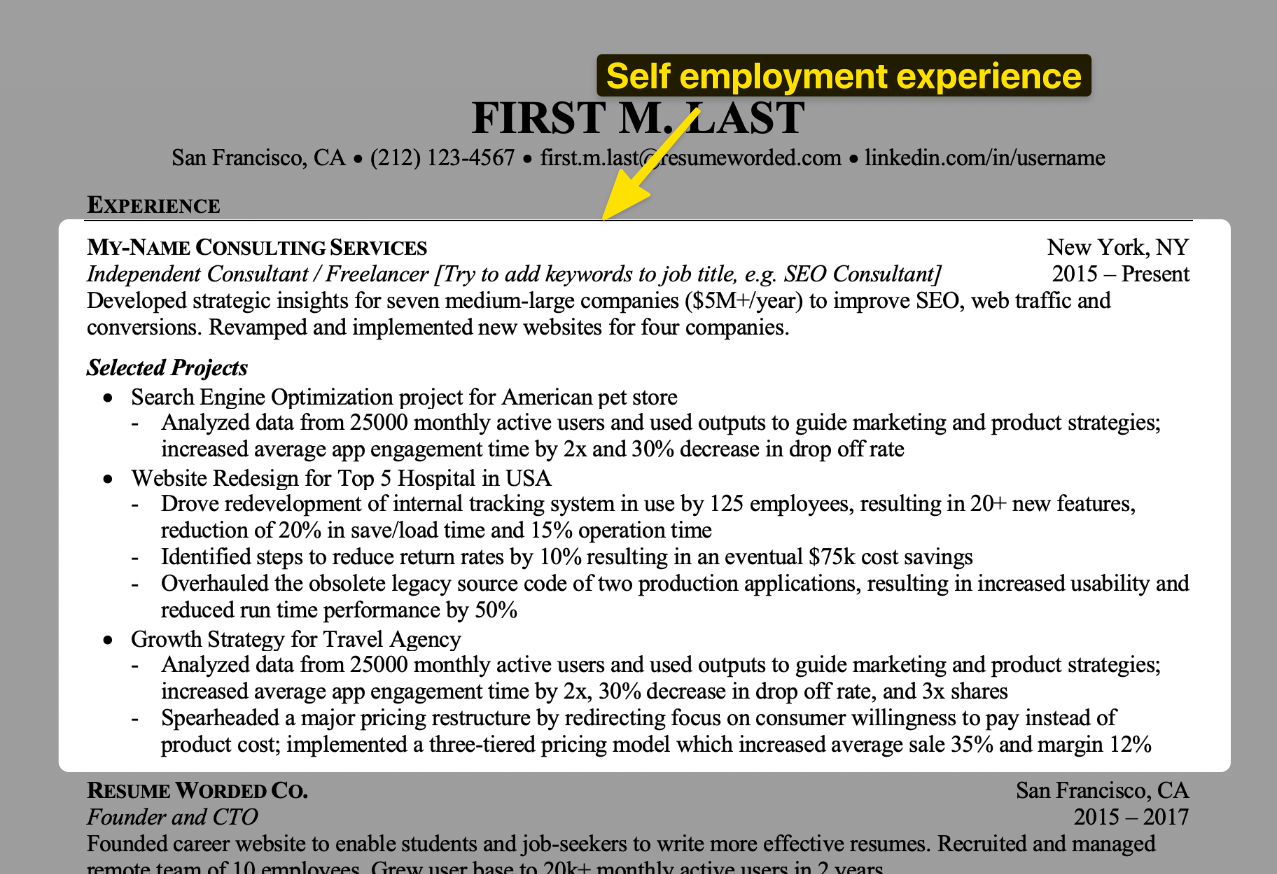 If you want to see the entire self-employment resume template, go to our resume templates page.
Give yourself a job title, instead of calling it 'Self-Work'
The first step to making your self-employment look legit is to give yourself a proper job title. Generally avoid the word "self-work" here. Instead, think about what you actually did and give it a title in line with traditional employment — Photographer, Recruiter, Web Designer. Where possible, choose a job title that's aligned to the job that you are applying for (that might help you get past ATS).
To make the context clear, you can add Freelance, Contract (if you worked with external clients), or Consultant (if you consulted external companies) to your title.
Consider your own business name as the company you worked for
You can even list your own name as a consulting firm if you didn't operate with a business name — there's no need to make one up after the fact.
Listing a business name gives your work an air of legitimacy and makes it easier to group the projects you worked on while self-employed.
Explain what you did in your bullet points
The biggest problem you're likely to run into when transitioning from self-employment to traditional employment is recruiters who don't fully understand what it is you did. Keep this short and relevant to the job you're applying for.
For example, if you're applying for a position in advertising, here's what a bullet point might look like:
Completed graphic design projects for companies across the United States including product logos, social media graphics, and packaging design. Specialized in brand management and multimedia.
Use bullet points that are specific and tell recruiters where your skills lie.
Include dollar-amounts in your bullet points
To avoid recruiters thinking your self-employment was just a 'hobby', use specific dollar amounts to show the size of the contracts you worked with. For example, if you worked as a freelance web developer, you can say something like "Completed freelancer web development projects ranging from $5000-$18000..." This shows the significance of your work.
Using numbers on your resume is called quantifying your resume — see this step by step guide on how to quantify your resume.
Listing self employment in your resume summary
A resume title is an easy way to tailor your resume and bypass ATS by including relevant keywords. Including a short summary directly below that allows you to quickly explain or contextualize information that might not be immediately obvious — perfect for people transitioning out of self-employment. This should provide a quick overview of your experience and 1-2 of your most impressive accomplishments, for example:
Writer with 8+ years' experience seeking to write high-ranking, high-traffic articles for [Company]. Current clients include [list high-profile or reputable companies]. Regular contributor to list [magazines, websites, or other publications]. Have written over 1000 published, high-ranking articles since 2012. Increased traffic for [specific project] by 500,000 in 18 months and reduced bounce rate by 50%.
Here are more resume summary examples you can draw from.
List technical skills and tailor it to the job you apply to
Depending on the position you're applying for, a skills section is often a must. Any hard skills you've picked up while self-employed belong in this section, including things like programming languages, software programs, and technical competencies. Avoid listing soft skills like communication or flexibility — if you really want to highlight these, you can do that through your bullet point accomplishments.
Here are some more examples of how to format your resume skills section.
Include a projects section to highlight self employment
Even better than listing your skills is showing how you've used them in action. A projects section can be useful for anything that doesn't quite belong with your work experience, like personal projects. This avoids blurring the line between your paid employment and side hobbies, while providing evidence of any skills you may have developed but haven't used in a professional context.
This is an alternative you can consider, especially if you don't feel your self-employment is significant to be included in your work experience (e.g. it was a part-time job or a side-project)
Format projects in the same way as your work experience, listing accomplishments and providing a link if applicable.
Read more about how to list projects on your resume.
Highlight specific projects from your self-employed experience
List self-employment on your resume by grouping your work into projects under a single company heading. This is a great way to highlight your most impressive accomplishments while keeping your resume organized and easy to read.
Grouping your experience into individual projects allows you to emphasize your most relevant projects and focus on key accomplishments.
Your bullet points should be focused on your accomplishments, just like any other kind of employment. Remember to lead with a strong action verb, explain the task or project you completed, and include numbers or metrics where possible to clearly illustrate the outcome. For more tips, see our guide on how to list contract and temporary work on a resume.
Additional sections you can add to highlight your self-employment experience
Other things that might belong on your resume and fall under self-employment include:
Certifications
If they're significant (you don't need to list every three-hour online course you've ever completed) and relevant to the position you're applying for, you can list certifications in the education, projects, or additional section of your resume.
Publications
If you've been published in a journal, newspaper, or other reputable source, feel free to list these publications on your resume. Again, keep it to a small handful of the most relevant publications. A few strong examples can demonstrate your authority in your field and provide an additional 'reference' to back up your expertise.
Portfolio
If you work in a field like programming, writing, or design, it's often standard to include a link to your portfolio. Make sure your portfolio examples are strong and relevant — your portfolio should be a selling point, not a distraction.
Community outreach
If you're heavily involved in your professional community — through speaking at conferences, performing community outreach, or volunteering — you can list this on your resume provided it's relevant and strengthens your candidacy.
Client references
Avoid including these directly on your resume, but think about who could be your references should the company you get hired by ask for them. Direct references are best — while things like testimonials have their place and are useful to collect, most hiring managers will want to speak directly to people who are familiar with your work.