Think you don't need a resume if you're only applying for part-time jobs? Think again!
Your resume is always important, no matter the job or industry. In fact, it can make a huge difference when it comes to landing a part-time job — since there are so many people applying for these positions, a strong resume can be the thing that helps you stand out from the crowd and get hired.
Still wondering exactly how to do that? Keep scrolling for resume examples and essential tips — but first, let's get started with some step-by-step instructions on how to write a resume for a part-time job.
How to write a resume for a part-time job
Start by using a ready-made resume template or writing your resume from scratch — either one is fine.
Add your contact information to the top of the page. This should include your name, email address, and phone number.
Write a resume objective or summary statement — basically, a few short sentences about what you can bring to the job.
Create a section for your education. As a student, recent graduate, or school leaver, your education is the most relevant thing you've done, so it should be right at the top of your resume.
Include any extracurricular activities, certifications, or awards. These small details can be the thing that sets you apart from the sea of other applicants.
Emphasize relevant skills. You can even search for hard skills in our skills and keywords database and list them in their own section so they stand out.
List your work experience. This doesn't have to be paid work — it can include volunteer work, internships, or student activities.
For each job you list, try to come up with at least a couple of things you accomplished and list these in bullet points — this is the best thing you can do to improve your chances of getting a job.
Tailor your resume — in other words, don't use the exact same resume for every job you apply to. Include some keywords from the job description and stick to skills that you'll actually use on the job (so if you're applying for part-time serving jobs, you don't need to talk about how good you are with spreadsheets or mention that you know Python, but the fact that you speak a foreign language is very relevant).
Proofread. Even small errors like typos can get your resume thrown out if the hiring manager is super picky. It's easy to miss things when looking at your own work, so using a free resume scanner can help pick up any mistakes.
Include a cover letter. Even for part-time jobs, a short (one page or less), personalized cover letter highlighting your suitability and enthusiasm for the job can be the deciding factor.
Resume template for a part-time job
Want to skip the guesswork and dive right in? Start with a ready-made resume template like this one.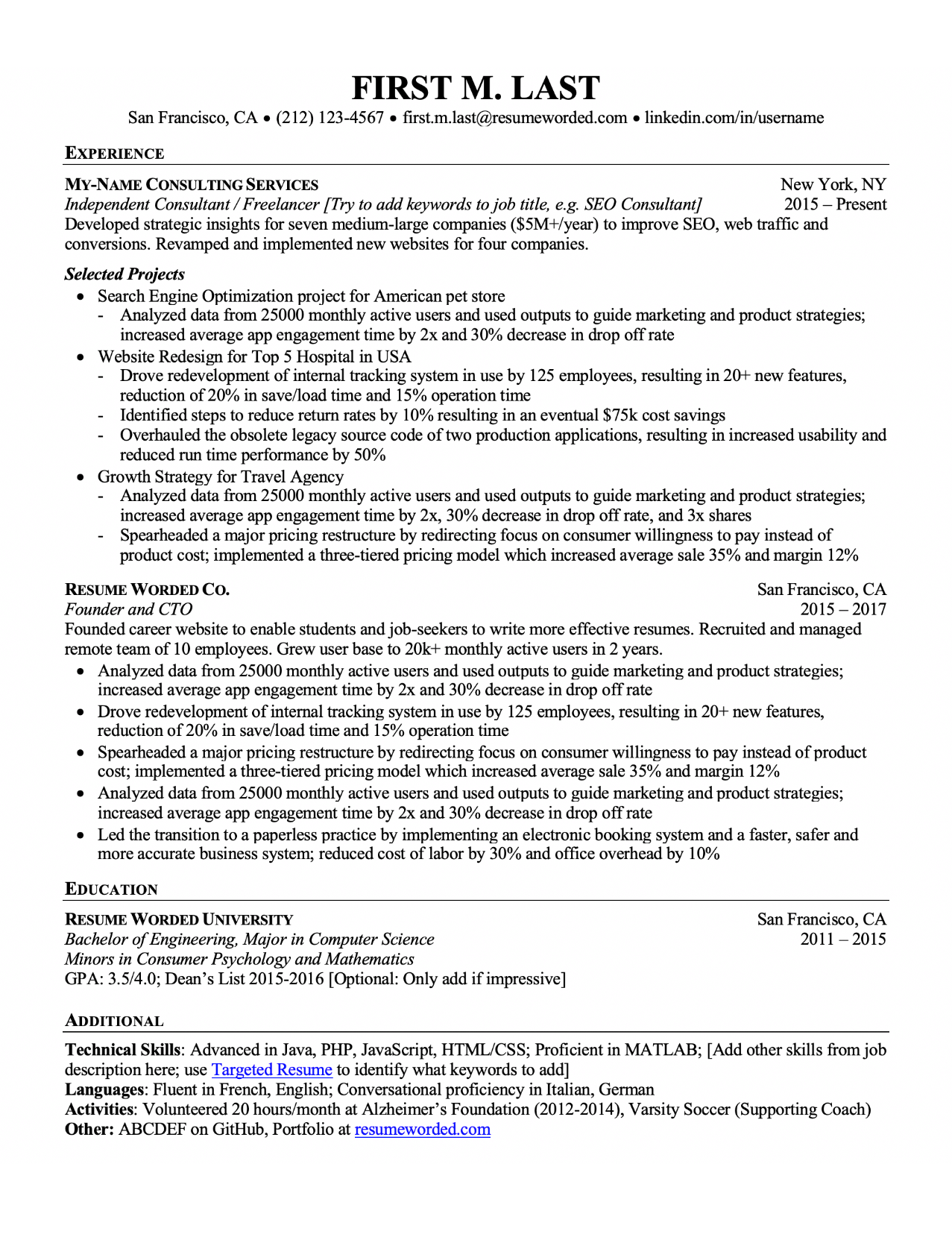 If you're looking for help writing a resume for a part-time job, you can find more examples at our ATS resume templates page.
Essential tips: How to make your resume for a part-time job stand out
Don't do too much
One common mistake entry-level job seekers make is trying to pack too much into their resume. A resume for a part-time job only needs to be one page — if yours is longer, trim it down!
You can safely leave out:
Excess contact information — employers don't need your exact street address or social media links.
Information about your high school (unless you're still in high school). Once you've left high school or started college, it's no longer relevant.
Much older or less relevant jobs. If you're about to finish a college degree, you probably don't need to include the two months you spent waiting tables after high school or the one family you babysat for — unless you're applying for part-time serving jobs or another babysitting gig.
References. You should try to have some references lined up if you can, but you don't need to include their details or write "references available upon request."
Pictures, images, or fancy graphics — keep it simple.
Know what to include
Here's what you need to include in each section of your resume:
Contact information: Your first and last name, email address, phone number and general location (city and/or state). You'll want to ensure that employers can contact you if they have any questions — or if they want to hire you.
Summary or objective: 3-4 sentences about your key skills, achievements, and qualifications.
Education: The name of the school you attend or graduated from, the name of your degree, and the date you graduated (or expect to graduate). If you don't have a lot of work experience, you can expand this section by including relevant coursework, honors and awards, study abroad, and extracurricular activities.
Work experience: The name of your employer, the dates you worked (exact dates aren't usually necessary — month and year is fine), and your job title. If you've had more than one job, list them in reverse chronological order — that is, with your current or most recent job at the top and your first job at the bottom. You can include other part-time jobs, internships, and volunteer work in this section.
Other information: Anything else is optional, but you can also choose to include a skills section, volunteer work, extracurricular activities, additional certifications, or projects — just make sure everything you include is relevant to the job you're applying for.
If you're not sure what to include or leave off your resume for part-time jobs, try uploading it to the tool below. It will scan your resume and identify what's missing and what needs to be included.
Be specific
The number one mistake most job seekers make is having a vague or generic resume. If you really want to stand out, you should:
Focus on accomplishments. For each job on your resume, include up to five bullet points. Don't just write about your responsibilities — think about what you actually did and the specific results you got. Action verbs are good; numbers and metrics are even better.
Target your resume. If you're applying for part-time jobs in a few different fields or industries, have a different version of your resume for each one. That doesn't mean you need to completely rewrite your resume each time — instead, try swapping out a few of your skills or writing a different resume summary and cover letter.
You can easily target your resume to the job you want by including specific hard skills and keywords that are relevant to the job. Use the tool below to find the right ones.
How to get a part-time job: Beyond the resume
Network. Even for part-time jobs, having an "in" with a potential employer is often just as valuable as a good resume.
Follow up. Sending off a quick, professional email can help boost your chances of getting a job and make sure your application didn't fall through the cracks.
Prepare for an interview. Have some answers to common behavioral questions ready to go. These are "tell me about …" questions — for example, a time you encountered a problem and how you solved it, or when you needed to think on your feet.