If career growth is one of your main qualifications for your next job, a career in data science is perfect for you. According to Towards Data Science, it's the fastest-growing job on LinkedIn with an estimated over 11 million jobs by 2026.

And it deserves to have such a bright future. You can apply for this job in several industries like e-commerce, IT, business, and much more. Because this field is so versatile, you can apply your skills somewhere that would greatly benefit others, not just a company. For example in healthcare, you can help visualize and manage data necessary for operation procedures.

For a job like this, you need to be good with numbers and data. The ability to use statistics, analyze complex data, simplify it, and present it more easily for others are all necessary components of the job. You'll need to display these skills, plus some experience with computer programs like Amazon Web Services to handle big data, in your resume. Today, we'll be sharing with you the tips you need to make a data scientist resume that recruiters will look at.
Data Scientist Resume Templates
Data Scientist Resume Sample
Because you are working with data that provide to you or you provide other departments data to use, you need to display successful collaboration with results in your resume. This sample does this by talking about what company goals were accomplished with other teams using metrics to highlight the achievements.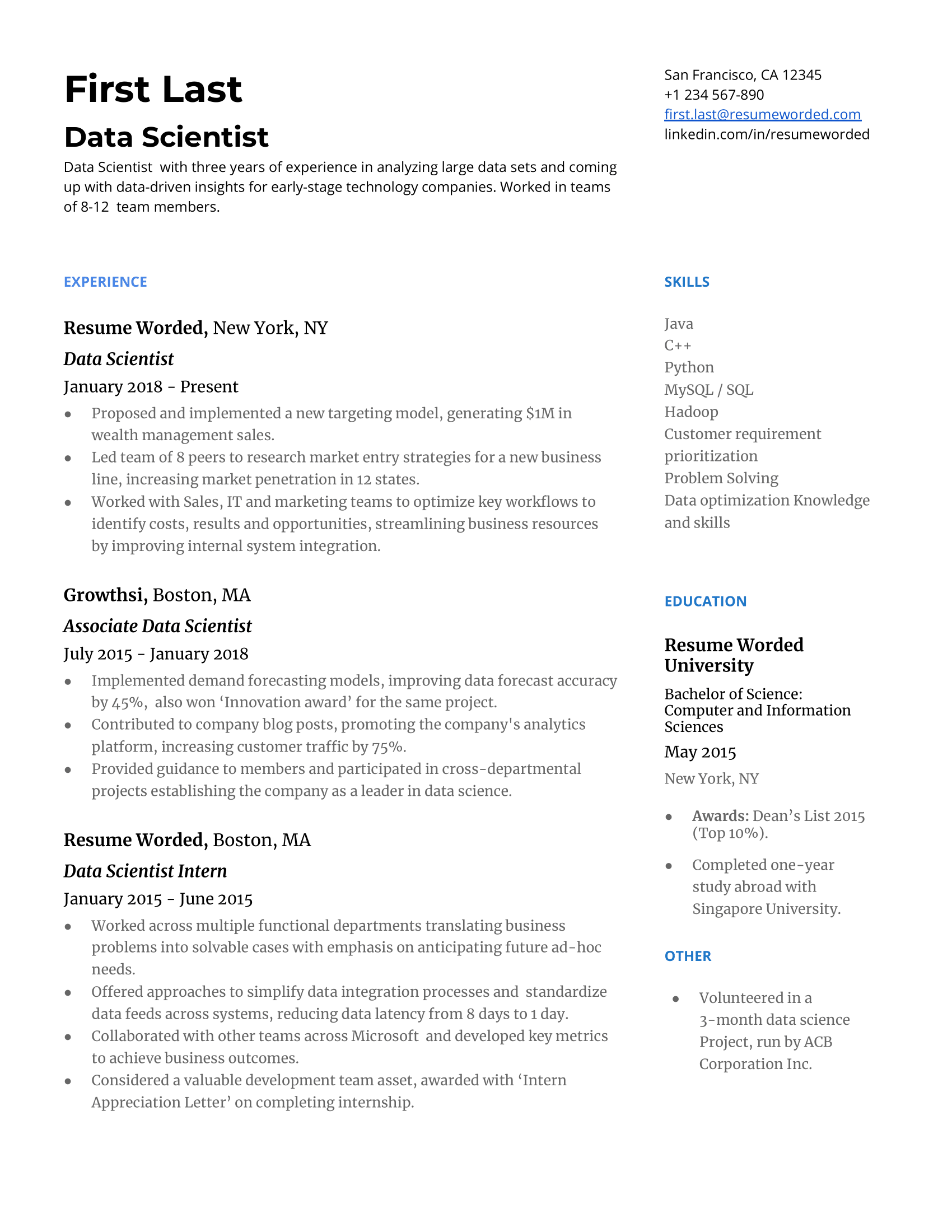 Recruiter Insight: Why this resume works in 2021
Senior Data Scientist Resume Sample
If you're trying to climb up to the top of the data scientist ladder, you need to show that you excelled in lower positions. Don't forget to list what you did that earned you an upper-level role in your previous job. Recruiters love to see that you desire to grow. Talking about your transitions is key in this kind of resume.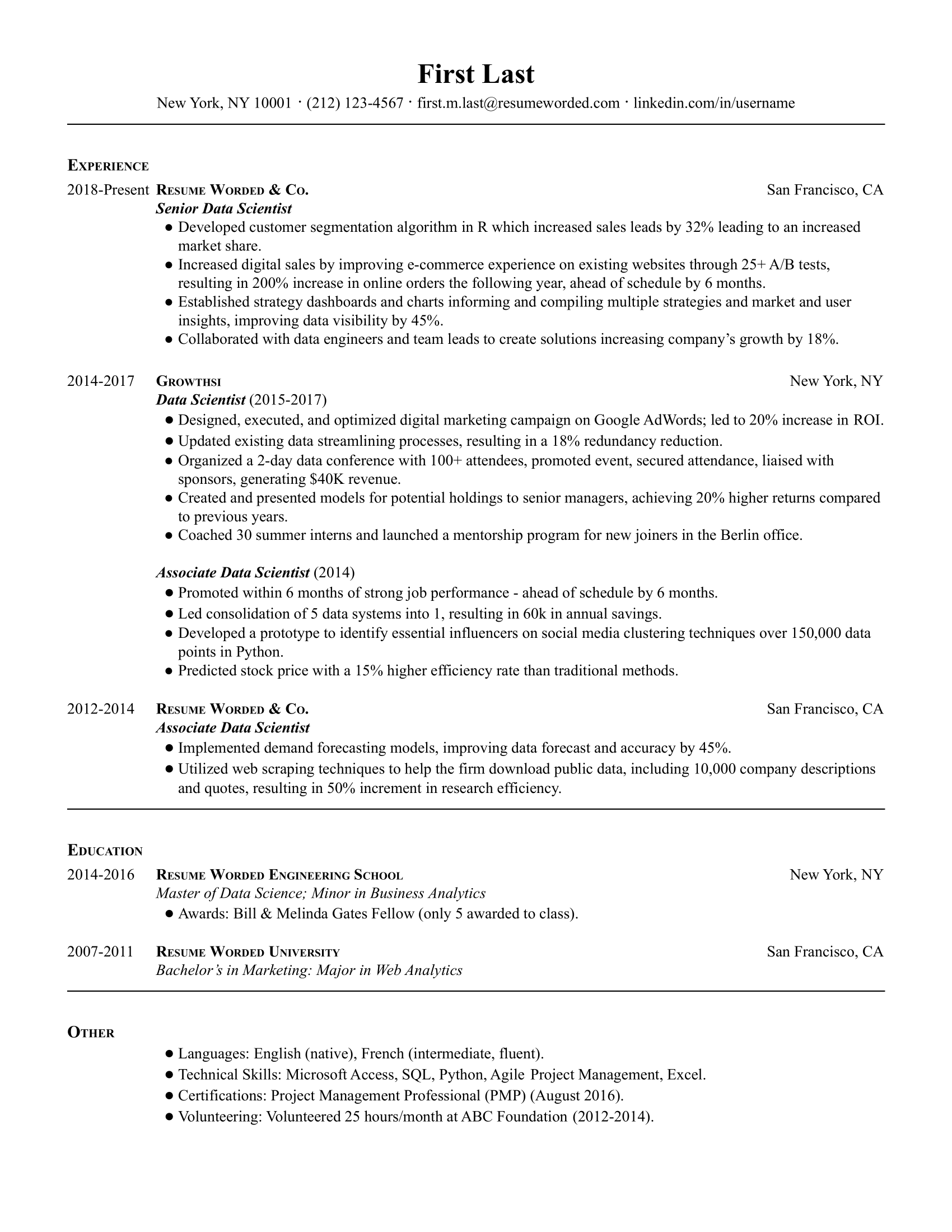 Recruiter Insight: Why this resume works in 2021
Entry Level Data Scientist Resume Sample
Right out of college, you may not have much experience in the field. To supplement that, use your experience in clubs and activities, class projects, and useful coursework to help highlight your knowledge on the subject. Internship experience is essential, as well; any numeric results or accomplishments should be acknowledged. This sample does so by listing the percentages of costs, labor, and hours reduced thanks to their work.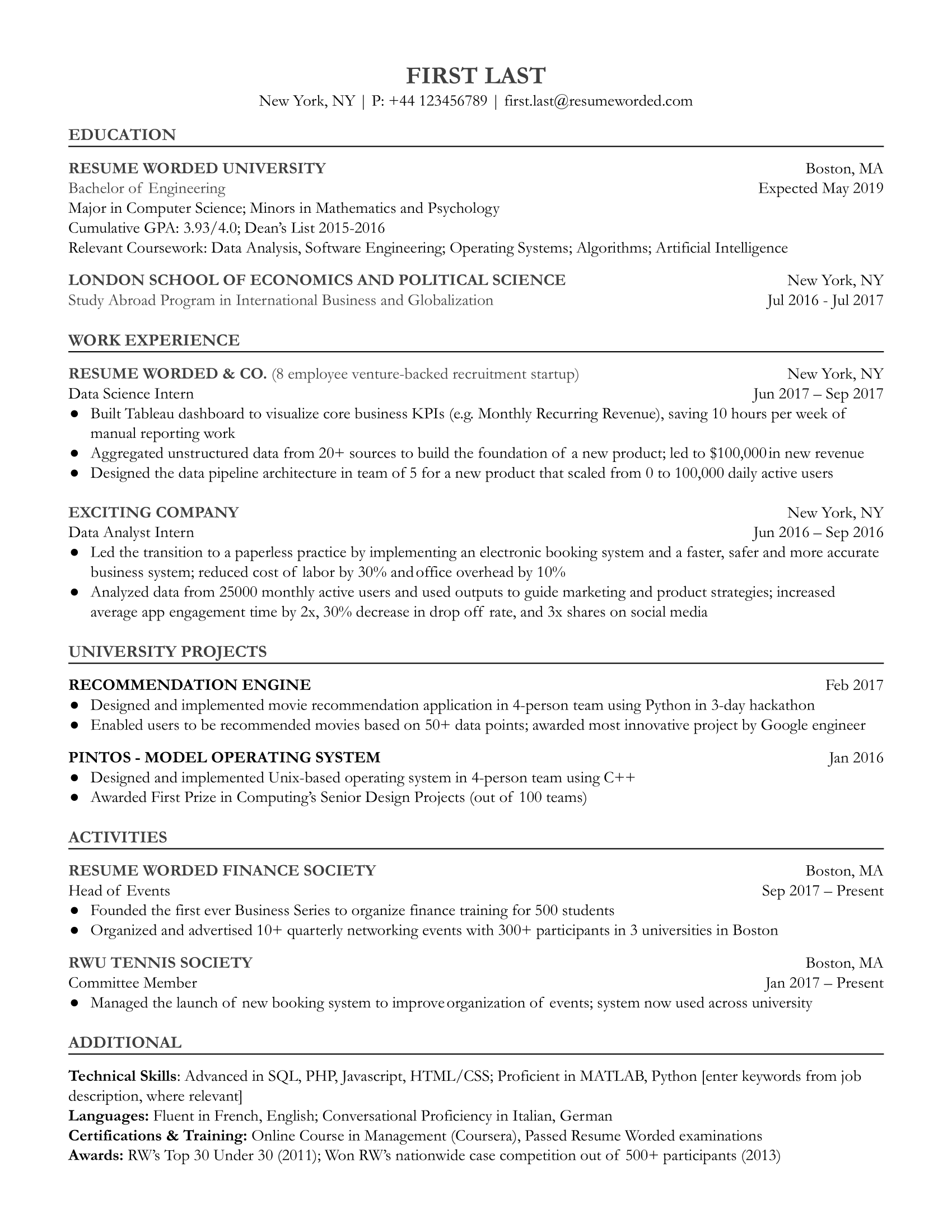 Recruiter Insight: Why this resume works in 2021
Data Science Manager Resume Sample
To be a successful manager in any role, you need to have the experience of a manager. A focus on team management and leading a team to great results are examples you should list on your resume. Showing recruiters that you can lead a team or data science project that brings high-yield results is what will set your resume apart from other applicants. Data science is all about using data to drive decision-making and top-level KPIs, so make sure you add accomplishments to your resume that highlight how your work has affected your company's bottom line.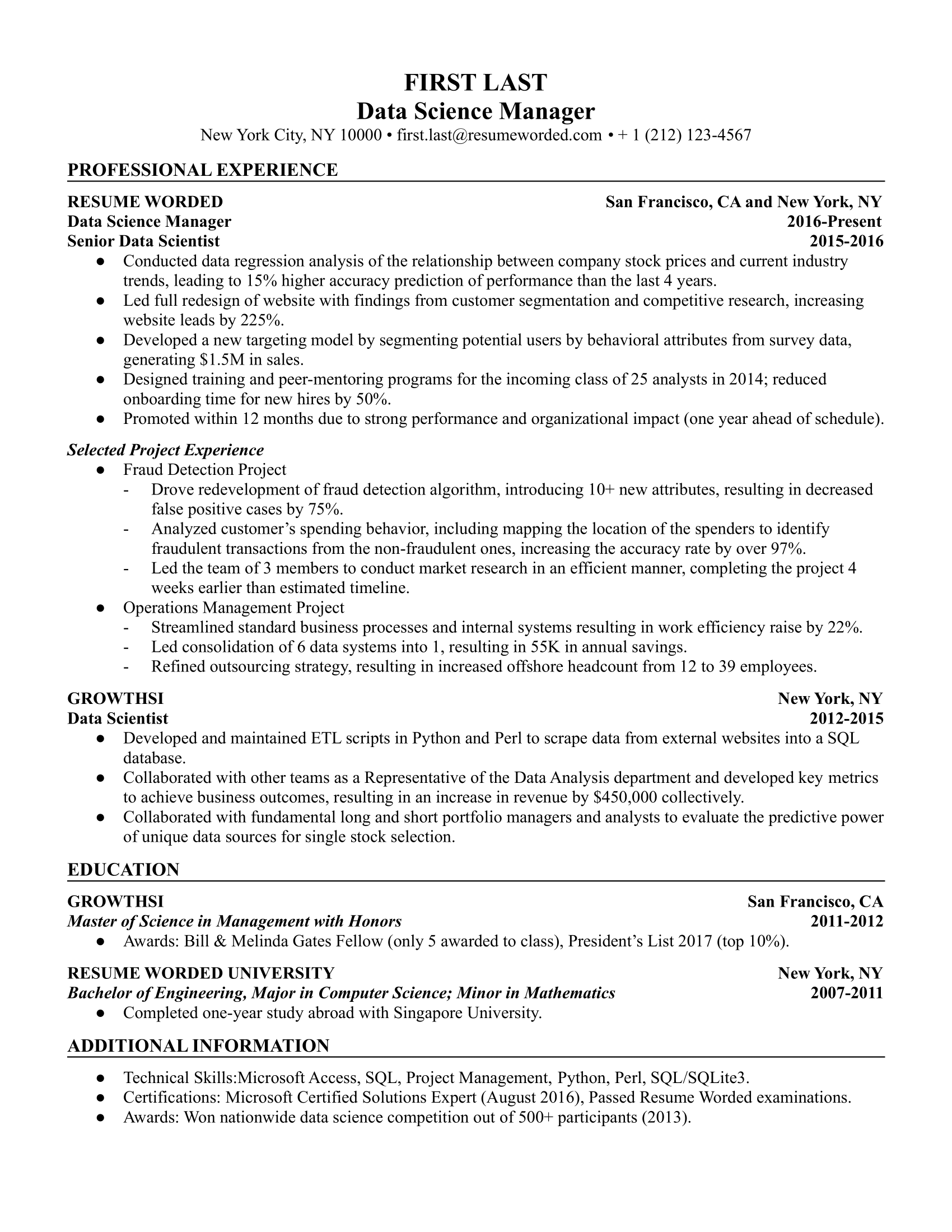 Recruiter Insight: Why this resume works in 2021
Data Science Vice President Resume Sample
Like any VP role, the position of vice president of data science needs strong managerial skills. Not only will you need to manage a team, but that team will also have to consist of managers. Your goal is to implement and execute company-wide goals that greatly benefit the company. This sample lists out the processes done while managing managers lower on the corporate ladder, to bring in an increase of profit or a decrease in costs (or increase in productivity).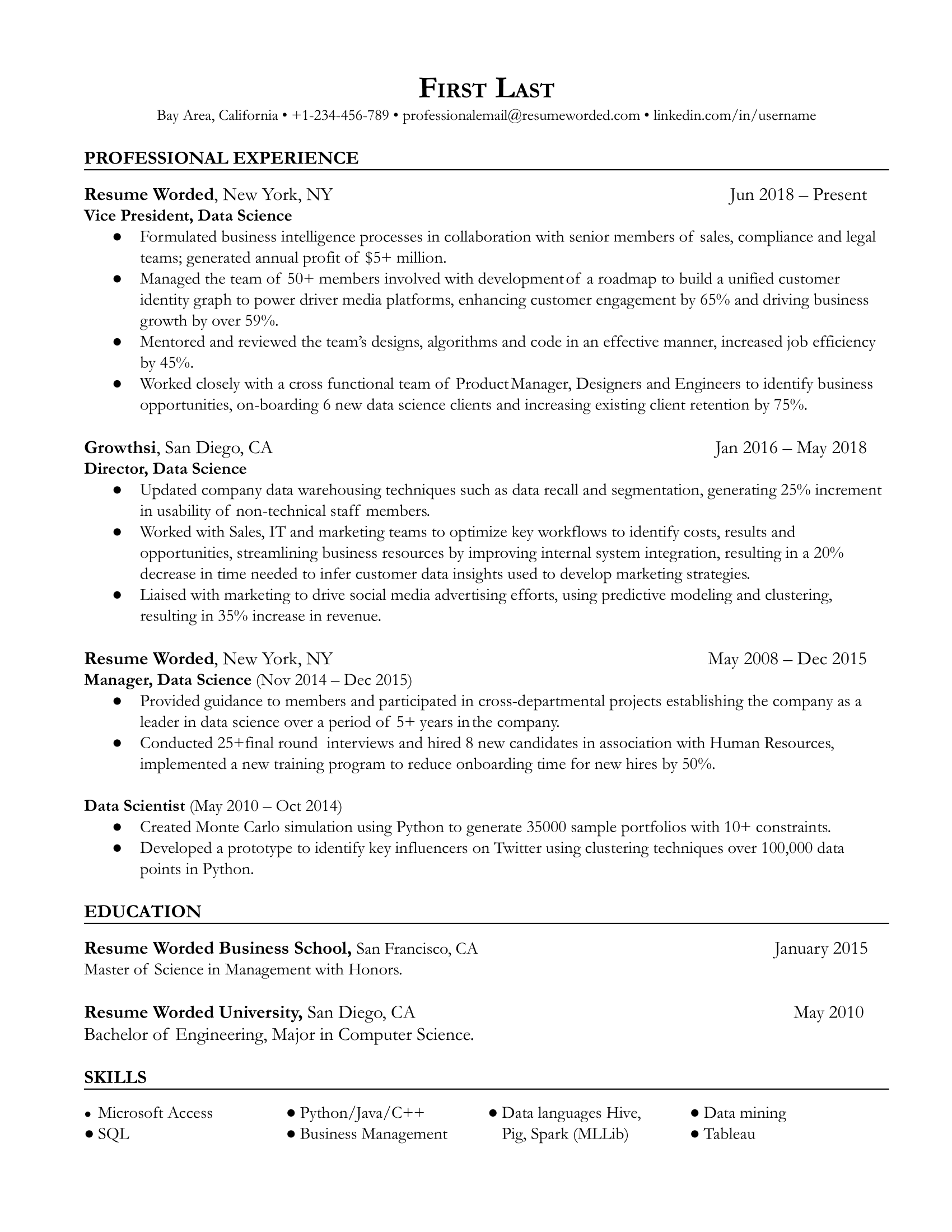 Recruiter Insight: Why this resume works in 2021
Skills For Data Scientist Resumes
Data science is a number-intensive, data-heavy field. It's one thing to know how to read the data. You also need to convert that data in a way that makes a company's overall processes smoother. Your list of skills should aid in showing that.

Because you'd be using languages like Python or SQL, it's important to state it beyond the skills section. Where possible, mention how you used these tools in your experience, whether that's to process large data sets, discover insights or drive business decisions. If recruiters can see that you know how to use critical tools for the job on your resume, it'll stand out more. Plus, your resume will get past resume screening tools/ATS since employers often filter resumes out by searching for skills they expect to see. Closely read the job description to find skills to include in your resume.
Machine Learning
Data Science
Apache Spark
Python (Programming Language)
Deep Learning
Natural Language Processing (NLP)
R (Programming Language)
SQL
Data Visualization
Data Mining
Scikit-Learn
Predictive Modeling
Pandas (Software)
Statistics
Statistical Modeling
Hadoop
TensorFlow
Tableau
Amazon Web Services (AWS)
Big Data
Data Scientist Resume Tips
Data science is a broad job category. You could have a focus on designing machine learning algorithms/predictive analytics, or data visualization, or mathematics and statistics. You may even have more of a focus on the business side of things.

No matter which area of data science you're in, follow these tips to help you tailor the perfect resume.
Action Verbs For Data Scientist Resumes
The field is all about quantifying aand using data. In your resume, you need to explain what you did with the data you have. In the samples, you'll see examples of action verbs like "implemented", "developed", "coached", and more.

Action verbs like these show that you know how to apply the knowledge you have to your work.
Analyzed
Assessed
Systemized
Summarized
Researched
Collected
Derived
Evaluated
Researched
Forecasted
Modelled
Predicted
For a full list of effective resume action verbs, visit Resume Action Verbs.
Resume Bullet Points From Data Scientist Resumes
You should use bullet points to describe your achievements in your Data Scientist resume. Here are sample bullet points to help you get started:
Conducted private equity due diligence in $400M portfolio. Performed strategic and analytical valuation of assets based on interviews with experts and created extensive models of the industries; persuaded client to move forward with acquisition
Analyzed data from 25000 monthly active users and used outputs to guide marketing and product strategies; increased average app engagement time by 2x, decrease drop off rate by 30%, and increased shares on social media by 3x over 6 months
Generated insights on customer churn and renewal rates from data tables with 100M rows in SQL
Liaised with marketing to drive email and social media advertising efforts, using predictive modeling and clustering, resulting in a 35% increase in revenue
Reduced signup drop-offs from 65% to 15%, increased user-engagement by 40%, and boosted content generation by 15%, through a combination of user interviews and A/B-testing-driven product flow optimization
For more sample bullet points and details on how to write effective bullet points, see our articles on resume bullet points, how to quantify your resume and resume accomplishments.