Data Analyst Resumes
The resume is the first step to landing a data analyst role. We interviewed ten hiring managers and recruiters who hire for data analyst roles and found out exactly what they are looking for in 2022. Plus, we've compiled six templates you can use when writing your data analyst resume (Google Docs & PDFs included).
Load more resumes
Data Analyst resume guide
Data Engineer Resumes
Data jobs have evolved greatly over time. Many roles have become more specialized. That means your resume will need to be specialized, too. Here are five examples of data engineer resumes to inspire you. These contain the key details that employers are looking for in applicants.
Load more resumes
Data Engineer resume guide
Business Analyst Resumes
Business analysts are in high demand in today's marketplace. Here are five examples of resumes that will help you land a business analyst job in 2022 (Google Docs and PDFs attached)
Load more resumes
Business Analyst resume guide
Data Scientist Resumes
Data scientists are one of the hottest jobs of 2022. However, it's also one of the most analytical, results-driven, and requires superb use of numbers. If you can show that on your resume, you'll be on your way to a nice career as a data scientist. Here are five data scientist resume templates to help you get an idea of what to put in your resume.
Load more resumes
Data Scientist resume guide
Data Entry Resumes
The data entry field requires a minimum amount of training but offers substantial potential for employment due to data entry specialists being in high demand. This guide covers what your data entry resume should include, using four templates as examples and industry-based tips to round it out.
Data Entry Clerk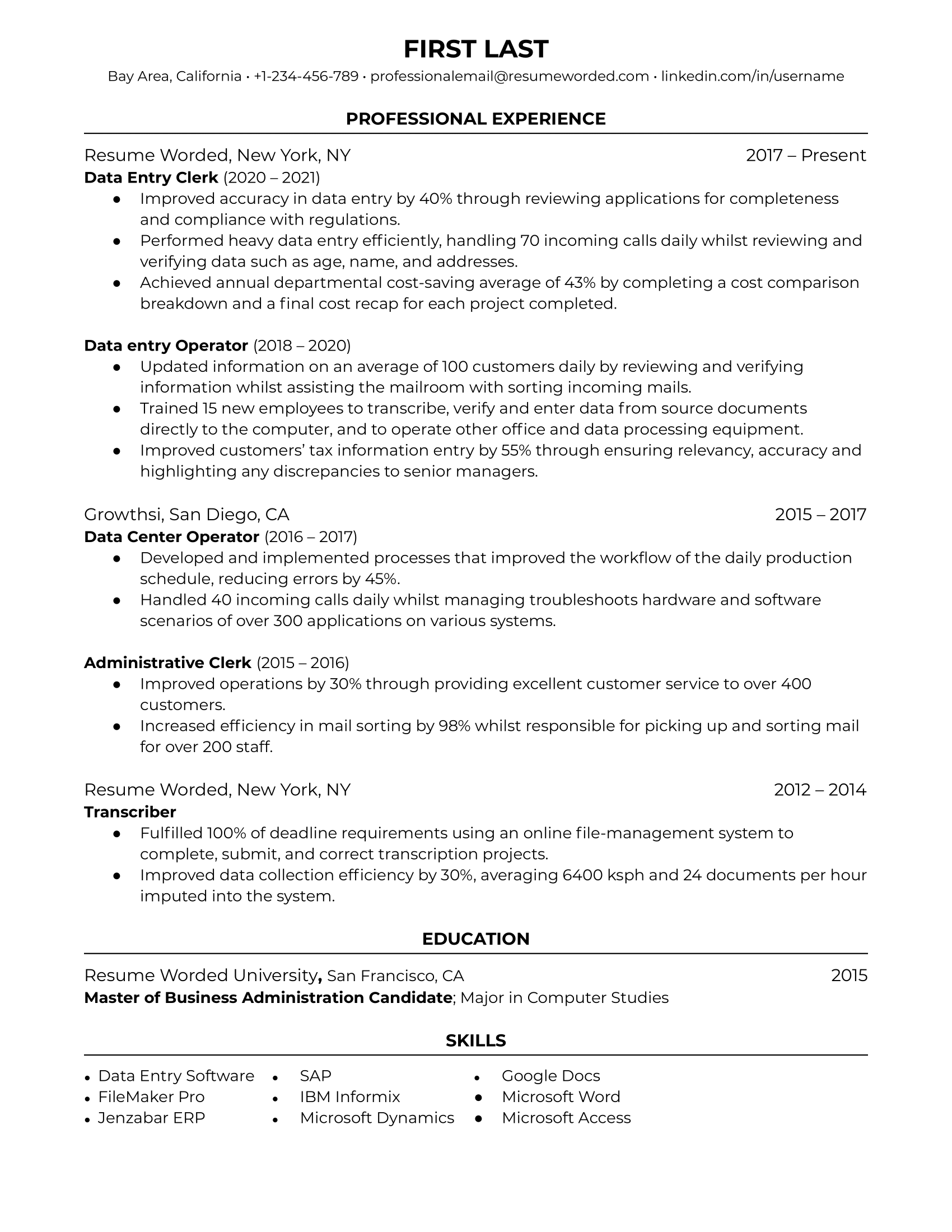 Data entry clerks can wear many hats across different fields. If your experience is similarly varied, you can still emphasize your data entry skills by starting your bullet points with relevant action verbs and including a numerical value for each one.
Expand
Download .DOC or .PDF
Entry Level Data Entry Analyst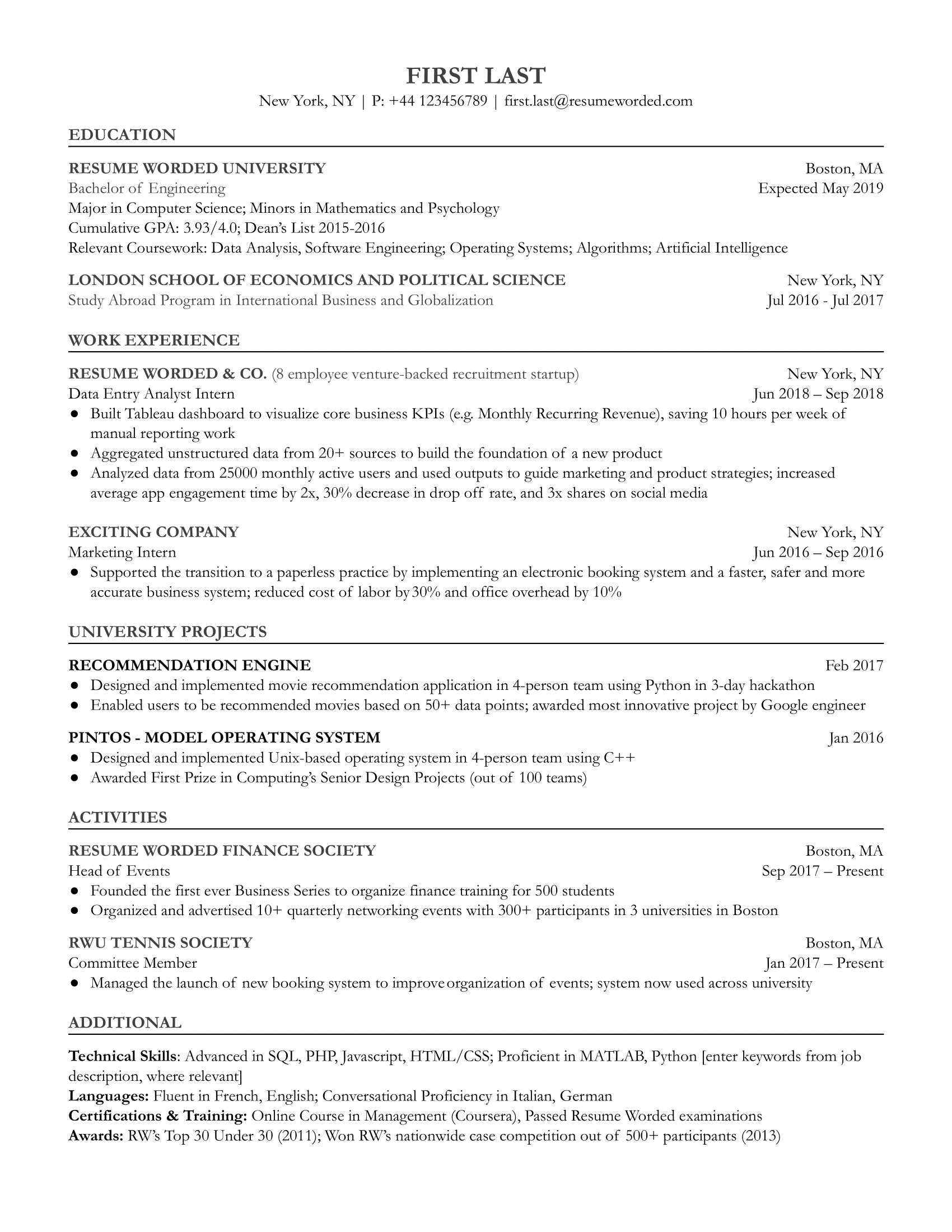 Even without significant experience, you can elevate your resume by focusing on your past accomplishments that were relevant to data entry work (like this applicant does). If you took classes related to data entry or technical skills, you should include them, and if any volunteer work or extracurricular activities involved data entry projects, you should include those as well.
Expand
Download .DOC or .PDF
Data Entry Specialist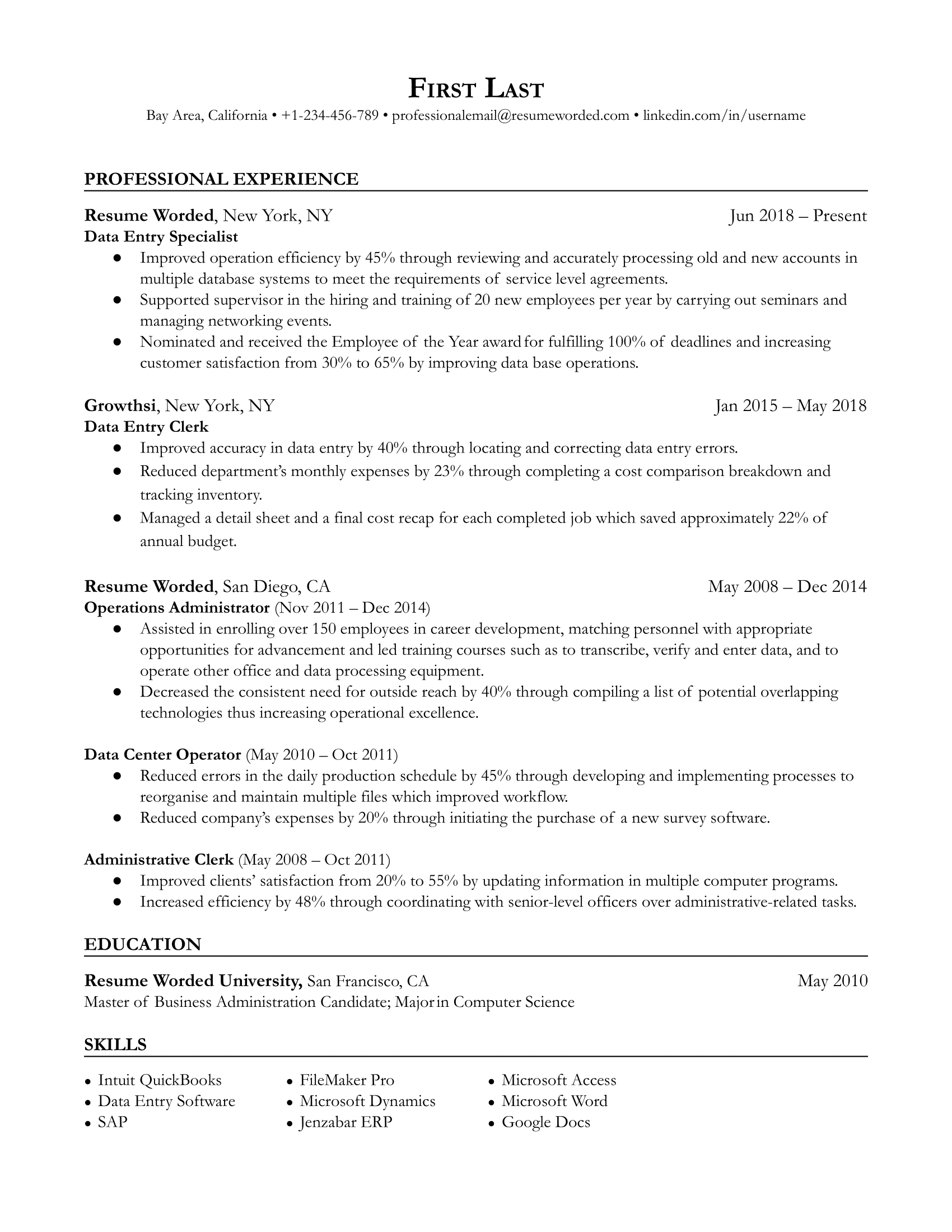 If you have a long background in data entry, you should aim to highlight the most impressive achievements in your most recent or current achievements (while having more basic, numerical accomplishments at your older positions) to demonstrate your ongoing progression of skill and responsibility. Data entry specialists should also have experience with data entry technologies and automation tools.
Expand
Download .DOC or .PDF
Load more resumes
Data Entry resume guide
Business Intelligence Resumes
Want to land a role in business intelligence? A strong resume is a key part of your application. Ensuring you've included the relevant skills and experience on your resume is important to helping you stand out from the rest of the crowd. Below, we've compiled six resume templates with the most important qualities to have in 2022. (Google Docs and PDFs attached).
Load more resumes
Business Intelligence resume guide
SQL Developer Resumes
SQL developers are constantly in demand given that SQL is the foundation of most databases used across enterprises. Therefore, there's no better time than now to apply for roles in this field. Here is a guide to writing a standout SQL developer resume, which includes useful resume templates and industry-specific tips.
Load more resumes
SQL Developer resume guide
Actuarial Science Resumes
Actuarial science is the analytical assessment of risk. Landing a job in this field requires a very specific set of skills and qualifications. We will show you how to craft a resume that will stand out and attract recruiters.
Actuarial Manager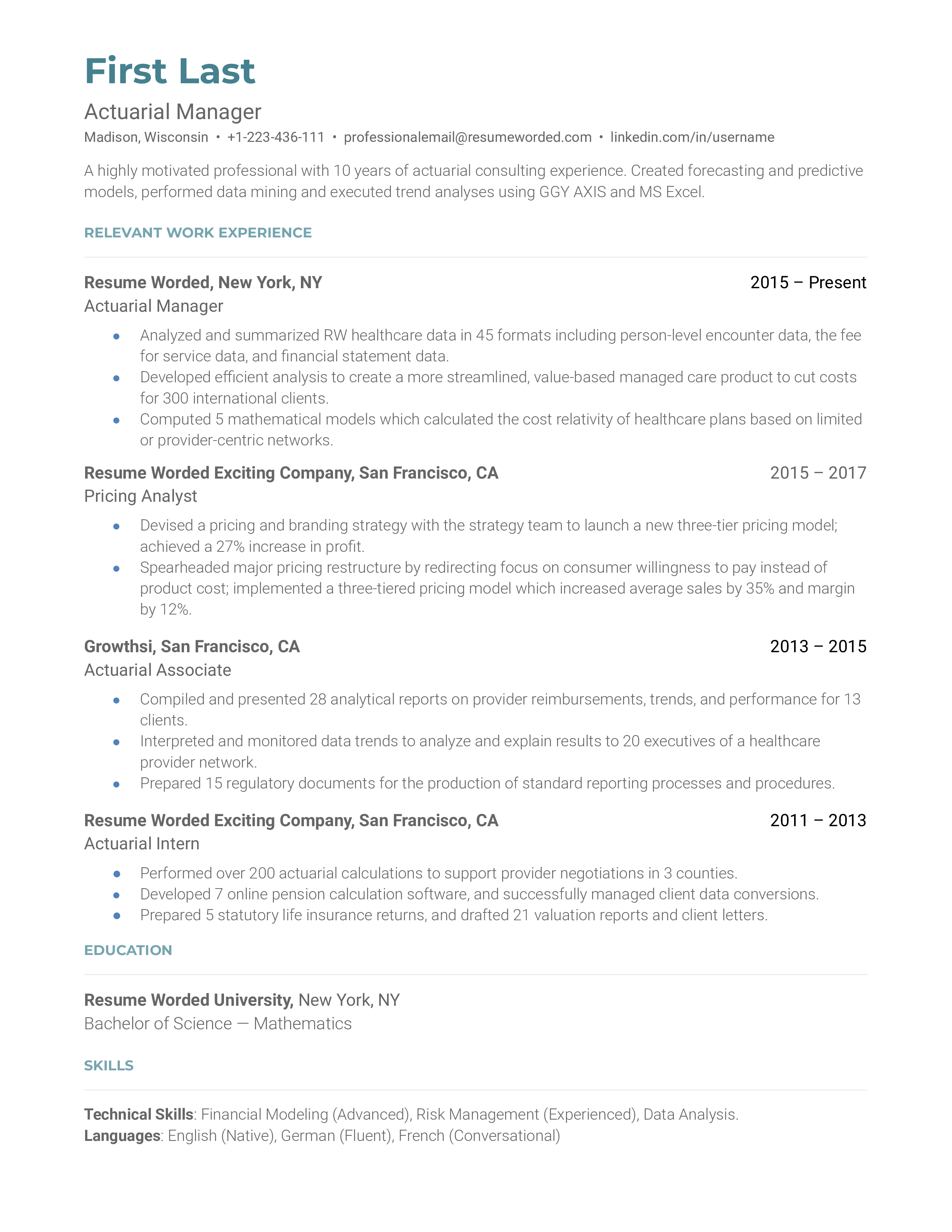 An actuarial manager needs to have all the skills and experience of an actuarial analyst as well as managerial skills. They will generally be managing a team of actuaries and ensuring they meet all targets and expectations. They will also need strong communication skills to manage their team well, and communicate with their superiors on behalf of their team. This resume does a good job of emphasizing actuarial experience and communication skills.
Expand
Download .DOC or .PDF
Chief Actuarial/Risk Officer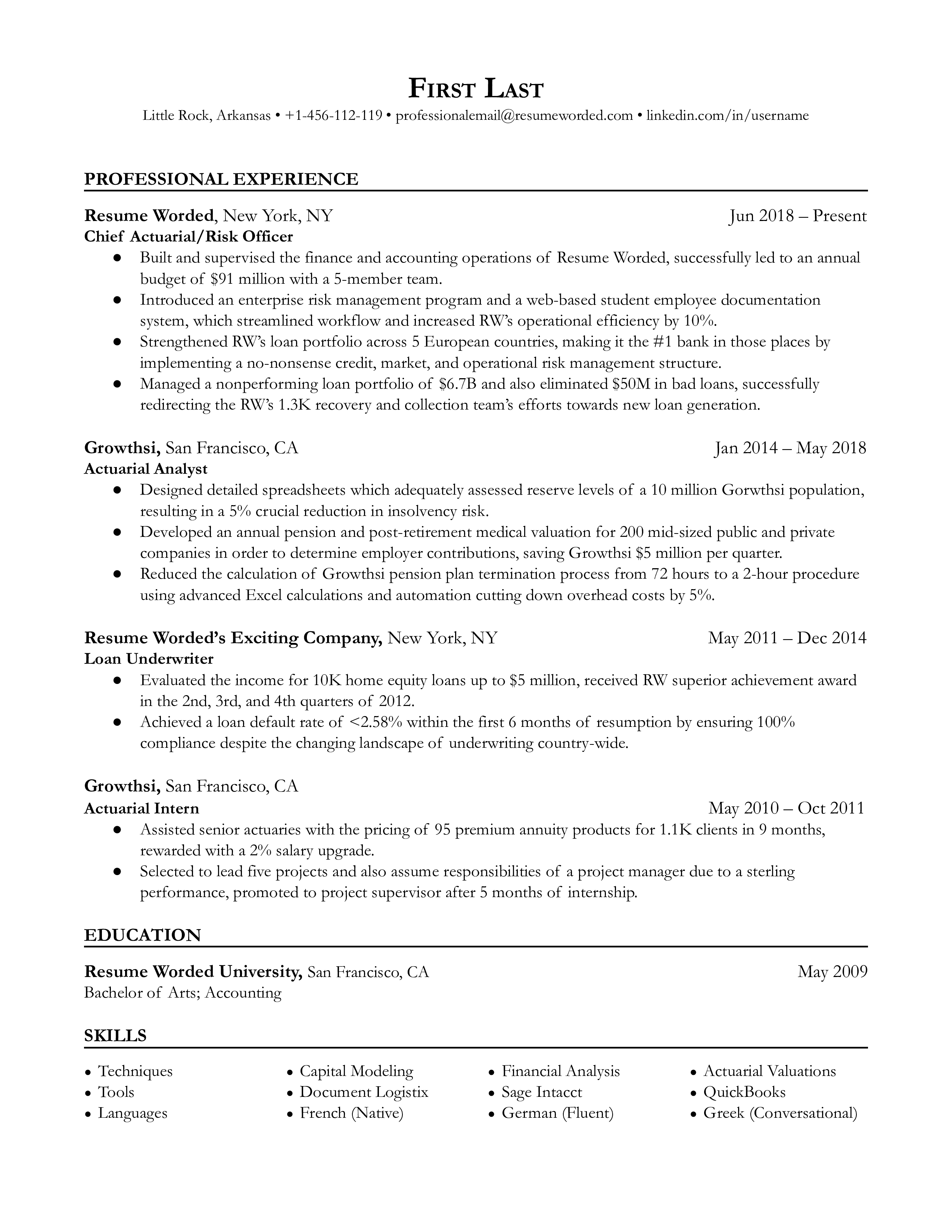 Whereas an actuarial manager may manage a team of actuaries, a chief actuarial/risk officer will manage the entire department. As such a lot of their focus will be on managing the department as opposed to doing the actual analytical work themselves. They will also serve as advisors to the executives of the company and will give presentations and summaries of the department's work. Employers will be looking for resumes that highlight an applicant's ability to supervise and manage a team as well as coordinate and produce results for large projects.
Expand
Download .DOC or .PDF
Senior Actuarial Analyst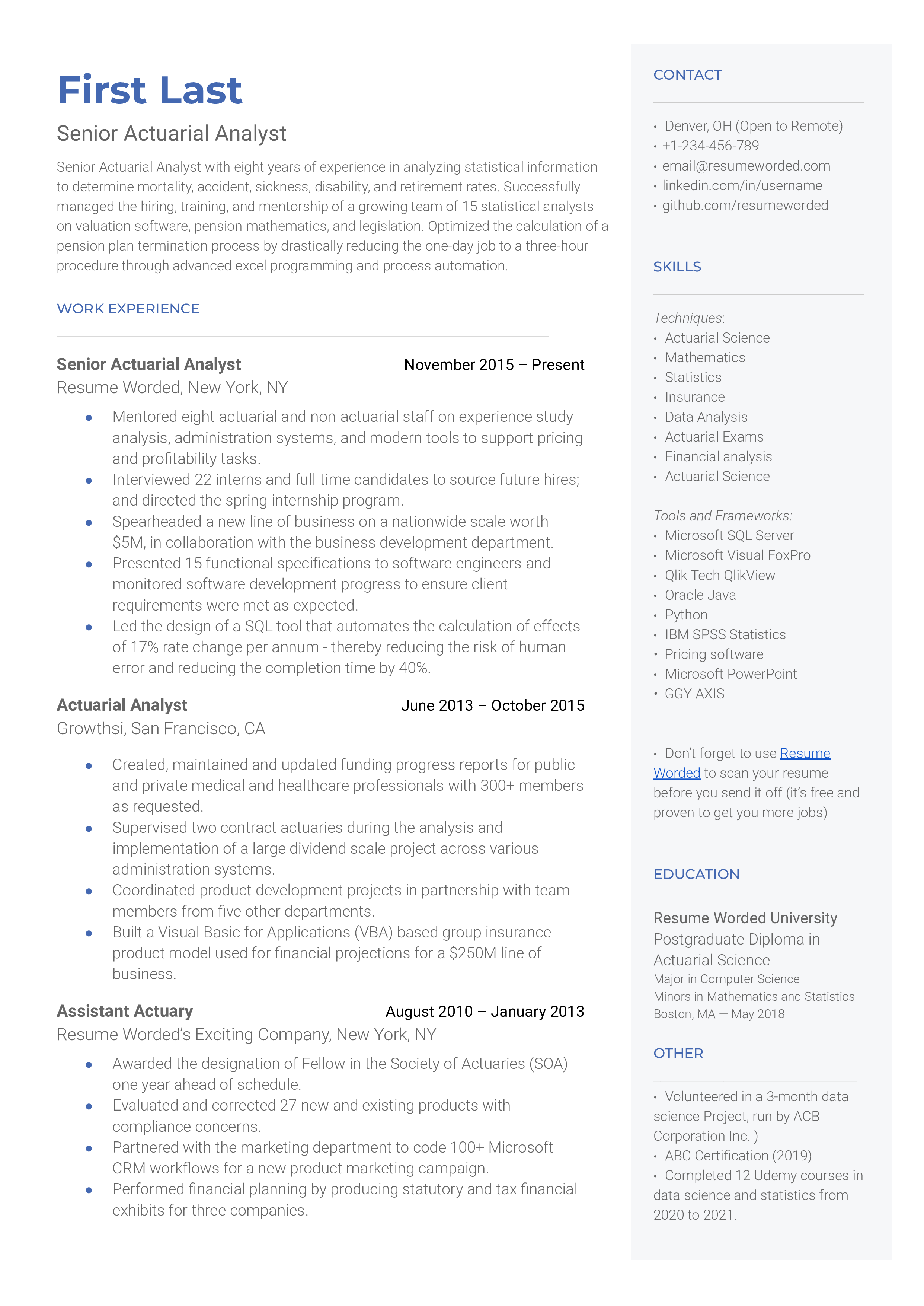 Like an actuarial analyst, senior actuarial analysts will analyze and assess financial risk for a company. For this senior position, you will most likely be expected to have certification or a license and will need to show your experience in the field. You may also have actuarial analysts working under you, so highlighting your managerial and leadership skills will be a huge plus. This resume is effective in highlighting the applicant's ability to manage a team as well as listing all the tools they are experienced in using.
Expand
Download .DOC or .PDF
Load more resumes
Actuarial Science resume guide
Data Modeling Resumes
As is usually the case, business organizations start small and grow big over time. With growth comes the need to streamline organizational processes to increase productivity, reduce risks and complexity, improve collaboration and business processes, etc. It all starts with creating a suitable data model. Data modeling is one of the top skills in an extremely competitive data science industry. So how do you make your data modeling resume stand out? This is how.
Oracle Data Modeler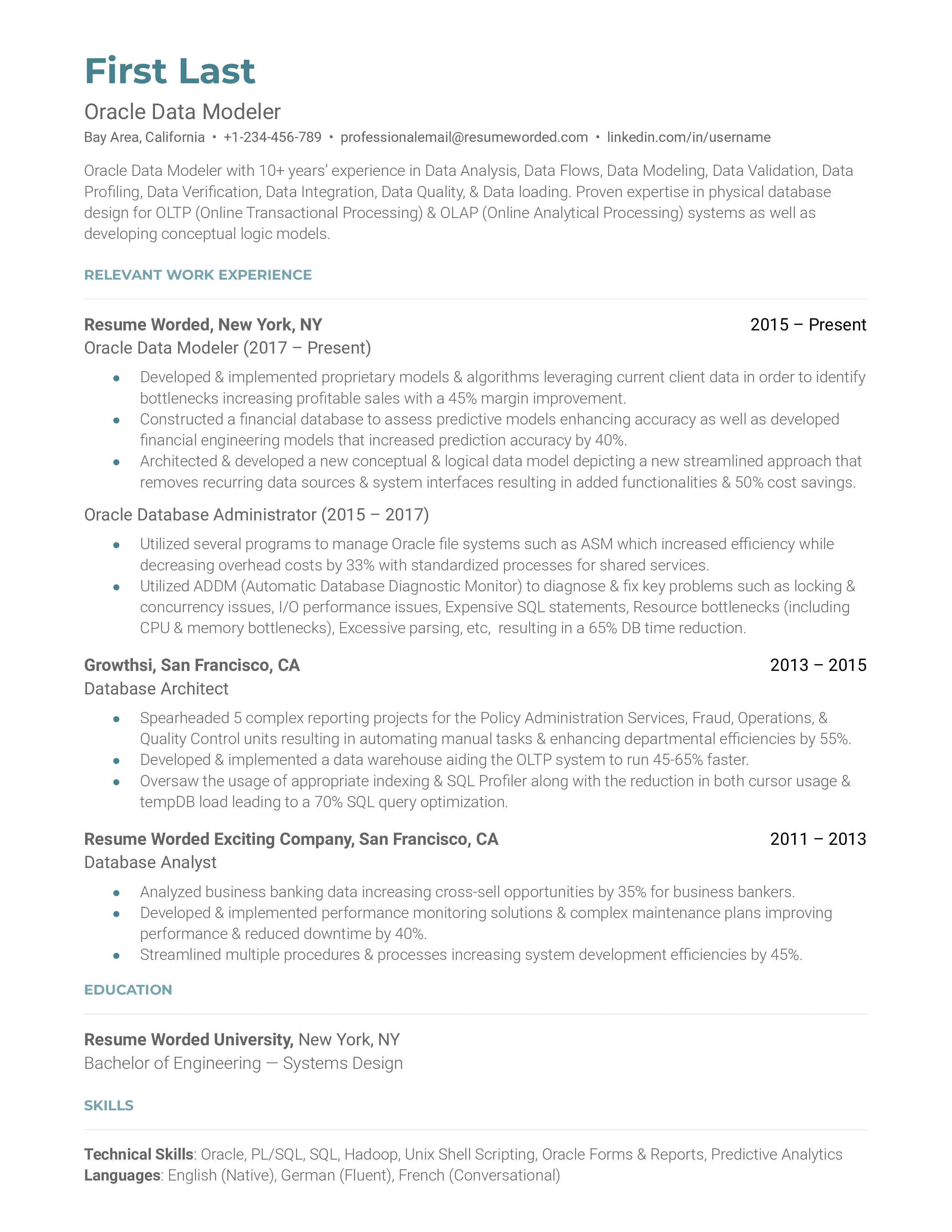 Aligning your data modeling skills to a specific niche makes your resume stand out. As an Oracle Data modeler, your expertise is in developing Oracle databases. These databases are fully scalable, so they are preferred by enterprises managing and processing data across local and wide area networks. An Oracle Data Modeler resume focuses on showcasing experience and value using Oracle. As one of the most cost-effective and flexible databases for managing applications and information, Oracle skills are in-demand. So, the resume summary should ideally capture your top oracle data modeling skills and their impact on organizational goals.
Expand
Download .DOC or .PDF
Junior Data Modeler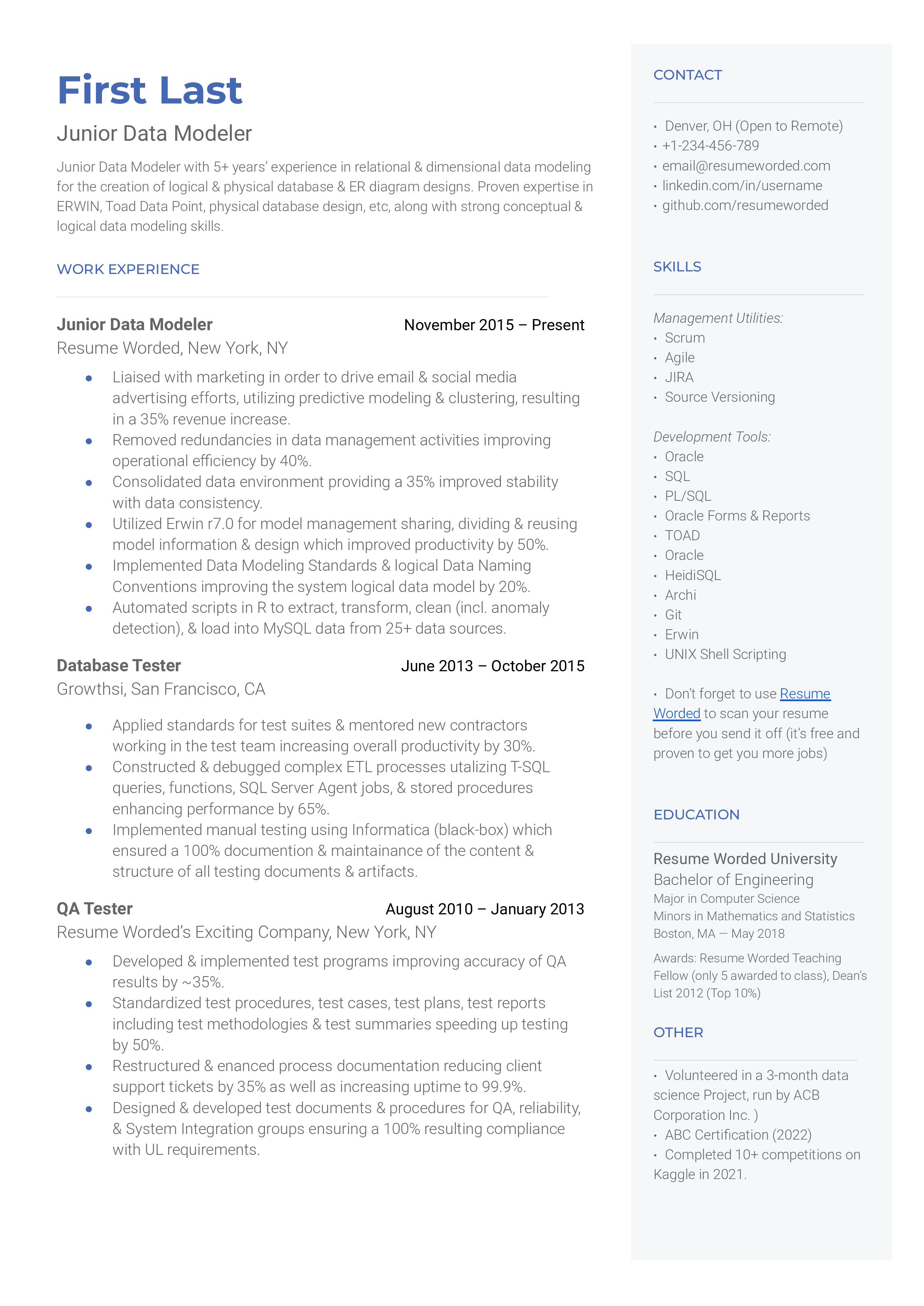 Junior Data Modeling jobs are entry-level positions that mostly involve developing conceptual, physical, and logical data models to support business intelligence and data analysis requirements. They also ensure technology solutions align with data architecture principles. A person in this position is expected to be experienced in complex data systems and solutions. The resume highlights the key technical skills of the applicant. The job applicant prioritizes the experience gained over five years in the industry. Skills are a staple for data modeling resumes. Therefore, resumes devote a special section to highlight the applicant's skills regardless of their duration in the industry.
Expand
Download .DOC or .PDF
Data Modeling resume guide
Supply Chain Planner Resumes
Supply chain planners are the heart of any company that produces and sells goods. They regulate the production process and storage of the company's goods to ensure a steady supply at a reasonable cost to the company. We've curated strong sample resumes of supply chain planners and details on how you can write your own.
Supply and Import Planner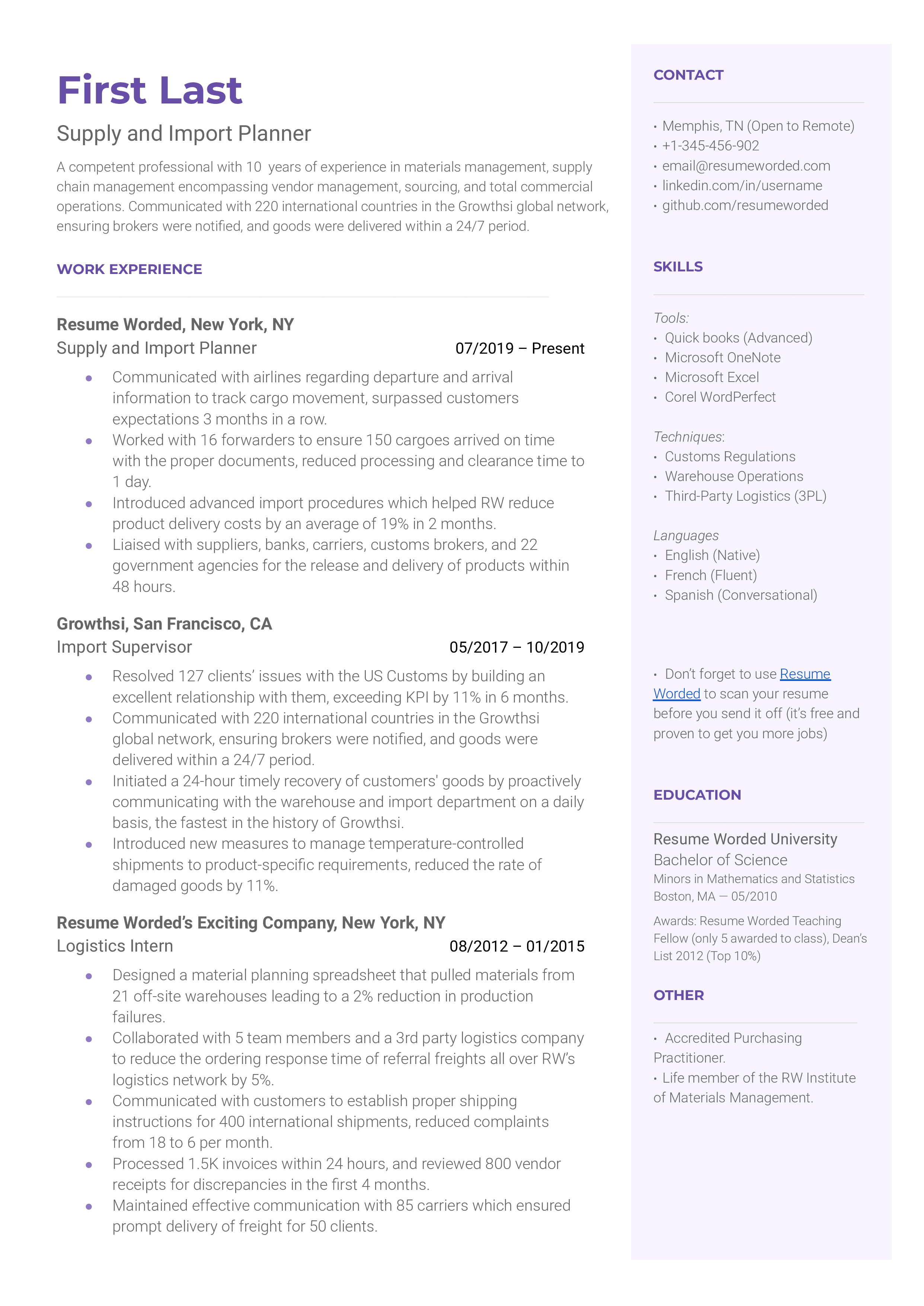 A supply and import planner deals specifically with all importation in the supply chain. This could include the importation of raw materials or machines for producing the company's goods, or the importation of company goods that were manufactured abroad. Your tasks will include working with the relevant stakeholders and also strategizing on how to make any supply importations more efficient. Vital for this role is an expert understanding of customs regulations and relevant laws in both the sender and receiver countries. Attention to detail, as well as strong communication skills, are also important, as you will be communicating with government entities (customs officials), transportation entities (shipping or airline companies), and other stakeholders. A strong supply and import planner resume will highlight your successes working with international stakeholders as well as your successes in streamlining the importation process. Highlighting your communication experience would also be highly beneficial, so use action verbs like 'liaised', 'communicated' etc. as this resume has done.
Expand
Download .DOC or .PDF
Supply Chain Demand Planner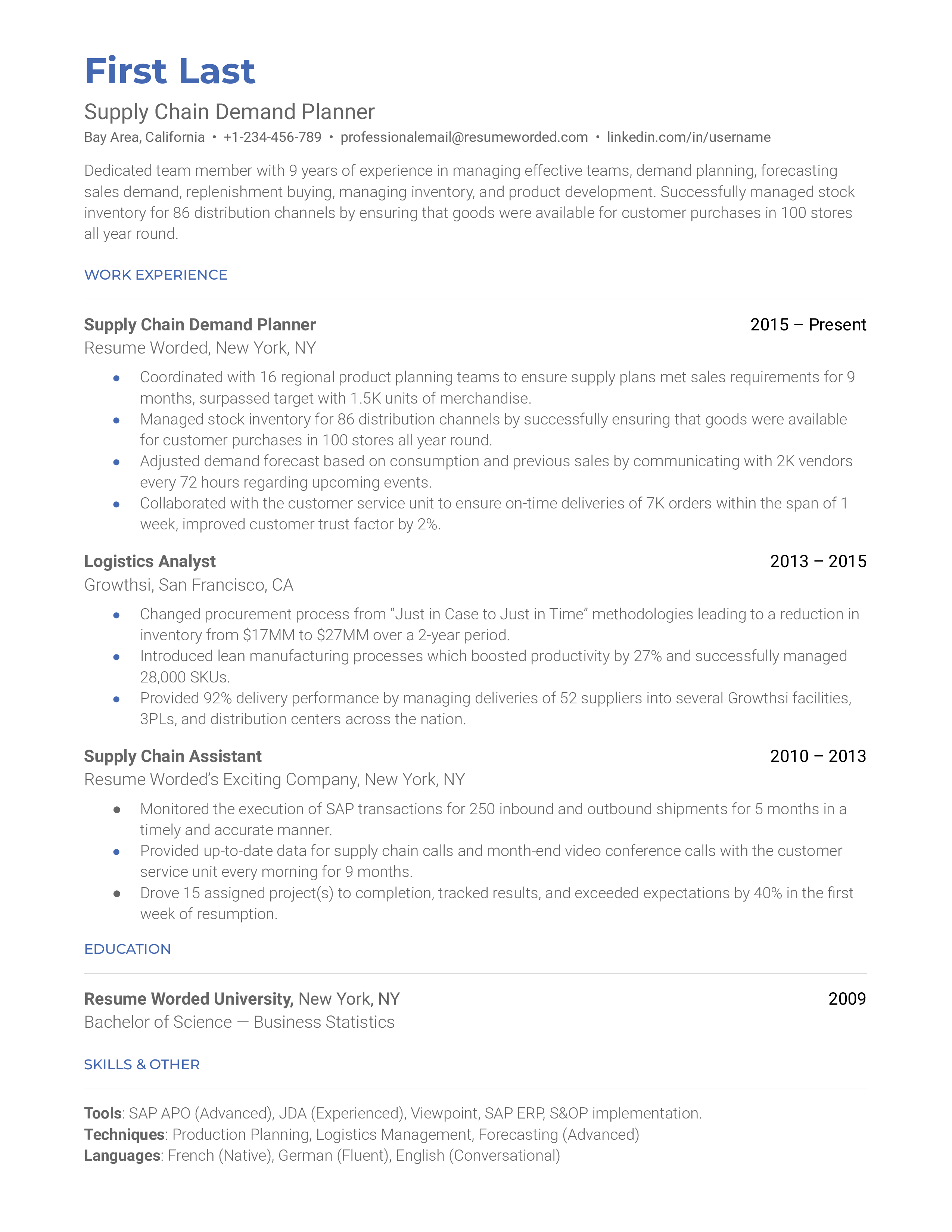 While a supply planner will ensure a company has adequate inventory to supply to customers, a supply chain demand planner focuses on ensuring a company has a customer base and explores how to increase the customer base. You will be in charge of creating relationships with potential customers, including retailers and online marketplaces. You will work closely with supply planners to ensure the company's goods get to the customers. You will make forecasts of demand needs, and like the supply planners, you will constantly interrogate the system to look for places to maximize efficiency. To thrive in this position, you will need strong communication skills, and an acute knowledge of the industry you are working in and the demand and sales trends of the goods your company is selling. Project management skills are also essential. This resume succeeds in highlighting all of the above.
Expand
Download .DOC or .PDF
Planning and Supply Chain Specialist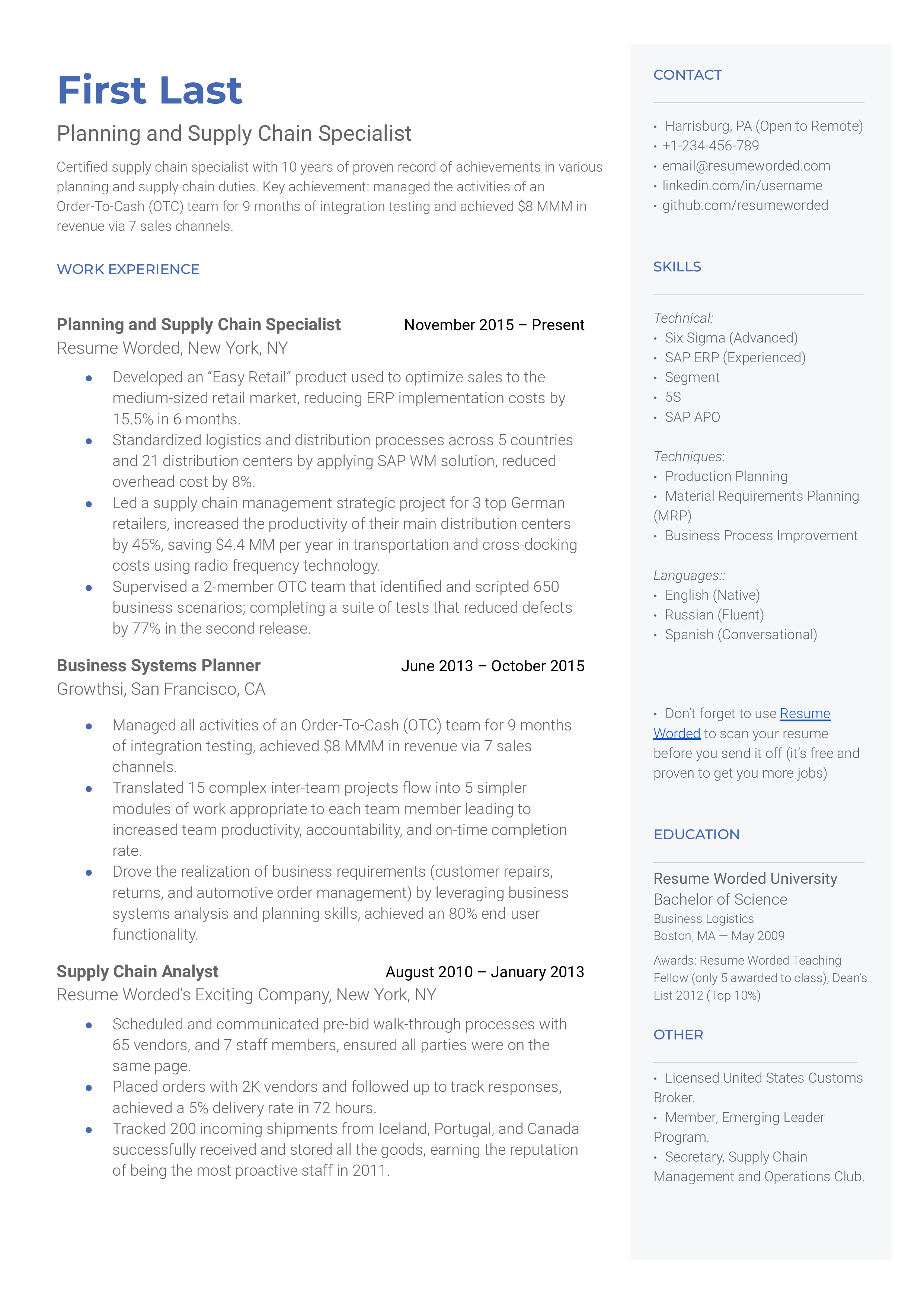 A planning and supply chain specialist oversees and manages the production, transportation, and storage of a company's goods. This is a logistics-heavy position and requires strong project management and quick problem-solving skills. You will also need strong communication skills as you will be coordinating multiple teams and departments. Recruiters will expect your resume to reflect an educational background in supply chain management or a related field like economics or business. In addition, they will be looking to see extensive experience in supply chain management and experience using supply chain management software. This resume does all the above successfully.
Expand
Download .DOC or .PDF
Load more resumes
Supply Chain Planner resume guide
Action Verbs For Data & Analytics Resumes
Analyzed
Assessed
Systemized
Summarized
Researched
Collected
Derived
Evaluated
Researched
Forecasted
Modelled
Predicted
How to use these action verbs?
Each bullet point or accomplishment on your data & analytics resume should start with an action verb, which highlights your role in your accomplishment. Using strong action verbs helps your achievements stand out to recruiters.

Use action verbs that are relevant to the exact job you're applying to. If it's a data analyst role, use action verbs like 'Analyzed', while if it's role involving a lot of data collection, use verbs like "Collected" or "Processed".