Data Analyst Resumes
The resume is the first step to landing a data analyst role. We interviewed ten hiring managers and recruiters who hire for data analyst roles and found out exactly what they are looking for in 2022. Plus, we've compiled six templates you can use when writing your data analyst resume (Google Docs & PDFs included).
Load more resumes
Data Analyst resume guide
Data Engineer Resumes
Data jobs have evolved greatly over time. Many roles have become more specialized. That means your resume will need to be specialized, too. Here are five examples of data engineer resumes to inspire you. These contain the key details that employers are looking for in applicants.
Load more resumes
Data Engineer resume guide
Business Analyst Resumes
Business analysts are in high demand in today's marketplace. Here are five examples of resumes that will help you land a business analyst job in 2022 (Google Docs and PDFs attached)
Load more resumes
Business Analyst resume guide
Data Scientist Resumes
Data scientists are one of the hottest jobs of 2022. However, it's also one of the most analytical, results-driven, and requires superb use of numbers. If you can show that on your resume, you'll be on your way to a nice career as a data scientist. Here are five data scientist resume templates to help you get an idea of what to put in your resume.
Load more resumes
Data Scientist resume guide
Data Entry Resumes
The data entry field requires a minimum amount of training but offers substantial potential for employment due to data entry specialists being in high demand. This guide covers what your data entry resume should include, using four templates as examples and industry-based tips to round it out.
Data Entry Clerk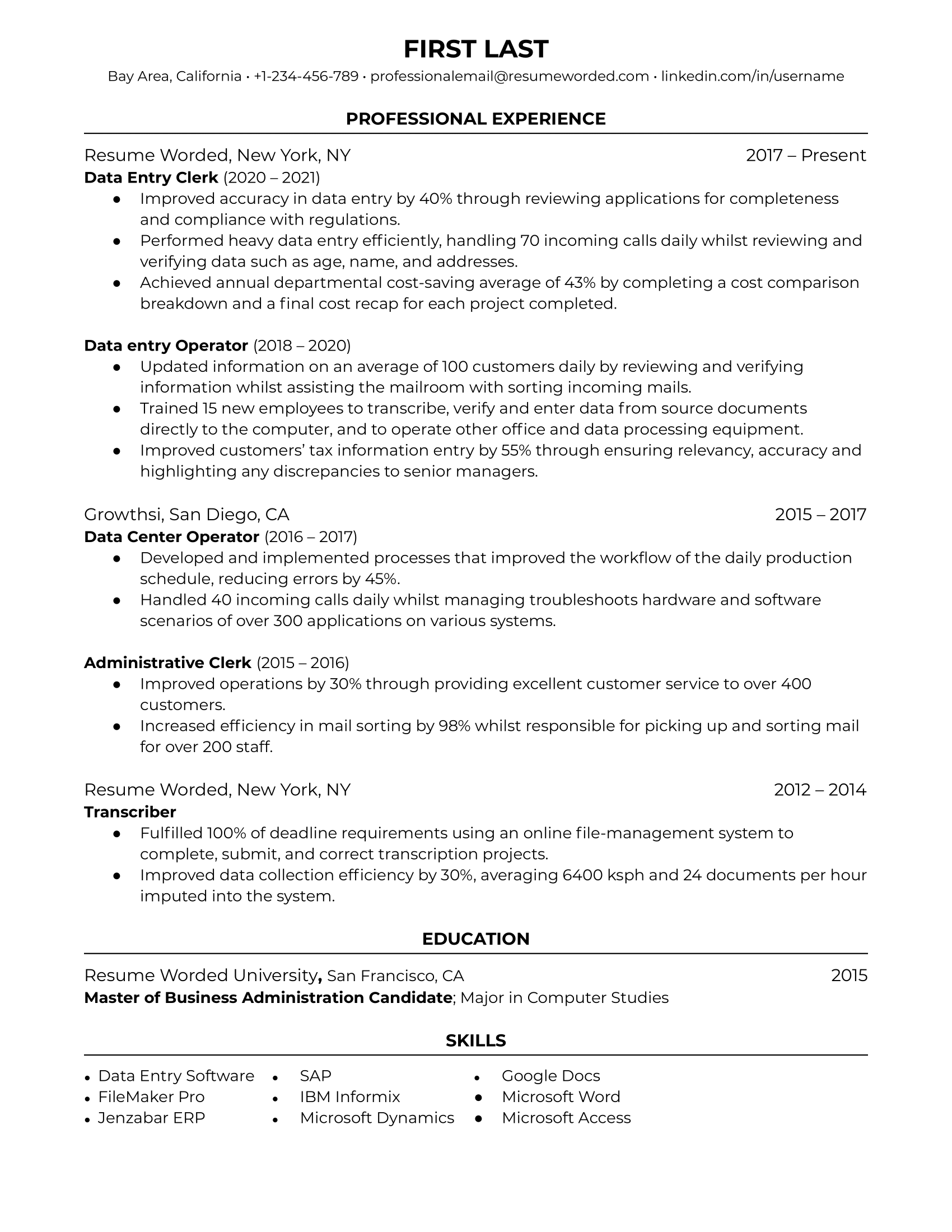 Data entry clerks can wear many hats across different fields. If your experience is similarly varied, you can still emphasize your data entry skills by starting your bullet points with relevant action verbs and including a numerical value for each one.
Expand
Download .DOC or .PDF
Entry Level Data Entry Analyst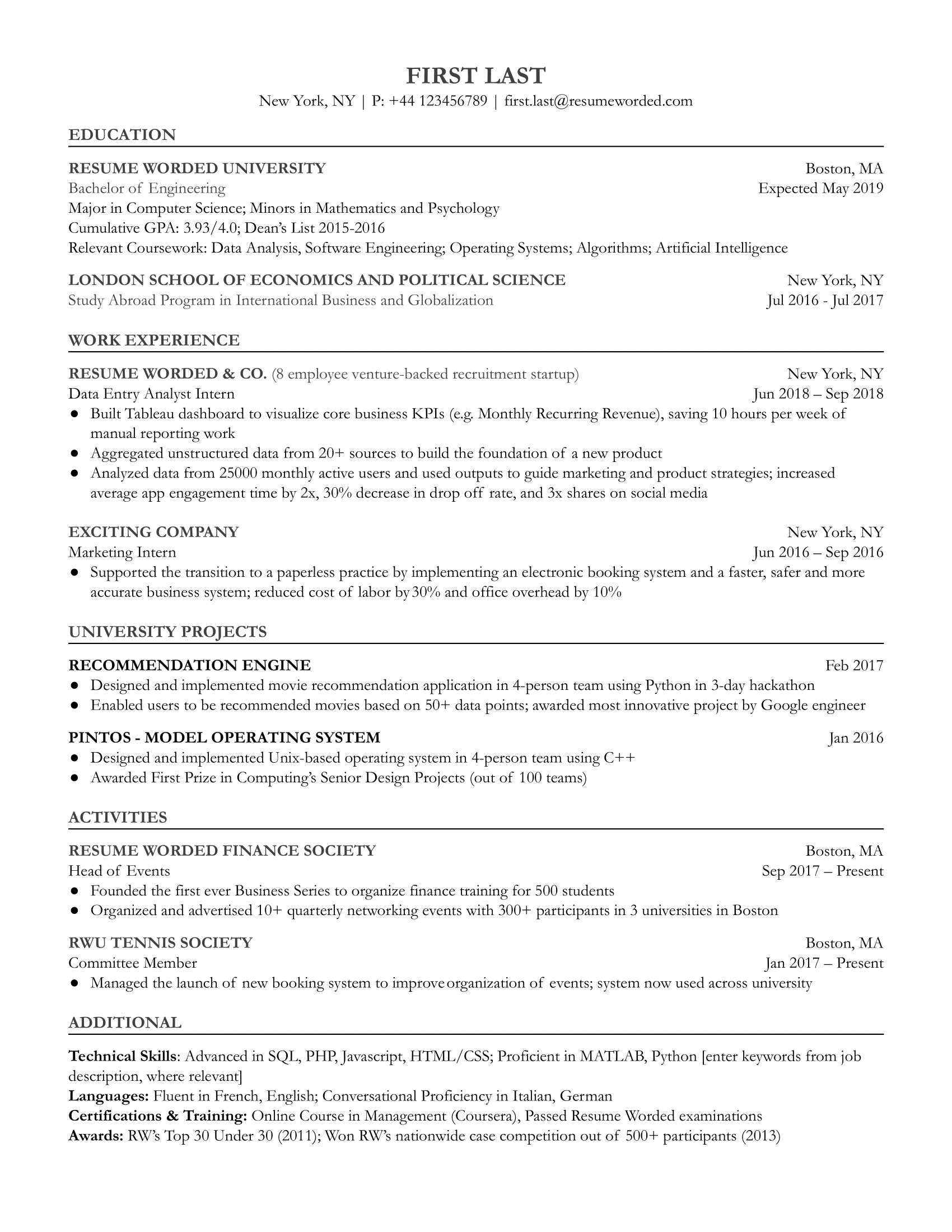 Even without significant experience, you can elevate your resume by focusing on your past accomplishments that were relevant to data entry work (like this applicant does). If you took classes related to data entry or technical skills, you should include them, and if any volunteer work or extracurricular activities involved data entry projects, you should include those as well.
Expand
Download .DOC or .PDF
Data Entry Specialist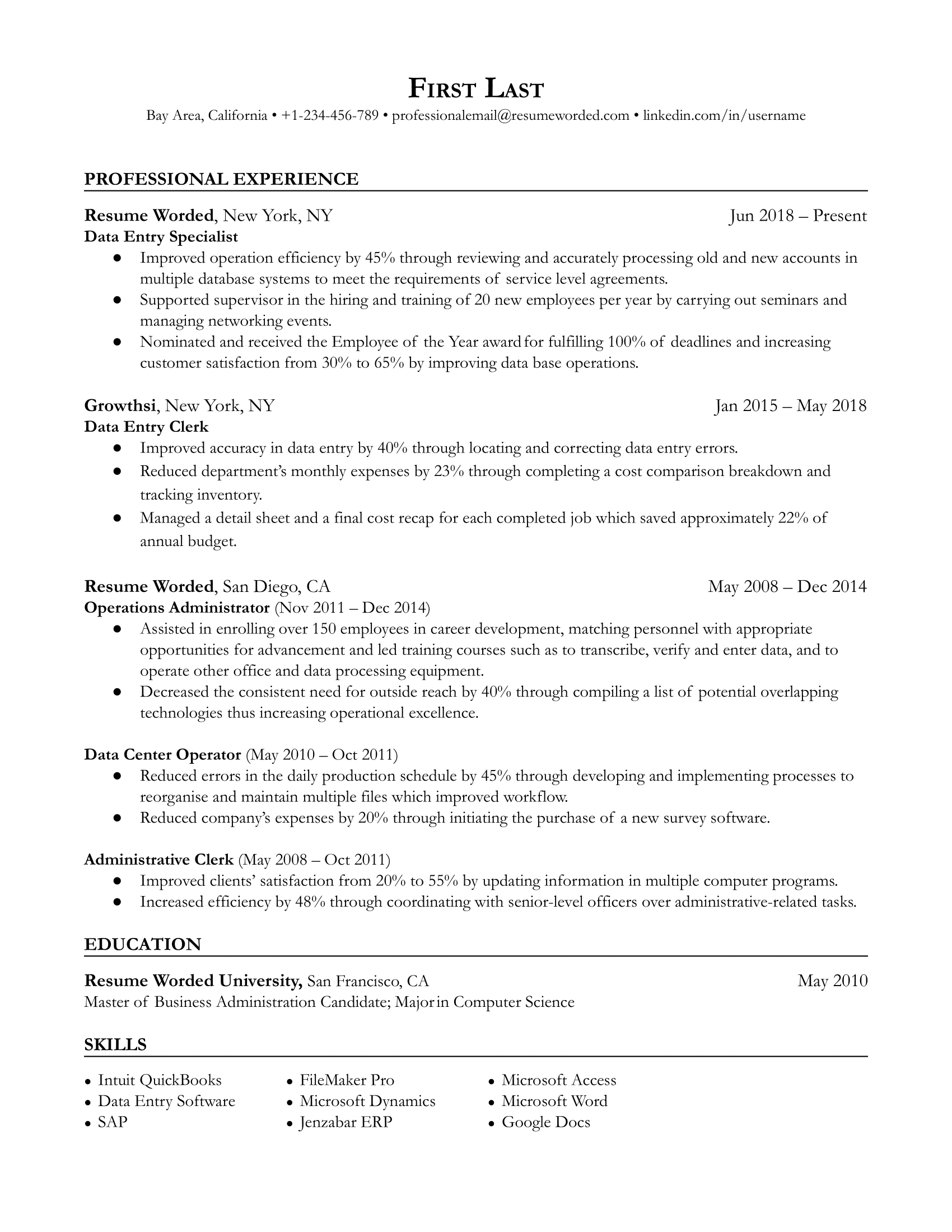 If you have a long background in data entry, you should aim to highlight the most impressive achievements in your most recent or current achievements (while having more basic, numerical accomplishments at your older positions) to demonstrate your ongoing progression of skill and responsibility. Data entry specialists should also have experience with data entry technologies and automation tools.
Expand
Download .DOC or .PDF
Load more resumes
Data Entry resume guide
Business Intelligence Resumes
Want to land a role in business intelligence? A strong resume is a key part of your application. Ensuring you've included the relevant skills and experience on your resume is important to helping you stand out from the rest of the crowd. Below, we've compiled six resume templates with the most important qualities to have in 2022. (Google Docs and PDFs attached).
Load more resumes
Business Intelligence resume guide
SQL Developer Resumes
SQL developers are constantly in demand given that SQL is the foundation of most databases used across enterprises. Therefore, there's no better time than now to apply for roles in this field. Here is a guide to writing a standout SQL developer resume, which includes useful resume templates and industry-specific tips.
Load more resumes
SQL Developer resume guide
Action Verbs For Data & Analytics Resumes
Analyzed
Assessed
Systemized
Summarized
Researched
Collected
Derived
Evaluated
Researched
Forecasted
Modelled
Predicted
How to use these action verbs?
Each bullet point or accomplishment on your data & analytics resume should start with an action verb, which highlights your role in your accomplishment. Using strong action verbs helps your achievements stand out to recruiters.

Use action verbs that are relevant to the exact job you're applying to. If it's a data analyst role, use action verbs like 'Analyzed', while if it's role involving a lot of data collection, use verbs like "Collected" or "Processed".