Data is a driving force in the modern world, and now is the perfect time to get into the field of data entry. Systems around the world are in the process of converting from physical to digital data records to improve efficiency, and the demand is high for data entry specialists.

It's important to keep in mind that while demand is currently high, it will be falling off in the future. The Bureau of Labor Statistics anticipates that data entry specialist positions will decline by 25 percent from 2019-2029. Fortunately, the required amount of education and training required to get into the field during this viable window of opportunity is relatively low.

Data entry is perfect for people who are new to the workforce or are returning after a long period of absence (such as due to being the primary caregiver for a young child). Nearly every industry utilizes data entry positions to help input quantifiable and qualitative data, from sales records to medical records to inventory.

Technical skills such as having basic familiarity with computers (including software like Excel or Google Sheets) and a high level of attention to detail will be your primary assets as you navigate the data entry field.

In this guide, we'll be covering what you should include in your data entry resume. We'll be looking at four templates of data entry specialists and going over what each one does best to help you match your experience and create a similarly strong resume. Lastly, we've rounded up lists of key skills and action verbs that you should be sure to include for best effect.
Data Entry Resume Templates
Data Entry Analyst Resume Sample
If you're a data entry specialist with experience, it's possible you've gained that experience in multiple departments and have demonstrated your aptitude enough to be a team leader. Including the departments or industries you've worked with clues hiring managers into how you'll fit best in their organization.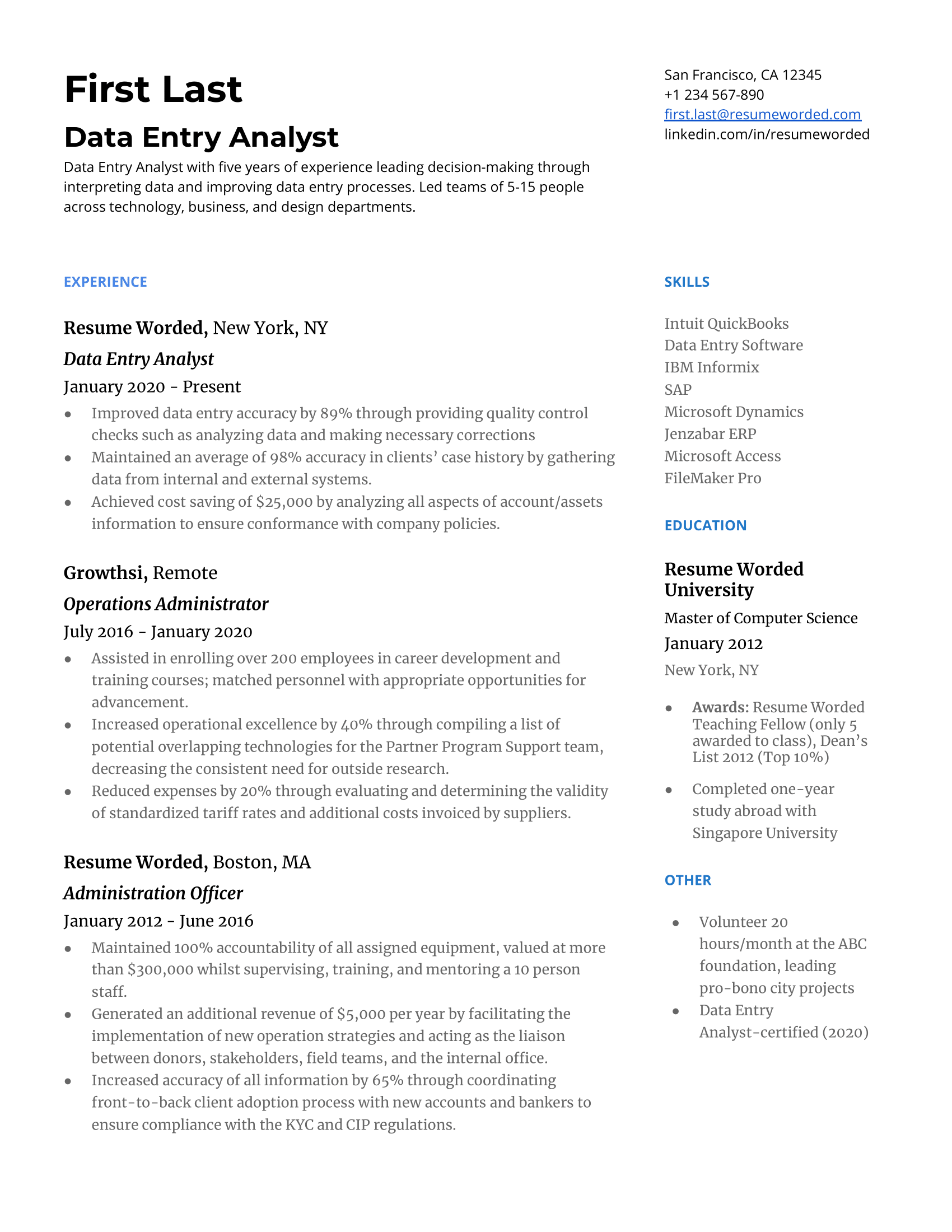 Recruiter Insight: Why this resume works in 2021
Data Entry Clerk Resume Sample
Data entry clerks can wear many hats across different fields. If your experience is similarly varied, you can still emphasize your data entry skills by starting your bullet points with relevant action verbs and including a numerical value for each one.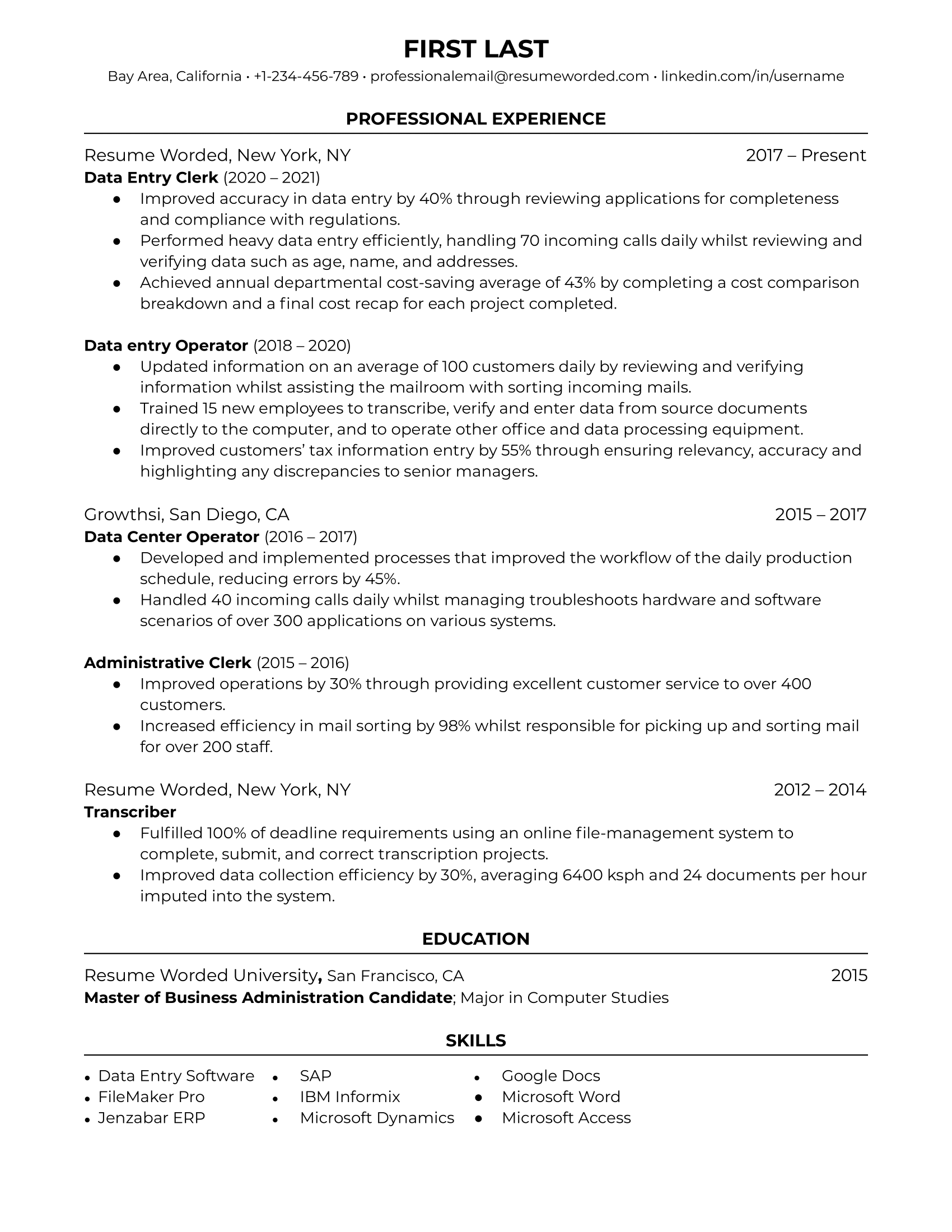 Recruiter Insight: Why this resume works in 2021
Entry Level Data Entry Analyst Resume Sample
Even without significant experience, you can elevate your resume by focusing on your past accomplishments that were relevant to data entry work (like this applicant does). If you took classes related to data entry or technical skills, you should include them, and if any volunteer work or extracurricular activities involved data entry projects, you should include those as well.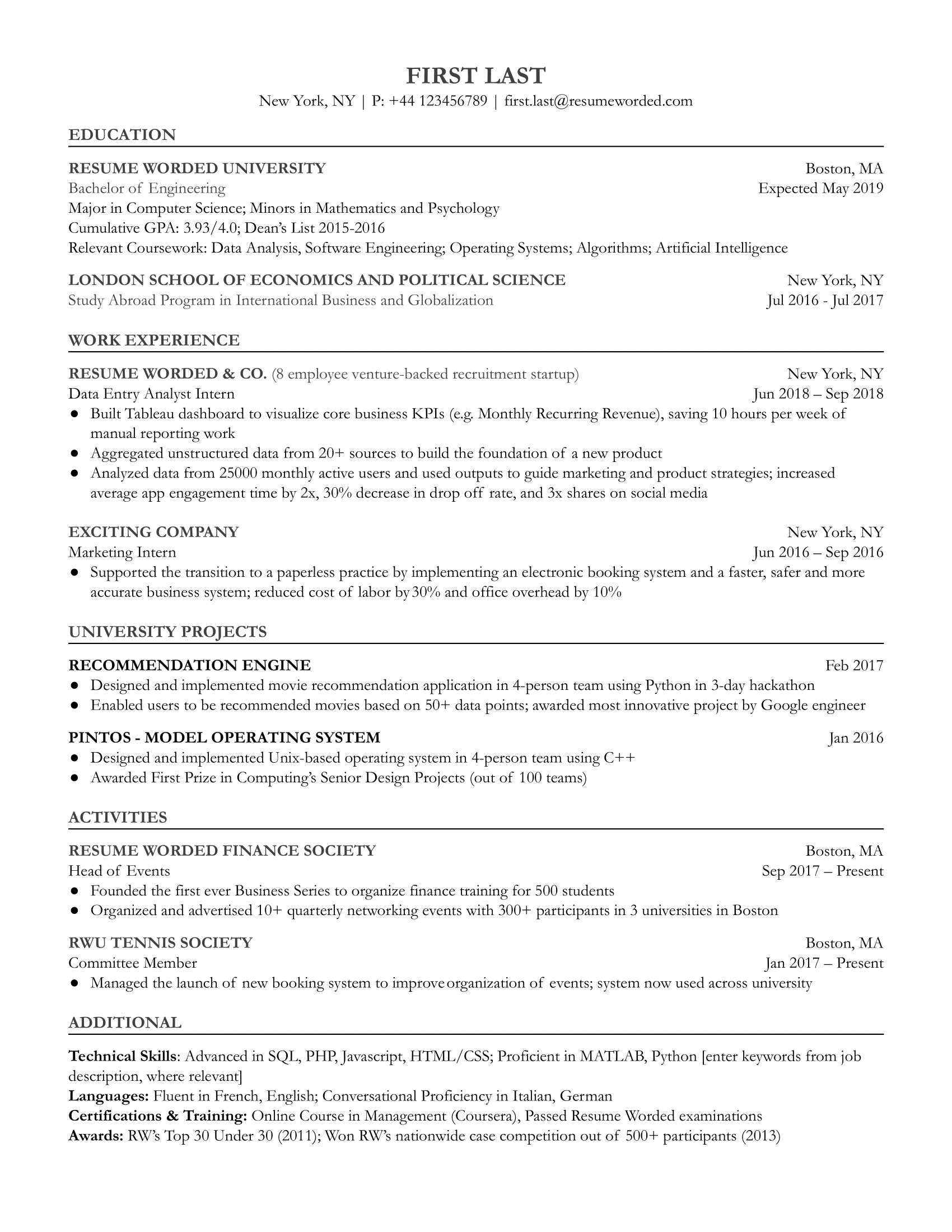 Recruiter Insight: Why this resume works in 2021
Data Entry Specialist Resume Sample
If you have a long background in data entry, you should aim to highlight the most impressive achievements in your most recent or current achievements (while having more basic, numerical accomplishments at your older positions) to demonstrate your ongoing progression of skill and responsibility. Data entry specialists should also have experience with data entry technologies and automation tools.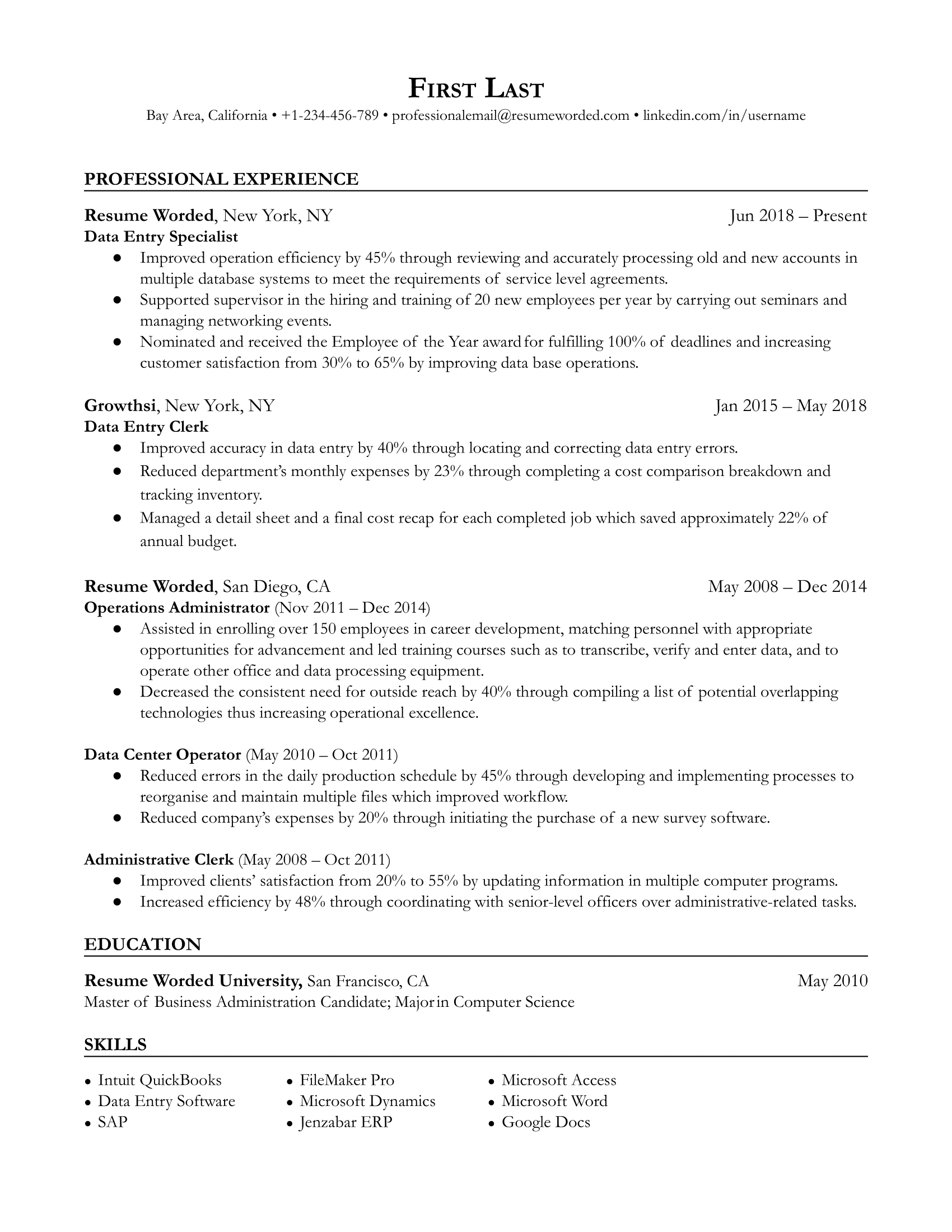 Recruiter Insight: Why this resume works in 2021
Skills For Data Entry Resumes
Technical skills are the bread and butter of data entry, so you'll want to include every relevant one that you have in your skillset. On the left, we've compiled a list of the common technical skills and tools used by data entry specialists (which hiring managers will be looking for).

When your accomplishments are directly related to a particular skill or tool, be sure to include it in the bullet point. Additionally, you should include a skills bank (either on the right hand side, as in the first template we looked at, or at the bottom, like the last resume we reviewed) with your technical skills listed clearly.

Not only will including your relevant skills throughout the resume impart to hiring managers that you have expertise with specific software, but it will also improve your place with automatic screening tools.
Data Entry
Typing
Online Data Entry
Time Management
Teamwork
Administrative Assistance
Customer Service
Phone Etiquette
Social Media
Research
Microsoft Access
Organization Skills
10 Key
Communication
Filing
Clerical Skills
Data Analysis
Customer Satisfaction
Office Administration
Sales
Data Entry Resume Tips
When it's time to pull it all together, you should start by determining which of the above templates best matches your experience in data entry. Remember, if your past experience is light on specific data entry positions, you can still emphasize data entry-related skills and accomplishments (as the entry level data applicant did above by referencing their management of the launch of the new booking system at their tennis club).

Once you've determined what template to follow, go over the list of technical skills and determine which ones best fit your experience. Plan to make a skills bank to showcase your breadth of technical skills, and identify how these skills or tools have come into play in your past work so you can include them in your listed accomplishments.
Action Verbs For Data Entry Resumes
As a data entry employee, you'll want to include how you "improved" a system, such as by improving accuracy, client satisfaction, or operation efficiency, all of which are examples from the last template we reviewed. Or perhaps you "reduced" monthly expenses or the number of company errors.

Whenever you "performed" or "handled" tasks, it speaks to your core competency, as in the example of the second template. From the same resume, verbs like developing, implementing, and updating will clue in hiring managers to your ability to work in solutions and further improve efficiency.

If you have a strong technical background, you should include verbs like "aggregated", "analyzed", "built", or "designed" like the entry level example we looked at above. This will clue in hiring managers to your technical proficiency.
Catalogued
Prepared
Processed
Executed
Operated
Arranged
Calculated
Budgeted
Audited
Researched
Standardized
Validated
Analyzed
Assessed
Systemized
Summarized
Collected
Derived
Evaluated
Forecasted
Modelled
Predicted
For a full list of effective resume action verbs, visit Resume Action Verbs.
Resume Bullet Points From Data Entry Resumes
You should use bullet points to describe your achievements in your Data Entry resume. Here are sample bullet points to help you get started:
Identified changes to assortment, distribution, and marketing using financial and behavioral analysis that enabled an upmarket fashion company to better target their customers, resulting in $400M growth
Conducted survey and quantitative analysis to confirm hypotheses on customer sentiment and purchasing trends; results defined future marketing strategies
Analyzed brand's pricing, advertising and distribution data and identified seasonal trends and white space by integrating consumer insights; recommended strategic changes in portfolio and marketing plan to C-suite executives, reversing sales slump (+6.5%)
Recommended multi-brand strategy for a leading restaurant chain company to enter fast casual market by evaluating core competencies and performing market analysis
Generated 50+ project requests through cold call sales and systematic email outreach; completed due diligence to qualify leads based on credit, industry and location
For more sample bullet points and details on how to write effective bullet points, see our articles on resume bullet points, how to quantify your resume and resume accomplishments.