A business analyst can greatly enhance the success of the companies he or she works for. As the global market becomes increasingly data-driven, more and more companies are bringing these types of professionals on board to help edge out the competition and maximize their earning potential.

Business analysts are not only visionaries who see opportunities for companies to grow and improve; they also use data and technology to create positive change and help businesses thrive in today's competitive market. Their breadth of skills enables them to find work in a wide range of industries, including healthcare, government, higher education, banking, transportation, and IT.

The job market for business analysts has been projected to grow by around 14% between 2016 and 2026. Business analytics is a rapidly-growing field with many employment opportunities, and it offers numerous different career pathways for skilled and capable individuals.

Demand for business analysis is at an all-time high. And while business analytics can be challenging because of the many and varied job responsibilities you might have, it's also a rewarding and well-paying line of work.

If you're pursuing a job in this field, you'll need to demonstrate your relevant skills and experience in your resume. Not sure what to include? Take a look at our business analyst resume templates to see what features a strong resume should have.

Next, we'll talk about the skills to focus on and how to include them in your resume. Finally, we'll discuss some general tips and strong action verbs to make your business analyst resume shine.
Business Analyst Resume Templates
Business Analyst Resume Sample
Business analysts use a wide variety of skills to accomplish their objectives. A few of the most essential skills include researching, documentation, data analysis, visual modeling, and communication. Many business analysts also work closely with IT departments, so having some technical knowledge helps, but it's not always required. This resume template highlights many of these skills and provides examples of past achievements in the work experience section.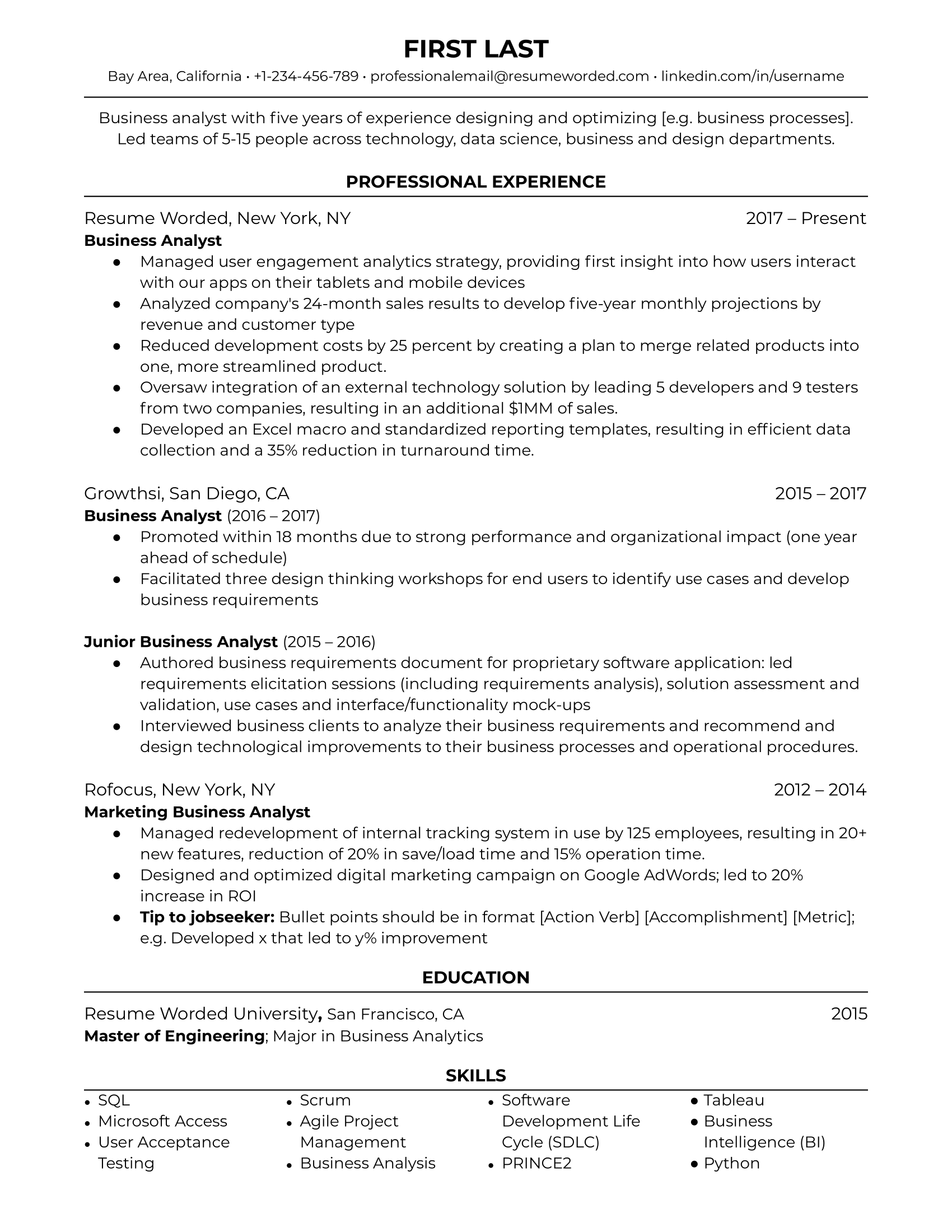 Recruiter Insight: Why this resume works in 2021
Entry Level Business Analyst Resume Sample
Business analyst positions may require more skills and experience than some other jobs do. However, if you've interned in business or data analytics, or if you have an educational background in areas such as computer science or math, you can still be a competitive candidate for a business analyst job. Emphasizing these experiences can be a good strategy if you don't have much professional history.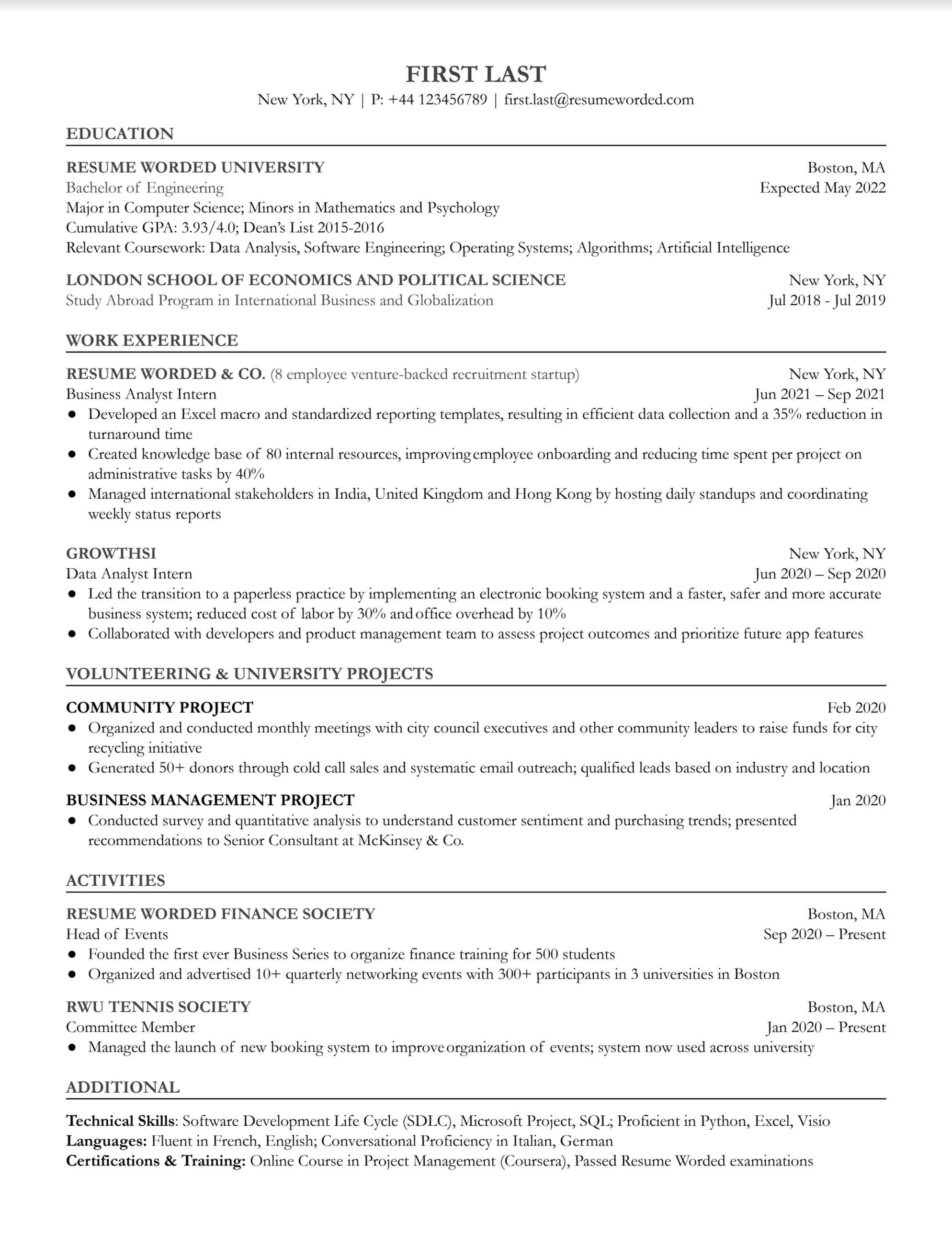 Recruiter Insight: Why this resume works in 2021
Technical Business Analyst Resume Sample
A technical business analyst works directly with technological systems and processes. They need to be able to pinpoint problems by troubleshooting, testing, debugging, and analyzing software and hardware. When you're seeking this type of position, your resume should focus heavily on how you've used your technical skills to design workable solutions for problems.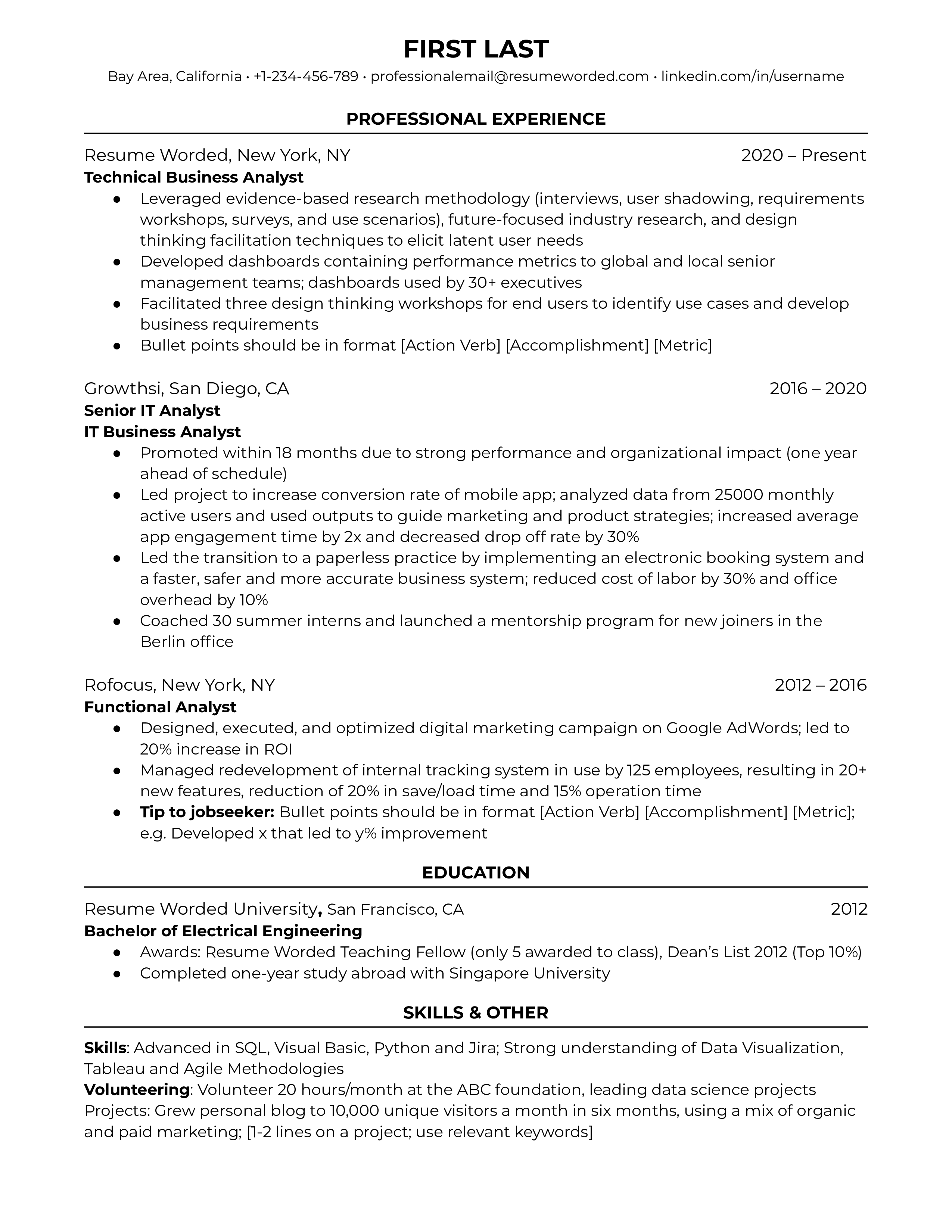 Recruiter Insight: Why this resume works in 2021
Senior Business Analyst Resume Sample
If you want a senior business analyst job, your resume shouldn't only show your experience and accomplishments with business analytics; it should also demonstrate that you are highly motivated and have leadership capabilities. If you've been promoted in the past, or if you've coached or mentored other employees, mention these experiences so potential employers can see that you'll be a good fit for a leadership role.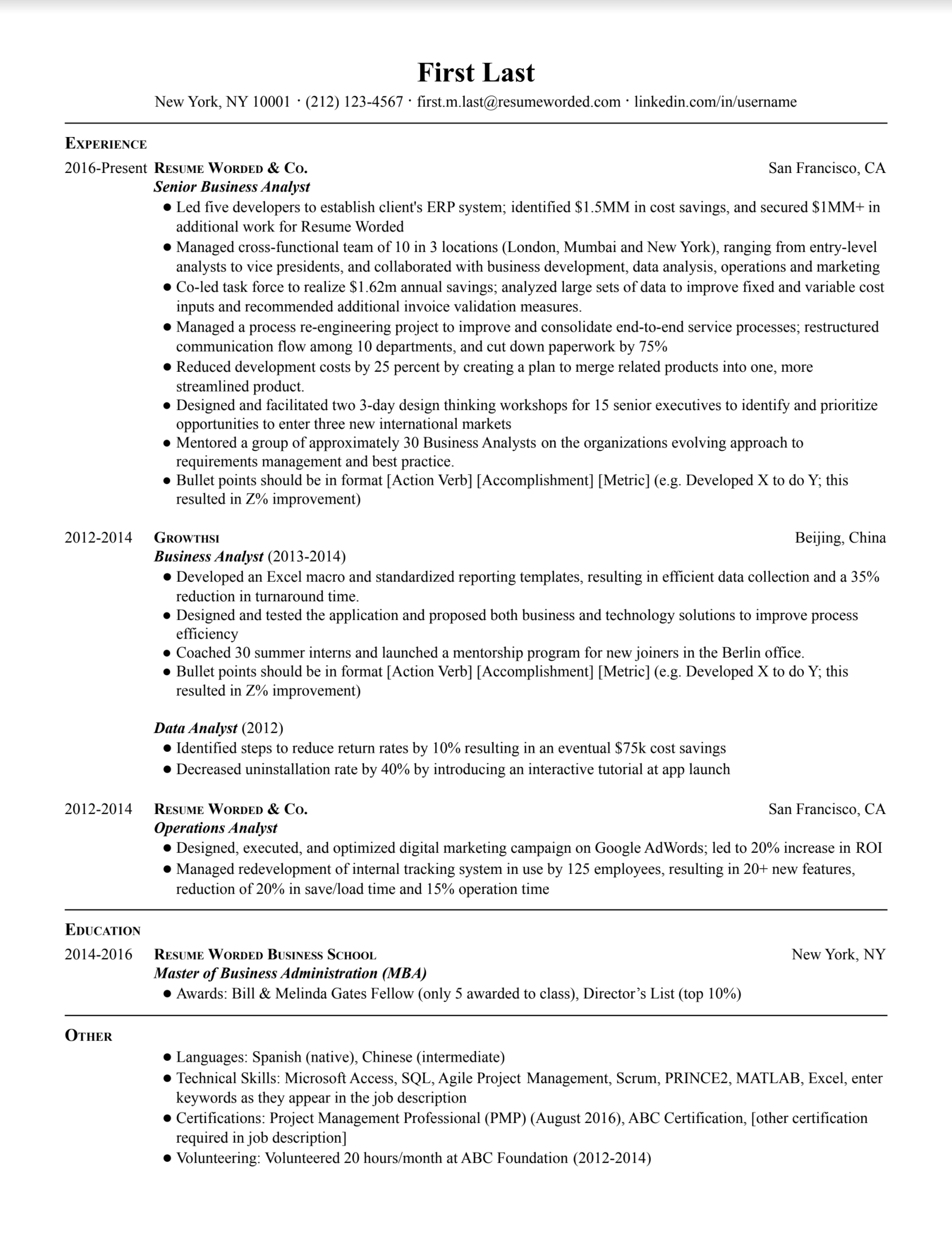 Recruiter Insight: Why this resume works in 2021
Agile Business Analyst Resume Sample
Agile business analysts specialize in the area of agile software development, which takes a collaborative, responsive approach to resolving software issues. To be a successful agile business analyst, you must be adept at working with a team while also designing excellent software that aligns with the Agile philosophy. Your resume should show that you are flexible, adaptable, and creative in your approach to solving problems.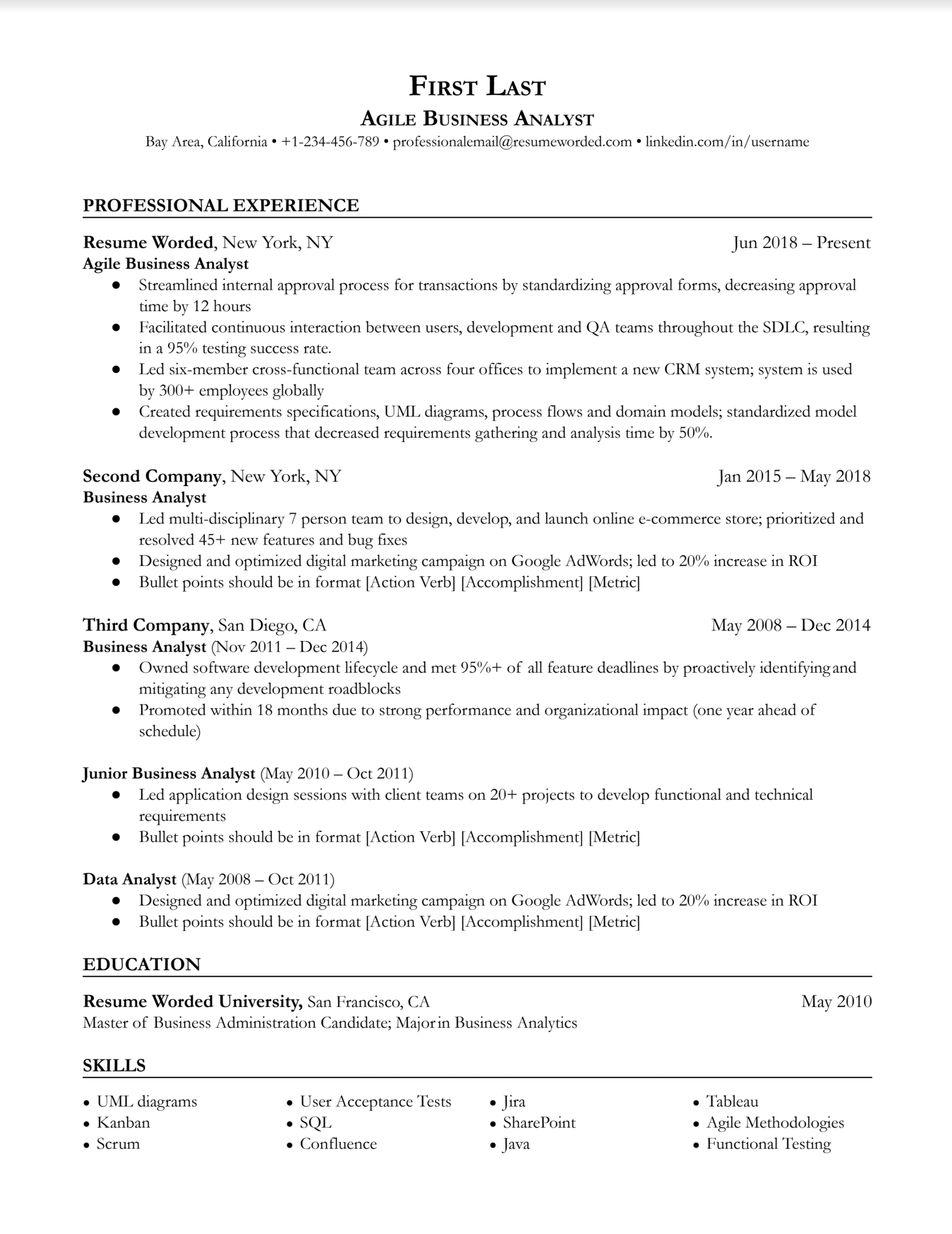 Recruiter Insight: Why this resume works in 2021
Skills For Business Analyst Resumes
If you want to be a top candidate for a business analyst position, use your resume to show that you are capable of succeeding in the role. Highlight your technical background and other hard skills in your skills section. Meanwhile, you can show other proficiencies like analysis, data modeling, organization, and communication through bullet points of your past accomplishments.

Showcasing your most relevant hard and soft skills will show hiring managers that you're the best person for the job. Tailoring your resume to the business analyst job you're applying for will also help you get through automated screenings such as the applicant tracking system (ATS), which scans resumes for keywords related to the job.
Business Analysis
Requirements Gathering
Requirements Analysis
Software Development Life Cycle (SDLC)
SQL
Agile Methodologies
Business Requirements
Visio
User Acceptance Testing
Business Process Improvement
Business Process
Scrum
Tableau
Jira
Data Analysis
Business Intelligence (BI)
SharePoint
Microsoft SQL Server
Agile & Waterfall Methodologies
Analytical Skills
Business Analyst Resume Tips
Still curious about how to build an outstanding business analyst resume? Here are a few of our best pointers.
Action Verbs For Business Analyst Resumes
A business analyst resume should discuss achievements at former jobs using vivid, precise language. Leading with the right action verbs can you help frame what you've accomplished in the best possible light and leave a strong impression on your potential employer.

The following are just a few action verbs that are well-suited for people in research and analytical professions. Business analysts need to highlight their abilities to analyze, interpret, and communicate information, as well as their skills in solving problems -- so they should choose their verbs accordingly.

Visit this page for a complete list of action verbs for resumes.
Collated
Reviewed
Analyzed
Assessed
Systemized
Summarized
Evaluated
Researched
Collected
Derived
Researched
Forecasted
Modelled
Examined
For a full list of effective resume action verbs, visit Resume Action Verbs.
Resume Bullet Points From Business Analyst Resumes
You should use bullet points to describe your achievements in your Business Analyst resume. Here are sample bullet points to help you get started:
Leveraged evidence-based research methodology (interviews, user shadowing, requirements workshops, surveys, and use scenarios), future-focused industry research, and design thinking facilitation techniques to elicit latent user needs
Led the cost analysis for the data consolidation effort; interviewed stakeholders to collect cost data, documented requirements and identified shortfalls between the current and future state environment
Translated business questions into use cases and data model requirements with emphasis on anticipating future ad-hoc needs
Implemented automation and reporting frameworks for product testing, leading to adoption by testing teams and reducing internal testing timelines by 30%
Developed new management dashboard to evaluate individual team performance by revenue segment
For more sample bullet points and details on how to write effective bullet points, see our articles on resume bullet points, how to quantify your resume and resume accomplishments.