You're strategic and detail-oriented. You're a strong communicator and great team player. You can quickly pick out the most subtle patterns in data and consolidate it into digestible action items.

These are all essential qualities for those looking to build a career in business intelligence.

Business intelligence (BI) employees turn a company's data into business insights using tools like Excel, Tableau or other data processing dashboards. You're essential for informing the strategic direction of a company and creating important reports that help executives decide everything from how a company will market to its consumers to how it allocates its annual budget.

It's a crucial role that is more relevant than ever following the COVID-19 pandemic. The business intelligence business is booming as companies need stellar business intelligence in order to nimbly adjust to the new normal. They must be able to efficiently collect and effectively interpret data about their consumers and employees. And it all starts with you.

If you want to work in business intelligence in 2021, continue reading below to view examples of effectively written business intelligence resume templates to help land your dream role.
Business Intelligence Resume Templates
Business Intelligence Analyst Resume Sample
If you have several years of experience working as a business intelligence analyst, utilize this resume as a template to craft your application. As you put together your work experience section, make sure to showcase your experience in relevant roles and emphasize skills that you have developed throughout your career. Include an impactful elevator pitch to effectively draw in busy recruiters. Highlight your experience in similar roles and provide a snapshot of your ability to take on increasing levels of responsibility.
Recruiter Insight: Why this resume works in 2021
Business Intelligence Developer Resume Sample
A business intelligence developer takes it a step beyond mere data manipulation or interpretation. Instead, they're busy building the tools that analyze data -- including query tools, data visualization dashboards, and data modelling tools. As such, this is a rather technical role and involves detailed expertise of the projects and data you have worked with. When you are putting together your business intelligence application, make sure to use strong action verbs and quantifiable metrics to back up your work achievements.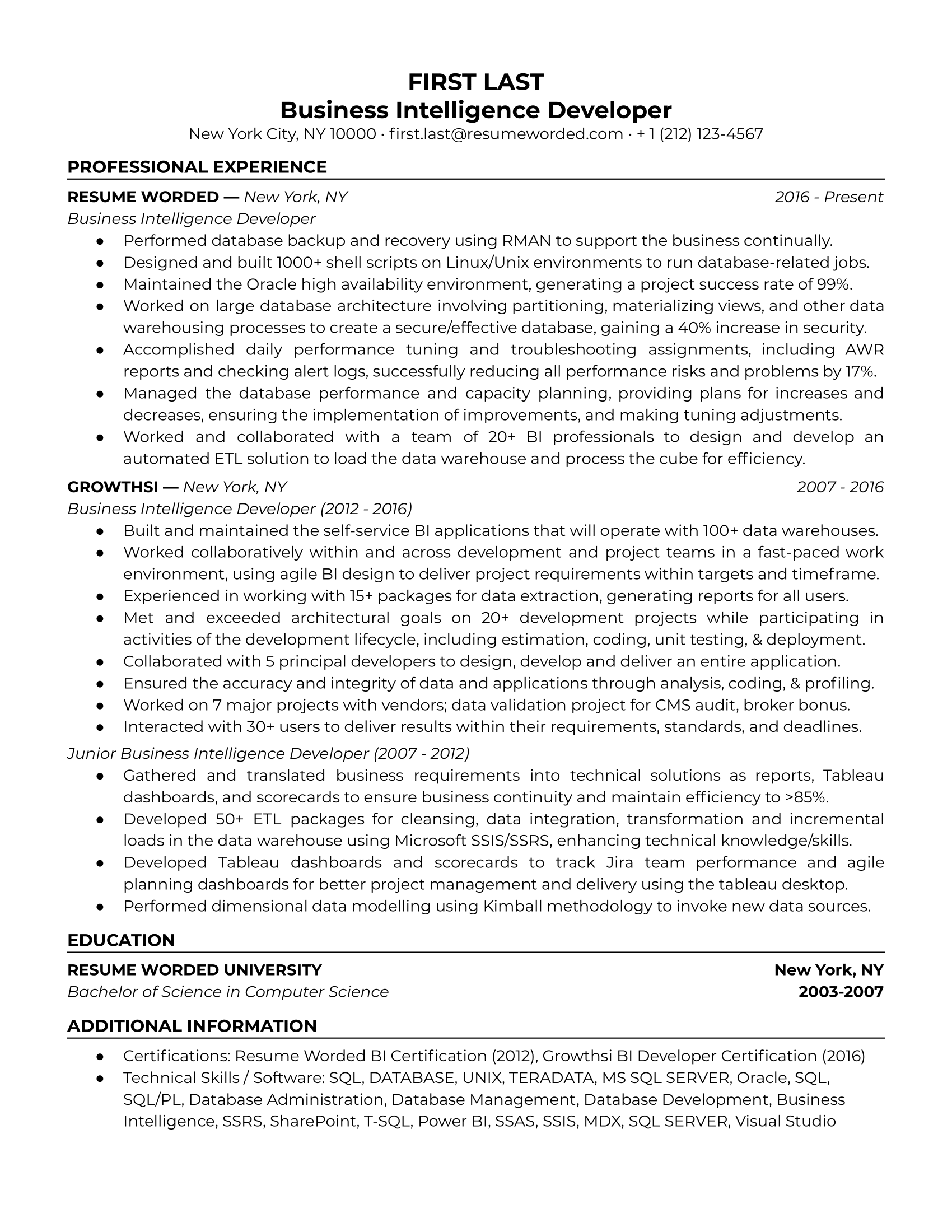 Recruiter Insight: Why this resume works in 2021
Business Intelligence Director Resume Sample
A business intelligence director is responsible for overseeing the vision and direction of a company's business intelligence affairs. This involves providing strategic guidance over what and how data is analyzed, understanding and applying macro trends from their given industry, and making tactical decisions on data management and gathering. You'll want to be sure to emphasize your leadership qualities and past experience with people management, as well as bolster your work experience with strong action verbs and metrics.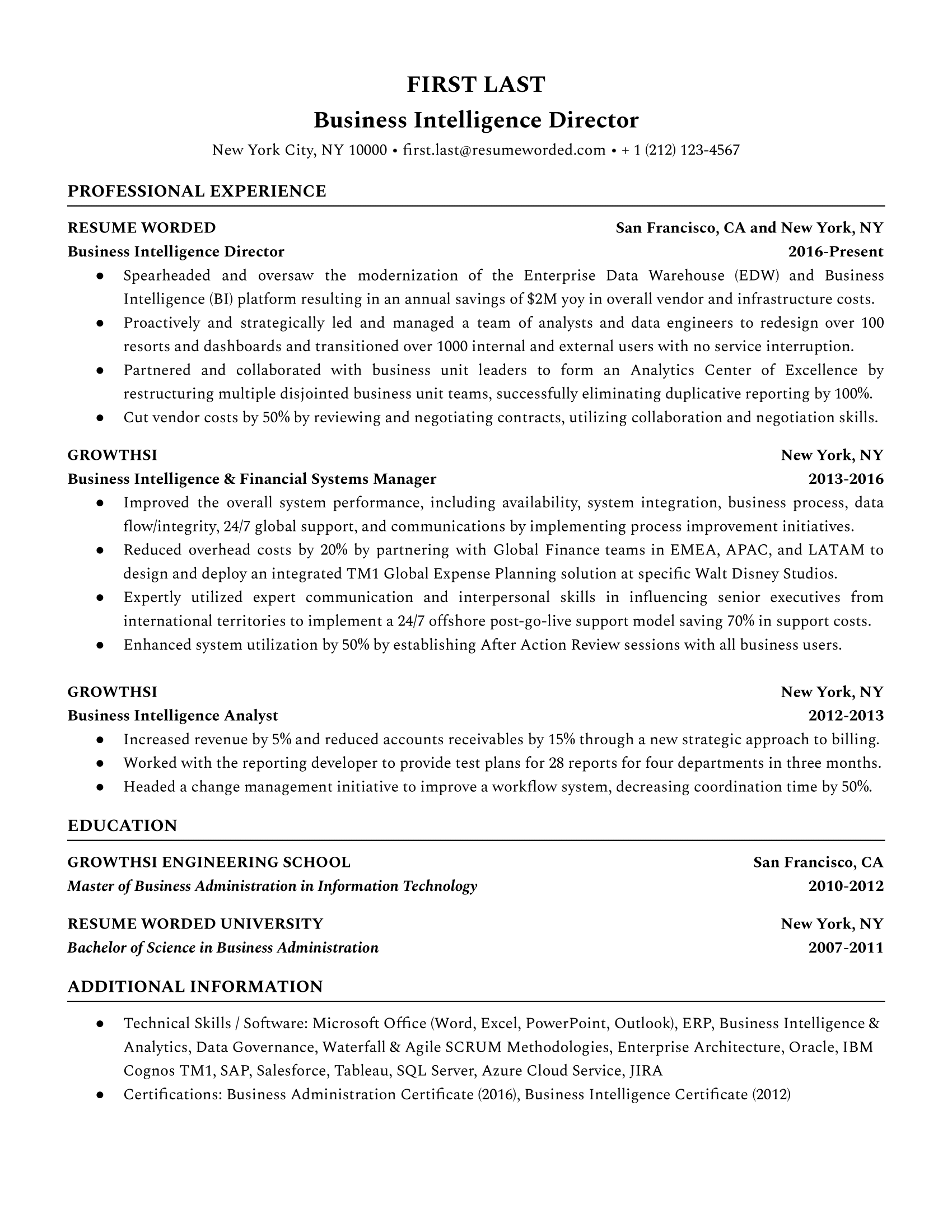 Recruiter Insight: Why this resume works in 2021
Data Warehouse Engineer Resume Sample
A data warehouse engineer works on the backend development of a company's data warehouse. This includes everything from building and managing data warehouse strategies, executing those strategies, and overseeing the technical design of data warehouse projects. It's a specialized and deeply technical role, and it requires deep expertise in project deployment and knowledge of all things data. When crafting your resume, don't forget to highlight your strengths in those areas.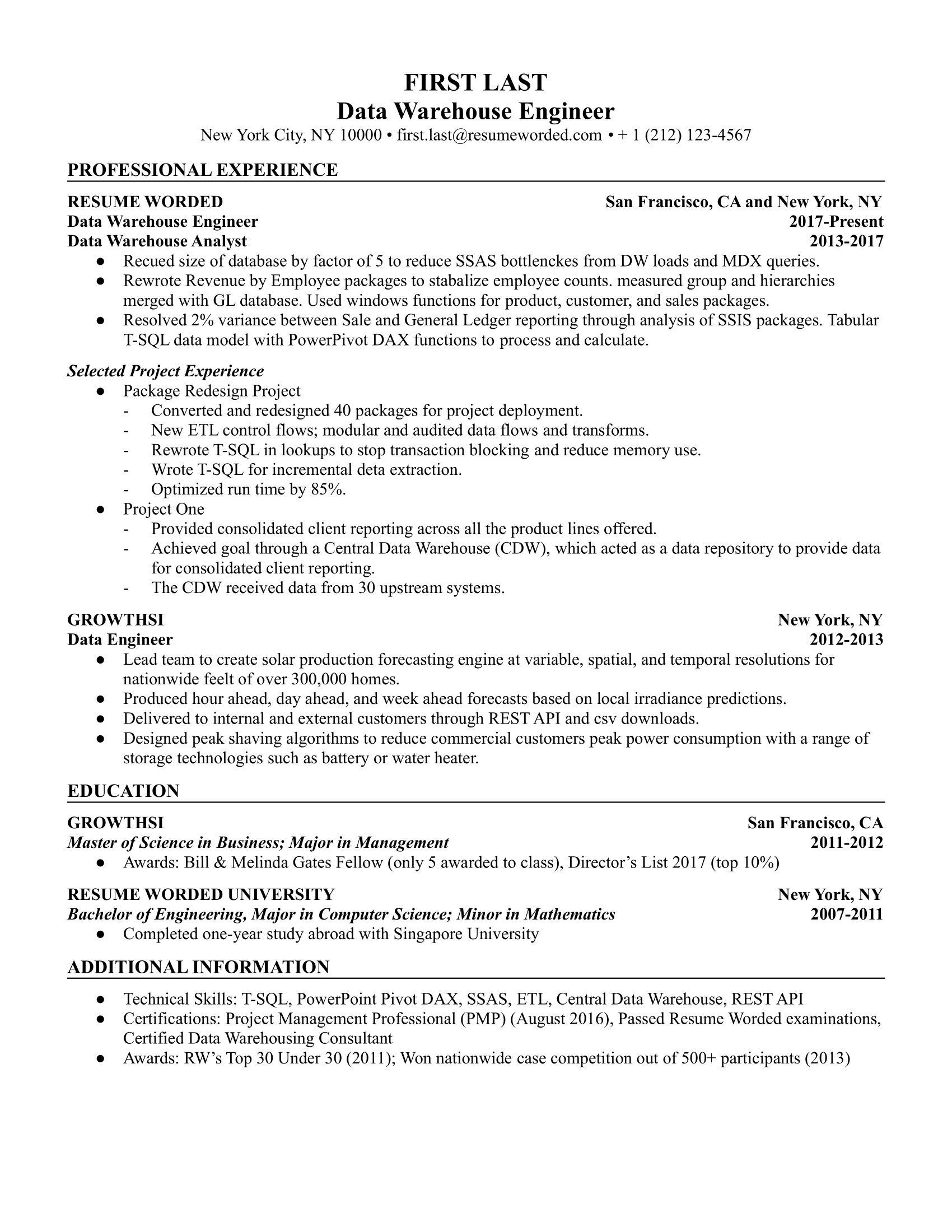 Recruiter Insight: Why this resume works in 2021
Tableau Developer Resume Sample
If you're applying to a role as a Tableau Developer, use this resume to craft your application. Tableau Developers are responsible for putting together Tableau reports, preparing and cleaning data before loading dashboards, and developing custom scripts. While creating business intelligence reports, you'll also be tasked to troubleshoot any issues that may come up with data connections on the backend. As with most engineering roles, you'll want to emphasize your technical achievements and demonstrate your expertise in the industry.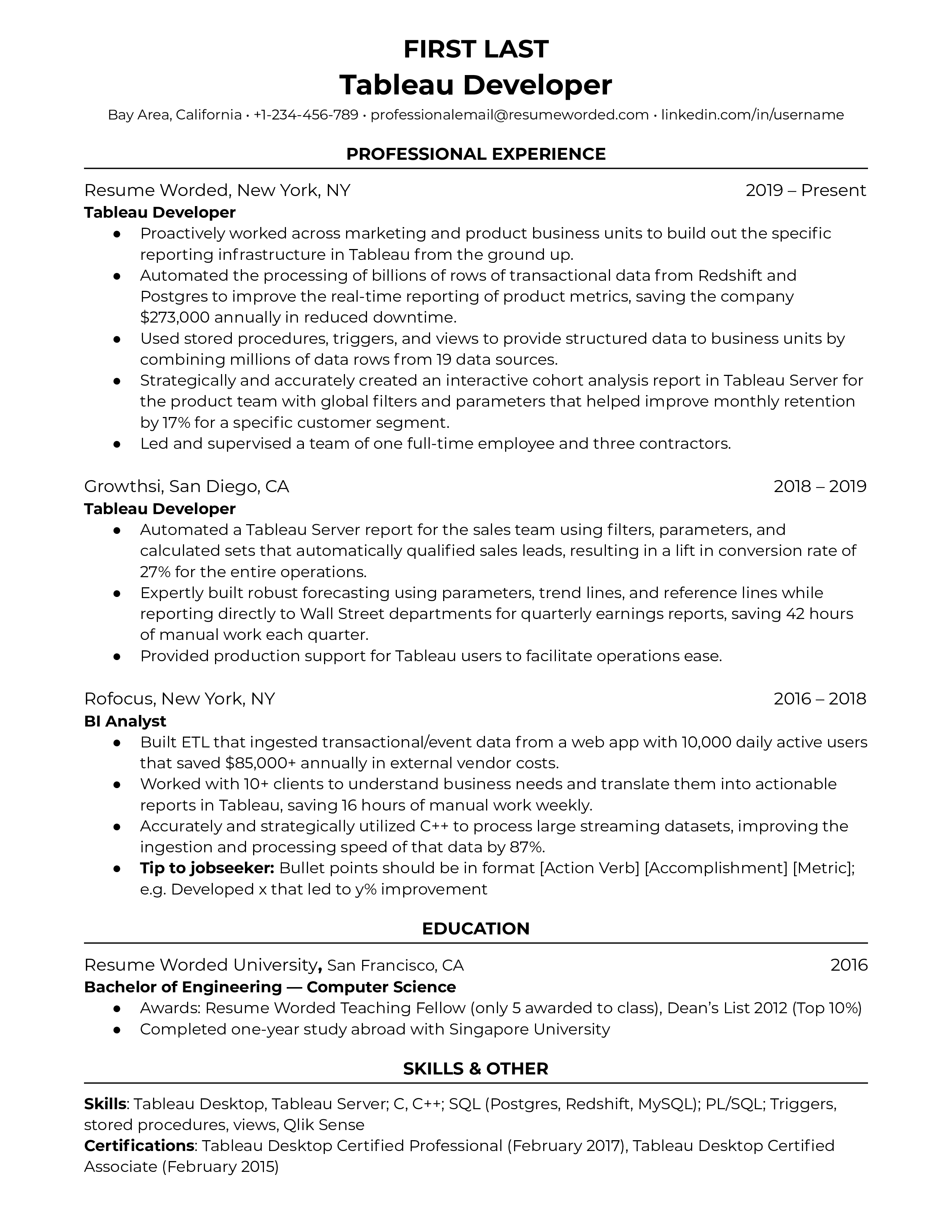 Recruiter Insight: Why this resume works in 2021
Senior Tableau Developer Resume Sample
Use this resume template if you are applying to a senior tableau developer role. The next level up from a Tableau Developer position, a Senior Tableau Developer tends to have more oversight and may even manage younger developers, providing strategic direction and assisting with troubleshooting data issues. You'll also be tasked on technical projects, such as building interactive and customizable dashboards and blending data to provide actionable insights for your company.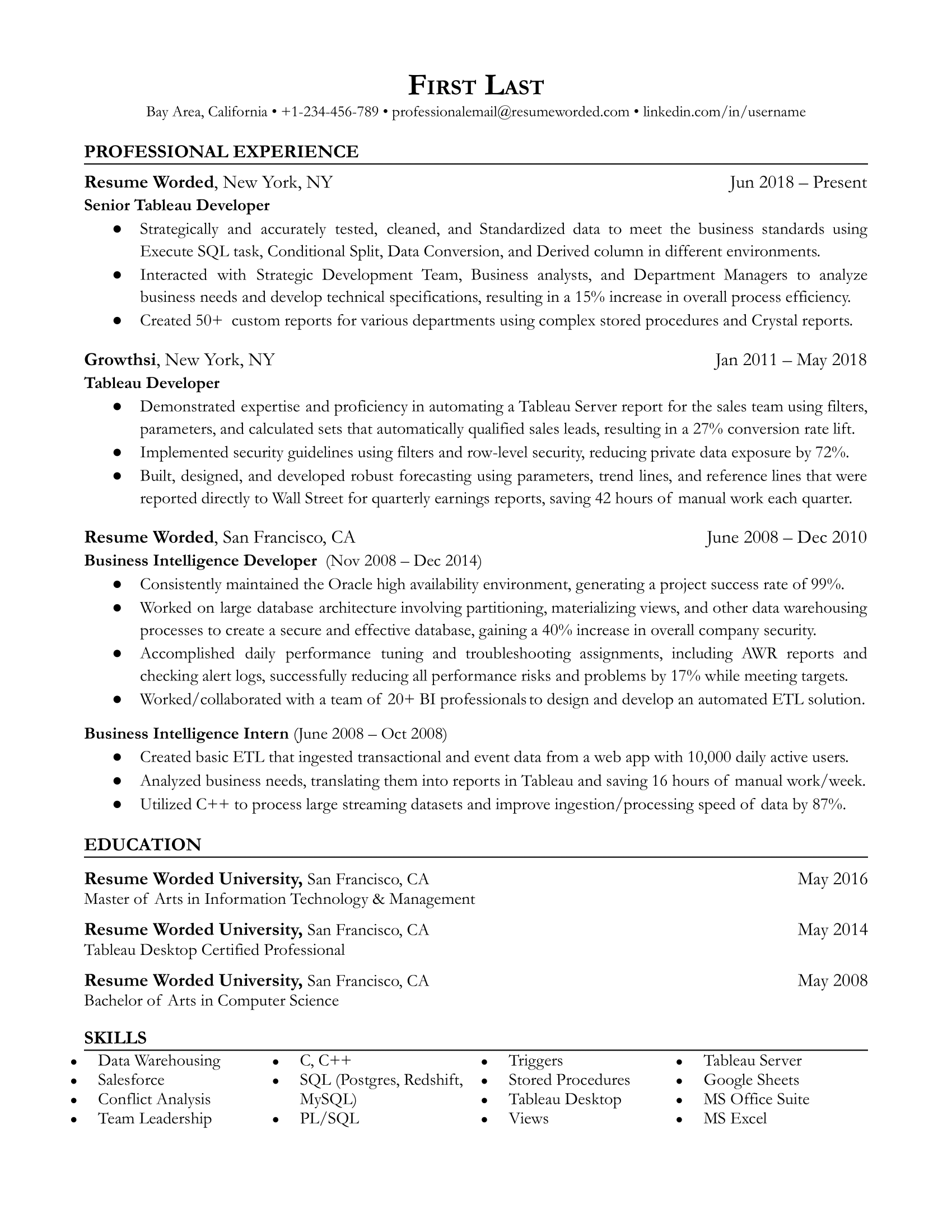 Recruiter Insight: Why this resume works in 2021
Skills For Business Intelligence Resumes
When applying to business intelligence positions, make sure to carefully read the job listing from start to finish. Business intelligence skills may vary based on the company or industry that the role is in, so take time to research the required skills.

For example, if you plan to apply for a Data Warehouse Engineering role or a Tableau Developer role, you'll want to have a clear idea of what type of languages, servers, or environments you should include. Make sure that your resume reflects the abilities that they are looking for.

Or, if you will be working as a business intelligence analyst and manipulating data in MS Excel or putting together MS Powerpoint reports, make sure to include instances of your experience doing so in previous roles. Also think about the types of skills required to be a great analyst -- incisive, efficient, and detail-oriented. Include work experience that reflects those abilities.
Tableau
Microsoft Power BI
Business Intelligence (BI)
SQL
Data Visualization
Microsoft SQL Server
Extract, Transform, Load (ETL)
SQL Server Reporting Services (SSRS)
Data Warehousing
SQL Server Integration Services (SSIS)
Data Modeling
Business Analysis
Business Intelligence Tools
Databases
Data Analysis
Python (Programming Language)
Transact-SQL (T-SQL)
R (Programming Language)
Analytics
SAP BusinessObjects
Action Verbs For Business Intelligence Resumes
Business intelligence is a precise and data-heavy discipline. You must have a pulse on both macro and micro trends in your industry, while creating concise and impactful reports that influence the direction of your team or company. You may even work cross-functionally with different teams, creating business insights for a variety of diverse departments.

If you're in a more technical developing role, you'll be tasked with managing data and building dashboards that must be error-free and beautifully functional. It's important that you highlight these skills in your resume.

For example, use terms like "uncovered" or "researched" to stress your ability to pick out impactful insights from dense data.

Try not to use generic verbs, as they can hurt more than help. Use strong and impactful terms that speak to your business intelligence savvy.
Analyzed
Assessed
Researched
Interpreted
Systemized
Forecasted
Modelled
Designed
Uncovered
Developed
Spearheaded
Coordinated
Presented
Formulated
Drafted
Proposed
For a full list of effective resume action verbs, visit Resume Action Verbs.
Resume Bullet Points From Business Intelligence Resumes
You should use bullet points to describe your achievements in your Business Intelligence resume. Here are sample bullet points to help you get started:
Analyzed data from 25000 monthly active users and used outputs to guide marketing and product strategies; increased average app engagement time by 2x, decrease drop off rate by 30%, and increased shares on social media by 3x over 6 months
Conceptualized, redesigned, and presented enhancements to the data warehouse and stored SQL procedures, leading to 100x increased query performance (double digit minutes to milliseconds)
Analyzed 1500+ responses to a consumer survey to evaluate brand perception and customers' willingness to pay
Optimized $100MM+ retail company's advertising spend by media type through multivariable regression analysis; exceeded target growth by 15%
Liaised with marketing to drive email and social media advertising efforts, using predictive modeling and clustering, resulting in a 35% increase in revenue
For more sample bullet points and details on how to write effective bullet points, see our articles on resume bullet points, how to quantify your resume and resume accomplishments.