Human resources (HR) is a dynamic, rapidly expanding field that offers many potential career paths. Any company can benefit from having a skilled human resources professional on board to hire the right people, develop their talents, and help them succeed in their roles. After all, great employees are some of the most valuable assets a company can have.

Whether you're seeking to become a human resources generalist, assistant, manager, or director, you can expect to work closely with other people and influence the culture of the company you're working for. In addition to hiring and training new employees, your responsibilities could include managing performance, resolving conflicts, and communicating company policies to staff.

In the past, human resources roles were more heavily focused on administrative tasks such as payroll and benefits. While modern human resources professionals still do some of these duties, they are also leaders who support team members and provide guidance to others.

The demand for these talented professionals is steadily growing, and jobs for human resource managers and specialists are expected to increase by 6-7% over the next decade -- faster than the average growth rate in other professions.

If you're applying for positions within human resources, you'll need to show that you are adept at working with others and can juggle a wide range of responsibilities. How do you create a human resources resume that reflects the qualities recruiters are looking for in 2021? Read on to see our resume templates for inspiration.
Human Resources (HR) Resume Templates
Human Resources (HR) Manager Resume Sample
Human resources manager jobs are usually senior roles that come with added responsibilities. As a human resources manager, you'll likely oversee the interviewing and hiring of new employees, and you'll also have a hand in planning and carrying out administrative functions at the company. A resume like this one will showcase your years of experience in human resources. You can use your bullet points to illustrate your stellar interpersonal, organizational, and management skills.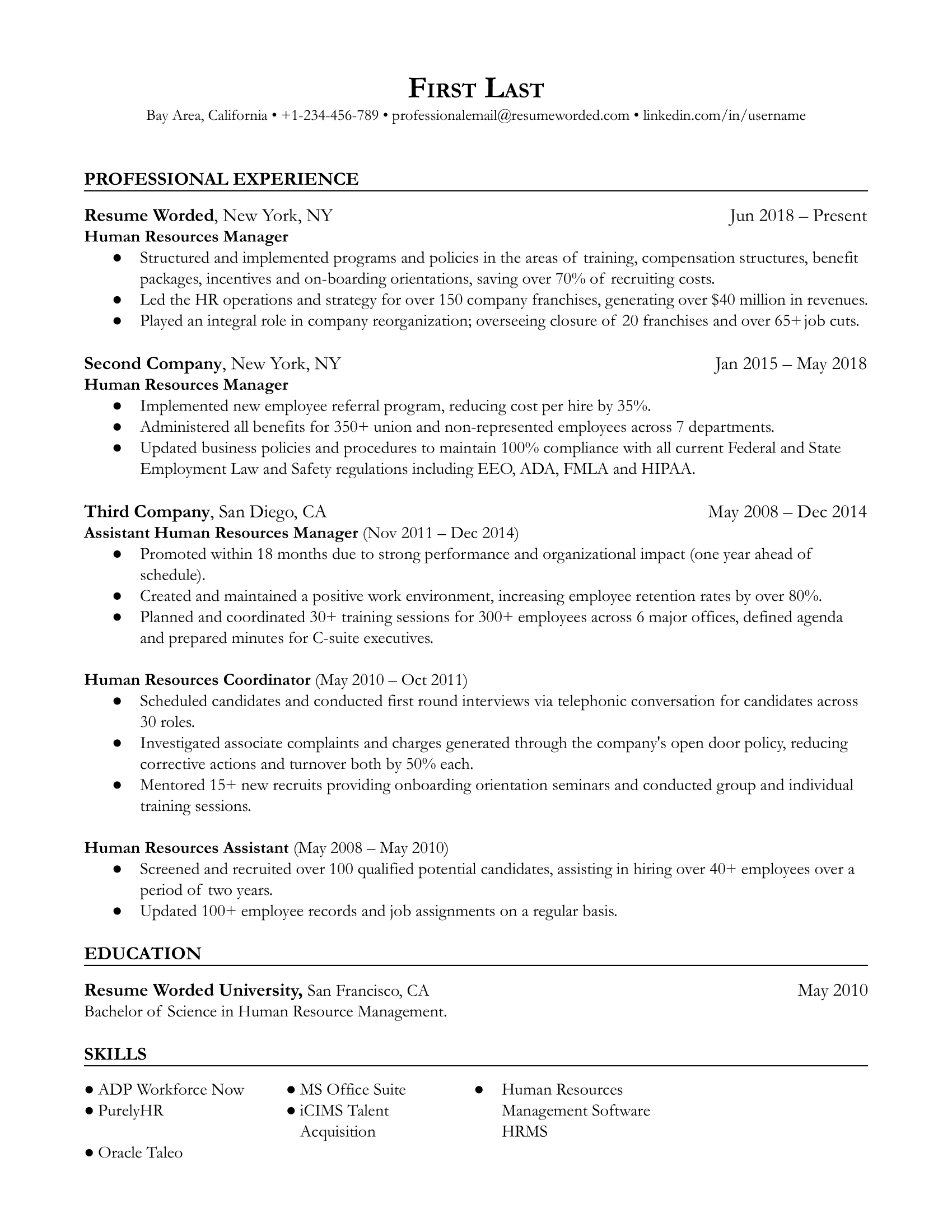 Recruiter Insight: Why this resume works in 2021
Entry Level Human Resources (HR) Resume Sample
Entry-level human resources professionals can play important roles within a company, too. As human resources assistants or coordinators, they can start learning the ropes of an organization and do clerical duties to help support their department. To get one of these jobs, create a resume like this one to highlight your human resources-related education and internship history.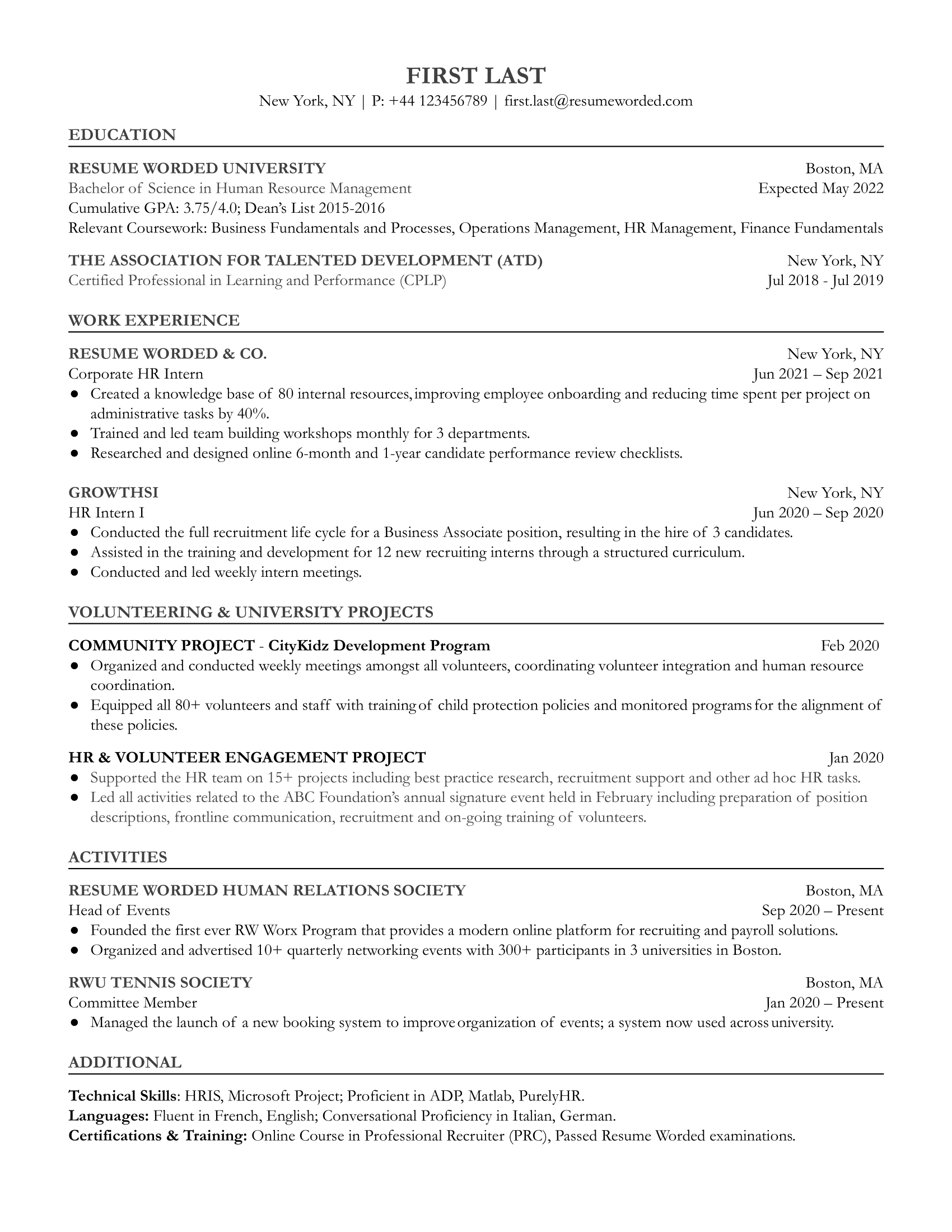 Recruiter Insight: Why this resume works in 2021
Human Resources (HR) Business Partner Resume Sample
A human resources business partner functions as a consultant to a company's senior management. These professionals provide insights and develop human resources strategies to benefit employees as well as the company itself. If you're pursuing one of these roles, choose a resume like this one to show that you have previous experience in the field, strong analytical skills, and strategic decision-making abilities.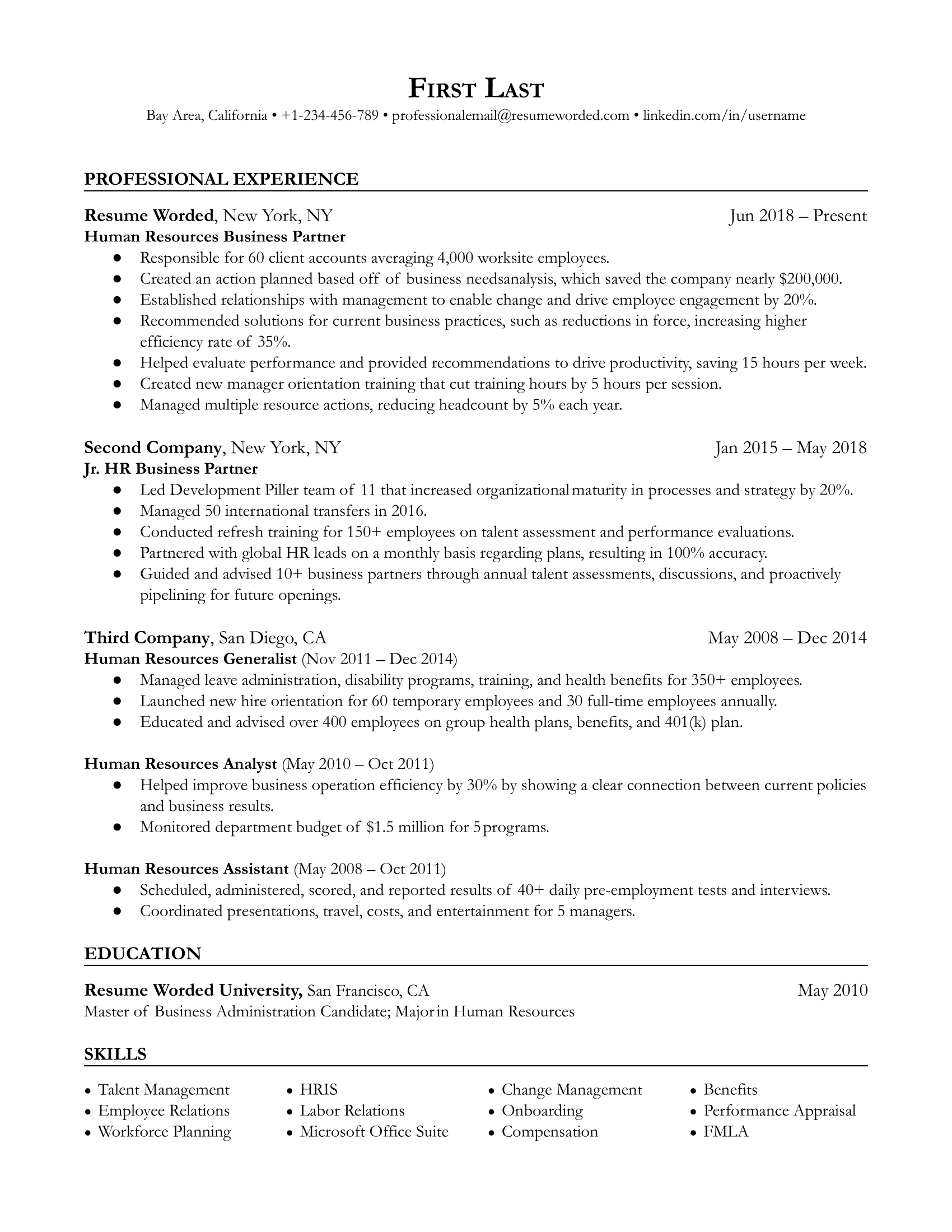 Recruiter Insight: Why this resume works in 2021
Human Resources (HR) Recruiter Resume Sample
Where other human resources professionals oversee staff for the duration of their employment, recruiters focus exclusively on filling open jobs within the company. They may write job postings, review resumes, conduct interviews, and hire the most qualified candidates. When you're applying for a recruiter position, your resume should demonstrate that you are comfortable and experienced with all aspects of the hiring process, as shown in this resume sample.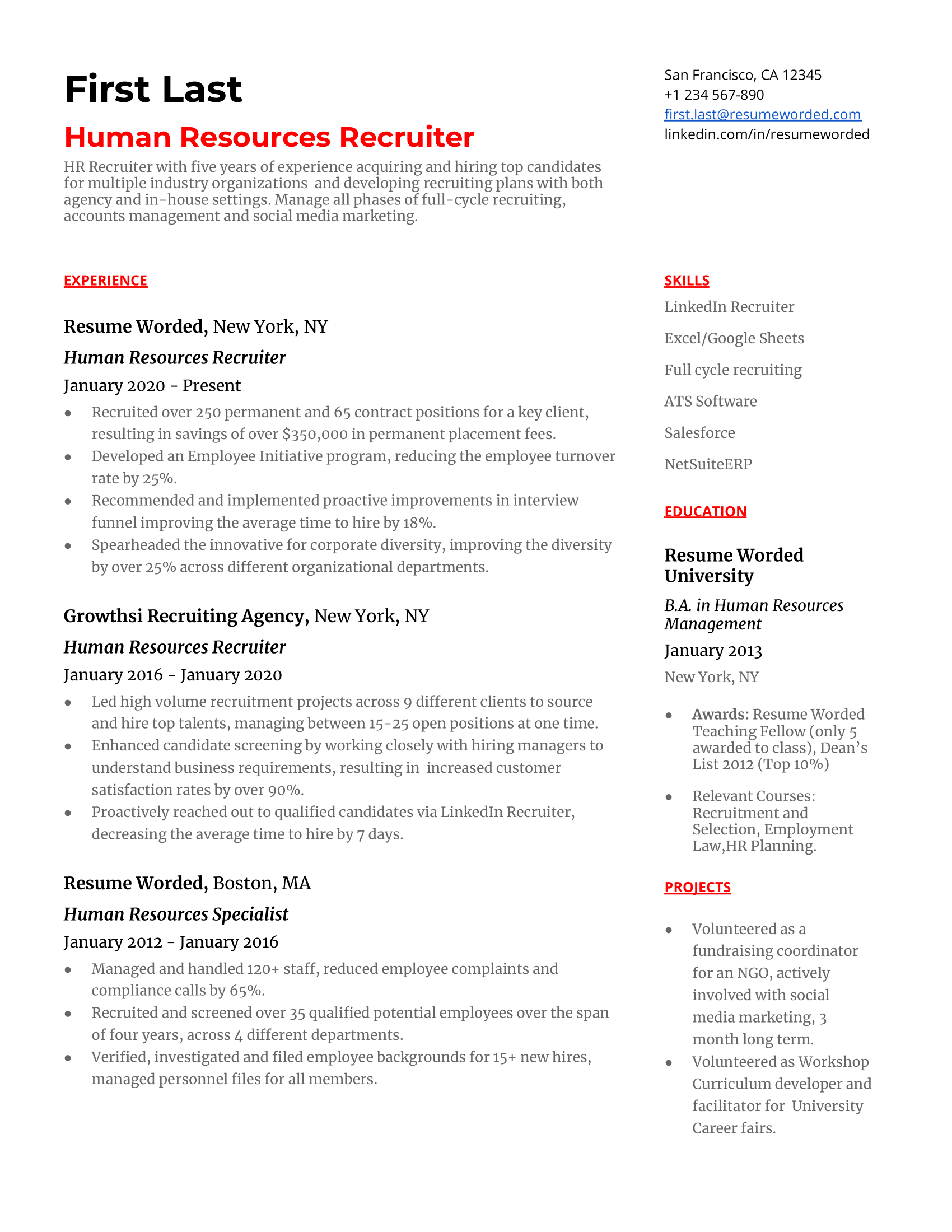 Recruiter Insight: Why this resume works in 2021
Senior Human Resources Manager/Human Resources Director Resume Sample
If you work in human resources for long enough, you might eventually reach the top of the ladder as a senior manager or director. When you become a human resources director, you'll be in charge of the entire department, overseeing managers, specialists, assistants, and others. If you want the job, your resume needs to show plenty of experience in human resources as well as management and leadership roles.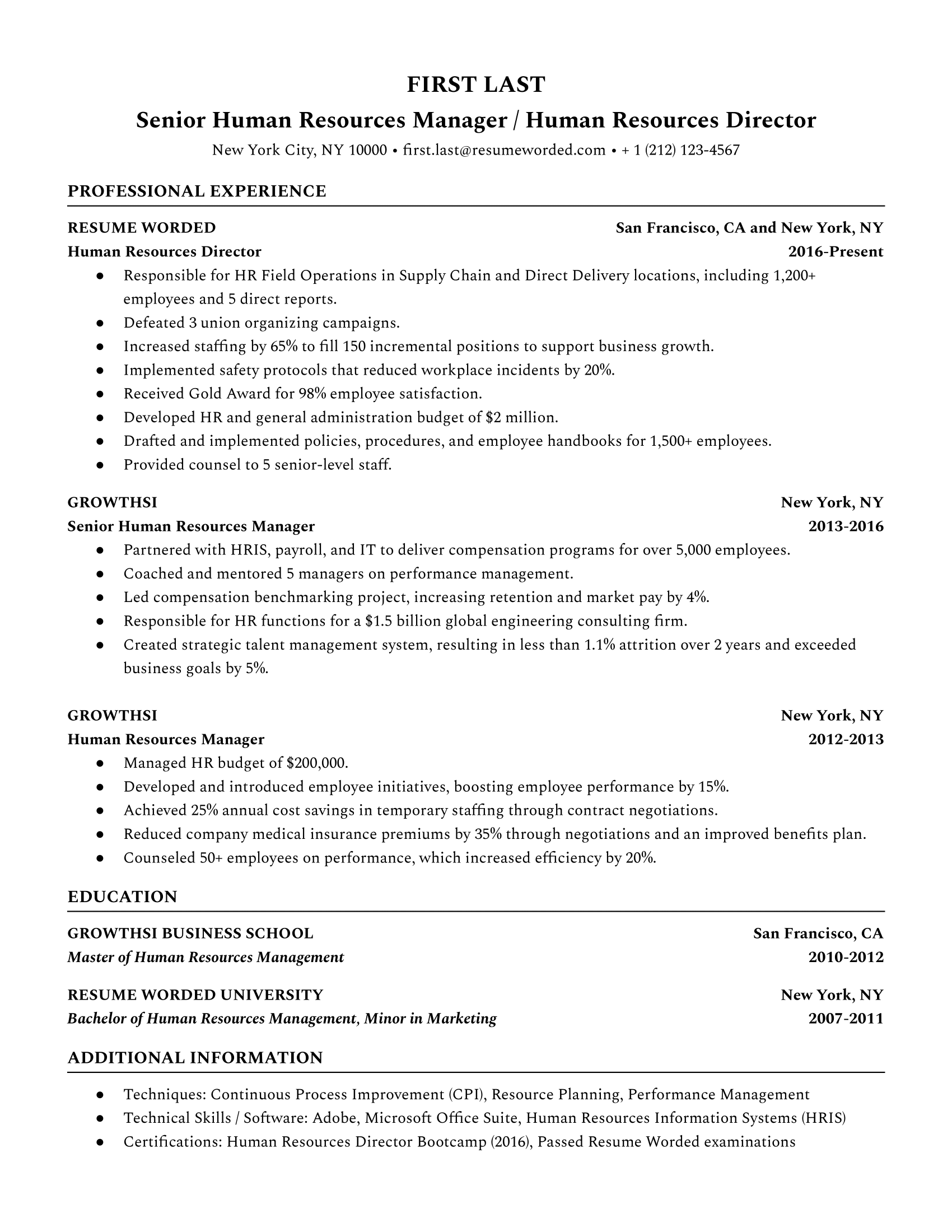 Recruiter Insight: Why this resume works in 2021
Human Resources (HR) Administrator Resume Sample
A human resources administrator role can be a stepping stone to a management or director position. Administrators help with tasks like maintaining personnel files, assisting with hiring, preparing documents, and updating databases. To become an administrator, choose a resume similar to this one to showcase your administrative abilities and analytical skills. You should also be able to show that you work well with people and that you have been a leader to others.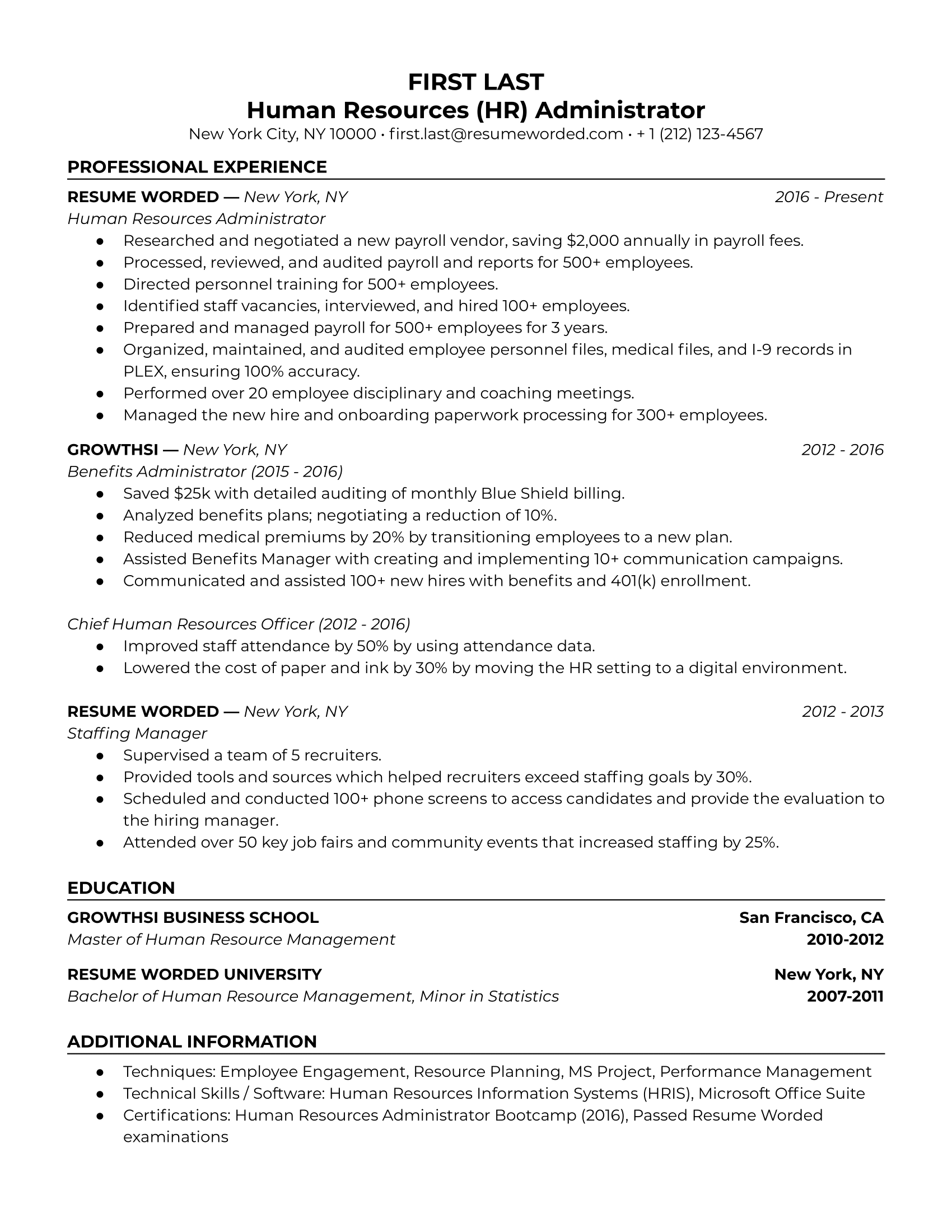 Recruiter Insight: Why this resume works in 2021
Human Resources (HR) Generalist Resume Sample
Human resources generalists can have wide-ranging responsibilities including hiring, administrative tasks, managing employee performance, and developing company policies. If you're going for this job, use your resume to highlight your versatility and competence in a variety of different human resources-related duties (such as managing payroll or creating programs to boost employee morale).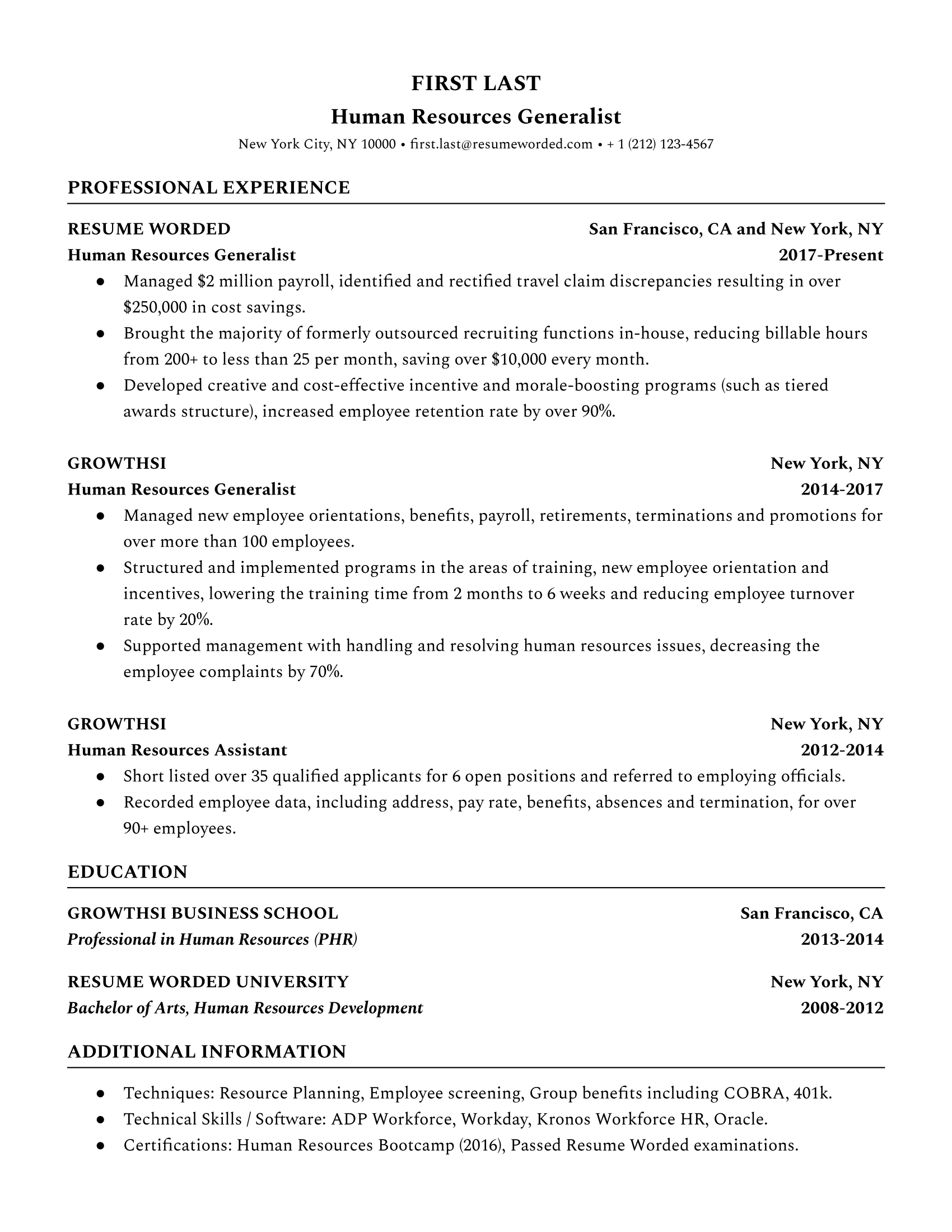 Recruiter Insight: Why this resume works in 2021
Skills For Human Resources (HR) Resumes
For any human resources role, you need to be a "people person" with the ability to communicate well, lead effectively, and handle a variety of interpersonal situations that may arise. You also have to be extremely organized, detail-oriented, and skilled at enforcing policies in a diplomatic but honest way.

When applying for a human resources job, carefully craft your resume with specific examples of your people skills, administrative competency, and leadership abilities. Hard skills (such as fluency in Workday or ATS software) should be listed in your skills section.
Human Resources (HR)
Employee Relations
HR Policies
Onboarding
Recruiting
Performance Management
Human Resources Information Systems (HRIS)
Benefits Administration
Employee Engagement
Talent Management
New Hire Orientations
Personnel Management
Employee Benefits Design
Succession Planning
Interviewing
Payroll
U.S. Family and Medical Leave Act (FMLA)
Labor Relations
Hiring
Compensation & Benefits
Human Resources (HR) Resume Tips
How can you use your resume to make yourself even more competitive for a human resources role? Here are a few words of advice.
Action Verbs For Human Resources (HR) Resumes
Aspiring human resources professionals should have specific achievements they can point to from past jobs as proof of their skills. Using clear, direct action verbs to talk about these accomplishments can heighten the perceived value of what you've done.

This list of action verbs includes ones that are especially useful for talking about leadership and mentorship experiences. In human resources positions, you'll often need to manage, mentor, facilitate, motivate, organize, and counsel -- and using the right verbiage can help you showcase your most relevant skills in only a few words.
Expedited
Launched
Initiated
Analyzed
Implemented
Interviewed
Restructured
Directed
Guided
Assessed
Delegated
Organized
Streamlined
Processed
Simplified
For a full list of effective resume action verbs, visit Resume Action Verbs.
Resume Bullet Points From Human Resources (HR) Resumes
You should use bullet points to describe your achievements in your Human Resources (HR) resume. Here are sample bullet points to help you get started:
Identified, assessed and on-boarded 12 mid-level employees for new Boston office in <6 months
Introduced standardized on-boarding templates and training program for 100+ new joiners; reduced employee on-boarding time from one month to just one week
Proposed and implemented new Employee Incentive program, decreasing employee turnover by over 25%
For more sample bullet points and details on how to write effective bullet points, see our articles on resume bullet points, how to quantify your resume and resume accomplishments.