Human Resources (HR) Resumes
Human resources professionals have a wealth of opportunities across different industries. Our sample HR resumes can help you get hired in 2022 (Google Docs and PDFs attached).
Load more resumes
Human Resources (HR) resume guide
Recruiter Resumes
Every company or business has a recruiter; the person who finds the best people to join the team. Recruiters need to be personable and diligent individuals who can simultaneously balance the needs of the employer and potential employee. In this guide, we will provide 9 recruiter templates based on 9 titles in the recruiter profession. We will also give you some tips that will help you create a strong and successful resume that will have recruiters eager to have you on their team.
Load more resumes
Recruiter resume guide
Talent Acquisition Resumes
Talent acquisition refers to the process of identifying and eventually hiring professionals who would are needed and would be long-term assets to an organization. A strong talent acquisition team will create a strong organization, so recruiters are very diligent when hiring professionals in this department. This guide will show you how to highlight the skills and qualifications in your resume that will impress recruiters and get you that job.
Talent Acquisition Lead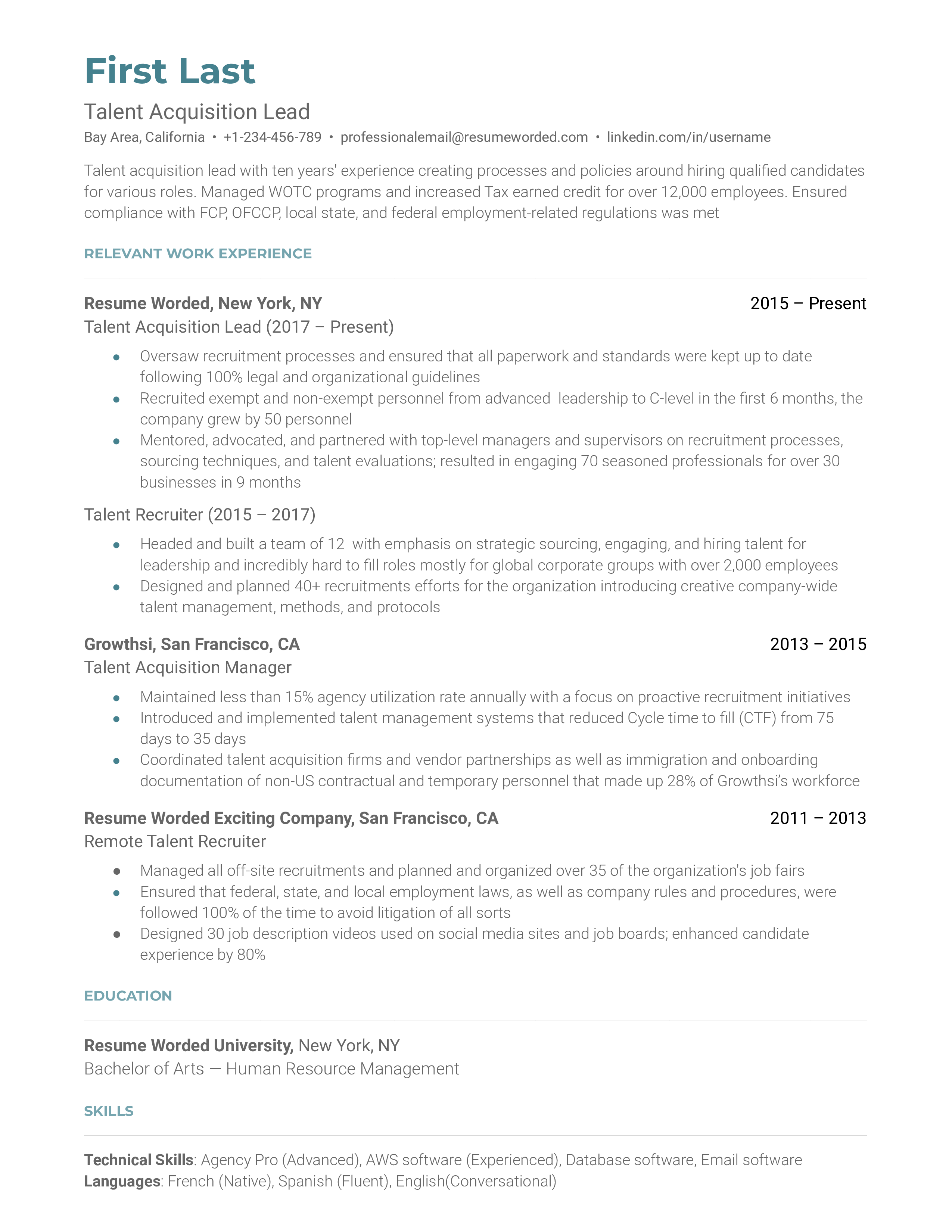 A talent acquisition lead, also known as a talent acquisition manager, is, as the name suggests, responsible for managing a talent acquisition team. Your tasks would include participating in the talent acquisition cycle yourself by sourcing, recruiting, retaining candidates, developing talent acquisition strategy and processes, and providing leadership and support for your team. A strong talent acquisition resume should speak to your management skills and successes. So highlight your team's successes under your leadership and the size of the teams you have led; as this resume has done. This resume also positively highlights the applicant's expertise in the laws and regulations that guide recruitment and employment. This is necessary knowledge for all professionals in talent acquisition and especially for the leaders of talent acquisition teams.
Expand
Download .DOC or .PDF
Executive Talent Acquisition Analyst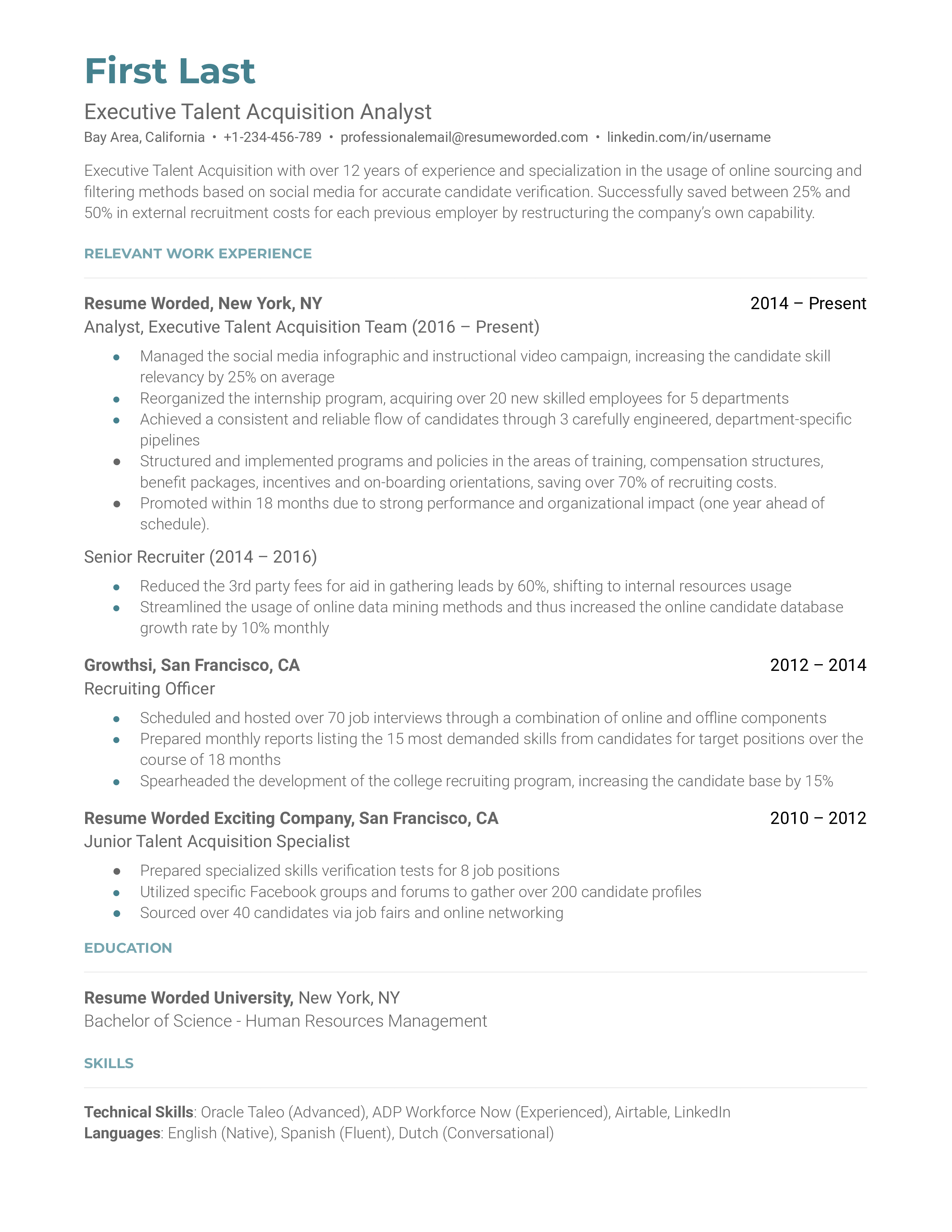 The executive talent acquisition analyst could be called the support system for the talent acquisition team and leadership. Some of the tasks you can expect include, but are not limited to, scheduling interviews, conducting background checks, providing administrative support, etc. This role requires the ability to multitask and requires great attention to detail. You must also be an especially skilled communicator and collaborator. Like this sample resume, an executive talent acquisition analyst's resume should show previous experience that details a large variety of tasks that the applicant has completed. You will also want to quantify your successes and value addition to previous employers.
Expand
Download .DOC or .PDF
Talent Acquisition resume guide
Operations Manager Resumes
Operations manager positions can be highly competitive. We've crafted six resume templates to help you snag one of these coveted jobs in 2022 (Google Docs and PDFs attached).
Load more resumes
Operations Manager resume guide
Executive Assistant Resumes
Executive assistants provide crucial support to top executives and are skilled at executing administrative and operational duties. When writing your executive assistant resume, it's important to show that you have the relevant skills to succeed. Below we've compiled five resume templates with the most important qualities to have in 2022. (Google Docs and PDFs attached).
Load more resumes
Executive Assistant resume guide
Makeup Artist Resumes
Makeup artistry is a diverse and creative profession. However, standing out amongst the ocean of make-up artists is not always easy. We will show you how to craft a resume that will attract recruiters and help you get that lucrative and exciting job.
Senior Makeup Artist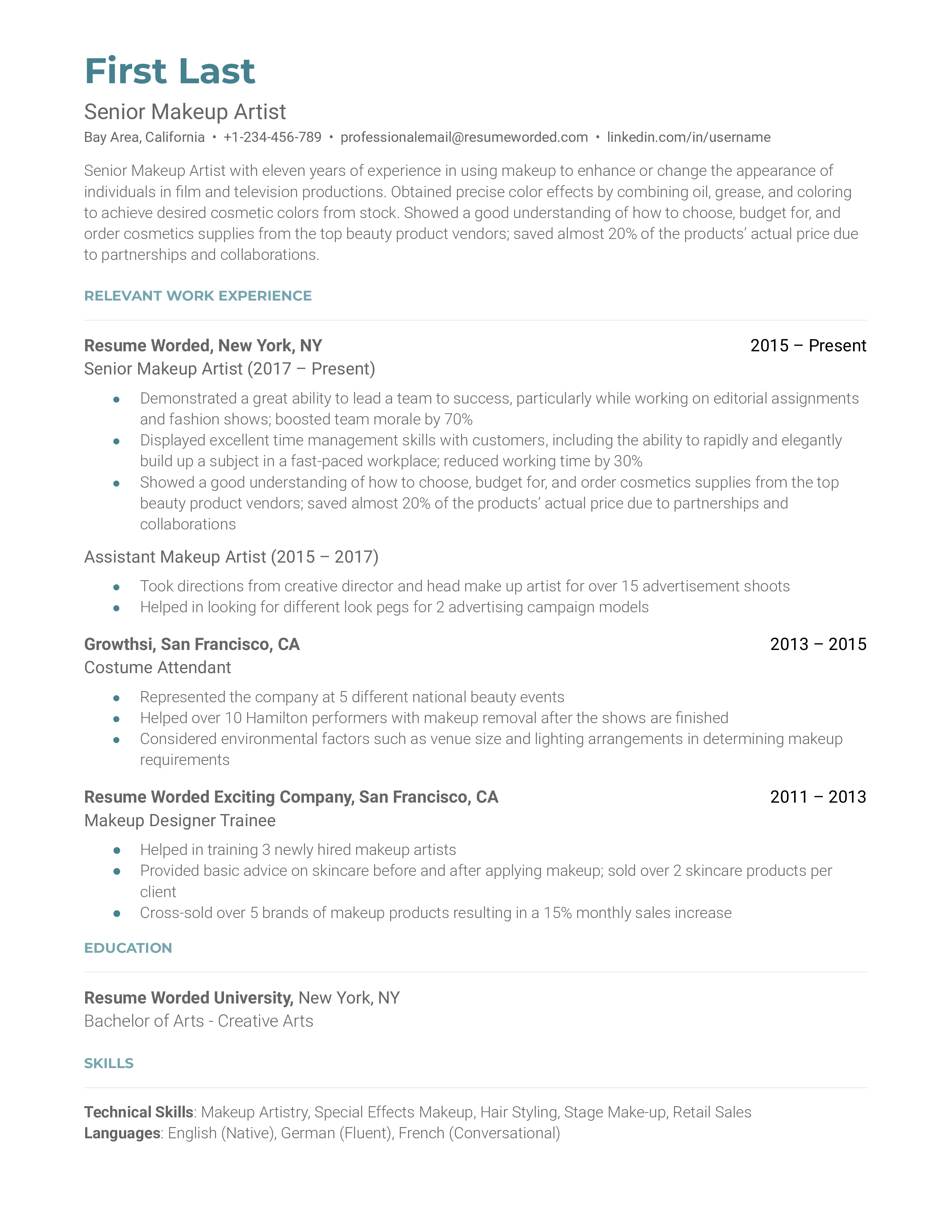 A senior makeup artist is responsible for the cosmetic appearance of all subjects or clients. They are tasked with budgeting for and sourcing the appropriate makeup supplies. They may have assistants working under them but will be held responsible for their work. They will also be part of the development of makeup concepts and will advise clients where necessary. A senior makeup artist's resume should reflect their efficiency as well as their leadership capabilities. Highlighting their ability to work within a budget would also be very desirable to recruiters.
Expand
Download .DOC or .PDF
Design/Chief Makeup Artist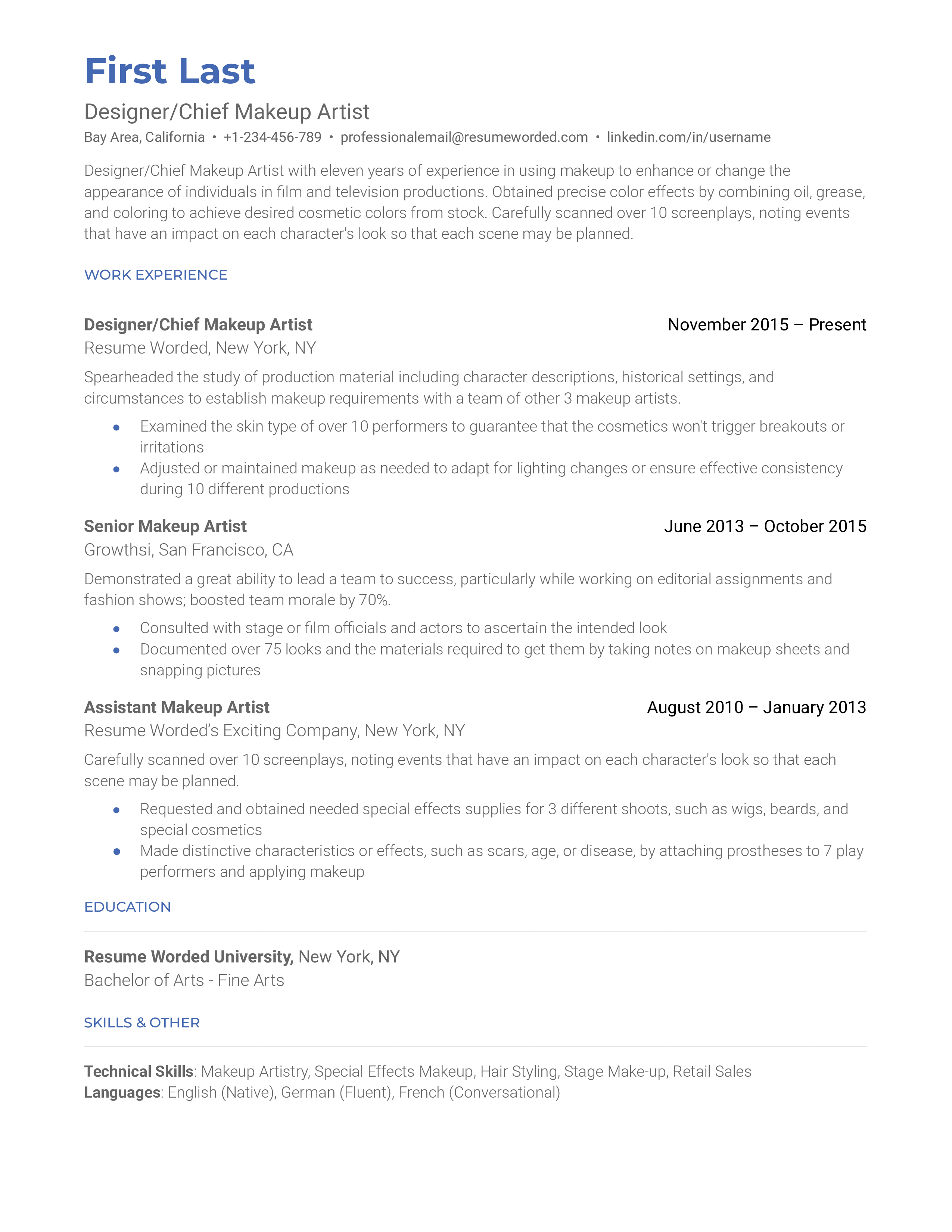 Chief makeup artists, also known as key makeup artists, are the heads of the makeup department. They are responsible for hiring people for the department, creating budgets, and will take the lead on creating concepts and making sure that everything makeup-related in the script is taken care of. They will be accountable to the client and will need to be able to multitask between applying makeup themselves and supervising their juniors.
Expand
Download .DOC or .PDF
Makeup Artist resume guide
Journalism Resumes
Journalists are essential to any society. We rely on them for all our credible news and information. This guide will show you how to craft a resume that will prove to recruiters that you should be part of their journalistic team.
Load more resumes
Journalism resume guide
Supply Chain Planner Resumes
Supply chain planners are the heart of any company that produces and sells goods. They regulate the production process and storage of the company's goods to ensure a steady supply at a reasonable cost to the company. We've curated strong sample resumes of supply chain planners and details on how you can write your own.
Supply and Import Planner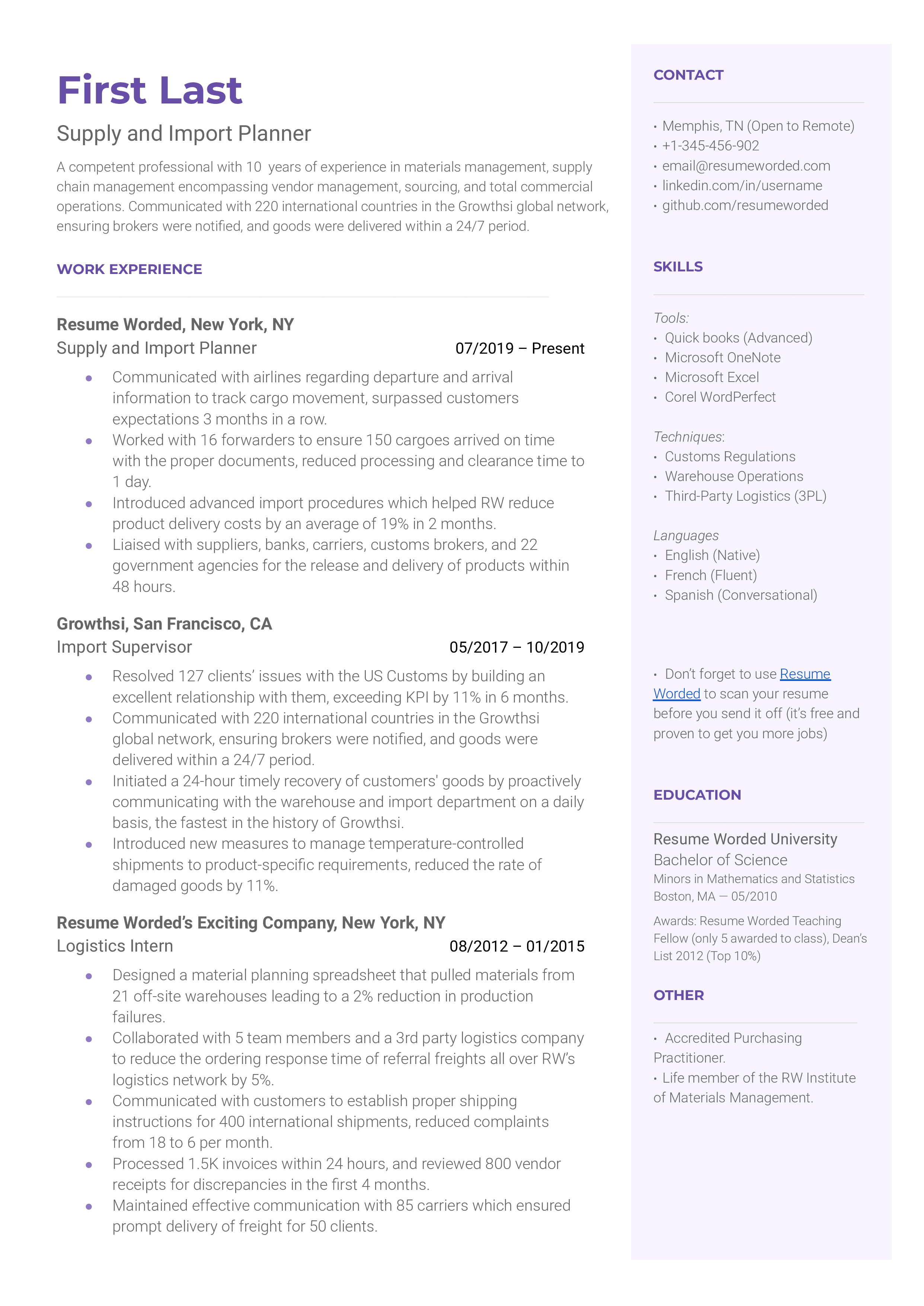 A supply and import planner deals specifically with all importation in the supply chain. This could include the importation of raw materials or machines for producing the company's goods, or the importation of company goods that were manufactured abroad. Your tasks will include working with the relevant stakeholders and also strategizing on how to make any supply importations more efficient. Vital for this role is an expert understanding of customs regulations and relevant laws in both the sender and receiver countries. Attention to detail, as well as strong communication skills, are also important, as you will be communicating with government entities (customs officials), transportation entities (shipping or airline companies), and other stakeholders. A strong supply and import planner resume will highlight your successes working with international stakeholders as well as your successes in streamlining the importation process. Highlighting your communication experience would also be highly beneficial, so use action verbs like 'liaised', 'communicated' etc. as this resume has done.
Expand
Download .DOC or .PDF
Supply Chain Demand Planner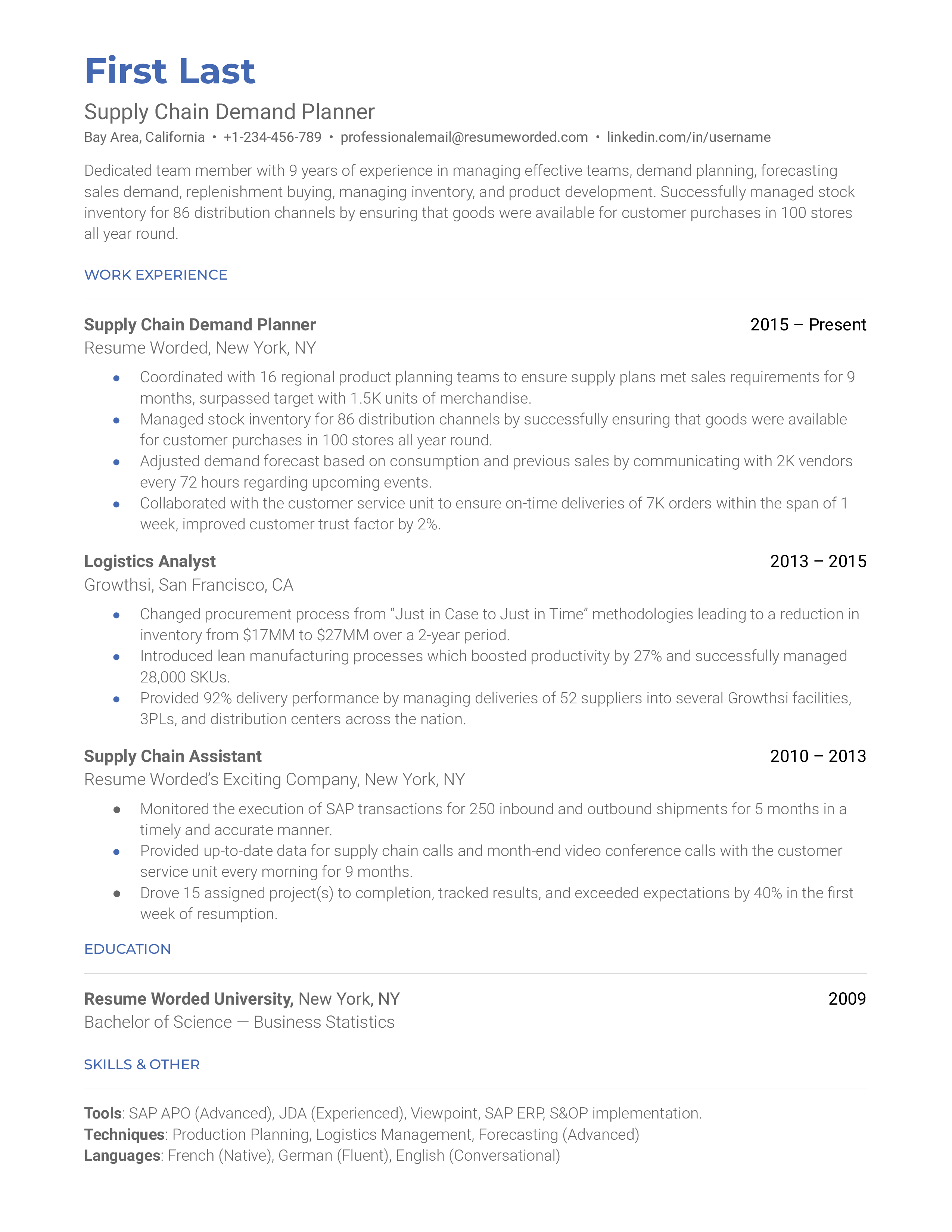 While a supply planner will ensure a company has adequate inventory to supply to customers, a supply chain demand planner focuses on ensuring a company has a customer base and explores how to increase the customer base. You will be in charge of creating relationships with potential customers, including retailers and online marketplaces. You will work closely with supply planners to ensure the company's goods get to the customers. You will make forecasts of demand needs, and like the supply planners, you will constantly interrogate the system to look for places to maximize efficiency. To thrive in this position, you will need strong communication skills, and an acute knowledge of the industry you are working in and the demand and sales trends of the goods your company is selling. Project management skills are also essential. This resume succeeds in highlighting all of the above.
Expand
Download .DOC or .PDF
Planning and Supply Chain Specialist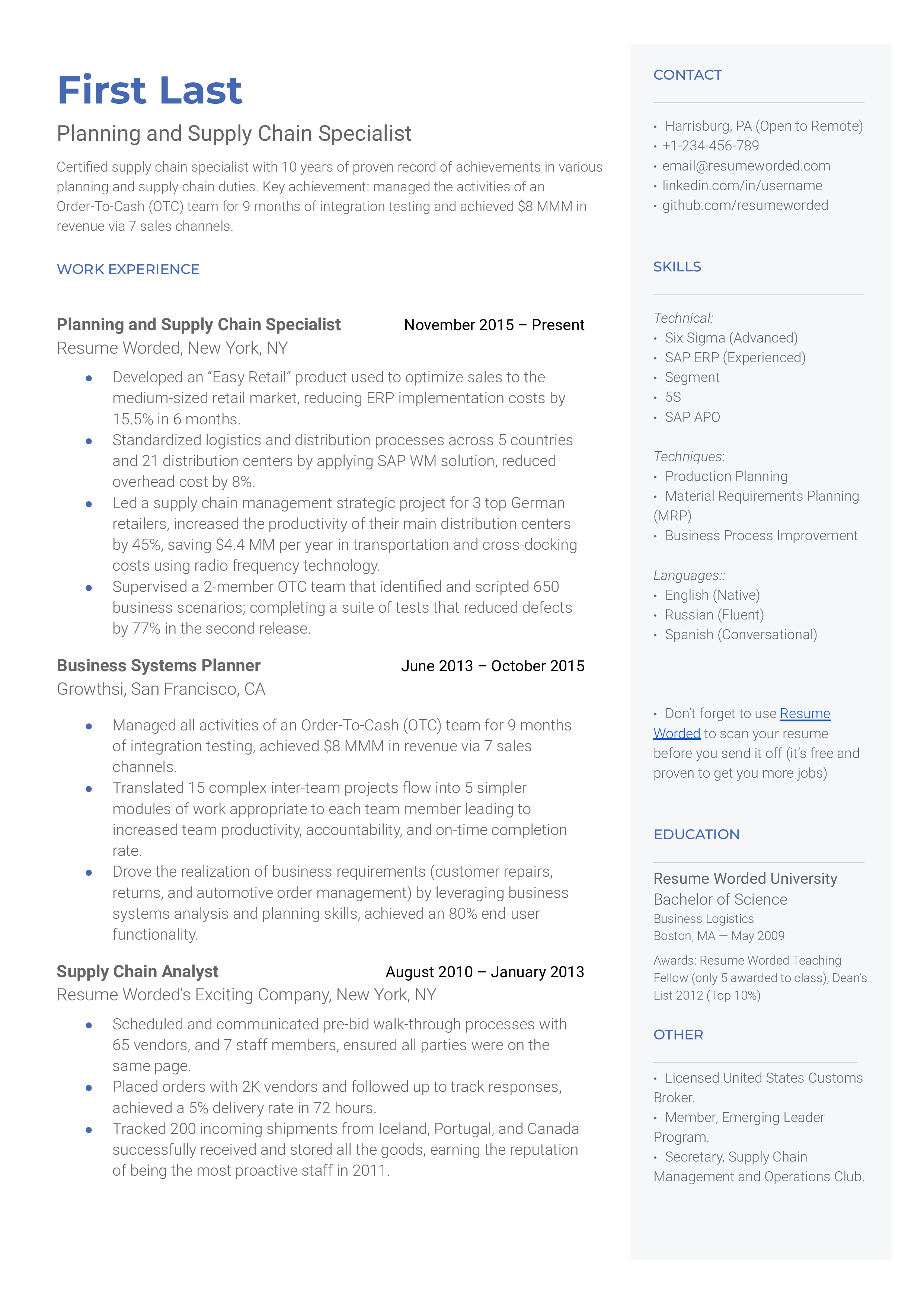 A planning and supply chain specialist oversees and manages the production, transportation, and storage of a company's goods. This is a logistics-heavy position and requires strong project management and quick problem-solving skills. You will also need strong communication skills as you will be coordinating multiple teams and departments. Recruiters will expect your resume to reflect an educational background in supply chain management or a related field like economics or business. In addition, they will be looking to see extensive experience in supply chain management and experience using supply chain management software. This resume does all the above successfully.
Expand
Download .DOC or .PDF
Load more resumes
Supply Chain Planner resume guide
Insurance Resumes
Insurance gives you peace of mind and security against any unforeseen events in life. As a professional in the insurance industry, you need to provide your clients with beneficial insurance against harmful events, while at the same time protecting the insurance company against fraudulent claims and maximizing their bottom line. This guide will break down professional titles within the insurance industry, show you successful resume samples for each title, and give you tips to create your winning resume.
Load more resumes
Insurance resume guide
Action Verbs For Other Resumes
Expedited
Launched
Initiated
Analyzed
Implemented
Interviewed
Restructured
Directed
Guided
Assessed
Delegated
Organized
Streamlined
Processed
Simplified
How to use these action verbs?
When writing your resume, you should be using action verbs which effectively tell recruiters your role in specific accomplishments. Here's a list of strong action verbs you can use when writing your resume.