Executive assistants are the behind-the-scenes gurus of the executive world. You help a company run smoothly, taking care of everything that helps executives be as productive as possible. You must be exceptionally organized, detail-oriented, and effective at communication, as well as fantastic at organizing meetings and making flawless travel arrangements. You enjoy wearing many different hats throughout the day as you support various needs and requests that may come up at a moment's notice.

In the past months, as most companies continue to work remotely during the Covid-19 lockdown, executive assistants find themselves in a pivotal moment. Many administrative duties have been pared down significantly and travel has all but paused, bringing an end to many traditional administrative duties.

But in a changing environment, executive assistants are needed more than ever. Business leaders across all industries are facing new challenges and tackling new problems, and they need executive assistants who can help -- who can think on their feet, take initiative in uncertain situations, and get creative with solving unprecedented problems. Candidates who have strong business sense, technical savvy, and great emotional intelligence will be high in demand in the upcoming years.

What should an executive assistant resume look like in 2021? Continue reading below to view examples of effectively written executive assistant resumes that will help you land your next role.
Executive Assistant Resume Templates
Executive Assistant Resume Sample
Download Resume Template (Google Doc)
Download Resume in PDF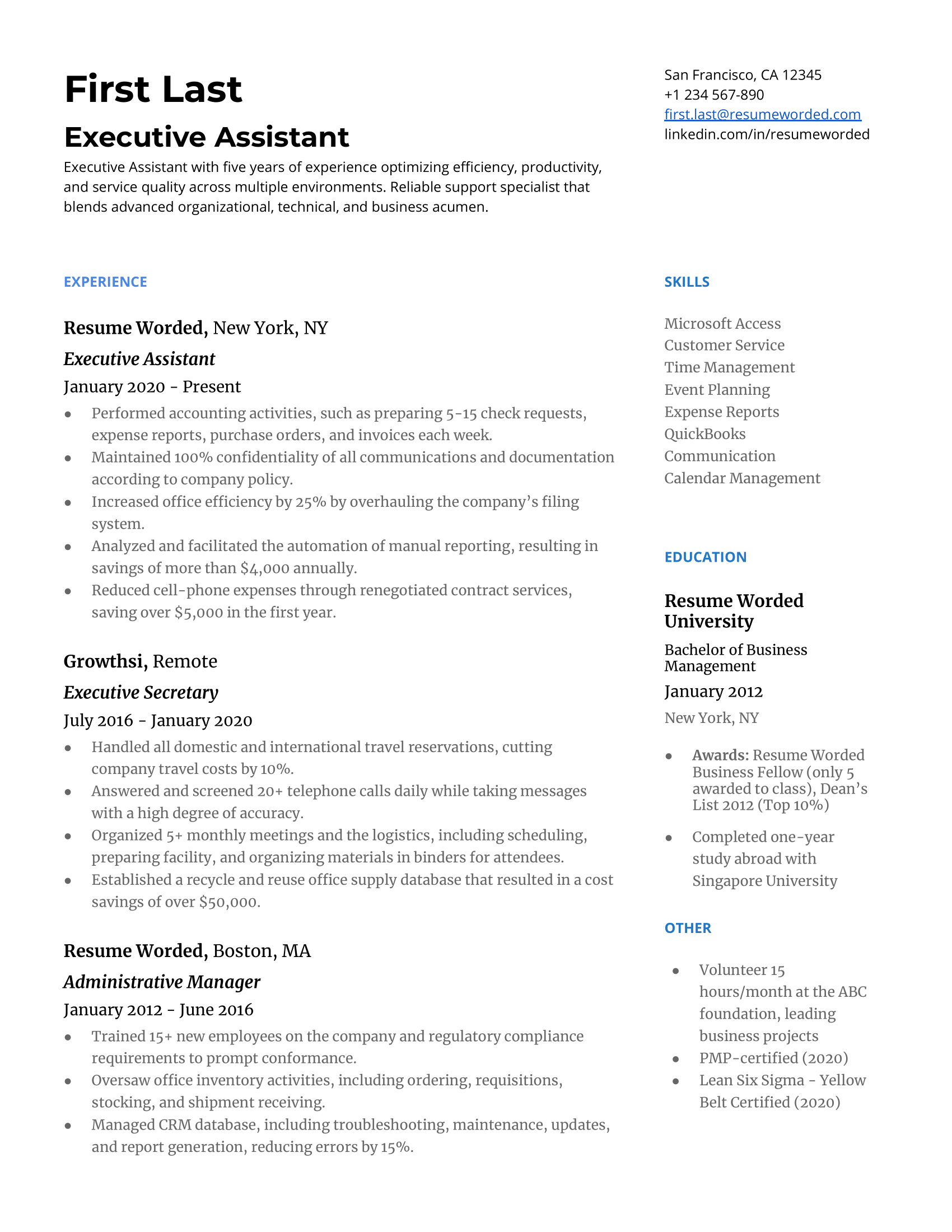 Why this resume works in 2021
Executive assistants with a few years of experience should craft a resume that highlights their accomplishments in previous assistant roles. You should include a logical path of your work history that demonstrates growth, as well as a capacity for increasing responsibility. This resume has a strong work history section that shows their experience in previous positions as an executive assistant, and the candidate uses numbers and metrics to support their accomplishments.
Executive Administrative Assistant Resume Sample
Download Resume Template (Google Doc)
Download Resume in PDF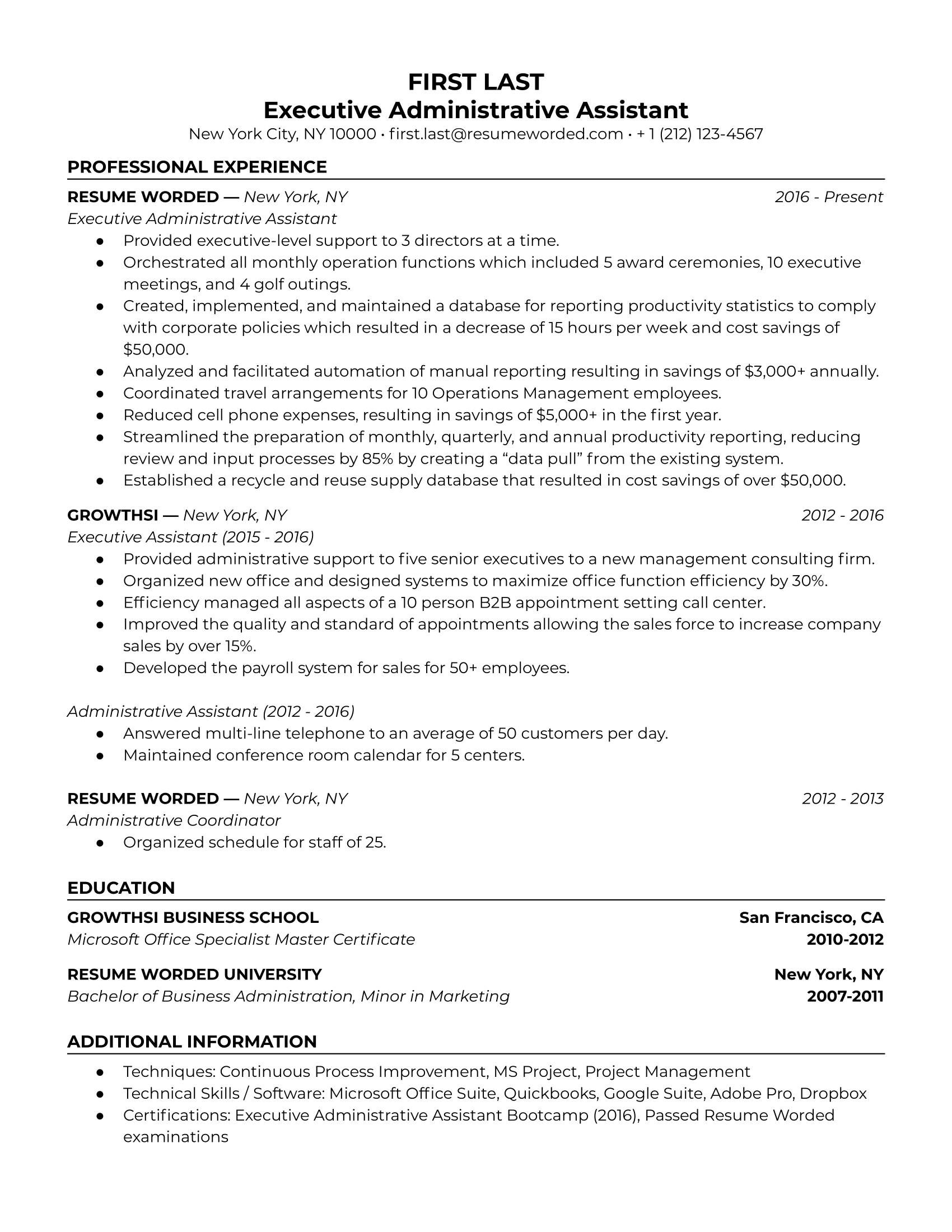 Why this resume works in 2021
An executive assistant works closely with a high-level executive or a small group of high-level executives in overseeing projects and anticipating business needs. On the other hand, an executive administrative assistant tends to focus more on task management and administrative duties, such as calendar scheduling, data entry, and handling calls. In your executive administrative assistant resume, make sure to highlight your experience and relevant skills accordingly.
C-Level Executive Assistant Resume Sample
Download Resume Template (Google Doc)
Download Resume in PDF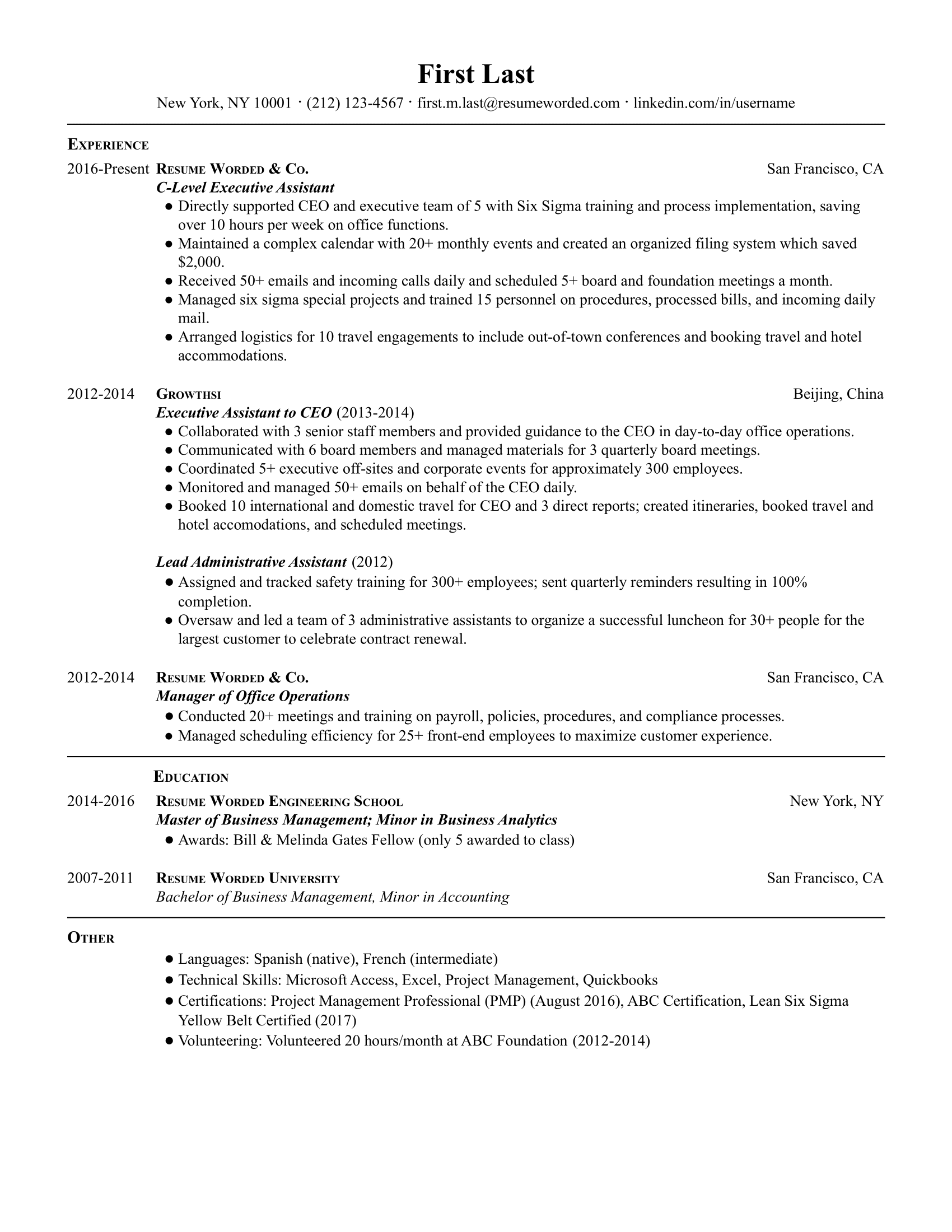 Why this resume works in 2021
Providing assistance at the C-suite level (CEOs, CFOs, CIOs, etc.) requires a deeper level of expertise in the given industry, as well as the ability to work cross-functionally or technically. You must know how to skillfully interface with various departments, uncover potential bottlenecks, and facilitate improvements that help the C-suite function at its highest efficiency. When applying to a C-level executive assistant role, make sure to include evidence of past experience in relevant roles and to demonstrate your ability to catalyze efficient operations.
Executive Assistant to CEO Resume Sample
Download Resume Template (Google Doc)
Download Resume in PDF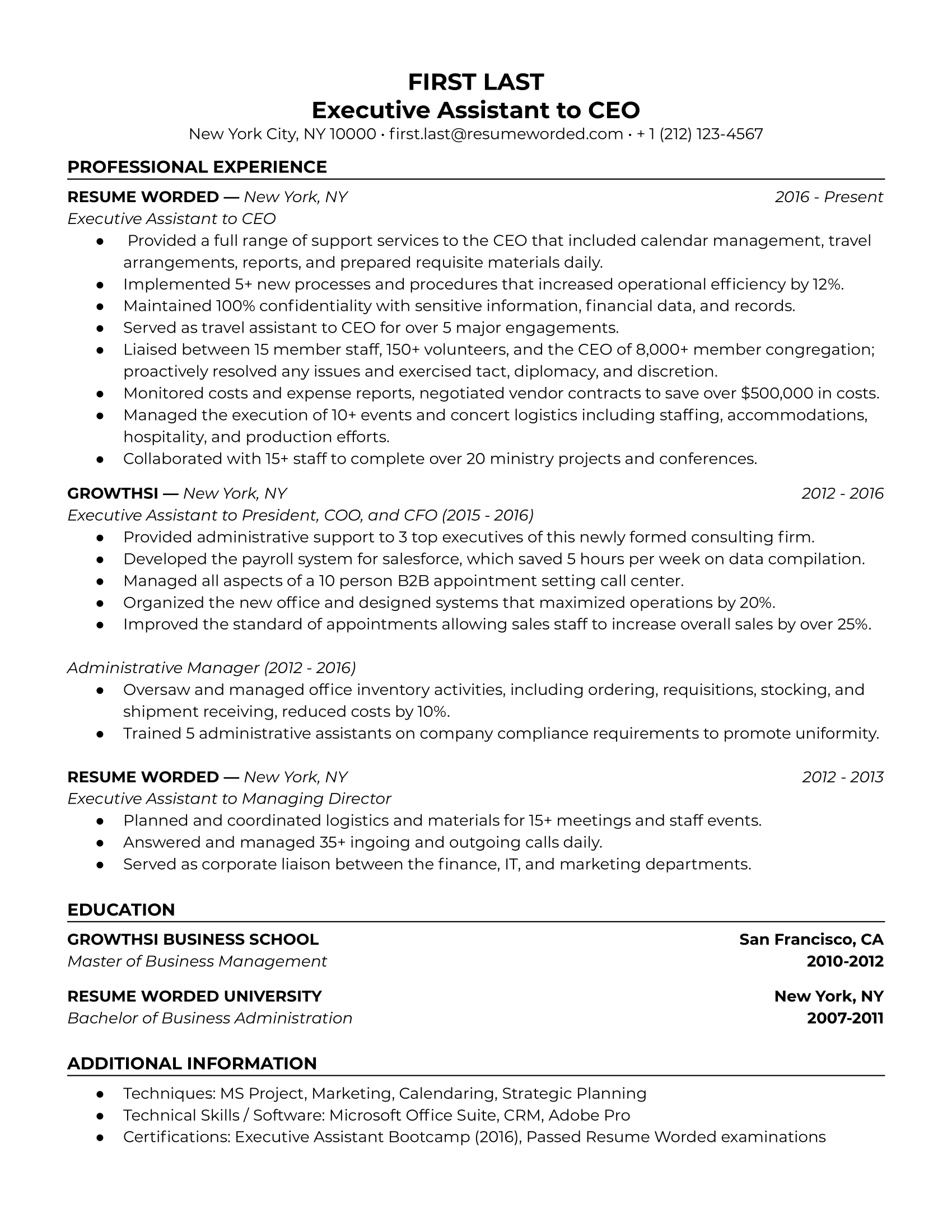 Why this resume works in 2021
Sometimes a CEO may require more personal assistance and will want to hire an executive assistant to directly support their needs. This position is the CEO's primary resource, and must demonstrate deep administrative and organizational expertise to support the demands of the highest position in the company. When writing your CEO executive assistant resume, make sure to showcase your mastery of relevant skills, such as calendar management, hiring logistics, and event operations.
Senior Executive Assistant Resume Sample
Download Resume Template (Google Doc)
Download Resume in PDF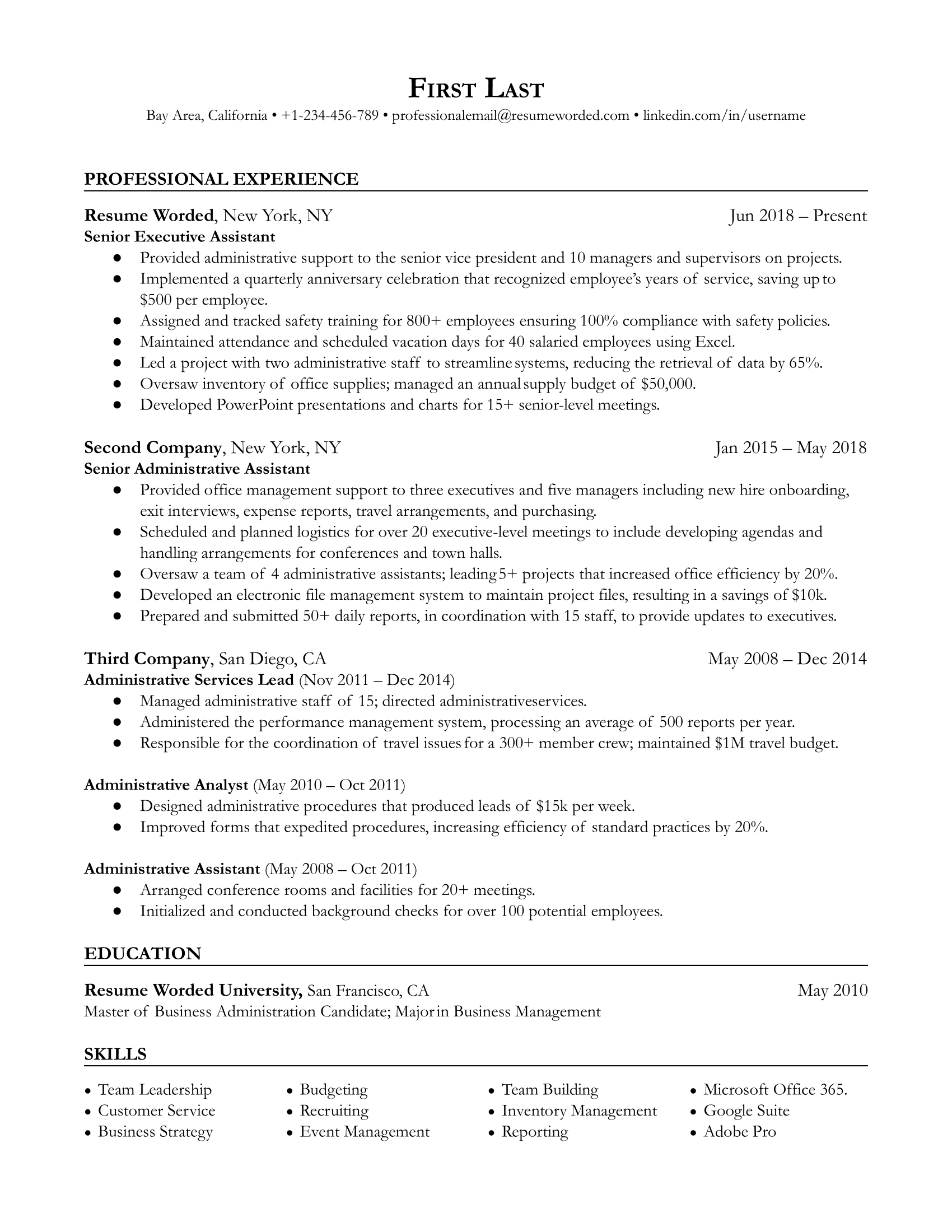 Why this resume works in 2021
A senior executive assistant is an executive assistant with senior responsibilities. This means that they typically do fewer administrative tasks and tackle more hands-on operations work such as managing projects, creating and implementing processes, etc. When crafting your senior executive assistant resume, keep this in mind as you write out your bullet points and curate the skills you want to showcase.
Skills For Executive Assistant Resumes
Executive Administrative Assistance
Administrative Assistance
Executive Calendar Management
Office Administration
Travel Arrangements
Executive Support
Expense Reports
Calendaring
Event Planning
Concur
Confidentiality
Travel Management
Event Management
Administration
Meeting Scheduling
Calendars
Human Resources (HR)
Time Management
Coordinate Meetings
Social Media
How to use these skills?
To ensure that your executive assistant resume stands out from the crowd, you'll want to demonstrate that you have the skills and relevant experience to excel.

When crafting your executive assistant resume, make sure to carefully read through the job description. Executive assistant roles often vary considerably across industries -- or even between different types of executives. Different individuals have different needs, and it's important to make sure that you choose to highlight skills that the hiring manager is looking for.

In addition, make sure to go beyond listing skills in your resume's Skills section. You can expand on what you did in your work experience by describing your expertise in the bullet points of your work experience.
Executive Assistant Resume Tips
It's not easy to excel as an executive assistant. The role demands a high level of emotional intelligence, the knowhow to wear many different hats, and the ability to maintain your composure in high-stress situations. In addition, busy executives often need their assistants to quickly understand them and their working styles on a deeply personal level, picking up on subtle body language and unspoken cues that many others would completely overlook.

However, once you figure out the nuances of the individual you support and grow familiar with the industry they operate in, you become an indispensable part of their workflow. It can be extremely rewarding to find a good match between an executive and an assistant, and many executives will even take a stellar executive assistant along with them if they switch companies.

Want to find your dream executive assistant role? Follow these curated tips for executive assistant resumes:
Action Verbs For Executive Assistant Resumes
Simplified
Increased
Revamped
Ordered
Purchased
Processed
Screened
Systematized
Catalogued
Monitored
Recorded
Classified
Implemented
Generated
How to use these action verbs?
Executive assistants are masters of reading between the lines and understanding the unspoken needs of their executive. They must be versatile and quick to anticipate potential problems, and smoothly juggle the often chaotic schedule of high-level individuals.

When writing your resume, it's important to emphasize these types of skills with strong action verbs. For example, use words like "oversaw", "organized", or "planned" to highlight your ability to smoothly and efficiently handle a variety of tasks.

It can be helpful to review the job description and see what types of action verbs they use. However, don't copy every single one-- try to be creative and find words with similar meanings to tailor your resume to the job.

For a full list of effective resume action verbs, visit Resume Action Verbs.