Dental health is considered by many physicians to be the foundation for overall health, meaning those who work in the field as dental assistants are providing a valuable service to the public while simultaneously honing various transferable skills.

Dental assistants are in high demand with the Bureau of Labor Statistics anticipating a seven percent annual growth rate through 2029 - or almost double the rate of growth for most jobs.

Dental assistants can expect to work directly with patients, including completing registration, handling insurance details, and scheduling appointments. In addition, dental assistants will often perform clinical work such as sterilizing equipment, preparing the patient for the dentist, or assisting the dentist during oral health procedures.

Hiring managers are looking for specific skills and responsibilities in their dental assistant applicants, and this guide will help you identify and include the appropriate skills that match your experience. We'll start by looking at three example resumes for dental assistants at different stages of their careers.
Dental Assistant Resume Templates
Dental Assistant Resume Sample
Download Resume Template (Google Doc)
Download Resume in PDF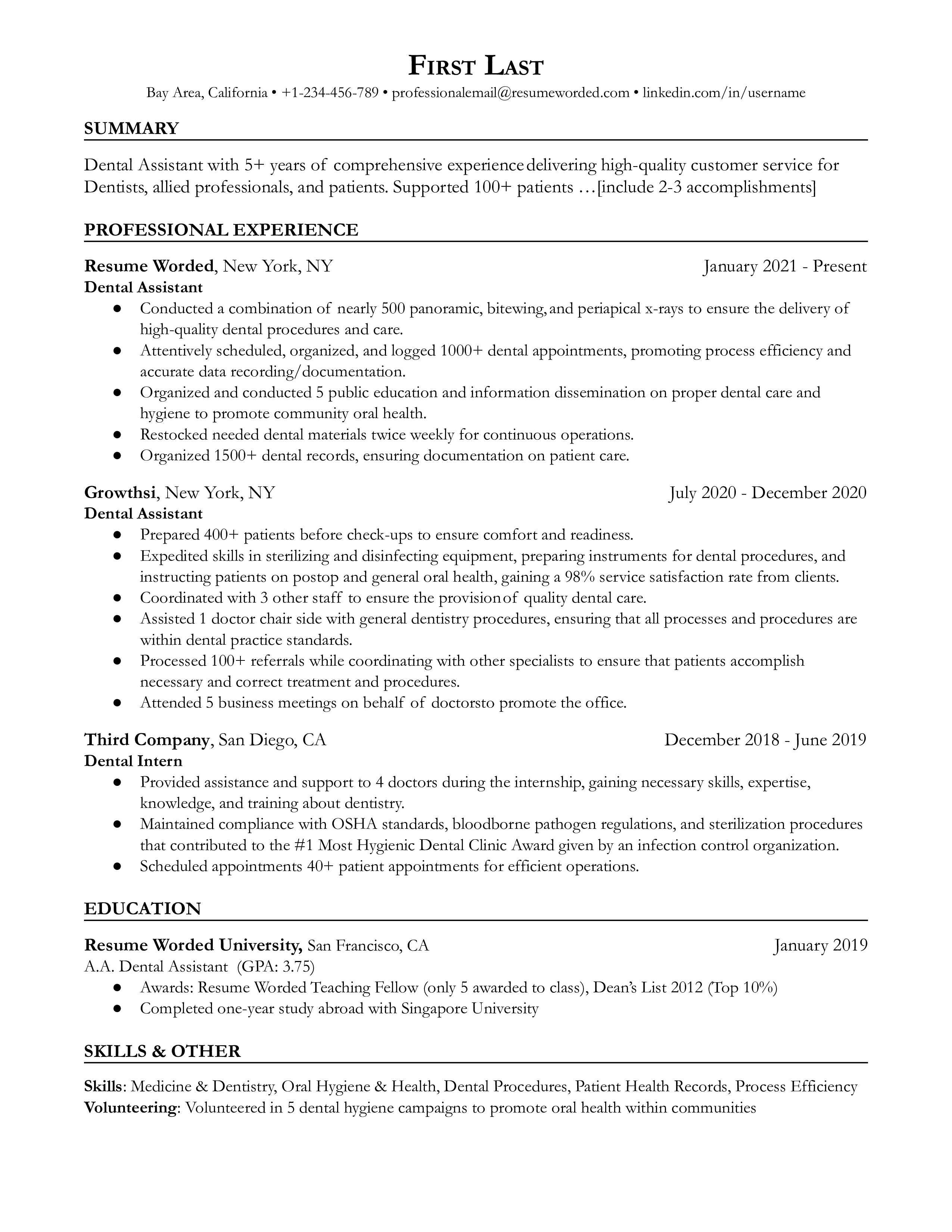 Why this resume works in 2021
Start your resume with a succinct summary that outlines your background as a dental assistant to catch the eye of hiring managers and give them an accurate impression of your personal skill set. Incorporate numerical values in the summary whenever relevant, and make sure to do the same in the body of your resume to impart an affinity for precision.
Improve your Dental Assistant resume, instantly.
Use our free resume checker to get expert feedback on your resume. You will:
• Get a resume score compared to other Dental Assistant resumes in your industry.
• Fix all your resume's mistakes.
• Find the Dental Assistant skills your resume is missing.
It's instant, free and trusted by 1+ million job seekers globally. Get a better resume, guaranteed.
Upload your resume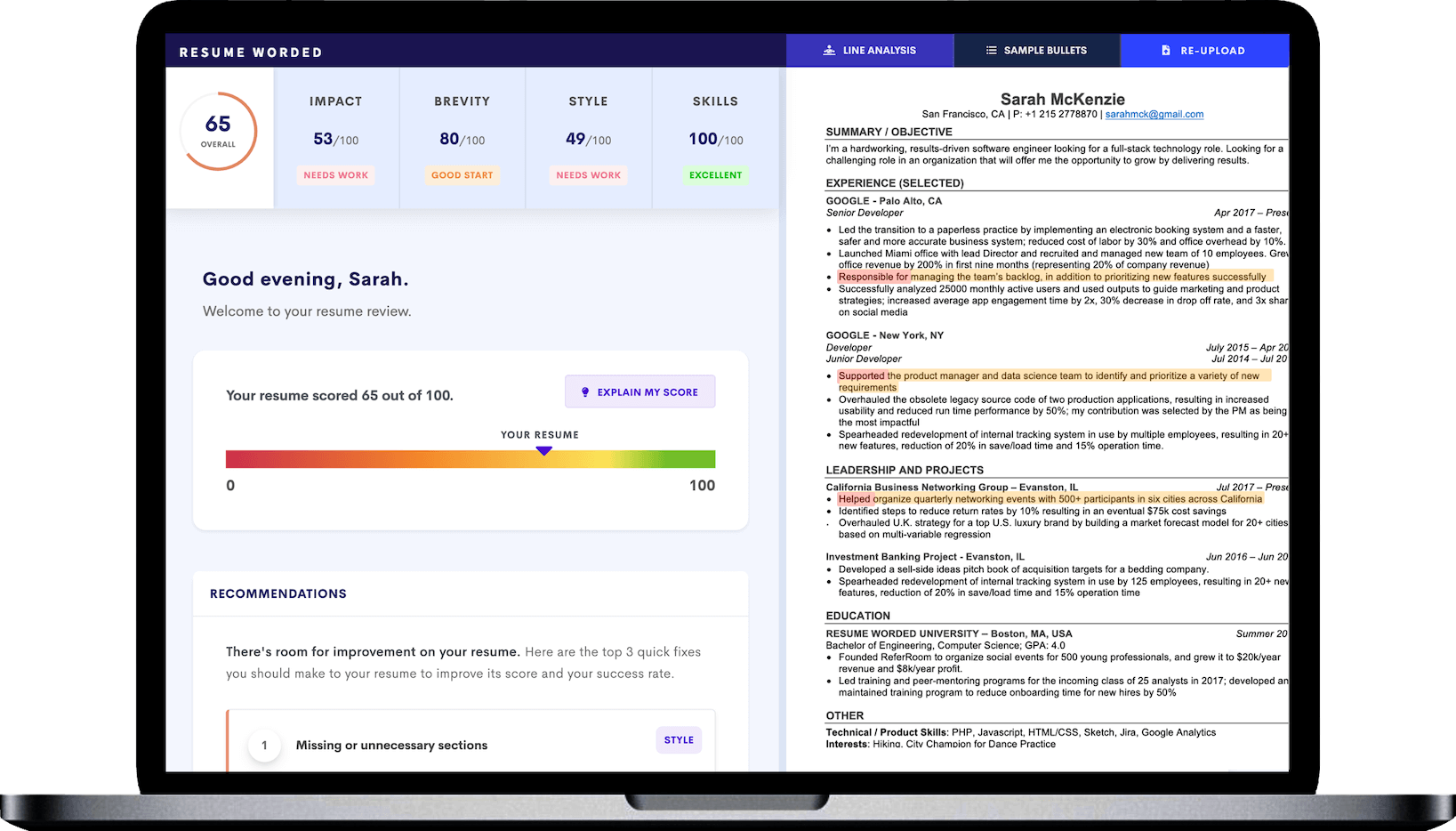 Certified Dental Assistant Resume Sample
Download Resume Template (Google Doc)
Download Resume in PDF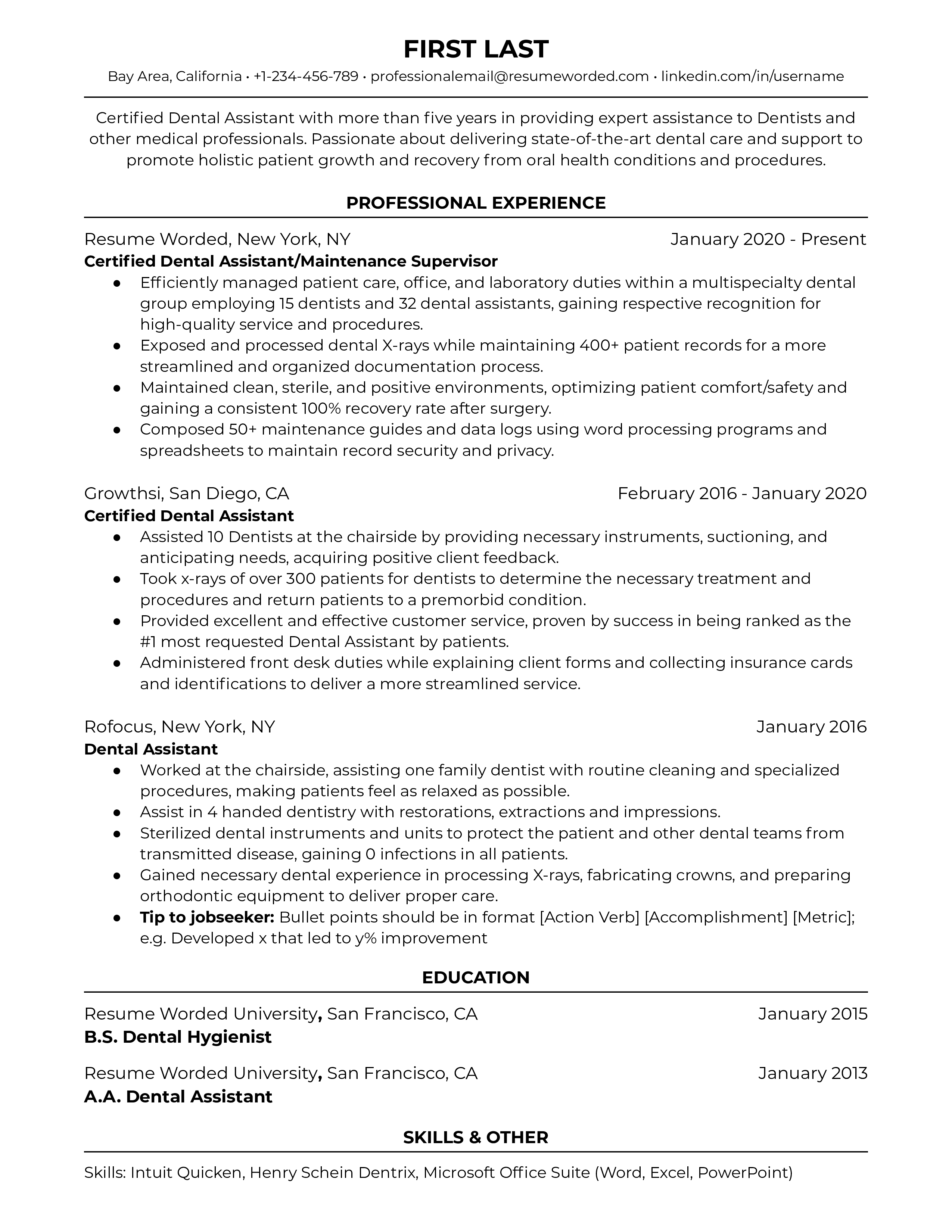 Why this resume works in 2021
Certified dental assistants have less formal education than registered dental assistants, but will generally be handling the same role at both the front and back of the dentist office. Their duties include entering medical records and scheduling appointments as well as reviewing dental procedures with patients. You can emphasize your experience in the role by listing your skills in a skill bank, along with a list of your certifications nearby. The body of your resume should support the certifications with practical experience.
Registered Dental Assistant Resume Sample
Download Resume Template (Google Doc)
Download Resume in PDF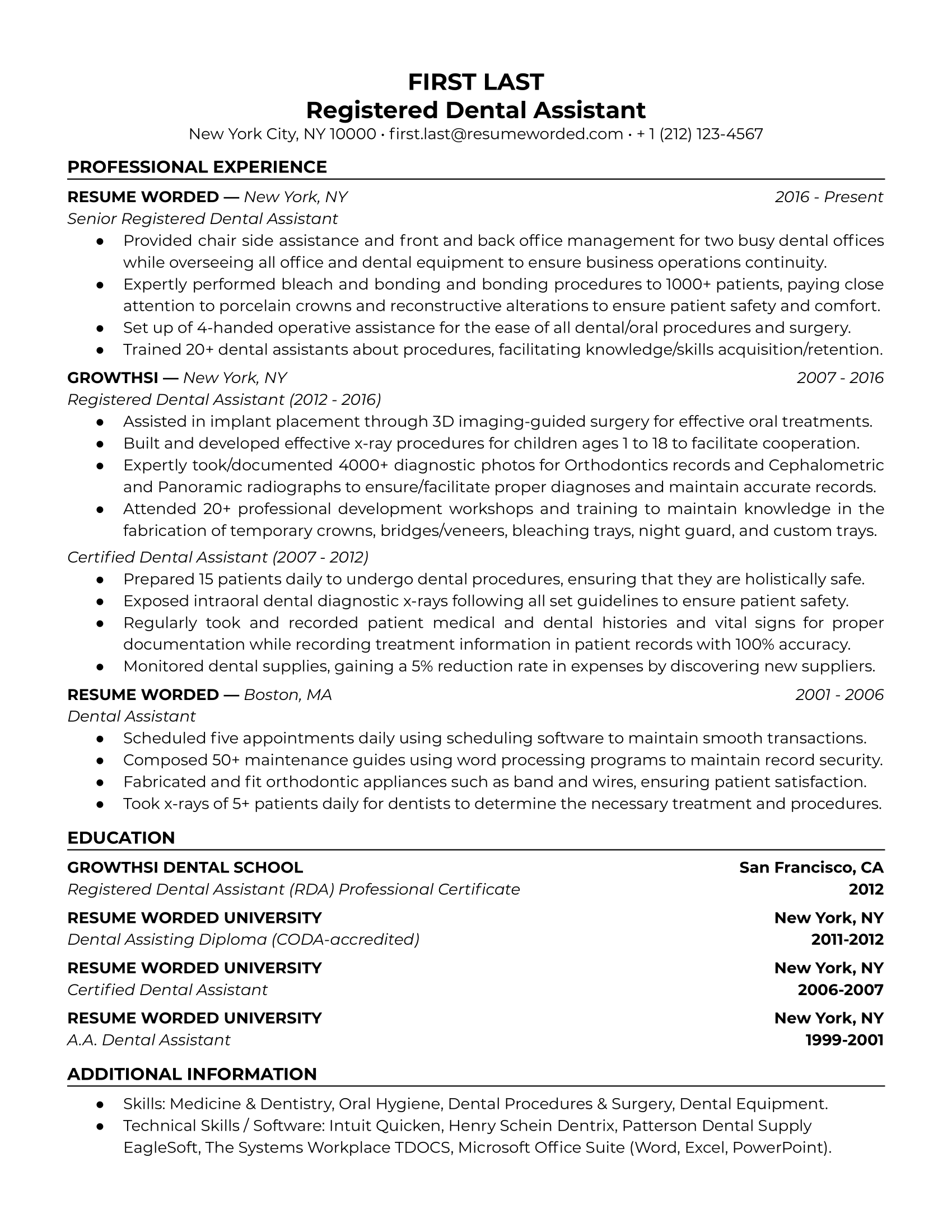 Why this resume works in 2021
Registered dental assistants (RDAs) have the highest educational requirements and will handle virtually everything in a dental office except the duties of the dentist. RDAs conduct administrative and clerical duties (such as scheduling and preparing clinical spaces for patients) and clinical duties such as taking x-rays and administering topical anesthesia. Hiring managers will be looking for advanced responsibilities that have grown over time, which can be augmented through the use of strong action verbs.
Skills For Dental Assistant Resumes
Dental Assisting
Dental Care
Dentistry
Dentrix
Cardiopulmonary Resuscitation (CPR)
Patient Education
Restorative Dentistry
Cosmetic Dentistry
Infection Control
Oral Surgery
X-ray
Healthcare
Sterilization
Coronal Polishing
Dental Software
Eaglesoft
Dental Imaging
Orthodontics
Teeth Whitening
Endodontics
How to use these skills?
The skill set for dental assistants will vary between individuals based on their experience, but hiring managers will generally be looking for key skills that will enable you to function effectively in the position. On the left, we've listed the most common skills that dental assistants are expected to have.

As dental assistants rely on specific technical skills and software to conduct a portion of their duties, you should aim to include a skill bank on your resume to give hiring managers an easy way to determine your capability. Additionally, starting your resume with a summary that incorporates key skills will help you stand out to hiring managers and make it past automatic screening tools.
Action Verbs For Dental Assistant Resumes
Developed
Prepared
Organized
Processed
Coordinated
Conducted
Administered
Provided
Managed
Expedited
Recorded
Composed
Collected
Performed
Trained
Monitored
How to use these action verbs?
Dental assistants are expected to be versatile in their ability to assist both physicians and patients, so selecting a range of action verbs to utilize in your resume will help showcase your experience. Along with leading your bullet points with strong action verbs when appropriate, you should work them into the body of the accomplishment as added emphasis.

For a full list of effective resume action verbs, visit Resume Action Verbs.