Nursing Resumes
The essential role that nurses play has never been so obvious. With the profession increasingly in demand, now is the perfect time to apply for nursing roles. This guide contains everything you need to write an effective nursing resume, including essential skills to include and resume templates you can use.
Load more resumes
Nursing resume guide
Dental Assistant Resumes
Dental assistants are on the front lines of working with both dentists and patients to create a clear path forward for dental health. If you want to work in a fast-paced field that contains both clinical and clerical elements, this guide will help you build a dental assistant resume by reviewing three example templates and a list of key skills and action verbs to consider including
Certified Dental Assistant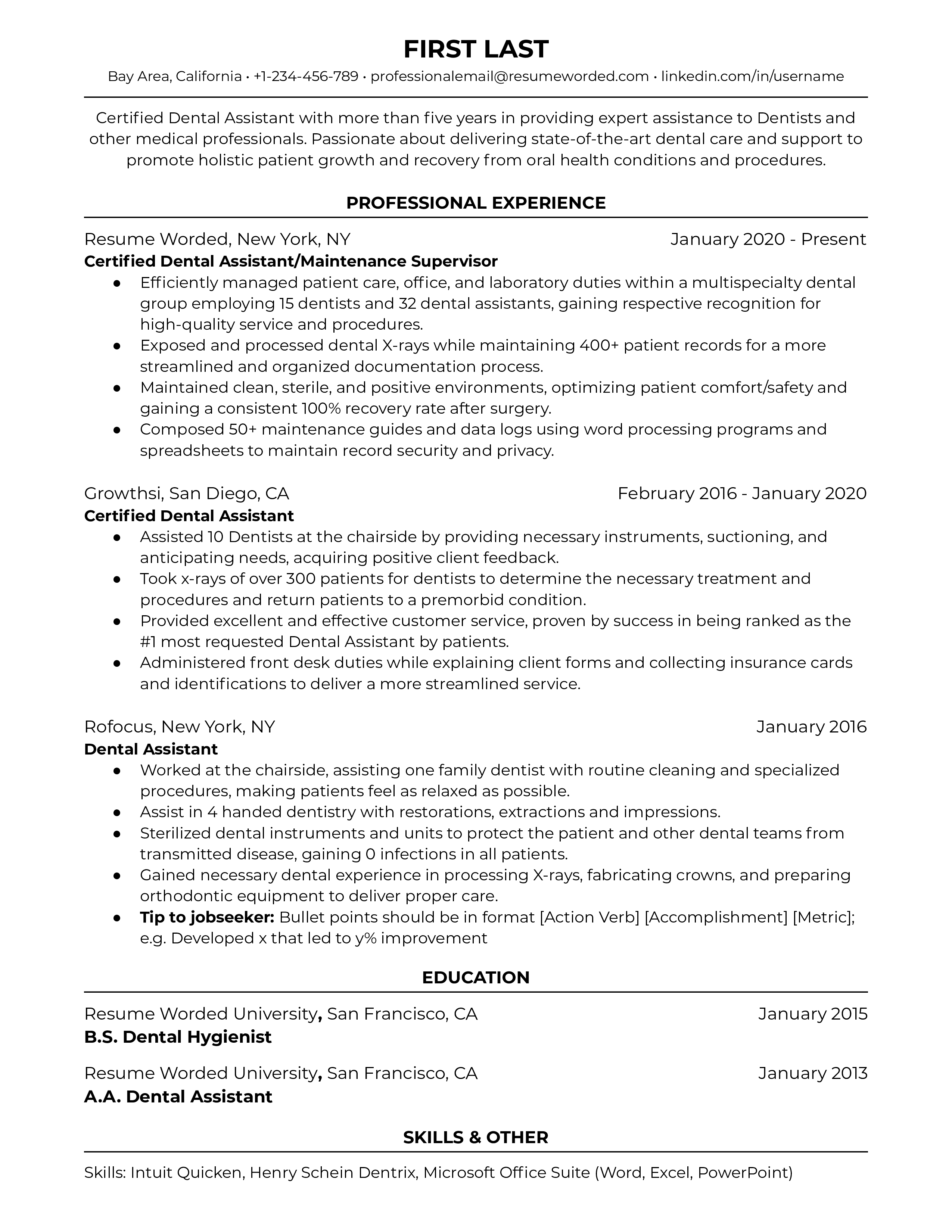 Certified dental assistants have less formal education than registered dental assistants, but will generally be handling the same role at both the front and back of the dentist office. Their duties include entering medical records and scheduling appointments as well as reviewing dental procedures with patients. You can emphasize your experience in the role by listing your skills in a skill bank, along with a list of your certifications nearby. The body of your resume should support the certifications with practical experience.
Expand
Download .DOC or .PDF
Registered Dental Assistant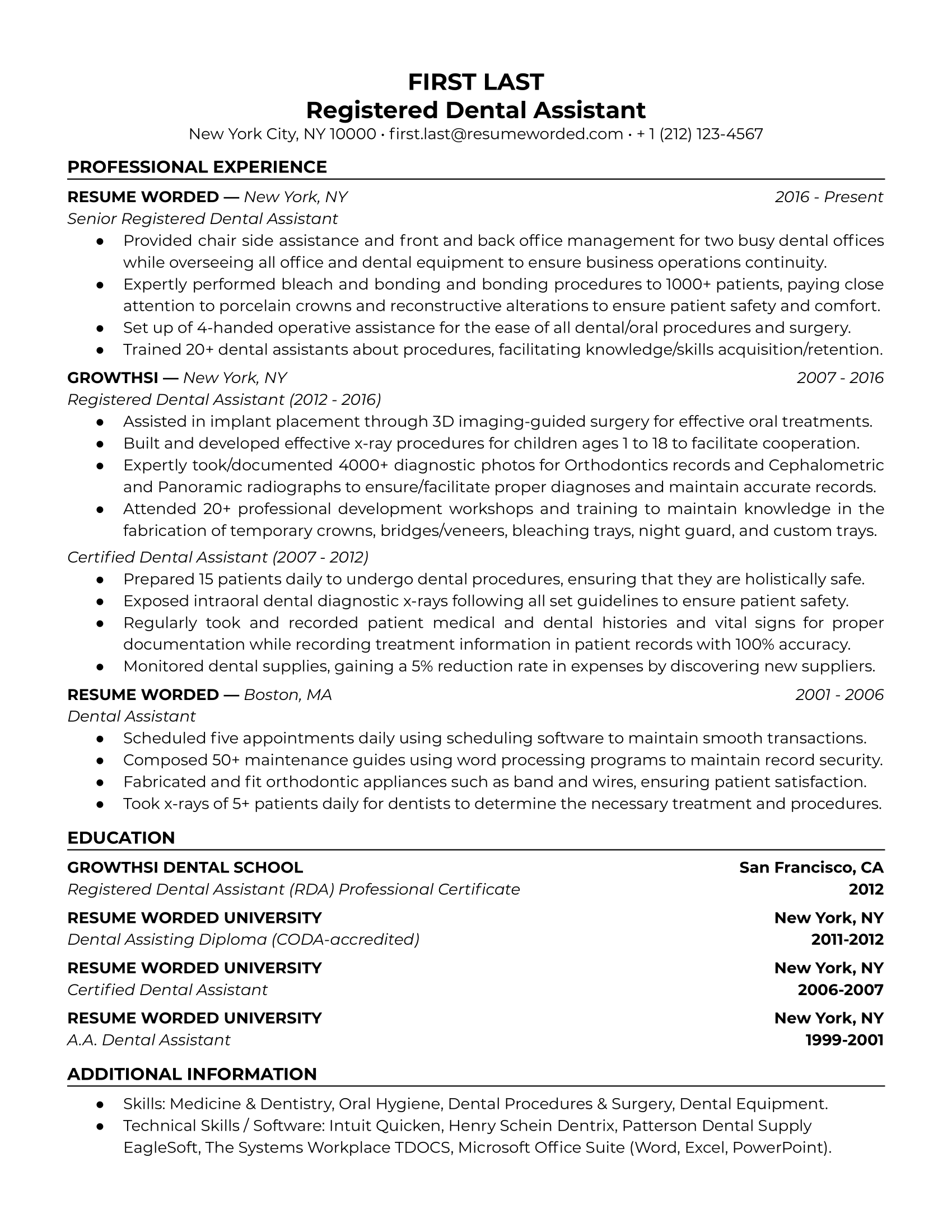 Registered dental assistants (RDAs) have the highest educational requirements and will handle virtually everything in a dental office except the duties of the dentist. RDAs conduct administrative and clerical duties (such as scheduling and preparing clinical spaces for patients) and clinical duties such as taking x-rays and administering topical anesthesia. Hiring managers will be looking for advanced responsibilities that have grown over time, which can be augmented through the use of strong action verbs.
Expand
Download .DOC or .PDF
Dental Assistant resume guide
Case Manager Resumes
If you enjoy helping people and providing care to those who need it most, case management may be the career for you. Whether you're seeking your first job or already in the field, we've got you covered with industry-specific tips, essential skills and keywords, and resume examples for you to use as templates.
Mental Health Case Manager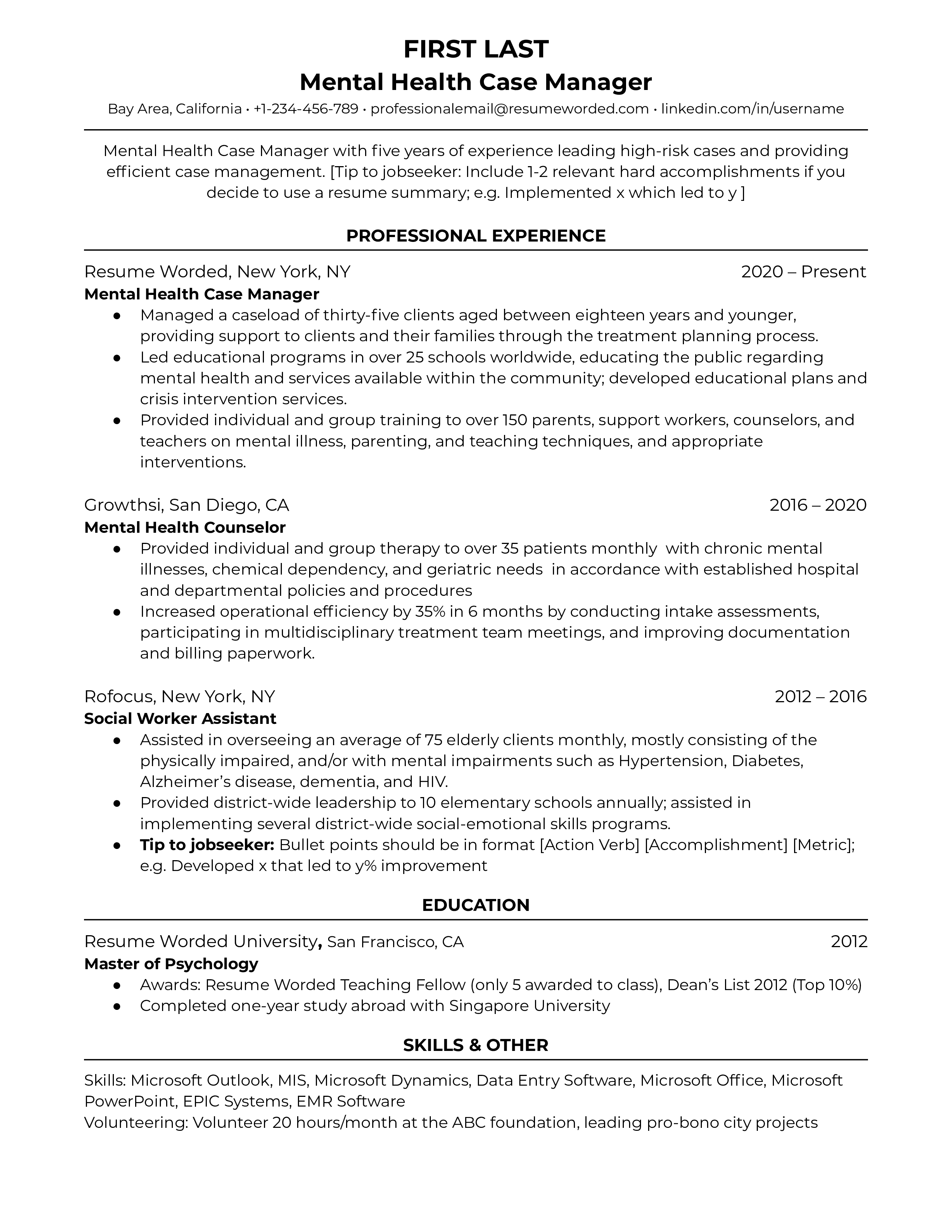 Mental health case managers work closely with patients who have additional psychological, behavioural, or substance abuse issues. You'll need a healthy dose of compassion and people skills in addition to an understanding of mental health support services and the ability to develop individual treatment plans. As a mental health case manager, you could work in a variety of settings including hospitals, treatment centers, rehabilitation facilities, and private homes.
Expand
Download .DOC or .PDF
Nurse Case Manager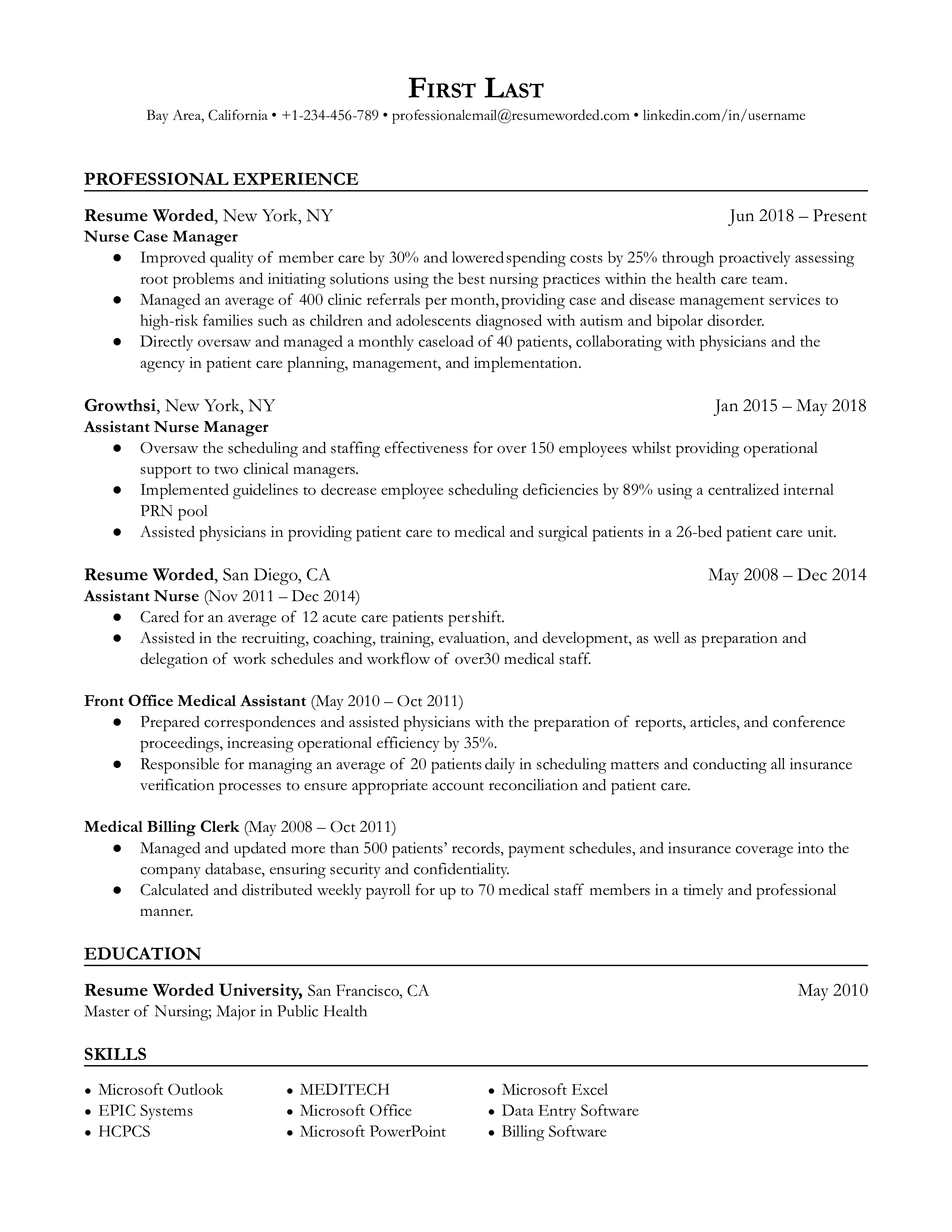 Nurse case managers are registered nurses (RNs) who provide dedicated recovery plans to individual patients, often in a hospital or acute care setting. In addition to licensure as an RN, you'll need an understanding of patients' health needs, the ability to monitor patients and work with other care professionals to ensure continued recovery, and the knowledge and background to source cost-effective care solutions.
Expand
Download .DOC or .PDF
Case Manager resume guide
Respiratory Therapist Resumes
Millions of people worldwide suffer from respiratory diseases, and the statistics are worsening. As a result, respiratory therapists (RTs) are in high demand and will be for the foreseeable future as causality factors persist. The level of competence expected of respiratory therapists is high as is typical of professions in healthcare; thus, here are tips, complete with resume samples, on how to target your resume.
New Grad Respiratory Therapist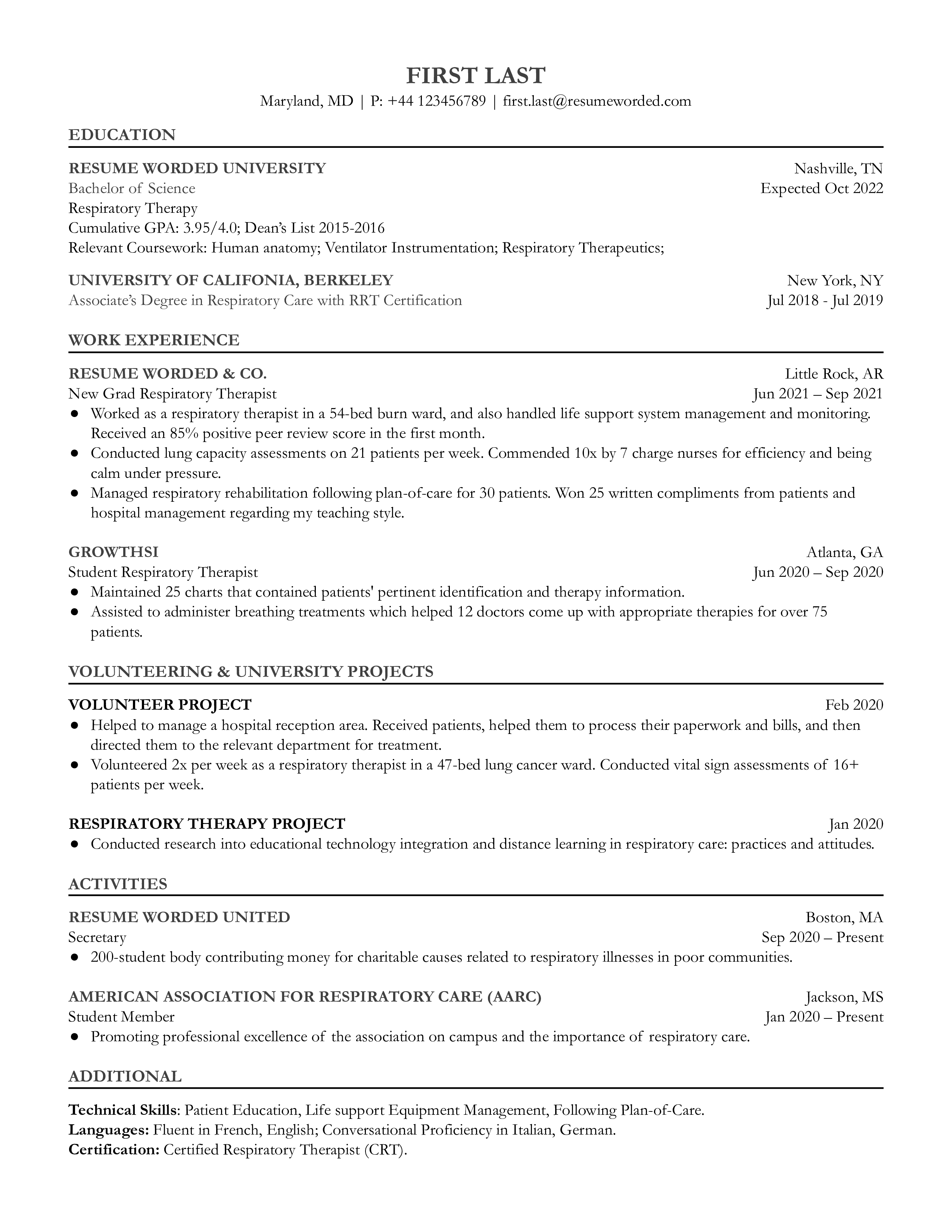 As a new grad respiratory therapist, most employers will slowly integrate you into their system to help you learn the nuances that differentiate the operations of different healthcare institutions. In general, new grad respiratory therapists are required to orient themselves with the department and hospital's equipment, policies, and procedures under the supervision of a preceptor. At this level, you are also expected to collaborate with the preceptor and demonstrate a good understanding of the core responsibilities of a Respiratory Therapist and carry out assigned duties. This resume shows an entry-level respiratory therapist's skill set and academic credentials/achievements. A foundational degree in Respiratory Care with RRT certification obtained from an accredited institution is a good starting place that offers the candidate the required basic RT knowledge in addition to opportunities for career progression. Since this applicant is a recent graduate, it is prudent to list any experience gained in a real-life situation and performance ratings.
Expand
Download .DOC or .PDF
Experienced Respiratory Therapist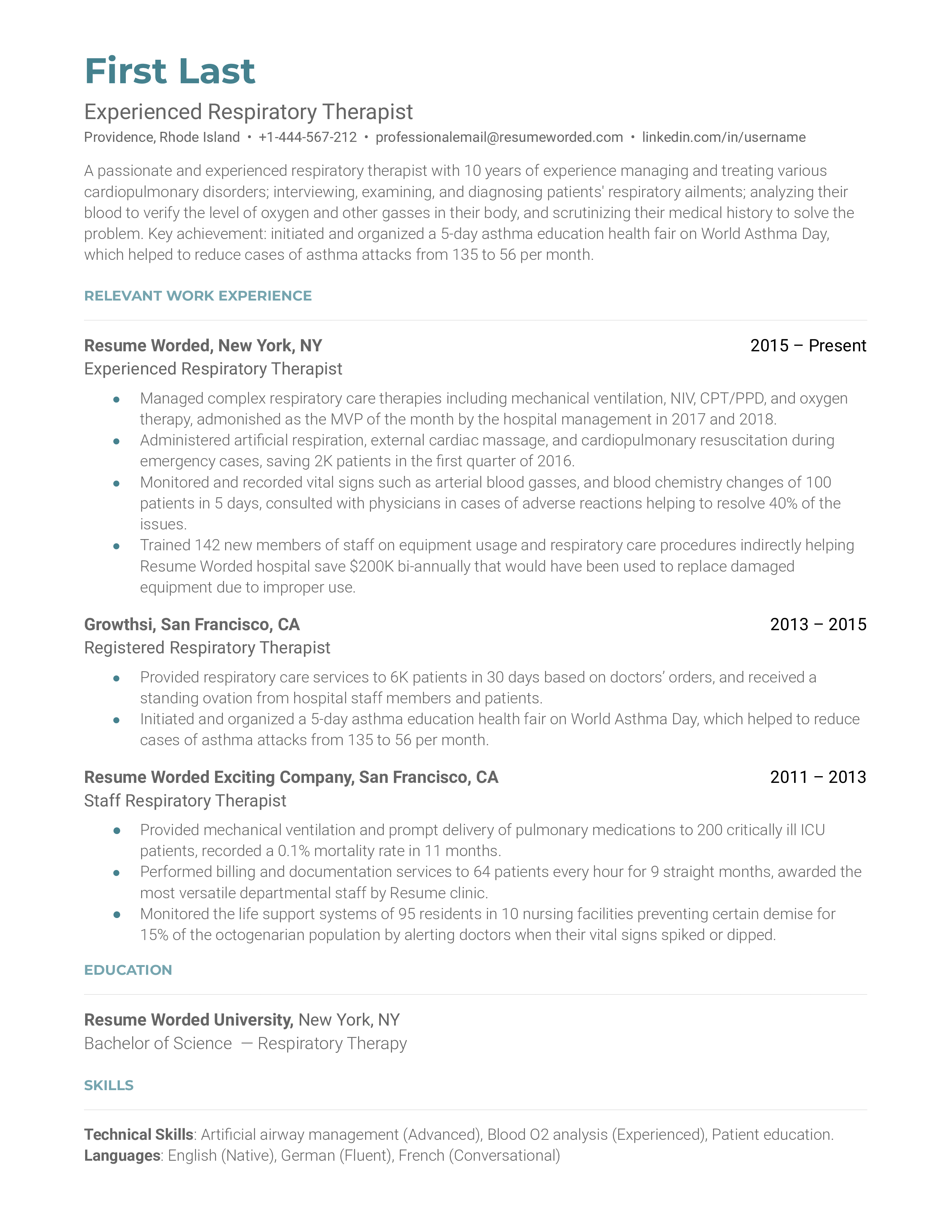 As you gain more experience in clinical settings, you can progress from offering general care to specialized care, i.e., caring for critically ill patients. Those who get advanced degrees can become supervisors or branch managers. In some cases, highly experienced RTs transition to teaching in RT programs. The role of experienced RTs is increasingly widening as they integrate more into multidisciplinary teams focused on health promotion and disease prevention. This applicant's resume focuses solely on showcasing their experience and achievements. The language is tailored to emphasize impact, as demonstrated by the quantitative data. Leadership is a desired skill at top-tier levels as it comes in handy during training and case management, so highlight your leadership qualities.
Expand
Download .DOC or .PDF
Respiratory Therapist resume guide
Medical Billing Resumes
When you hear the mention of a hospital, what immediately comes to your mind? Doctors, nurses, and patients probably. While these professionals may constitute the larger population of personnel in care institutions, others like medical billers are equally crucial to the overall functioning of the hospital. So what does it take to become a medical biller? It starts by tailoring your medical billing resume to capture the hiring manager's attention.
Medical Billing Manager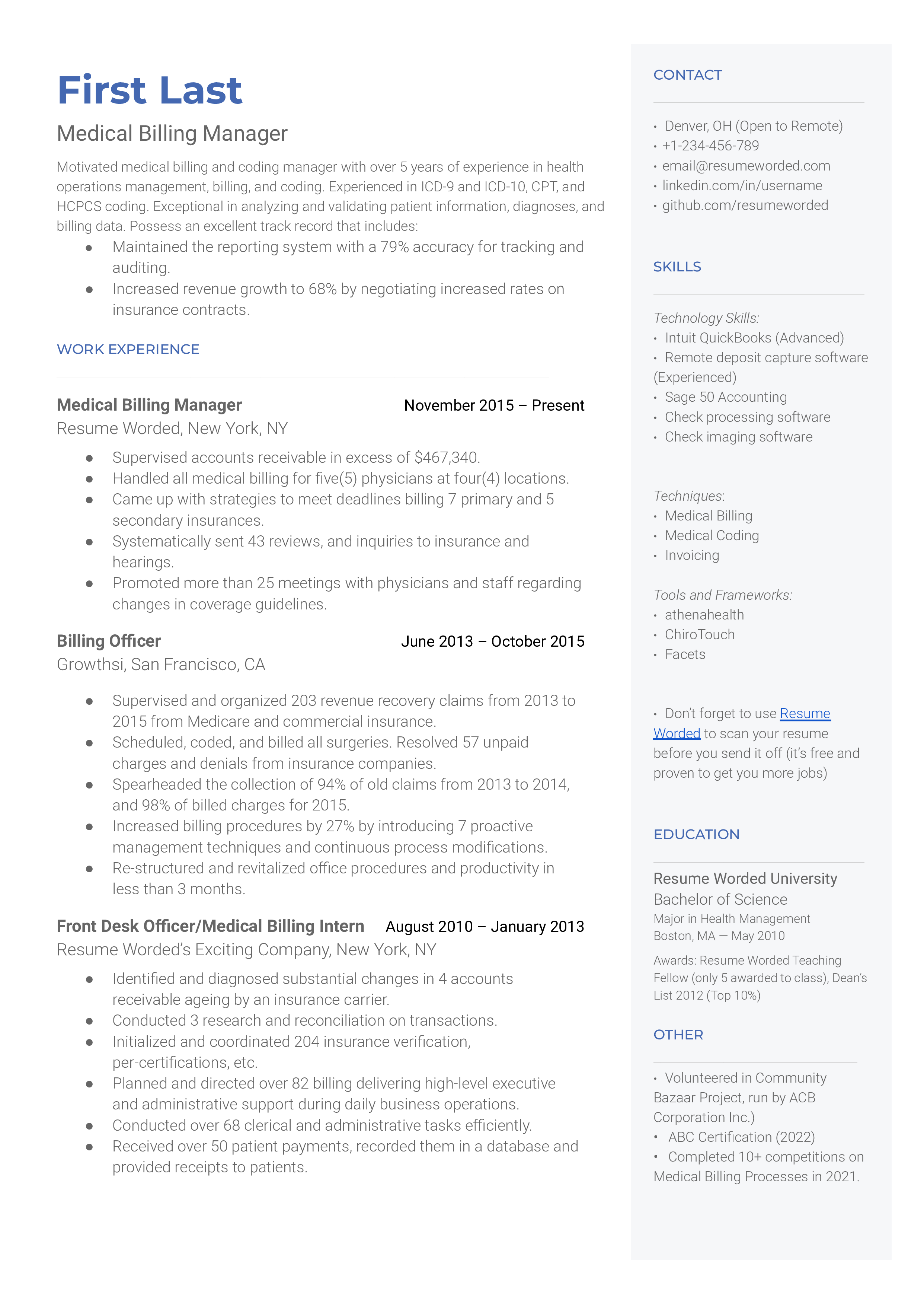 A Medical Billing Manager is the overall leader of the medical billing department. This person's role revolves around developing and implementing policies and procedures that fine-tune operations in the billing department. This professional also manages revenue cycles and is the go-to person in the department on matters related to billing and coding. This medical billing manager resume focuses on experience and skill set. The applicant's achievements are captured using metrics (numbers and percentages), making them easier to recall. A strong foundation in Health Management followed by an ABC certification completes a robust medical billing resume. The resume also showcases in-demand technical skills, e.g., Intuit QuickBooks.
Expand
Download .DOC or .PDF
Medical Billing resume guide
Therapist Resumes
With 1 in 5 US adults experiencing mental illness every year, and suicide being the 2nd leading cause of death among people aged 10-34, mental health professionals are more important now than ever. Therapists are an essential part of the mental health industry and this guide will show you how to craft a strong therapist resume that will have you on your way to getting your dream therapist job.
Behavioral Therapist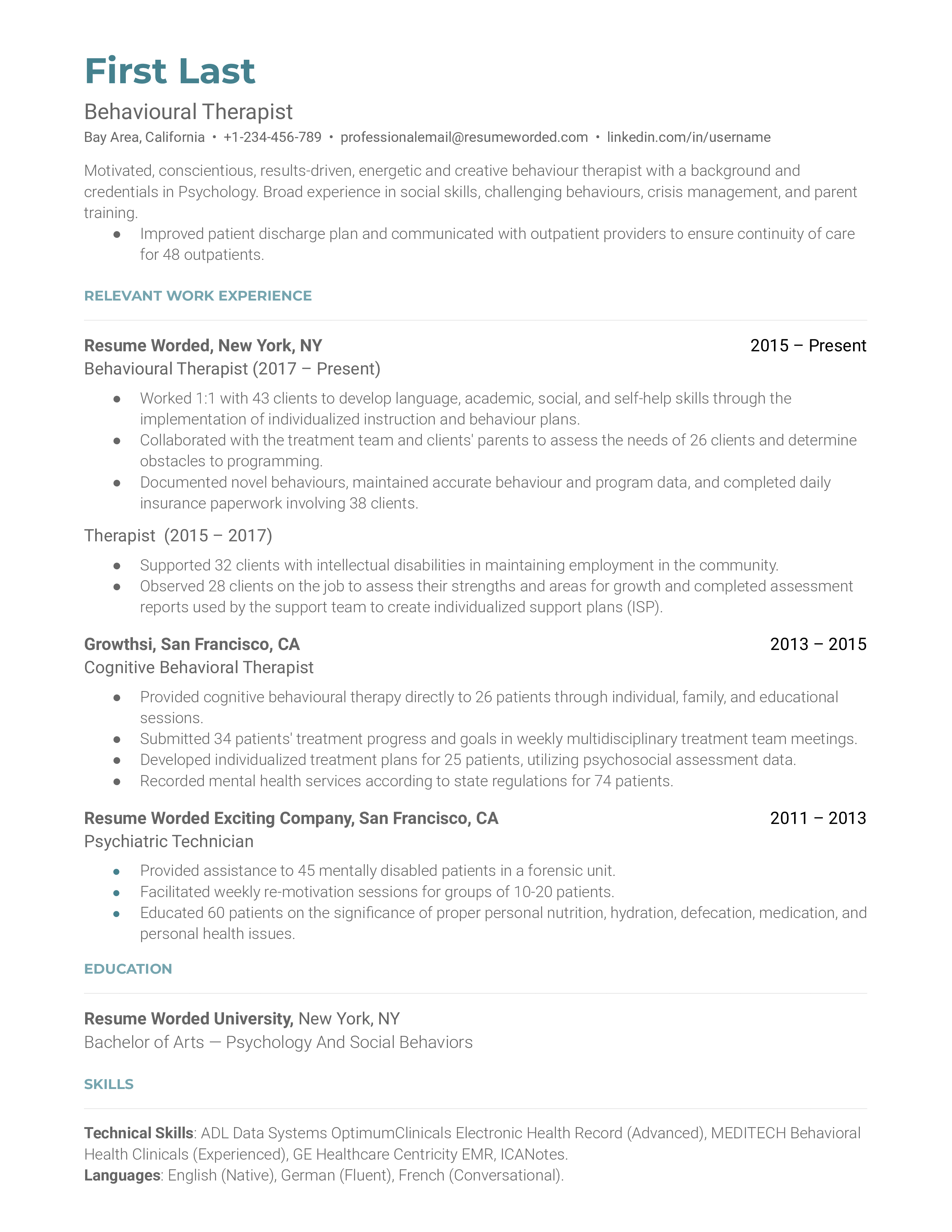 Behavioral therapists treat clients with mental health disorders by helping them identify and change unhelpful or problematic behavior. You can specialize in treating certain behaviors such as eating disorders, phobias, PTSD, etc. If you have any specialization in treating particular behaviors, be sure to include that in your resume. There are different kinds of behavioral therapy including acceptance and commitment therapy (ACT), cognitive behavioral therapy, dialectical behavioral therapy (DBT), etc. This strong resume does well in illustrating who the applicant has treated, and the methods they have used to treat their previous clients.
Expand
Download .DOC or .PDF
Clinical Psychologist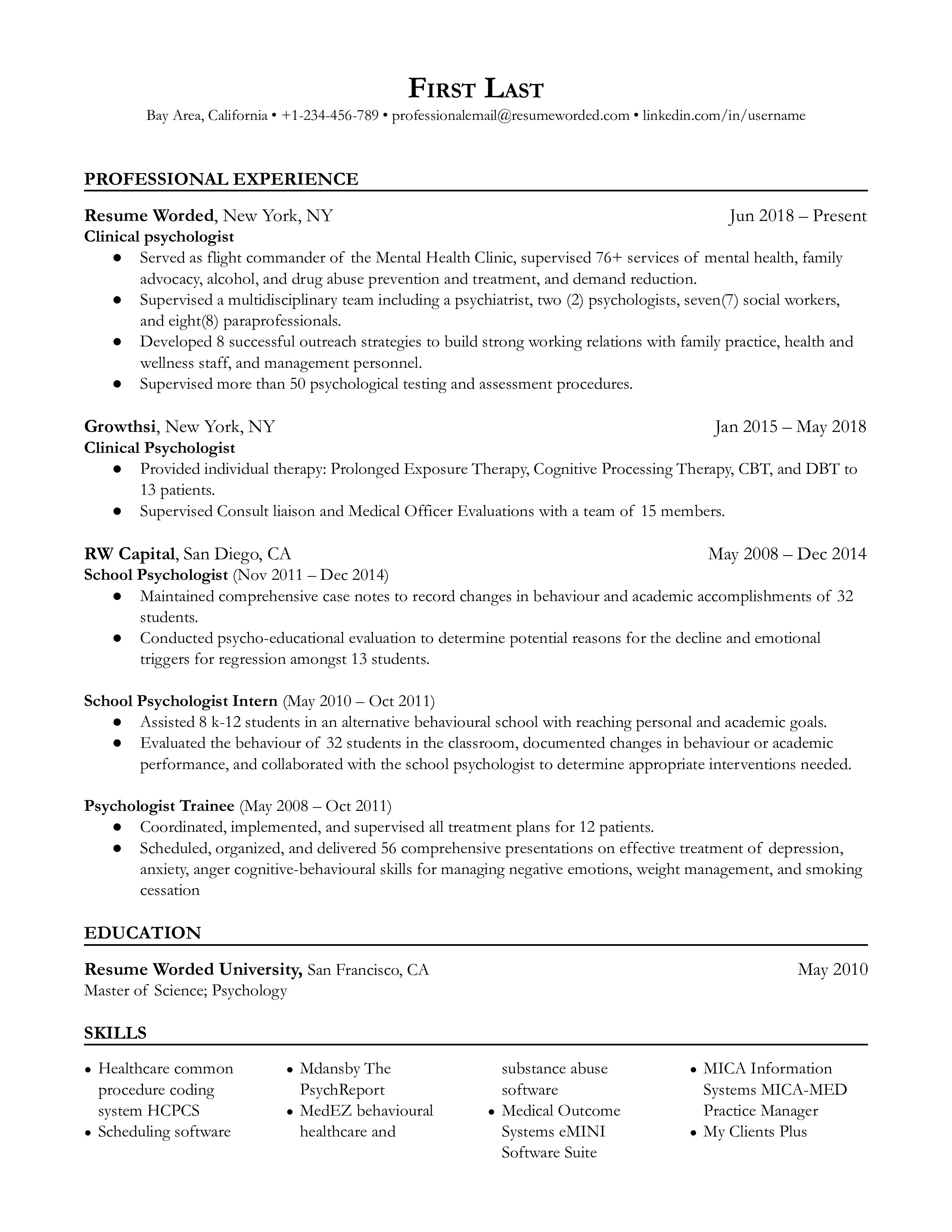 Clinical psychologists deal with clients that have more serious mental health disorders such as schizophrenia, or bipolar disorder. These clients will usually need long-term care. There is a strong research component to this position, and a higher level of education is needed to get certified. You will almost always be expected to have a doctorate before you can practice as a clinical psychologist. This resume excels in showing a career progression from a trainee to a full clinical psychologist. This shows potential employers your long-term commitment to the profession as well as your in-depth knowledge and experience in the field.
Expand
Download .DOC or .PDF
Physical Therapist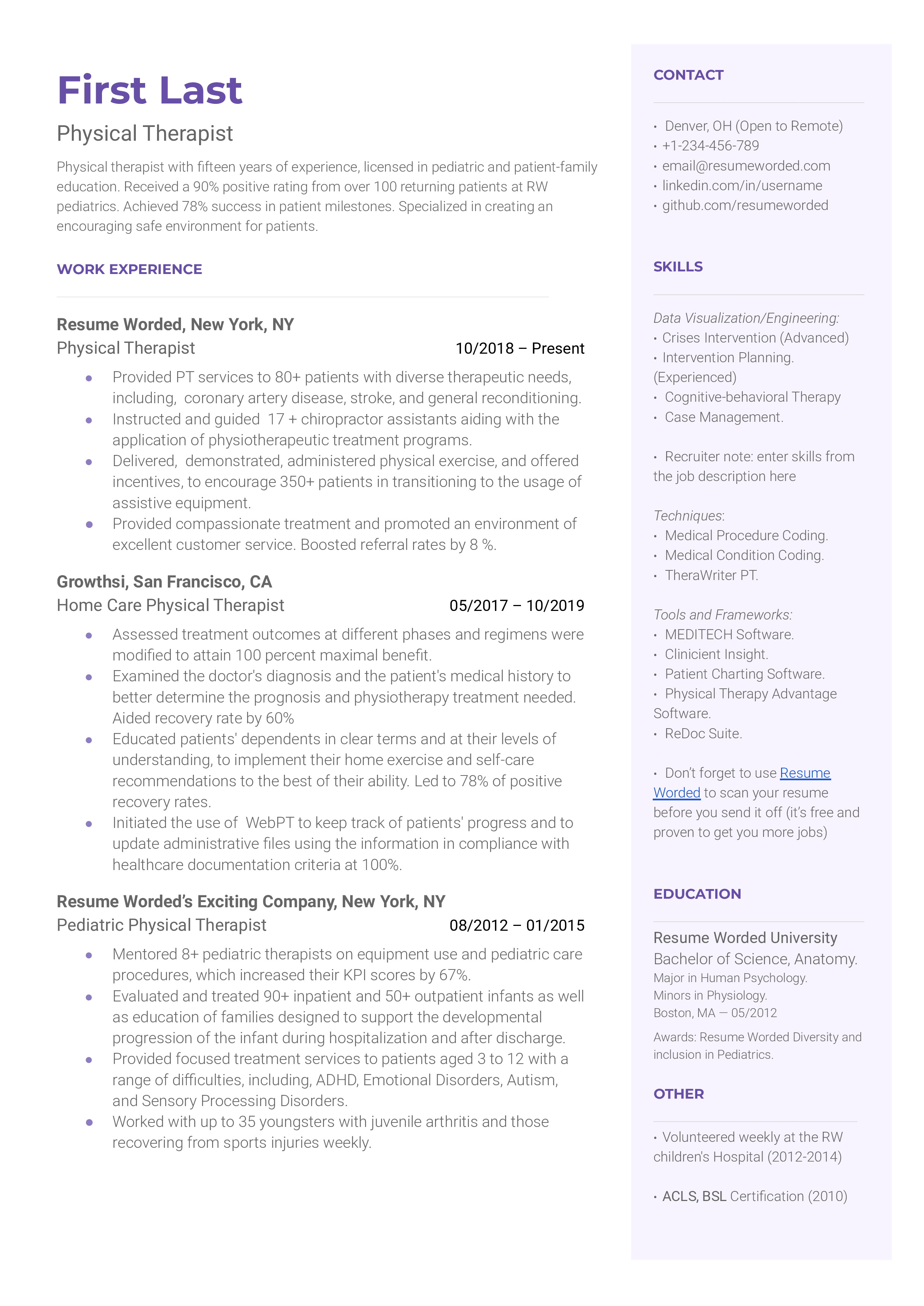 As the name suggests, a physical therapist treats a client's physical disorder or injury rather than their mental disorder. Some of the common places you may find yourself working include hospitals, nursing homes, and private offices. As a physical therapist, you will diagnose clients and come up with a treatment plan to alleviate their pain/discomfort and increase their mobility and quality of life. You may also be involved in guiding them through exercises, stretches, and providing massages where necessary. To practice as a physical therapist you will need a bachelor's degree in a related field and you will need to complete a Doctor of Physical Therapy Degree Program in the US or a similar program in your country of practice. Only then can you be certified and licensed to practice. Beyond certification, your level of experience and your successes will weigh heavily for potential employers. Here is a strong physical therapist resume.
Expand
Download .DOC or .PDF
Load more resumes
Therapist resume guide
Action Verbs For Medical Resumes
Monitored
Prepared
Diagnosed
Assessed
Organized
Assisted
Coordinated
Triaged
Administered
Trained
Educated
Evaluated
Operated
Improved
Implemented
Oversaw
How to use these action verbs?
Use strong action verbs to describe your accomplishments at your previous companies, internships or classes. For roles in the medical field, use action verbs which highlight your experience with technical and engineering tasks.

For example, "Implemented" or "Structured" are good action verbs to show technical experience, while "Collaborated" could be a good verb to highlight your teamwork experience.