Choose a category to browse Medical resumes
We've put together a number of free Medical resume templates that you can use. Choose a category depending on your field, or just scroll down to see all templates.
Nursing
Dental Assistant
Case Manager
Nursing Resumes
The essential role that nurses play has never been so obvious. With the profession increasingly in demand, now is the perfect time to apply for nursing roles. This guide contains everything you need to write an effective nursing resume, including essential skills to include and resume templates you can use.
Load more resumes
Nursing resume guide
Dental Assistant Resumes
Dental assistants are on the front lines of working with both dentists and patients to create a clear path forward for dental health. If you want to work in a fast-paced field that contains both clinical and clerical elements, this guide will help you build a dental assistant resume by reviewing three example templates and a list of key skills and action verbs to consider including
Certified Dental Assistant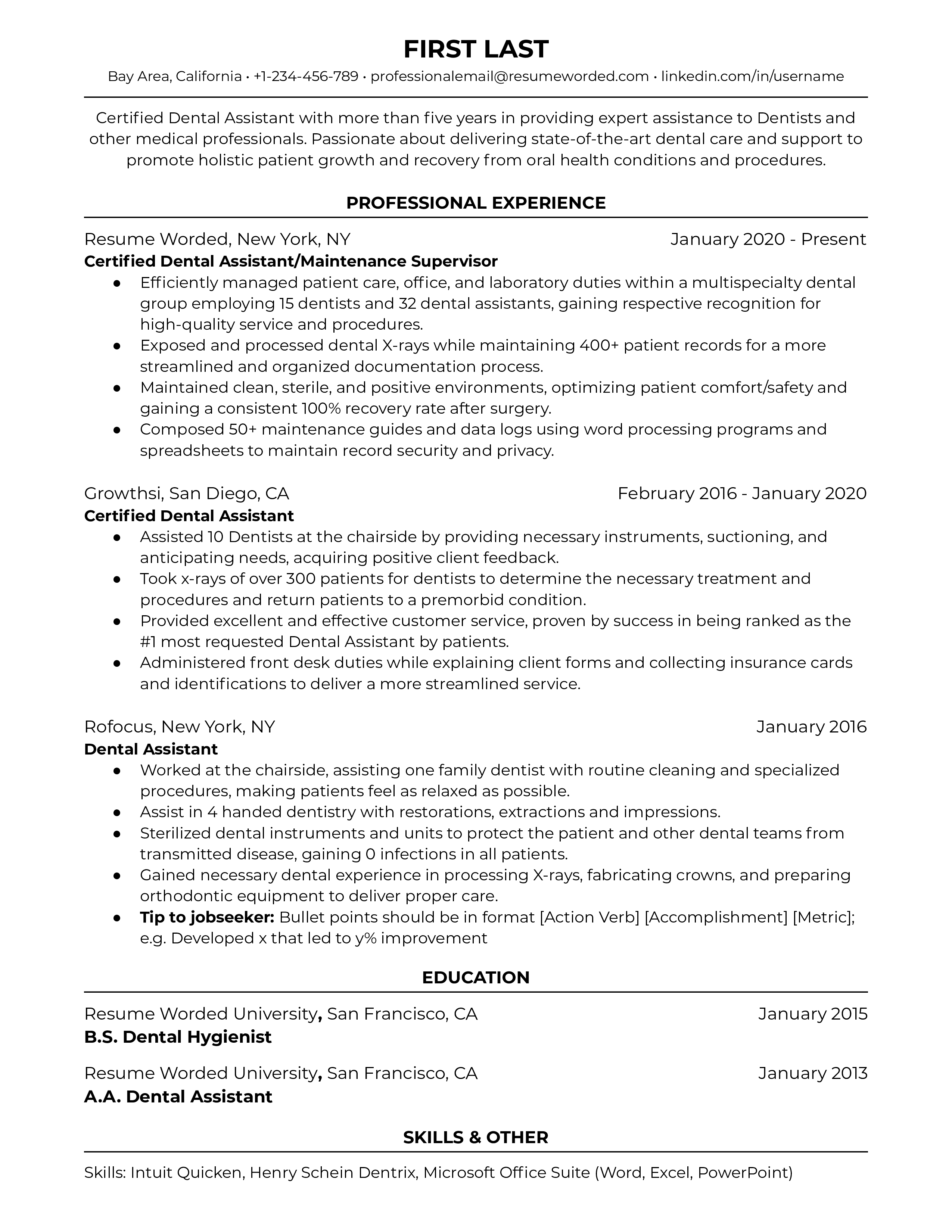 Certified dental assistants have less formal education than registered dental assistants, but will generally be handling the same role at both the front and back of the dentist office. Their duties include entering medical records and scheduling appointments as well as reviewing dental procedures with patients. You can emphasize your experience in the role by listing your skills in a skill bank, along with a list of your certifications nearby. The body of your resume should support the certifications with practical experience.
Expand
Download .DOC or .PDF
Registered Dental Assistant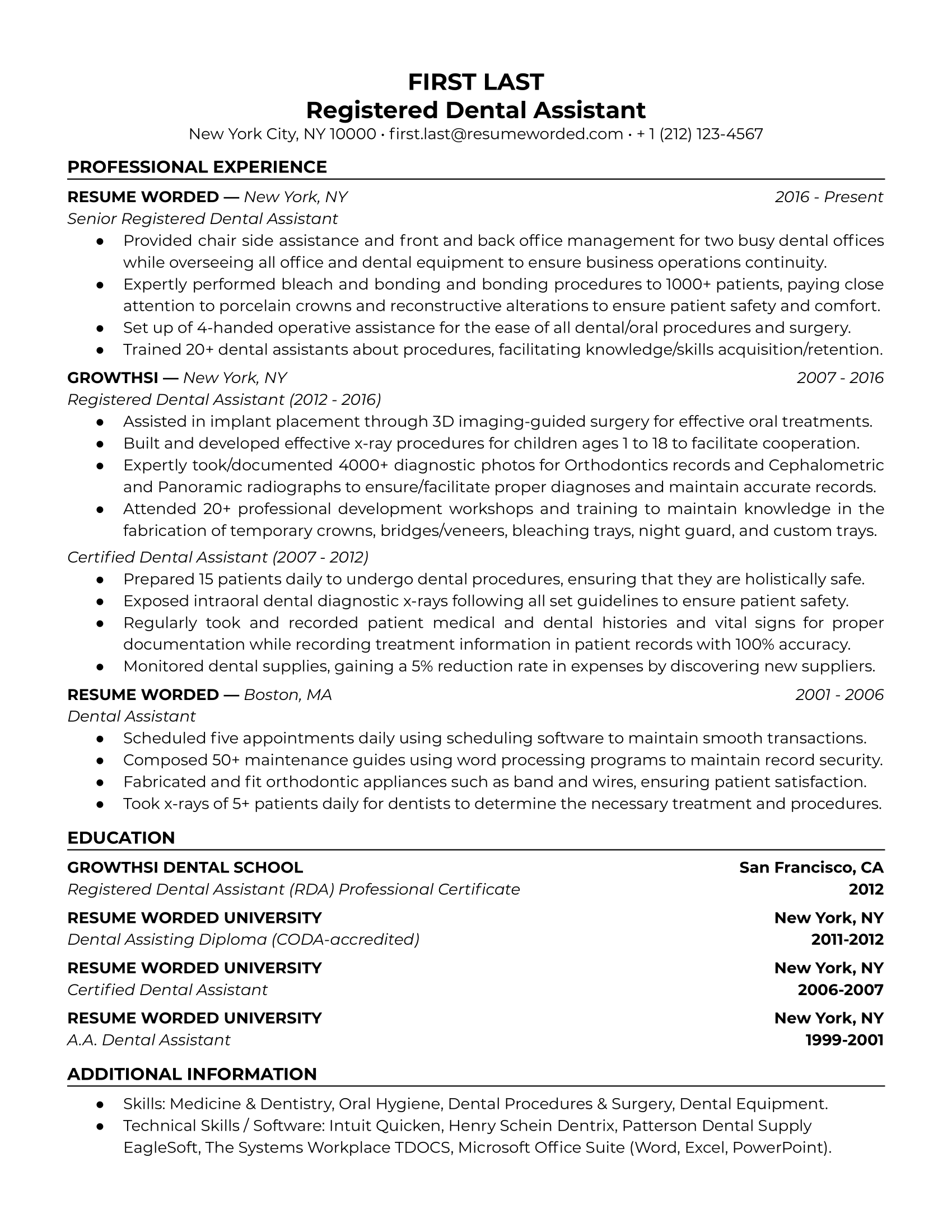 Registered dental assistants (RDAs) have the highest educational requirements and will handle virtually everything in a dental office except the duties of the dentist. RDAs conduct administrative and clerical duties (such as scheduling and preparing clinical spaces for patients) and clinical duties such as taking x-rays and administering topical anesthesia. Hiring managers will be looking for advanced responsibilities that have grown over time, which can be augmented through the use of strong action verbs.
Expand
Download .DOC or .PDF
Dental Assistant resume guide
Case Manager Resumes
If you enjoy helping people and providing care to those who need it most, case management may be the career for you. Whether you're seeking your first job or already in the field, we've got you covered with industry-specific tips, essential skills and keywords, and resume examples for you to use as templates.
Mental Health Case Manager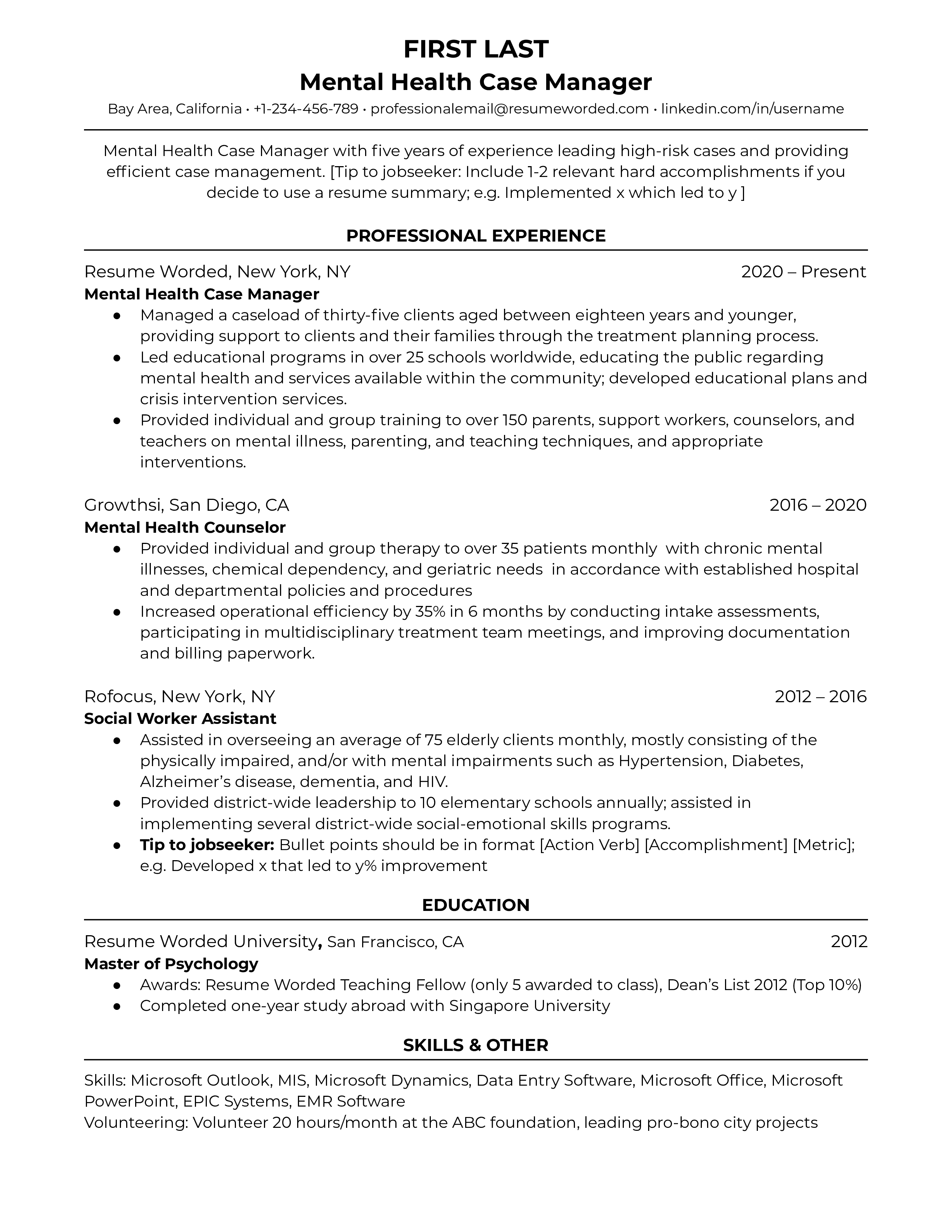 Mental health case managers work closely with patients who have additional psychological, behavioural, or substance abuse issues. You'll need a healthy dose of compassion and people skills in addition to an understanding of mental health support services and the ability to develop individual treatment plans. As a mental health case manager, you could work in a variety of settings including hospitals, treatment centers, rehabilitation facilities, and private homes.
Expand
Download .DOC or .PDF
Nurse Case Manager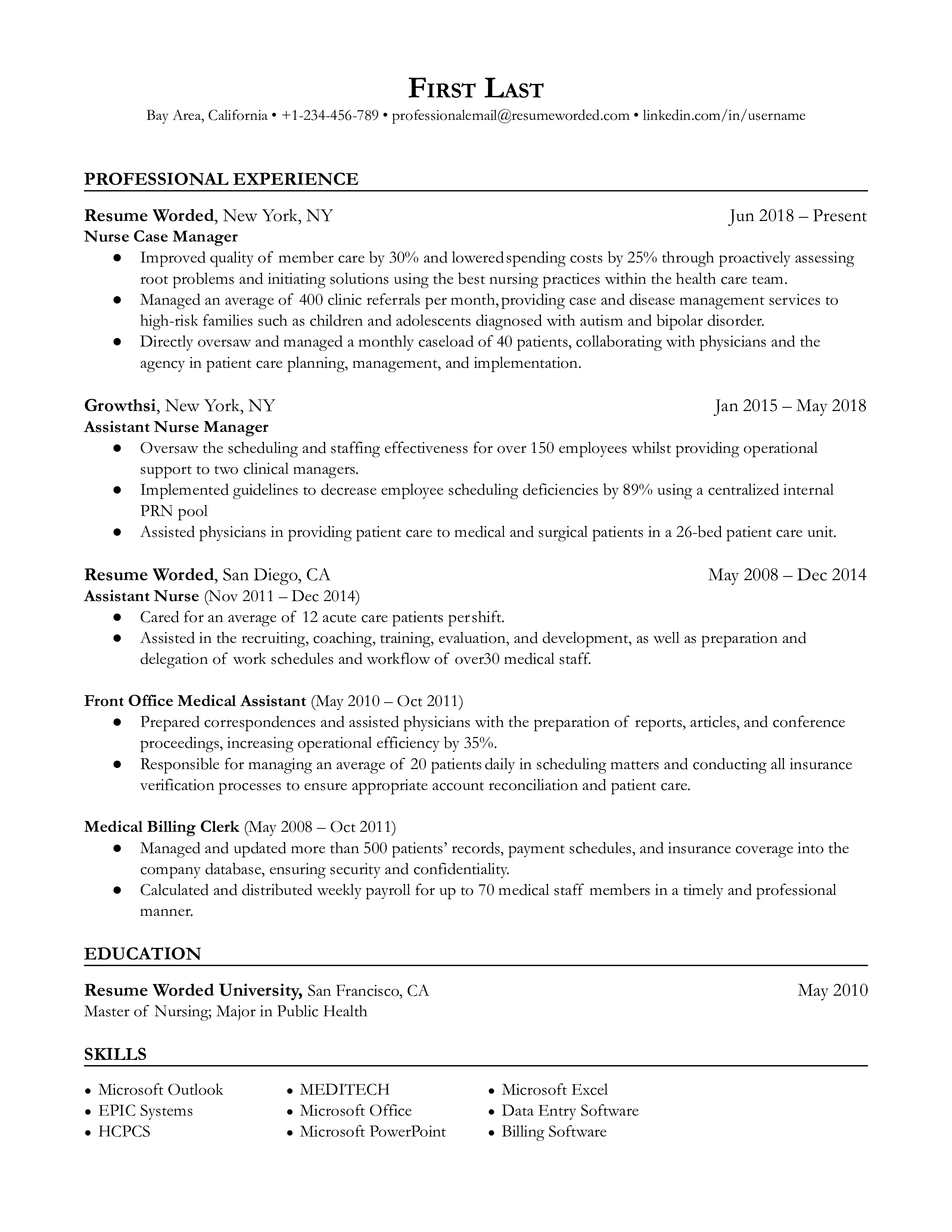 Nurse case managers are registered nurses (RNs) who provide dedicated recovery plans to individual patients, often in a hospital or acute care setting. In addition to licensure as an RN, you'll need an understanding of patients' health needs, the ability to monitor patients and work with other care professionals to ensure continued recovery, and the knowledge and background to source cost-effective care solutions.
Expand
Download .DOC or .PDF
Case Manager resume guide
Action Verbs For Medical Resumes
Monitored
Prepared
Diagnosed
Assessed
Organized
Assisted
Coordinated
Triaged
Administered
Trained
Educated
Evaluated
Operated
Improved
Implemented
Oversaw
How to use these action verbs?
Use strong action verbs to describe your accomplishments at your previous companies, internships or classes. For roles in the medical field, use action verbs which highlight your experience with technical and engineering tasks.

For example, "Implemented" or "Structured" are good action verbs to show technical experience, while "Collaborated" could be a good verb to highlight your teamwork experience.